Men's Hairstyles for Big Ears: Finding the Perfect Style
When it comes to finding the perfect hairstyle, the shape and size of your ears can play a significant role.
For men with big ears, choosing the right hairstyle is essential to ensure that your ears blend seamlessly with your overall look.
This article will discuss various hairstyles that suit men with big ears, as well as tips for maintaining your style and embracing your unique features.
Importance of Selecting the Right Hairstyle
Confidence Booster
Finding the right hairstyle can give you an instant confidence boost, as it can help you feel more comfortable and self-assured in your appearance.
When you're happy with your hairstyle, it can translate to greater SELF-ESTEEM and a positive attitude in other areas of your life.
Enhance Facial Features
The RIGHT hairstyle can also accentuate your best facial features while downplaying any perceived flaws.
When you select a hairstyle that complements your face shape and ear size, it creates balance and harmony in your overall appearance.
Factors to Consider When Choosing a Hairstyle for Big Ears
Face Shape
Your face shape plays a crucial role in determining the most flattering hairstyles for you.
Oval, square, round, and heart-shaped faces all have different hairstyles that work best for them.
It's essential to know your face shape before deciding on a hairstyle.
Hair Type
Another important factor to consider is your hair type.
Whether your hair is straight, wavy, curly, or coily, you'll want to choose a hairstyle that works well with your natural texture.
Personal Style
Lastly, consider your personal style when choosing a hairstyle. Your hairstyle should reflect your personality and fit into your lifestyle.
Think about your daily activities, work environment, and personal preferences when selecting a hairstyle.
Hairstyles That Complement Big Ears
Side-Parted Hairstyle
A side-parted hairstyle is a classic choice that can be tailored to suit your hair type and face shape.
By parting your hair on the side, you create a visual distraction, which draws attention away from your ears and towards your face.
This versatile hairstyle can be worn with various lengths and textures, making it an excellent option for men with big ears.
Medium-Length Textured Cut
A medium-length textured cut adds volume and movement to your hair, effectively balancing out your big ears.
This hairstyle works well with wavy or curly hair and can be styled in numerous ways, such as a messy, tousled look or a more polished, sleek style.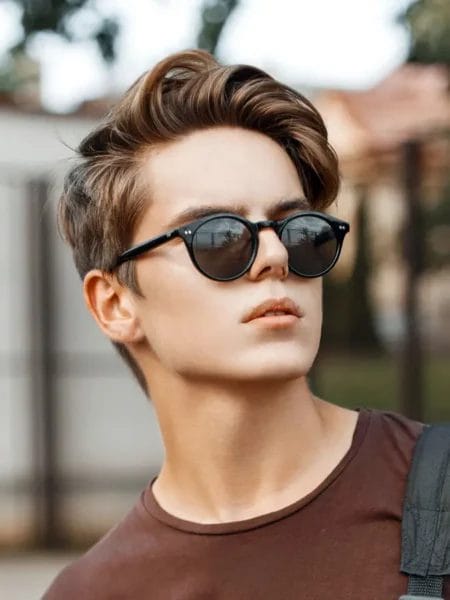 Faux Hawk
The faux hawk is a modern and edgy hairstyle that can complement men with big ears.
The shorter sides and longer top create a sense of balance, while the height at the crown draws the eye upwards, minimizing the appearance of large ears.
Layered Shag
A layered shag hairstyle adds texture and volume to your hair, which can help to minimize the appearance of big ears.
The layers frame your face and create a more balanced look, while the added movement and dimension can make your ears less noticeable.
Buzz Cut
The buzz cut is a low-maintenance and timeless hairstyle that can work well for men with big ears.
While it doesn't hide your ears, it creates a clean, streamlined look that can actually make your ears appear smaller and more proportionate to your face.
Hairstyling Tips for Men with Big Ears
Add Volume on Top
Adding volume to the top of your hair can help to balance out your big ears.
Hairstyles with height and fullness on the crown can create the illusion of smaller ears.
Avoid Slicked-Back Styles
Slicked-back hairstyles can make your ears more prominent, as they draw attention to the side of your head.
Instead, opt for styles that add some volume or texture to your hair, which can help to distract from your ears.
Embrace Your Natural Hair
Don't be afraid to work with your natural hair texture.
Embracing your hair's natural waves, curls, or texture can add interest and balance to your overall look, taking the focus away from your ears.
Celebrities with Big Ears and Great Hairstyles
Many celebrities have big ears but still manage to rock fantastic hairstyles.
Examples include Will Smith, who often sports a short fade or BUZZ CUT, and Daniel Radcliffe, who has been seen with various medium-length hairstyles that complement his ears.
Observing how celebrities style their hair can provide inspiration for your own hairstyle choices.
Maintaining Your Hairstyle
Once you've found a hairstyle that suits your big ears, it's essential to maintain it regularly.
This may involve getting trims every few weeks to keep your style looking fresh, as well as using the right hair products for your hair type.
Additionally, learn how to style your hair properly at home to ensure it always looks its best.
Embracing Your Unique Features
While finding a hairstyle that complements your big ears is important, it's equally crucial to embrace your unique features.
Your ears are a part of who you are, and learning to love and accept them can boost your self-confidence and overall HAPPINESS.
Conclusion
Finding the right hairstyle for men with big ears involves considering your face shape, hair type, and personal style.
By selecting a hairstyle that balances your features and enhances your appearance, you can feel confident and attractive.
Remember to maintain your hairstyle, work with a skilled barber or stylist, and, most importantly, embrace your unique features.
FAQS
What hairstyles should I avoid if I have big ears?
Avoid hairstyles that accentuate your ears, such as slicked-back styles or haircuts that are too short on the sides.
Instead, opt for hairstyles that add volume on top and provide a balance to your overall look.
How do I determine my face shape?
To determine your face shape, examine the width of your forehead, cheekbones, and jawline, as well as the length of your face.
There are several face shapes, including oval, round, square, and heart-shaped, each with its own set of flattering hairstyles.
How often should I get a haircut to maintain my hairstyle?
The frequency of haircuts depends on your hair type and the specific hairstyle you've chosen.
Generally, you should get a trim every 4-6 weeks to maintain your hairstyle and keep it looking fresh.
Can I still rock a long hairstyle if I have big ears?
Yes, you can still wear a long hairstyle if you have big ears.
The key is to find a style that adds volume and movement to your hair, which can help to balance out your ears and create a harmonious look.
Should I discuss my concerns about my ears with my barber or stylist?
Absolutely! It's essential to communicate openly with your barber or stylist about your concerns and preferences.
They can offer valuable advice and help you find a hairstyle that suits your face shape, hair type, and, most importantly, makes you feel confident and attractive.
Khamis Maiouf is a professional barber who graduated from Hinckley College in England with a degree in hairdressing. He has also won several barbering contests and successfully operated a barbershop for the last two decades. As a skilled hair stylist for 20 years, his goal is to teach others how to achieve a beautiful appearance through their hairstyles.