38 Blonde Beard Styles for a Chic and Trendy Look
If you're planning to add some exhilaration to your beard, blonde beard styles could be what you need. Whether you're a new or experienced beard wearer, these 38 styles will motivate you to try something new.
From short and trimmed to long and luxurious, I have blonde beard styles for all face shapes and personal preferences.
Thus, if you wish to pass a statement with your beard, read on to discover top blonde beard styles you're sure will turn heads.
Chic, Short blonde Beard
If you have blue eyes and blonde hair, give your appearance an inimitable vibe. You can achieve this by applying the yellow dye, not just for your haircut but also to give your mustache and beard a distinctive look.
Dapper Mustache And Goatee
A goatee that's well-highlighted makes your face appear longer. It is an incredible way of compensating for the thin facial hair on your cheeks and jawline.
Enhance the appearance with a bulky mustache. You may consider wearing thick-framed glasses with blonde hair to attract attention to your blue eyes.
Strawberry blonde Beard
A strawberry flaxen color is ideal for black men who desire an eye-catching appearance and a modern-day approach.
Consider hairless sides and back and longer crown hair dyed in strawberry blonde. Ensure it matches your beard!
Highlighted Goatee
This style suits men with an average beard thickness and length. If you like messy pink hairstyles, consider growing your hair since it provides many styling opportunities.
Lift your plaits and use hairspray to maintain them.
Bold Twisted Mustache
A comb-over that's somewhat leaning to one side will be great, with a medium-pointed beard. Go for the vintage vibe with whiskers with elongated curled tips. Your natural flaxen hair will provide an attractive contour to your face.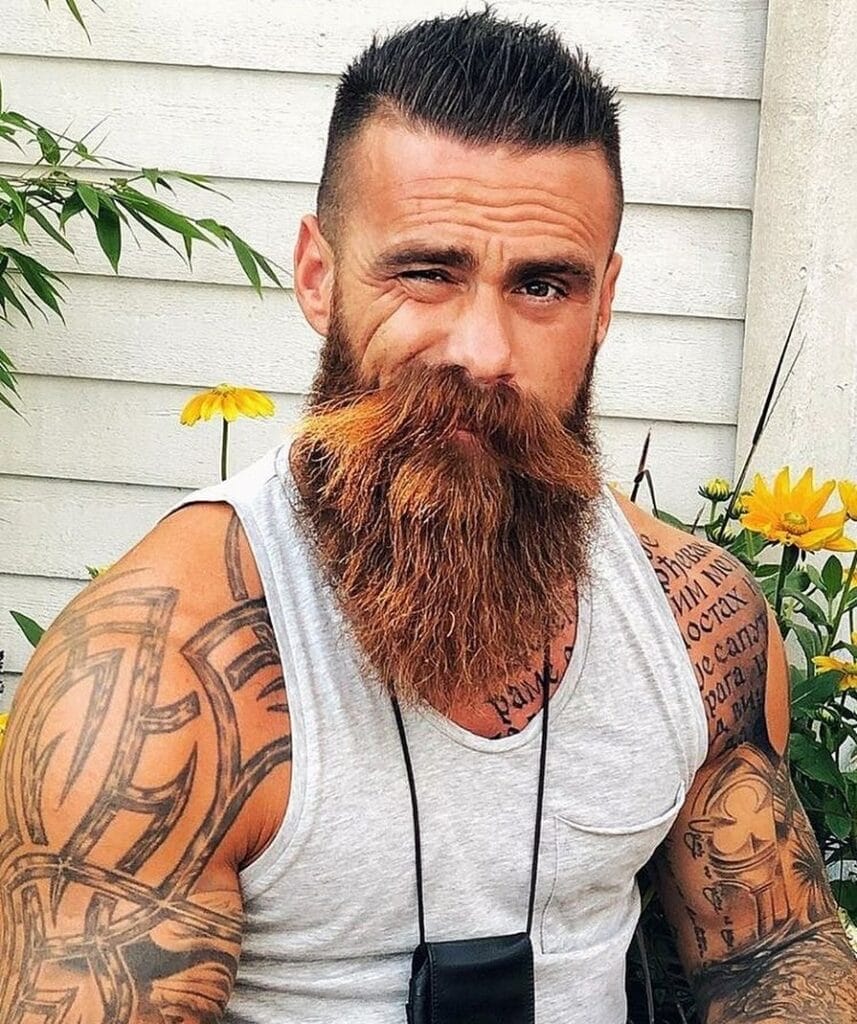 Ultra Long blonde Beard
Inspired by historical films, this style features a long mustache that blends with a bulky, rich beard.
Regarding hairstyle, consider an extended cut with apex hair hurled on one side, and keep it messy.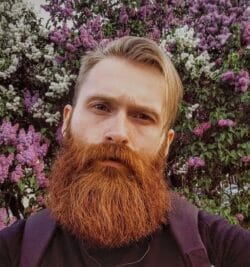 Short Pointy blonde Beard
If your face appears elongated, select a beard style that keeps the chin hair longer. As for the hairdo, get a longer crown with short sides. Highlight those waves and hurl your hair on one side.
Stylish stubble Beard
An elegant stubble beard is excellent for a formal appearance. Opt for a bowl trim with bangs on your forehead, and some combed on the side.
Also, consider getting an ombre that utilizes a strawberry blonde dye with brown touches for your hairstyle to look even better.
Sleek Extended Goatee
A long goatee keeps the jawline hair and cheeks shaved and highlights the chin and mouth area.
The style requires trimming but is perfect for older men who do not want anything fancy.
Blonde Boxed Beard
If you have relatively full beard hair, the classic full-box style suits you. This style features a full beard with a connected mustache of roughly the same length, and it is an incredible style that looks awesome on several men.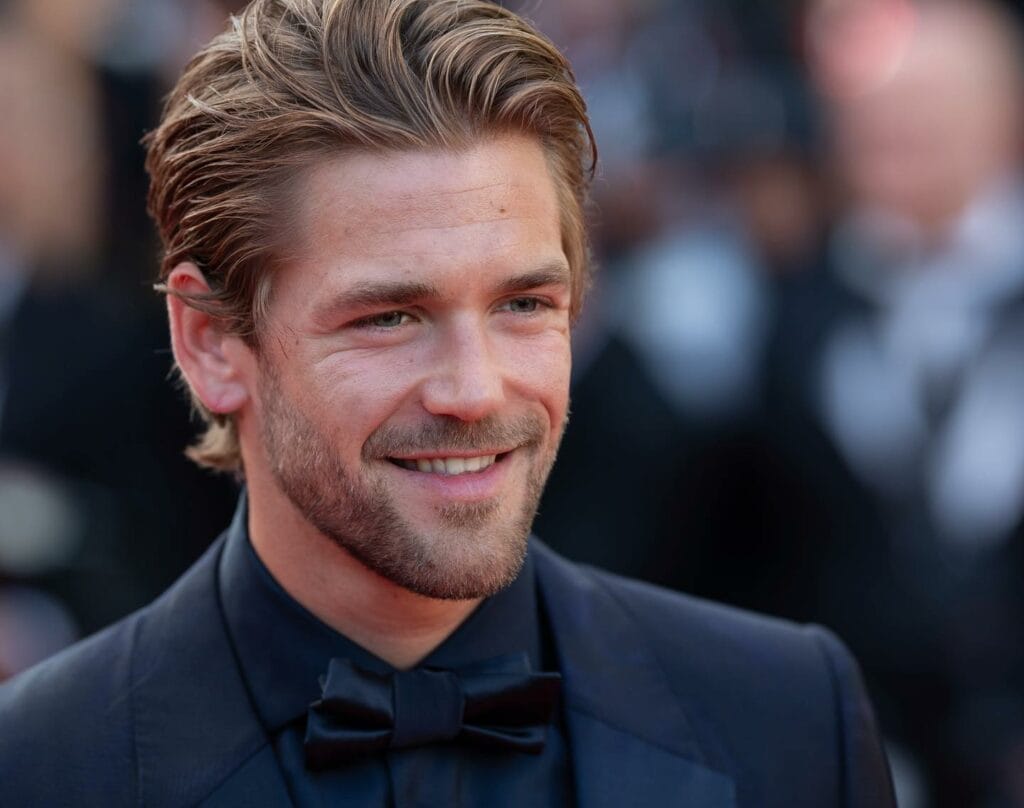 Wild Ginger Beard
This beard style gives an inimitable and more brilliant look and can work for anyone. Complement your ginger beard with green shades, and you'll stand out.
Golden Highlights
This great style will make you more attractive. Thick and luscious masculine growth is not something that mere mortals can easily attain.
Blond Afro Beard
Blonde beards can appear great; what of the blonde afro beard? Balancing the style with darker clothing, an incomparable nose ring, and pale designer gasses will help you achieve an unequalled appearance.
Dyed blonde Long Stubble
This is another dye work, but in a more natural color for guys who desire to rock the flaxen appearance.
The beard is shabby and stubby but thick and entails a thin mustache and a contour on the cheek. The dark eyebrows improve the look.
Beach Vibe
Combine blue water, white sand, and a bearded gentleman. Pair with piercings, tattoos, and some mannish chest hair; the look will demand attention.
Pointed blonde Beard
The simplest way to attain an impressive look with this style is to get a fully-grown beard and then shape it. Leaving more length on the chin, keeping the angles crisp and trimming to some point will make your face look leaner and more prolonged.
The blonde Circle Beard
The short circle style is making a comeback. The mustache links directly to the beard with hairless edges in the blonde circle style.
The lines can be the edges defined or short, but in both cases, the two portions of the facial hair join to make a ring around the mouth and chin.
Blonde Connected Sideburns
A blonde beard with attached sideburns is another simple, wearable appearance. This style harmonizes naturally flaxen beard.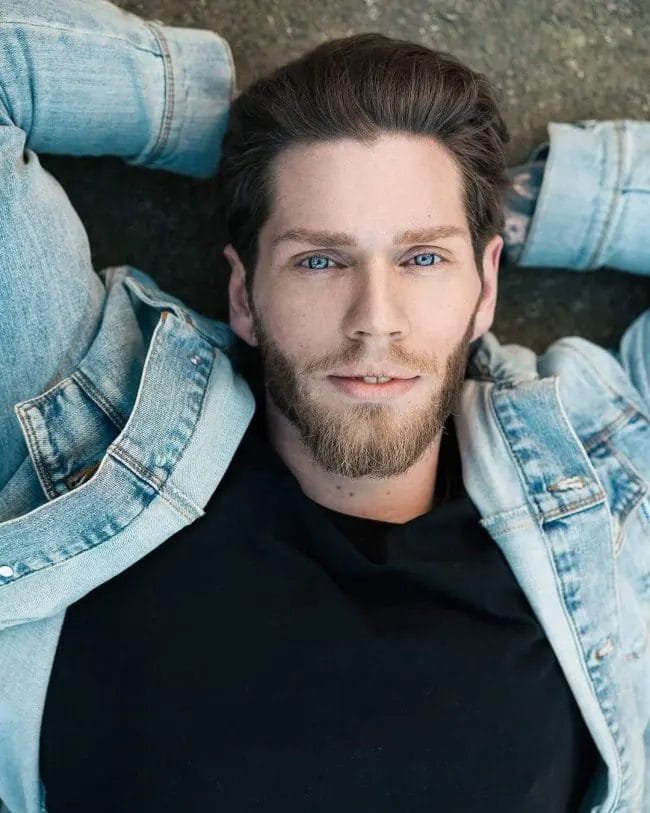 The Viking-Chic Beard
If you need a longer, natural, grown-out beard, the Viking-inspired look is your perfect match!
Your natural light color will advance the style beyond the outdated ''mountain man'' to an up-to-the-minute but still masculine appearance. However, for a spectacular appearance, take grooming and skin hydration seriously.
Stunning Natural Ginger Beard
If your hair is ginger-blonde, you're in luck! Display it by wearing a natural, low-maintenance, and medium-length beard with a full mustache.
Some traditions consider redheads to be fortunate.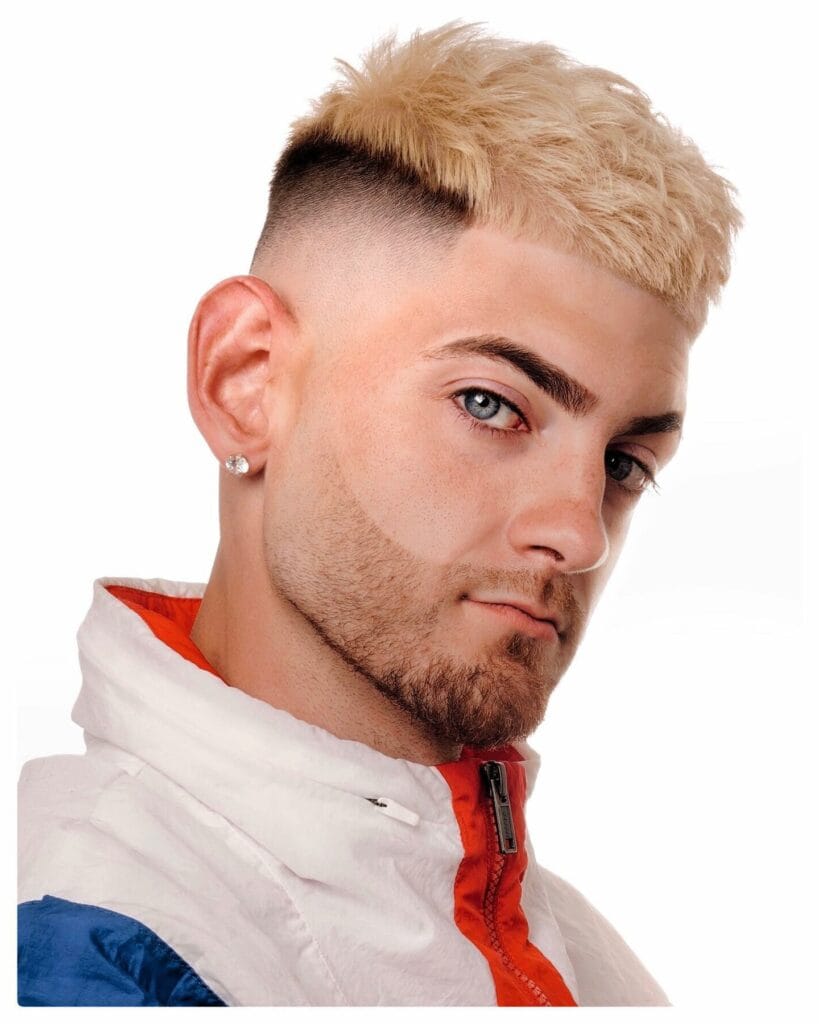 Dark Ginger Blonde Beard
To pull off the dark ginger blonde style, you need patience. Once it has attained the desired length, you'll need to apply oils on your beard and mustache. Ensure you use the oils on the skin to keep it moisturized.
Short blonde Beard
Most men interpret a beard for manhood and attractiveness. You don't need to follow the rules to get this style.
Include a unique hairstyle to create an unforgettable appearance, regardless of what you are wearing.
Beard For Men With Glasses
If you're a blonde gentleman who wants a mannish appearance, consider growing a beard that works splendidly with your glasses. Choose dark thick frames that'll attract attention and make you appear so damn hot.
Natural Brown Hair And Blonded Beard
Brown hair and blonde beard will give you a stunning look. With this style, you can impress any lady you meet.
Blonde Garibaldi Beard
This style can change your outlook drastically. Consider the ginger Garibaldi with the volume on the side to attain a hipster appearance that many will love.
Dyed Blonde beard For Black Guy
If you are exhausted of your customary Afro-American hair, consider an attractive change and style; a highlighted blonde beard for a black gentleman. You can color your eyebrows and top hair for a better look.
Salt And Pepper Colored
Sometimes, the premium blonde beards are those that are multi-colored.
Put some white hairs and some dark hairs together, and you'll have the ideal salt-and-pepper beard.
Baby-Faced Blond
If your hair is more ginger than blonde, baby-faced blond is your style! With beards of average length, you'll hide your thin and patchy dread and appear to have an actual beard.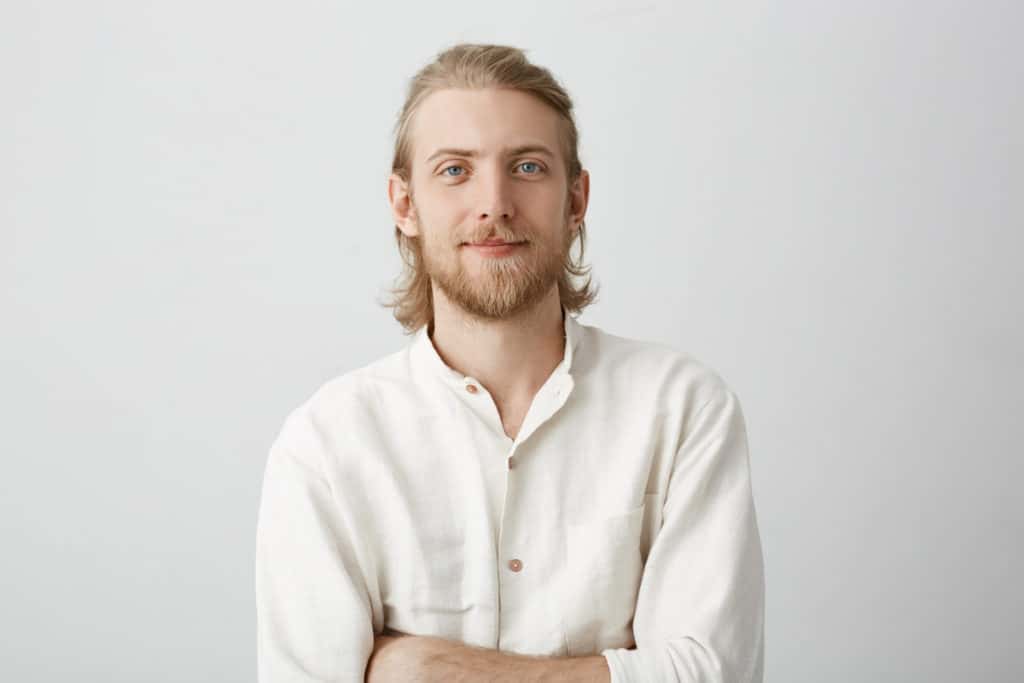 The Ducktail Blonde beard Style
Grow your hair to its length and style all the strands in one direction.
Taper the neatly trim your beard towards your chin to look like a ducktail and cut short the upper portion of the beard. Your preferred style will determine the length of the hair you leave on your chin.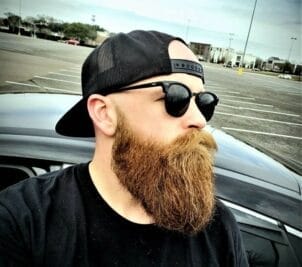 Blonde beard And Long Hair
This is ideal for an official appearance. The style goes nicely with long, thick hair to match the nicely-trimmed light-colored beard.
Blonde Chin Strap Beard
Display your sturdy jawline or define a softer one; this style is versatile and distinctive. The chinstrap creates a vivid look yet minimalistic – it won't reinvent you but will improve your overall fashion.
Keep in mind your face shape when choosing the thickness of your chinstrap.
Blonde Goatee
Do you want to look classy and presentable without letting go of your beard?
It's best for round or oval face shapes. You require a reasonable amount of hair to prevent over-shaving or trimming.
Dapper Dandy
Dapper dandy can appear amazingly polished and notable, particularly when trimmed into an elegant shape and weaved with natural grey.
Several styles can be changed into an incredibly refined look by simply grooming and trimming carefully. Dapper dandy is not the most natural style, but it is an attention-grabber.
Balbo Beard
The Balbo style is among the most prominent blonde beard styles wherein the hair is grown into the preferred shape.
You can do so by avoiding shaving for at least one month. A nicely-shaped mustache will match the style nicely. It's great for any face shape but is most suitable for men with weak chins as it adds fullness.
Crazy blonde Beard
This is a style with a yellowish dye. It, thus, sharply contrasts with the natural black hair on the head.
A Blonde beard For The Distinguished Older Gentleman
When you're older but still yearn to look trendy, the platinum-blonde beard will help magnetize attention. Select a short plain tapper with an extensive crown and form a mustache with curved lifted tips.
Garibaldi Beard
Garibaldi beards are long with well-defined edges. Give your whiskers a straight trim so it doesn't look too messy.
To draw more attention, highlight the beard and mustache.
Dirty blonde Beard
This beard seems gorgeous as long as you groom and trim it rightly. Let it grow for roughly four months if you desire a full beard.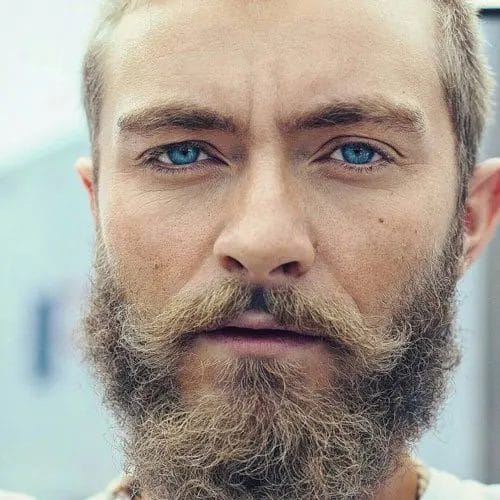 FAQs
How Do You Groom A blonde Beard?
Wash your beard frequently with quality products and trim it to a preferred shape and length.
Can You Grow A beard With blonde Hair?
People with grey or blonde hair can grow a beard.
Why do blonde beards grow faster?
There's no difference in growth based on beard color.
Why is my beard blonde and ginger?
Ginger hair is due to mutations in the MCR1 gene.
Khamis Maiouf is a professional barber who graduated from Hinckley College in England with a degree in hairdressing. He has also won several barbering contests and successfully operated a barbershop for the last two decades. As a skilled hair stylist for 20 years, his goal is to teach others how to achieve a beautiful appearance through their hairstyles.