Blonde Hairstyles for Men: 25 Best Youthful Haircuts

Guys choosing blonde know the true impression of beauty.
Thanks, YOU are one of them.
The undeniable charm and allure of blonde-haired men add to the beauty we see each day.
Any blonde, from short polished cuts to expertly groomed pompadours, leaves you looking healthier and youthful.

Here is a summary of the trendiest blonde haircuts.
Blonde Wavy Undercut Brushed Back

A wavy undercut fits any hair type, especially guys with naturally thick and wavy hair.
Brushing it back adds to the beauty to make you stand out from the crowd.
What more can you ask? Say goodbye to bad hairstyles with this classy look.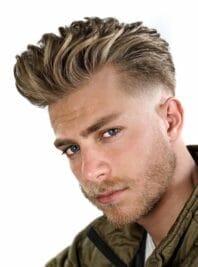 Tousled Top Blonde Hairstyles

Looking for an immediate illusion of height and volume?
A tousled top blonde haircut perfectly suits you.
A tousled top hairstyle brings out a masculine and romantic guy ready to go out on a date.

I LOVE this hairstyle because it offers a lot of options to choose from. With a tousled top, you'll be able to style and comb your hair to fit the shape of your face.
Plus, it allows your natural hair to take shape.

Finally, a tousled top is your excellent style if you want to add a lot of dimension and depth.

Platinum Modern Quiff With Texture

A platinum blonde hairstyle shows your inner self to the world. A little dye or touch of color to your hair turns you into an edgy and rebellious guy.

The dye accompanied by a quaff is terrific. It allows your hair to shine, making your appearance POP even more.

Wait!

Do you have dark hair but badly want a platinum modern quiff hairstyle? Don't worry. An experienced stylist will turn it into a platinum blonde color.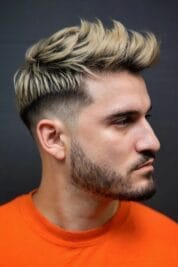 Fashion Dyed Top Crew Cut

Are you a guy that wants to make a statement?
A fashion-dyed crew cut is an ideal haircut for you. It refreshes your appearance INSTANTLY. The advantage of this style is that it allows you to dye your hair to a taste of your choice.

Blonde Ivy League With High Skin Fade

I must admit that blonde ivy hairstyle ROCKS. It is accommodative of any hair type, and that's where it beats other hairstyles. Even so, you will LOVE it more if you have thick hair.

Having blonde ivy league allows you to easily part your hair. And the high skin fade shaved clean will leave your appearance drooling.

Is the hairstyle expensive? NO.

Blonde ivy league is cheap and easy to maintain. So, it favors even those operating on a lean budget.

Do skin fades look good on blonde hair?
You're lucky if you have blonde hair because it gets along with all types of fades.
Do you like high, mid, or low fades, unique bursts, or drop fades?
It doesn't matter. Your hair color will look great with any of them.

Blonde Faux Hawk

The blonde faux hawk would be the real DEAL if I were to choose a hairstyle for you.
The color makes your face elegant and inviting if paired with blonde hair. You will turn heads as you go out when a faux hawk is complimented with a trimmed beard.
And a combination of shorter sides and long top hair will leave many people staring at you.

Shaggy Blonde Hairstyle

Shaggy hair is the best if you are looking for a flexible hairstyle.
It offers you a charismatic and youthful look all the time. Its softness enhances the angular features of your face to produce a gorgeous and attractive look.
A shaggy hairstyle is effortless to maintain, giving you another reason to try it.

Short And Messy With Quiff

Having a short and messy hairstyle will give you an elegant look. This hairstyle allows your barber to create a short and sharp contrast achieved by trimming the sides and the back short.

Plus, it suits all occasions, including going to the office, traveling, or on a DATE.
It is a remarkable and fashionable hairstyle that shows your masculine features, such as a strong jawline and chiseled cheekbones.

Adding a quiff will give you a perfect and complete look. A quiff leaves your hair with a stylish glamour.

However, is your hair thin?
If yes, a blonde color and quiff offer you an excellent option. Having the quiff on makes your hairline fuller.

Blonde Thin Hair Pompadour

Pull off a gentlemanly style with blonde thin hair pompadour.

Ensure your hair appears fluffy by trimming the sides for a classy and spectacular look. Getting the correct styling technique leaves your light-colored hair looking cool.
Your barber will comb your hair to the desired shape after blow-drying it for a glamorous look.

Blonde Flat Top Medium Hair Layered

Is your hair of medium-length with some layers?
If YES, a blonde flat top medium layered hairstyle is your perfect match.
Having it on you will give you the slightest worry about maintaining it. You only require a pomade to hold it together to give you a stunning look.

The Buzz Golden Blonde

You will definitely like a buzz golden blonde hairstyle if short hair is your favorite taste.

With golden blonde, you have a variety of styles to choose from. And all of them will give a refined and powerful touch to your facial look.
Your face will be incredibly glossy and glittery.

Whether you want a transformation of color or a subtle color change, buzz golden blonde solves all your needs.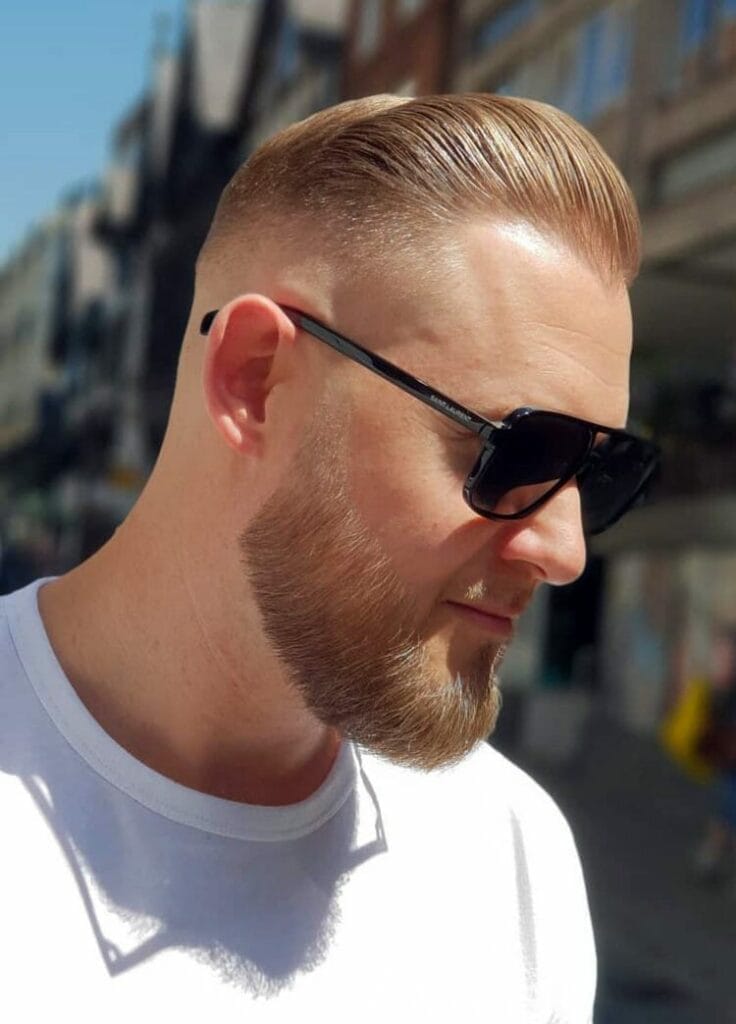 Natural Messy Dirty Blonde Hair for Men

Do you require a unique twist to any look?
Natural messy, dirty blonde offers you precisely that.
This hairstyle stands out, especially when you use a few tricks. Apply matte pomade or low shine to accentuate the coloring of your hair.

Apart from its look, this hairstyle is very easy to maintain.

Mullet Hairstyle With Low Fade

The mullet hairstyle is a MODERN and stylish way to look elegant. It is fantastic with a low fade and answers all your black-tie needs.

I suggested this hairstyle to a friend a few months ago, and guess what?
The guy fitted so well on it. You, too, can give it a try. You got platinum blonde hair color; you got the classy mullet!

Ash Blonde Mohawk

Show your inner punk by dying your hair ash blonde. Imagine adding an ash-blonde dye to your razor mohawk! Nothing beats the beauty of this unique hairstyle. It's simply incredible!
Do you want the best results?

Your eyebrows must be dark for the best contrast against your light mohawk.
Long Blonde Hairstyle With Bun.
Nothing beats the timeless and fashionable look of long blonde hair. Giving it a touch of a bun makes it catchy and SEXY.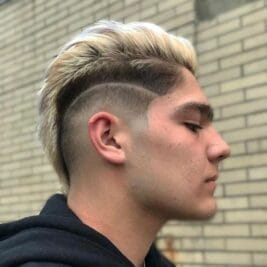 Blonde Curly Hairstyle With Ponytail

Looking for a hairstyle to give you a mix of youth playfulness and a masculine allure?
A blonde curly hairstyle is your best fit. Spicing it with a simple ponytail offers you a classy look if you are a long-haired guy. Again, you can plait the ponytail itself to show the modern-day Viking in you.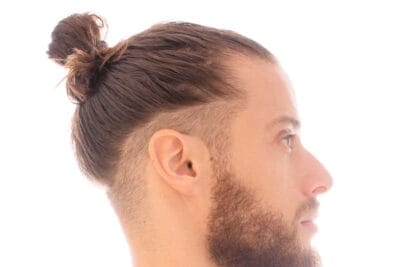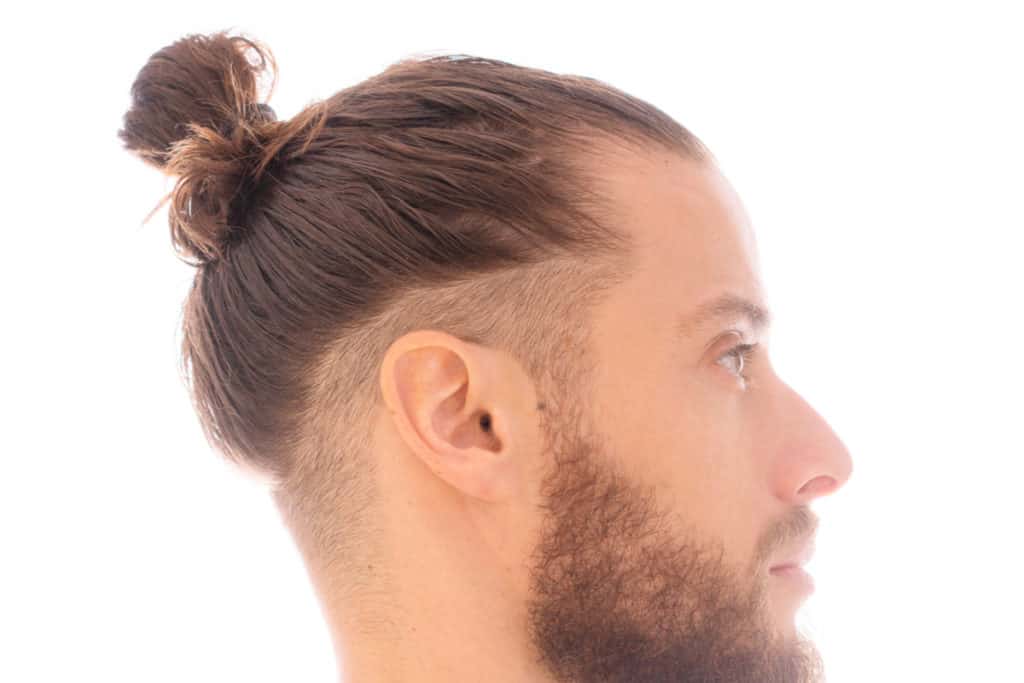 Highlighted Comb Over

Highlighted comb-over gives you a charming, attractive new look coupled with simplicity. I recommend highlighted comb over hairstyle if your hair is thinning.
The hairstyle creates an appearance of fullness even when your hair is wearing away.

Blonde Hairstyle With Dreads

Blonde dreadlocks form the perfect hairstyle for a man that wants to roar like a Viking.
Having them on brings out the adventuring guy in you. If you are a frequent traveler, I suggest you go for dreads. They don't need a lot of your time to maintain.

You thought that was all? No.

When you lose your dreadlocks, your hair will still be dazzling with a crisp buzz cut to give you a swaggering look.

Icy Blonde for Men

You will command an ice-cool look with platinum blonde hair. All you need to do is to ensure your hair is quite long. This will allow you to easily run your fingers back and forth through your hair to create movement texture.

Whether you choose a full dye or highlights, you will always find a style fitting your taste.

Free Flow Blonde Hairstyle

Looking for a casual way to style your look? Free flow it is!

Free flow hairstyle only requires tapering sides and sometimes fading. The sides are slightly layered while the top is tossed to give you an envious look. The girth keeps the hair thick yet free-flowing. Awesome!

Taper Fade Blonde Hairstyle

The taper fade is the best if you are that guy keen on a well-groomed and clean look.

The best aspect of this hairstyle is that you can wear it long or short on top. Taper fade allows you to tailor your haircut to suit your taste and preference. You only need an experienced barber to give you a style of choice.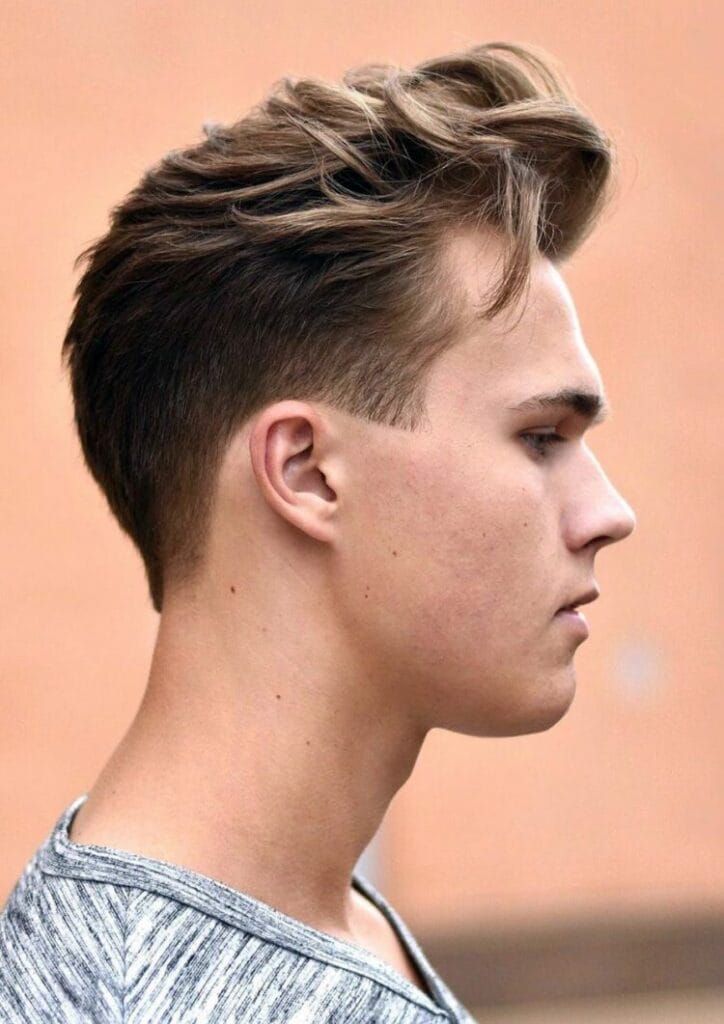 French Crop Blonde hairstyle

I have used French crop hairstyle before, and I can attest that being beautiful is an understatement. It always gave me a decent and manly look wherever I put it on.

Being easy to maintain gives you another reason to try it out. Believe me, you will love it for eternity.

Spiky Hairstyles

I recommend this hairstyle to guys with straight hair looking for something trendy.
You can try it in several ways, including the undercut, taper for the sides, fade, and platinum hair color.

Blonde Hard Part

Do you want a hairstyle that will charm and excite you? The blonde hard part is the deal. Again, the hard part style is a fantastic way to look sexy if you are a fan of blonde highlights. It is gorgeous, clean, and above all, creative.

Wrap Up

While there are many factors to consider when choosing a hairstyle, blondes definitely have more options. Whether dyed or natural, blondes give you an alluring and eye-catching look.
And with the right haircut, blondes are best for fun out to shoot your shot to that lady you have been flirting with on social media.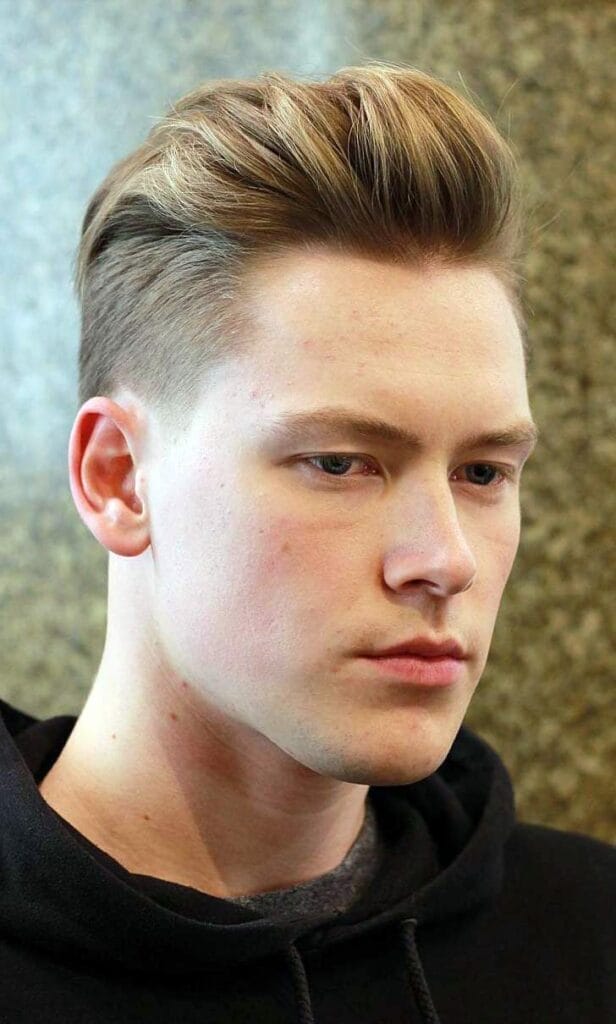 FAQS

Do Guys Get Blonde Highlights?

While blonde highlights have always been in style for men, Guys with highlights ranging from blonde to brown are currently rocking some of the hottest hairstyles.

Which Hair Color Is Most Attractive?

The top three colors are black, brown, and blonde, but naturally, they come in various shades.

Which Is Better, Blonde or Brown Hair?

Research indicates that blondes are better. Nevertheless, brunettes tend to be seen as more self-sufficient.
A word of caution is that be sure to take your lifestyle into account before changing your hair color.

Is Dirty Blonde Rare Hair Color?

Yes, it is. This is a unique shade of light brown and golden tones mixed together, which can be challenging to find at your local salon.

What Is the Best Haircut for Blonde Hair?

Blondes take the lead with tons of hair styling techniques to give you a fulfilling experience.
Whether it is fall, spring, summer, or winter coloring, you can find blonde hair designs that work with your sense of style and color palette.

What Men's Hair Color is Most Attractive?

It's said that dark-haired men take the lead while black hair comes a close second.
Khamis Maiouf is a professional barber who graduated from Hinckley College in England with a degree in hairdressing. He has also won several barbering contests and successfully operated a barbershop for the last two decades. As a skilled hair stylist for 20 years, his goal is to teach others how to achieve a beautiful appearance through their hairstyles.