The Secret to Growing a Thick Beard in 4 Weeks
Have you ever wanted to grow a thick beard but felt like it was impossible? Don't worry. You're not alone. Many people who like facial hair struggle with achieving the perfect bushy beard.
To grow a thicker beard, you must accept one truth: you can't magically make your hair appear thick overnight. Having accepted this bitter fact, there's good news!
We're here to help you on your quest for a thicker beard. In this article, we'll share proven techniques and expert tips on how to stimulate healthy beard growth.
Once you finish reading this article, you'll discover natural methods to promote thicker beard growth using specialized products, supplements, and treatments to enhance beard hair growth.
What Determines a Thick Beard
Beards are unique to each person. Some people naturally have thick beards, while others have patchy or uneven growth.
Several factors contribute to the appearance of a thicker beard, including hair color, follicle size, and hair density.
Trimming your patchy beard will help you to achieve a fuller beard. You can also use grooming products such as beard cream, shampoos, conditioners, and beard oils to make your facial hair grow healthier and create a fuller appearance.
Hair Follicle and Diameter Size
The size of the hair follicles largely determines the thickness of a beard. Found in the dermal layer of your skin, the hair follicles determine the growth of your hair.
When the diameter of the hair follicle is larger, it produces a hair with a larger diameter and takes up more space in your skin, resulting in a fuller beard.
Although genetics primarily determine hair follicle diameter, hormones such as testosterone play a role. High levels of male testosterone can boost the development and appearance of a thicker beard.
While you cannot change your genetics, you can enhance testosterone production and blood flow to the follicles, which can help to stimulate healthy beard growth and achieve a thicker beard.
Following these techniques can achieve your desired thickness and attain a fuller, more luscious beard.
Beard Density and Coverage
Beard density refers to the number of hair fibers growing on a particular area of the skin and plays a crucial role in determining the thickness of one's beard and mustache.
Improving beard density in a bid to grow your best beard involves:
Activating dormant facial hair follicles.
Growing new beard hairs.
Converting thin vellus hairs into thick terminal hairs contributes significantly to beard thickness and density.
While you may be genetically predisposed to a thick beard, anyone can grow thicker facial hair density by ensuring proper hair health through a proper grooming routine and taking care of your beard health.
Beard Length
While growing your beard longer will not actually increase the size of your beard hairs or activate new growth, it is one of the easiest ways to create the visual impact of a thicker beard.
Even if you have a patchy beard, you can make it appear thicker by growing it longer and trimming it to the same length. This will create a uniform appearance and help to visually fill in any gaps or sparse areas.
Plus, you can use different styles and tricks to enhance greater hair beard growth in a bid to make facial hair look thicker.
These include using beard oil and other grooming products to add volume and fullness, as well as styling techniques such as shaping and trimming to create the illusion of a fuller beard.
Beard Color
While the man's beard and hair color is genetically predetermined, you can use beard dye to change it.
It's a fact that a darker-colored beard will always look thicker than a lighter-colored beard, as it absorbs more light and appears denser.
Ensuring that you eat enough copper rich foods and suppliments can help prevent premature graying and allow the hairs to produce pigment to their best natural ability.
Plus, you can use beard dye to change the color of the beard to a darker shade, resulting in the appearance of a thicker and fuller beard.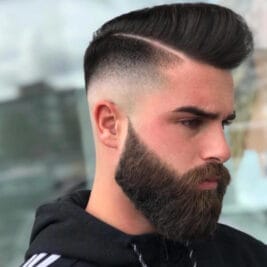 How to Get a Fuller Beard in Less Time
The following pieces of advice will be of great assistance in your quest to grow a full beard:
1. Look After Your Skin
For men who want to grow their beards, it's crucial to pay attention to the health of their facial skin.
While it's easy to focus on the beard hair itself, it's important to remember that underneath your skin is where the hair grows from. This is why a good moisturizer is essential.
Regular exfoliation is also important for removing dead skin cells that can cause ingrown hairs and clogged pores.
By keeping your skin healthy and clear, you'll create a better environment for your beard to grow.
Using a quality moisturizer will also promote faster growth and help you achieve a fuller, thicker beard in no time.
2. Begin to Exercise
To grow a thick beard faster, exercise regularly. Cardio exercises like jogging, fast walking, cycling, and dancing can help reduce stress and increase testosterone and DHT levels.
These hormones are essential for healthy hair follicles and increased hair production.
Plus, exercise can increase blood flow and supply the hair with essential nutrients.
If you're new to exercising, start slowly and seek the help of a personal trainer to ensure safety and proper form.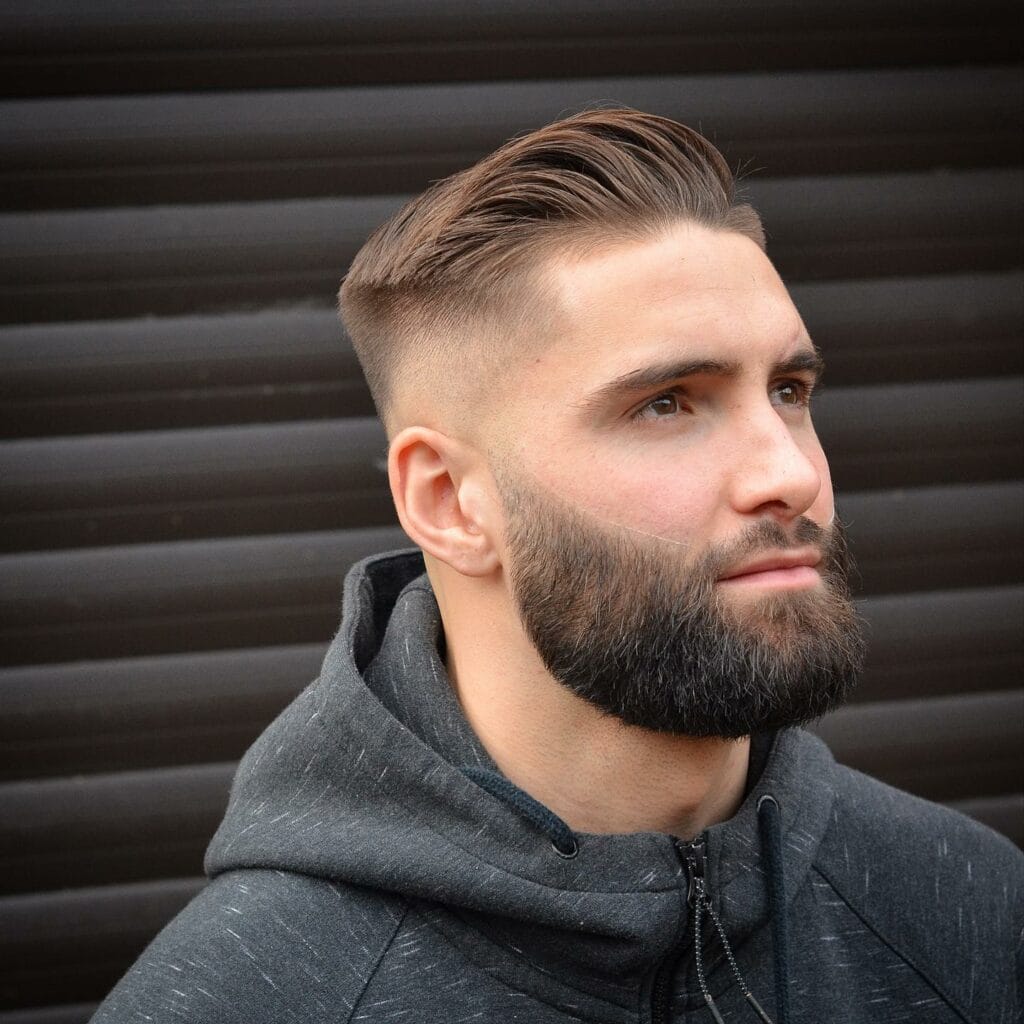 3. Reduce Stress Levels
If you want your chin to give you the best thick beard, you need to minimize stress. Stress causes your body to produce more cortisol, lowering testosterone production and reducing blood flow to your hair follicles.
Short-term stress can disrupt your sleep, making it harder for your beard to grow thicker.
Long-term stress negatively impacts beard growth. To reduce stress, try meditation or other stress-relief techniques. By minimizing stress, you'll be able to grow a fuller, healthier beard.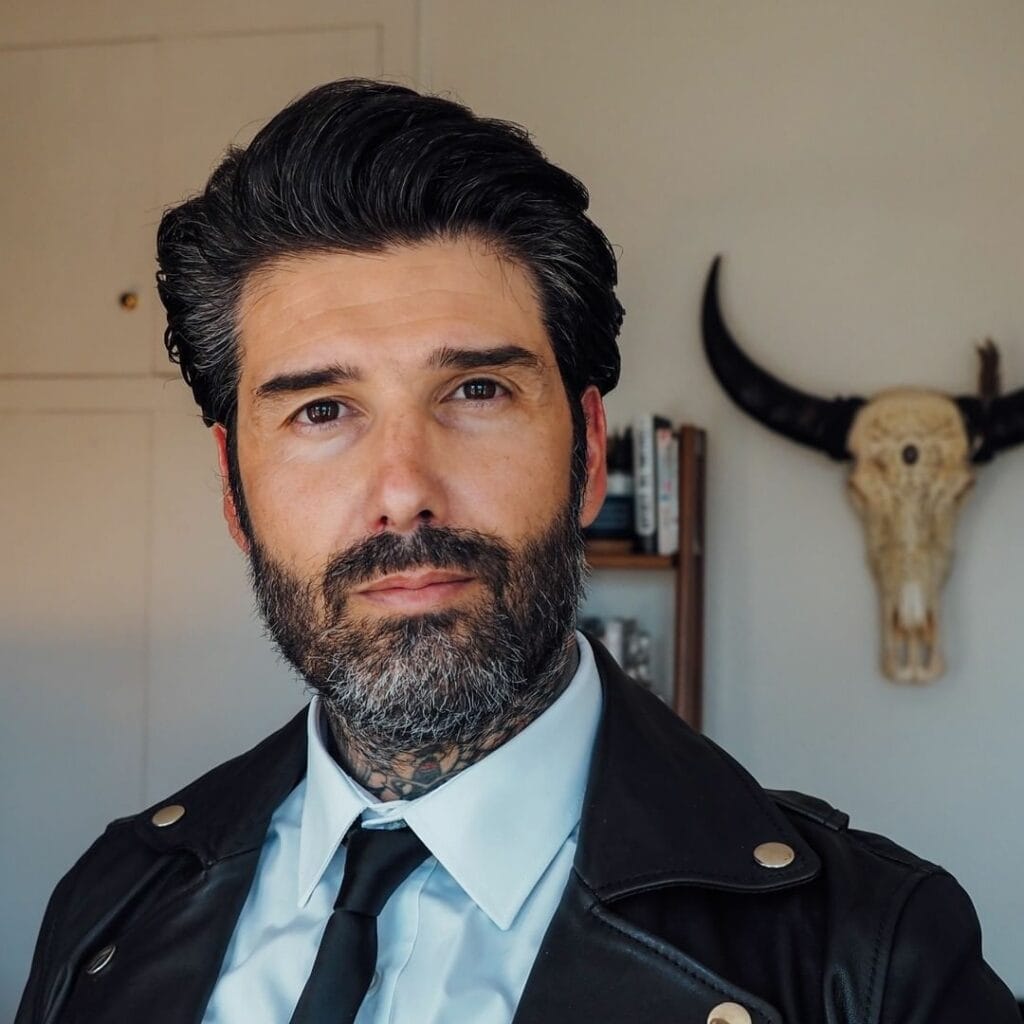 4. A Proper Night Sleep
To grow a better and thick beard, it's important to get enough sleep. Your body needs about 8 hours of sleep each night to boost testosterone levels and regenerate.
Without enough sleep, testosterone production can be reduced by 15%, resulting in patchy facial hair.
Getting enough sleep reduces stress and makes your facial hair alluring.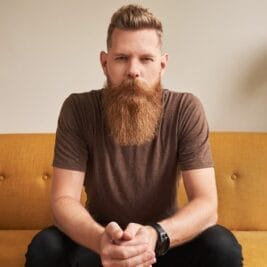 5. Dietary Adjustments
If you want to encourage facial hair growth, having a balanced diet with plenty of vegetables to get the necessary vitamins and minerals for your body.
In addition, consuming protein-rich foods like eggs, almonds, and greens can make your hair and beard look and feel healthier. These foods increase testosterone production, resulting in a more lustrous and nourished curly beard.
Remember that growing a beard is not just about grooming; it's also about your general health.
By incorporating more protein-rich foods and greens into your diet, you'll see the positive effects on your beard in just a few weeks.
6. Supplements
In order to make your facial hair grow, it's important to understand the role of supplements in your diet.
Supplements are designed to support the nutritional gains you get from your food intake.
These nutrients are essential for maintaining good health and promoting beard growth, including biotin supplements, vitamins C, D, and E, zinc, copper, and magnesium.
It's worth noting that these nutrients are necessary for a wide range of bodily functions and not solely for promoting hair growth.
A deficiency in any of these vitamins and minerals can significantly impact your ability to grow a full and thick beard.
However, speaking to your doctor before taking any supplements, especially those containing vitamins and minerals, is crucial.
7. Regularly Apply Beard Oil to Your Beard
If you plan to grow a thick beard, using beard oil is essential. Applying beard oil helps keep your beard moisturized and prevents irritation and dandruff.
When choosing a beard oil, I recommend choosing one that contains jojoba oil. This oil is similar to the natural oil produced by the skin and can help make your beard look fuller and thicker over time.
Natural ingredients in your beard oil will help the hairs grow healthier and thicker.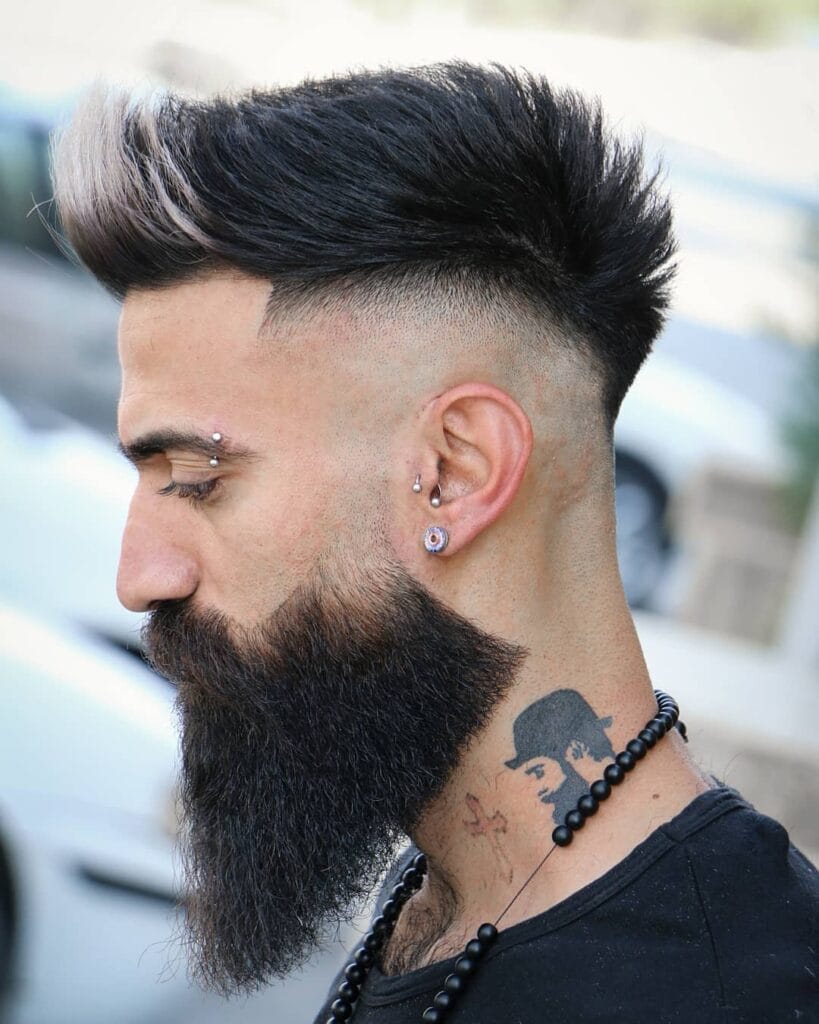 8. Trimming the Beard Correctly
Trimming your beard doesn't actually stimulate new facial hair growth, but it can make your beard look fuller.
By shaping your beard to fit your face and features, you can create the illusion of a thicker beard. Trimming can also be an effective way to hide patchy areas.
If you're not experienced with trimming, we suggest visiting a professional for the first trim. Afterward, you can gradually learn how to trim it yourself for regular maintenance.
However, there's no shame in asking for help and visiting a barber.
9. Stay Hydrated.
Ensuring you're well-hydrated is crucial for maintaining good overall health. Drinking sufficient water helps your kidneys function correctly and flush out harmful toxins.
Plus, it helps to keep your skin moisturized and healthy, which benefits your hair follicles. If you aim to grow a thick beard or increase facial hair growth, consume the recommended 8-10 glasses of water daily.
A helpful tip is to purchase a 1.5-liter water jug, fill it to the brim in the morning, and finish it by the end of the day.
This amount of water equates to around 10 glasses of water, which can boost your beard growth.
10. Beard Shampoo and Conditioner
Did you know that organic shampoo and natural conditioner can positively affect your hair and beard?
Applying conditioner to your facial hair and leaving it for a few minutes before rinsing can make it silky and easy to comb through.
Once your beard feels smooth and manageable, you can wash off the conditioner. Regularly using quality products can make your beard stronger, fuller, and thicker.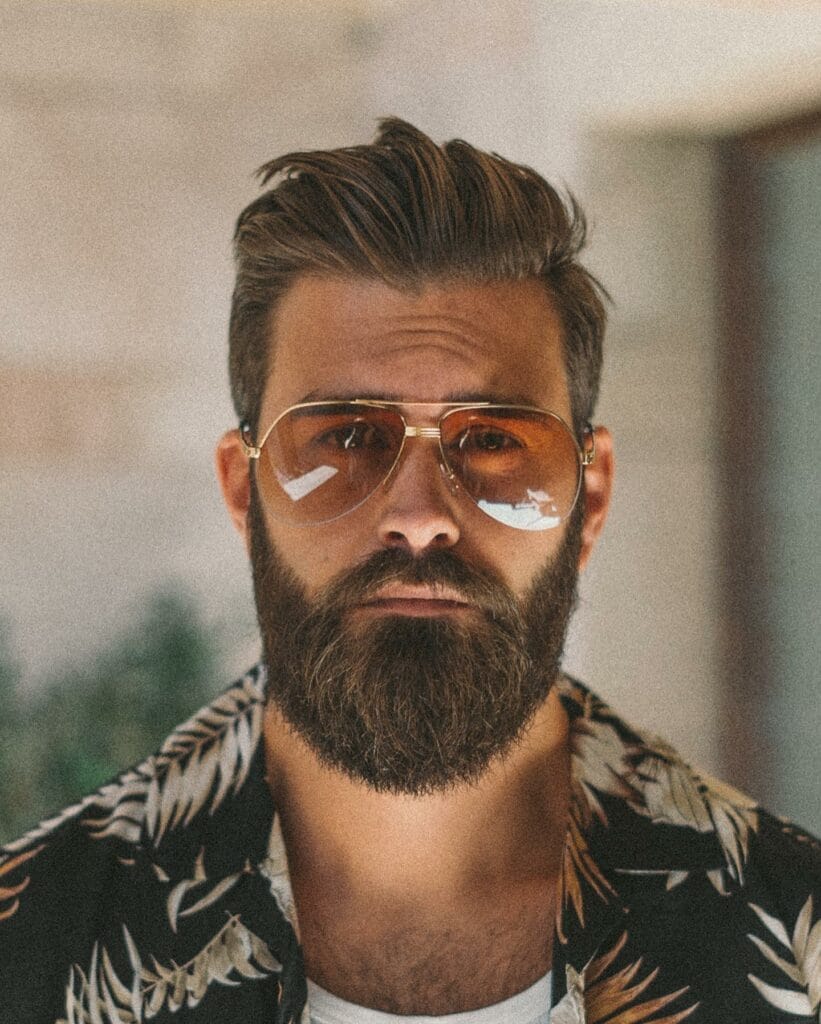 11. Don't Believe Popular Myth About Shaving
The myth that shaving makes beard grow thicker is completely false. Your beard will grow thicker if you leave it alone and avoid shaving it off.
Numerous past and present scientific studies have confirmed that shaving has no impact on beard thickness.
In fact, research dating as far back as 1928 has consistently debunked this myth.
12. Let Your Beard Grow:
Getting a full and thick beard takes patience and perseverance, just like Fabio's medium-length haircuts.
During the initial stages of thick beard growth, you may encounter some awkward phases but don't give up.
Allow your beard to grow until the hair becomes curly enough to fill any patchy areas by twisting it around those sections.
Following the "four-week rule," avoid trimming your beard on the cheeks and under the chin for at least a month.
To maintain healthy and manageable beard hair, incorporate regular use of nourishing beard oil to increase flexibility and elasticity.
For added softness, apply a hot oil treatment once a week to both your beard and skin.
Make sure to brush your beard regularly and use a quality conditioning beard balm to tame any stray hairs.
13. Use a Dye
My trick for thickening my beard seems sneaky, but it works well for me. I have a blonde patch on my beard that I dye to match the darker hairs, which makes my beard look denser.
However, I wouldn't suggest this method for anyone who doesn't have a matching set of blonde and black beard hairs. It always surprises my friends, who see me regularly.
It's important to acknowledge that your beard may already be thick, even if it doesn't appear that way.
Just for Men offers a variety of options to enhance men's facial hair, but be careful not to leave the dye on for too long, or you'll end up with uneven spots.
14. Beard Transplant
You can opt for a beard transplant if you have bald spots on your beard. A doctor can extract hair from the back of your head and transplant it to your beard for a fee.
The hair will fall out within a few weeks and then regrow, allowing you to see if the transplant was successful.
With some patience, it can be a worthwhile solution for those with patchy beards.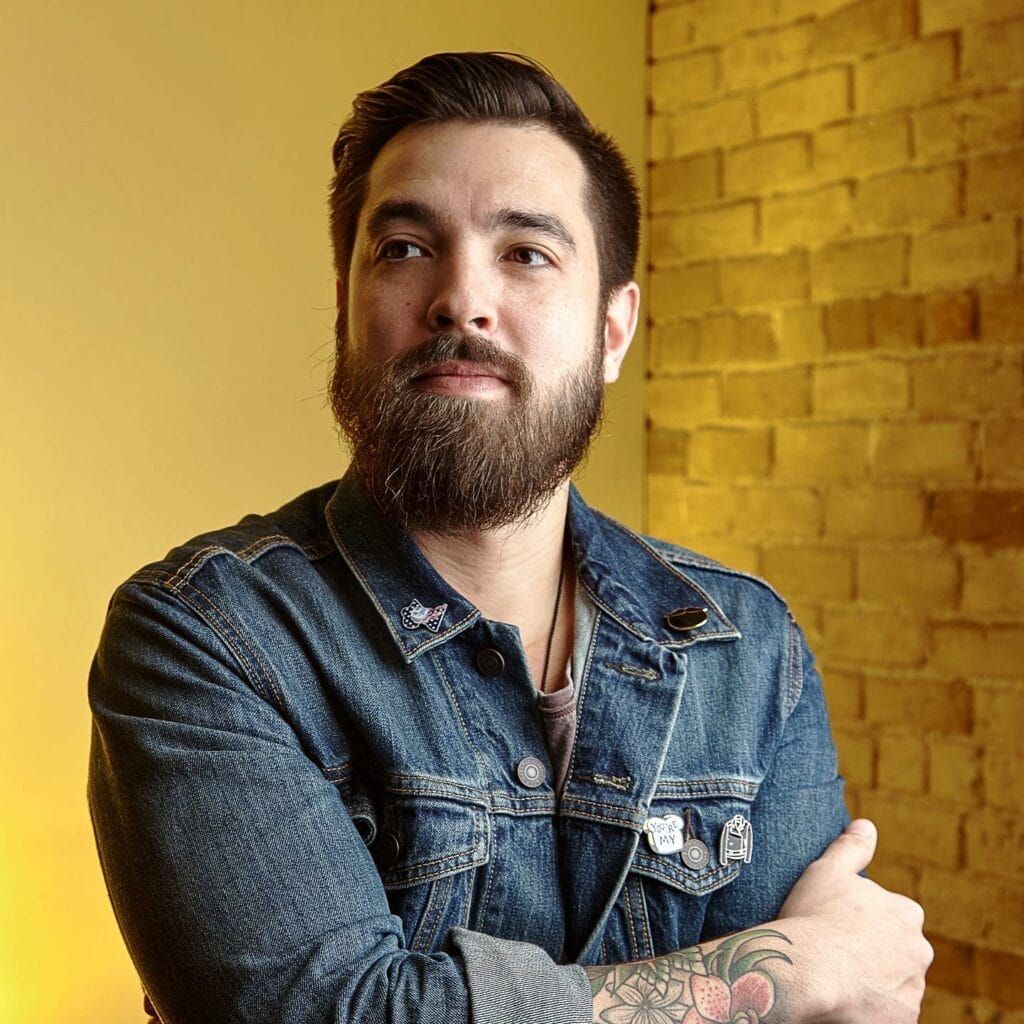 More Options for Growing a Thick Beard
Do you still want to know how to grow a fuller beard? You have some choices:
Regaine (Rogaine) is the brand name for Minoxidil (Rogaine)
Implants for beards
Treatment with hormones
It is important to know the benefits and drawbacks of using any of these methods to thicken your beard, including Minoxidil (Rogaine).
While some men claim it has helped them develop a fuller beard, others have experienced the opposite.
If you are considering using Rogaine, it is crucial to understand how it works. Unlike on your head or legs, Rogaine only stimulates the follicles on your face.
The three phases of hair cell formation are anagen, catagen, and telogen. Rogaine works by prolonging the anagen phase to stimulate hair growth.
However, there are also drawbacks to using Rogaine. Like many drugs, its effectiveness has been observed to decrease in the long run if it is discontinued.
Some men have reported experiencing redness, itching, and dry skin, while others have experienced a decrease in blood pressure.
While a few have reported weight gain, no evidence links it to Rogaine use. It is important to consult with a doctor about potential side effects before using Rogaine to thicken your beard.
Make Your Beard Fuller With These Tricks
This final point will provide tips on how to make the most of beard look thicker through visual tricks.
By shaving your neckline and cheekline, you can create an illusion of a thick beard instantly.
You can also use heavy beard balms and beard oils to add volume and thickness to your beard.
To give your beard a fuller appearance, you can apply castor oil with a thick consistency.
Since beard hairs grow at different rates, trimming them all to the same length can make your beard look more uniform and thicker.
If you have a light-colored beard, dyeing it darker can make it look thicker.
A long beard can be used to conceal bald spots in the beard.
To create more emphasis on your beard area and make it appear thicker, consider cutting your hair short on the sides.
Conclusion
Growing a thick beard is achievable with the right combination of healthy habits and proper beard care.
From keeping your skin hydrated to trimming stray hairs, there are many practical tips to promote hair growth.
By adopting a healthy lifestyle and maintaining a consistent beard care routine, you can achieve a fuller and thicker beard in no time.
So, if you're looking to enhance your facial hair, start implementing these tips today and watch your beard flourish.
FAQs
While thick beard implants can be an effective way to achieve a fuller beard, it is important to consider several factors before opting for this extreme solution.
During the surgery, which can take several hours, hair follicles are taken from the patient's head and transplanted onto the face.
Local anesthesia is used, but the procedure is costly and requires a significant financial investment.
While the transplanted hairs can regrow, this approach also has drawbacks, including the need for surgery and the associated risks.
It is also important to note that beard implants can be expensive and may not be a feasible option for everyone.
Natural methods and embracing your genetic predisposition may be a better alternative to achieving a fuller beard.
It is important to consider all options carefully before growing a thicker beard.
What Is the Risk of Hormone Therapy on Your Health?
For men seeking to achieve a fuller thick beard, hormone treatment is another potential solution. Hormonal cream pills or injectable forms of the hormone can be used if desired.
Although some men have reported that their beard has thickened as a result of male hormone treatment, the number of men who have benefited from this approach is much smaller than those who have had surgery using beard implants.
It's important to keep in mind that any treatment involving hormones may have negative effects on overall health.
Therefore, the potential risks must be weighed against the benefits of having a thicker beard.
However, there are also less harmful ways to thicken your beard, and this list contains a few of them.
Khamis Maiouf is a professional barber who graduated from Hinckley College in England with a degree in hairdressing. He has also won several barbering contests and successfully operated a barbershop for the last two decades. As a skilled hair stylist for 20 years, his goal is to teach others how to achieve a beautiful appearance through their hairstyles.