25 Trendiest Highlights Men's Hair Color For Men
Although old, highlights for men's color modern touches have changed it into the most admirable and excellent hairstyle. There is always a style to suit your taste, from natural-looking shades to bold and daring colors.
Choosing highlights men's hair color offers you these incredible benefits:
You stand out in a crowd and break out of a dull hairstyle.
A breathtaking experience of freshened skin.
They brighten your complexion while maintaining your natural look.
Saving you the pain of many trips to the hair salon.
Check out these latest haircuts for a classy and effortless look!
Blonde Highlights for Brown Hair
Blonde highlights blend well with darker colors to add volume and texture to your hair. This means you will not require to visit your salon NOW and then. You may spice your look with thick hair of medium length styled messy on top.
Or pair it with a pompadour haircut and be the talk of the town.
The light captured by your brown highlights will create a strikingly admirable appearance.
Blonde Highlights for Black Hair
Black hair allows you to play with several ways to style your hair. For example, you will experience a perfect match between blonde highlights and black hair.
Moreover, you can choose a textured pompadour and have the most adorable dyed haircut.
Silver Guys Highlights
Are you that rebellious and adventurous guy? I dare you to try silver highlights; you will never regret it. And for a perfect look, avoid having all your hair dyed gray. Instead, add silver highlights to random strands.
Red Highlights
Sometimes, it's great to be unique in the wildest way possible. For example, putting on red highlights is super wild against any base color, from black to blonde.
How else can you stand out from the crowd?
If you have a carrot hairstyle, the better for you! Take your look a notch higher with blonde highlights. Again, red highlights sit well on dark hair. Shine by wearing red highlights if you have this hair type.
Stunning Platinum Highlights
Gain an intricate and fabulous twist with platinum highlights. This hairstyle gives you a striking and edgy look you cannot find anywhere else. With this hairstyle, you don't have to bother about the nature of your face.
And the color of your hair is the least of your worries with platinum highlights.
What, then, will stop you from trying it? NOTHING.
Give your hair a lot of body and movement by putting on platinum blonde highlights. All you need is to find the right balance between the highlight and your natural hair. That's the work of your stylist, of course.
Ash Blonde
Ash blonde highlights will give you a bold and impactful look to draw people's attention. It's your choice if you don't want profound changes in your hair.
Putting it on creates a fun contrast with the spikes making everything extra pleasant.
Caramel Highlights for Guys
Caramel highlights are less intense but prominent, offering you the golden means to scale up your look. Caramel gives you a sophisticated and stylish look that brightens your skin tone and instantly earns people's admiration.
You will particularly LOVE them if your hair is long.
Do you have dark blonde or light brown hair? Wearing this hairstyle will give you an incredible and eye-catching look.
Chocolate Light
Chocolate light is the silent soldier that hardly talks but adds depth and dimension to your look.
Even though subtle, highlighting chocolate light on dark hair brings attention to your hair. You don't have to put chocolate highlights on the top to achieve the desired effect.
Bright Curly Hair
Curly hair is already attractive and doesn't need a lot of makeup to gain attention. However, color highlights make it stand out.
So, use bright curly if you want to add some taste to your hair. Again, bright curly hair adds more body and texture to your hair, giving you a perfect look with newly sculpted natural waves.
Golden Men's Hair Highlights
The golden highlights significantly impact your hair. I don't want to imagine the taste you are missing, especially if your natural hair is dark.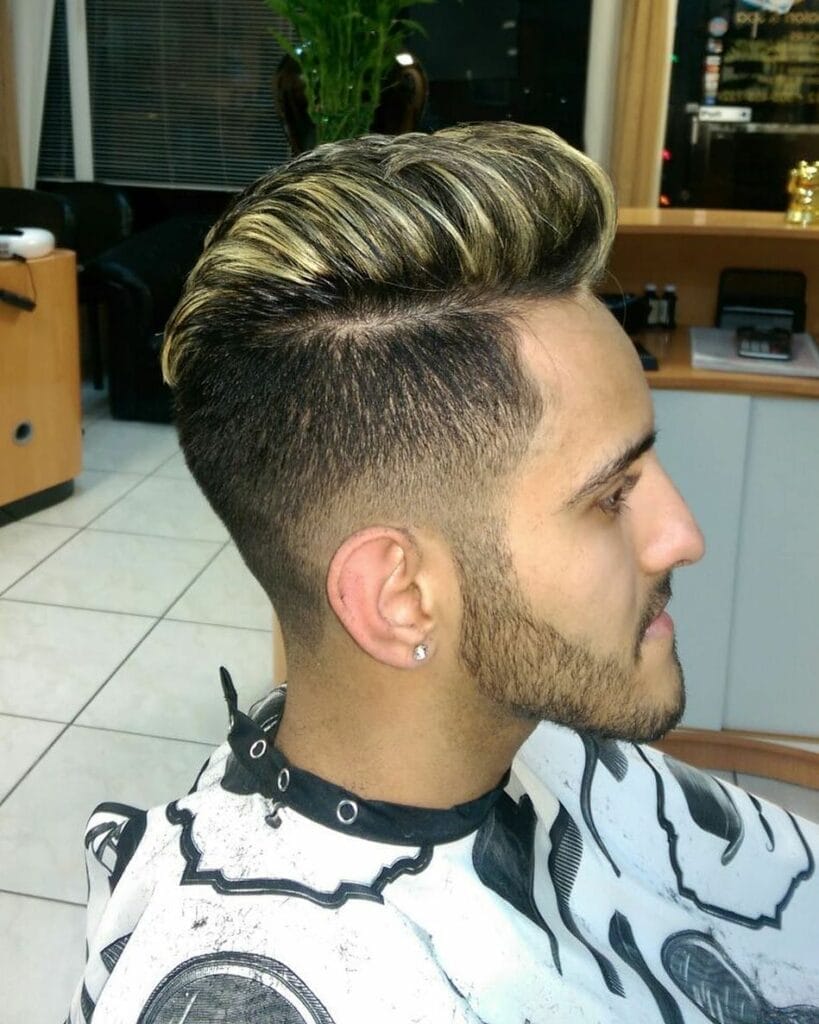 Pastel Shades
The multiple pastel shades combine to make the eavesdropping look. If you are a modern fashion guy, this is your hairstyle.
Peach Men's Hair Highlight
Write a bold statement by putting on peach men's highlights.
Why look like anybody else when in the real sense, you are not? Create a difference with peach men's highlight.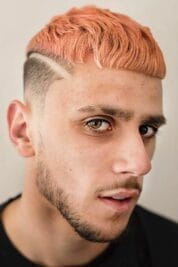 White Highlights Men
Write a signature with white highlights that will leave your hair awesome. With white highlights, you will pull off a stunning look.
Pink Guys Highlighted Hair
Guys also put on pink highlights. Be the trendiest talk of your hood by being unique in your own way.
Green Hair Highlights
Having green shades will elevate your hairstyle to a new level. Irrespective of your hair type, dark or light, curly or straight, green highlights blend well with each.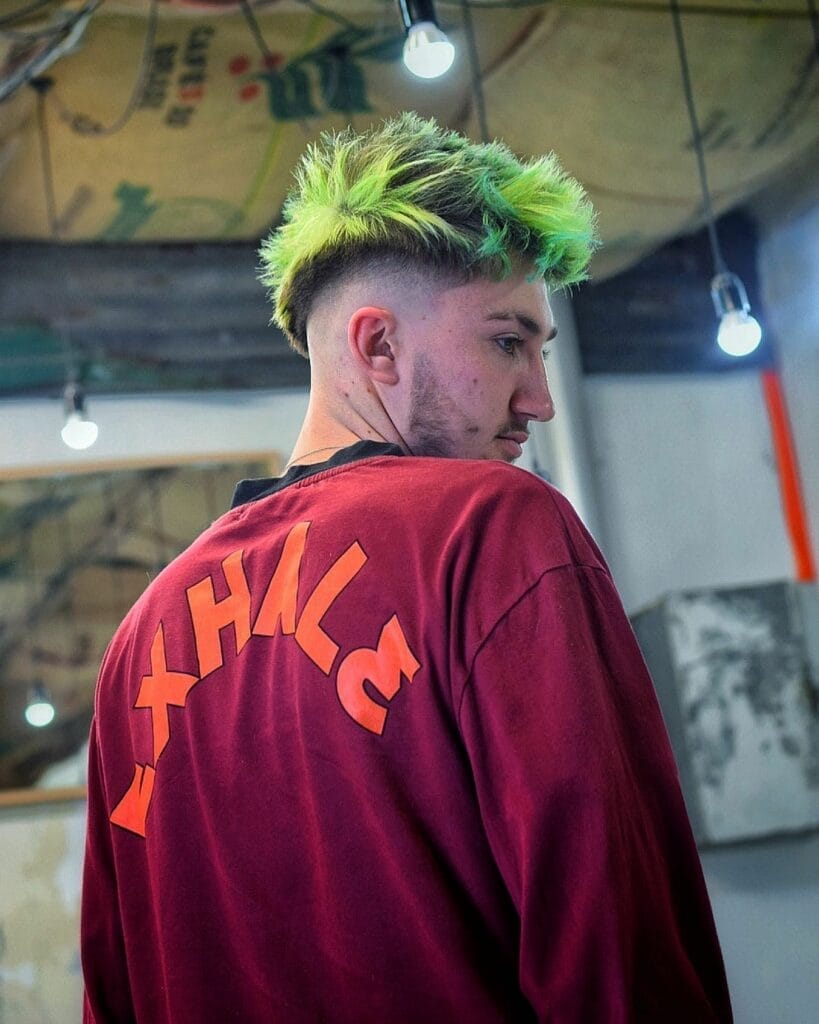 Blue Hair Highlights for Guys
Having blue color as your highlight refreshes your appearance that suits your taste. From bright and showy to light and modest, you have numerous options for choosing your favorite hairstyle.
To create an edgy look, put icy blue color to blend with your natural dark hair.
Blonde For Dark Hair
Do you have dark locks?
Blonde hair highlights will allow you to create high contrast and bold look. Getting blonde highlights will elevate your look, instantly boosting your complexion. Your natural dark hair and the stark contrast will make your hairstyle noticeable from afar.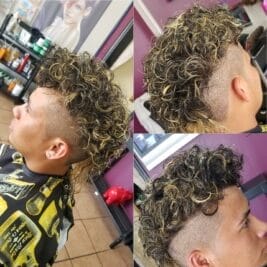 Brown Tips
Brown streaks are best for guys with dark brown hair. It gives you a natural look that will be difficult to note its artificial aspect.
Silver Hair Highlights
Getting silver highlights will change your hair's look. You must not miss out on a great look if your hair is black and you haven't tried silver highlights.
Blonde Streaks
Blonde streaks give your hair an aesthetic look. Get your blonde streaks paired with black hair to produce perfect layers and a stunning look. The color doesn't come into contact with your roots.
As such, it's less costly because you don't require frequent retouching at your hair salon.
Men's Frosted Tips
Frosted tips are quite attractive when done by an experienced stylist who understands your skin tone and hair texture. Have them on your dark brown, black, or blonde hair, and you will never go wrong.
Lavender Color
Lavender is a vibrant color for vibrant and bold men like you. Get this haircut for a striking appearance.
Grey color
The old and young alike prefer gray over other colors. You can choose to dye your head gray, especially if you are experiencing a graying problem.
Go for the patchy gray shades, which you must try on curly or dark blonde hair.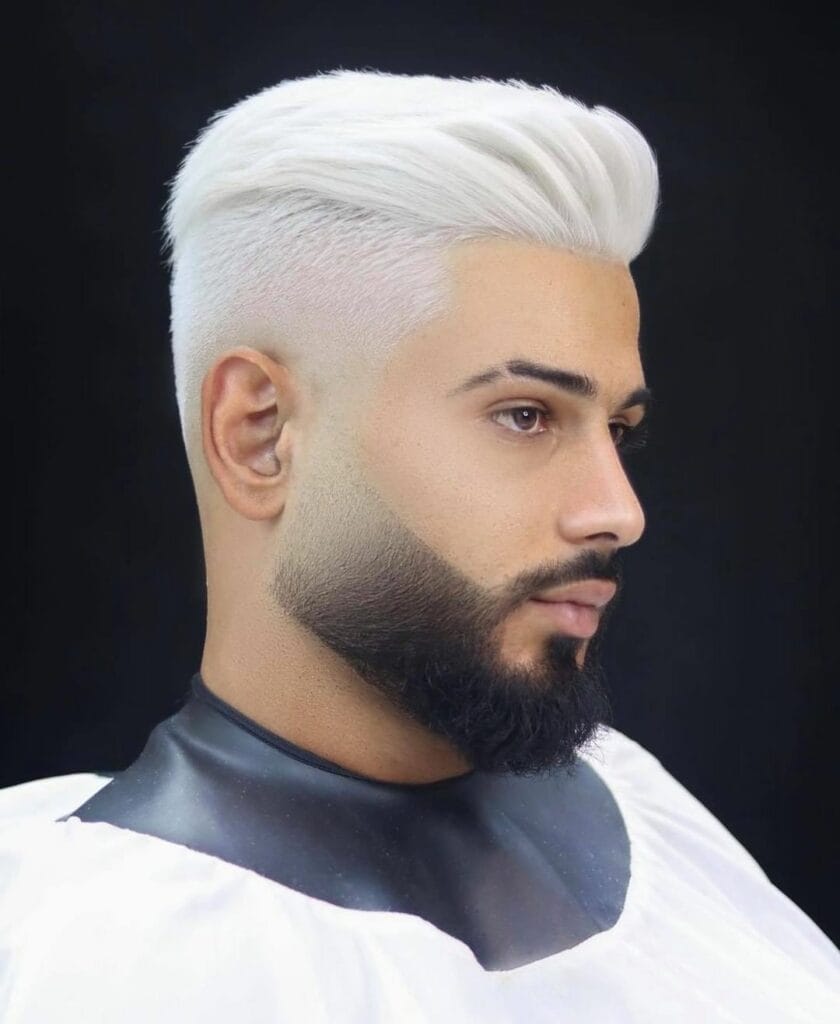 Chocolate brown
Warm up your dark brown hair with chocolate brown highlights. The touches on your hair will leave you with a stunning haircut.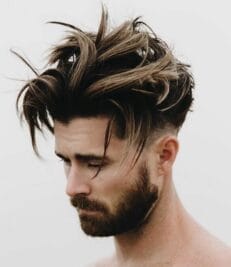 Bleached Hair
Reinvent yourself by having your hair bleached.
Whether you want platinum white, afro, or highlights, bleaching offers you all these instant switches creating an instant difference. Bleached hair will allow you to get a variety of variations to suit your hair length and type.
I recommend a bleached hair taper fade for a bold, edgy finish giving you a natural appearance. This is because it creates a gradient effect, thus giving the color extra dimension.
Wrap-up
Men's hair highlights are a great way to add dimension and depth to your hair. They brighten your complexion and make you stand out in a crowd. Highlights are also a great way to relieve boredom with your current haircut.
If you're looking for a fresh, NEW look, get to the nearest stylist to get your favorite hair highlights today. It's a process that will not take you long, but the results will create a lasting difference.
FAQs
Which Color Is Best for Hair Highlights for Men?
Blonde highlights have always been a fashionable choice for men. However, guys with highlights of various colors, from blonde to brown to red to white, are becoming trendsetters.
This is especially true for black-haired men because the contrasting colors make the style stand out.
Do Highlights Look Good on Men?
Highlights look great on guys, especially when the growth makes a natural appearance.
How Long Will Highlights Last?
Highlights last between two and three months in good hair condition. However, this span may differ due to several factors, including your hair care routine, your hair texture, your hair's health, and so on.
How Much Do Highlights Cost?
The average cost of hair highlights is between $75 and $120. Full highlights typically cost around $150, while high-end salons may charge you up to $175.
Different locations, salons, and hair lengths will result in a wide range of prices.
How Do Men Highlight Short Hair?
Adding highlights to your short curly hair is a quick and easy way to change your style. It takes little time to do so. You only need natural products, a natural and gradual highlight.
Khamis Maiouf is a professional barber who graduated from Hinckley College in England with a degree in hairdressing. He has also won several barbering contests and successfully operated a barbershop for the last two decades. As a skilled hair stylist for 20 years, his goal is to teach others how to achieve a beautiful appearance through their hairstyles.