Double the Crown, Double the Style: Haircuts for Men with Double Crowns
Finding the IDEAL haircut can be a challenge for men with double crowns, but it doesn't have to be.
Understanding your unique hair growth pattern and choosing the right style can transform your look and boost your confidence.
In this comprehensive guide, we'll explore various haircut options, styling tips, and techniques to help you achieve a flattering, easy-to-maintain haircut that complements your double crown.
Identifying the Double Crown
A. Natural hair growth patterns
A double crown is characterized by two separate SWIRLS or growth directions in the hair, often located close together at the back of the head.
This unique pattern can cause hair to stick out, making it difficult to style and manage.
With over a decade of experience as a professional barber, I've crafted styles for a wide range of hair types. In cases of double crowns, I've found that the key lies in understanding the natural flow of the hair.
Each swirl pattern requires a unique approach, one that I've honed through years of attentive practice.
B. Assessing your hair type and texture
To choose the most suitable haircut, first evaluate your hair type (straight, wavy, curly, or coily) and texture (fine, medium, or thick).
Understanding these factors will help you select a hairstyle that works with your double crown and is easier to maintain.
Factors to Consider When Choosing a Haircut
A. Hair length
Shorter haircuts tend to be easier to manage for men with double crowns. However, medium and long styles can also be suitable
if they're carefully chosen to work with the hair's natural growth patterns.
B. Hair type
Your hair type will also play a role in determining the best haircut for you.
For instance, curly hair might require more maintenance than straight hair, but it can also provide additional texture and volume.
C. Face shape
Take your face shape into account when choosing a haircut, as certain styles will complement different shapes better.
A skilled barber or stylist can help you identify the most flattering haircut for your face shape.
D. Personal style and lifestyle
Consider your PERSONAL STYLE preferences and how your haircut will fit into your daily life.
Think about the time and effort you're willing to invest in hair maintenance and styling.
E. Maintenance requirements
Some haircuts require more upkeep than others. Keep in mind how often you're willing to visit the barber or salon for trims and touch-ups.
Embracing the Double Crown: Hairstyles for Male
Many men navigate the unique challenge of styling hair with a double crown.
This natural hair pattern can be seen as a distinctive feature, and with the right haircut, it enhances one's look with a touch of personality.
Best Haircuts for Double Crown: Finding the Right Style for You.
Let's delve into what makes the best haircut for double crown and how to maintain it

A. Short haircuts
A low-maintenance option that minimizes the appearance of a double crown.
2. Crew cut:
A classic style with short sides and slightly longer hair on top is a timeless look that can be achieved by men with double crowns.
To get this look, the hair on the sides should be cut short and the hair on the top should be cut with a bit more length for styling options.
3. Fade:
A modern haircut featuring gradually shorter hair on the sides and back.
How to achieve it?
Gradually shorter hair on the sides and back can create a sleek and stylish finish, while still maintaining a well-groomed look.
This style is also perfect for those who want to keep a little length on top, as the sides and back are subtly tapered.
4. Tapered cut:
The Tapered cut, with gradual length decrease from top to sides, can be tailored for any hair type and complements a double crown.
This haircut can be customized to suit your hair type and face shape, making it a great option for men with double crowns.
5. French crop:
This style features short sides and back with a cropped fringe on top.
The fringe adds texture and distracts from the double crown, creating a balanced appearance.
B. Medium haircuts
1. Textured quiff:
A stylish option that adds volume and movement to the hair, disguising the double crown while providing a modern look.
In my professional journey, I've seen numerous clients struggle with styling double crowns.
Through trial and error, I've identified cuts like the textured quiff and layered approaches that work to harmonize with this unique hair pattern.
2. Side part:
A timeless classic that can be tailored to suit your hair type and double crown by parting the hair in a way that works with its natural growth pattern.
3. Pompadour:
A bold haircut that features longer hair on top and shorter sides.
The added height and volume can help minimize the appearance of a double crown.
4. Slicked back:
A sophisticated style where the hair is brushed back, away from the face.
This can help conceal the double crown by following its natural growth direction.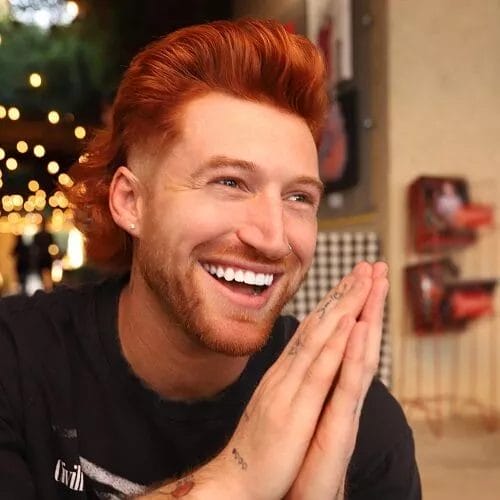 5. Layered cut:
A versatile option that adds dimension and movement to your hair, making it easier to style and manage with a double crown.
C. Long haircuts
1. Shoulder-length layers:
This style works well with wavy or curly hair and can help conceal the double crown by adding texture and movement.
2. Man bun:
A popular and TRENDY option that involves pulling the hair back into a bun.
This style works well for those with a double crown, as it follows the natural hair growth pattern and keeps the hair in place.
3. Top Knot
Similar to the man bun, the top knot gathers hair at the top of the head, disguising the double crown while providing a stylish and modern appearance.
4. Half-up, half-down style:
This versatile style allows you to pull back the top portion of your hair while leaving the rest down, effectively concealing the double crown and offering a relaxed, casual look.
5. Loose waves:
For those with wavy or curly hair, embracing your natural texture and allowing it to flow freely can help disguise the double crown and create an effortless, laid-back style.
How to Style Double Crown Hair?
A. Use of styling products
Experiment with different styling products to find the best fit for your hair type and desired style. Options include:
Wax: Provides a flexible hold and a natural, matte finish.
Pomade: Offers a medium to strong hold with a shiny finish, ideal for slicked-back styles.
Gel: Gives a strong hold and a wet, glossy look.
Mousse: Adds volume and texture to the hair while providing a light hold.
Hairspray: Offers a finishing touch to secure your hairstyle in place.
B. Blow-drying techniques
Proper blow-drying techniques can help manage a double crown hairstyles by controlling the hair's direction and volume.
Use a round brush or vented brush to guide your hair while drying, following its natural growth pattern.
C. Comb and brush selection
Choose the right comb or brush for your hair type and style.
Wide-tooth combs work well for detangling, while round brushes can add volume and shape to your hair.
D. Regular maintenance and grooming
Keep your haircut fresh and easy to manage by scheduling regular trims and touch-ups with your barber or stylist.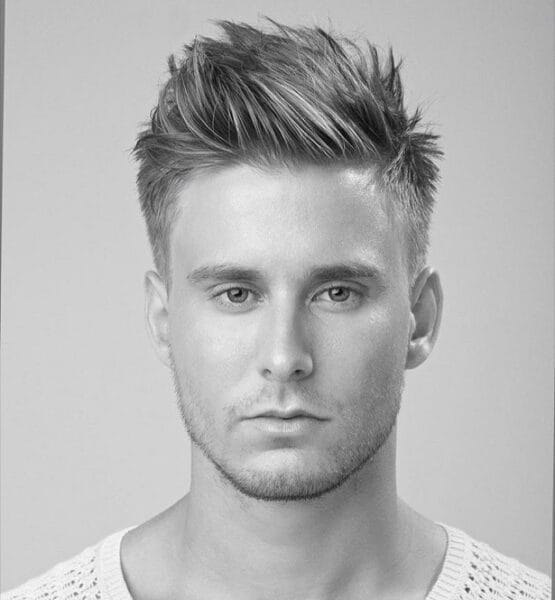 How to Communicate with Your Barber or Hairstylist
A. Providing clear descriptions of the desired haircut
Be specific about the look you want, and don't be afraid to ask for clarification or advice.
B. Bringing reference photos
Show your barber or stylist pictures of your desired haircut to ensure you're both on the same page.
C. Discussing challenges related to your double crown
Inform your barber or stylist about your double crown, so they can tailor the haircut to work with your UNIQUE HAIR GROWTH PATTERN.
D. Asking for professional advice and recommendations
Seek guidance from your barber or stylist on the most suitable haircut and styling techniques for your double crown.
E. Setting realistic expectations
Understand that not all haircuts will work for your hair type and double crown.
Be open to suggestions and adjustments from your barber or stylist.
Dealing with Hair Growth and Changes Over Time
A. Regular trims and maintenance
Schedule periodic visits to your barber or stylist to maintain your haircut and keep your double crown in check.
B. Adjusting haircut styles as hair changes
As your hair grows and changes, be prepared to adapt your haircut and styling techniques to continue working with your double crown.
C. Embracing the natural growth pattern of your double crown
Accept your double crown as part of your unique hair growth pattern and focus on finding a haircut and style that complements it.
FAQs
Can I change the direction of my double crown?
While it's challenging to change the natural growth pattern of a double crown, you can work with it using the right haircut and styling techniques.
How often should I get a haircut if I have a double crown?
The frequency of haircuts depends on your chosen style and personal preference.
Generally, shorter haircuts require more frequent maintenance, while longer styles can go longer between trims.
What is the best styling product for men with double crowns?
The ideal styling product depends on your hair type, desired style, and personal preference.
Experiment with different products to find the one that works best for you.
Can a barber or hairstylist fix my double crown?
While a skilled barber or stylist cannot change your natural hair growth pattern, they can help you find a haircut and style that works with your double crown, making it less noticeable and easier to manage.
References:
A drink consisting of Crown Royal and Royal Crown (RC) cola. Similar to a Jack and Coke. source
Double crown can refer to:
the Pschent combined crown of Ancient Egypt;
a British coin worth ten shillings or two crowns;
winning the first two of the three races in the Triple Crown of Thoroughbred Racing
a double hair whorl. source
Khamis Maiouf is a professional barber who graduated from Hinckley College in England with a degree in hairdressing. He has also won several barbering contests and successfully operated a barbershop for the last two decades. As a skilled hair stylist for 20 years, his goal is to teach others how to achieve a beautiful appearance through their hairstyles.