Shadow Fade Haircuts – The Best 24 Latest Trends in Hair Styling
Looking for a new haircut?
Shadow fade haircuts are all the rage right now. They're perfect for anyone who wants a trendy, stylish look that can be styled in lots of different ways. Plus, they're low-maintenance and easy to style.
You can choose how short you want the sides to be, so you can customize your shadow fade haircut however you want.
This also means that the shadow fade haircut is versatile and can be styled in many different ways to suit your personality and lifestyle.
what is a shadow fade?
A shadow fade is a type of fade haircut with shorter sides that get longer near the top.
You can choose a light, medium, or dark shadow fade, which goes well with any hairstyle. This type of fade is flattering for all hair types, whether you have straight, wavy, curly hair, or dreadlocks.
Take a look at these shadow fade ideas to help you choose your perfect style.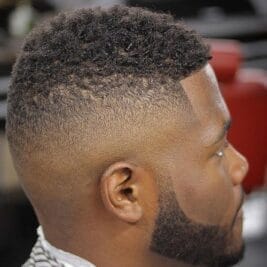 Black Man Shadow Fade
A shadow fade is an awesome hairstyle for Black men with any sort of curl type.
Faded sides give your hair sleekness and definition, in addition to being easy to style every day. Have a look at the image and see how amazing this fade is!
Stunning Comb Over With Shadow Fade
A well-done comb-over looks chic and old-fashioned, but if you want to give it a modern edge, try asking for a shadow fade.
To get the classic comb-over look, leave the top long enough to create a neat part.
Use the product to style your hair into this shape, and use a shaping cream to hold it in place.
As you can see from the example, adding a shape-up makes it look even sharper!
Natural Curly Hair With Shadow Fade
The light fading combined with curls at the top creates a striking look because the sides have high contrast.
If you desire to have this hairstyle but don't have curls, get a perm.
Keep in mind that perms require frequent touch-ups and maintenance, so be prepared to visit the salon regularly.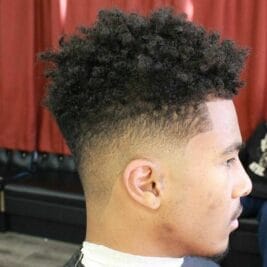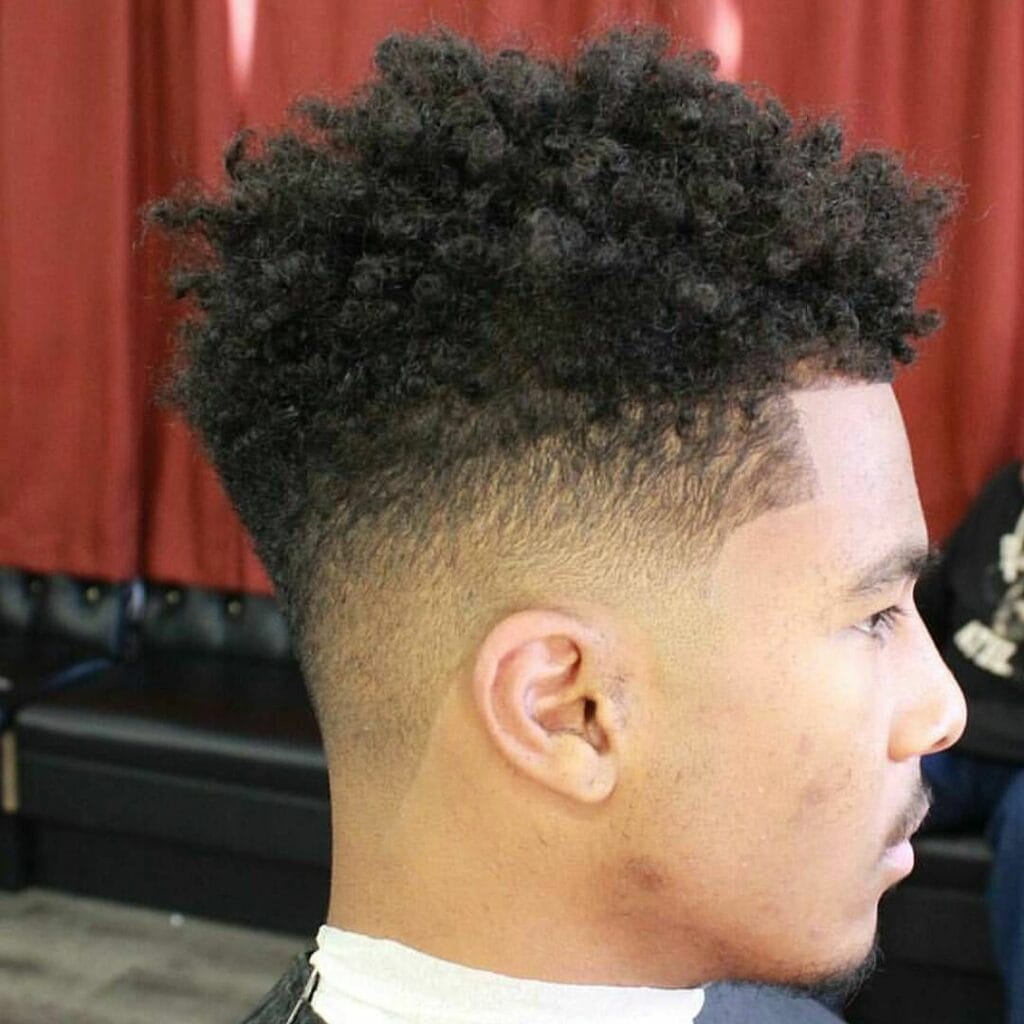 Afro Shadow Fade
If you're looking for a bold yet clean cut, the Afro Shadow Fade is a perfect choice.
This style features a fade on the sides, with shadowed edges to give definition and shape to your afro.
The result is a stylish and polished look that shines. Trust us, you'll be turning heads with this trendy haircut.
Sharp Shaped Up With Shadow Fade
Immediately after adding a sharp shape up to your shadow fade, you will look twice as cool and well-groomed.
This haircut adds structure and definition to your look, while the shadow fade adds depth and texture.
Crafting a curly shadow fade haircut
you have natural curls, a shadow fade haircut can add even more dimension and texture to your locks.
To achieve this look, start by discussing with your stylist the length and shape you want for the fade.
Airing Texture With Shadow Fade
Airing textured hair plus shadow fade creates an edgy and modern look. The fade adds dimension to the texture, while the texture adds contrast anding the shadow fade plus textured hair gives the appearance of a thicker, fuller mane.
Sexy Low Shadow Fade
The Low Shadow Fade haircut is a great way to show off your hairstyle. This cut is usually done with shorter hair on the sides and back and longer hair on top.
TheLow Shadow Fade can be styled in many ways, so it's a versatile option for anyone who wants a stylish look.
Shadow Fade With Faded Beard
The shadow fade is already a pretty impressive hairstyle, but when you pair it with an equally faded beard, The result is awesome and the most artful fade you'll ever see.
Trendy Mid-Shadow Fade
The trendy mid-shadow fade features a seamlessly blended transition from long hair at the top to short hair on the sides and back like the classic fade, this style combines both short and long lengths.
You can style your hair any way you like, as long as you keep the fade level around your eyes.
Lighter Shade Drop Fade
The drop fade, also known as a taper fade, adds an extra element by dropping down at the temple and behind the ear for a clean finish.
This haircut is perfect for guys who want a sleek, modern style.
Attractive Dreads With Shadow Fade
Shadow fades always add an edgy touch to any hairstyle, but when they are combined with dreadlocks, the result is a truly bold and unique style.
For men with thicker, longer hair, this style is a great way to add some personality to your look.
Just make sure to properly maintain and care for your dreads to keep them looking fresh.
Sea Waves Style With Shadow Fade
Not only is sea wavy hair stylish, but a trimmed shadow wave makes it even more handsome.
If you're looking for a unique style, show your barber this image and you're good to go.
Shadow Fade With Hard Part
This haircut is great for people who want to experiment with their appearance. It includes a high shadow fade with a line shaved into the side and extra height on top.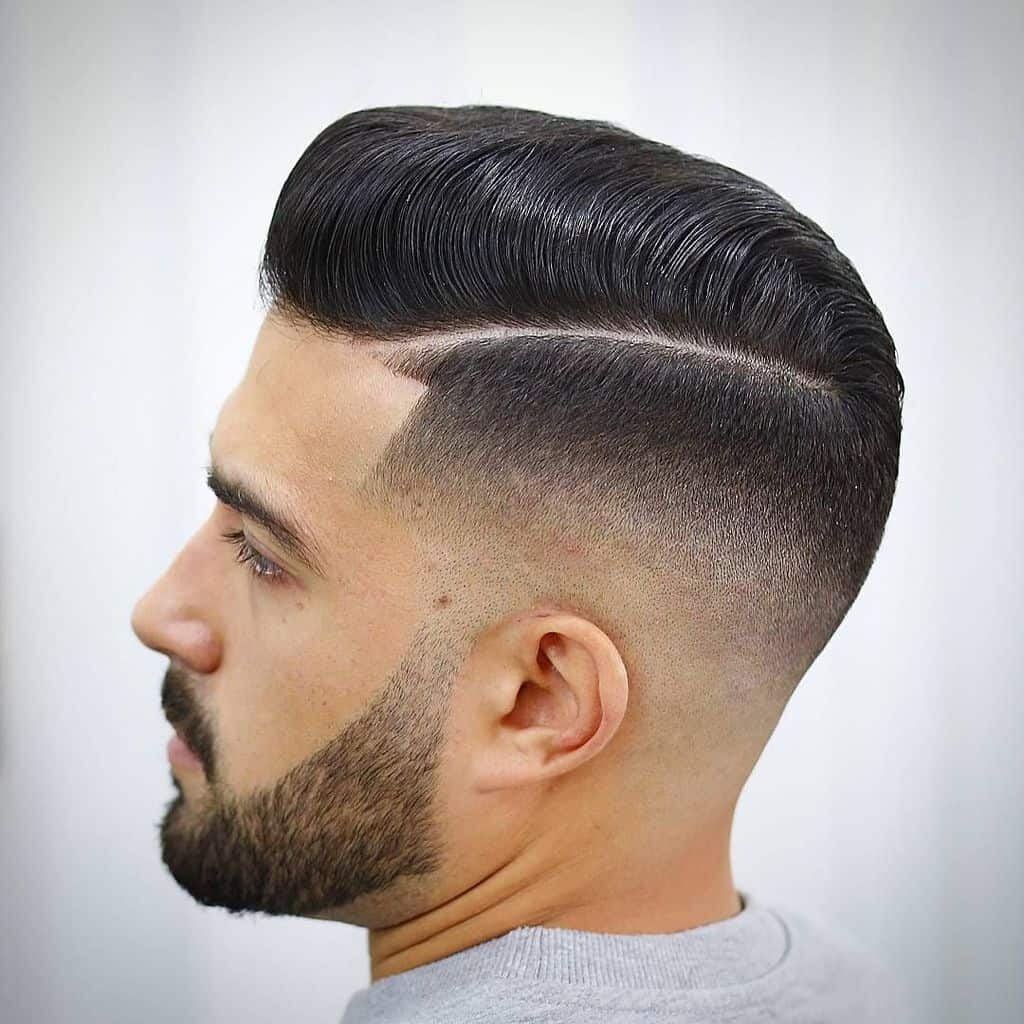 Cool Straight Hair With Shadow Fade
This look works best with medium to long-length hair and can be easily styled using a flat iron or blow dryer.
The shadow fade adds just the right amount of edge while maintaining a clean and polished finish. To make a lasting impression, match this style with a sharp outfit. Get ready to turn heads and feel amazing!
Eye Catching Medium Shadow Fade
A medium shadow fade is an evenly balanced hairstyle — the hair gradually becomes shorter at a moderate rate starting from the neck or ears and culminating at the top.
This haircut is perfect if you're wanting a sleek and chic look that still appears effortless.
The hairstyle shown in the image as you can see is easy to achieve and maintain, while still looking fresh and classic.
Shadow Fade Haircut Afro
This short afro with a shadow fade is always a good choice. When you put the two styles together, It not only does it look sharp and neat, but it's also low maintenance.
High and Tight Shadow Fade
A shadow fade is a type of haircut where the hair is cut close to the scalp near the top, as the name suggests. This is a great choice for men who want an edgy look.
a bit more to this style than just a high start. The fade is blended into the skin, creating a shadow-like effect. This gives it a clean and modern finish.
To get this look, make sure to ask your barber for a high and tight shadow fade.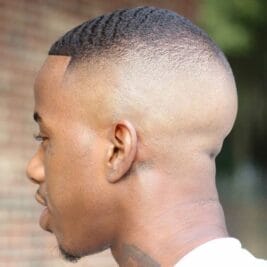 High Spiked Top Shadow Fade
A high Spiked top shadow fade is a fantastic and trendy haircut for Black men that style well with afro-textured hair. The best part of this hairstyle is that it doesn't take much effort to style.
Plus, you can try any shadow fade; the key is making sure the hair at the top is spiky. If you want to make your face appear longer, then this is the perfect choice for you.
Low Shadow Fade For Black Men
The low shadow fade is a perfect, classic hairstyle for Black men who prefer keeping it simple. Try adding twists to the low shadow fade for a more unique look.
Shadow fade with buzzed sides
Hair involves gradually blending from longer hair on top to shorter hair on the sides and back.
It is versatile and can be paired with a buzz-cut style, can also be styled with a variety of haircuts, including pompadour, quiffs, and slick backs.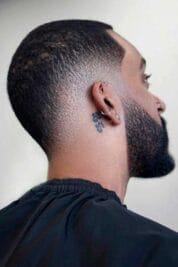 FAQs
What is the difference between a fade and a shadow fade?
Fade is a broad term in haircuts that has many different types of haircuts such as skin fade, med fade, and high fade whereas shadow fade is one type of fade. A shadow fade is a hair that is shaved very close to the head (0-grade) and then gradually fades up.
shadow fade vs skin fade?
The shadow fade is a stubble fade that doesn't require any attachments, and the hair must be quite short. Skin fade haircuts are layered very short, in fact so close to the skin that it gives the appearance of being balding.
What is a medium shadow fade?
A medium shadow fade is a type of taper haircut where the main shadow of the taper begins around midway up the head, at about the same level as the eyes.
The high and tight shadow fade haircuts start by gradually getting shorter near the top of the head, as suggested by its name.
With a flat top, you maintain your square shape with defined corners and an equal length through the front. The fade at the sides makes it more interesting for men who want to try something new!
Faux Hawk Hair Shadow Fade
faux hawk hair shadow fade is perfect for those with curly or kinky hair. The fade in the back and sides provides a clean, sleek look while the longer top allows for varied styling options, including an edgy faux hawk.
Nappy Haircut
The nappy haircut is a widely selected option for men with kinky or coily hair types. It is often accompanied by a shadow faded cut to create more contrast and depth.
Khamis Maiouf is a professional barber who graduated from Hinckley College in England with a degree in hairdressing. He has also won several barbering contests and successfully operated a barbershop for the last two decades. As a skilled hair stylist for 20 years, his goal is to teach others how to achieve a beautiful appearance through their hairstyles.