10 Must-Try Red Beard Styles For The Modern Man
Looking to stand out from the crowd and show off your ruggedness? Flaunting a beard is the perfect way to do it! With so many different shapes, designs, and lengths to choose from, finding the ideal beard style that suits you is challenging, especially if you are new to the beard playing field. Don't worry; we've got you covered.
We've compiled a list of the hottest red beard styles for you, and we hope that by the time you finish reading this article, you will have found your favorite style. Whether you're new to the beard game or just looking to switch things up, we're confident you'll find a style that suits you.
Explore this list of red beard styles we have prepared for you now and find your new go-to look!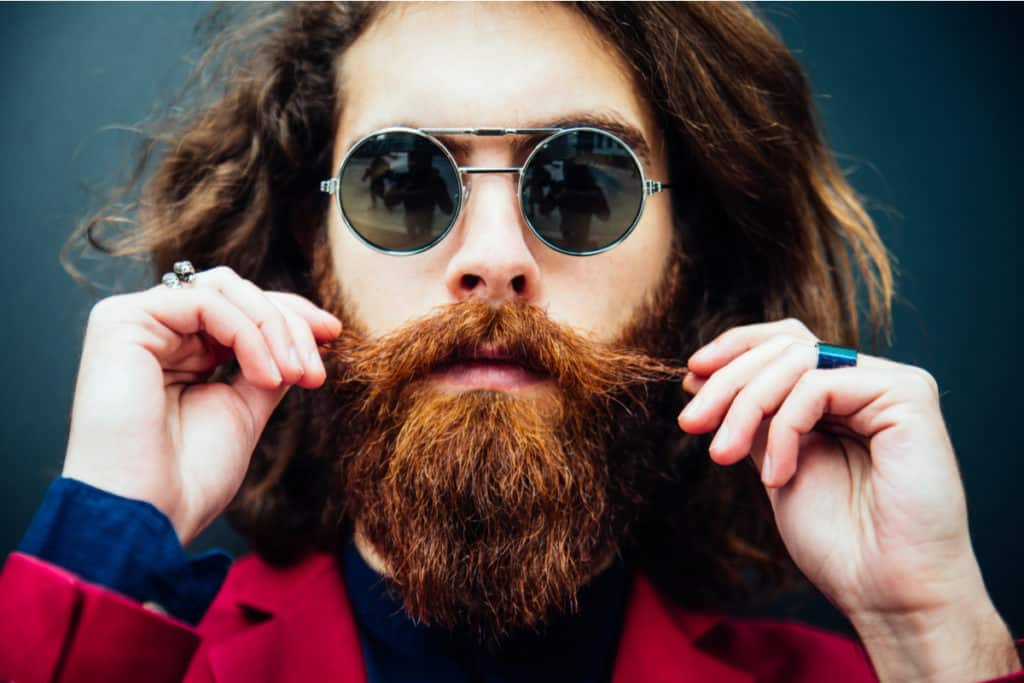 Long Beard With Red Color
Although growing a long beard of any kind can be time-consuming, the results are rewarding.
All you need is to allow your beard time to grow before trimming it to produce your desired style. You'll then dye it red or ginger to produce an elusive and natural ginger-colored beard style will certainly show you as adorable and outgoing.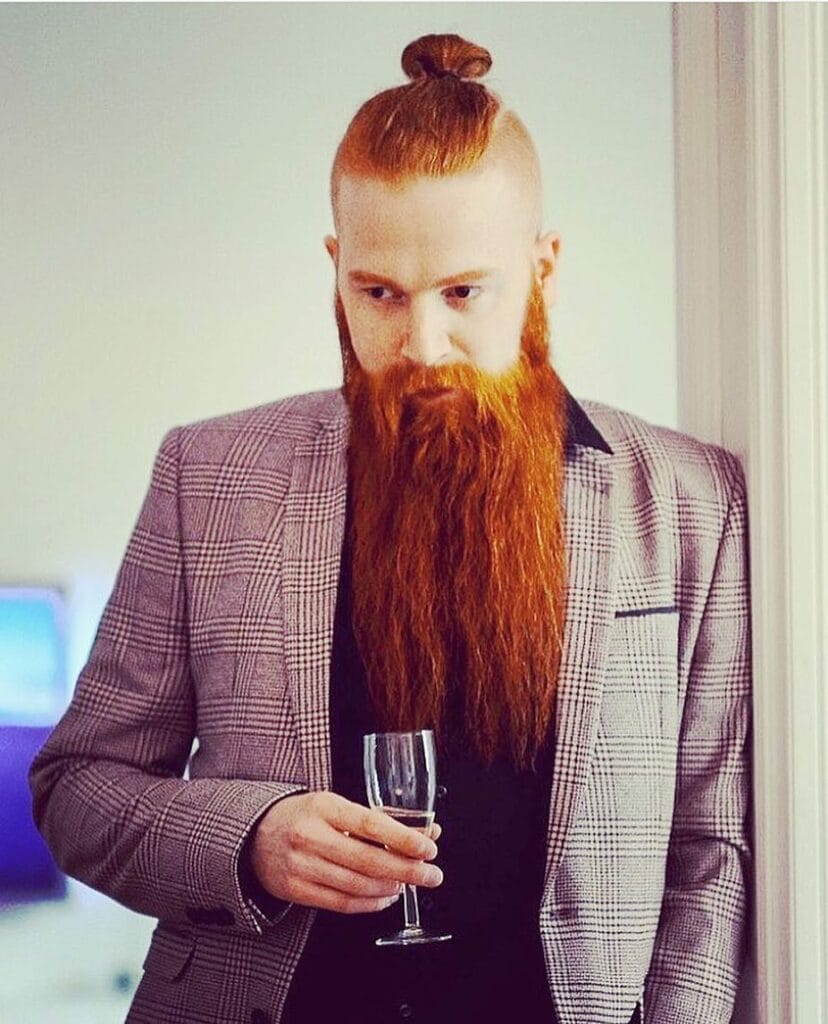 Thick Red Beard Style With Bushy Hair
Do you have a luscious thick beard? You can apply a ginger dye to become recognizable far and near. Michael C. Hall flaunts a thick red beard style, and he looks sleek and sophisticated.
A thick beard will insulate your face against cold, so you don't have to look for a scarf. It will also help you moisturize your skin as it will prevent you from wiping off the natural oil from your skin.
Dying your beard with ginger dye accompanied by bushy hair will make your masculinity show off and as well stand out from the crowd.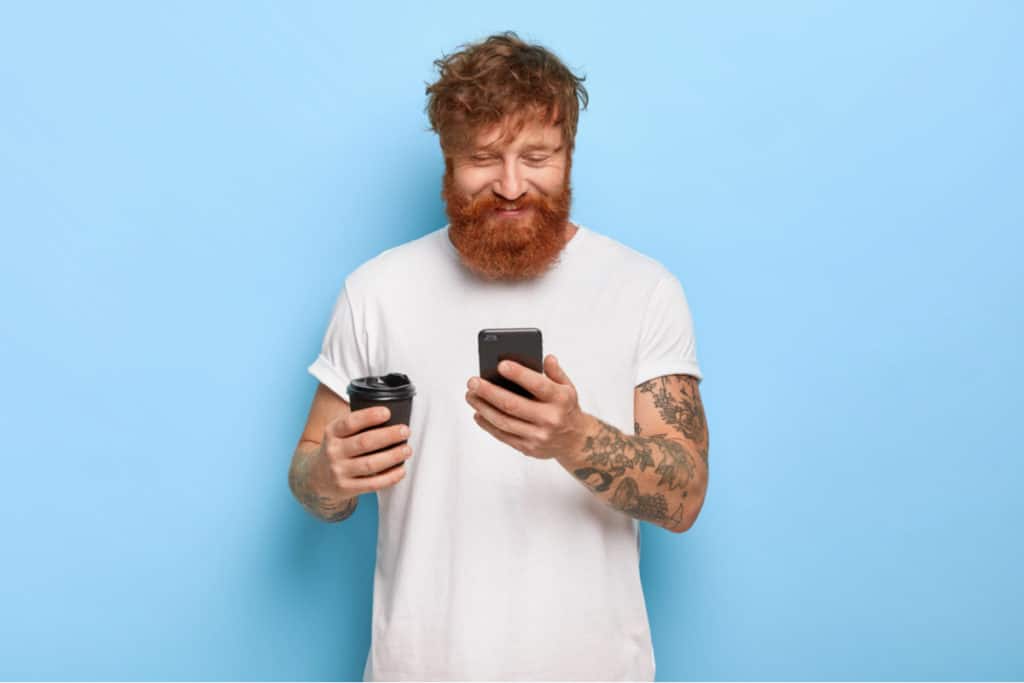 Also Read: 5 Trendy Anime Characters with Red Hairstyle
Stubble Ginger Color Beard Style
A stubble beard with a ginger color offers you a perfect combination you can try.
This style involves allowing your beard to grow out to a medium length and trimming it to the desired size using a trimmer. Apply ginger or red dye to add a unique touch to your overall appearance, just like Alexi Lalas.
Go for this style if you want a low-maintenance yet elegant look to turn heads. You can wear it with a variety of different outfits.
You can try this look to enhance your personality if you are a model or influencer on social media.
V-Shaped Red Beard With Quiff Hairstyle
A V-shaped ginger beard with a quiff hairstyle will make you look bold and stylish.
You'll need to allow your beard to grow out to a medium size and then trim it into a V-shape. Dye your beard using a red or ginger dye to achieve the ginger beard style. However, you don't need to dye your hair if your hair is naturally red.
Pair it with a quiff to add flair to your look. Hold and maintain your quiff in place with the help of a styling product, such as pomade or holding gel.
A Bushy Red Beard Style
Try a bushy red beard if you are that outgoing guy who wants to make a statement. All you'll need is to allow your beard to grow out to a full, thick length. Depending on your beard growth rate, this might take several weeks or even months.
Once your beard reaches the desired length, dye it red using a beard dye. Choose a shade specifically formulated for facial hair, as regular hair dye can damage the delicate skin on your face.
Once you finish applying the dye, rinse and dry your beard before styling it as desired. You may want to use beard oil or balm to keep the beard moisturized and healthy.
Long Red Hair and Full Length Beard
Long red hair with a long beard reminds us of ancient times when villains and giants were most feared. This beard is evident in vampires or wolf ware movies.
This style is for daring guys that want to stand out. It involves growing both your hair and beard to a sizeable length and dying it red.
Growing your hair to full length will take time. It means rocking this style requires a lot of patience.
Try this cool and classic beard style this coming Halloween, and you'll never disappoint.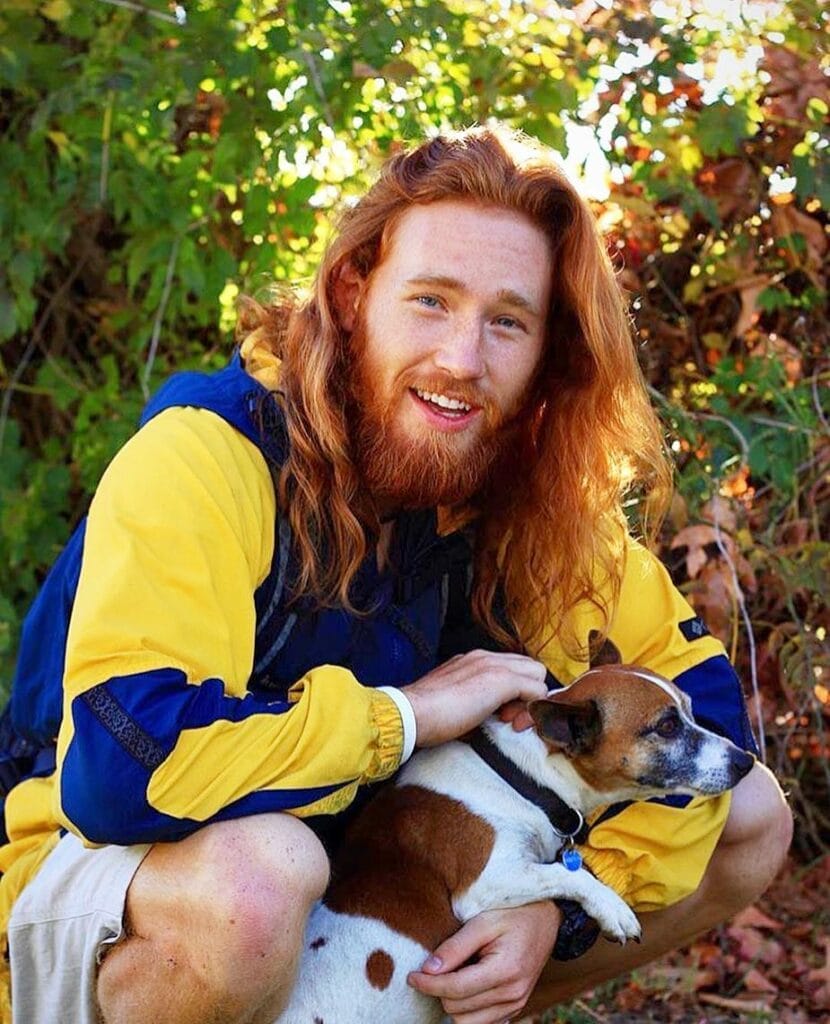 A Bald Head With Red Beard
Do you love beards even though your head is growing bald? Why not try a bald head with a red beard style? It will give you a bold and distinctive look that will divert people's attention from your balding head.
Plus, this style is a great alternative if you're not into keeping long hair. All you need is to shave the head completely bald and grow a full, thick beard dyed red.
However, you'll have to visit your stylist regularly to maintain this incredible style.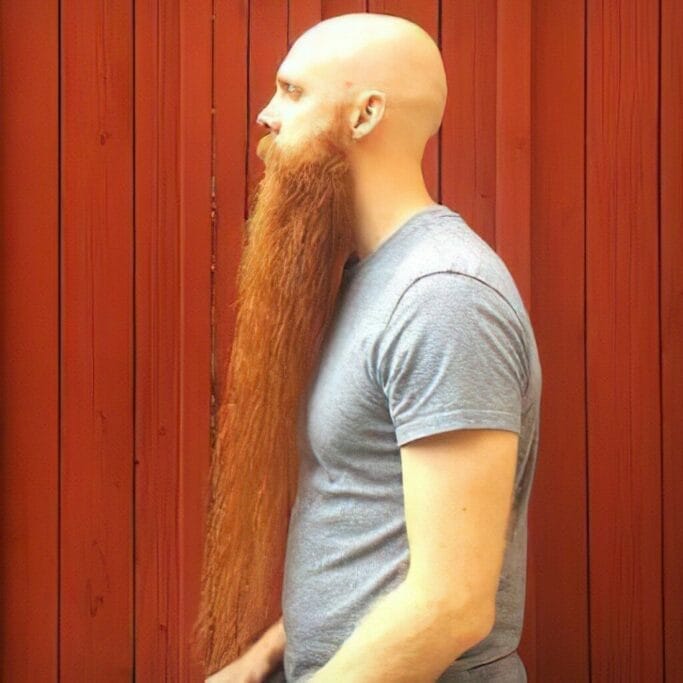 A Horseshoe Red Beard With Long Hair
Are you looking for a unique and stylish beard style that's easy to achieve and maintain? Try the horseshoe beard, and you'll never look back.
All you need is to grow your beard the usual way down toward your chin. Your mustache should also grow down your face.
Shave your chin using a razor leaving the sideburns and mustache. This will create the shape of a horseshoe, giving you an incredible look that will turn heads.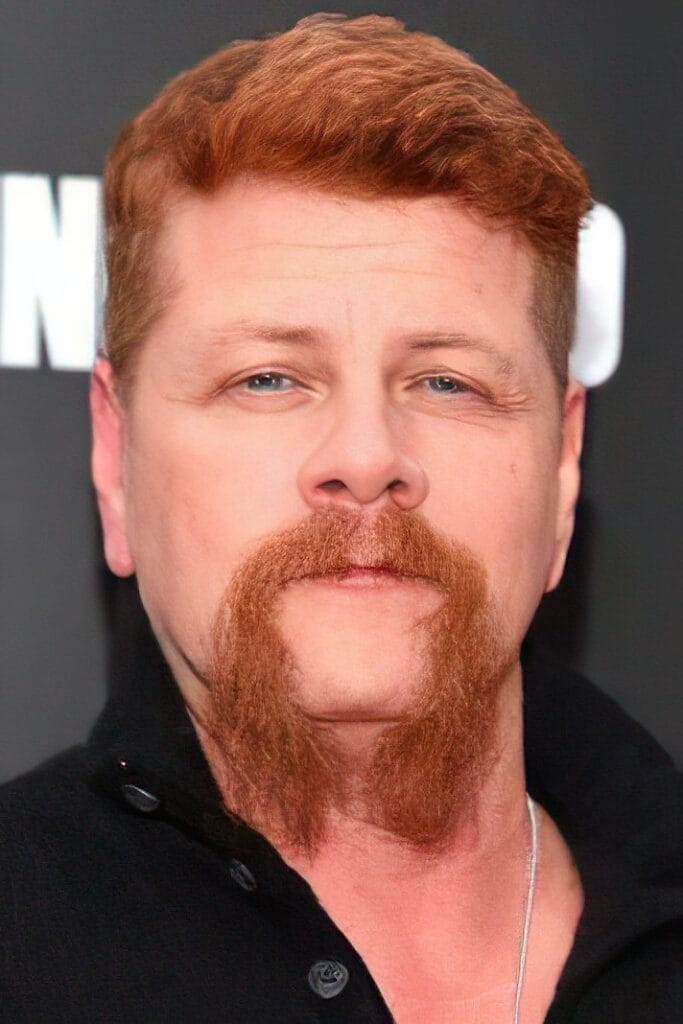 A Handlebar Mustache In Copper Color Beard
A handlebar mustache is classic and perfect if you're into this kind of grooming. Wearing this beard will definitely help you to make a statement. But you'll have to shave clean to create an impact.
The good thing about this beard is that it suits any face shape. All you require is confidence.
Use a copper color dye to make your look bold.
Plus, you'll need to trim it regularly for a perfect look.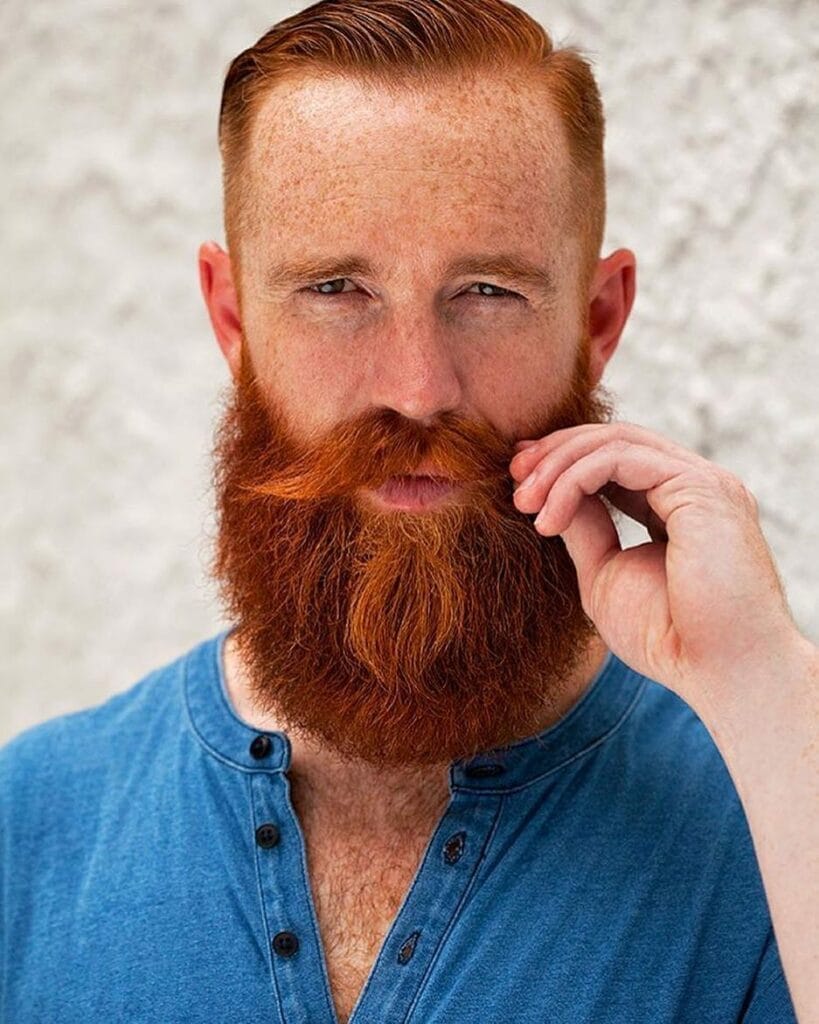 A Faded Hairstyle With Beard In Red Color
A faded haircut is universally flattering with a touch of sophistication and trendiness. This haircut focuses your sides more, allowing you to choose what to put on top of your head.
This style works for everyone regardless of their face shape or hair type.
Pairing this look with a ginger-dyed beard will certainly make you look sophisticated and show your masculine prowess.
This sleek style is most suitable for college and social media influencers. Plus, celebrities rock this beard style.
Tips To Maintain A Red Beard Styles
Wash your beard regularly, as this will remove product build-up and residue. This will ensure beard oil penetrates your skin.

Effectively wash your beard to avoid damaging it.
Use oil to ensure your beard is moisturized to give it a soft, supple feeling.
Style your mustache using beard wax formulated specifically for facial hair.
Ensure you choose the right beard style for your face shape, just like the hair on your head.
Get regular trims from your stylist to keep your beard groomed and neat.
You must be patient while growing the beard or mustache, as it takes time.
Conclusion
You can't go wrong trying any of the above-discussed beard styles. Dying your beard requires boldness, but its benefits are unprecedented. You'll stand out from the crowd by wearing a style that shows sophistication and masculinity.
This beard style allows you to pair it with various hairstyles and clothing choices.
Khamis Maiouf is a professional barber who graduated from Hinckley College in England with a degree in hairdressing. He has also won several barbering contests and successfully operated a barbershop for the last two decades. As a skilled hair stylist for 20 years, his goal is to teach others how to achieve a beautiful appearance through their hairstyles.