Ragnar Lothbrok Hairstyle: Fierce and Timeless Trendsetter
Ragnar Lothbrok, the legendary Norse hero and legendary VIKING king, has become a household name, thanks to the popular TV series "Vikings."
Known for his exceptional fighting skills, cunning strategies, and fierce determination, Ragnar has left a lasting impression on history and popular culture.
Among the many striking aspects of his character is his distinctive hairstyle, which has gained significant popularity and has been adopted by fans worldwide.
Ragnar Lothbrok hairstyle consists of a shaved head on the sides and back, leaving a long mohawk-like strip of hair on top.
The hair is then BRAIDED or styled in various ways, which not only gives it a unique appearance but also serves a functional purpose.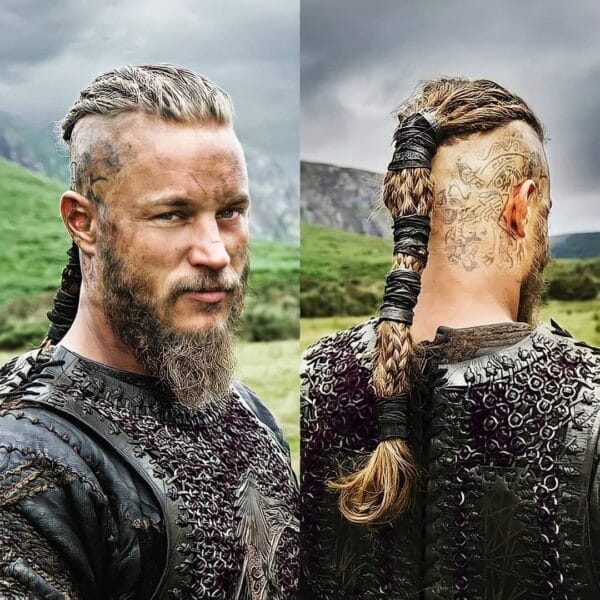 Key Elements of Ragnar Lothbrok's Hairstyle
Ragnar Lothbrok, a legendary Norse hero and warrior, is often depicted with a distinct hairstyle in popular culture, such as in the TV series "Vikings." Here are the key elements of Ragnar Lothbrok's hairstyle:
Shaved sides: One of the most noticeable features of Ragnar's hairstyle is the shaved sides, which create a clean, warrior-like appearance. This is often referred to as an "undercut."
Long hair on top: The top part of Ragnar's hair is kept long, which contrasts with the SHAVED sides. This long hair can be styled in various ways.
Braids: Ragnar is often portrayed with intricately braided hair. These braids can be simple or complex, with multiple smaller braids combined into larger ones. Braiding was common in Viking culture as it kept the hair neat and out of the way during combat or daily activities.
Top Knot or ponytail: Ragnar's long hair is sometimes pulled back into a topknot or a ponytail. This keeps the hair out of his face, which is practical for both battle and daily life.
Beard: While not a part of his hairstyle per se, Ragnar's beard is another key element of his overall look. His beard is typically long and well-groomed, sometimes with braids or beads.
Hair beads and accessories: To accentuate his braids and beard, Ragnar sometimes uses hair beads, rings, or other accessories. These add an element of decoration and showcase his status as a warrior and leader.
Variations of the Ragnar Lothbrok Hairstyle
Ragnar Lothbrok Half-Shaved Ponytail
Ragnar Lothbrok Half-Shaved Ponytail is a Unique and Eye-Catching Hairstyle that combines elements of the Viking warrior with modern trends.
It features one side of the head shaved or buzzed short, while the remaining hair is pulled back into a high ponytail.
I find this style both edgy and versatile, allowing you to make a statement while still being adaptable for various events.
The half-shaved ponytail is perfect for men who want to channel their inner Ragnar while staying on-trend.
French Braids with a Ragnar Twist
French Braids with a Ragnar Twist offer a Classic Hairstyle with a touch of Viking inspiration.
It involves braiding the hair in the traditional French braid technique, but adding small accessories or beads reminiscent of Ragnar's warrior look.
As a fan of timeless hairstyles, I enjoy the ELEGANCE and versatility of French braids with a Ragnar twist.
It's an excellent option for men seeking a more subtle nod to the legendary Norse hero.
Viking Warrior Braid
One of the most iconic Ragnar Lothbrok Hairstyles is the Viking warrior braid.
This style features several tight braids that run along the head, with the remaining hair left loose or pulled back into a ponytail.
As someone who appreciates a strong and fierce look, I can say that this style definitely makes a statement.
Whether you're going for a Viking-inspired costume or simply looking for a unique hairstyle, the Viking warrior braid is sure to impress.
Mohawk Braid
Mohawk Braid is another Ragnar Lothbrok-inspired hairstyle that adds a rebellious edge to your look.
Involving braiding the hair down the center of the head, creating a prominent braid, while the sides are shaved or cut very short.
In my opinion, the Mohawk braid is perfect for men who want to showcase their daring side while also paying homage to the legendary Ragnar Lothbrok.
Double Braids with a Ragnar Lothbrok Touch
Double braids are an Attractive Ragnar Lothbrok Hairstyle Variation that adds a touch of Viking-inspired charm to a classic look.
It involves creating two braids on each side of the head, incorporating small beads or other adornments to give it a Ragnar-esque flair.
In my experience, double braids with a Ragnar Lothbrok touch are both stylish and practical, making them perfect for gentlemen who want a unique but wearable hairstyle.
Ragnar-Inspired Braided Crown
A Ragnar-Inspired Braided Crown is an Elegant and Regal Hairstyle that pays tribute to the legendary Viking king.
Featuring a braided halo that wraps around the head, creating a stunning and sophisticated appearance.
As someone who appreciates the beauty of braided hairstyles, I find the braided crown to be a captivating choice for gentlemen who want to channel their inner Viking royalty.
Side-Swept Undercut with a Ragnar Lothbrok Vibe
Side-Swept Undercut with a Ragnar Lothbrok Vibe is a Trendy and Fashionable Hairstyle that combines modern flair with historical inspiration.
It features an undercut on one side, while the longer hair on top is swept to the opposite side, creating a striking contrast.
Personally, I love the edgy and unique appearance of the side-swept undercut, making it an excellent choice for gentlemen who want a Ragnar-inspired look that's both bold and stylish.
Shaved Sides with Top Knot
A Popular Ragnar Lothbrok Hairstyle, the shaved sides with top knot is both modern and timeless.
This style features closely shaved or buzzed sides, while the remaining hair on top is long enough to be tied into a top knot.
I find this look particularly appealing due to its versatility and low maintenance.
Whether dressing up for a special occasion or going for a casual day out, the shaved sides with top knot can make you stand out in any crowd.
Fishtail Braid
Fishtail braid is a Gorgeous Variation of the Ragnar Lothbrok Hairstyle that can be worn by both men and women.
This intricate braiding technique creates a stunning pattern that resembles the scales of a fish.
As someone who enjoys experimenting with different hairstyles, I appreciate the unique and eye-catching design of the fishtail braid.
It's an excellent choice for men looking to add some Viking flair to their everyday look.
Undercut with Braids
An Edgy Take on the Ragnar Lothbrok Hairstyle is the undercut with braids. This style combines the clean lines of an undercut with the intricate detail of braided hair.
I personally love how this hairstyle blends modern and historical elements, creating a unique and captivating appearance.
The undercut with braids is perfect for men who want a style that makes a bold statement while still being wearable and trendy.
Loose Top Knot
Loose Top Knot is a More Relaxed Ragnar Lothbrok Hairstyle, perfect for gentlemen who want a laid-back, yet STYLISH look.
It features a loosely gathered top knot with some strands of hair left free, giving it a more casual and effortless appearance.
In my experience, the loose top knot is an excellent choice for gentlemen who want a simple but CHIC hairstyle that's easy to achieve and maintain.
Half-Up, Half-Down Braids
Half-Up, Half-Down Braids are a Charming Take on the Ragnar Lothbrok Hairstyle. This versatile look involves braiding sections of the hair while leaving the rest loose or flowing.
Appealing style because it can be dressed up or down, making it perfect for various occasions. The half-up, half-down braids add a touch of Viking-inspired elegance to any outfit.
Dutch Braids
Dutch braids are an Impressive Variation of the Ragnar Lothbrok Hairstyle that offers a more intricate braiding technique.
It involves weaving the hair under each section rather than over, creating a raised braid that adds volume and dimension.
As someone who loves trying out different braiding styles, I enjoy the sophisticated look of the Dutch braids.
They're a fantastic choice for men seeking a bold and intricate Ragnar Lothbrok-inspired hairstyle.
Long and Messy Waves
Long and Messy Waves are a Relaxed Ragnar Lothbrok Hairstyle that captures the essence of the Viking lifestyle.
Featuring long, tousled waves that give the hair a natural, rugged appearance. Personally, I find the long and messy waves to be both effortlessly cool and low maintenance.
It's an ideal choice for men who want to embrace their inner Viking without spending hours on their hair.
Slicked-Back Undercut
A Slicked-Back Undercut is a Modern Take on the Ragnar Lothbrok Hairstyle, offering a sleek and polished appearance.
This style features shaved sides and a long top section that's combed back and held in place with a strong-hold product.
I appreciate the clean lines and sophisticated vibe of this look, making it suitable for both casual and formal occasions.
It is a STYLISH option for men who want a Ragnar-inspired hairstyle with a contemporary twist.
Conclusion
Ragnar Lothbrok hairstyle has become an iconic symbol of Viking culture, reflecting the power, STRENGTH, and courage of the legendary Norse hero.
This unique hairstyle, characterized by a partially shaved head, BRAIDS, and a long, flowing mane, has not only stood the test of time.
As a testament to the enduring appeal of Viking-inspired styles, the Ragnar Lothbrok hairstyle has transcended its historical roots to become a fashionable and versatile choice.
FAQs
What is Ragnar Lothbrok Hairstyle?
Ragnar Lothbrok Hairstyle is a distinctive and iconic look inspired by the legendary Norse warrior and king, Ragnar Lothbrok, from the popular TV series "Vikings."
This hairstyle features shaved sides, a longer top section that is often braided, and a single or multiple braids at the back.
It exudes a strong, fierce, and bold statement, making it a popular choice for gentlemen who admire Viking culture and wish to incorporate some of its elements into their personal style.
How do I Determine if the Ragnar Lothbrok Hairstyle Will Suit My Face Shape and Features?
To decide if the Ragnar Lothbrok Hairstyle will complement your face shape and features, first consider your face's proportions.
Generally, this hairstyle suits men with an oval, square, or heart-shaped face, as it adds height and structure.
However, individuals with round or long faces might want to avoid it, as it can exaggerate the roundness or elongate the face further.
Additionally, think about your facial features and how they will interact with this bold hairstyle.
Strong jawlines, prominent cheekbones, and striking eyes can be accentuated by the Ragnar Lothbrok look.
Are There Any Variations of the Ragnar Lothbrok Hairstyle?
Yes, there are several variations of the Ragnar Lothbrok Hairstyle that you can explore to find the one that suits you best.
Some popular options include the classic look with a single braid at the back, multiple braids for a more intricate appearance.
You may also experiment with the length of the hair on top, as well as the thickness and pattern of the braids to achieve a personalized take on this iconic style.
Can the Ragnar Lothbrok Hairstyle be Adapted for Different Hair Types?
Absolutely! The Ragnar Lothbrok Hairstyle can be adapted to suit various hair types, including curly, wavy, and fine hair.
If you have curly or wavy hair, you may need to use specific products or techniques to manage the braids and keep them looking neat.
For individuals with fine hair, consider using volumizing products or backcombing the top section to create the illusion of fuller, thicker hair.
Remember, it's essential to consult with a professional hairstylist who can provide personalized advice and guidance for your unique hair type.
How do I Ensure the Longevity of the Ragnar Lothbrok Hairstyle?
Maintaining the Ragnar Lothbrok Hairstyle requires some effort, but it's well worth it to keep your look fresh and fierce.
Firstly, ensure you use high-quality hair products designed for your specific hair type. Additionally, regular visits to a professional hairstylist for maintenance and upkeep are crucial.
This includes trimming the top section, keeping the shaved sides neat, and refreshing the braids as needed.
Finally, adopting a healthy hair care routine that includes washing, conditioning, and using protective styling techniques will help prolong the life of your Ragnar Lothbrok hairstyle.
References:
ragnar lothbrok
The head – character in the series "Vikings" source
Ragnar Lodbrok ("Ragnar hairy-breeches"),[a] according to legends,[2] was a Viking hero and a Swedish and Danish king. source
Khamis Maiouf is a professional barber who graduated from Hinckley College in England with a degree in hairdressing. He has also won several barbering contests and successfully operated a barbershop for the last two decades. As a skilled hair stylist for 20 years, his goal is to teach others how to achieve a beautiful appearance through their hairstyles.