13 Tom Hardy's Beard Styles Worthy Copying even if You Hated Venom
Are you a fan of Hollywood heartthrob Tom Hardy? If you're like many guys, chances are you've already seen and loved his blockbuster, Venom.
But even if the movie didn't do much to win over your heart, you might be interested in something better: the beard styles Mr. Hardy has rocked throughout the film!
From his perfect stubble to his full-grown facial hair, Tom Hardy has been redefining style statements for years.
We believe that any man or boy can learn valuable lessons from this scruffy-glam style icon to keep their facial hair groomed at its best.
Whether you loved or hated his performance in the 2018 Venom, you can still show off one of 13 Tom Hardy's Beard Styles worthy of copying.
1. Tom Hardy's Stunning Stubble Beard
Nothing says effortless swag quite like a good stubble.
Tom Hardy's impressive stubble look is great for men of all ages.
Moreover, the style requires minimal grooming and is an excellent choice if you don't have much time to spend on your facial hair.
To get this look, all you need to do is let your beard grow out for a few weeks, then let your barber trim it until it's even with the rest of your face.
2. Tom Hardy's Puffy Beard
Tom Hardy's puffy beard is a great style for boys who want to look more mature and enlighting.
The key here is to let your facial hair grow out, then trim it to keep it neat and voluminous.
Ask your barber to layer the beard and give it some texture to ensure you get the desired result.
Thanks to this beard style, you will appear more confident and put-together.
3. Tom Hardy's Royal Goatee
The Tom Hardy Goatee style brings perfection to your appearance, making you distinguishable and cool.
The style involves growing out the hair just above your upper lip and leaving it as-is.
Further, the style is recommendable due to its simplicity and low-maintenance upkeep.
Like the perpetual actor, you'll look classic and stylish with this facial hair style.
4. Tom's Bushy Beard
Want to go for a bushy look?
Then you should try Tom's style. Unlike other men's beard styles, the Tom Hardy bushier look is full-grown facial hair.
This look's maintenance is similar to a goatee, as you'll need to apply beard oil and comb it regularly.
It's a great choice for boys with dense facial hair for a stylish, eye-catching look.
5. Short-Boxed Beard
Tom Hardy, in Venomwear, had a short boxed beard, also known as the Balbo style.
As the name suggests, this style has a boxy shape with short but even facial hair on each side of the face.
The glory of this style is that you can't get your chin area messed up, so you'll have no trouble with the tricky parts of your face.
Yet also drives an attractive look that you can rock for any occasion.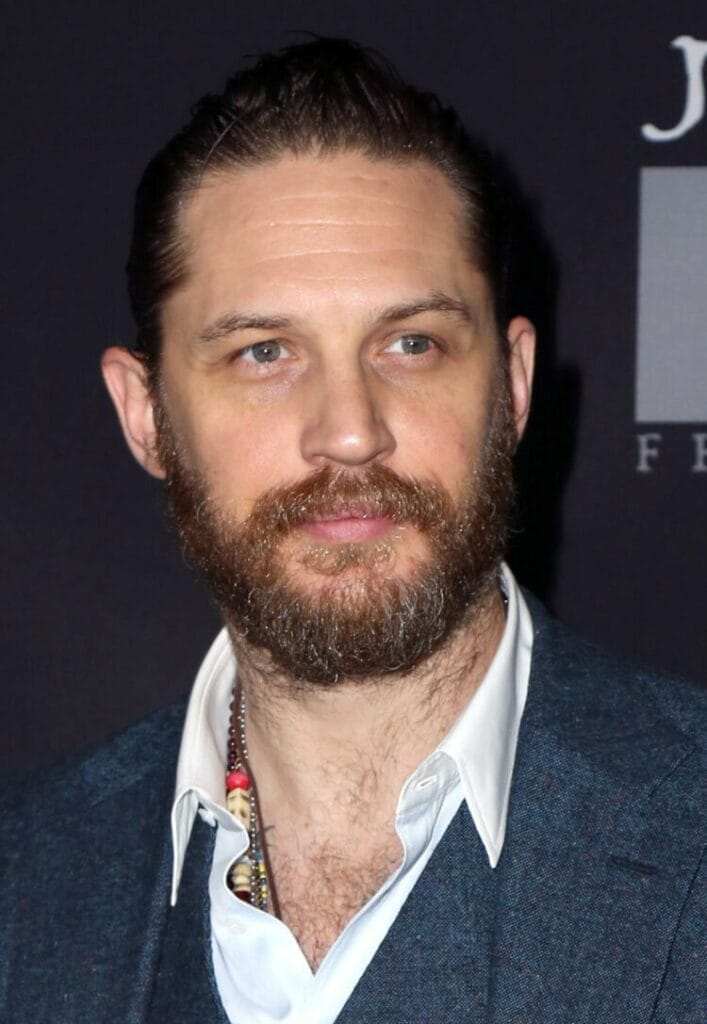 6. Tom Hardy's Full Beard
Rock with men's favorite beard style, Tom's full beard. This look is a show-stopper guys adore.
The great thing about this facial hair style is that you don't need to groom it for months.
All you need is to go over with a trimmer and be creative with the shape of your beard, like Tom.
7. Tom Chin Curtain
Tom's chin curtain style takes the men's fashion world by storm. This style has a lot of flexibility, and you can do it no matter your facial hair growth pattern.
You'll need clippers and scissors to give your beard the desired shape, but after that, you just need to trim it every couple of weeks.
8. Beardstache
Nowadays, guys are experimenting with mustache styles, and Hardy's Beardstache is a perfect choice.
It's a combination of a beard and a mustache, and the key to getting it right is ensuring you get the right balance between the two.
Reach out to your barber for assistance if you're having trouble.
9. Hot Handlebar Mustache
Another daring mustache style guys try is the handlebar mustache. Tom Hardy rocked this masterpiece during the premiere of Venom, and you can too.
To achieve his perfect handlebar mustache, you must grow a bushy and thick mustache and then use a comb and wax to shape it.
10. Circle Beard
Going for a distinguished and classic look? Then try circle beard.
This style is great because it adds structure to your face, and you get some neat facial hair to work with.
To achieve the signature style, you need to grow out your chin and mustache, then use a comb and trimmer to shape them.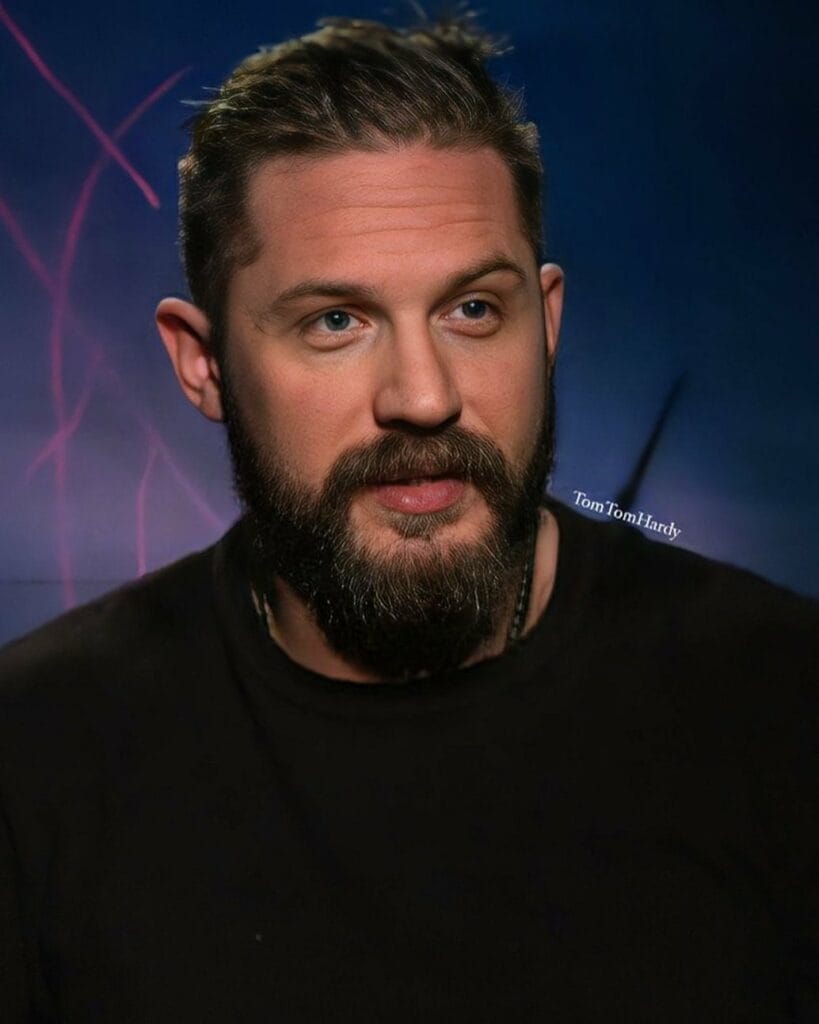 11. Faded Beard
For years, faded beards have been a boys' number#1 style, and Tom Hardy embraced this style gracefully.
The style involves having a gradually fading beard, from thick to thin, and vice versa. It's tricky to achieve, but you can get it with the right clippers and a steady hand.
Appreciate this style for a more laid-back look. Men's top advantage from the style is its versatility and customization to match various garments.
12. Pointed Beard
You should consider the pointed beard for a sharp and appealing look.
It has a triangular shape with short facial hair on the sides but longer at the bottom.
This style looks new and fresh, especially boys with a rounder facial shape.
The secret to pulling it off is using the right clippers and scissors, and you can also add shaping wax for extra definition.
13. Clean Shave
Don't forget about the classic clean shave look.
You can still look stylish and sharp without facial hair, and boys with any face shape will find this style suitable for their needs.
Wearing a clean shave look is no longer for guys who don't have time to maintain facial hair. It's the classic style you can wear to look composed, bold, and tidy.
Conclusion
Tom Hardy is a men's grooming icon with many acclaimed styles that guys everywhere have come to love.
His signature looks are timeless, comfortable, and easy to pull off. So, don't be scared to try these beard styles, even if you hated Venom!
Take the opportunity to step out of your comfort zone and experiment with men's facial hair. Good luck!
FAQs
What Type Of Beard Does Tom Hardy Have?
Tom Hardy has rocked many facial hair styles throughout his career.
Some of the most popular men's styles he has sported include Tom Hardy's puffy beard, Tom's bushy beard, short boxed beard, Tom's chin curtain, and more.
But, from his most apparent to the public, Tom Hardy typically sports a short stubble beard.
How Do I Get My Beard Like Tom Hardy?
The best way to get your beard like Tom's is to start with a clean shave and let it grow for about 3-4 weeks.
This will allow you to achieve the style you want without extra effort. Plus, using the right grooming products and tools.
You'll need trimmers, combs, scissors, and shaping wax for most of his looks.
Most importantly, remember to seek help from an experienced barber or men's hair expert if you need guidance.
They can advise you on the best products and tools and help you achieve Hardy's perfect look.
Khamis Maiouf is a professional barber who graduated from Hinckley College in England with a degree in hairdressing. He has also won several barbering contests and successfully operated a barbershop for the last two decades. As a skilled hair stylist for 20 years, his goal is to teach others how to achieve a beautiful appearance through their hairstyles.