Before I tell you about Jon Hamm beard style, let us know who he is. Jonathan Hamm is a world-famous actor and producer born on 10 Mars 1971 in Saint-Louis. He is most popularly known for playing a role as Don Draper in the television drama series Mad Men.
Jon Hamm, also know with his attractive beard. His performance in Mad Men (which first aired in 2007 and ended in 2015) earned him the Golden Globe Award for Best Actor in a Television Series – Drama in 2008 and also in 2016.
He also won the Primetime Emmy Award for Outstanding Lead Actor in a Drama Series in 2015. Jon Hamm didn't have the greatest start to his life, especially his personal life. His family life was extremely turbulent.
Indeed, according to thefamouspeople.com his father, Dan Hamm, already had two daughters from his first marriage. His parents got divorced when he was barely 2 years old. So, Hamm lived with his mother and saw his father on the weekends.
After he graduated from high school, he decided to go to the University of Texas, turning down offers to play football at several Ivy League colleges. However, he returned to Missouri as life became difficult for him and his family.
His grandmother died and then shortly after, his father fell ill and died during Jon's sophomore year of college.
In 1993, Hamm earned a bachelor's degree in English from the University of Missouri. He then stumbled onto a job as a teacher at his old school, John Burroughs. For two years, Hamm taught drama there.
In 1995, Hamm moved to L. A. to pursue an acting career. He stayed with his aunt and uncle's house in West Los Angeles until he got his own apartment. The rest as they say is history!
Apart from his acting prowess, Jon Hamm is known for his incredible beard styles. If you want to look like your favorite star, you have come to the right place!
Since Jon Hamm maintains quite a thick beard with a mustache that is connected to the beard and sideburns, you need to know how to groom and maintain this style. 
Prerequisites for Jon Hamm's Beard Style:
Since Jon Hamm's style is usually for men with a longer beard and thick hair growth, we suggest you arrange for some tools such as:
A beard liner – To line up your facial hair with a beard shaping tool.
A beard comb – To untangle your beard and smoothen it.
A beard oil – To nourish and hydrate your beard.
A beard shampoo – To wash your beard and maintain hygiene.
1-Maintain Facial Hygiene:
Ensure you wash your face at least twice a day apart from your regular shower. Get rid of dirt and dust especially before going to bed.
2-Grow Your Beard: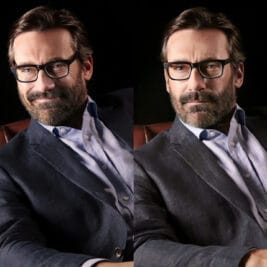 You would require at least a month or two, depending on how fast your beard grows to achieve Jon Hamm's beard style.
3-Oil Your Beard:
It is important to moisturize your beard by using beard oil or cream. This will give your beard, a great luster and keep it soft.
4-Comb Your Beard:
Use a beard brush or comb to untangle and smoothen your beard to style it. This will get it ready for the trimming and cutting. Especially, if you cut it at home
Step By Step Guide for Jon Hamm's Signature Styles:
1. Jon Hamm Full Beard
This style does not require much trimming but just to feel more comfortable in this style, you can remove any hair that you feel is irritating your skin, for example, near the mustache area. You are sorted. Go on then, show it off to the world!
2. Jon Hamm Clean and Maintained Beard
On the other hand, this style requires some styling. If you have followed all the prerequisites in the previous section, you are all set to start the trimming and cutting process for the Clean and Maintained Jon Hamm.
Once your beard has fully grown to the desired size, you can style it according to Jon Hamm's style. Use a trimmer and scissors to get the precision required to trim the beard hair.
Start by trimming off all the excess hair on your cheeks to get them a clean and trimmed look. 
Then, slightly cut the excess hair under the chin area with your scissors. This will remove all trailing hair which makes your beard look messy. 
Remove any hair near the neck area with the trimmer.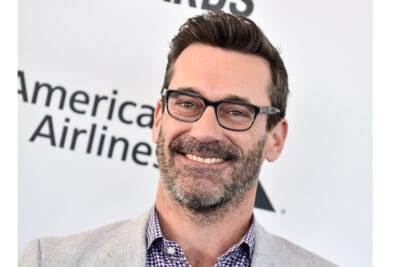 You are now ready to flaunt your Clean Jon Hamm!
To achieve different Jon Hamm beard styles, you can make changes to your facial hair length. You just need to follow the steps mentioned above for the Jon Hamm Clean and Maintained Beard. With some simple cutting and trimming you can achieve any actor beard style! 
Conclusion
Jon Hamm, even at 50, continues to be an extremely handsome man with a flair for fashion. Hence, men try to imitate his impeccable style, not only in terms of his flashy suits but also with respect to his beard styles. So what are you waiting for! Get your combs, trimmers, beard oils, and other cosmetic products out, to look like your favorite star!
We hope this article informs you about your favorite icon's various beard styles. Indeed, you should be ready to take action and sport them to impress the ladies and your peers! To read more articles on all things men's style and grooming, check out our blog.