Elegant Hairstyles For Men With Big Foreheads
Are you self-conscious about your prominent forehead? Don't let it affect your confidence! With a flattering hairstyle and attractive hair, you can easily draw attention to other parts of your face.
Men, in particular, have a wide range of hairstyle options that can help downplay a larger forehead.
A textured style can create a visually interesting look that draws attention away from the forehead. Plus, applying hair cream will help to add definition and hold to the style while maintaining a natural look.
Best Hairstyles for Men With Big Foreheads
When choosing a hairstyle for guys with expansive foreheads, it's important to consider their head shape and hair type.
We have developed a list of incredible hairstyles to help you experience the first step toward feeling confident and comfortable.
Say goodbye to self-hate, and discover the top styles that complement your unique facial features! Keep reading to find out more.
Bush Haircut with Curly & Wavy Hairs
Embrace your waves or curls to enhance your hairstyle. For short hair, try a center part and add some hair product to accentuate the texture, creating small sections with your fingers.
The best part? You can skip styling the bottom half of your hair when the top looks this good!
If your hair is curly, wavy, and voluminous, go with this bushy haircut.
Apply hair gel to give it a striking finish and eliminate the messy and frizzy look.
Simple Buzz Cut With Short Hair for big temples
To achieve the 'buzz cut' hairstyle, clip your hair with electric clippers to a short, uniform length across the entire head.
This cut is particularly suitable for men with an oval face and can help to minimize a more prominent forehead by blending the hairline and creating a less distinct boundary.
You'll need to set your clippers to number one or two buzz cut for this purpose. It's a low-maintenance, military-style haircut that doesn't require the use of any additional styling products.
The Buzz cut is also one of the best hairstyles for kids.
Also Read: 11 Black Boys Haircuts Make your Kid Look attractive.
Trendy Side Style Fade Cut With Straight Hair
Straight hair can add interest to a classic fade haircut when styled with gel or other styling products.
To best conceal the forehead, the hair on top should be styled over to one side and forward at the hairline.
This fade-cut style is also perfect for curly hair. You just need good volume and thick hair to rock this hairstyle.
This haircut requires less maintenance since you'll not need a lot of hair products.
Skin Fade Cropped Caesar Cut
The Caesar cut features longer hair on top, with the sides and back trimmed to a short length.
Styling the bangs forward ensures laying over the hairline, making this hairstyle ideal for concealing a large forehead.
The front and top sections of your hair are cut thick and swept forward to create defined fringes that do not shift position.
To achieve a unique and impressive look, your barber will perform a precise undercut and ensure that the fade is even on both sides.
Undercut with Clean Sides
An Undercut with a clean side haircut is the best hairstyle for professional men.
It's a classic and stylish haircut with longer hair in the center and short, clean sides that can give you a polished look.
Adding blonde hair color can create a modern and trendy appearance.
This haircut is suitable for all hair types and textures. The use of gel to help set the direction of the hair is recommended.
It is typically recommended for men aged between 20 to 40 and is an excellent option for those looking to conceal a larger forehead.
If you're looking to achieve a more vibrant and lively look, consider trying this haircut.
Fringe Haircut for Men with Big Forehead
For men with larger foreheads, a longer fringe that falls at or below the eyebrows is an excellent hairstyle choice, as it can effectively conceal the top portion of the face.
Layering can add depth to the haircut and draw attention to the fringe while creating volume towards the front and top of the head.
This style is particularly well-suited for individuals with more angular facial features, as it can help balance out a pointed chin.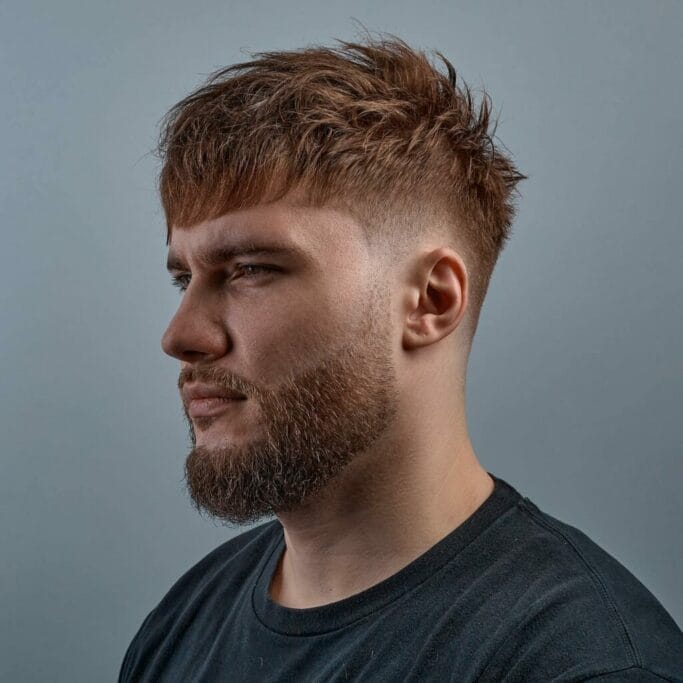 Fully Shaved or Bald Haircut
This hairstyle is perfect for those men who suffer from hair loss and can't afford a hair transplant.
We recommend this hairstyle if you have good hair volume and smooth hair but still stress about your forehead.
If you like simplicity and cannot maintain or care for your hair, go with this hairstyle.
A bald or clean-shaved haircut will help to hide your forehead.
If you are really bothered by your big forehead, then you should definitely choose this hairstyle.
Short and Messy Hairstyle
To achieve a short and messy hairstyle that minimizes the appearance of a large forehead, the texture of the hair is crucial.
By utilizing the natural movement and direction of the hair, it's possible to draw attention away from the forehead without relying on a fringe to conceal it.
This results in a look where the hair itself becomes the focal point.
Comb Over with Long hair
The comb-over can be a distinguished and versatile hairstyle when executed correctly. This hairstyle works well for men with thick, wavy hair and big foreheads.
To achieve this look, start with a side partition of your front hair and add volume by spiking and combing back your hair.
Consult with your hairdresser for a perfectly layered and styled side partition hairstyle.
A well-trimmed, full beard complements this style and adds to its elegance.
And did you know women are often attracted to men who grow their beards and sport a perfect comb over?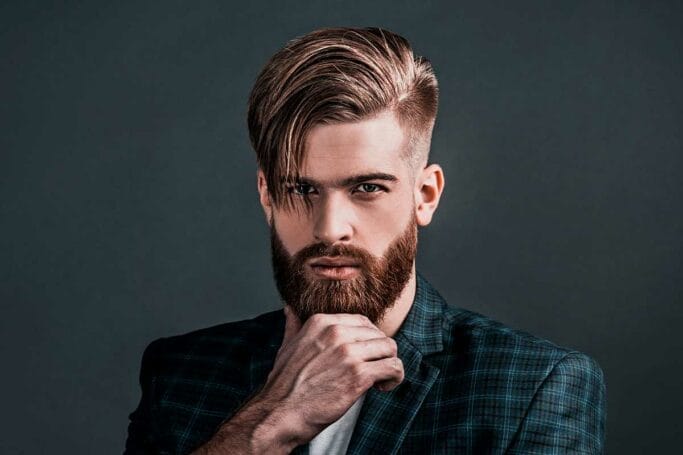 Back Brushed Hairstyle
Brushed back hairstyles are a popular choice for men with big foreheads.
The style features a quiff and brushed back hair which helps to minimize the appearance of the forehead.
Apply a small amount of hair gel or pomade to hold the hair in place for an extended period.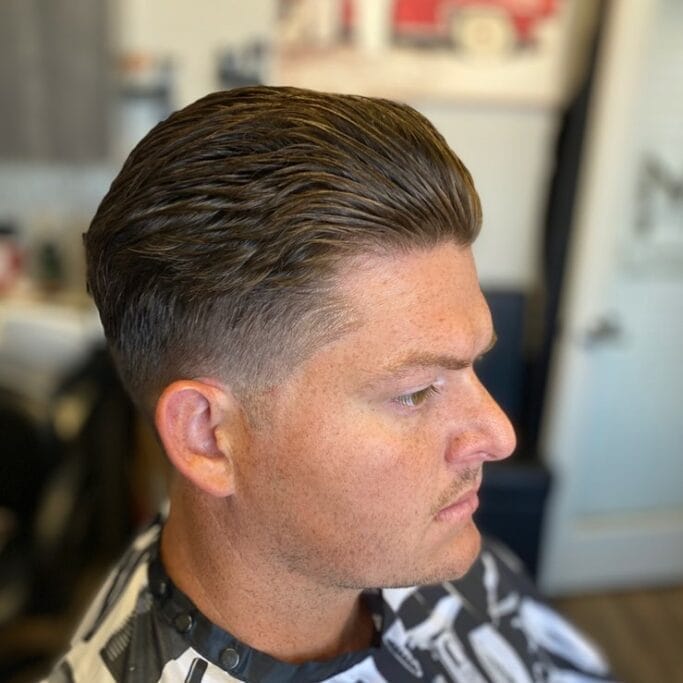 Bun Hairstyle with Clean Sides
A bun hairstyle involves pulling the hair back and securing it into a bun shape at the nape of the neck, top of the head, or off to the side.
It can be sleek and smooth or more relaxed and messy, depending on the occasion and personal preference.
Consult with your hairdresser for the appropriate length of the top hair, as this hairstyle requires it to be grown out long and wide.
A man with straight hair can achieve a stylish and cool look with this ponytail and bun hairstyle.
Conclusion
Men with big foreheads have several options when it comes to hairstyles. Whether you prefer a bold and edgy look or a more classic and sophisticated style, there are countless options to choose from that will complement your features and enhance your overall appearance.
Using high-shine pomade and other extra volume techniques, men can create a hairstyle that promotes a healthy appearance.
Drawing inspiration from celebrities is a great way to find a style that works well with a prominent forehead. With the right hairstyle, a big forehead can become an attractive feature that enhances your overall appearance.
Consult with your hairdresser to find the right hairstyle, and get ready to show off your forehead with pride!
FAQs
What is the best haircut for guys with big foreheads?
The comb-over haircut works well for men with large foreheads. It requires leaving the hair long on top and brushing it over the hairline to create the illusion of a smaller forehead. Adding a fade or side part gives this style a more contemporary feel.
Do buzz cuts look good on guys with big foreheads?
A number one or two buzz cut can conceal a more prominent forehead as it creates a softer hairline, making the border where the hair begins less defined. It's important to note that the buzz cut is not universally suitable for all face shapes; it particularly suits men with oval faces.
Khamis Maiouf is a professional barber who graduated from Hinckley College in England with a degree in hairdressing. He has also won several barbering contests and successfully operated a barbershop for the last two decades. As a skilled hair stylist for 20 years, his goal is to teach others how to achieve a beautiful appearance through their hairstyles.