Moustache and beard are the symbols of manliness. Most men are cautious about their grooming style. Are you cautious too? Then, don't just be in a small space. Think out of the box. Why grooming yourself with dresses, perfume, hairstyles only?
Be different, be in everyone's attention. Nothing can replace a beard when it comes to having a strong manly vibe. Kratos Beard Style is the most popular among men (even among women too). The looks in his eyes, the strong personality, and of course his beard can give a man class. Wait! Don't you know who Kratos is? Okay! Let's find it first.
Who is Kratos?
A few years back, a video game was released, named, God of War. The protagonist of the game is Kratos. Based on the Greek mythological stories and characters, the interior design was done. Since 2005, lots of sequels of this game had been released.
Just like the storyline, the appearance of the Ghost of Sparta, Kratos, made everyone falls in love with him. Now his beard has become one of the styles of men.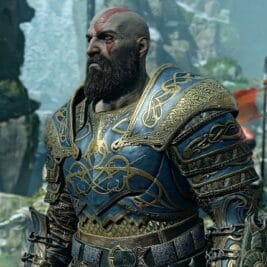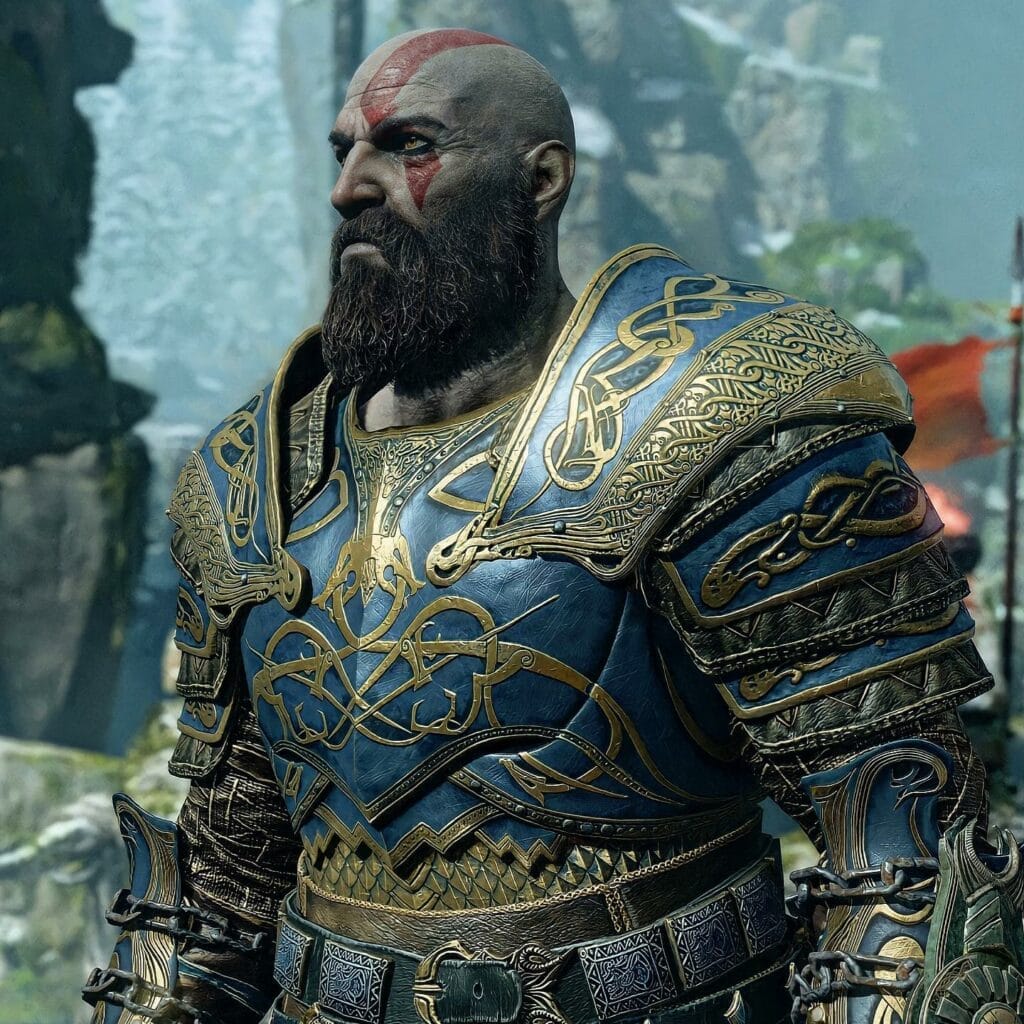 The strong masculine divine aura of Kratos comes through his strong character and his beard. Do you want to have the same beard as Kratos? Then you are in right place. Now while we are discussing how you can have a masculine long beard exactly like Kratos, let's know about his beard's type.
May I Have The Same Beard As Kratos?
Everyone wants to live a life with divine energies. However, that's not quite possible. 'Quite' because you can have the appearance like them. Don't feel confused, because, at the end of the discussion, you'll have a strong aura for yourself. You can't have the divine power like him but you can have the hot dashing look of his.
The speciality of his beard is, it is 1.5 inches to 2 inches long. It's thick, having a slightly brown colour on it. As it is thick and bushy, you have to be very cautious about maintaining it. Don't worry, you'll have a proper guide to maintain Kratos beard after having it.
Let's start our main topic, how you can grow a strong thick beard like Kratos.
How to Grow Kratos Beard Style?
Note: Before starting the discussion here is something important for you. Kratos Beard Style can be accepted in two ways. One is, you have the same physique as him, muscular, bold. Second is, whatever your physique is, you just need his beard style.
The decision is upon you. In both cases, the following instructions will be helpful.
Growing a beard like Kratos needs patience. Mother nature has no power to transform anything within a night. If you are passionate about your beard, treat it like you do with your other body parts.
Step-1: Stop Shaving and Clean Everyday
Growing moustache, beard, hair everything depends on your hormonal levels. Testosterone is the main component, responsible for growing a beard.
On average, most men have a beard growth rate of half inches per month. To grow it faster, you can do regular facial massages. Sleep well. Don't eat anything nasty. Avoid fast food. Eat healthily, the beard will be silkier. Keratin protein is needed for a healthy beard. It will hardly take 3 months to have a 1.5 to 2 inches (ca. 5 cm) long beard. During these three months, you have to wash it daily.
As mentioned already, you need to treat it as an essential body part now. Washing the beard every day must be in your routine as you do for brushing the teeth. There is no better chemical in this world than water. You can use balm or beard oil to grow it and wash it Properly, but water has no replacement. Using balm and oil can increase the suppleness of your beard. Use these too. Avoid applying Shampoo regularly. As you have done up to this, now achieving the beard style will be easy.
Step-2: Make It Thick and Comb Daily
As you have a 1.5 to 2 inches long beard, now it's time for you to give it a shape. To provide a shape like Kratos, you need to make it soft and thick. 'Can't I Do it While Growing The Beard at the first stage?' No! It may ruin everything. Do you know what is your hair type of beard? If you did it at the first stage, probably, your hair can't take it. There is a huge chance, your beloved beard chose a different direction to grow.
Allow beard oil massage properly on the face to grow it thicker. Add conditioner after oiling it. It will make your beard soft, changeable and shiny. Though Kratos beard is rough and is less shiny, you need to make it quite bright for your shake. Why? Do you want people to think that you fight with someone on the way to come for the party?
No, right?
Probably, you didn't miss the word 'Changeable' there. Did you? Okay, it is the crucial stage for your beard. Why? Because it will keep your beard intact even you haven't invested a single second for outing purposes. Take a good beard brush or beard comb. Comb it daily. When? After washing your beard with oil and conditioner, and before going to bed. Regular beard exercise with brush or comb will provide it the shape.
As it is thick and soft, it's the best time to turn into the shape you desired for. Okay, let's jump to the next step. It is trimming.
Step-3: Trim it To Give the Shape Like Kratos Beard
Before going to a deep discussion on trimming a beard, let's know some facts first. Everyone's beard nature is different. Some need to trim it or some already have an exact shape as Kratos has. So what should you do?
First check whether after treating your beard up to the second step, does your beard look like Kratos's beard style?
If it is not, then you have to trim it. Now don't allow the trim on the wet beard. A wet beard is far different in looks than a dry beard. How to Trim the Long Beard to Make it Just Like Kratos?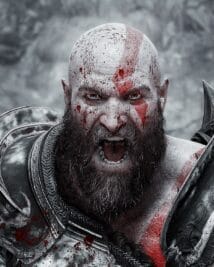 Take a comb and move it in the direction where you want it to grow. You can use small as well as large teeth comb. Start with the neck. Move it towards the jawline.
Again start it from the back of the beard and comb towards upward.
Then go to the chin and end at the cheek. Allow different positions but same direction.
Take the trimmer and point it at Adam's apple first. From Adam's apple to lower jawline, trim it like a manner that there must be a low amount of beard compared to other places. If you have noticed properly, below the chin, the thickness is higher than other areas.
It's time for your sideburns. Place the trimmer at your sideburns. Then move it from there to the corner of your mouth.
Depending on your face shape, you need to move it. Like if it is round, run it straight and if it is long, run it in the angular direction.
While trimming your beard, you must have a mirror in front of you. Check every single moment.
Stop right there if something is fishy. Don't rush for correcting the small disturbances. When trimming is done, allow the scissor to remove those extra hairs.
As soon as the trimming machine is off, use beard shampoo to wash it. Allow beard oil and Conditioner at the end. Comb it properly until it gets the shape. Remember, now the shape you are giving through combing will be the permanent one.
Up to this, your trimming job is done. I'll recommend you to do it every 7 days. Why? As mentioned, everyday hair is increased by some mm. After 7 days, if something pops out from your well-shaped Kratos beard, just run the scissor or the trimmer smoothly.
Whether it is Kratos Beard Style or any other beard style, maintaining the beard in this manner is important.
Step-4: Color It
This will be the final step to complete your Kratos Beard Style. In general, if you give a close look, you can find, the beard is brunette. An amazing mixture of brown and black makes the man more divine, strong, and masculine. Colouring the beard depends on you. Do you need it to be coloured?
If yes, then make sure you do the same with your moustache and hair. It will make you bold like Kratos. 'I don't want to dye it. Can't I have the Kratos Beard Style?' Of course, you can! If you are interested only in the shape and the style, do up to step 3. The more you make your appearance natural, the more respect you'll get. I hope, up to this level, you have learned how to have a shiny masculine beard like Kratos.
Now, assume, you have it. What you'll do when after 3 months the beard start growing out of hand? What will happen if the beard's primary structure gets disturbed? Not only the style, maintaining the quality of beard is important too. Let's know how you can maintain it for a long time.
How to Keep Kratos Beard Style for a Long Time?
It is very easy but effective. Invest only 5 minutes daily, you can maintain the beard for long. Just follow these 5 steps mentioned below.
1. Allow Comb
Though it is mentioned in the 'how to grow' part, that's not enough. You need to keep it intact for a long. Combing is the best exercise for hair. Beard is not an exception too.
2.Beard Brush
Don't use the ordinary brush. There are special brushes available for combing the beard. Allow regularly. Maintain the direction of the growth by running it on the beard several times.
3.Beard Oil
provides nutrition to the roots of the hair. Take few drops of it and allow it at the bases. Do some massages. Other than that, to make your beard thick and strong, you need to apply it regularly.
4.Beard Conditioner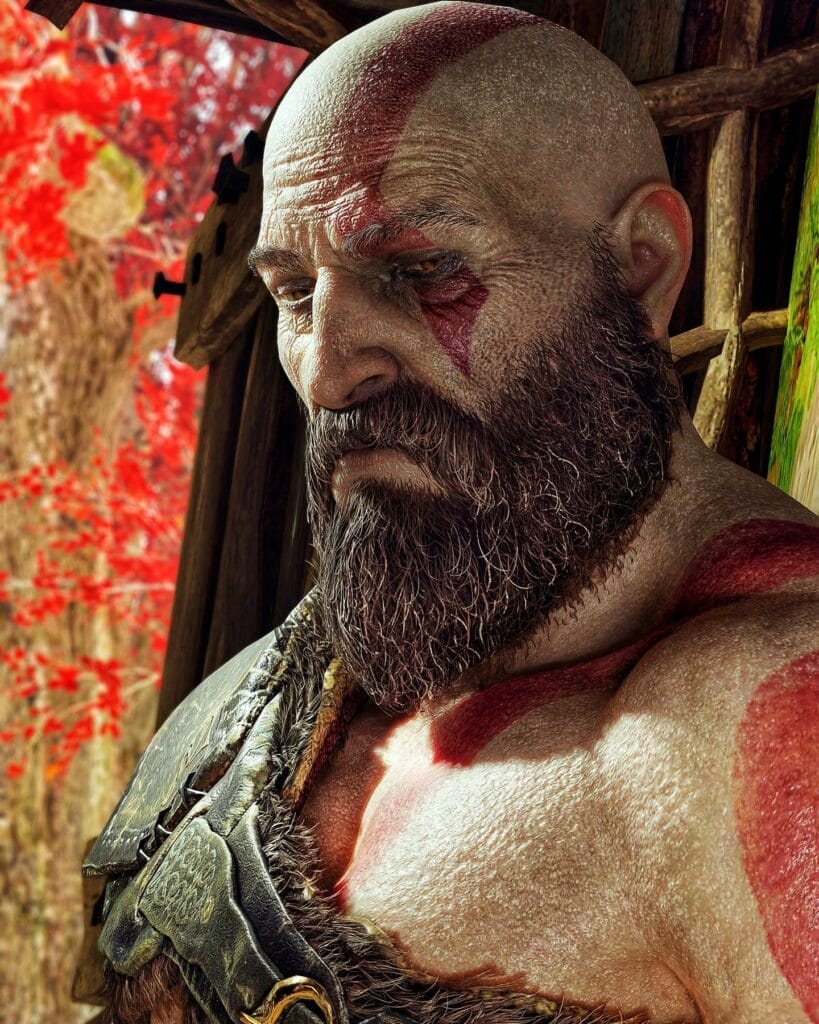 Providing required moisture to the beard will keep it healthy for long. It will be shinier, more attractive. You can use a fragrant conditioner of musk, lemon, or sandalwood. What else could be more attractive?
5.Beard Wax
Are you in hurry to out somewhere? Don't have time for grooming a beard? Don't worry, beard Wax will take only 1 minute to do all job done. Allow a slight amount of it on your beard.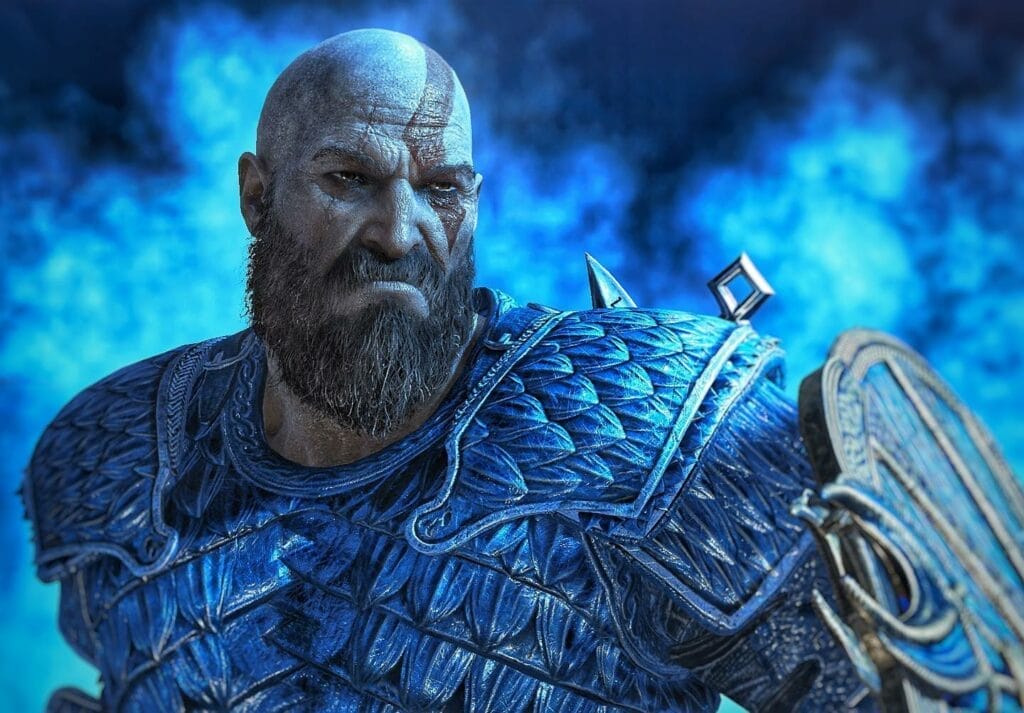 Shape would be restored within seconds. Qualitative wax maintains nutrition level, brightness too.
Can I Have the Style of Kratos Beard but Not Exactly Same?
Yes, you can. There are few variations of Kratos beard is available. Those are as follows.
1. Kratos Beard with Slicked Back Hair
It has resembled Vikings beard style. If you want to add a little variation in looks, slicked-back hair is perfect. It will give you the royal look. Grow the dynamic combo of slicked hair and Kratos beard to smash everyone's look.
2. Pony Tail
Do you love challenges? Do you love to show a smile to everyone when it is a critical situation? Add a ponytail and Kratos beard on your face. The fierce look with a smile catches everyone's heart.
3. Full and Long Bushy Beard
The concept is overall the same. The difference will be in size. In the case of a full long bushy beard, you need to very cautious about the side cutting. Take care of the chin, cheek, jawline, and sideburns. It can be a different definition for you.
Conclusion
I hope, I have made it clear to you. The process for obtaining the glossy fierce look of Kratos, asked by many. Not all can do this. Do you have patience?
Having such a divine personality and looks need patience. You can do it. Don't get demotivated if someone says your face shape is not right. Just follow the instructions, your look will be the smashing answer for them.