Find Your Inner Soldier with These 35 Military Haircuts
Are you ready to elevate your style game and get a haircut that exudes confidence and masculinity?
Look no further than the military haircuts I have compiled for you. These bold, rugged hairstyles are perfect for men who want to make a statement with their looks.
From buzz cuts to high and tight styles, there's something for everyone on this list.
Whether you're heading to the barracks or the barbershop, these military haircuts will turn heads and get you noticed. So why wait? Discover your new go-to hairstyle today!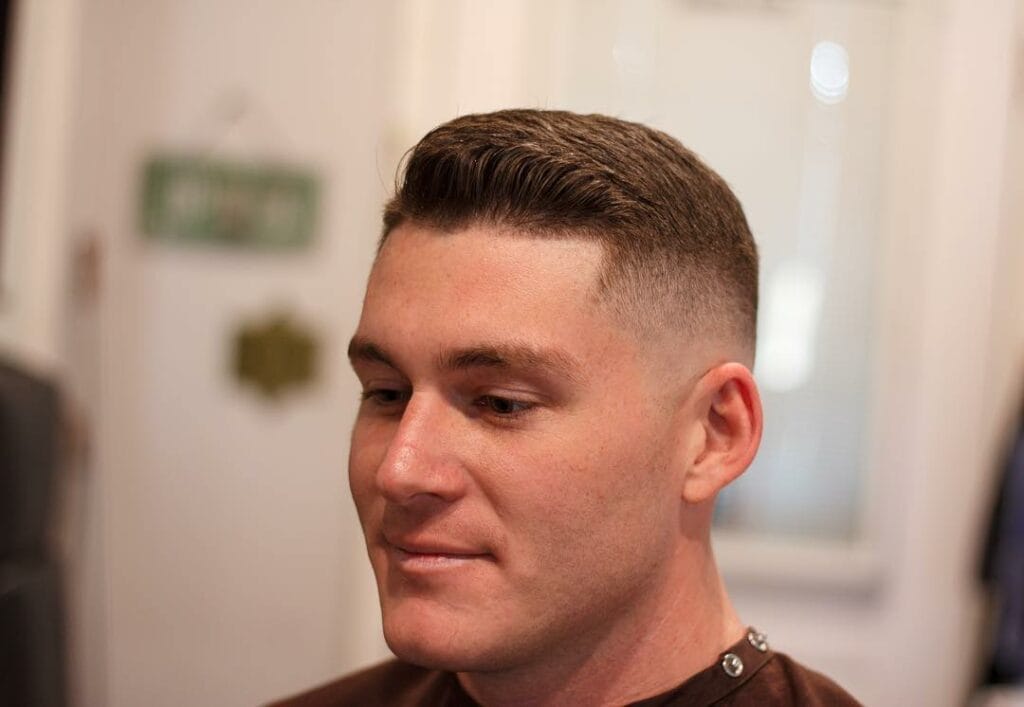 Military High And Tight Haircut
A high and tight military haircut is a common hairstyle mostly worn by US marines and Army military groups.
However, any man can wear this hairstyle. It's a low-maintenance haircut that you won't regret having. To have this cut, you have to save the sides and back and leave longer hair at the top, which should be no longer than 2 inches.
Army Ivy League
Though it's called an army style, it's not only for the army; it's a common style you can also wear. It comprises length on top and shorter sides.
It's a haircut that will compliment your aesthetic look.
Get all you need to know about Ivy league haircuts.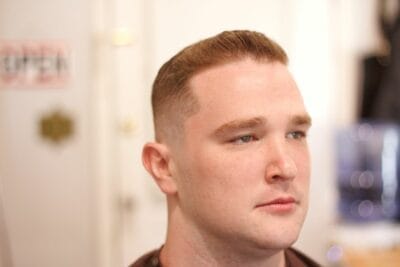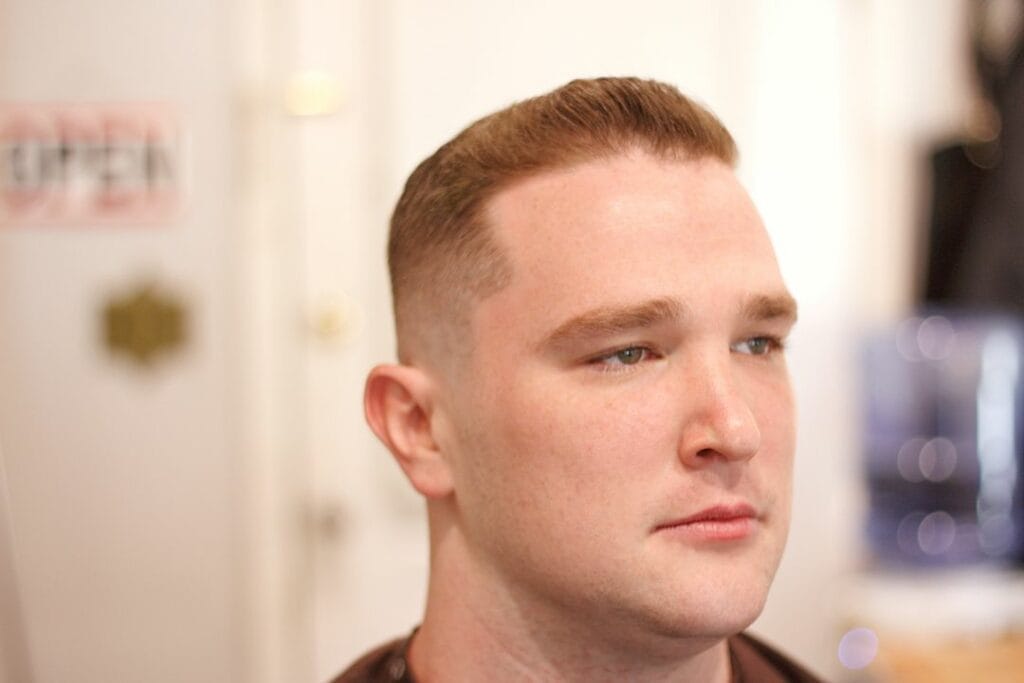 Military Undercut
A military undercut features short hair at the back and sides, but the hair is not uniformly cut.
The barber starts to shorten hair from the neck and increases the size as he goes up the top.
With a military undercut, you may visit the barber frequently to ensure the hair doesn't grow above the required length.
Military Brush Up
With military brush-up, you have to leave the hair at the top longer so it will be easy to comp it up with a brush. It features shaved sides and longer hair at the top, where the hair is brushed and left standing up.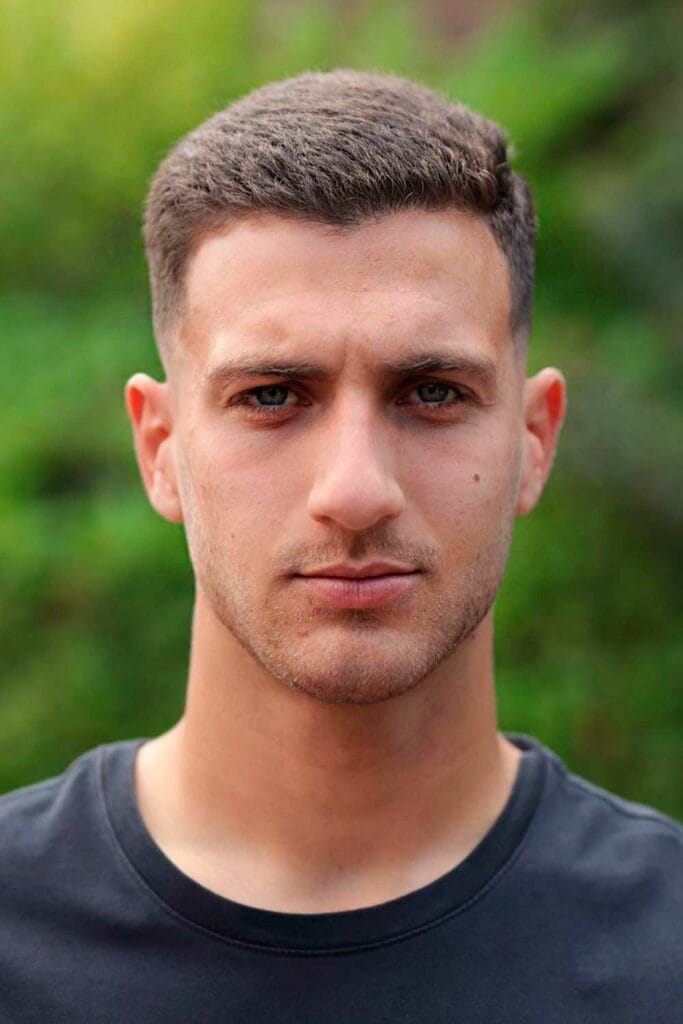 Crew Cut Military
This hairstyle involves short hair. The hair at the top should be slightly longer than on the sides and back.
The hair on the sides and back is also trimmed following the shape of the head. This is a stylish haircut you can wear even at official functions.
Short Pompadour
A short pompadour features shorter sides and back, but the long top high must have volume. You can have several hairstyles with this haircut to make it even more stylish.
The Swept Back Military Cut
To style this hair, you just need to brush your hair back. It's a simple haircut adapted mainly by the military due to its simplicity.
Given that military work is demanding, simple hairstyles that are easy to maintain and keep clean are highly recommended. However, these hairstyles are now worn by civilian guys as modern hairstyles.
Flat Top Military Haircut
This haircut has more length on the top. The hair is brushed up and cut horizontally to ensure it looks uniform.
This hairstyle depends on the hair type. If your hair is fuller and thick, you should apply texturing products to make the style more stylish and cool.
Army Fade
This haircut involves tapering sides which gradually fade to the skin. It's a haircut you can complement with modern styles like a side part.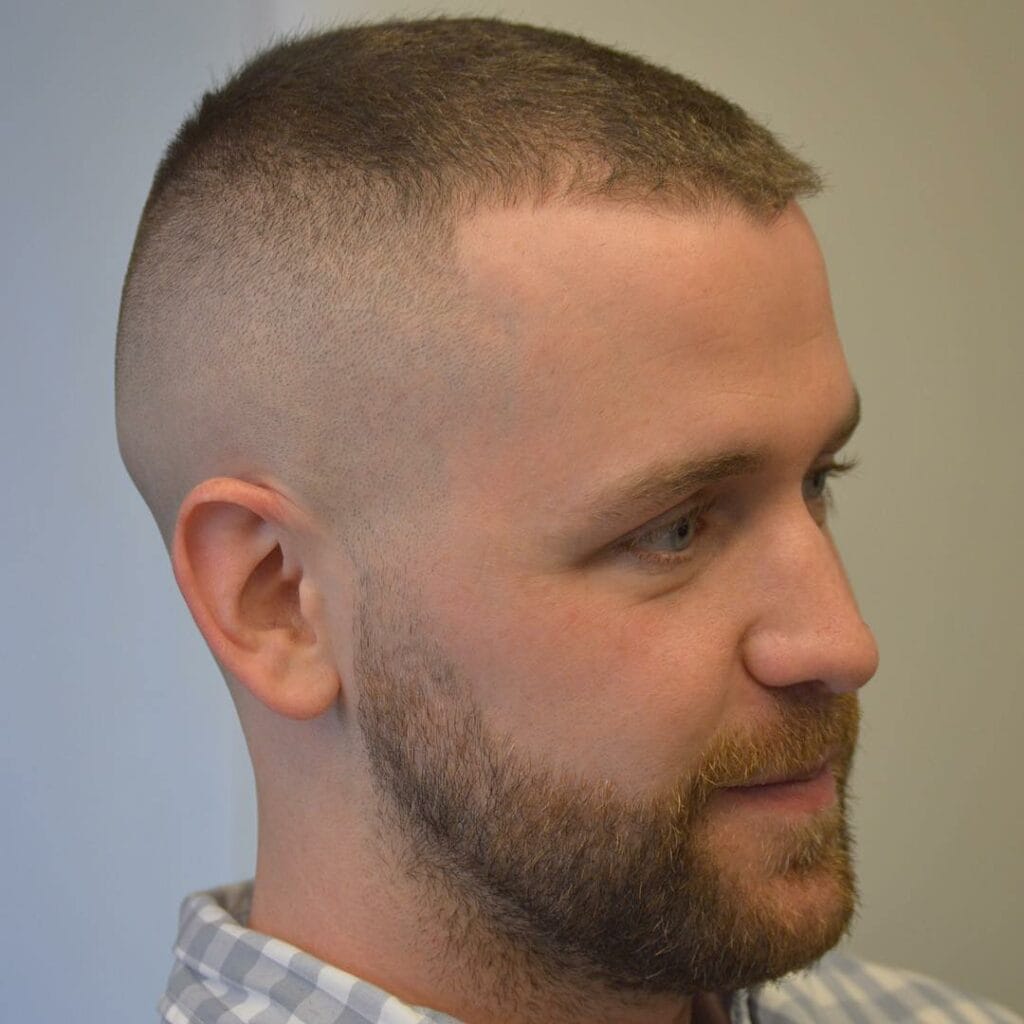 Cop Haircut
Cop haircuts involve short hair. Cops are known to have short hair for hygiene purposes and a decent look. The hairstyle features shaved sides and back and some hair at the top.
Modern civilian guys wear many cop haircuts, which include flat top, fade, classic, buzz cut, crew cut, high and tight, fringe, brush cut, etc.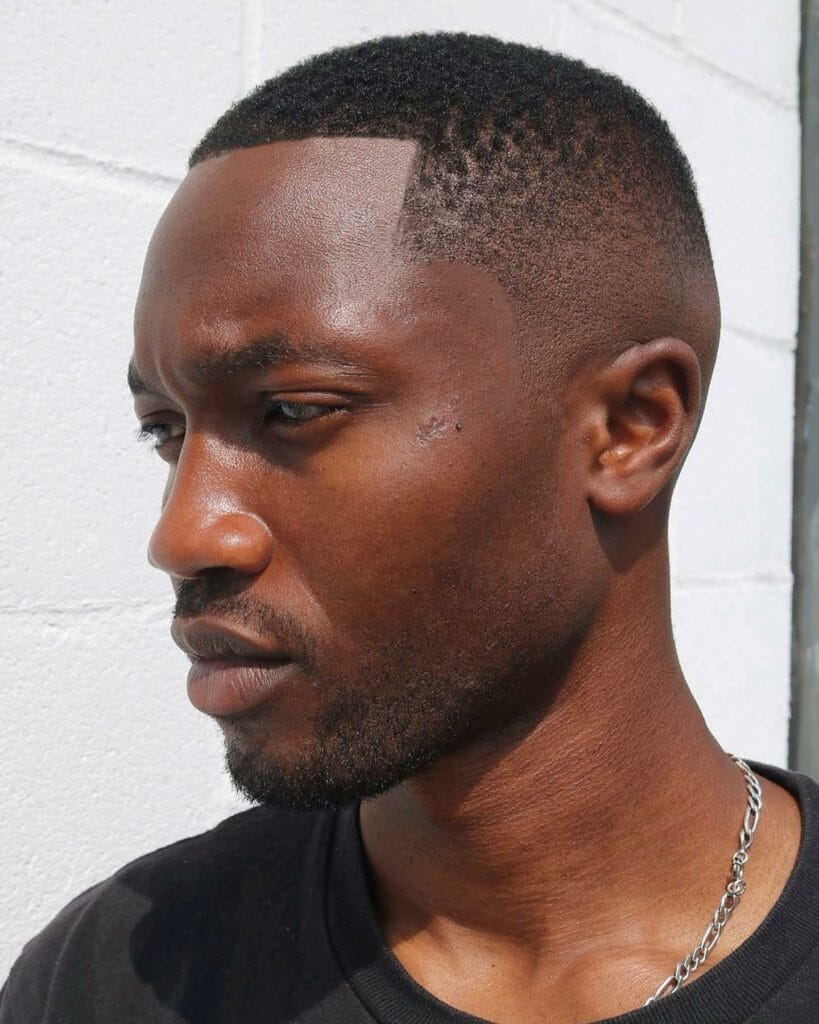 Clean Slick Back Warrier
With slick back hairstyles, you may trim the sides and back, or you can leave the hair to retain the same length the entire head.
All you need is to take your brush and brush your hair back. You may use hair products after the blowout to make hair stay put all day.
Short and Classic Solder Cut
This style simply features shorter hair. Even though some hair is at the top, it must be short. It's a modern look that will make you look presentable and admirable.
High And Tight Recon
If you want this haircut, you should completely shave the sides and leave some hair at the top, one inch or higher on the temples. This is a unique cool haircut that is easy to maintain.
Military Buzz Cut
This features the shortest possible hair. In addition, the sides and the back are buzzed. This haircut is good for a cool official look.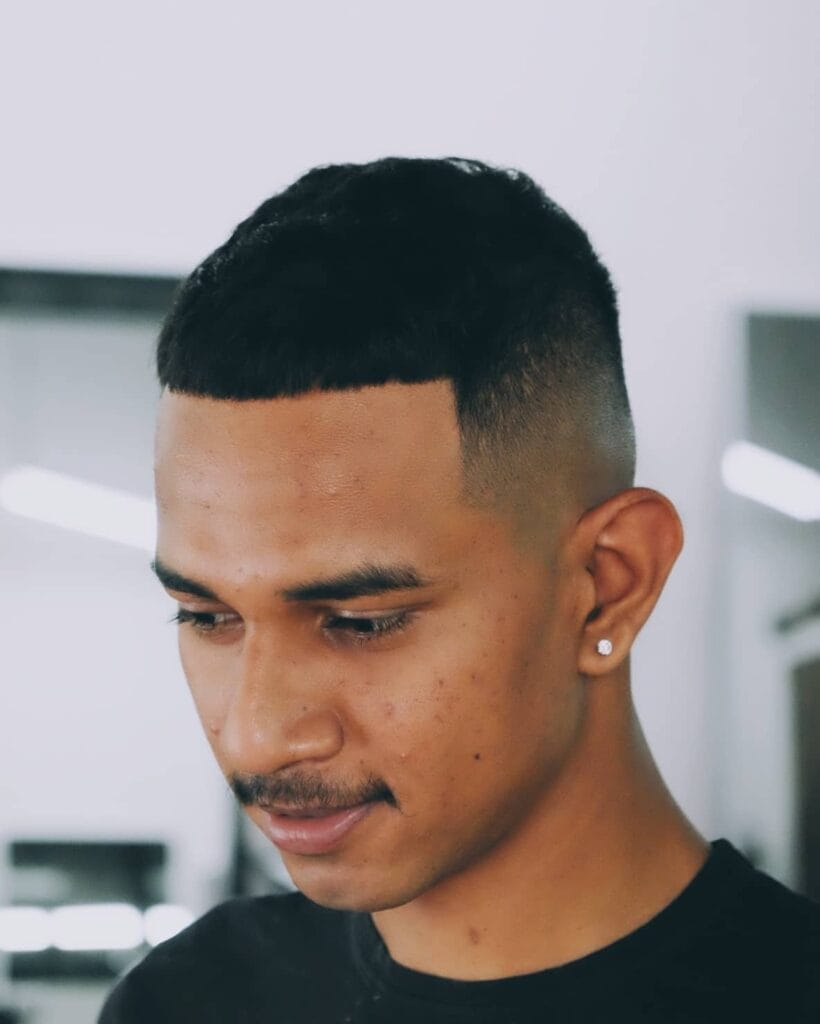 High Fade Military Haircut
The hair is cut short on the sides and back of the head from the neck up to the third portion of the head, where it gains some height. The hair is shorter than with a high fade.
Induction Army Cut
This cut is also called mighty fine. This short haircut is achieved by the use of clippers, and there is no comb or guard attached. The goal is to achieve the shortest hair possible.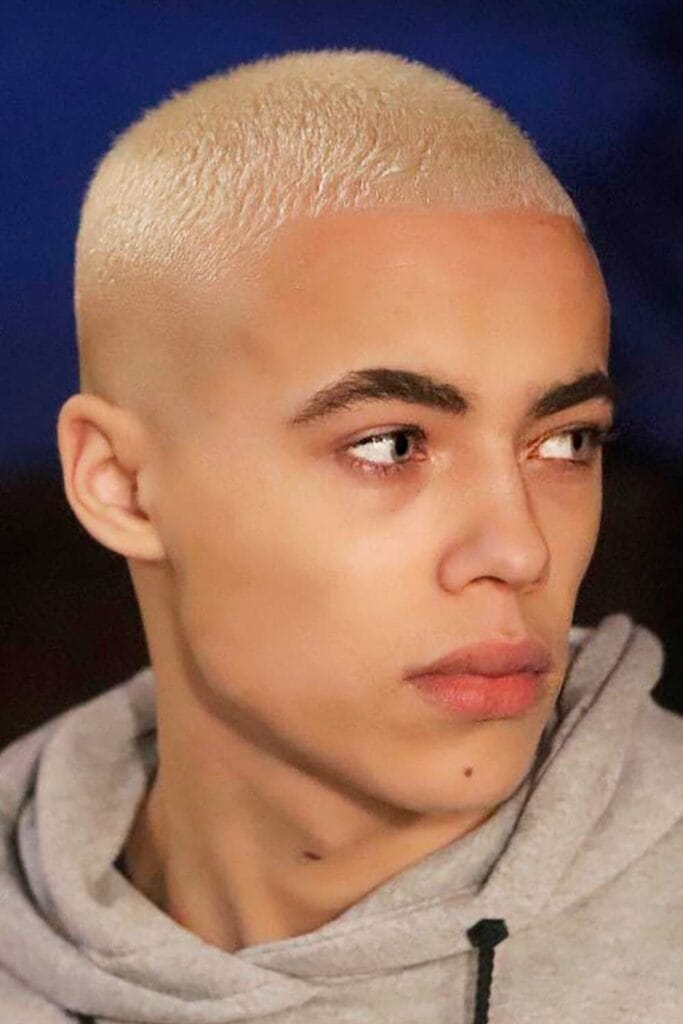 Retro Military Style
It involves a side parting with a fade on the back and sides close to the skin. You can pair this haircut with a hard part to give it a more modern look.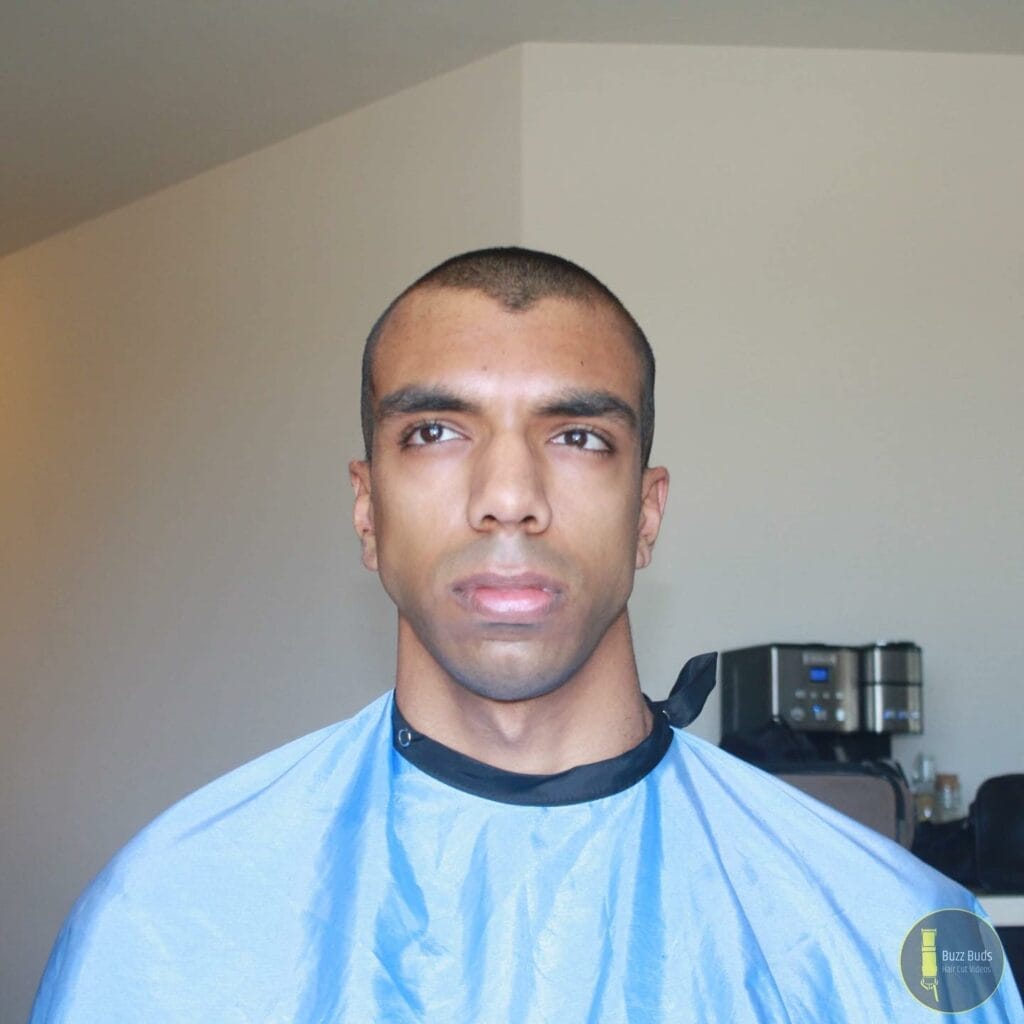 Spiky Top
You need to apply products on the hair at the top for the spiky top to create a spiky look. This is a style to give you a sharp and stylish look.
Sleek Military Cut With Undercut
Smooth, shiny, and healthy hair will give you the best look. When you compile it with an undercut, it gives the best look that everyone will envy.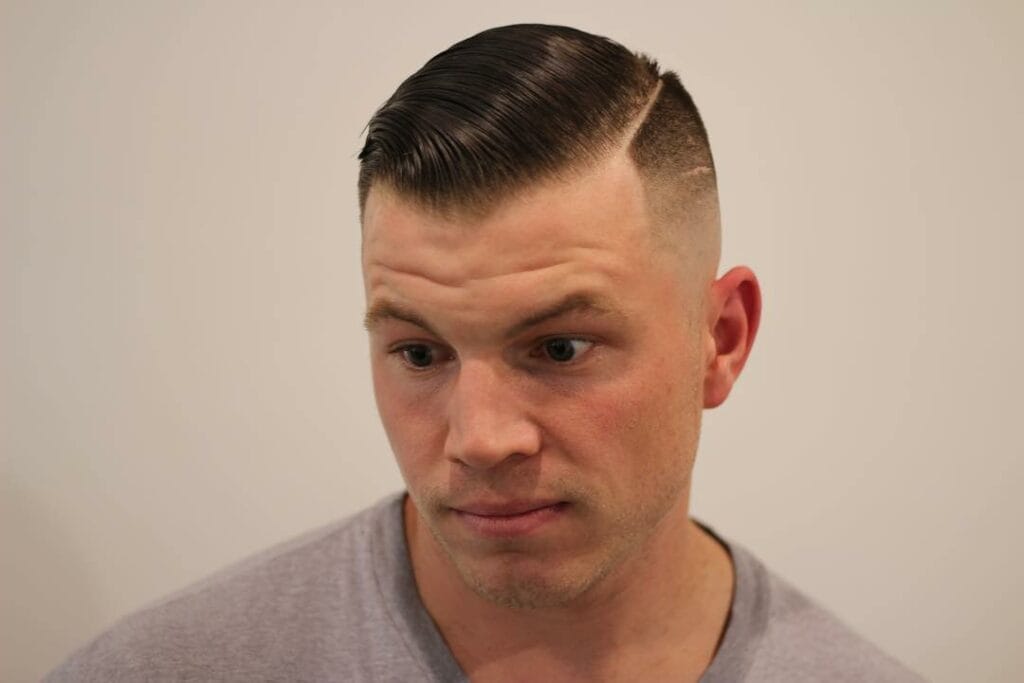 Cropped Bang
A crop bang is perfect for a long, round face shape. This hairstyle cuts the hair at different lengths from one side to the other. This is a unique and bold hairstyle you can never want to miss.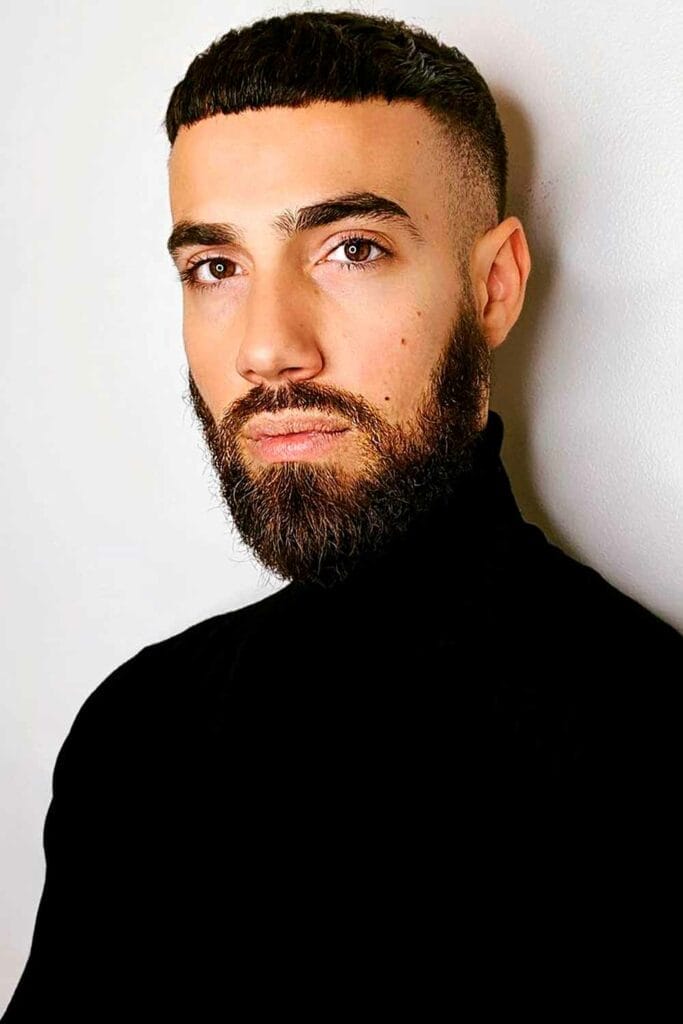 Military Burr Haircut
This is a haircut that features ¼ length inch on top. The hair is trimmed evenly across the head.
This haircut will be the best for you if you have a square-shaped face with a strong masculine jawline.
The Military Butch Cut
It's also known as a brush cut. The whole head should be evenly cut short. This is a haircut that will give you a confident, masculine look.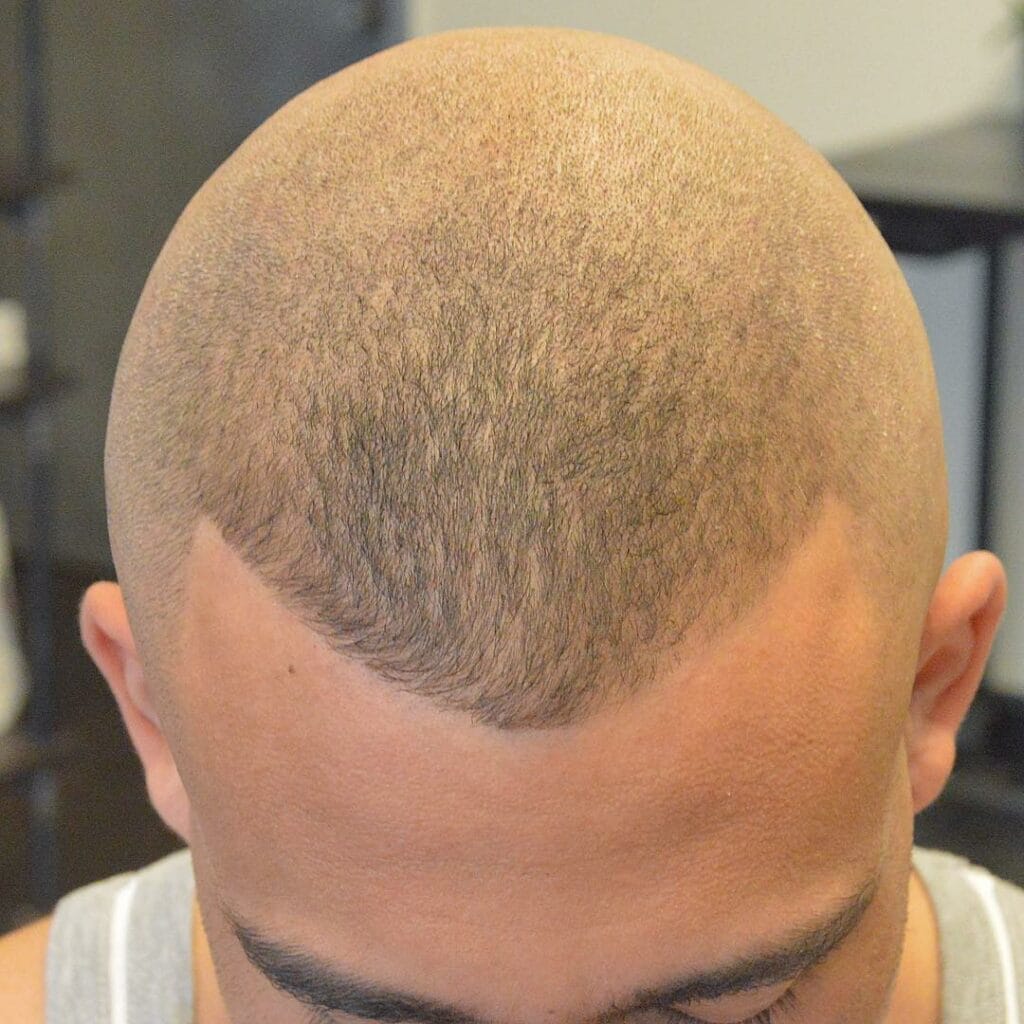 Regulation Cut
This is one of the longest haircuts in the military. It involves longer hair on the top with a side part and a fade on the sides and back. It's one of the unique haircuts you will need if you want a bold look.
Military Mohawk
A Mohawk is where you shave the hair on the sides, leaving a long line of hair from the head to the back. As a military haircut, you should keep the hair short.
In addition, the hair should be cut according to the face shape. Mohawk has been there for over 40 years and is still in fashion.
Quiff Hairstyle
Even though this haircut involves shorter sides and back and longer hair on the top, the hair on the top has varied lengths. The front hair is longer than the other at the top.
Line Up Military Haircut
This haircut has many other names. Some will call it shape-up, others edge-up. It's normally done on short hair.
The hair is cut along the natural hairline to make it straight. It helps keep the natural hairline clearer, giving you a more beautiful look.
Longer Crew Cut
The normal crew cut involves trimmed hair close to the skin. However, a longer crew cut involves longer hair than a normal crew cut. Therefore, you can embrace a more extended crew cut if you no longer like your short hair.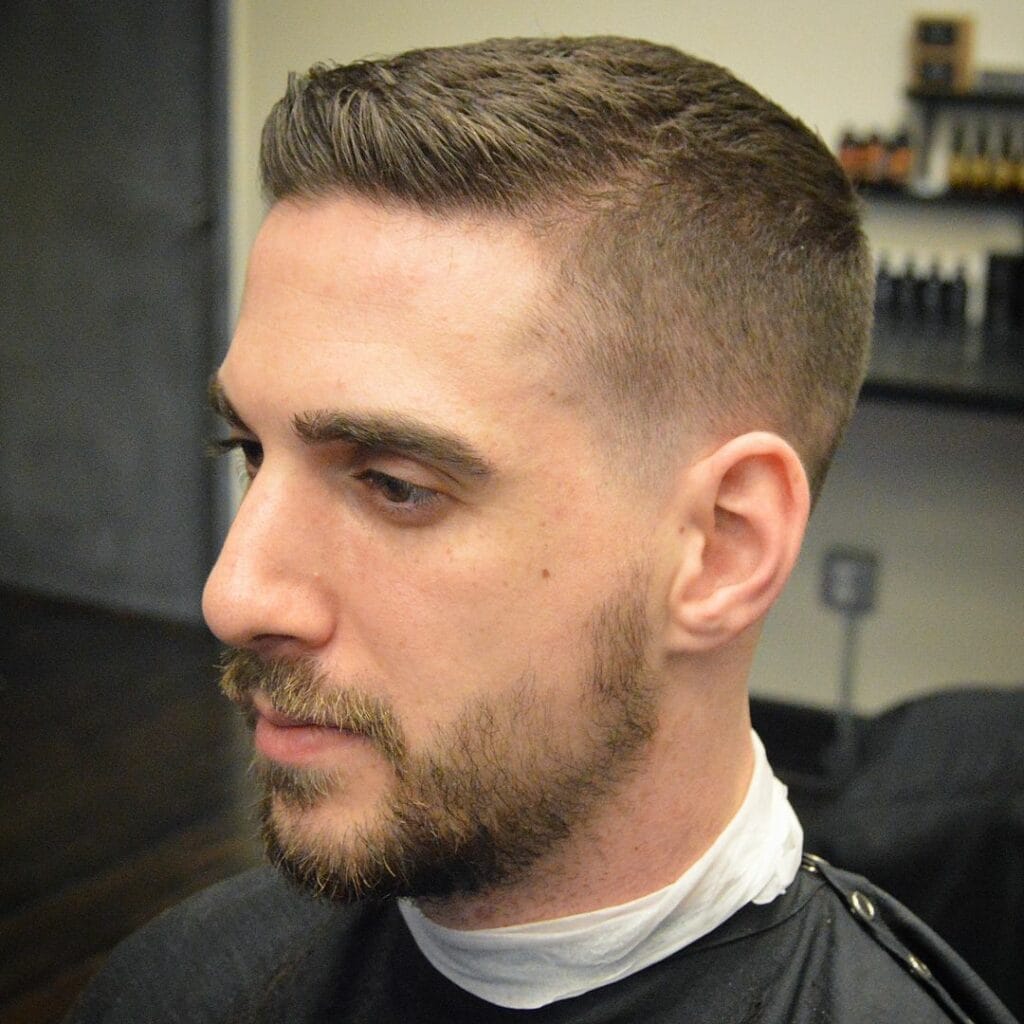 Longer Buzz + Fade + Line
This involves short hair with a fade and a line at the side, and the hair length drops as you go down the head.
This statement hairstyle is impressive and will give you a cute look.
Fighter Skin Faded Haircut
This involves a skin fade where the hair on the sides and back is cut close to the skin while the hair at the top has more length.
You can compile this haircut with a side part. If you are tired of the normal military haircut, you can give your hair a new vibe with this style.
Buzz Cut Taper Fade
If you have a buzz cut or want a new version, it's time to embrace a taper fade on your hair. You can change your buzz cut by shaving hair on the sides and reducing hair gradually as you near the natural hairline.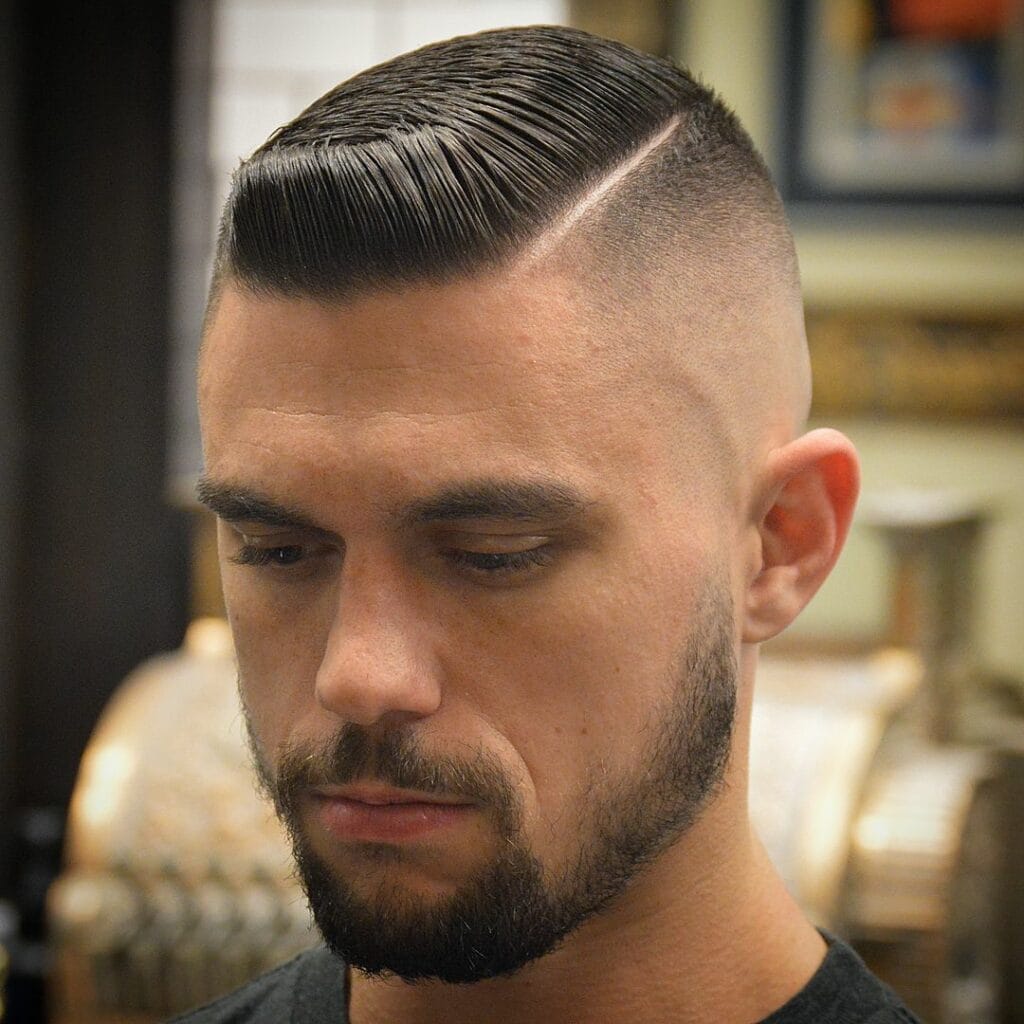 Brushed Back
This is an effortless hairstyle you need if you don't want something that will complicate your life and waste your time.
If you like short hair, just comb it back. It's good if you use a hair product that will make it stick together.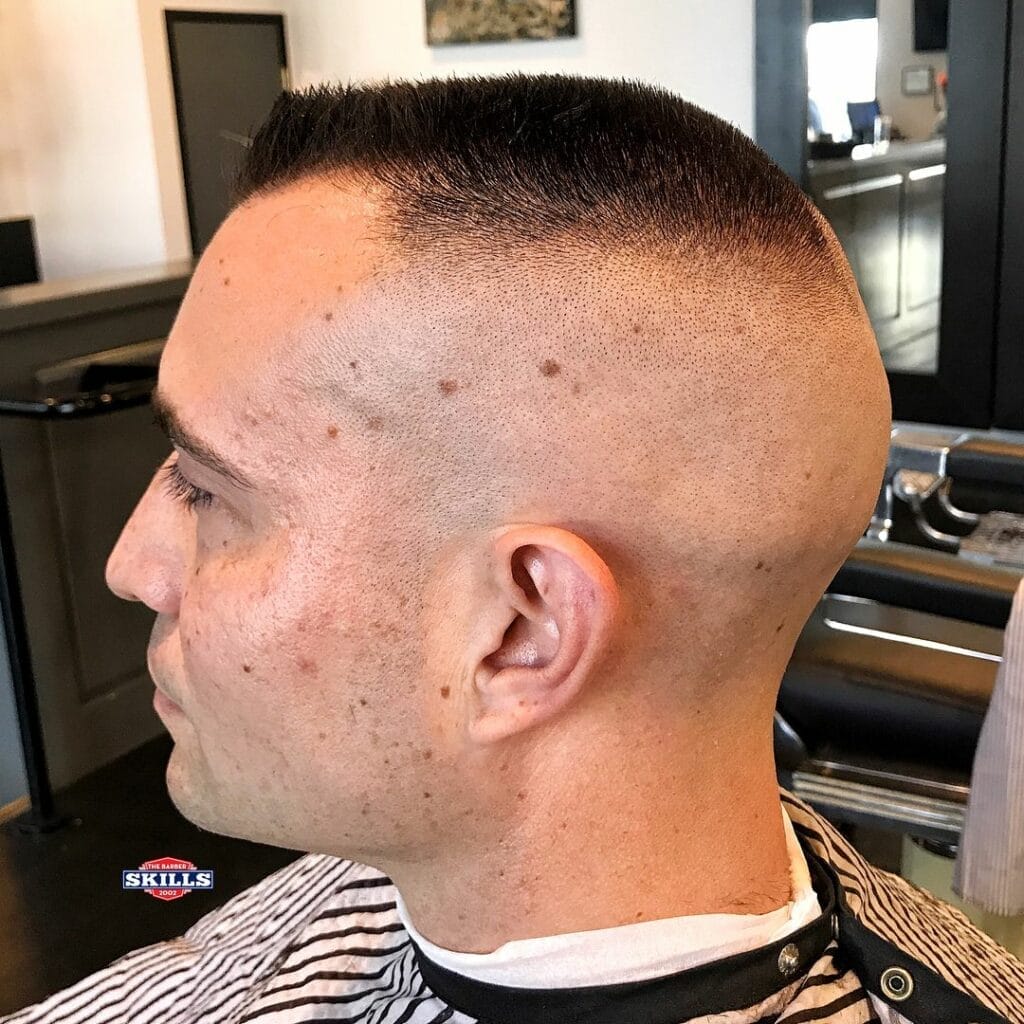 Rounded Crop
This haircut has long hair in the front, but the sides and back are faded. The fringe is styled round to create a unique modern look. It's one of the best haircuts for young stars who want to look edgy.
Normal Military Haircut
The military has very tough rules when it comes to hairstyles. The military should always look neat and clean, which is why they should always have short haircuts.
A normal military haircut involves short hair, which must not be longer than 4 inches. It shouldn't touch the ears, collar, or below the eyebrows.
Short Back And Sides
Most hairstyles for men these days have this haircut. Almost all haircuts have sides and back that are trimmed short. This cut gives a modern look to any hairstyle.
FAQs
Why Does The Military Keep Hair Short?
to stay neat and clean always since they can take a long before washing them. This will prevent the spread of lice among them. Short hair is also easier to maintain in the field, and it reduces the risk of getting hair caught in equipment. Additionally, it is considered to be more professional and military-like, promoting unity and conformity within the ranks. Short hair also is easy to wear protective gear like helmets, masks, and gas masks.
How Do You Ask For A Military Haircut?
Tell the barber to cut the hair short on the top with shaved sides. The hair on the top shouldn't be more than 2 inches. show some pictures from the list above
Is Buzz Cut An Army Cut?
Yes, A buzz cut is commonly used in the military, as well as by many people outside of the military, for its low-maintenance and clean-cut appearance. It is a versatile hair cut that can be styled in different ways, such as the high and tight, induction cut, or even a butch cut. The name "buzz cut" can refer to any short, military-style haircut that is done with clippers, regardless of the specific style or length.
What Is A Soldier's Haircut?
A "high and tight" is a common military haircut for men in the armed forces. It is characterized by a closely shaved or buzzed head on the sides and back, with the hair on top being left slightly longer, usually about an inch or two. The hair on top is generally styled with a "fade" into the shorter hair on the sides and back, giving the appearance of a "high and tight" look. This hair cut is very easy to maintain and it's typically done with clippers, which allows for a consistent, precise cut every time. This haircut is usually done regularly as part of the grooming standards in the military.
Why Can't The Military Have Facial Hair?
Facial hair is forbidden in the military due to hygiene and to enable them to wear a gas mask.
Khamis Maiouf is a professional barber who graduated from Hinckley College in England with a degree in hairdressing. He has also won several barbering contests and successfully operated a barbershop for the last two decades. As a skilled hair stylist for 20 years, his goal is to teach others how to achieve a beautiful appearance through their hairstyles.