What is The Military Haircut Called?
The normal military haircut seems to be a neat and low-maintenance look that is among the most fashionable styles for men. A military officer haircut features the brief shaved sides, back, and crown of the head, making it a practical look for a soldier or police officer. While the induction cut was the best army haircut, modern guys can mix and match numerous styles to create their own unique look. There are numerous military haircut with beard to pick from, whether you require a short business oriented style for a job or a simple haircut as a police officer.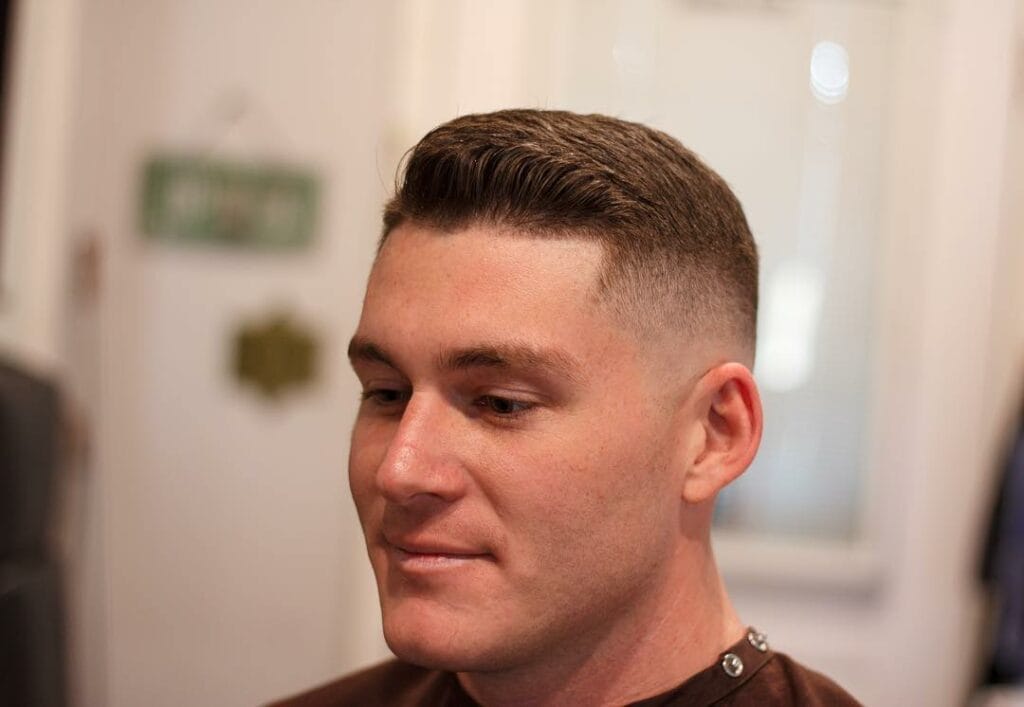 For a manly short military haircut, some men like a buzz haircut with faded sides and back, while others prefer a crew cut with an undercut for a versatile lengthier style. It can be difficult to choose the correct look with so many stylish designs of military cut for men. We've collected a selection of the top military haircut ideas to give you some suggestions. Explore these trendy army-style haircuts for guys to find a fashionable look you'll love, from the bowl cut fade to a crew haircut.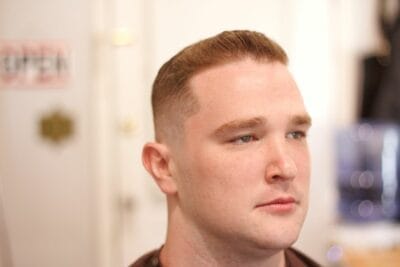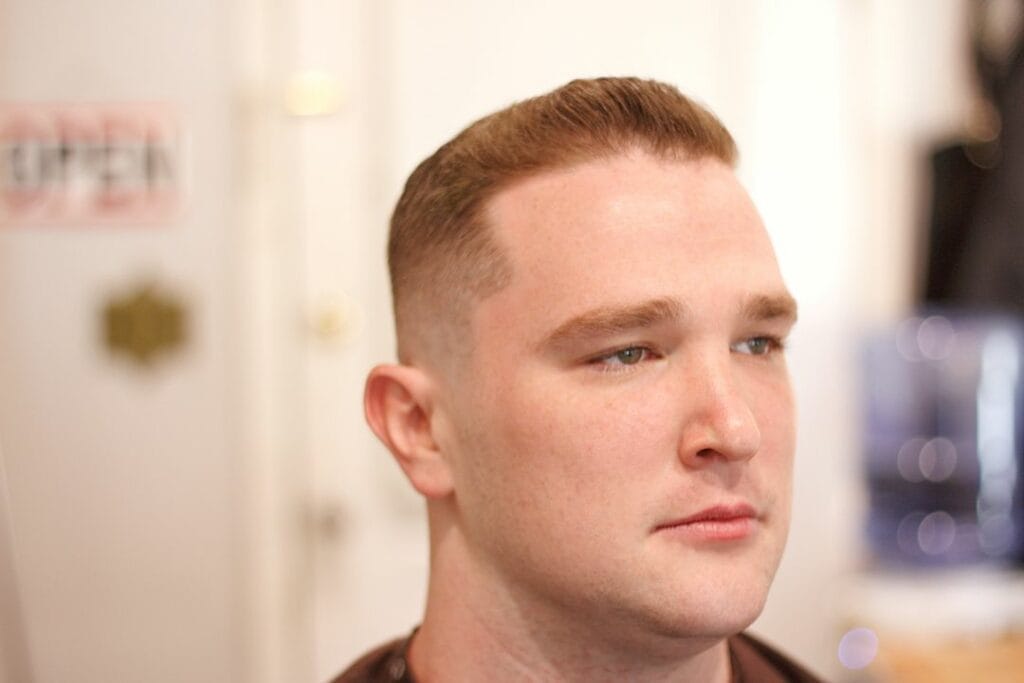 What Haircut Do Soldiers Get? Different Types Of Military Haircuts
There are a lot of haircuts out there, but some of them are not worth your time while others are dead in the past. We have excluded such haircuts from our list, so it is not confusing and is fruitful.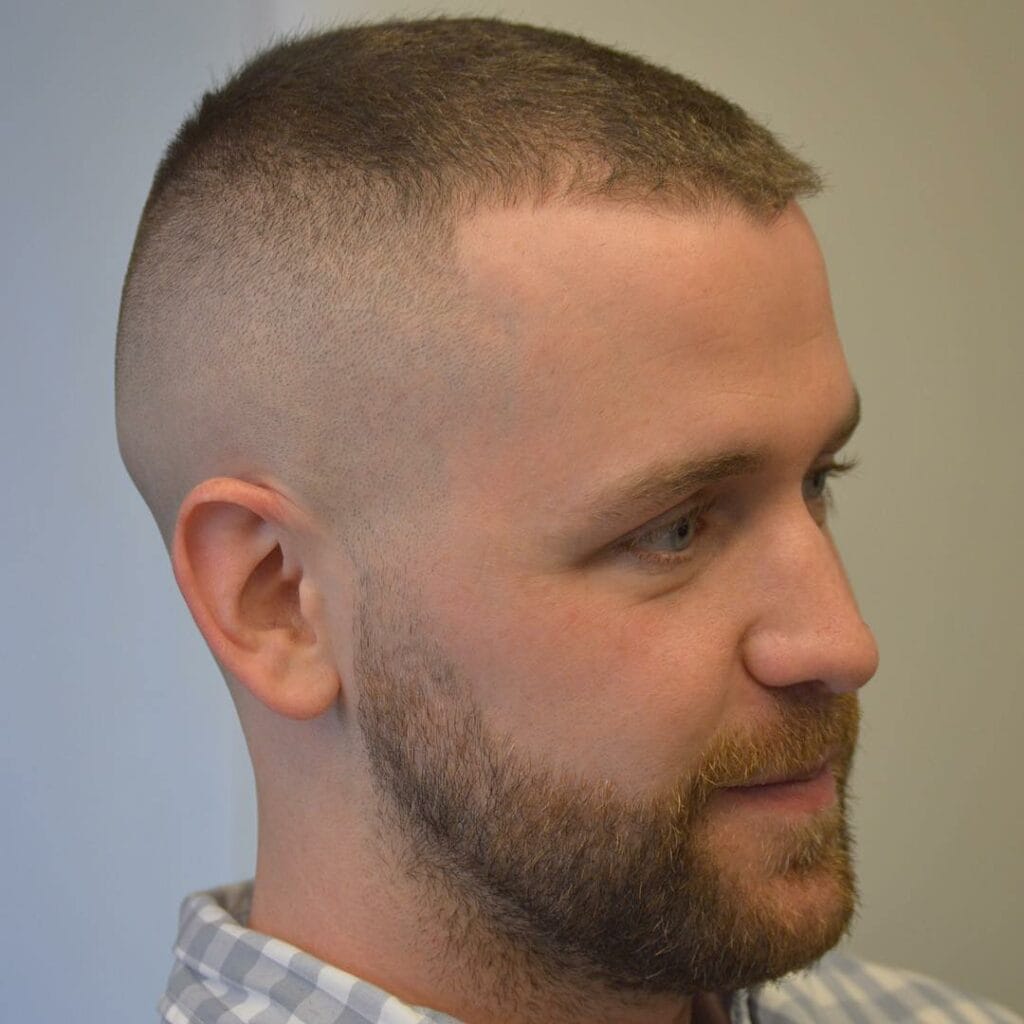 Buzz Military Cut
For men who seek a simple style, a buzz cut is a close – cropped haircut that delivers a neat and bold appeal. A buzz cut faded is a trendy, high-contrast hairstyle that may elevate your style to new heights. To achieve an edgy and fashionable look, guys can opt for low, mid, or high faded sides and back.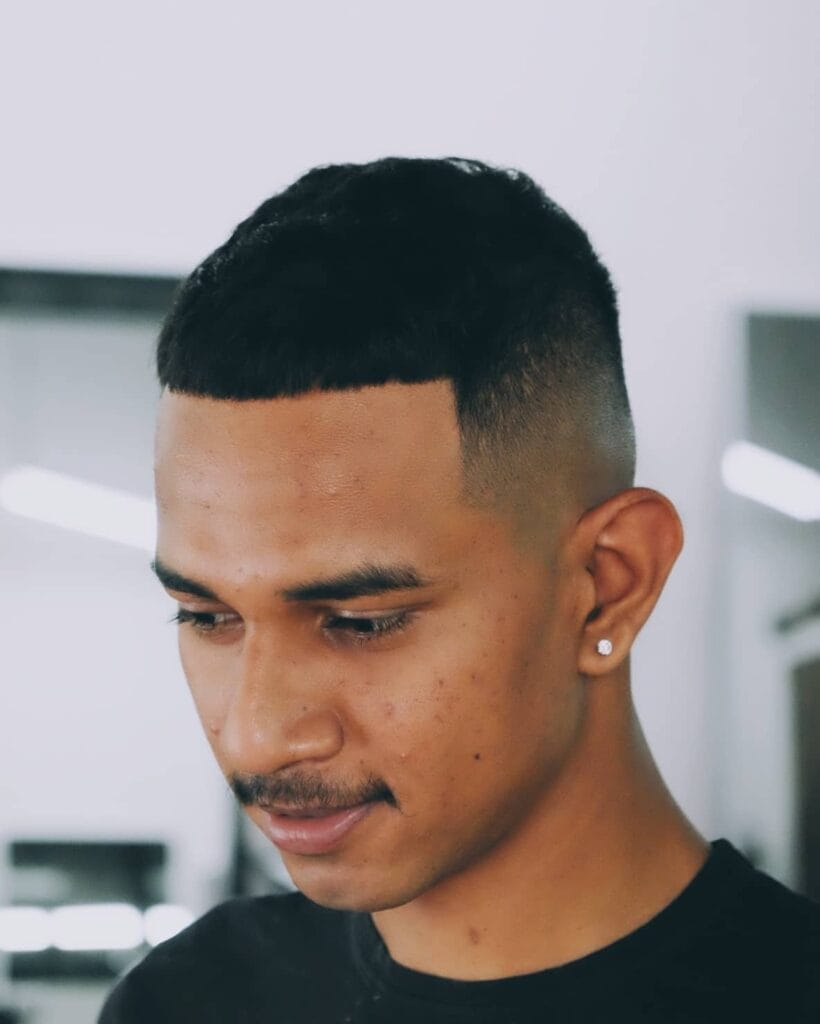 To take this a step higher, ask your stylist to add a skin fade to the cut, Which will taper the hair towards the scalp. You can pair your cut with a full beard for a sturdy, handsome look.
Military Induction Haircut
The induction cut seems to be a super short classic military haircut for men who seek a masculine image without having to style their hair. Recruits are given the induction hairdo during the first day of recruit training, and it can be clipped with hair clippers without a guard.
To play around with this extremely short hairstyle, ask your stylist for skin faded sides and back to contrast with the top hair. This appearance, which is close to a bald head, is best for guys who have a square hairline and sharp facial characteristics such as a chiseled jawline.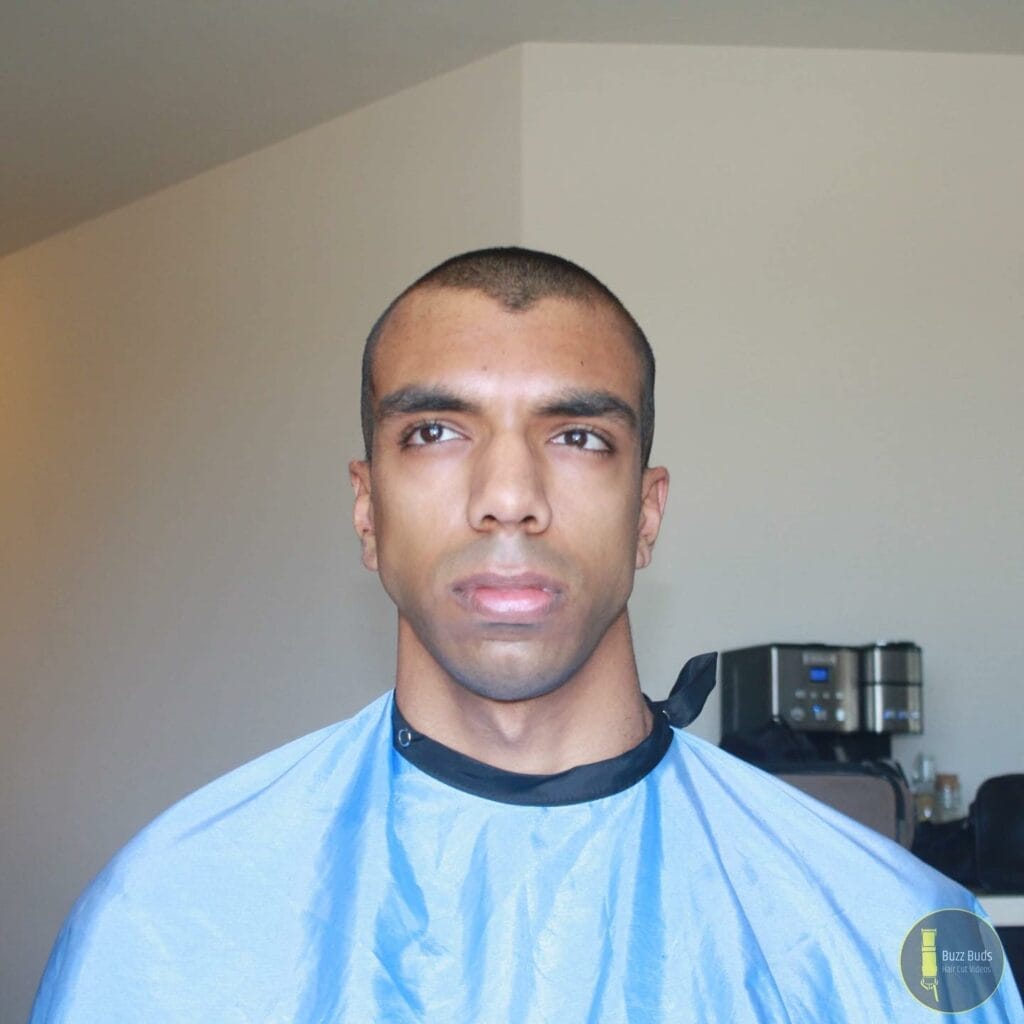 Military Regulation Cut
A regulation military haircut is one lengthier cut for men in the army which has become a popular barbershop choice for businessmen. A standard haircut begins with a tapered haircut and back, followed by a short cropped on the upper edge that allows men to wear their hair in a side part. This standard hairstyle is simple to maintain, stylish, and appropriate for a variety of occasions. For containment and volume, use a moderate to strong hair product, resulting in an attractive and clean-cut look.
Military Butch Haircut
The butch cut seems to be a trendy hairstyle that features short hair all over for a macho appearance. Military men and sportsmen who require functional cuts with minimal styling and distractions will appreciate butch haircuts.
Butch haircuts come in a variety of lengths and styles, extending from the short burr to the lengthier haircut. Ask your barber about a moderate to high side part and back for a fashionable look. You'll need a size 1, 2, or Three clipper guard to trim the hairline, depending on how small you want to trim your hair.
Military High And Tight Haircut
For guys who prefer a shorter version of the crew cut, a high fade is a really short hairdo. A high taper fade and back, combined with shorter hair, characterizes a high and tight military haircut, resulting in a basic and youthful look. To focus all of the attention above, ask your hairdresser for a skin fade. This high and tight cut is a useful cut that you can get at yourself with clippers, whether you style it sloppy or sweep it to the side.
Flat Top Military Haircut
The military flattop haircut is a shorter hairstyle in which the top hair is trimmed flat and groomed vertically. This hairstyle is indeed an aggressive commando style with a faded side and back that looks excellent with dense, straight hair. To wear your hair spikes all day, you'll need a powerful style product, like to a tall and snug. Guys must use a pomade or wax or gel for a softer, more natural look.
Crew Cut
For guys who desire a professional business hairstyle that always looks excellent, the crew cut is among the most popular short haircuts. A crew cut is a terrific option for those guys who are in navy, and army to preserve their longer hair while maintaining a macho style. The crew cut fade features tapered shorter hairline and back, with a relatively long length on top, for added definition and style.
Guys can style their hair in a variety of ways, including brushing it forward, sweeping it to the edge for a comb over, or leaving it untidy for a laid-back look. The crew cut haircut is a universally appealing and charming alternative, if you're a cop or even in the Military.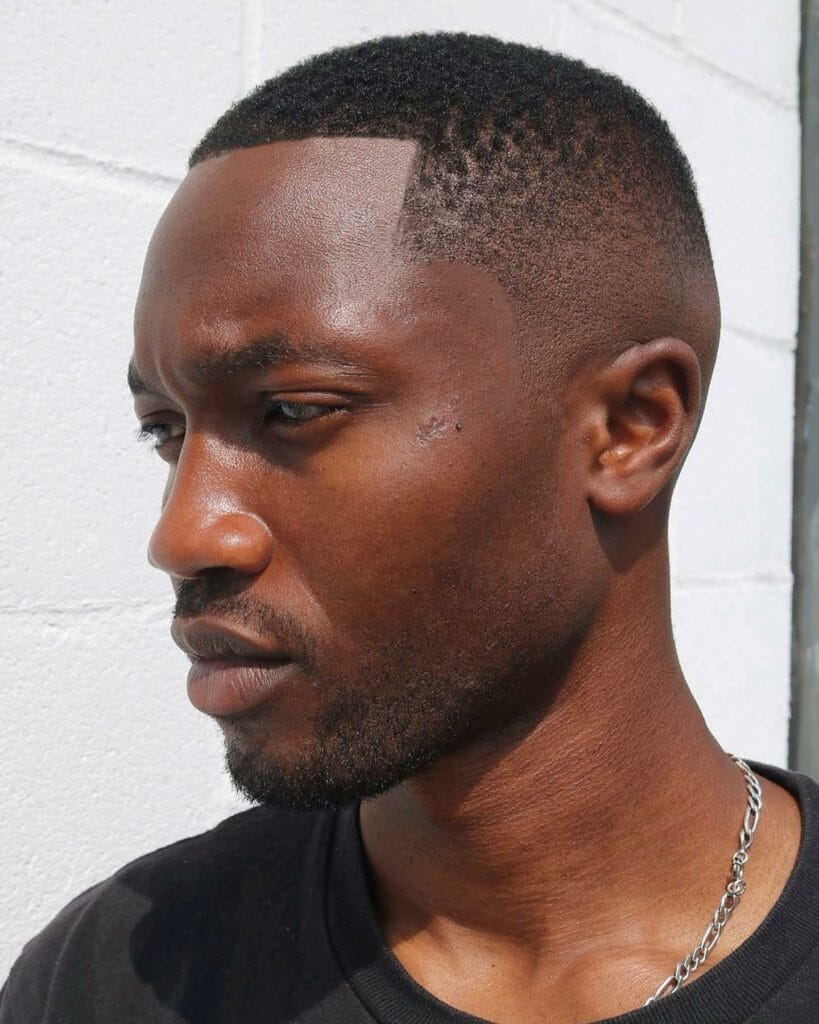 Military Haircut With Hard Part
A traditional hairstyle for gentlemen who want to brush their hairline has been the difficult part. A thick shaven line is shaved into your hair using a razor in the hard section cut. The part can be used to divide the front and crown of your head, or it can be used to style parted hair. This commando standard military haircut might be a one-of-a-kind technique to get a sleek and sophisticated image.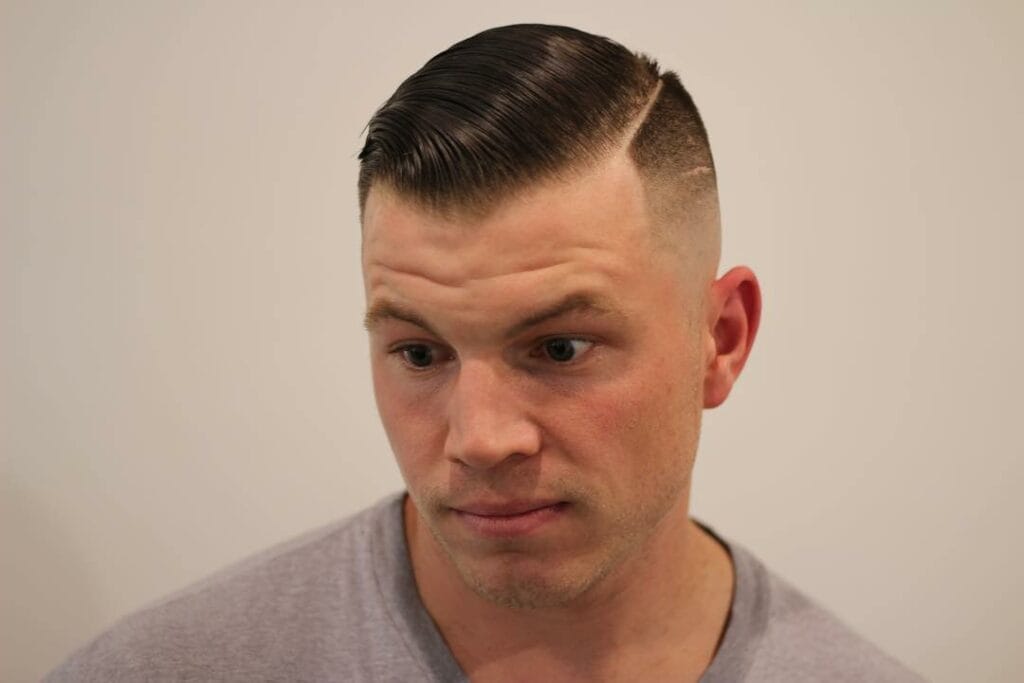 High Top Military Cut
This one is fairly similar to the standard cut, however the key difference is that the sides really aren't trimmed as short in this style. Although the hair on the top and sides are still smaller than those on the crown, They are rather long and should be backcomb to highlight the side parting and side swept top. It's the perfect haircut for men who enjoy the regulatory look but don't want their sides shaved.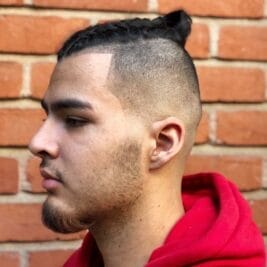 Side Swept Military Hair
By inserting a base section of hair, this version of the normal cut gives a variation to this well-known men's military haircut. Begin with 2 or 3 inches of hair at the front and work your way down to the side portion. Following the side part, build the foundation hair, which is about an inch wide and long. To complete this hairstyle, a proper military haircut shave must be done underneath the baseline short. The top hairs can be brushed around one side or styled into a pomp.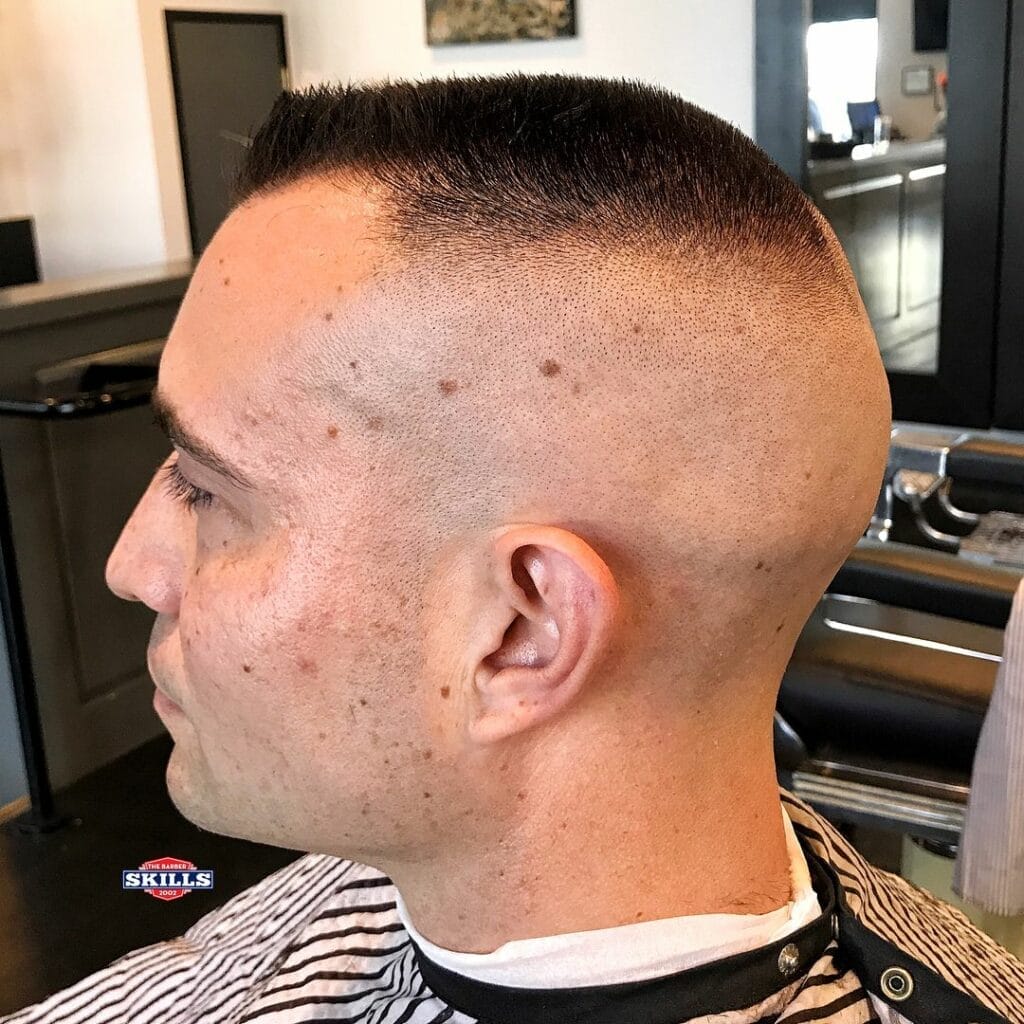 Do You Know Shampoo With Chemicals Are Harmful To Your Health?
You realise that many inexpensive big-box shop shampoos and conditioners contain dangerous chemicals, right? So put your paraben-containing shampoo in the garbage and replace it with something that is beneficial for health. Parabens are hormone disruptors that linger in your system for a long time.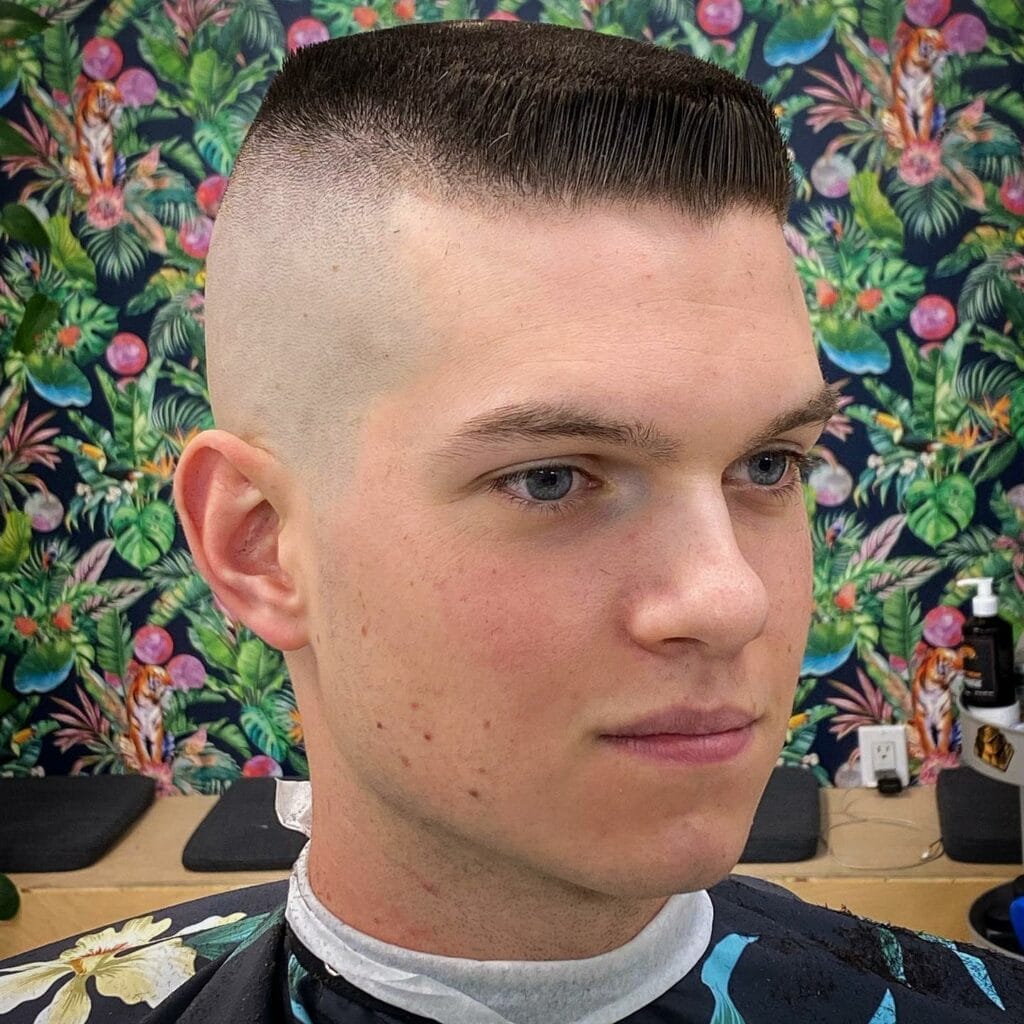 Why Parabens Are Not Good?
Men are exposed to parabens, and then their testosterone levels drop. What makes you think you'd want to do it to yourself? Sperm growth and efficiency have also been discovered to be reduced as sperm become irregularly shaped and slow-moving. Thank you, but no!
Why are Military Haircuts Short?
Hygiene is one of the key factors behind short hair within the military. Close quarters are ideal for transmitting lice, and working in the field typically means not doing any laundry for days or weeks. As a result, having shorter hair can help with some of these concerns. Another factor is the manner in which it is presented.
Short, clean haircuts, like the uniform, offer a cohesive image and build a sense of teamwork and camaraderie. Finally, being comfortable wearing combat helmet is a realistic requirement. Long hair could also be used with you in close-quarters combat, since opponents can easily grab it and tug it back.
Do You Get Free Haircuts in The Military?
In most cases, haircuts are still charged in the military. Some places have on-base barbers who charge a fee that is taken from your pay. You can go to whichever barber you like in other locations, just like a citizen. Some barbers and hair salons, on the other hand, will provide a military person discounted or even free haircuts on certain occasions, including such Veterans' Day.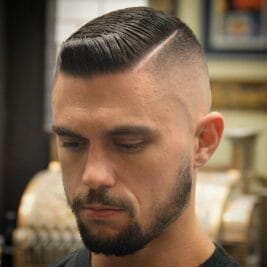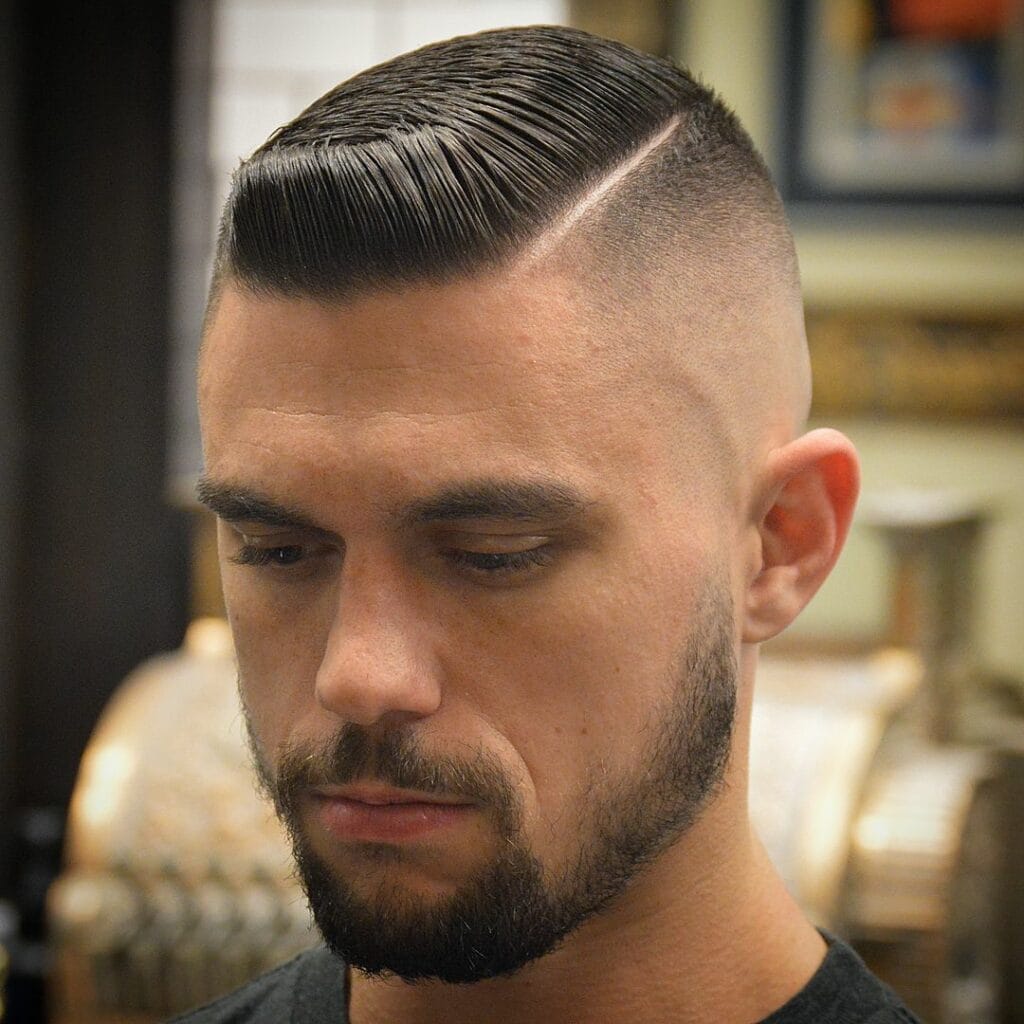 What is a Navy haircut? Do Marine Officers Too Cut Their Hair Short?
Marines are required to trim their hair. Men are expected to cut their hair completely during recruit training, as is the case with many branches of the military. When out of starting trainings, this hairstyle needs to stay spotless, with nearer sides with little flare, like from a high and tight. The top hair can be three inches long at most.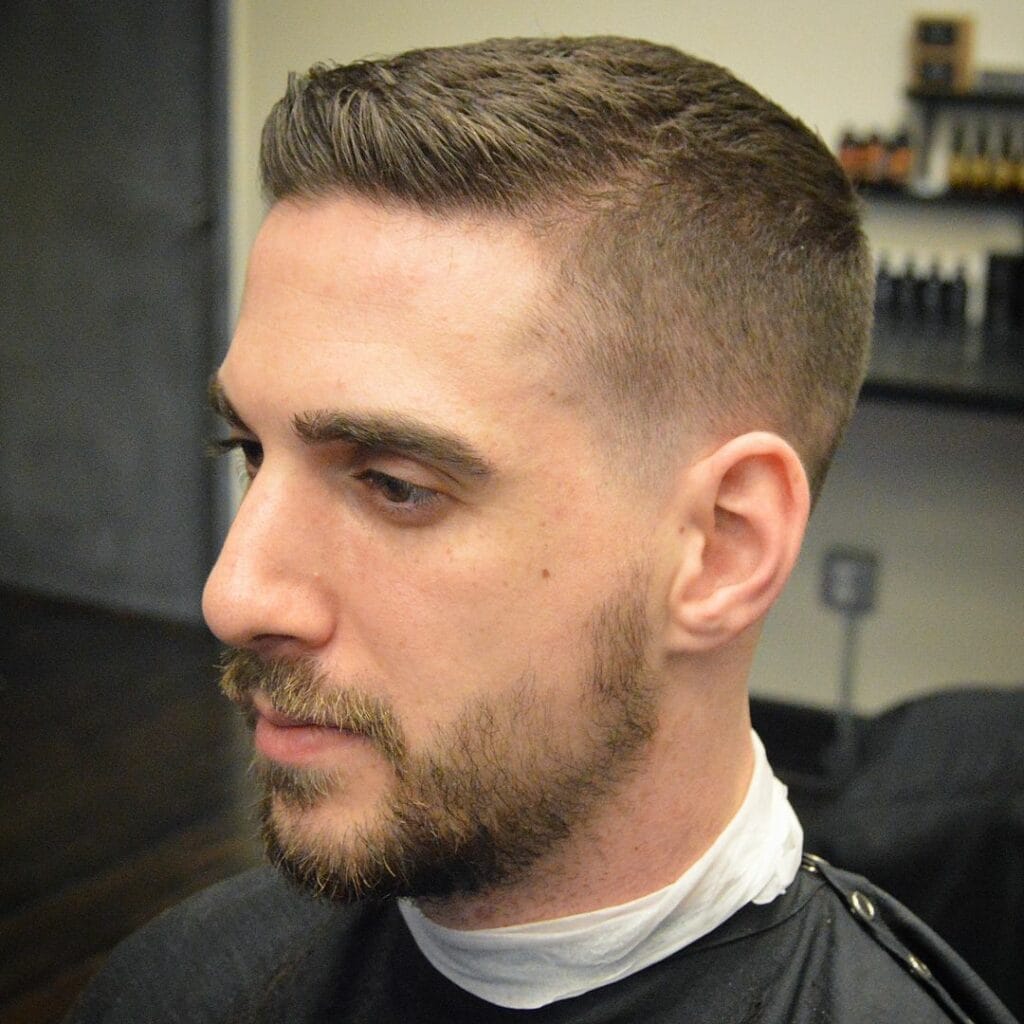 Are Military Haircuts A Good Option For You?
You are a man, that needs a simple, clean and neat but stylish military haircut. A haircut that gives you the personality of a decent and organized man. A haircut that is appropriate for work places as well as parties, Then military fade is exactly what you need. Also don't get into the hopelessness if some of the short hairstyles are not suitable for your face shape.
Because there are plenty of different army styles haircuts out there, from which you can easily choose your most suitable one.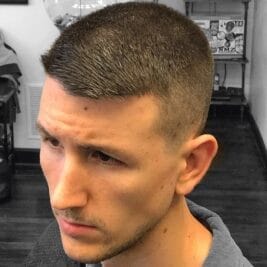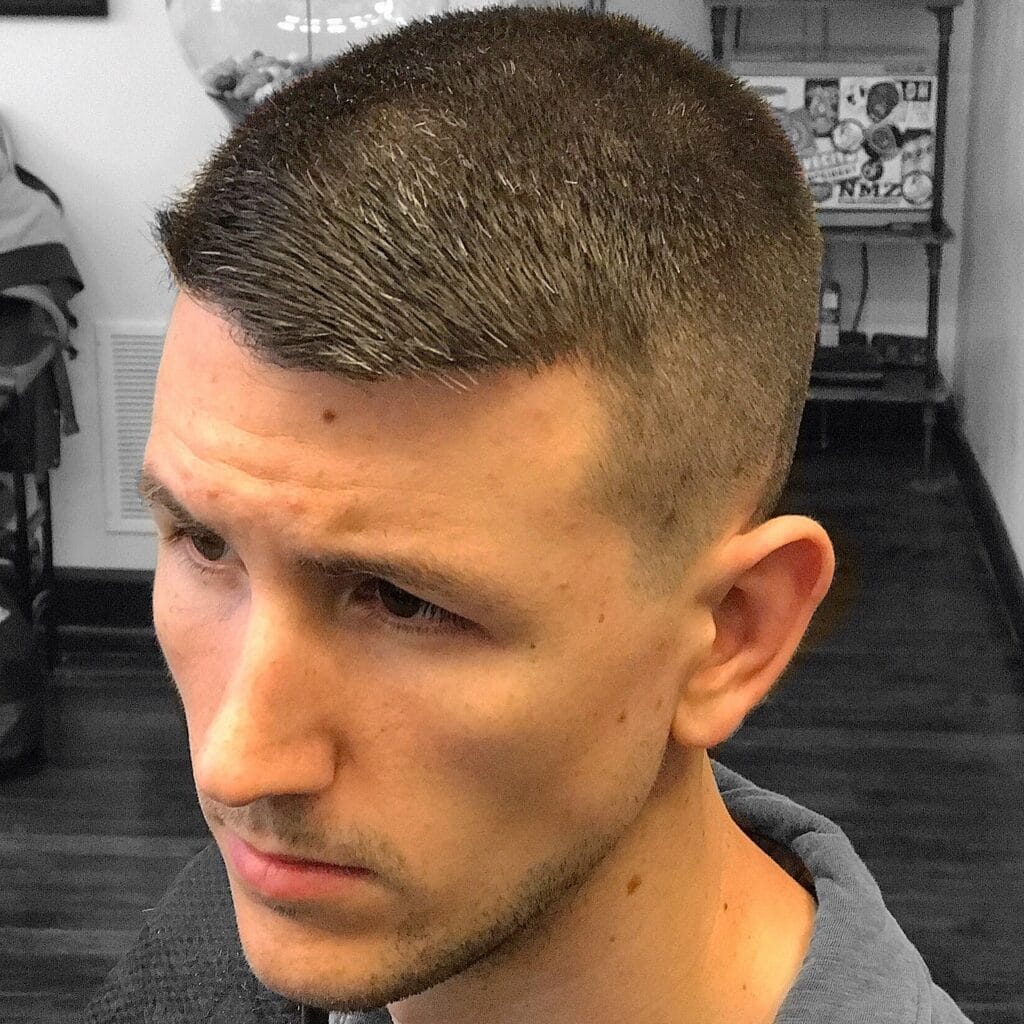 How Do I Make My Stylist Understand About An Army Haircut?
Stylists and barbers are usually experienced enough to know about a certain haircut by just you explaining them. But as there can be very minor details and differences, they can get it confuse with another haircut, For example between buzz and Burr cut, barbers can get confused.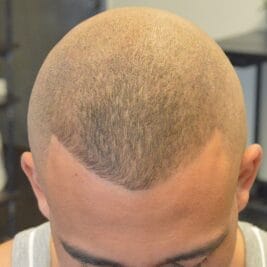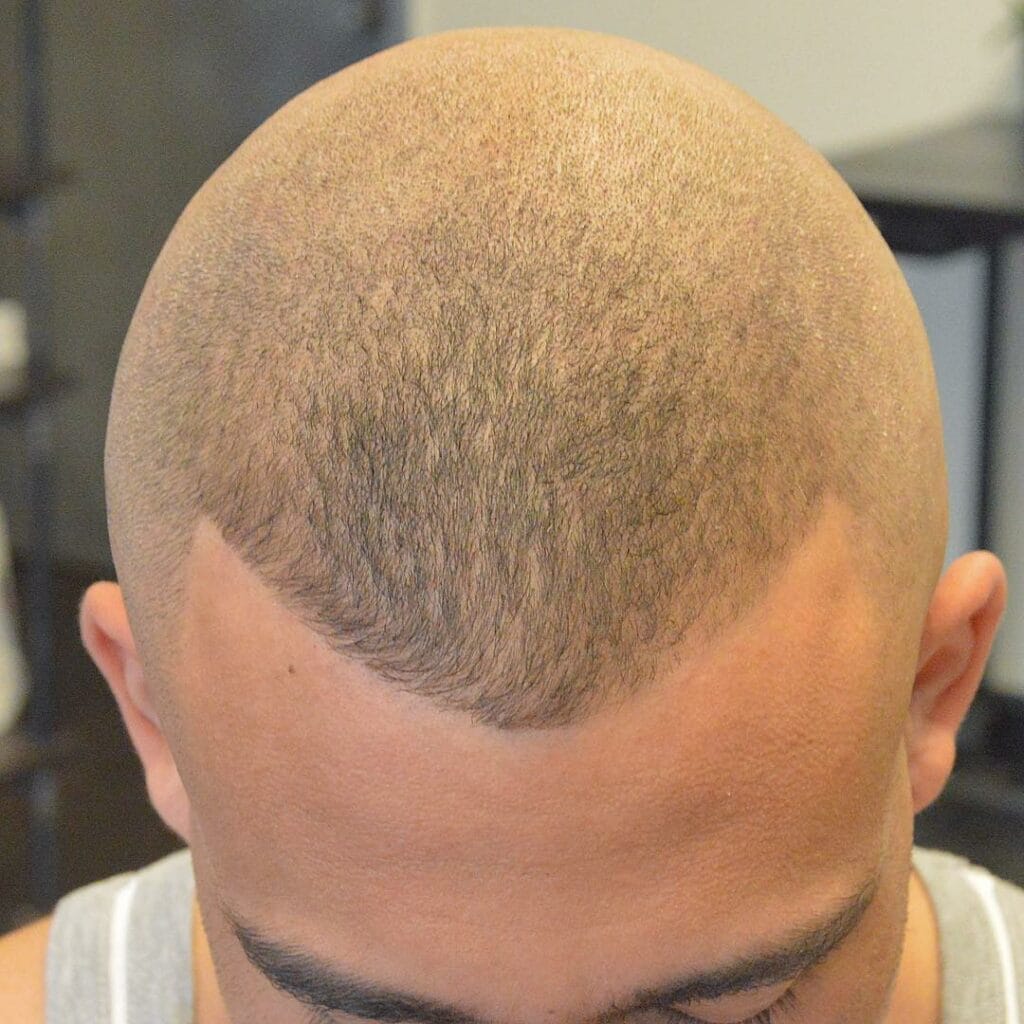 Both the cuts are very similar and even their names sound similar. This can happen with a lot of haircuts, so the easy and best option is to show the military haircut pictures, you want. You can easily get images from Google search engine or you can pick any of our image and show it to your barber. This way he will understand exactly what haircut you want.
Can You Have Curly Hair In Army?
Hair texture is something very natural and hence there can be no restrictions upon that. Your naturally curly hair or Afro hair is acceptable in military. Although curly hair is not a problem, but that is only if your hair texture is natural. If you get dreadlocks or artificial curls then those type of styling is prohibited in the military.
Conclusion
In this blog, we have discussed all about military fade and how you can get any one of them by the help of a professional barber. Going for a military haircut fade is a great choice to make. These haircuts are very unique and fashionable. They show you as a commando person, even if you are not.
Choosing the best army style cut can be fun but confusing because there are a lot of variations to one single type of haircut. But we try to keep our guide precise and simple. We only discuss haircuts that are still in trend and that will enhance your personality.