The bowl haircut is the most fashionable haircut designs for guys when it refers to traditional hairstyles. For a refined look, some guys like a bowl cut with a fade. It can be difficult to choose the ideal men's haircut with so many options. A bowl cut with a fade elevates the classic fade hairstyle to new heights.
The fade haircut parts can be placed anywhere on the head. But for bowl cuts, the most authentic notion is a nape fade that runs from top to very back & all over sides. Faded bowl haircuts are among the most popular hairstyles for both young men and women. A bowl haircut is a high-maintenance style.
Top 15 Bowl Cut Fade Haircut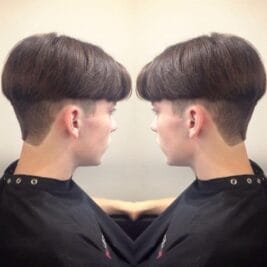 If you want to go for the bowl haircuts, here are 15 different types to pick from. Make yourself at ease with your preference; there is something for your face and hair type.
Short Tousled Faded Bowl Cut
The edges of bowl haircuts are usually trim & neat, as we can see here. The short tousled faded bowl cut encircles top of head. On the other hand, top is messy and attractive, giving this haircut a traditional style a laid-back vibe.
Forward Swept Faded Bowl Cut
Despite the bowl form, all of the hair on sides are brushed forward & towards forehead. It offers an unexpected aspect that catches eye, perticularly on light hair.
High Bowl & High Fade
Keep the bowl high and the fade not much longer for a haircut that mix a attrective high skin faded side with bowl cut. The fade and thick hairs on the top go well together.
Messy Faded Bowl Cut with Streak
This Messy Faded Bowl with Streak bowl cut is distinct due to two factors. One is untidy appearance, which is uncommon in the immaculate style. Another feature is the frontal bleached streak. This look is ideal for laid-back guys who prefer to flaunt their dude side.
Bowl Cut Fade with Long Back
This Faded Bowl with Longer Back cut, which is neither a mullet nor a bowl. It has thick hair on the top & bald below, and back sweeps all the way to nape of neck in a eye-catching, shaggy sweep.
Perfect Bowl Cut Fade Hair With Beard
A ruggedly attractive bearded man meets clean neatness cut of a faultless bowl cut in this scene. This haircut is for guy who enjoy displaying both aspects of their personalities at the same time.
Medium Size Faded Bowl
With top bowl cascading over the undercut edges, you seem ready for every event that comes. Sides are trimmed to about half an inch & brushed flat & smooth. The top has been chopped to fall by sides and is reduced to medium size. The precisely shaved sideburns & moustache add skill to the cut, making it a appearance for the stars.
Blond and Modern Bowl Cut Fade Hair
With their easy-going hair, blonds never run out of things to do. Sides are trimed, leaving some exposed layers of soft hair, & then brush to a smooth downward finish.
The top is cut to a medium length & then parted on any one side, with the each half falling to sides. Because of its simplicity and ease of maintenance, this haircut is a design to consider for a laid-back guy on a long vacation.
Bowl Cut Fade with Undercuts
Footballers favors undercuts, and you might try one as well. The top hair is left to tumble down and give a cut to expose undercut on sides after the sides are shaved close. To complement brushed sides, the hair is left straight. This haircu is confident guy appearance that would look great on you if you wore one of them.
Bowl Cut Fade Neatly Tapered
This faded Bowl Neatly Tapered style, as the name implies, emphasizes neatness. In preparation for top hair that will be direct contrast, the sides are precisely shaved and brushed smooth. The ball is kicked off when back head is dropped. A small portion of it is moved to back while majority of it is moved to the front.
A rift appears where the front & back pieces are divided, and it appears to be a tidy division that was planned. Sides don't get much of a bowl effect, but it's there to keep the term alive.
Faded Mushroom Head
Among many men, the serious gentleman is a sure thing. It's a solemn appareance that would complement your solemn demeanour. The fall starts at top & wraps itself around head to form a thick strap.
The fall has been cut to expose the face & ear. This style is based on simplicity, & you will love it to the very end. This haircut will be very attrective if you didn't have beards of any kind.
Free Faded Forehead
Allowing your forehead to be free creates the illusion of adorable cheeks and lovely cheekbones. Over the hair edges, top & side hair created a wonderful roundness. The front hair is stacked into what look to be bangs, but they are pushed away to reveal the forehead, which is easy to notice for its sweetness.
Bleached Faded Bowl Cut
The faded bowl will make a striking statement if hair is bleached to a dazzling white. The both sides are trimed low after the bleach, and top is clipped to a medium size & pull to fall over an unintentional undercut.
The bowl's tips are cut so that they don't reach the front of the brows or the sides of the ears. Every inches of face has a bold guy aspect to it, and it certainly passes the awesomeness test.
Cute Guy Faded Bowl
A cute guy faded Bowl style should be the priority for males who prefer to change their flat hair top into stunning bowl. A top hair is moulded into head round drop with a thin appearance with each drop until the sides are clean shaved. It's just sweetness for all to see and adore with the nothing on ears & faces.
Faded Vicar Top Bowl
The impression of a faded vicar's cap is created by combining the top and bottom layers. The sides are shaved down to few inches shorter than top. Top bowl starts at the back head's drop, but it isn't very long because it barely grazes lower layer.
Tips for Maintaining Faded Bowl Cut for Boys
Check out the below tips to maintain your bowl cut fade haircut.
Moisturize your Bowl Cut Fade Haircut
Moisturizing hair is important since it makes it healthier and smoother. A hair mask will provide additional conditioning to your hair. They're made just for to keep your hair moisturized.
Brush your Bowl Cut Fade Haircut
You should brush your hair with a large-toothed brush even if you have Bowled hair that has been properly set. Your scalp will be reached by the large-toothed brush. It conditions and shines your hair.
Add Proper Fade to your bowl haircut
Bowling your hair from the sides, back, and all around is required; otherwise, your hair will grow up everywhere, and the bowl haircut will not appear appealing. Wax or pomades can also be used to add texture and minimize thickness.
Conclusion
This lengthy collection included numerous examples of bowl cut fade haircuts and hairstyles that are suitable for both almost every face shape. Take some time to consider your work environment, personality, and personal style before settling on a Faded bowl hairdo. Hopefully, you liked the variety of different Faded Bowl haircuts for your hair. The bowl cut fade will never go out of style, and if you have any one, you're on your way to success. These looks can help you get the look you've always desired.
It's all really straightforward & for your benefit. Finding a cut that complements your appearance should no longer be a burden. So, what are your thoughts on men's bowl cut fade haircuts? Do you intend to wear any of this Bowl cut fade haircut for your hair? Choose any one look today & rock the next party, fun-filled event or date. Let us know in the comment section. If you still have some doubts about Bowl cut fade haircuts, scroll below to look at the FAQ section.
Bowl Cut Fade Haircuts for Boys Hair FAQs
Is it hard to fade your own hair?
A fade is a haircut in which the hair grows longer at the top and gets shorter as it gets closer to the nape of the neck. If you attempt to complete the process on your own, it will be more challenging.
Which Bowl Haircut Fade Looks Professional or Official?
Perfect bowl cut fade & Beard Looks Professional and Official, which is suitable for guys who want a Perfect look.