Attractive Hairstyle for Men Over 60 Years You Must Try
Looking for the perfect hairstyle for men over 60 years? You are at the right place. To begin with, I congratulate you on reaching this stage of life.
After working hard all these years, you've earned enough to keep you going, and you can finally relax and enjoy your life.
You have good shelter, can flaunt any clothes you want, and travel to any place you desire, thanks to the investments you've made over the years.
However, one thing that can be a cause for concern is your hair. Thinning and greying hair can make you feel self-conscious and older than you actually are.
But don't worry. We've compiled a list of formidable hairstyles to bring your youth vibe back to life.
These trendy hairstyles for guys over the age of 60 don't need a lot of upkeep and are easy to style. Plus, they will give you the confidence and synergy to enjoy your evening days.
Is there a longer hairstyle for men over 60 years I can spot?
You can still rock a long hairstyle at sixty years old and look fantastic! In fact, plenty of long hairstyles can give your grey hair an attractive and stylish look.
So, if you're feeling adventurous and want to switch up your style, here are some long hairstyles to consider:
Pompadour Hairstyle for Men Over 60 Years
As men reach the age of 60, hair thinning can be a common concern. However, with the right hairstyle, you can disguise lost volume and look stylish and confident.
The pompadour with short sides is one hairstyle that can help you achieve this.
To achieve this look, you'll need to crop the sides of your hair and carefully style the pompadour with texturizing products to lift your strands and create volume.
By pairing this cut with a light scruff around the chin, you can draw focus downward and create a sharp, modern look that can help you feel confident.
Another option that gives a great look for an older man is the pompadour fade. This timeless style combines a voluminous pompadour with faded hair along the sides, adding structure to any face shape.
The dazzling volume from the pompadour beautifully showcases thick strands, making it an excellent choice for men with hair thinning concerns.
For a more relaxed take on this classic style, you can rock a messy pompadour with a full beard.
This look is effortless and low-maintenance while still showing a sense of style and confidence.
Go for the Waves
Have you lost much of the length on top of your head?
Waves are a refreshing and attractive hairstyle for men over 60 years, but they require regular maintenance to keep them looking their best.
However, for the free-spirited gentleman, flowing waves are definitely worth the effort.
To achieve the perfect wave, keeping the hair on top slightly longer with a longer back and sides of your hair is best. A gentle tousle of pomade through the locks will add effortless texture and shape.
If you're blessed with thick hair, consider experimenting with a long hairstyle and a beard for the ultimate silver fox look.
This style is especially attractive for those with natural waves, but you can easily enhance the flow and texture with a spritz of sea salt spray.
With a full beard to complement the waves, you'll have a look that's sure to turn heads.
Which Short Hairstyle for Men Over 60 Years Should I Try?
If you're not keen on spending too much time styling your hair, a shorter hairstyle may be the perfect solution for you. Consider trying one of these options:
Classic Side Portion
This classic style is hard to top since it is so adaptable and eye-catching, much like French crops, so it is so popular.
This style is clean and requires minimal shaping, making it ideal for both the office and a night out with friends. The classic side part is an excellent haircut for guys over sixty-year-old who want a traditional appearance with minimum effort.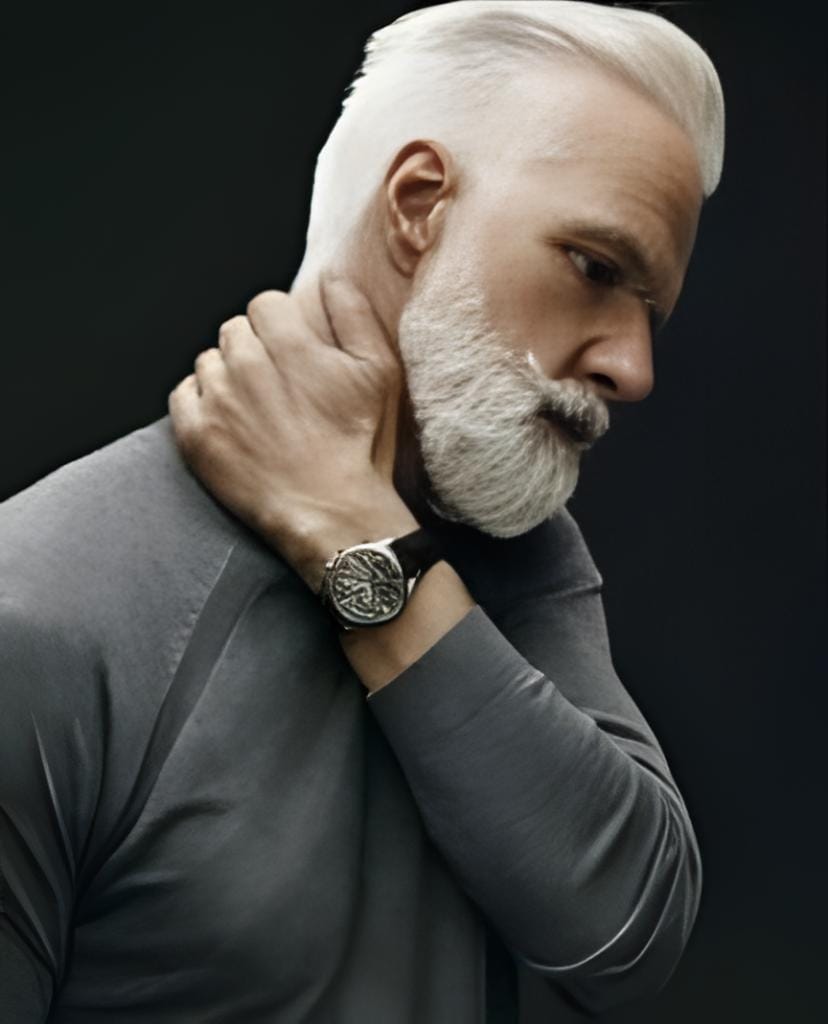 Spiky and Short
Even with short grey hair, you may still have a contemporary and youthful style, and it will speak for itself.
This works best for those who have layered cuts.
Spiky hairstyles for men appear pretty stylish, and they go particularly well with either a full beard or a clean-shaven face.
Shaved Cut for Men Sixty Years Old
If you find yourself struggling with styling your hair and feeling unsatisfied with how it looks, one option for a stress-free hairstyle is to shave it all off. This is an easy and low-maintenance look, especially for older men.
However, if you're not ready to go completely bald, it's a good idea to consult with your barber about finding an appropriate length that will suit you. They can advise on the style best for your face.
Undercut
Senior men may assume that the undercut may not work on their hair type or texture. Well. This is not true because the undercut is a versatile hairstyle that works for all ages.
Despite being made famous by numerous male celebrities and youth, there's no need to be intimidated by the undercut. In fact, it can be a practical, attractive, and current choice for men over sixty.
Haircuts for Unruly Hair
Thick Hair
If you have thick hair, cutting it short can make it easier to take care of. But if you like long hair, keep the sides trimmed and the top a little longer.
To make your hair look effortless and natural, use some hair products on your wet hair and gently mess it up. Then, you can let it dry by itself or use a blow dryer.
Curly Hair
It's important to be gentle when combing curly hair, starting at the bottom and working your way up.
If you comb it the other way, your hair might become frizzy. Use products that are made for short curly hair, and get regular trims to keep it tidy.
Even though you can still keep some length, long curly hair on an older man can leave you looking messy instead of put-together.
Thin Hair
Senior men can look handsome with a bald or shaved head, particularly if their head has a pleasing shape.
It's a convenient hairstyle to maintain because you can shave it yourself at home. However, even though there's no hair, you still need to clean your scalp with shampoo to remove dead skin cells and excess oil.
Shaving your head is an excellent option for men with thinning hair, as it won't be an issue for them.
Rebellious and Funky Hairstyles for Older Men
If you're a senior man with thick hair, consider older mens haircuts like a wild and funky hairstyle. Spiky hair can be fun, but you must cut it short to look its best.
A layered haircut is ideal for achieving a wild and funky look. A small amount of hair gel can help you spike your hair up, but if you're meeting with business clients or attending formal events, you can also comb it back for a more refined look.
With the right cut and a little bit of styling, you can rock a wild and funky hairstyle that suits your age and personality.
Let's dive into some of these rebellious older mens hairstyles you can rock with ease and achieve a sophisticated look.
The Long Hair Look
If you are a senior man with long hair, it can look really cool as long as you take care of it.
Make sure to use good hair bands when you tie your hair into a ponytail to avoid breaking your hair.
Plus, choose the right hair products for your hair type to keep it looking good. If you are losing hair on top, avoid combing your hair straight back because it can make the thinning more noticeable.
A Flattering Gaze
Older men can look great with long hair as long as it's kept neat and well-groomed.
When tying your hair in a ponytail, use high-quality hair bands to prevent breakage, and choose styling products that are suitable for your hair type.
If you are experiencing thinning hair, avoid slicking your hair back, as it can draw attention to the thinning areas.
How Can I Get a Better Look in My Sixties?
Are you going gray?
Altering the way your hair is typically styled is one technique that creates the impression that you are younger and have a much more modern look.
There is nothing more gorgeous than a great head of silver hair, particularly when it is matched with a trendy haircut. Nothing is more attractive than a decent head of gray hair.
There's no denying that dyeing your hair can be a time-consuming and expensive task, but you can always leave it to your barber to handle.
If you're not a fan of having gray hair and would prefer to look younger, consider toning it down a bit.
While having facial hair, like a beard or mustache, can give you a cool and edgy look, it also has the potential to make you appear older than your actual age.
If you're interested in looking younger, you may want to consider older mens haircut like getting a clean shave.
Final Thought
Men who want a hairdo should always strive for a more exciting and modern hairstyle. Our guide has shown numerous youthful and trendy options available for them to choose from.
Whether they prefer a classic cut or a more contemporary style, there is something for every taste and preference.
However, it's important to remember that great hair requires great care. Therefore, I recommend investing in the best hair products that suit your hair type.
With the right hairdo and care, men can look their best and feel confident every day.
FAQs
Q: Do men over 60 need to follow specific guidelines for hairstyles?
While there are no strict rules, it is generally recommended for men over 60 to choose hairstyles that are age-appropriate, easy to maintain, and complement their facial features and hair type.
What hairstyles are suitable for men over 60 with thinning hair?
Hairstyles such as the buzz cut, short Caesar cut, or a close-cropped haircut can be suitable for those with thinning hair, as they minimize the appearance of hair loss and can be quite flattering.
Are there any trendy hairstyles for men over 60?
Yes, there are trendy hairstyles that can suit men over 60, such as the modern side part, the classic quiff, a textured crop, or a sleek pompadour. It's essential to choose a hairstyle that complements your face shape, hair type, and personal style while also being age-appropriate.
Can men over 60 grow a beard to complement their hairstyle?
Absolutely! Growing a beard can be a stylish option for men over 60, adding a distinguished look to their overall appearance. Be sure to keep the beard well-groomed and choose a style that complements your hairstyle and face shape.
Khamis Maiouf is a professional barber who graduated from Hinckley College in England with a degree in hairdressing. He has also won several barbering contests and successfully operated a barbershop for the last two decades. As a skilled hair stylist for 20 years, his goal is to teach others how to achieve a beautiful appearance through their hairstyles.