19 Best Mixed Boys Hairstyles Give You A Trendy Look
Mixed-race kids should think about what kind of haircut will make them feel and look their best. The right haircut will draw attention to the texture and color of their hair and the features of their face. Because of this, they'll have a good attitude at school, when they play, and when they hang out with their friends. The mixed boys hairstyles are good because a good cut and style can help mixed boys feel more comfortable and confident about their appearance. Some hairstyles are not the best, which is especially true for people with two different hair colors.
Recent Mixed Boys Hairstyles Trends
Check out our list of the best haircuts for mixed boys:
1. Cropped Top
This simple hairstyle draws attention to the part of the hair on top of the head that is curly. You should get a fade on the sides, and a slit on one side cut perfectly. Saved is a slightly bigger piece of the top. You can add a clean lineup to make the look stand out or leave it as is.
2. Curly Mullet
Even though it's a rebellious hairstyle, a mullet cut can make guys with Mixed Boys Hairstyles quite cute. Get a mullet haircut with a clean undercut around the sides, and let the curls grow out a few inches. The curls in this style look best when they look out of place.
3. Spiral Curls with Undercut
Some boys like it when they have long hair. Keep some length at the top of your spiral curls to show them off. The sides are cut shorter so that it looks more put together. You could also go for a skin fade with this cut instead of an undercut.
4. Box Braids
Box braids have been popular for a long time, and they always look good on a mixed boy's head. The rules for how to write in this style are not very strict. Just divide the hair into sections and braid each section down until it's the same length as the rest of the hair. You'll need to do a little bit of upkeep on this trendy cut as time goes on.
5. Free and Wild
Avoid pulling your gorgeous long locks back into a ponytail. Instead, it would help if you let them go free. Let the spiral curls grow long enough so that they reach your shoulders. You can highlight them with blonde hair and add some delicate layers to bring out their uniqueness. It is common practice to cut the hair in front of the head short to rest on the forehead and bring focus to the face.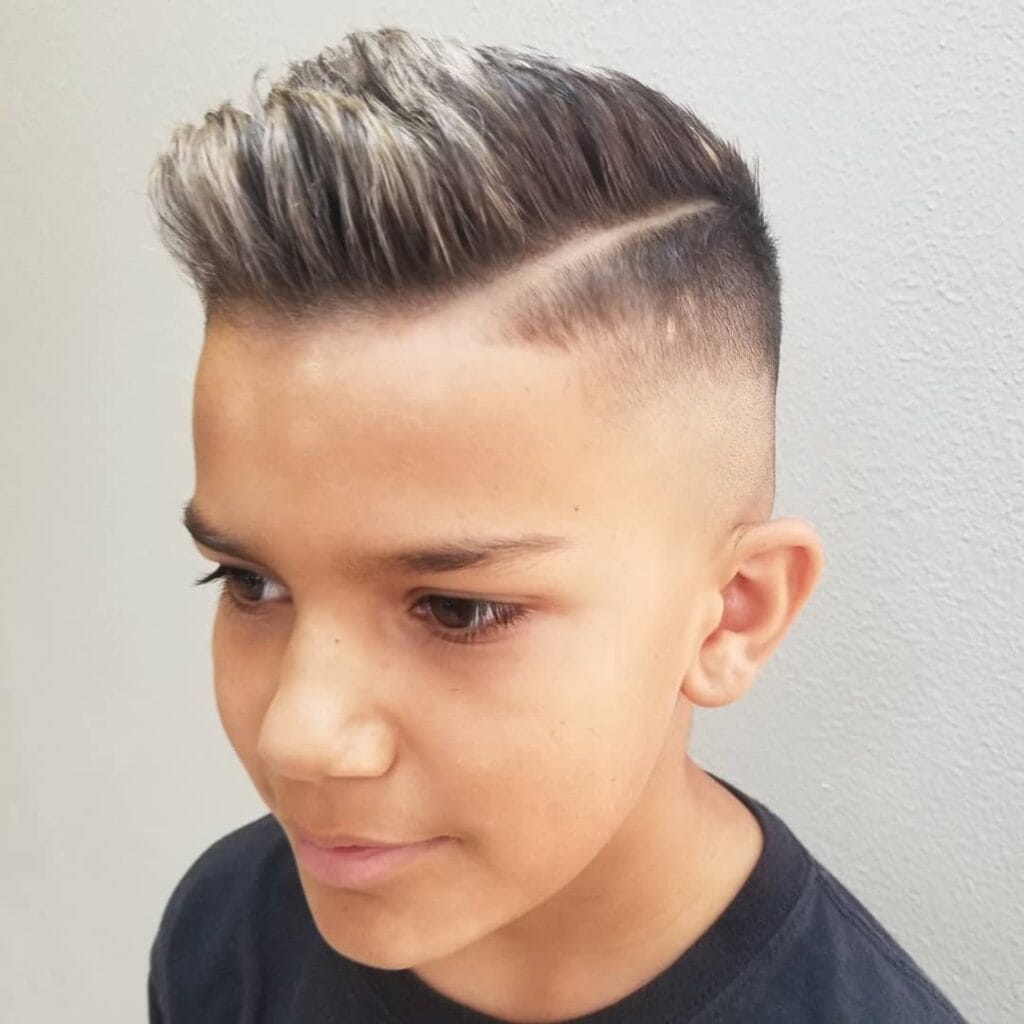 6. Kinky Haircut
This is the most effective method for taming the tight coils characteristic of most of the hairstyle for mixed boys. Indeed, it is a great option to try this year. The sides are shortened, but the top is kept in its longer form to drape down over the sides. You may choose to plait the lengthy curls into a ponytail instead of letting them hang loosely.
7. Afro Ringlets
Ask your hairstylist to add layers to your naturally curly hair so that you can achieve this afro haircut and style. The layered strands around it frame the face. This look demonstrates how simple it may be to wear a headband with an afro and keep the hair out of one's face.
8. Curly Mess
Cut each strand to the same length to achieve this unkempt, curly appearance. This cut requires little to no maintenance at all. To maintain its position, a finger brush is all that is needed.
9. Tousled Look
Please do not attempt to tame your wild curls by cutting them short; instead, adopt this style to give them the freedom to move as they want. Layers in your hairstyle will let the form of your face stand out more clearly. The boys' hair is styled to drape over his forehead, giving the impression that he is pretty young.
10. Highlighted Tips
Highlights in the hair can give even young boys of mixed race a stylish appearance. Get a short afro cut and highlight the tips of the curls to achieve the arrival of two different shades. A simple handshake is all that is required to get the day started.
11. Blonde Highlights for Boys
Highlights should be considered for mixed kids who desire long hair but also want it to look like they do naturally. Because highlights are such a terrific method to give the hair more dimension and movement, selecting this option is one of the most popular things. Highlights are a great way to express individuality since they are easy and enjoyable to apply, but they also do not need to be positioned in any particular way.
12. Naturally Curly and Loose
This is a perfect hairstyle for males who have curly hair because it does not require a lot of effort to appear beautiful. The beautiful curly mixed are almost embarrassingly simple to achieve, and when they are let to loosen up and flow around the boy's head, they give the impression that he is wearing a halo. If the boy's hair is allowed to grow out naturally, he won't have to worry about how he appears when he's out playing with his friends.
13. Close Cropped Curls
Cutting the curls so that they are short and close to the head is one of the most common and fashionable Mixed Boys Hairstyles for who do not want to devote effort to maintaining their hair. This is a fresh look that is simple to maintain. Because of the shorter length of the curls, there is less of a chance that they will get in the way or be difficult for a kid to manage on his own.
14. High and Tight Haircut
A high and tight cut with shorter sides is an option for boys of mixed race who want their hair cut shorter. This appearance is a beautiful variation from the norm because it is uncomplicated and well-kept. Teenage males who want to keep their biracial hair long but have to keep it short for school but don't want it to get in the way when they play will find this to be an excellent option.
15. Surfer Boy Haircut
If a boy has curls, using a small amount of styling product on them will help them shine out and give his hair its best appearance. It is not difficult to achieve this look, even if the curls are a little bit longer. If boys take the time to define the curls in their hair and give them some movement and shape, they can increase the likelihood that their hair texture will help them stand out in a crowd.
16. Curly High Top Fade
The top of the head can be styled with gentle curls, while the sides of the head can have a lesser length. In contrast to other Mixed Boys Hairstyles, which can be challenging to maintain, this cut is straightforward to take care of. Mixed males with curly hairstyle who need to look a certain way for school or who want to keep their curls in check so that they don't get in the course would benefit significantly from this cut and style.
17. Biracial Boy Haircut
The hair on the sides and back of a baby boy's head can be trimmed shorter, while the top of the head can be styled with a few longer curls. This is a charming style that masks the appearance of short, thin hair, which is perfect for guys who don't have much hair yet because it gives the impression that they have more hair than they do. A busy mother will appreciate how simple it is to care for and how little effort is required to style it.
18. Soft and Curly All Over
This beautiful youngster of mixed race has soft curls that are all the same length, bringing out his good looks. This is a trendy cut, and one of the reasons for its popularity is that it is simple to maintain and style. This young boy's haircut is so hip and trendy that he could wear it to church, a playdate, or even a wedding without looking out of place.
19. Buzz Cut With Fade
This trendy buzz cut works nicely with a side fade, and it is most flattering on boys of mixed race who have African-American heritage. A surgical line off to the side works nicely with the rest of the design.
Conclusion
Boys who say they are more than one gender don't have to get weird haircuts. You need to think of something slightly different, and your boy will be ready to show off a stylish look. If you want to give your biracial boy a cool new look, you can start by looking at the different hairstyles shown here. They will bring out the best in any boy. Changing a young man's hairstyle is an excellent way for him to show who he is and can be a lot of fun at the same time.
Khamis Maiouf is a professional barber who graduated from Hinckley College in England with a degree in hairdressing. He has also won several barbering contests and successfully operated a barbershop for the last two decades. As a skilled hair stylist for 20 years, his goal is to teach others how to achieve a beautiful appearance through their hairstyles.