When it concerns haircuts, Brad is indeed every stylist's dream. He has experimented with a wide range of styles. It's challenging to keep up with the changes to his gorgeous hair. Brad Pitt's iconic hair in Troy dates to 1194 BC. Long, curly hair is among the most popular hairstyles for Brad, and one most young men seek to try. Of course, everyone cannot have the same hair as Brad Pitt, but we can all try. If you decide to have the famous Brad Pitt long hair, read on to know more.
What should I know about Brad Pitt's long hair?
Brad Pitt has a reputation for appearing with awesome hairstyles. Young men are always looking for new hairstyles they can try from him. Brad always impresses from his short hairstyles to his moderate length and the long hairstyle. You should know that keeping Brad's famous hair is possible.
Brad's long hairstyles may be done by allowing your hair to grow out to your shoulder while applying a light lotion or wax to get a silky middle section that glides organically. Also, to ensure your hair does not tangle, add a little volume of products to the ends of your hair.
What are the types of Brad Pitt's long hair I can try?
Over the years, Brad always has wowed people with unique cuts. In some cases, he's seen with low-cut hair; in other times, with long fantastic hair. Below, we look at some of these tremendous long hairstyles Brad has put out. Mind you. These styles are simple. You can easily do it with good maintenance and a clipper.
Brad Pitt's long hair + beard
The long hair+Beard is one of my favorite Brad Pitt styles. To try this style, you must grow your hair as long as possible. Keeping this hairstyle is a gradual step-wise process. This style is excellent for any occasion. With high-quality lotion and shampoo, maintain a balanced diet to make your hair grow fast.
What makes this style even more astonishing is its adaptability in any situation. The long hair and the beard give you a unique, fantastic look and mature look. You can be comfortable with this hairstyle regardless of the weather condition. You can curl it into buns in the summer while curling it behind your ear in the winter.
Brad Pitt's blonde long hair
You have this brad Pitt's long hair and fortunate enough to have his kind of blonde hair, you'll always look ready for the party, even when there is no party. Brad Pitt's golden blonde hair isn't for everyone, knowing how few blondes are in the world. However, if you are dark-haired and interested in having this style, there is a solution.
All you have to do is bleach or dye your hair blonde. Irrespective of how long your hair is, you will always stand out if you choose a golden color. Furthermore, take the necessary steps here in this article to know how to boost your hair to have complete Pitt Long hair. With long hair, blonde is lighter, more refined, and attractive. When you have successfully bleached your hair and reached the right length, you can use conditioners daily to keep it healthy and shiny.
Brad Pitt's Troy long Hair
Aside from his Fury and Inglourious Basterds looks, Pitt's Troy hairstyle is well-loved. Everyone wants a curly-back, shining blonde with a shoulder-length hairstyle that's both macho and gorgeous. You will do more than wish if you wish to keep your hair like the famous Achilles. You have to grow your hair long and curl the sides. This style is best for men with thick hair.
Slick back Pitt long hair
The slicked-back hairstyle is a trademark of Wall Street financiers and power people. Pitt's version of this hair is quite different from what was formerly known. The tone of Brad Pitt's Slick back hairstyle makes his version a lot less aggressive by using a gel. The slick back becomes less obvious and more attractive with a small quantity of gel.
Slick-back long hair is not a modern look. Therefore, it suits aging men better. This hairstyle is more attractive with grey or silver hair. If, as a young man, you wish to try this hairstyle, don't hold back. You can bleach your hair to get the Grey color and give you a unique look.
Brad Pitt Long hair Ponytail
Brad Pitt prefers to wear his hair in a ponytail; this may be because it is easier to manage long hair in a ponytail style. If you decide to settle for Brad Pitt ponytail long hair, you can rest assured that you will have a fantastic look. Additionally, this style is excellent and is easy to maintain. Because of how easy it is to maintain your hair in a ponytail style, it presents an excellent choice for men who are too busy to wash and style their hair.
What is Brad Pitt's latest hairstyle?
Brad Pitt has been spotted with medium or almost long hair. His hairstyle these days is due to him mimicking vintage Hollywood trends for several of his films, for example, his vintage look in Troy.
The way his hair looks due to the mastery of his barber, and the special care he gives to his hair, his hair always appears longer and thicker. This implies that you must take the necessary step and have a good barber for you to achieve this hairstyle.
Brad Pitt's haircuts will remain fashionable and attractive from the middle section to the lengthy flow. He has successfully pulled off various looks with his long hair. Brad has also been spotted with his longer hairstyles on numerous occasions.
How can I get my hair to look like Brad Pitt Long hair?
To have the Brad Pitt long hairstyle, keep about 2.5-3 inches in length across the top and then trim the edges slightly. Brad's sideburns are likewise left long, reaching down to just beyond the bottom of his ears. Alternatively, if you wish to personalize your look, you can clip the sideburns with scissors or a hair clipper.
How long would it take for my hair to grow out like Brad Pitt's long hair?
You'll need, at minimum, a length of 12 inches up, which should take roughly a year to develop, with frequent visits to the barber to trim away excess weight and chunkiness. You don't need to worry about maintaining your hair once you have achieved long hair because it does not require much maintenance.
It is advisable to cut your hair after 8–10 weeks. However, this does not imply completely clipping your hair; instead, when you clip your hair, ensure you don't alter the length. While you wait for your hair to get to the desired length, comb regularly, and sweep it away from your face to one side. Also, style the hair to give it more beauty and volume.
What can I do to make my long hair as lovely as Brad Pitt's?
There is no hidden solution to getting the fantastic Brad Pitt's long hair. What is required is a constant shampoo wash and other hair care stuff. Once you have shampooed your hair with a texture spray, blow the hair dry and keep it away from your face with a vent brush.  As soon as it's nearly dry, use a style lotion that will offer enough grip while allowing you to run your fingers through it efficiently.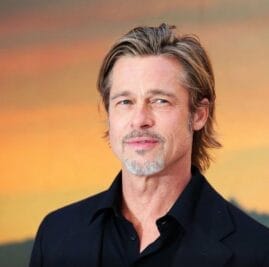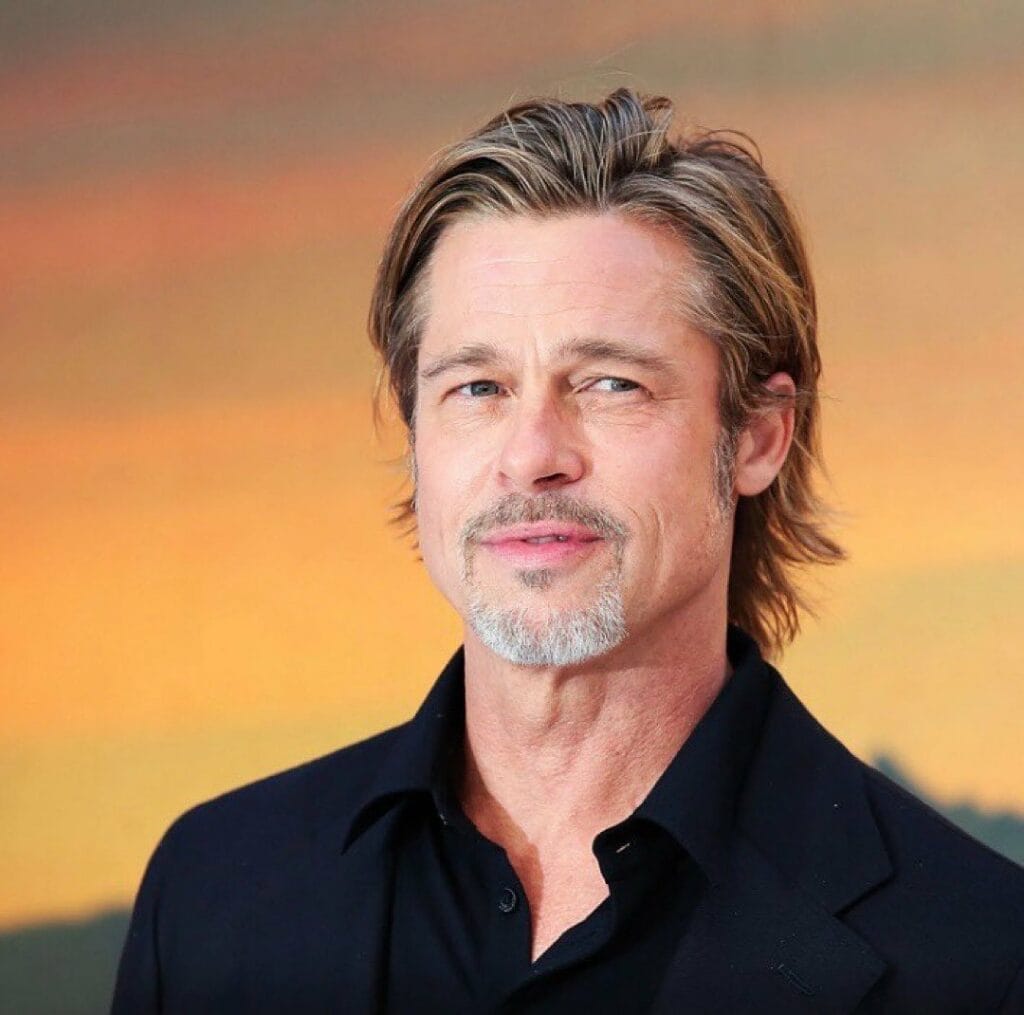 Is Brad Pitt's long hairstyle something I should try?
Due to his regular movie appearances, Brad Pitt has often switched from medium to long hair. You definitely should try Brad's long hair. Aside from how easy it is to maintain, attractiveness is a solid reason to get this hair.
The long hair usually stands out, especially when it looks as good as Brad Pitt's. The length of the hair is incredible and keeps your looks fresh and fascinating. Regardless of your hair texture or type – straight, curly, or wavy – this hair will fit you. One essential thing to have before you keep this hair, one critical thing is a thick hair texture. Thick hair makes the beauty of this hairstyle more apparent.
What should I keep in mind before getting the Brad Pitt long hair?
If you're planning on making your hair as long as Brad Pitt's, you'll want to ensure that it remains consistently healthy. Keeping the hair healthy involves concentrating on your scalp, which contains all the follicles of your hair. Focusing on the scalp promotes unhindered, ultimately strengthened hair development.
It is recommended that you do some toning, detoxifying and scalp-soothing solutions that help to maintain a healthy scalp. Better still, formulas with a high concentration of antioxidants may also aid in promoting the movement of blood to the hair shaft, hence improving nutrition delivery to the hair.
Furthermore, antioxidants, which protect cells from cell-damaging poisons, may be discovered in various components and help maintain a healthy scalp necessary for hair growth. One of such ingredients is sunflower extract, which has two protective properties: A naturally obtained SPF (sun protection factor) and a thermal safeguard that protects the hair and scalp from harmful elements.
Condition your hair steadily, irrespective of whether you wash it or not. Conditioning your hair is essential in keeping Brad Pitt Long hair. It is known that most water systems are contaminated with hard minerals and metals that may be dangerous to the body. You may not know that these chemicals are harmful to your hair.
These metals and contaminants can make your hair become brittle and tangle. Even though you don't wash your hair every day, you should still apply a conditioner. Also, you must use shampoo to straighten strands and remove any undesirable buildup from your hair.
Ensuring that your hair shaft and scalp are clean and moisturized will determine how your hair grows and how healthy it looks. If you struggle with scalp difficulties like an oily scalp, ensure you regularly wash and condition.
When it comes to oil accumulation because of fewer washes, you may be confident that conditioner will aid in draining out excess grease—through shampoo powder.With a dry shampoo powder, you will notice a massive improvement in your hair growth and general outlook within a short time.
Be on the lookout for low PH.
Taking care of the PH levels in your scalp and hair is essential. When you have any dryness, excessive oil, or irritation, you may presume your pH levels are out of balance. Moreover, your hair will seem dull and tangle more if you have a low pH. Use scalp and hair masks and conditioners to help "tune" your scalp and hair pH levels.
Using scalp and hair masks is critical in restoring your PH level to a standard level while infusing hair strands with high vitamins and nutritional compounds. To avoid breaking and fraying as your hair grows, consider including scalp and hair masks in your shopping list.
Adding these masks will help maintain or keep your scalp and shafts healthy as your hair grows. Furthermore, it is essential to use your hair mask every day before washing it until you find that your hair has gotten shinier and less twisted.
With your desired hair type, you can withdraw from the mask. Additionally, by including a hair mask in your routine at least once every week — even when the hair appears to be in good condition— you can guarantee that it remains stronger and grows smoothly.
What else should I keep in mind about Brad Pitt's long hair? (Conclusion)
It would help if you kept it in mind when you decide to keep Brad Pitt's hairstyle as the product you use. You must avoid products that have high fragrance. Highly fragranced conditioner, shampoo, and other hair products can affect your hair growth or cause hair dryness.
If you stay in a cold or dry area, your hair is in danger of becoming unmanageable. You must get a humidifier to ensure your environment does not accept your hair.
Finally, replace your cotton pillowcases with silky pillowcases. Doing this will make your hair look better and suitable for your body.