How to Get the Attractive Brad Pitt Long Hair
Brad Pitt's hair has been making waves in the world of men's grooming for decades. He has rocked various hairstyles throughout his career, from the long, shaggy locks in "Legends of the Fall" to the clean-cut buzz cut in "Fight Club."
One of his most iconic looks was the slicked-back style in "Ocean's Eleven," which became a trend in the early 2000s.
Recently, he's embraced a more low-maintenance, natural style. His hairstyles are often influenced by his acting roles and the women he is dating.
For example, he wore a blonde mop during his relationship with Gwyneth Paltrow and sported the Rachel haircut while dating Jennifer Aniston.
No matter the inspiration, Brad Pitt always looks good and seems at ease with his hairstyles.
What Should I Know About Brad Pitt's Long Hair?
Brad Pitt is known for embracing different hairstyles throughout his career, and his long hair has been one of his most recognizable looks.
He first sported long hair in the 1990s when he grew out his locks for his role in the film "Kalifornia." He also had long hair in the 2004 film "Troy," where he played the character Achilles.
Long hair has often been a symbol of youth and rebellion, and Brad Pitt's ability to wear it in a stylish way has inspired many men.
His long hair has also fascinated fans and media, who have closely followed him over the years.
Despite its popularity, long hair can be challenging to maintain and style. It requires regular trims and conditioning to prevent split ends.
Nevertheless, Brad Pitt has shown that long hair can be a great look for anyone with the right attitude and confidence.
Brad Pitt's Long Hairstyles You Can Try
Brad Pitt is a master of transformation when it comes to his hairstyles. His hair seems to change with each NEW role or relationship, and he's tried just about every look under the sun.
While we may not all have Brad Pitt's looks, we can take inspiration from his hair journey.
Here's a rundown of Brad Pitt's most iconic haircuts and how you can incorporate them into your routine.
Brad Pitt's Long Hair + Beard
In recent years, Brad Pitt has been sporting longer hair and a beard, which has become his signature look.
Combining long hair and a beard can give a rugged and masculine appearance. You can rock various styles to suit different occasions and personal preferences.
Try washing your hair no more than twice a week with a natural shampoo to keep it healthy. You'll need to administer daily conditioning to reduce hair breakage and preserve moisture.
What's more, incorporating oil products into your hair care regimen can help prevent split ends and add a subtle shine.
What makes this style even more awesome is its adaptability in any situation. You can be comfortable with this hairstyle regardless of the weather condition.
You can curl it into buns in the summer while curling it behind your ear in the winter.
Brad Pitt's Blonde Long Hair
Being blessed with blonde or light brown hair gives you a natural, carefree appearance, perfect for a day at the beach.
To ensure your hair stays in top shape, be sure to use conditioner regularly to keep it healthy and looking its best.
Transform your look with just a few simple steps!
Bleach or dye your hair blonde and be the envy of all with a stunning, golden mane. Regardless of length, a blonde hue will make you stand out and give you a refined, attractive look.
Brad Pitt's Troy Long Hair
Achieve the look everyone wants with Brad Pitt's iconic long, slicked-back beachy hair.
This style is best suited for those with naturally thick hair, so let your locks grow to your shoulders.
Then, effortlessly create a polished and sophisticated appearance by slicking back the top section, reminiscent of his role in "Troy.
Slick Back Pitt's Long Hair
Brad Pitt's slicked-back hairstyle is perfect for men of any age and adapts well to suit your personal style.
With options for an undercut, medium-length hair, or short back and sides, the versatility of this look is unmatched.
Simply grab a comb and some styling gel to achieve the vintage 1950s look, or keep it modern with a touch of product.
Regardless of your approach, be sure to turn heads with this elegant hairstyle.
Brad Pitt Long Ponytail Hair
Brad's low ponytail is a practical and low-maintenance hairstyle for men with mid-length to long hair. Unlike the man bun, this style is sleek and rests at the neck for a masculine appearance.
Sweep your hair back into a pony, and you're ready to go. Brad's low ponytail is ideal for busy days or when you need a fresh look.
Because the ponytail haircut is to maintain, it presents an excellent choice for men who are too busy to wash and style their hair.
What is Brad Pitt's Latest Hairstyle?
Brad Pitt has been spotted with medium or almost long hair. His hairstyle these days is due to him mimicking vintage Hollywood trends for several of his films, for example, his vintage look in Troy.
With the expertise of his barber and the special care he gives to his hair, Brad's locks always appear longer and thicker.
To achieve this coveted hairstyle, it is crucial to invest in a skilled specialist who will give you the right cut.
Brad Pitt has successfully pulled off various looks with his long hair on various occasions.
How Can I Get My Hair to Look Like Brad Pitt Long Hair?
To have the Brad Pitt long hairstyle, keep about 2.5-3 inches in length across the top and then trim the edges slightly.
Brad's sideburns are likewise left long, reaching down to just beyond the bottom of his ears. Alternatively, if you wish to personalize your look, you can clip the sideburns with scissors or a hair clipper.
How Long Would it Take for My Hair to Grow Like Brad Pitt's?
You'll need, at minimum, a length of 12 inches up, which should take roughly a year. However, you'll make frequent visits to the barber to trim away excess weight and chunkiness.
While you wait for your hair to get to the desired length, comb regularly and sweep it away from your face to one side.
You'll need to style your hair to give it more beauty and volume.
How can I Style Brad Pitt's Long Hair?
To get the best results for this hairstyle, using a hairdryer is recommended. Start by applying a texture spray to freshly shampooed hair, and then use a vent brush to blow dry it back from your face.
Once the hair is almost dry, add a touch of styling cream to hold and maintain a natural, touchable texture.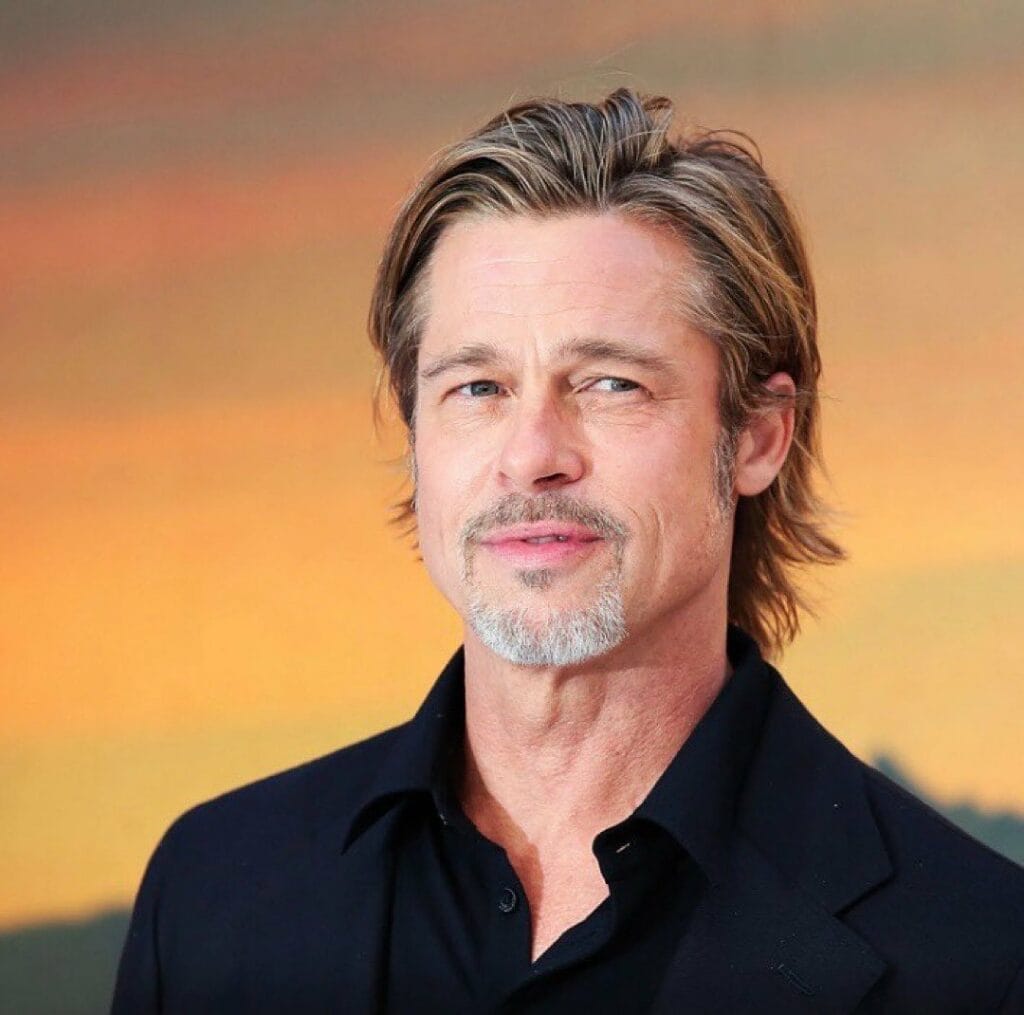 Is Brad Pitt's long hairstyle something I should try?
You definitely should try Brad's long hair. Aside from how easy it is to maintain, attractiveness is a solid reason to get this hair.
The length of the hair is incredible and keeps your looks fresh and fascinating. Regardless of your hair texture or type – straight, curly, or – this hairstyle will fit you.
Guys endowed with thick hair must try this hairstyle as it makes your appearance more appealing.
What Should I Keep in Mind Before Getting the Brad Pitt Long Hair?
Keep it Healthy
If you're planning on making your hair as long as Brad Pitt's, you'll want to ensure that it remains consistently healthy.
Keeping the hair healthy involves concentrating on your scalp, which contains all your hair follicles. Scalps promote unhindered and ultimately strengthened hair development.
It is recommended that you do toning, detoxifying, and scalp-soothing to help maintain a healthy scalp.
Better still, formulas with a high concentration of antioxidants will aid in promoting blood movement to the hair shaft, improving nutrition delivery.
Furthermore, antioxidants, which protect cells from cell-damaging poisons, will help maintain a healthy scalp necessary for hair growth.
One such ingredient is sunflower extract, which has two protective properties: A naturally obtained SPF (sun protection factor) and a thermal safeguard that protects the hair and scalp from harmful elements.
Use Conditioners
Maintaining the health of your hair is key to achieving Brad Pitt's signature long locks. It's important to condition your hair consistently, even on days when you don't wash it.
This is because many water sources contain hard minerals and metals that can harm your hair.
Regular conditioning helps to counteract these negative effects and keep your hair looking its best.
To maintain healthy and vibrant hair like Brad Pitt's, it's important to regularly use a conditioner, even if you don't wash your hair daily.
This will protect your hair against damage from contaminants, which can cause brittle and tangled hair.
Additionally, using a good shampoo will help to straighten strands for a polished look.
Keep the scalp and shaft clean and moisturized to promote healthy hair growth. Wash and condition regularly to manage an oily scalp.
Using a dry shampoo powder can help remove excess grease and improve hair growth and appearance.
Be on the Lookout for Low PH
Imbalanced pH levels can result in dryness, excess oil, irritation, dullness, and tangling.
Using hair masks and conditioners can restore balance and improve the overall health of your scalp and hair.
Incorporating scalp and hair masks into your hair care routine is essential for maintaining a balanced pH level and nourishing hair with vital vitamins and nutrients.
Regular use of these masks can prevent breakage and split ends as your hair grows.
Incorporating hair masks into your regimen is crucial for maintaining a healthy scalp and hair shaft as your hair grows.
Using the mask daily before washing until you see an improvement in shine and detangling is recommended.
To keep hair strong and promote growth, continue using the mask at least once a week, even when hair appears to be in good condition.
You can adjust the frequency of use based on your desired hair type.
Conclusion
Brad Pitt's haircuts have been trendsetters and a source of inspiration for men, from the long hair with a beard to the ponytail hairstyle. With a vast range of styles tried and tested, there is something for everyone to emulate.
FAQs
Did Brad Pitt ever have long hair?
Yes, Brad Pitt has had long hair in several of his movies, such as Legends of the Fall, Fight Club, and Troy.
How long does it take to grow hair like Brad Pitt?
The amount of time it takes to grow hair like Brad Pitt can vary depending on the individual's hair growth rate, hair type, and hair care routine. On average, human hair grows about half an inch (1.25 cm) per month, so to grow hair like Brad Pitt, which is usually about shoulder length, it can take about 9-12 months.
How to grow Brad Pitt long hair?

Maintain a healthy diet
Avoid heat styling
Minimize hair washing
Get regular trims
Use hair growth products
Massage your scalp
Be patient.
Khamis Maiouf is a professional barber who graduated from Hinckley College in England with a degree in hairdressing. He has also won several barbering contests and successfully operated a barbershop for the last two decades. As a skilled hair stylist for 20 years, his goal is to teach others how to achieve a beautiful appearance through their hairstyles.