Iconic Punk Hairstyles For Guys To Make A Statement
In the world of FASHION and self-expression, hairstyles have always been a prominent and powerful means of showcasing one's individuality.
Among the various genres that have emerged over the years, punk stands out as a symbol of rebellion, defiance, and creative freedom.
In this article, I will delve into the fascinating realm of punk hairstyles for guys and shed light on some of the most ICONIC and inventive looks that have left a lasting impact on popular culture.
Born in the 1970s, the punk movement challenged societal norms and gave birth to a subculture that embraced non-conformity, DIY ethos, and a desire to provoke.
Punk hairstyles, just like the music and fashion of the time, were a stark departure from mainstream styles, often characterized by their bold colors, unconventional cuts, and eye-catching designs.
From the emblematic Mohawk to the liberty spikes, punk hairstyles have transcended time and continue to inspire new generations of style enthusiasts seeking a unique, edgy look.
As I explore punk hairstyles for guys, I will provide you with practical tips on how to achieve and maintain these styles.
So, let's embark on this journey together and discover how you can add a touch of rebellion and flair to your personal style.
23 Top Punk Hairstyles For Guys
Spiked Liberty Mohawk
Spiked Liberty Mohawk is an iconic punk hairstyle for guys that has stood the test of time. I personally love this style because it showcases a strong and rebellious attitude.
To achieve this look, shave the sides of your head and leave a strip of hair running from the forehead to the nape.
Use a strong hair gel to create tall spikes, giving the APPEARANCE of liberty spikes.
Faux Hawk Fade
A more toned-down version of the classic Mohawk is the Faux Hawk Fade. This hairstyle is perfect for guys who want to rock a punk vibe without going all-in.
It features shorter hair on the sides, which gradually fades to a longer length on top. I find this style versatile and suitable for various occasions.
Asymmetrical Mullet
Asymmetrical Mullet is a modern twist on the classic mullet.
This punk hairstyle features shorter hair in the front and longer hair at the back, with an uneven or asymmetrical cut.
The asymmetry adds a unique and edgy touch, making it an ideal choice for guys who want to stand out.
Two-Toned Skater Cut
I've always admired the Two-Toned Skater Cut for its youthful and carefree vibe. This hairstyle consists of medium-length hair, often with an undercut, and two contrasting colors.
The skater cut is perfect for guys who want a punk look with a laid-back and playful touch.
Reverse Mohawk
For men who like to push boundaries, the Reverse Mohawk is a must-try.
It's the opposite of the traditional Mohawk, featuring a shaved strip down the middle of the head and hair on the sides.
This hairstyle is definitely a conversation starter and showcases a fearless punk attitude.
Punk Rockabilly Quiff
Punk Rockabilly Quiff combines elements of punk and rockabilly styles. It involves short sides, a high fade, and a voluminous quiff on top.
I find this hairstyle perfect for guys who appreciate a touch of vintage flair mixed with their punk vibes.
Long Punk Dreadlocks
Long Punk Dreadlocks are a fantastic way to incorporate punk style into longer hair.
The dreadlocks can be any length and thickness, and you can even add some bold colors to make them stand out.
It exudes a sense of individuality and nonconformity, which is at the core of punk fashion.
Choppy Layers with Sideburns
Choppy layers and sideburns come together to create a unique punk look.
The Choppy Layers with Sideburns hairstyle features uneven, textured layers throughout the hair, complemented by distinctive sideburns.
I love this style because it adds depth and character to the hair, making it ideal for guys who want a punk look with some sophistication.
Colored Streaked Hair
For guys who love a pop of color, Colored Streaked Hair is the way to go. This punk hairstyle involves adding bright, bold streaks of color throughout the hair.
You can choose one color or multiple, depending on your personal preference. It's a great way to express your personality and make a statement.
Messy Bleached Coif
A Messy Bleached Coif is perfect for guys who want to combine punk style with a touch of elegance.
This hairstyle features a tousled, bleached top with shorter sides. The contrast between the light top and dark sides creates a striking and edgy appearance that is sure to turn heads.
Razor Cut Punk
Razor Cut Punk hairstyle is all about texture and movement. It features a razor-cut technique that creates choppy, uneven layers throughout the hair.
Perfect for guys who want a low-maintenance look that still has plenty of attitude and edge. I find it to be a versatile choice that works well with various hair types and lengths.
Tousled and Teased Waves
Tousled and Teased Waves is a punk hairstyle that showcases a relaxed and carefree vibe.
To achieve this look, use a texturizing spray or sea salt spray on damp hair and scrunch it with your hands to create natural-looking waves.
Add some teasing at the roots for extra volume and a touch of rebelliousness.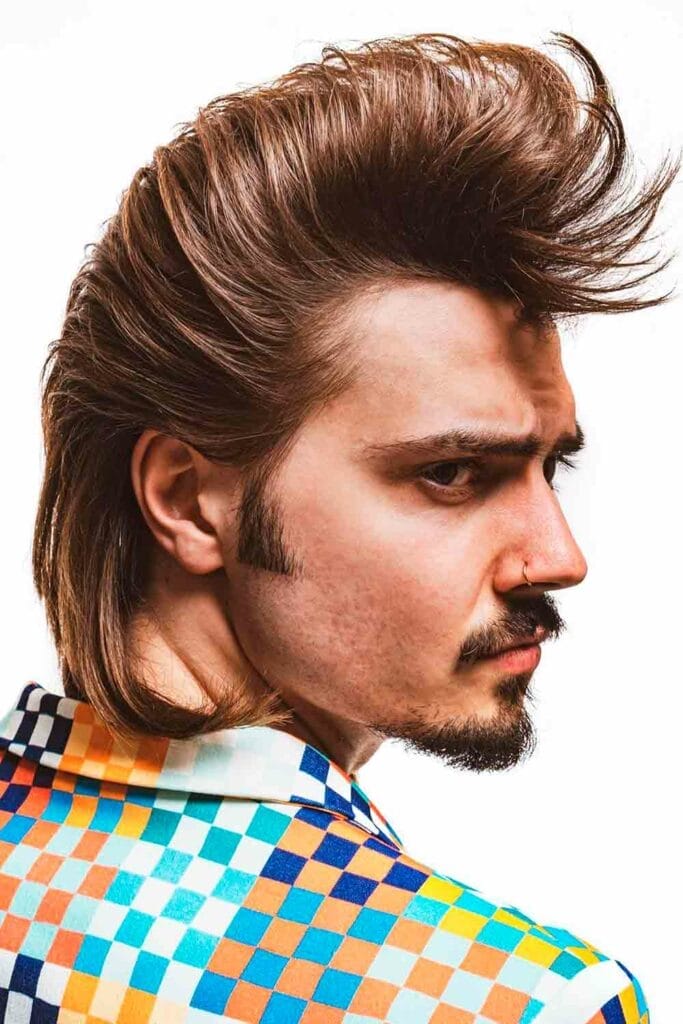 Manic Panic Rainbow
For gentlemen who want to make a bold statement, the Manic Panic Rainbow hairstyle is the way to go.
This style involves dyeing your hair in a range of bright, rainbow colors using Manic Panic or a similar brand of hair dye.
I love this look because it's eye-catching, vibrant, and perfectly captures the essence of punk culture.
Grunge Punk Long Hair
Grunge Punk Long Hair is perfect for guys who prefer a more laid-back punk vibe. This hairstyle features long, messy hair that is often parted in the middle or swept to the side.
To enhance the grunge aesthetic, consider adding some light layers or highlights for added texture.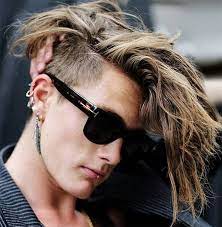 Disconnected Undercut
Disconnected Undercut is a modern punk hairstyle that features a sharp contrast between the short sides and the longer hair on top.
The hair is usually slicked back or styled to one side, giving it a polished yet edgy look. I find this hairstyle perfect for guys who want a punk-inspired look that can also work in a professional setting.
Studded Hair with Highlights
Studded Hair with Highlights is a unique and CREATIVE punk hairstyle that combines color and accessories.
This look involves adding highlights to the hair and incorporating studs or other punk-inspired hair accessories. It's a great way to showcase your individuality and love for punk FASHION.
Punk Bowl Cut
A modern take on the classic bowl cut, the Punk Bowl Cut features a more edgy and textured appearance.
It is typically shorter around the sides and longer on top, with choppy layers and sometimes an undercut.
The punk bowl cut is perfect for guys who want a low-maintenance HAIRATYLE with a punk twist.
Side-Swept Punk Pixie
The Side-Swept Punk Pixie is a short and edgy hairstyle that offers a more feminine touch to punk fashion.
It features short hair with long, side-swept bangs and sometimes an undercut. I love this style because it's a versatile and unique way to express your punk spirit.
Angled Buzz Cut
An Angled Buzz Cut is a minimalist punk hairstyle that showcases sharp lines and angles.
Featuring a buzzed haircut with a distinctive angle or design shaved into the hair. It's a low-maintenance option that still exudes punk attitude and style.
Extreme High Top Fade
Extreme High Top Fade is a bold and attention-grabbing punk hairstyle. This look features a high-top fade with extremely tall hair on top, often styled in a vertical, skyward direction.
It's perfect for guys who want to make a strong statement and embrace the punk aesthetic to the fullest.
Slicked Back Punk
Slicked Back Punk is a sophisticated take on punk hairstyles for guys. This style features short sides and longer hair on top, slicked back with hair gel or pomade.
It's an excellent option for men who want a punk-inspired look that also works well in formal or professional settings.
Crust Punk Dreads
Crust Punk Dreads is a hairstyle that combines elements of punk and grunge aesthetics.
This look features dreadlocks that are often messy, unkempt, and sometimes adorned with beads, wraps, or other accessories.
The crust punk dreads showcase a raw and rebellious attitude that is perfect for guys who want to embrace their nonconformist spirit.
Shaggy And Tapered Haircut With Bangs
Shaggy And Tapered Haircut With Bangs is a versatile punk hairstyle that works well with different hair lengths and textures .
This style features a shaggy, layered cut with tapered sides and BANGS that can be swept to the side or worn straight.
I like this hairstyle because it adds movement and dimension to the hair, making it a great choice for guys who want a punk-inspired look that is also easy to maintain.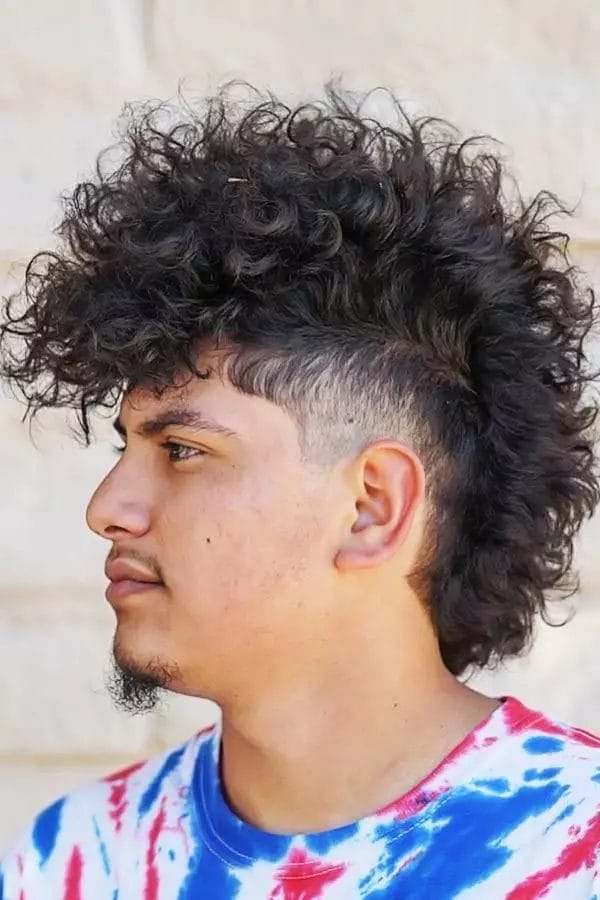 Conclusion
Punk hairstyles for guys offer a wide range of options to express individuality, creativity, and a rebellious spirit.
From eye-catching styles like the Spiked Liberty Mohawk to more subtle and versatile options like the Faux Hawk Fade and Slicked Back Punk, there's a punk hairstyle for every preference and personality.
Don't be afraid to experiment and find the PERFECT style that suits your unique taste and attitude.
FAQs
What is a punk hairstyle?
A punk hairstyle is a rebellious, non-conformist hairstyle that originated from the punk rock subculture in the 1970s.
It's characterized by bold, eye-catching colors and unconventional cuts, often incorporating spikes, Mohawks, and shaved patterns.
Punk hairstyles for guys signify a strong sense of individuality and a desire to break away from traditional norms.
How do you do a punk hairstyle for men?
Creating a punk hairstyle for men involves choosing a style that reflects your personality and sense of rebellion.
First, decide on the cut you want, whether it's a Mohawk, liberty spikes, or a shaved undercut.
Next, consider adding colors, like bright red, green, or blue, to make a statement. Finally, use styling products like hair gel, wax, or pomade to achieve the desired texture and hold.
Remember, punk hairstyles are about self-expression, so don't be afraid to experiment!
What are the top punk hairstyles for guys that have been popular throughout the history of punk culture?
Throughout the history of punk culture, several punk hairstyles for guys have gained popularity:
Mohawk: A strip of hair running down the center of the head, with shaved sides.
Liberty Spikes: Long spikes formed by applying strong-hold gel or glue to the hair, resembling the Statue of Liberty's crown.
Undercut: A cut featuring short sides and back with a longer top, which can be styled in various ways.
Deathhawk: A wider, more voluminous version of the Mohawk, often with teased or backcombed hair.
Mullet: Short hair at the front and sides, with a longer length at the back.
How can someone with short hair achieve an edgy punk hairstyle without having to grow their hair out?
Short-haired individuals can achieve an edgy punk hairstyle by opting for a choppy, asymmetrical cut or a buzz cut with unique shaved patterns.
Adding bold, contrasting colors can also enhance the punk vibe.
Additionally, using styling products like gel or wax helps create texture, spikes, or messy looks that emphasize the punk aesthetic.
How can someone with curly or wavy hair adapt traditional punk hairstyles to suit their natural hair texture?
For guys with curly or wavy hair, adapting traditional punk hairstyles requires some creativity.
Options include shaving the sides of the head while leaving the top curly or wavy, creating a curly or wavy Mohawk, or embracing the natural texture with an edgy, asymmetric cut.
Incorporating bold colors or highlights can also help achieve the punk look. Experiment with different styles and find what works best for your hair type and personality.
Khamis Maiouf is a professional barber who graduated from Hinckley College in England with a degree in hairdressing. He has also won several barbering contests and successfully operated a barbershop for the last two decades. As a skilled hair stylist for 20 years, his goal is to teach others how to achieve a beautiful appearance through their hairstyles.