Top Knot For A Man: Creating and Maintaining a Top Knot Hairstyle
The top knot hairstyle is a man's version of the man bun.
It involves pulling your man's hair halfway through an elastic and then tying it at the top of your head.
It is the elegant and manly perfect option if you want to keep your locks off your face without cutting them too short.
The best thing about this style is that it can be worn casually in a loose format or with a neat look when tied tightly.
It is a look suitable for all men, regardless of the length plus texture of hair.
Why should you try it?
The top knot can make you look more confident and stylish. It adds a bit of edge to your manly look and is suitable for men regardless of their face shape.
The top knot can also make you feel comfortable since the hair does not hang around your face or neck.
How To Know if a Top Knot Hairstyle Is Right for You:
The good thing about the top knot is that it can be tailored to many different face shapes and hair types.
However, some men may need to adjust their top knot for a better fit. If you wish to try the top knot, follow a few simple steps to determine if it's right .
a.Make sure that your hair is long enough for this hairstyle.
First, top knot requires medium-length or longer hair; therefore, your hair should be sufficient to pull it halfway up and secure it with an elastic band.
b.Consider your hair type.
Second, If your hair is thin or fine, you may need to use styling products to give it more volume before creating a top knot.
On the other hand, when your mane is thick and full, you may need to use hair-taming products to ensure it looks tidy when tied up.
c.Evaluate your face shape.
Third, the top knot works well with all face shapes, but tweaks may be needed for the perfect look.
For instance, for a round face shaped, you should leave some of your locks loose around the face to create a more flattering look.
Or, if you have an oval-shaped face, you should try tying your top knot higher up on your head for a better fit .
Essential Tools Needed for Creating and Maintaining the Top Knot
You need a few tools to achieve the perfect top knot hairstyle.
First and foremost, you'll need an elastic band to secure your top knot in place.
Additionally, you may want to get some styling products to help give your hair the desired look.
For thin and fine hair types, volumizing mousses or gels are ideal; these will help show your hair the necessary volume and texture.
For thick and coarse hair types, you may want to use a pomade or wax product; these will help tame any flyaways for a neat top knot look.
How To Achieve the Perfect Top Knot
Once you have all the necessary tools, it's time to create your top knot.
Step 1: Understand Your Hair Type.
Before attempting a top knot, you should assess your hair to determine the type of styling products and tools you will need.
By understanding your hair type, you can ensure that you have the right products and tools .
Step 2: Evaluate Your Requirements.
Next, consider your face shape and desired look; this will help you determine how high or low you should tie your top knot.
For example, a higher top knot may work better if you have an oval face shape.
Step 3: Gather Accessories.
Once you have evaluated your requirements, it's time to gather the accessories for creating and maintaining your top knot.
Make sure that you have an elastic band and the necessary styling products on hand.
Step 4: Apply the Right Products.
Before tying your top knot, apply the necessary styling products to keep your mane neat.
The base product should be used on damp hair, followed by the finalizing product.
Step 5: Set & Tie Up.
When your mane is ready, it's time to start creating your top knot. Gather your hair together at the top the head and secure using an elastic band .
Step 6: Clean up.
Once your top knot is in place, you may need to tidy it up.
If you want to reduce stray hairs or create a more polished look, take your comb and go over the top knot one last time.
What are the Do's and Don'ts of Wearing a Top Knot:
Do's:
• Make sure the elastic band is secure but not too tight.
• Use the right styling products to maintain your top knot.
• Comb or brush your top knot when necessary.
• Use hair spray or wax products to reduce flyaways, and create a more polished look.
Don'ts:
• Avoid touching your top knot throughout the day.
• Do not overuse styling products, which can cause build-up and damage your hair.
• Do not tie your top knot too tight, which can cause breakage.
• Do not use tight elastic bands that can cause breakage orbalding.
• Do not neglect your mane; keep it healthy using the right products and tools.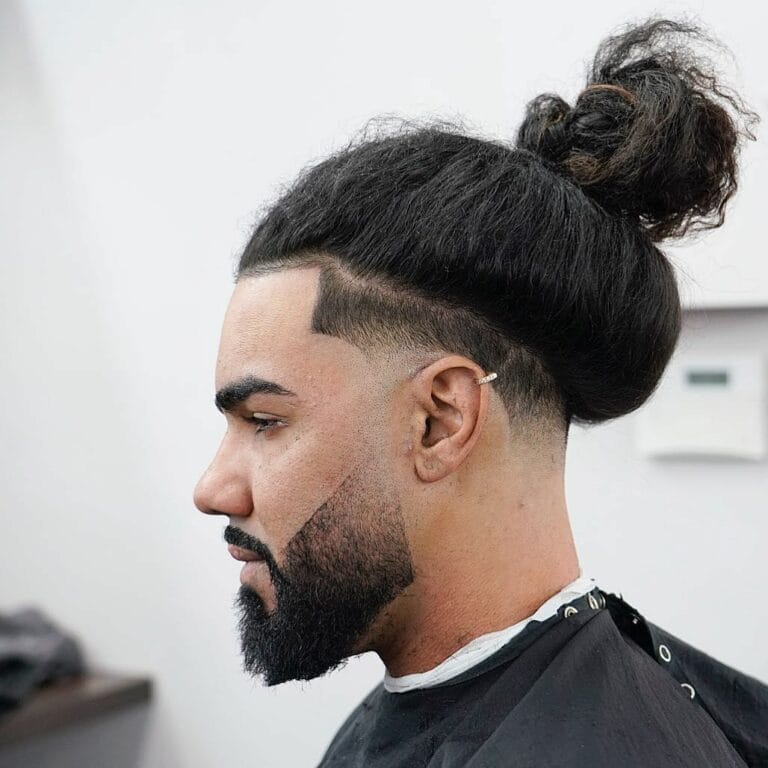 Styles To Avoid When Wearing A Top Knot:
The classic top knot is simple and timeless, but if you're looking for something edgier, you may want to avoid some overly elaborate looks.
Here are a few styles to avoid when it comes to top knot:
The "Messy" Top Knot.
The messy look may seem cool and effortless, but it can make your mane look greasy and unkempt.
To avoid this, always use the right styling products and tools to create a neat top knot.
The "Poofy" Top Knot.
Poofy top knots are often created using too much product and not enough hair.
To avoid this, use the proper amount of product and style your mane accordingly.
The "Comb-Over" Top Knot.
Another style to avoid is the comb-over top knot, where hair is combed from the sides and up over the top of your head.
This look can be overly dramatic, so it's best to stick to a traditional top knot.
The "Fauxhawk" Top Knot.
The fauxhawk may be edgy, but it's best to avoid it when creating your top knot. This look can be difficult to pull off, making your mane unbalanced and uneven.
The "Badly Styled" Top Knot.
Finally, avoid any badly styled top knots. To create a tidy look, begin-with the right base product and use the proper tools to tie up your mane .
Popular Celebrities Who Have Tried The Top Knot Hairstyle:
The top knot is a popular hairstyle, and many celebrities have tried it.
From Brad Pitt to Justin Bieber, here are some of the most well-known celebrities who have rocked top knot look:
Brad Pitt.
Brad is no stranger to the top knot, having been spotted wearing it several times. The actor has also been seen sporting man buns and, more recently, a shaved head.
Justin Bieber.
Justin is often seen wearing his hair in the top knot style. He has been known to switch the look by styling his hair in various ways, such as with braids or pinned back
Kanye West.
Kanye is another celebrity who has tried the top knot look. He often rocks a French braid but has also been spotted wearing his hair up in a top knot.
Ways to style your top knot when wearing different outfits:
The top knot is versatile and can be styled in many different ways.
Here are some tips for styling your top knot when wearing different outfits :
Casual Outfits.
Try styling your top knot with a few loose waves for a casual look. This will add texture and movement to your mane, giving it a more relaxed vibe.
Formal Outfits.
Opt for a sleek, polished top knot for a more formal look. Use styling products to tame flyaways and bobby pins or hair ties to secure your mane in place.
Athletic Wear.
Try styling your top knot with few loosely pulled-back hair strands for an athleisure look.
This will keep your mane in place while adding texture and dimension to the overall style.
Conclusion
The top knot is a classic hairstyle that can be styled in endless ways .
Whether looking for a sleek and polished look or something more casual and relaxed, you can easily create the right top knot for any outfit.
Use styling products and tools to get the perfect look every time. Thanks for reading!
Khamis Maiouf is a professional barber who graduated from Hinckley College in England with a degree in hairdressing. He has also won several barbering contests and successfully operated a barbershop for the last two decades. As a skilled hair stylist for 20 years, his goal is to teach others how to achieve a beautiful appearance through their hairstyles.