25 Alluring Neckline Hair Designs: A Masterpiece Collection
Welcome to our meticulously curated Masterpiece Collection of Alluring Neckline Hair Designs that are sure to captivate your senses and elevate your personal style.
In this article, you will discover a diverse range of artistic creations designed to complement and enhance the beauty of your neckline.
From intricate UNDERCUTS to elegant fades, these hairstyles seamlessly blend fashion and function, promising to make a striking statement at any occasion.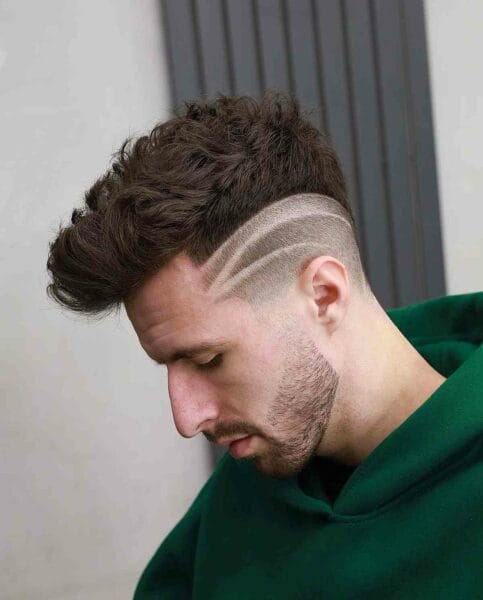 What Are Neckline Hair Designs?
Neckline hair designs refer to the creative patterns, shapes, and styles that are SHAVED or trimmed into the hair at the nape of the neck, just above the collar.
These designs can be as simple as a clean, straight line or as intricate as geometric patterns, tribal symbols, or artistic representations of objects or animals.
They are a popular way of adding a unique, personalized touch to one's hairstyle and can be seen on people of all ages and genders.
Neckline hair designs can be done by a skilled hair stylist or barber, who uses clippers, razors, and other tools to create the desired look.
Below are top-notch neckline hair designs to pick from;
Celestial Crescent Neckline Hair Design
A crescent-shaped CURVE at the nape of the neck characterizes the Celestial Crescent Neckline Hair Design, providing both style and elegance.
Mimicking the shape of a crescent moon, the curved line imparts a distinctive celestial element to the overall appearance.
Perfect for individuals who appreciate unique and eye-catching styles, this design brings a touch of sophistication to any haircut.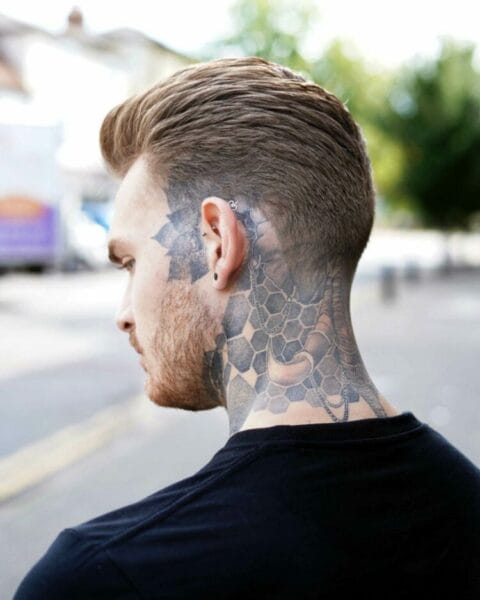 V-shaped Neckline Hair Design
The V-shaped Neckline Hair Design boasts a sharp V-shape at the back, lending a sleek and modern look.
Clean lines and geometric forms contribute to the strong visual impact, making it a sought-after option for men desiring an edgy style.
This striking design suits a wide range of hair types and lengths, making it a versatile choice for fashion-forward individuals.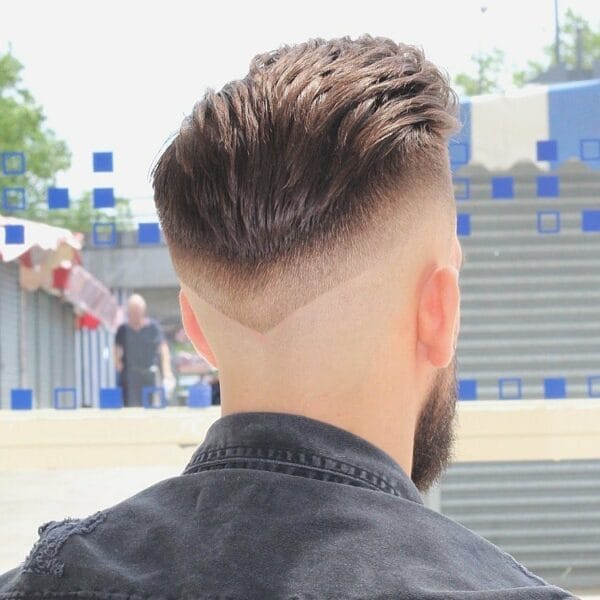 Asymmetrical Waterfall Neckline Hair Design
Defined by its cascading, asymmetric design, the Asymmetrical Waterfall Neckline Hair Design adds a dynamic and artistic flair to any hairstyle.
Flowing lines generate an illusion of movement, imbuing the style with fluidity and grace. Ideal for men who enjoy creative and unconventional designs, this neckline brings a distinctive sense of character to the wearer's overall look.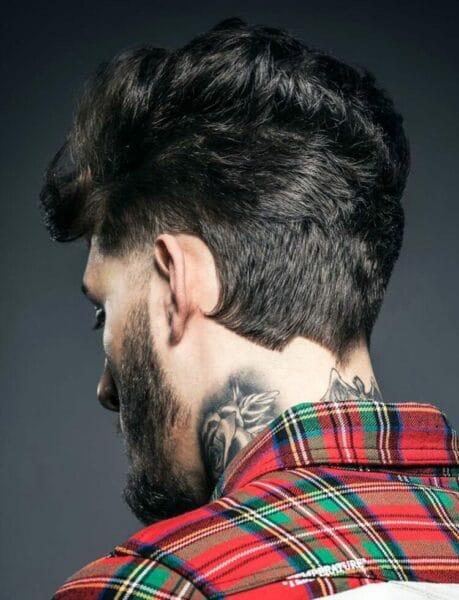 Serpentine Fade
Drawing inspiration from the sinuous curves of a snake, the Serpentine Fade weaves winding, organic lines into a traditional fade haircut.
This intricate pattern imparts sophistication and depth to a simple style, making it an excellent choice for individuals seeking a unique twist on a classic haircut.
The Serpentine Fade is a subtle yet striking design that adds an air of mystery to the wearer's appearance.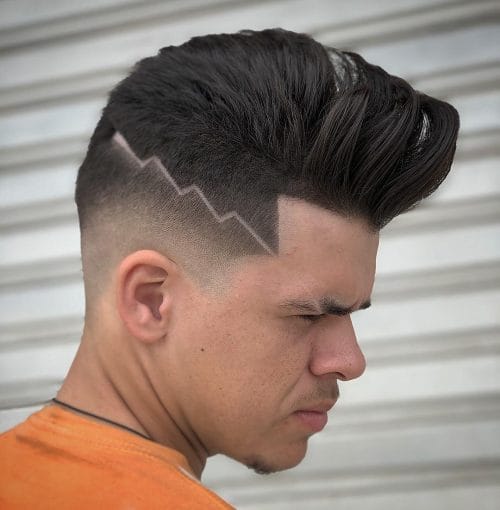 Zigzag Horizon Neckline
With a series of sharp, angular lines, the Zigzag Horizon Neckline showcases a bold and contemporary design.
The geometric pattern creates a strong statement, making it a perfect option for men who want to distinguish themselves from the crowd.
Ideal for various hair lengths and textures, the Zigzag Horizon Neckline adds a dynamic and edgy touch to any haircut.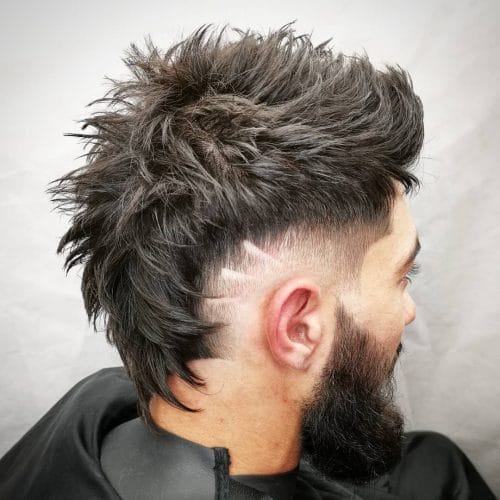 Tapered Neckline
The tapered Neckline, which narrows gradually towards the nape of the neck, imparts a clean and polished look. This timeless design's versatility makes it easy to incorporate into different hairstyles, contributing to its widespread popularity.
From short to long hair, the Tapered Neckline provides a refined and elegant touch, complementing various personal styles.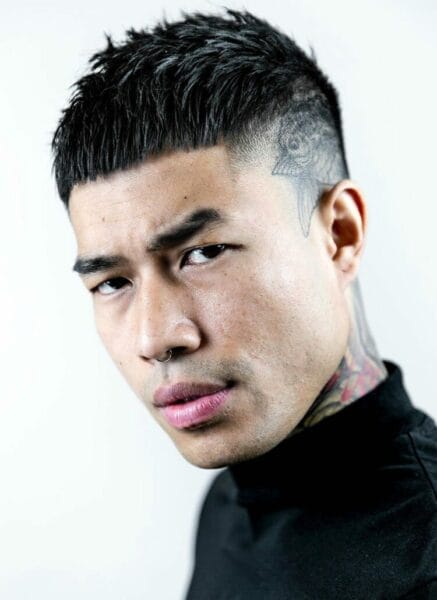 Staircase Edge
With its unique and eye-catching design, the Staircase Edge neckline resembles a series of steps. The distinct pattern enhances the hairstyle's depth and texture, making it a conversation piece.
Suitable for men who appreciate unconventional designs, the Staircase Edge adds an artistic and daring element to any hairstyle, drawing attention and admiration from onlookers.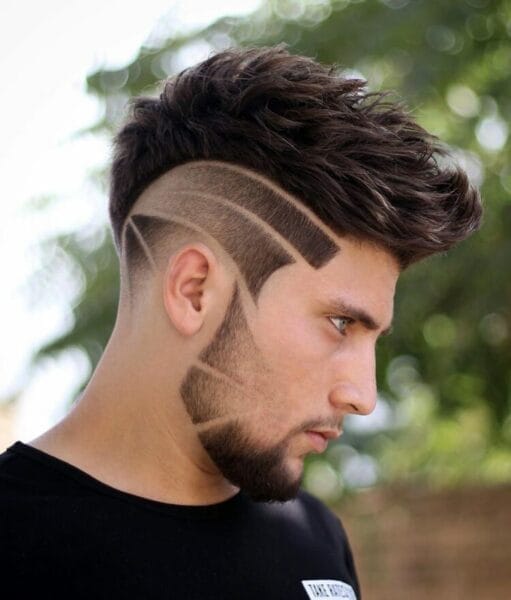 Rounded Neckline
Rounded Neckline features a gentle, curved shape at the back, exuding a timeless and elegant design. Its smooth lines produce a sophisticated appearance, making it a versatile option suitable for different hairstyles and personal styles.
It is a classic choice that appeals to individuals who appreciate simplicity and refinement in their haircuts.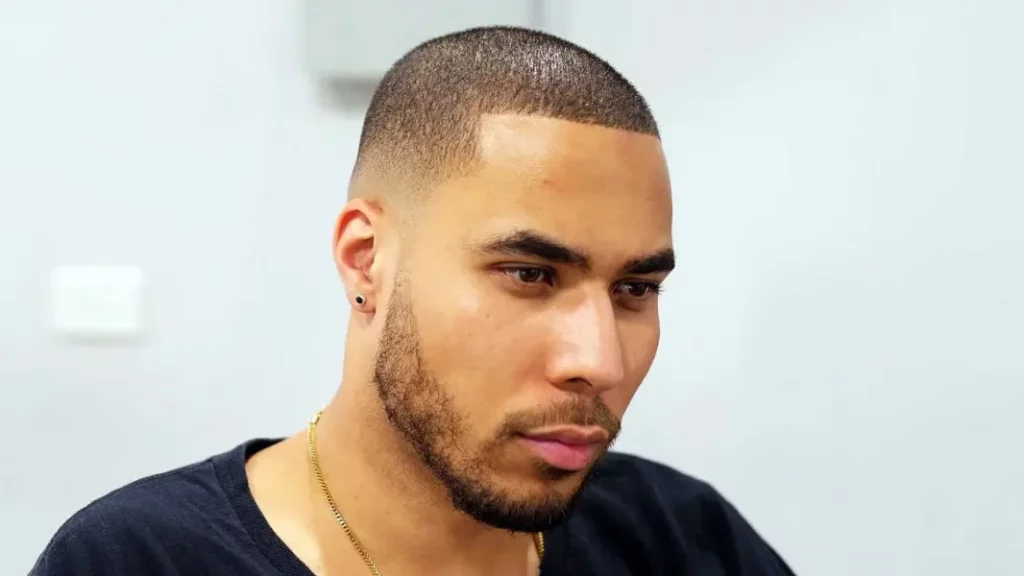 Slanted Arrowhead Hair Design
Featuring a modern and edgy style, hair is meticulously cut into an arrowhead shape that slants downward from the crown to the nape.
Direction and movement are key elements of this design, making it a perfect choice for gentlemen seeking a bold and unique look.
Slanted Arrowhead Hair Design can be personalized to fit individual preferences by adjusting the angle and length of the cut.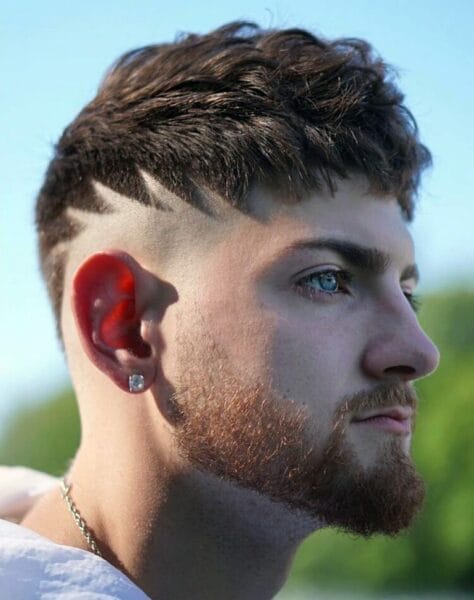 Razor-Faded Neckline
This technique involves the gradual fading of hair at the neckline using a razor. It creates a soft and smooth transition from longer to shorter hair, resulting in a clean, contemporary finish.
Razor-Faded Neckline is suitable for various hair types and lengths, allowing for diverse customization options.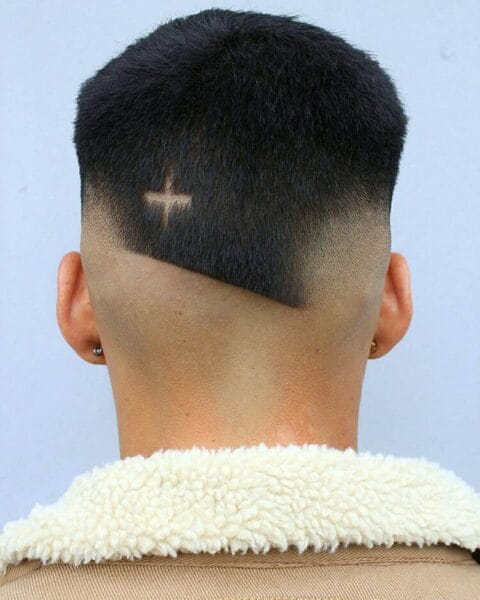 Abstract Wave
Incorporating WAVY patterns into hair, the Abstract Wave is a creative design that utilizes a variety of cutting techniques.
Achieving an abstract wave effect, it is an ideal choice for individuals who desire an artistic and distinctive style. Hair can be styled to accentuate the wave pattern, offering versatility and personalization.
Solar Flare Arch
Drawing inspiration from the natural PHENOMENON of solar flares, the Solar Flare Arch showcases an arched design that radiates from the center point of the head.
The pattern emulates sun rays, infusing the overall appearance with a dynamic and energetic feel. This style can be adapted to various hair types and lengths, making it a versatile option.
Mirrored V-Neckline
Characterized by a symmetrical design, hair is cut into a V-shape at the nape with both sides mirroring each other.
The Mirrored V-Neckline creates a balanced and harmonious look that appeals to gentlemen who appreciate structured and GEOMETRIC styles.
The angle and depth of the V-shape can be adjusted to suit individual preferences.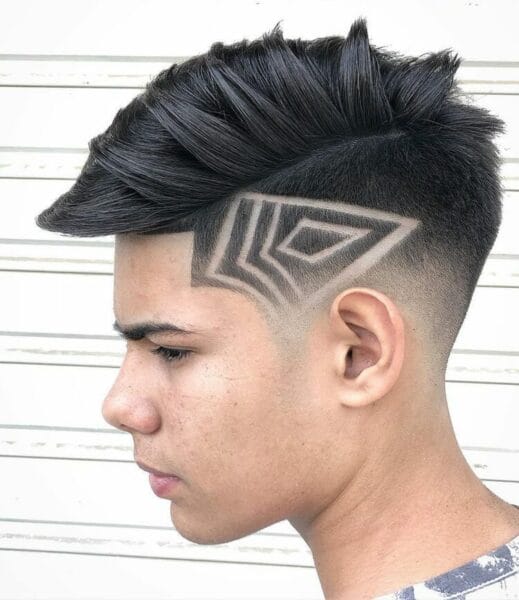 Diamond Lattice
Comprising a series of interconnected diamond shapes, the Diamond Lattice is a complex pattern that demonstrates a hair artist's skill and precision.
This eye-catching and sophisticated design is ideal for fashion-forward individuals who appreciate intricate styles. The Diamond Lattice can be tailored to complement various hair types and face shapes.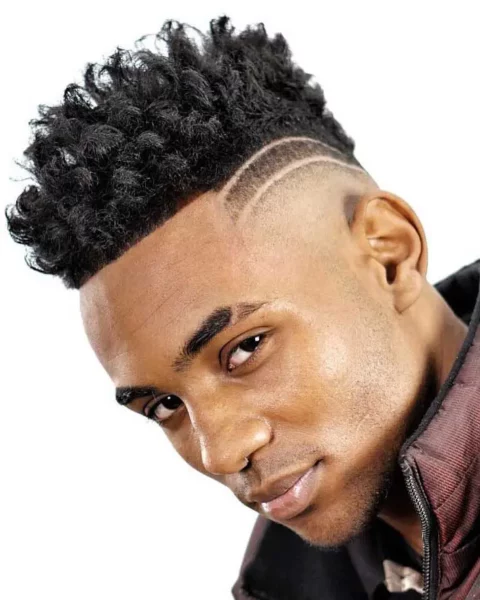 Parallel Ridge Neckline
Embodying a modern and sleek style, the Parallel Ridge Neckline involves cutting hair into parallel ridges along the neckline.
Depth and texture are added to the design, resulting in a polished and refined appearance. The number and width of the ridges can be customized to achieve the desired look and level of detail.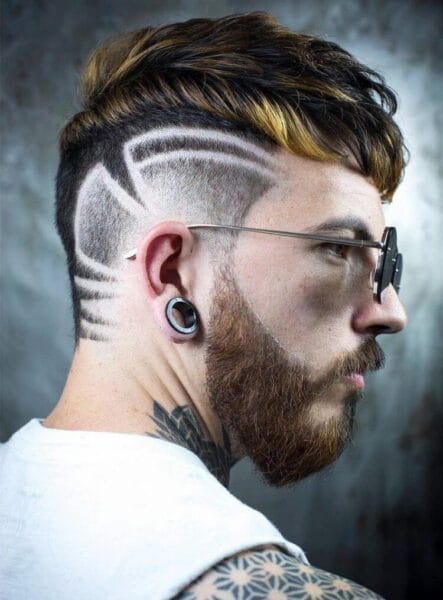 Spiral Whirlpool
Featuring an innovative spiral pattern, the Spiral Whirlpool design originates from the crown of the head, swirling around and extending outward.
By creating the illusion of a whirlpool, this captivating and mesmerizing look is perfect for gentlemen who desire a unique and eye-catching style.
The spiral can be adjusted in terms of size and tightness, allowing for various customization options.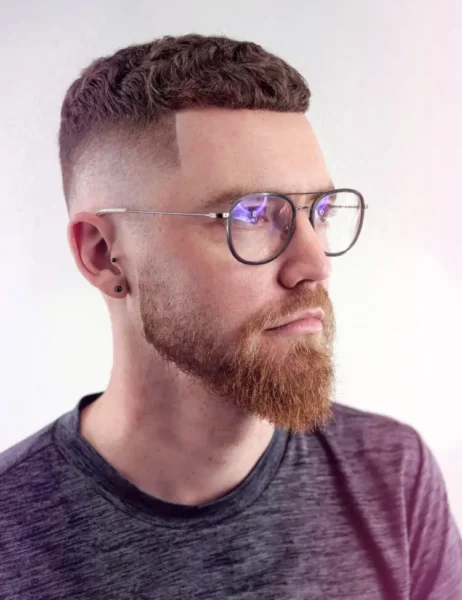 Crystal Fracture Neckline Hair Design
With its unique style characterized by sharp, angular lines, the Crystal Fracture design resembles fractured crystals, exuding a dynamic and edgy appearance.
This particular style is perfect for individuals seeking a dramatic and eye-catching look that sets them apart.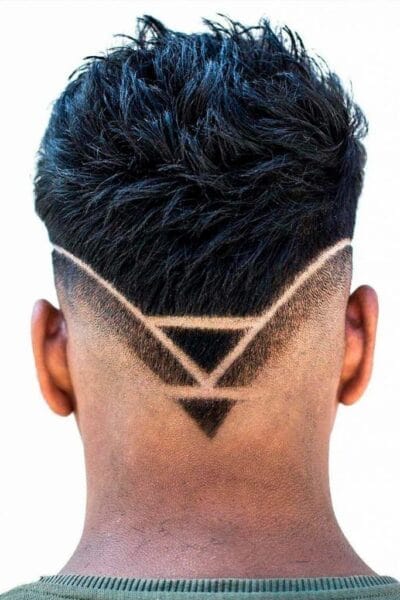 Feathered Contour Hair Design
Mimicking the delicate contours of a feather, the Feathered Contour Hair Design features soft, flowing layers that gracefully frame the neckline.
It is an elegant and sophisticated look, suitable for men who prefer a more classic and timeless style.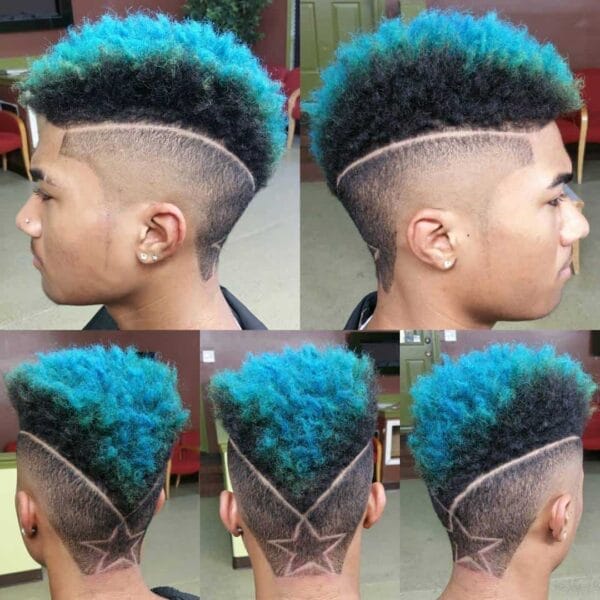 Inverted Pyramid Neckline Hair Design
This bold and geometric pattern boasts a wide base at the top that tapers down to a point at the nape, drawing attention to the neck and collarbone.
Inverted Pyramid Neckline Hair Design adds a sense of dimension and intrigue, making it an ideal choice for men looking to create a statement.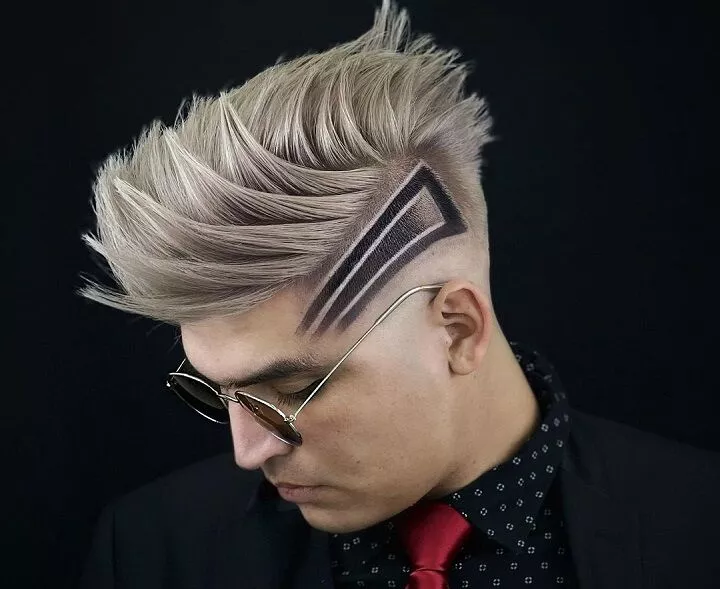 Cobblestone Path Hair Design
Inspired by the irregular patterns of cobblestone paths, the Cobblestone Path Hair Design offers a natural and organic appearance for the neckline hair.
This textured style is perfect for individuals seeking a versatile look that can easily transition between casual and formal settings.
Mountain Range Design
Featuring a series of peaks and valleys along the neckline, the Mountain Range Design resembles the silhouette of a mountain range.
This rugged and adventurous look is suitable for men who embrace the outdoors and seek a hairstyle that reflects their bold spirit.
Lunar Crescent Hair Design
Following the curve of the neck, the crescent-shaped neckline hair design evokes the mystique and allure of a crescent moon.
With its romantic and enchanting appearance, the Lunar Crescent Hair Design is perfect for individuals seeking a style that stands out in a subtle and elegant manner.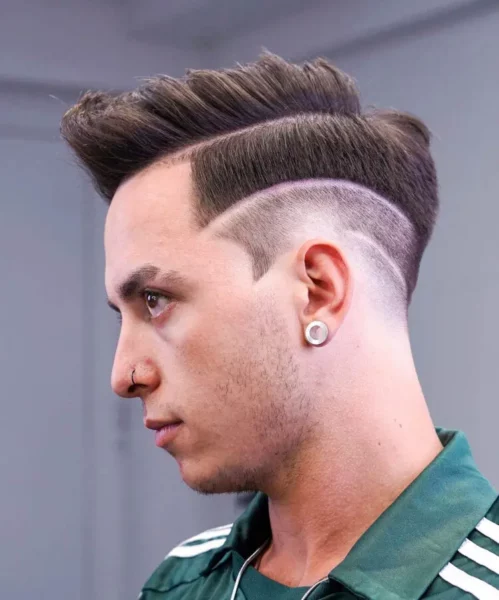 Jagged Iceberg Design
Combining sharp, uneven lines around the neckline, the Jagged Iceberg Design is reminiscent of the jagged edges of an iceberg.
The striking and daring appearance is perfect for gentlemen who crave a modern and edgy hairstyle that makes a strong impression.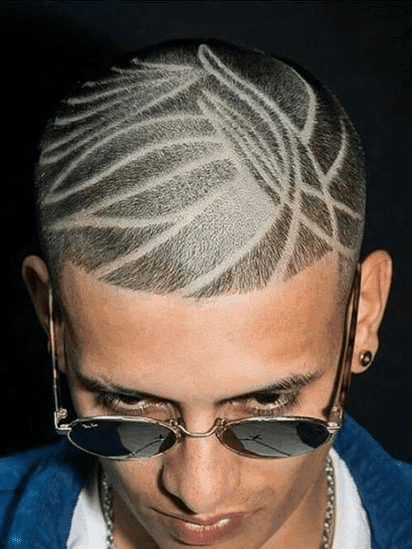 Linear Echo Hair Design
Featuring parallel lines and repeating patterns around the neckline, the Linear Echo Hair Design creates a visually intriguing and harmonious effect.
This distinctive and orderly style is suitable for individuals who appreciate clean lines and a minimalist aesthetic.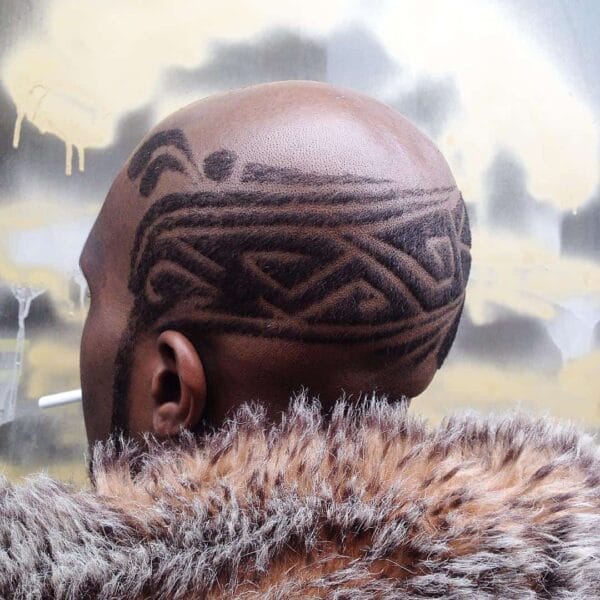 Origami Fold Design
With carefully crafted folds and angles inspired by the intricate art of origami, the Origami Fold Design offers a sophisticated and artistic touch.
This neckline hair design is perfect for gentlemen who desire a unique and refined style that showcases their creative flair.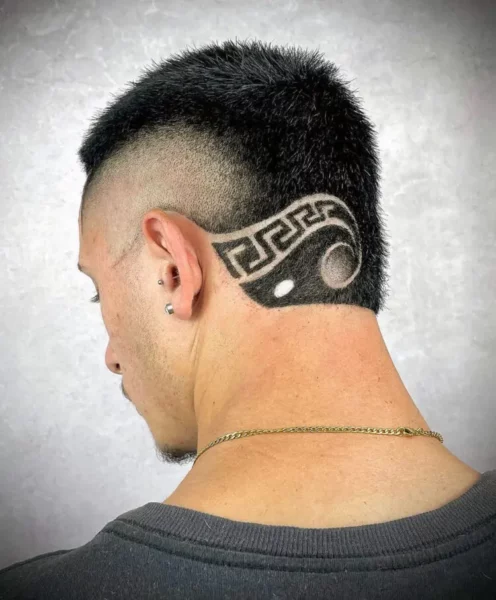 Conclusion
Neckline Hair Designs have captured the attention and imagination of fashion enthusiasts and hairstylists worldwide.
These unique and captivating styles accentuate the neck and shoulder area, enhancing the wearer's overall appearance and adding an extra touch of SOPHISTICATION to any outfit.
As a diverse range of designs, from intricate undercuts to delicate wisps, continue to emerge, it's clear that the neckline hair trend is here to stay.
FAQs
How do I maintain my neckline hair design?
To maintain your neckline hair design, you'll need to schedule regular touch-ups with your barber or stylist, depending on your hair growth rate.
Additionally, keep the area clean and moisturized to reduce the risk of SKIN IRRITATION. Avoid using harsh chemicals or hair products near the design, as they may cause fading or damage.
What are neckline hair designs?
Neckline hair designs are artistic patterns or shapes that are shaved, trimmed, or cut into the hair at the nape of the neck.
They can be simple, like straight or curved lines, or more complex, like geometric patterns, logos, or even portraits.
These designs add a unique and STYLISH touch to one's haircut and can be customized to suit individual preferences.
Are there any risks involved with getting a neckline hair design?
Neckline hair designs are generally safe, but there are some risks involved, like any haircut. These risks include uneven lines, razor burns, skin irritation, or potential infection if the tools used are not properly sanitized.
Choosing a reputable professional and following their aftercare instructions can minimize these risks.
Can I do a neckline hair design at home?
While it is possible to create a neckline hair design at home, it's usually best to consult a professional hairstylist or barber who has experience in this area.
They can help you choose a design that complements your hairstyle and ensure that the lines and shapes are clean and precise.
Who can get a neckline hair design?
Neckline hair designs can be created for anyone, regardless of age, gender, or hair type. However, it is essential to have enough hair length at the back of the neck to create a noticeable design. Additionally, some designs may be more suitable for specific hair types or textures.
Khamis Maiouf is a professional barber who graduated from Hinckley College in England with a degree in hairdressing. He has also won several barbering contests and successfully operated a barbershop for the last two decades. As a skilled hair stylist for 20 years, his goal is to teach others how to achieve a beautiful appearance through their hairstyles.