Mastering Sideburns: How to Trim Your Sideburns Like a Pro
Let's face it, sideburns can make or break your entire look.
Whether you want to maintain a neat appearance for the office or rock a more stylish vibe for a night out, properly trimmed sideburns are essential.
But how do you TRIM your sideburns like a pro without spending a fortune at the barber? Fear not, for I am here to guide you through the process step by step.
By the end of this article, you'll be able to confidently trim your sideburns to perfection, achieving a flawless look every time.
So, grab your tools, and let's get started on mastering the art of sideburn trimming!
Sideburn Styles
Sideburns come in a variety of styles, and finding the perfect one for your face shape can be a fun way to elevate your overall appearance.
In this article, I will discuss three popular sideburn styles: Long Sideburns, Short Sideburns, and TAPERED Sideburns.
You will also learn how to trim your sideburns to maintain a polished look.
Long Sideburns
Long Sideburns provide a bold and distinguished APPEARANCE.
They can be a great choice for individuals with square or rectangular faces, as they help to balance the overall FACIAL structure.
To maintain your long sideburns, it's essential to trim them regularly.
I find it helpful to use a comb and scissors, or an electric trimmer with a guard to ensure an even length.
When trimming, start at the top and work your way down, taking care to avoid cutting too much hair at once. It's also important to TRIM both sideburns symmetrically for a balanced look.
Short Sideburns
Short Sideburns offer a clean-cut and modern appearance, ideal for people with round or oval faces.
This style can help to sharpen your features and create a more defined look.
To maintain short sideburns, I recommend using an electric trimmer with a guard or a comb and scissors.
When trimming, make sure to keep the sideburns aligned with the middle of your ear, and always check for symmetry between both sides.
Remember to TRIM carefully, as it is easier to remove more hair than to add it back.
Tapered Sideburns
Tapered Sideburns provide a sophisticated and versatile style that can suit most face shapes.
This style gradually tapers from thick to thin, creating a sleek and polished appearance.
To trim your tapered sideburns, you will need a comb, scissors, or an electric trimmer with an adjustable guard.
I find it helpful to start at the bottom and work my way up, creating a smooth transition from the thicker part of the sideburn to the thinner area near the ear.
To achieve a professional look, make sure to TRIM both sideburns evenly and maintain a balanced appearance.
Tools Needed for Trimming Sideburns
Hair Clippers or Trimmers
When it comes to sideburn grooming, the right tool makes all the difference. Hair clippers or trimmers are essential for achieving a clean, precise cut.
I personally prefer a cordless trimmer, as it offers greater flexibility and ease of use.
It's vital to select a trimmer with an adjustable guard or multiple attachments, so you can easily control the length of your sideburns.
Remember, practice makes perfect – so don't be discouraged if your first attempt isn't flawless.
Comb
A good-quality comb is an indispensable tool for maintaining well-groomed sideburns.
Combing your sideburns before trimming helps to detangle and straighten the hairs, ensuring a more even and accurate cut.
Additionally, you can use a comb as a guide when cutting, to help you maintain a straight line.
I find that a fine-toothed comb works best for this purpose, as it provides better control and precision.
Scissors
While not strictly necessary, a pair of scissors can be helpful for men who prefer a more hands-on approach to sideburn maintenance.
Small, sharp scissors are ideal for trimming stray hairs and making minor adjustments to the overall shape.
When using scissors, I recommend starting at the bottom of the sideburns and working your way up, being careful not to cut too much at once.
Remember, it's easier to trim off additional length than to fix a mistake!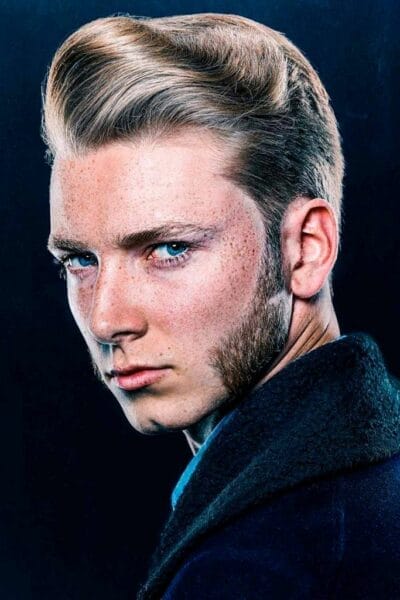 Mirror
Last but not least, a mirror is crucial for any grooming task, including sideburn trimming.
A well-lit, wall-mounted mirror offers a clear view of your sideburns, allowing you to assess their symmetry and overall appearance.
If possible, use a magnifying mirror to see even the smallest details.
I find that a handheld mirror can be particularly useful for checking the back and sides of your head, ensuring a uniform look from every angle.
With the right tools and a little practice, you'll master the art of trimming sideburns in no time.
Trimming Your Sideburns Step by Step
Gather tools
Before you embark on your sideburn trimming journey, it's crucial to have the necessary tools at hand.
This will ensure a smooth process and a satisfactory result.
A comb, a pair of scissors, and an electric trimmer are essential for this task. I personally prefer a good quality trimmer for precision when learning how to trim your sideburns.
Wash and dry hair
Start by washing your hair to remove any dirt, oil, or styling products. Clean hair is easier to work with and will provide a more accurate cut.
Once your hair is clean, make sure to dry it thoroughly. I usually towel-dry my hair, followed by a quick blow-dry to remove any excess moisture.
Comb sideburns downward
To achieve an even trim, it's important to comb your sideburns downward, in the direction of hair growth.
This will help to identify any unruly hairs and ensure that you are working with a uniform length. Remember, achieving a neat look is the key goal when learning how to trim your sideburns.
Choose desired length
Now it's time to decide on the perfect sideburn length for your face. A good rule of thumb is to have the sideburns end around the mid-ear level.
Of course, this will vary based on personal preference and facial structure. Experiment to find the look that suits you best.
Position comb horizontally
Once you've chosen your desired length, hold the comb horizontally at the base of your sideburns. This will act as a guide to ensure an even trim.
The comb should be parallel to the floor, and I like to keep it at a comfortable distance from my face to avoid any accidental nicks.
Trim excess hair above the comb
With the comb in place, use the scissors or trimmer to remove any hair that protrudes above the comb.
Take your time and ensure that you are cutting evenly. As you trim, continue to reposition the comb to maintain the desired length.
Edge trimmer for sharp lines
For a POLISHED look, an edge trimmer can be used to create sharp lines around your sideburns.
This step adds a professional touch to your DIY sideburn trim. Just be cautious and steady your hand to avoid accidentally removing too much HAIR.
Check symmetry
After trimming, take a moment to compare both sideburns and check for SYMMETRY. Adjustments may be necessary to ensure that they are even and well-balanced.
Remember, practice makes perfect, and you'll become more proficient at trimming your sideburns over time.
Clean up stray hairs
Once you're satisfied with the symmetry, take a moment to clean up any stray hairs that may have been missed during the trimming process.
This final touch-up will leave your sideburns looking pristine and well-groomed.
Style and admire
Now that your sideburns are perfectly trimmed, style your hair as desired and admire your handiwork.
You've successfully mastered the art of how to trim your sideburns. Enjoy the confidence that comes with a well-groomed appearance, and remember, practice makes PERFECT.
Conclusion
In conclusion, mastering the art of trimming your sideburns like a pro is a skill that can greatly ENHANCE your grooming routine and overall appearance.
As I have discussed throughout this guide, achieving perfectly trimmed sideburns involves understanding the various factors that contribute to the ideal sideburn style and length.
Also, selecting the appropriate tools and techniques, and consistently maintaining your sideburns to preserve their OPTIMAL shape.
FAQs
What is the correct way to trim sideburns?
First, make sure to gather the right tools, including a trimmer, comb, and mirror. Begin by combing your sideburns downwards to ensure they are smooth and even.
Identify the desired length and position the trimmer accordingly. Now, move the trimmer vertically and trim in a straight, downward motion.
Keep an eye on both sideburns to make them symmetrical. Lastly, use a pair of scissors for a finishing touch if necessary.
Remember, practice makes perfect when learning how to trim your sideburns.
What face shape is best for sideburns?
While sideburns can complement most face shapes, they work exceptionally well with oval and oblong face shapes.
Sideburns help create balance by adding width to the jawline and enhancing facial contours. For round and square face shapes, a longer, tapered sideburn can slim the face.
However, it's crucial to find a sideburn style that suits your unique features and personal preferences.
Experiment with different styles to find the one that enhances your appearance the most.
Do sideburns grow faster than hair?
No, sideburns don't grow faster than the hair on your head. The growth rate of your hair largely depends on factors such as genetics, age, and health.
However, sideburns might appear to grow faster due to their proximity to the face, making them more noticeable.
Additionally, since the hair on your sideburns is typically thicker and coarser, it may seem like they grow more rapidly.
But in reality, there's no significant difference in growth rates between sideburns and the hair on your head.
What angle do you shave sideburns?
The angle at which you shave your sideburns depends on your personal style preference and face shape.
For a classic look, shave your sideburns straight across horizontally, aligned with your earlobes or mid-ear.
If you prefer a more contemporary style, you can shave your sideburns at a slight downward angle towards your jawline.
This angled approach can create a flattering effect, especially for gentlemen with round or square face shapes.
Ultimately, the angle you choose should reflect your desired appearance and complement your facial structure.
How to trim sideburns with longer hair?
When trimming sideburns with longer hair, it's essential to blend them seamlessly into the rest of your hairstyle.
Start by combing your sideburns and the surrounding hair, making sure it's free of tangles.
Use a trimmer or scissors to gently trim your sideburns, maintaining the desired length. As you trim, gradually taper the sideburns to create a smooth transition into your longer hair.
Pay close attention to symmetry and take your time to ensure a polished, professional result.
References:
Sideburns, sideboards, or side whiskers are facial hair grown on the sides of the face, extending from the hairline to run parallel to or beyond the ears. source
Well-kempt sideburns can accentuate the lines of your cheeks and jaws, but properly maintaining them isn't as easy as it seems. source
Khamis Maiouf is a professional barber who graduated from Hinckley College in England with a degree in hairdressing. He has also won several barbering contests and successfully operated a barbershop for the last two decades. As a skilled hair stylist for 20 years, his goal is to teach others how to achieve a beautiful appearance through their hairstyles.