50 Dreadlocks for men that will put people in a dazzling trans
Dreadlocks have always been a fascinating hairstyle that can transform a person's appearance.
Men with dreadlocks are often associated with a unique blend of style and attitude that commands attention.
To help you explore the countless options, we've compiled a list of 50 dreadlocks that will leave you in awe.
So, get ready to be dazzled by these stunning hairstyles are ideal for any man looking to channel his inner rockstar.
50 Dreadlocks for Men That Will Put People in a Dazzling Trans
1. Classic Twist Dreadlocks:
If you fancy rocking a classic style, try these timeless, versatile dreadlocks with a neat, orderly twist pattern.
Meanwhile, I suggest keeping the hair shorter for a cleaner look. Yet again, the neatly twisted medium-length dreadlocks work for any occasion.
2. Low Ponytail Braided Dreadlocks:
Since the days of Bob Marley, low ponytail dreadlocks have been iconic and classic.
Whether you're going to a party, the office, or meeting up with friends, this style will turn heads.
Above all, this stylish and practical choice, the low ponytail braided dreadlocks, combines a low-maintenance yet attractive hairstyle
3. Short Curly Dreadlocks for men:
There is great fun with short curly dreadlocks. Honestly, the curly texture of these dreads gives them a unique softness and adds volume to your look.
Hence, a must-have style for guys looking for a low-key but trendy look that is easy to maintain.
4. Long Criss-Cross Dreadlocks:
Whether you are part of the greatest, baby boomer, x, millennials, z or current alpha generation, the long criss-cross dreadlocks bridges and rocks finest with all.
What makes all unique is the criss-cross pattern that creates a striking and intricate look.
5. Dreadlocked Rows Mohawk:
This style includes shaved sides and a long MOHAWK, which is perfect for men looking to stand out from the crowd.
This daring and bold style combines the classic mohawk with intricate rows of dreadlocks for a truly unforgettable appearance.
6. Basket Weave Dreadlocks with Undercut:
I bet you've never seen a basketweave style with dreadlocks. This innovative and trendsetting hairstyle is certain to catch the attention of others.
This style includes intricate weaving with a clean and stylish undercut.
7. Ombre Dreadlocks with Man Bun:
As a barber with experience, I must admit that ombre dreadlocks with a man bun look incredible. Add an ombre effect to your locks, then tie them into a classic man bun for a sleek and stylish look.
8. Exposed Chunky Dreadlocks:
If you're looking for an edgy and daring style, the exposed chunky dreadlocks are just what you need.
With a separation of each dreadlock, this style is a great choice for those seeking attention-grabbing dreadlocks.
9. High-Ponytail Top Knot Dreadlocks:
Nothing assures you of a unique style like the high-ponytail top knot dreadlocks. This attention-grabbing hairstyle is perfect for making a statement with your hair.
10. Long Braided Half Shaved Hair locks:
For the first time, I must say that the long braided half shaved hair locks look stunning. This unique and eye-catching style features long, braided dreadlocks on one side and a clean, shaved undercut on the other.
11. Freeform Dreadlocks:
Freeform dreadlocks are a perfect choice for guys who prefer a more natural look. This style allows for a more organic and unique look to your locks.
12. Labyrinth Dreadlocks:
The intricate and maze-like pattern of the labyrinth dreadlocks will leave a lasting impression. This style is perfect for those who want to make a statement.
13. Side Swept Dreadlocks:
I've always admired the side-swept dreadlocks, which ooze sophistication and style. This look combines a classic brushed-back style with a trendy dreadlocks style.
Besides, This simple yet stylish hairstyle features dreadlocks swept neatly to the side, with hair shaved or cut short on the other side.
14. Comb Back Dreadlocks:
This classic and timeless style features neatly combed-back dreadlocks, giving an elegant and sophisticated look.
15. Dreadlocks with Pigtails:
Get this ageless hairstyle that combines dreadlocks with cute and trendy pigtails, creating a unique and eye-catching look.
Moreover, bald patches on each side add a creative touch to this style.
16. Cornrows and Dreadlocks:
Here is a surprising combination of two techniques resulting in a unique braid pattern for a wholly original style.
17. Dreadlocks with Taper Fade:
Men will confess that dreadlocks with a taper fade look amazing.
This style highlights the contrast between long and short hair with an added hint of texture, making it an absolutely beautiful style.
18. Locks for short Length Hair:
Here is a way to go if you want to rock dreadlocks without committing to long locks. This style involves short dreadlocks with a tapered undercut or fade. It looks great on any face shape.
19. Spiky Short Dreadlocks:
Many yearn for a more daring dreadlocks style. Look no further than the short spiky dreadlocks.
This style features short, spiky locks on top with a fade or undercuts on the sides. It is sure to draw attention from everyone around you.
20. Bold Mohawk with Dreads:
You've never seen bolder than the bold Mohawk with dreads! This look features a long, spiky Mohawk with thick, full dreadlocks.
21. Short Dreads with Tramlines:
This trendy, fresh take on dreadlocks features neatly trimmed and defined with stylish tramlines for a standout look. I can't help but love this style!
22. Braided Dreads half Revealed:
Indeed, Braided dread's half-revealed appearance is more than amazing.
This style involves an undercut that reveals half of the braided dreadlocks. It's an uncompelled style for guys who prefer a more laid-back and natural look.
23. Man Bun with Line Up:
Why not this stylish and masculine is style combining a popular man bun with a clean and defined lineup for a sharp and polished appearance?
24.High Top Dreads:
I suggest this high-top dreads style to any man that loves bold, daring, and attention-grabbing. This elevated style features high-piled dreads, giving the hairstyle a voluminous and commanding look.
25. Brown-to-Blonde Braided Dreads:
You may be more into fashionable styles. If so, this brown-to-blonde braided dreads style is sure to please you.
This look features a gradual color transition that fades from brown to blonde in the braided dreads.
26.Men Free Boho Locs:
If you wanna embrace your inner bohemian, then the men's free boho locs offer a laid-back and natural look to yearn for.
27. Half-Shaved with Undercut:
This bold and daring hairstyle features a half-shaved head with an undercut and long, flowing dreadlocks for an edgy and cool appearance. Hence, no matter what the occasion is, this style will win.
28. Long-Braided Mohawk with Line Up:
You may embrace this statement-making style, combining a bold Mohawk with detailed braiding and a clean, defined lineup for an unforgettable look.
29. Colored Locs with Undershave:
Want brightly colored locs with a clean and sleek under shave?
This style gives you just that. It is a great way to add dimension and depth to dreadlocks without letting go of their fashion.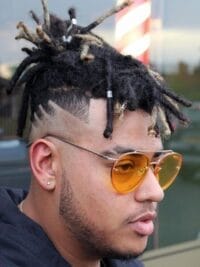 30. Bohemian Rhapsody Dreadlocks:
Make a signature by styling dreadlocks with a bohemian vibe featuring loose, natural-looking strands.
The hairstyle is extraordinary for boys who love a carefree and relaxed look.
31. Neat Skinny Dreadlocks:
This style features hundreds of tightly twisted, thin dreadlocks that offer a neat and polished appearance, giving an intense and sophisticated impression.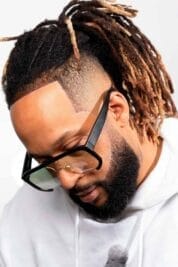 32. Fauxhawk with Dreads:
One of the most iconic unique hairstyles is the fauxhawk.
It combines a bold and edgy mohawk with the artistry of dreadlocks, creating a dynamic fusion of punk and bohemian styles that is sure to turn heads.
33. Fire Flame Locks:
With a mixture of orange and yellow tones, the fire flame locks embody the fiery passion of the wearer, showcasing a bold and daring statement.
34. Maze Runner Dreadlocks:
These intricately braided dreadlocks create a labyrinth-like network of twists and turns. The maze runner dreadlocks are perfect for you seeking a daring and unconventional look.
35. Short and Simple Dreadlocks:
Better try these minimalist dreadlocks that help keep your style simple yet fashionable.
With a basic twisted dread look, they are for a straightforward, low-maintenance routine.
36. Jumbo Dreadlock Braid:
Never underestimate these larger-than-life dreadlocks. They feature thick and chunky dreadlocks, good for guys longing to make a bold statement with their hairstyle.
37. Long and Full Dreadlocks:
Willing to go for a more traditional dreadlock look?
You must try this long and full dreadlocks style that adds length to the hair while maintaining an authentic appearance.
38. Short and Thick Dreadlocks:
Perhaps whatever you are up to is a taste of class, right?
Better incorporate these short and thick dreadlocks to offer an incredibly stylish, low-maintenance look where you will not sacrifice your mainstream style.
39. Edgy Mohawk with Beads:
This style showcases a daring and edgy mohawk with the added flair of beads. This unique look is the perfect mix of punk and bohemian style for those who want to stand out.
40. Uplifted Dreads with a Shape-Up:
Expertly shaped and groomed dreads give you a highly polished look. A refined and put-together appearance, a priceless option to showcase your high fashion sense.
41. Twisted Individual Dreadlocks:
Each dreadlock in this style is unique and individual, showcasing a unique look that will make anyone stand out from the crowd. Hence, don't miss rocking the style.
42. Plaited Men's Pigtails:
This hairstyle is interesting and unique, combining braided dreadlocks and sleek pigtails. Besides, you will look more attractive and stylish.
43. Blonde Mohawk Dreadlocks:
No other way I can describe this look but divine. The blonde mohawk dreadlocks offer a bright, vibrant, fresh look favoring your all-season taste.
This stunning look is perfect for anyone looking to make a statement.
44. Chunky Faux Hawk Dreadlocks:
Speaking from my heart, this style perfectly combines chic and edgy.
With long dreadlocks in a faux hawk shape, this look will always induce unwavering confidence in your personality.
45. Intricate Cornrows:
Nothing rocks better than these carefully crafted Cornrows showcase expertly patterned designs with perfect symmetry, offering a timeless and classic look that is perfect for any gentleman.
46. Long Brown Locks:
My opinion regarding dreadlocks fashion is that it will be incomplete without mentioning beautiful long brown locks.
The soft and subtle tint gives a pretty and feminine look you can always love.
47. Two-Tone Dreadlocks:
Sporting a high score in the fashion industry, two-tone dreadlocks ensure you can make a unique statement.
With its modern twist on classic dreadlocks, it's something we all treasure as men.
48. Side-Swept Dreads:
Certainly, if you need a style that looks professional and polished, then the side-swept dreads are something you can go for.
The asymmetry of this look is perfect for a sophisticated, modern look.
49. Hippie Dreadlocks:
Directly derived from its mother name, 'hip-hop generation,' Hippie dreadlocks symbolize freedom, love and peace. With thick, wavy dreads pulled back in a half-updo style, this look is a timeless classic.
50. Knotted Half Updo Style:
Let's pay homage to the beauty of dreadlocks with the knotted half updo style. The quest is to bring out the beauty of your hair while still looking neat.
Hence, this style pulls off an effortless yet stunning look that will make you a center space.
Conclusion:
Dreadlocks are versatile hairstyles that can be tailored to suit individual preferences, whether you prefer short and spiky or long and flowing.
These 50 dreadlocks for men are just the many styles available to give you the rockstar look you desire.
Whether you want to make a statement, refine your style, or try something new, there is a dreadlock style perfect for every man.
So, explore the endless possibilities of this iconic hairstyle, and you might find the perfect dreadlocks that will leave you feeling confident and fabulous.
FAQs
How do you get dreadlocks?
D dreads can be done by backcombing, twisting, or using the crochet hook method. Backcombing involves combing and working backward to create knots in your hair.
Twisting involves creating sections of hair and manually rolling them up until the root locks together.
Further, The crochet hook method involves using a crochet hook to interlock sections of hair and then knot them.
How do dreads work?
Dreadlocks are formed when the hair is matted together in sections, creating knots that hold the locks together.
These locks can be maintained with regular washing and conditioning, although not necessary for their formation. It is important to note that dreadlocks do not require regular haircuts, as the hair will naturally grow outwards from its core.
What do dreadlocks symbolize?
Dreadlocks symbolize strength and self-expression for many cultures and religions worldwide.
For some, it can signify rebellion against authority or conformity, while for others, it can signify spiritual enlightenment, strength, and courage.
How long does it take to get dreadlocks?
The time required to achieve full locks will vary depending on the method, hair type, and other factors.
Generally speaking, some methods may take a few months up to a year or more before fully formed.
Khamis Maiouf is a professional barber who graduated from Hinckley College in England with a degree in hairdressing. He has also won several barbering contests and successfully operated a barbershop for the last two decades. As a skilled hair stylist for 20 years, his goal is to teach others how to achieve a beautiful appearance through their hairstyles.