13 Top John Cena Haircuts [Get a Masculine Look]
John Cena is one of the most followed celebrities in WWE.
Aside from his powerful wrestling skill, his fans LOVE him because of his numerous hairstyles. You would be surprised how many ladies are crushing on him because of his manly look. And that's not the catch.
A lot of guys are also curious to rock his kind of hairstyle. No doubt, he sure knows how to perform magic with his range of hairstyles.
If you are searching for a hairstyle that is perfect for any occasion and will reveal your masculine look, you should check out John Cena's haircuts. Read on to find out which John Cena haircut is ideal for you.
Coolest John Cena Haircuts
John's Signature Buzz Cut
Every big fan of John Cena must have seen him in this particular hairstyle. It is the perfect haircut for men who want to keep a short haircut with low maintenance.
With this hairstyle, you need only a clipper to give you the perfect cut. The hairstyle got its name from the buzzing sound you hear when using the clipper. It is a simple hairstyle where you level all parts of your hair.
Anytime you want to look bold and daring yet professional, then Buzz cut is your right call.
The haircut is perfect for any hair texture and fits any age group. However, you must look at your face closely before choosing this hairstyle. Due to the short length of the hairstyle, it effortlessly reveals your facial features.
Imagine how uncomfortable you would be when the scars and bumps on your scalp become obvious. Or your huge earlobes become the subject of attention.

Fearless Mohawk Look
The hairstyle is a punk-inspired haircut, where you shave both sides of your hair with long strips of hair in the center. It is absolutely the perfect hairstyle for daring men.
John Cena wore this look in an Experian commercial TV appearance. And believe me, he killed it with the mohawk.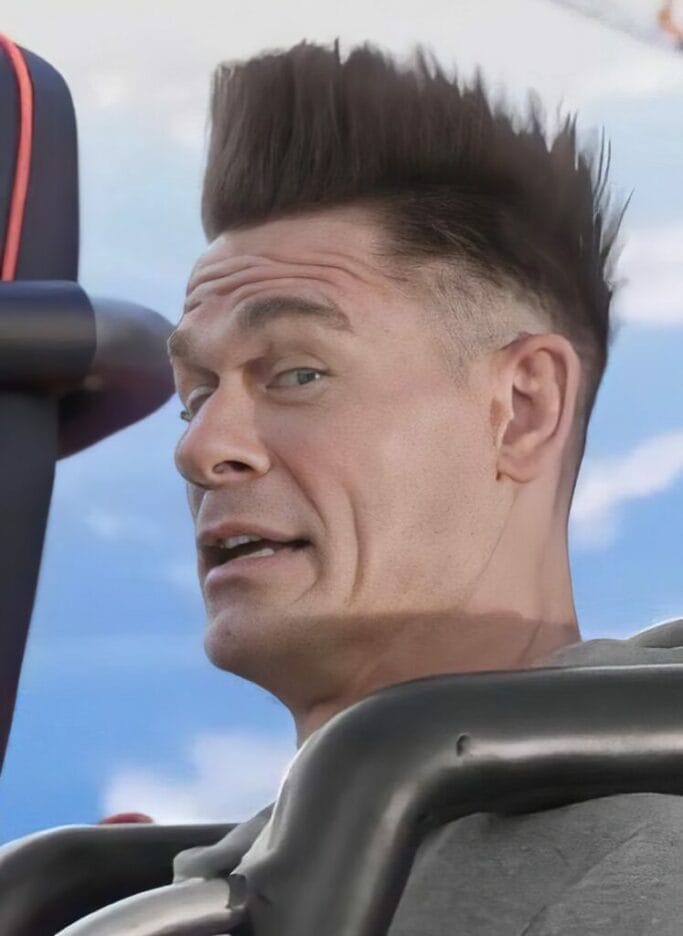 Classic Office Look
When John Cena is not fiercely wrestling his opponent in the ring, he is the perfect gentleman in Hollywood or a commercial TV ad. He is that flexible!
That's why he can pull up a classic office look minutes after rocking a fierce look.
The hairstyle is simple and cool, like his buzz haircut, but with fuller length this time.

Short Taper Fade
With a taper fade haircut, your hair starts longer at the top of your head and gradually grows shorter as you go toward the nape line. The part you fade is the back and sides of your hair.
However, with a short taper fade like John Cena's, the difference between your top and lower hair is moderate.

Lined up Square Cut
If you are looking for a sharp-looking haircut, then you must go for this haircut. It gives both gentleman and hot guy vibes.
The hairstyle has two elements: the lined-up and square cut. The square cut is an overgrown buzz cut with a little spike at the front hair. This is more like deliberately maintaining your buzz cut until your hairline forms a square shape.
For the lined cut, you can easily distinguish them with the sharp edges they give. It is this brilliant lining that makes your haircut hot and dashing.
You will definitely get heads turning for a second glance if you rock this haircut!

The Jarhead Haircut
The Jarhead haircut is another popular high and tight cut popularly worn by the marine corps. However, this hairstyle is not only limited to military personnel, as you can rock it to unveil your masculine side.
The Jarhead haircut has a medium fade, perfect for people with thin hair.
The hairstyle goes well with any military outfit. However, complimenting with a fashionable shade completes the magic.


The Marine Look
The marine haircut is another low-maintenance haircut. It is a military-inspired haircut. With this haircut, you shave the back and sides of your hair to your skin while blending your top hair.
Interestingly, you don't need to be a marine before rocking this hairstyle. It is the perfect style for anyone who wants a clean and professional cut.

The Induction Buzz Cut
The induction buzz cut was made famous by the military. It is the shortest, most uniform kind of haircut in the series.
It gives a bald vibe; not a good choice for people who want to keep a long haircut.
However, if you want to give an unreservedly fierce look, then you should give this cut a try.

Classic Combed With Fade
This hairstyle is perfect for all events, giving you the luxury to rock it on any occasion.
Classic combed with fade haircut gives a mixture of contemporary and modern haircut vibes. The classic combed hair gives a traditional look, while the fade gives you a stylish appearance.

The Transformers Haircut
John Cena rocked a different look in transformer, a movie he featured. Here, he displayed his strong-willed personality by being a powerful agent.
The hairstyle is similar to a military haircut. Thus perfect for boosting your self-esteem and confidence.
Powerful Undercut
Undercut hairstyle is a popular cut where the hair on the sides and back is well-trimmed while keeping the top distinctly longer.
For John Cena, the top hair is of moderate length, but you can choose to make yours longer, especially when you want to give a striking look.
John Cena's New Haircut
Before John Cena became a famous Hollywood celebrity, he had a predictable appearance. At least for many years, he had the basic balded buzz cut.
However, the WWE champion and Hollywood star have been accused of spoiling his fan's childhood memories with diverse hairstyles. The exciting thing about this is that some haircuts might look weird for a few days. Give it time, and then his fans are craving to replicate it.
No doubt, John Cena is proudly a showman. An excellent one at that!
John Cena haircut Peacemaker
After entering Hollywood, John Cena has had the opportunity to rock diverse haircuts to suit his acting character.
He rocked another classic look early this year when he starred in an HBO Max superhero series – The Peacemaker.
The styling of the side of the hair gives him that gentlemanly look, which you might confuse for his previous side haircut. But on a closer look, you will notice a layer at the front giving off a wavy vibe.
This is not the kind of hairstyle you would want to describe verbally to your barber. However, a clear picture of him on the haircut will do the magic.
Final Thoughts
Fashion and style are all about confidence and self-expression. One way to make a big fashion statement is with your haircut. Don't be afraid to tell your story with a legendary haircut. Start with any of the above-mentioned hairstyles. Conquer your world but with an amazing hairstyle this time!
FAQs
What Haircut Does John Cena Have?
John Cena has had several haircuts, but he's popularly known for his buzz cut. He has also had several cuts like a mohawk, marine cut, fade, induction buzz, and more.
Who Is John Cena?
John Cena is a famous American professional wrestler, Hollywood actor, and former rapper.
Khamis Maiouf is a professional barber who graduated from Hinckley College in England with a degree in hairdressing. He has also won several barbering contests and successfully operated a barbershop for the last two decades. As a skilled hair stylist for 20 years, his goal is to teach others how to achieve a beautiful appearance through their hairstyles.