"3 Beard style? But I know only one Thor Beard Style. From where the extra two come? " Do you have the same question on your mind? Before going for this article, I've done a little research on the Thor Beard Style to know, what others are thinking about.
With due respect to other site owners, I have found only one mistake. Most of them, are talking about the "Thor" and "Thor: The Dark World" beard style. But as a Marvel fan, I can't tolerate that. What about the other Thor Beard Styles from "Thor: Ragnarok", "Avengers Infinity War" and "Avengers End Game"?
You'll agree with my words if you are a true Marvel Fan. A total of three beard style has been spotted till now. Now! Undoubtedly, all those three styles are amazing. Each of these is different, carrying a class from another dimension.
Here in this article, you'll have a step by step guide of all three Thor Beard Styles. But, first, let us know who is Thor, in case, you don't know the fellow.
Who is Thor?
Thor is the God of Thunder. According to Greek mythology, the god of thunder is dashing, powerful and has a stunning ability to control the world.
The creation of Late Mr. Stan Lee, the Marvel comic books, have a Thor too. This Thor has all the abilities of a Greek thunder god but eventually getting attached to some earthlings. Thus he became a part of Avengers whose prime motive is to save the earth.
One of the popular actors of Hollywood, Mr Chris Hemsworth is the man, who played the role of God of Thunder. So, when someone asks how can he has Thor Beard Style, he actually wants the Chris Hemsworth Beard Style. Don't worry, I have a proper answer for you. But before that, a very important discussion about looks has been done here.
Can Anyone Have Thor Beard Style?
Having a Thor Beard Style is not the question here. Anyone can have it. But will it look good on you? What about the face shape? I am a professional beard style artist and I know everything is for good looks. So having a meaningless beard on an Arbitrary face can ruin your personality.
So what to do? Don't worry, I have answers for you. You can have Thor Beard Style properly on your face. That's why I have mentioned those three beard style at first. Let's have a look what are those beard styles.
1. The Classic Signature Thor Beard Style
Certainly, this is the classic signature beard style by which we know Thor. From the movie, Thor and Thor dark world, this concept has come. Let's have a short description of this beard style. This beard is not at all thick. But it looks excellent. The smooth finishing of the moustache and beard make your face glorious.
The sideburns are lightly cut. The beard on the cheek is far away from the Adam's Apple It will perfectly suit the square and lightly oval face shapes. The beard style must follow the hair colour. In the case of Thor, it's golden yellow.
2. The Macho Thor Beard Style
Thor's this macho beard style has been spotted on Ragnarok and Infinity war. Those who have watched infinity war, the entry of Thor in Wakanda must have put a massive impact on you.
Do you wanna miss the opportunity to have the same vibe? I guess not! So, you can copy this beard style. For you, no matter what shape you have. As it is quite a bushy beard and has a wide beard near Adam's Apple.
This beard style doesn't depend upon face shape. But it looks good on the square and oval face shape.Have you seen PewDiePie Beard Style ?
3. Bushy Thick Long Thor Beard Style
This beard style was done for Avengers End Game. You can easily identify the beard from other Thor Beard Style. Now, you can ask me a question. The Thor Beard in End Game was grown up because he has nothing to do. He eats, slept, eat and slept. Thus he made such a beard.
I agree with you. But are you missing the class on that beard too? Even it was grown by sitting at home and with random care, it was well maintained.
The best part about this beard style is, anyone can have it. Yes, you read it correctly. This beard style covers almost the whole face. So, whether you have a round face or any other shape, this Thor Beard Style will give you an amazing divine look. Let's know how you can have these beard style for you.
How to Get Thor Beard Style? Step-by-Step Guide:
Follow only these 3 steps to have a perfect Thor Beard Style.
1. Have a Healthy Diet for Weeks
You need to grow your beard up to a certain length. A common healthy body takes only 20 days to grow a 0.5-inch long beard. You can boost it up by applying two methods. Even native American can grow beards.
You have to eat healthily. Have a good diet chart with keratin, proteins, Vitamin E, Vitamin C, Vitamin B12, B5, B6 and biotin. Avoid any fast food and food with too much oil content.
Do facial massages regularly. If you are too busy to invest time on it, simply allow chewing gum to your mouth. It will help.
For the classic signature thor beard, and the Macho Beard style, you have to grow your beard 0.5 inches to 1 inch long. For Bushy Thick Long Beard, you have to grow your beard up to 2 inches or more.
2. Give Your Beard the Shape of Thor Beard
Here, your final task starts. Make sure, you have a razor, a trimmer and a scissor with you. Let's see for each beard style
The Classic Signature Thor Beard
As soon as, you have 0.5 inches long beard, it's time for action. Take a mirror in front of you and arrange proper lights to make your face clear.
Now, take the trimmer and set it into 1 ( dependable on your beard thickness ). Run it at your sideburns. Here, make sure, your sideburns have shorter facial hair than the chin area.
Run your sharp edge razor along your neckline. Make sure it is meeting your head hair with fine finishing.
For this particular style, the beard line from the ear to the moustache must have at least 1 Inch gap from Adam's apple. First, run trim, and then razor to give a perfect finishing.
It's time for your moustache work. Make sure, you have a closed box moustache. Here, your moustache density and beard density must be the same.
At your lower lip, you need to trim your closed box moustache. As shown in the photo, your chin has to contain some dense hair. Other areas must be eliminated. A light hair in those areas won't cause any problems. Allow trimmer for this action.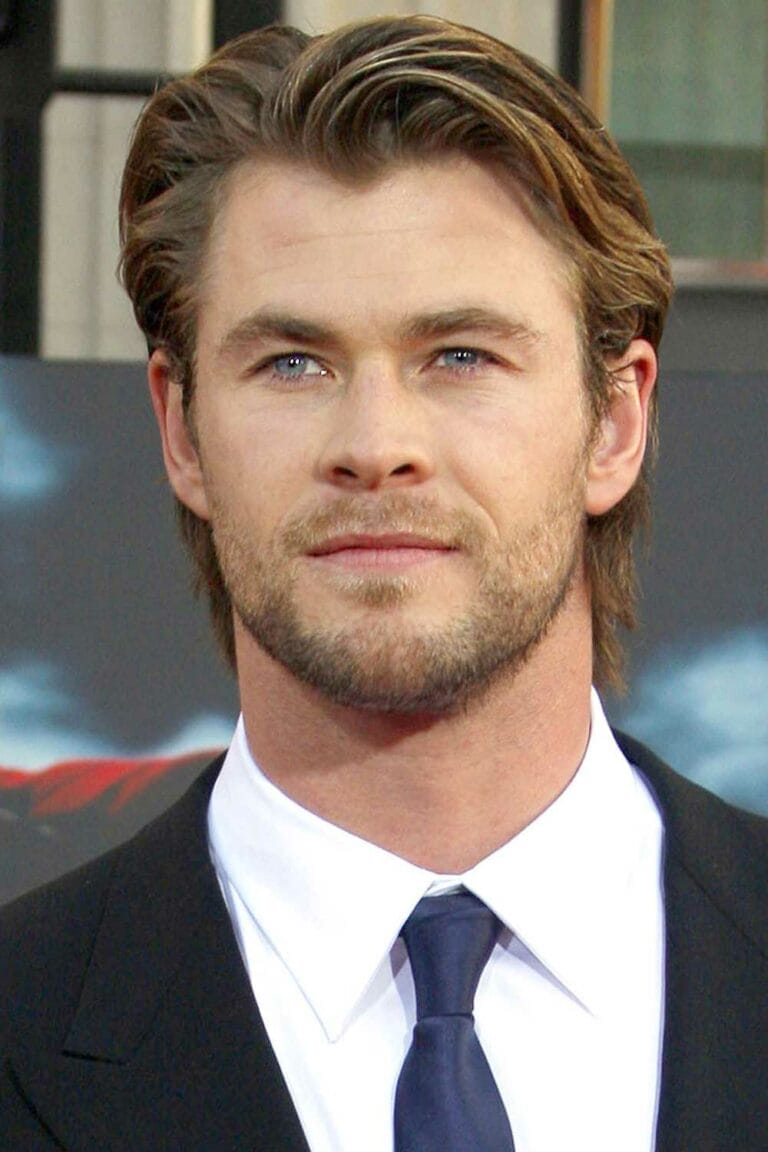 The Macho Thor Beard Style
This macho beard style is easy to do. The first step will be the same as the classic signature beard style. Light dense and shorter hair on the cheek and comparatively dense hair at the chin.
Now, you don't have to give a clean cut at the necklines. But make sure, the hair is finely meeting with your head hair. The area between sideburns to the moustache, must have a light amount of hair. The gap between the beard line with Adam's apple must be 1 cm.
At the lower lip, you again have to give a clean cut. But no need to give a proper finishing. This will give you a stunning masculine look.
It's the popular one after the Endgame. To increase your beard for 2 to 3 inches or more, you need to wait for months. However, the quick methods will help you to grow it faster.
Here, you don't have to care about the neckline and sideburns. Just one thing to do. Make sure, your facial hair is thick and dense all over your face2. Give a smooth finishing where your beard meets with head hair. The same goes for moustache finishing too.
Start from your ear and end up to moustache, run your trimmer smoothly to give a proper clean beard line. You can apply a razor too. Below your lip, you again, have to give a clean round cut. Make it sharp as much as possible.
As any of these three Thor Beard Style completes, allow your scissor to cut the extra popped up hairs here and there.
3. Allow Brush, Oil and Conditioners
As you have the beard now, you have to maintain it for a long. Allow a brush to comb properly, your beard. It is important for the last one especially.
To grow your beard hair strong, you must allow oil on it. Include it in everyday's routine. Wash your beard at least one time in the week. You can apply beard shampoo too. But don't forget to allow Beard conditioner, because it needs a Moisturizer touch.
Conclusion
I hope, I have made my points clear to you. Lots of people have already tried this method to get results. They are satisfied. I hope you'll be too. Choose one beard style first, then follow the methods to get the divine look of God of Thunder.
Also read, How to Grow up a Stylish Beard Like Kratos