21 Professional Beard Styles for Modern Men
Are you ready to elevate your beard game? From short and stubbly to long and luxurious, I have rounded up 21 professional beard styles for modern men.
Whether you're looking to make a statement or freshen up your facial hair, there's something for everyone in this curated collection.
Discover the perfect beard style for you and upgrade your look today!
Professional Beard Styles for Interview
If you're headed to an important job interview or formal event, keep your facial hair neat with a professional beard style.
A classic corporate beard is an excellent option for any situation – it's short, neat, and easy to maintain. For a slightly bolder look, try the scruffy stubble style – this gives you just the right amount of shadow without going overboard.
If you have thicker facial hair, opt for the power-style goatee and keep everything well-groomed and trimmed.
Professional Beard Styles for Bald Guys
Bald men can still rock a beard – it's about choosing the right style to suit your face shape. The classic goatee is excellent for bald heads, as it gives you defined features and draws attention away from your lack of hair.
Alternatively, opt for the whole beard with a neatly trimmed mustache; this look will instantly add texture and definition to your face.
Professional Beard Styles for Black Men
Black men can experiment with various styles and textures regarding facial hair. The classic goatee is excellent for black men, giving your face structure and definition. Alternatively, you could opt for the full beard – keep it neat.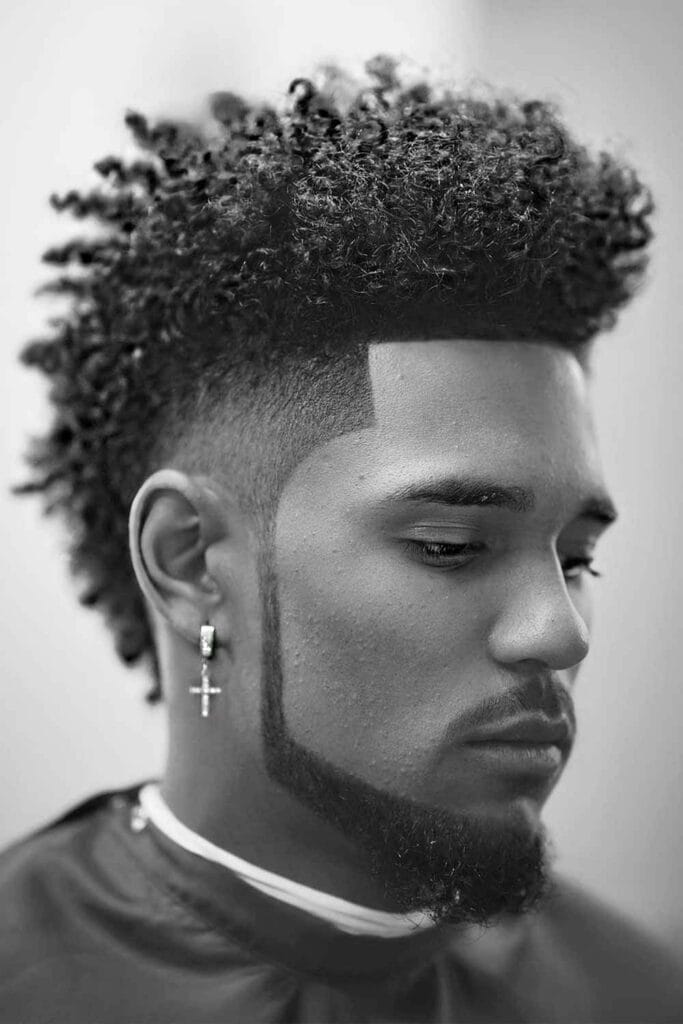 Professional Beard and Hair Styles
For many men, having a modern and professional look can be challenging.
But with the suitable beard styles, you can step up your fashion game. Whether you're looking for something more classic or contemporary, a professional beard and hairstyle will help you look your best.
Professional Beard Length
Beard lengths vary depending on the look you're going for.
A stubble beard can provide more of a rugged, unkempt look, while longer beards are better suited for a more polished style. For those with curly or wavy hair, opt for shorter facial hair – this will help keep everything looking neat and clean.
Exclusive Beard Styles
If you want to stand out, go for an exclusive beard style. Just keep up with regular trims and care, so your look stays groomed and sophisticated.
Finally, remember maintenance! Regular washing and conditioning will help keep your facial hair looking healthy and shiny – not dry and flaky.
Long Beard Styles
Why not try a long beard style if you're looking for something unique? These look best when the hair is kept neat and even all over. Keep it trimmed to avoid split ends, and use some styling products like wax or pomade to give it structure.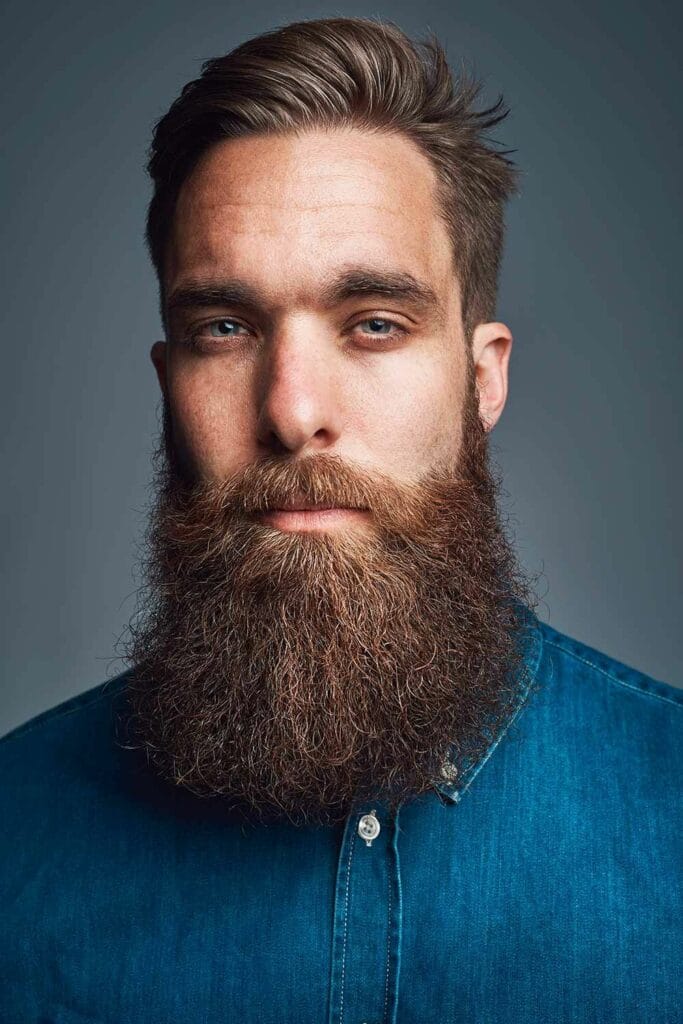 The Hollywood Beard
The Hollywood beard is a classic, timeless style that has been around for decades. It's generally characterized by fullness on the cheeks and chin with thinner sides and a pointed tip at the bottom.
To get this look, use scissors or an electric trimmer to taper the sides of your beard and create sharp angles.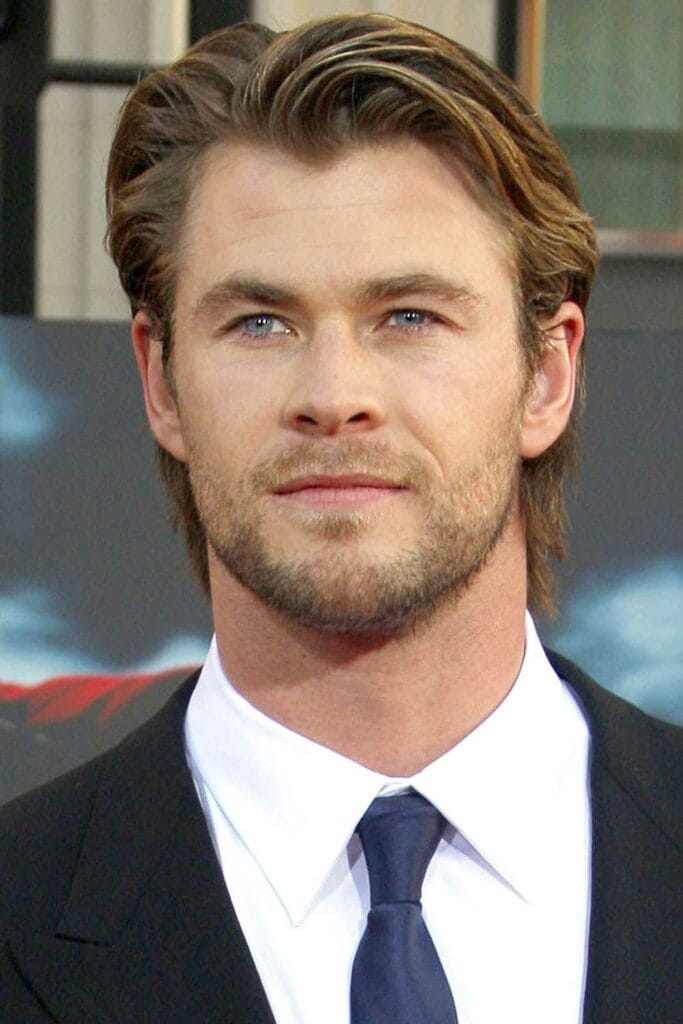 Business Professional Beard
The professional business beard is flawless when you want to maintain a clean, corporate appearance.
This style features a full beard with trimmed sides and a well-defined neckline that follows your jawbone. To get this look, use scissors or a trimmer to cut the sides of your beard short and neat.
Power Beard
The power board is excellent for those who want to look authoritative and influential.
This style requires more length than the business professional, creating a strong silhouette with a well-defined jawline. To achieve this look, let your beard grow until it's at least two inches in length.
Then use scissors or clippers to shape the sides of your beard into sharp angles that follow your jawbone.
Garibaldi Beard
The Garibaldi beard is a popular style that's easy to achieve and maintain. This look gets its name from Giuseppe Garibaldi, an Italian general and politician in the 19th century.
The goal of this style is to create a complete, round facial hair shape with thick sides and a short bottom.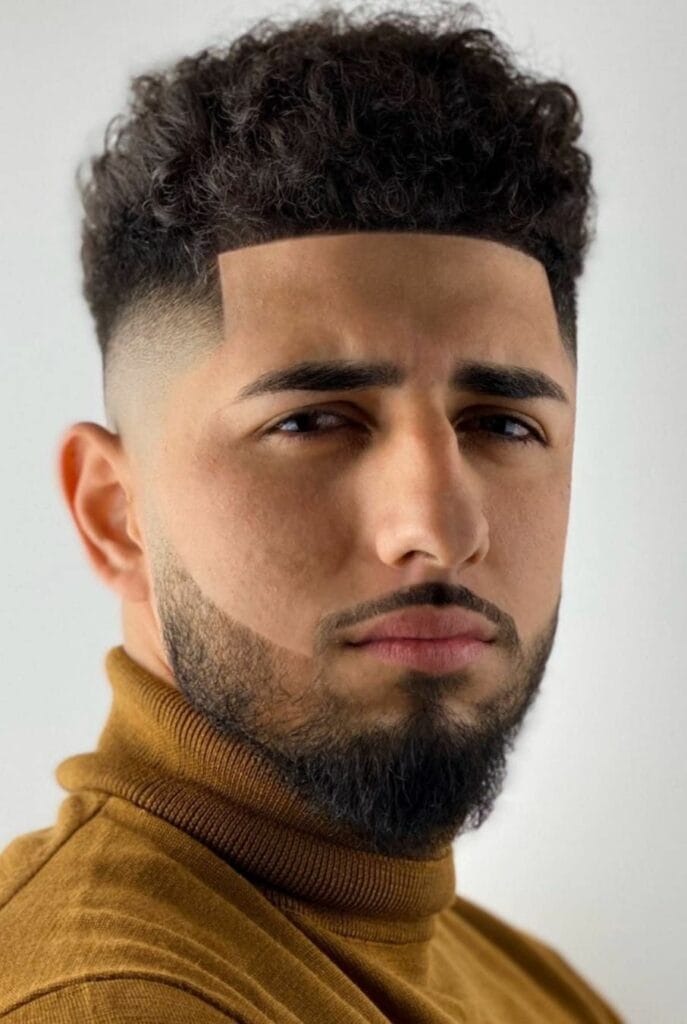 Viking Beard
Viking beards are famous among men who want to make a bold statement. This style features long, thick facial hair that radiates power and masculinity.
To get a Viking beard, let your facial hair grow until it's at least 6 inches long. Then use clippers to trim down the sides and bottom, creating an even shape with thick, luscious locks on top.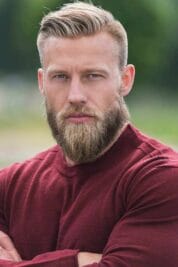 Short Beard Styles
For guys who want to avoid committing to a full-length beard, plenty of short beard styles still look impressive.
Some popular options include the chin strap, which is just a narrow strip of hair along the jawline, and the stubble beard, which is any length of facial hair between two days and two weeks of growth.
Five O'Clock Shadow
The five o'clock shadow is an ideal option for those who don't have the time or patience for a full beard.
This style looks like light stubble and can be achieved by letting your facial hair grow for one to three days without trimming it.
Faded Beard
A soft beard is a way to show off your facial hair in a modern and stylish way. This look combines short and long strands of hair, allowing you to create an angled shape that fades from one length to another.
It's great for those who want something different without committing to a full-length beard.
Slight Stubble
For those who want a clean-cut look, slight stubble is the way to go.
This style requires minimal trimming and maintenance, creating a light layer of facial hair that doesn't require much effort. To achieve the perfect length, use a beard trimmer to trim your beard every two to three days.
Tapered Beard
The tapered beard is becoming increasingly popular among men.
It's a short to medium-length beard style that allows you to customize the length of your facial hair and shape it however you like.
To get this look, use a beard trimmer to trim the sides of your face shorter than the centre.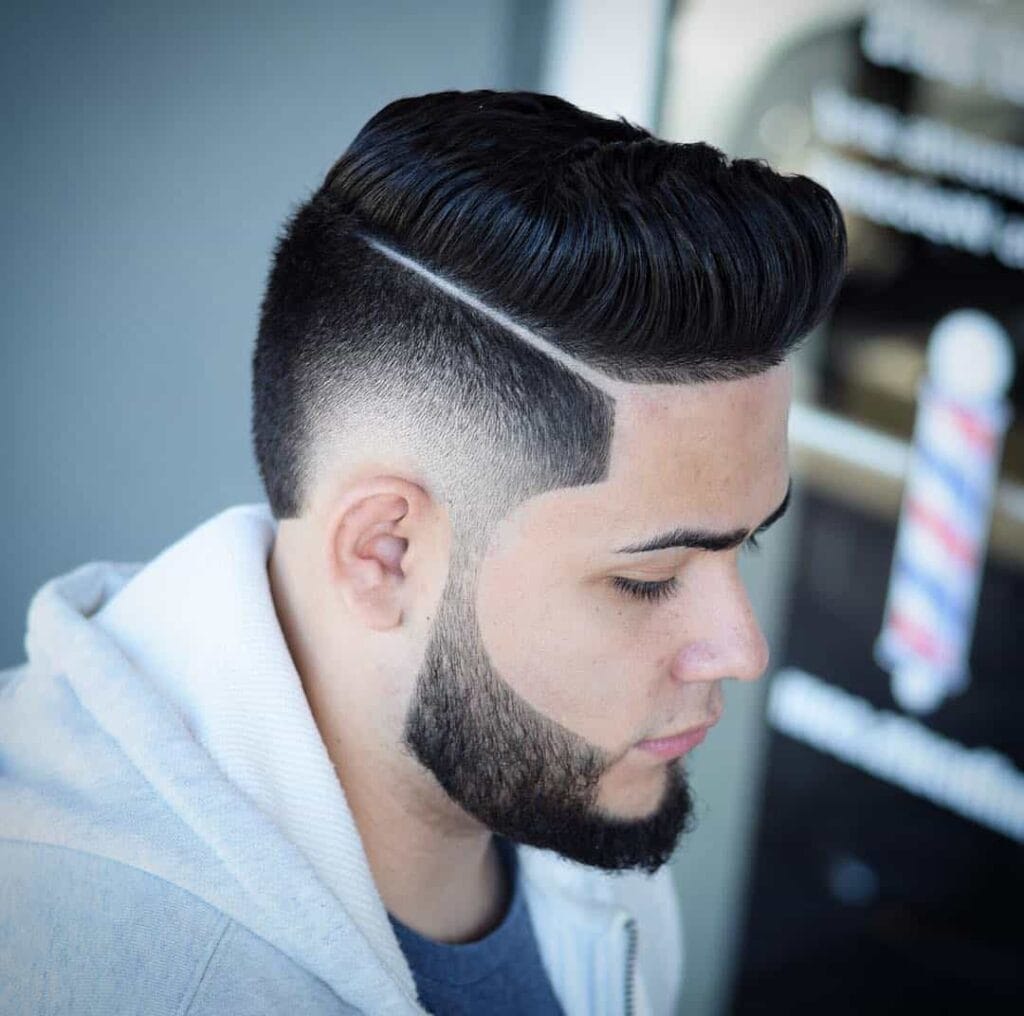 Boxed Beard
The boxed beard is a perfect style for men who want to keep the length of their beard consistent.
This look requires you to use a trimmer to trim around your chin and cheeks so that they're all even in size. The key here is to ensure that you're keeping everything tidy while maintaining some length.
Professional Beard Styles for Round Face
The professional beard style is another great option for round-faced men. This look allows you to keep a bit of length on your chin and cheeks while keeping them neat.
You'll want to use a trimmer to trim around your face so that everything looks symmetrical and neat. You can add facial hair around the edges to give it an extra edge.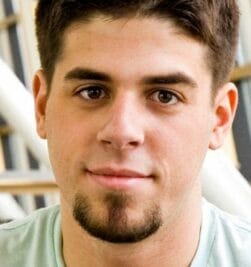 Ginger Beard
Ginger beards have become increasingly popular and are an excellent option for round-faced men.
This style allows you to keep the beard short but still have some length around the chin and cheeks.
FAQs
What Is A Professional Beard?
A professional beard is a style that looks neat and presentable, making it perfect for wear in an office setting or any other formal occasion.
Professional beard styles generally have short to medium-length hair and are well-groomed and shaped.
Can You Have A Beard And Look Professional?
Absolutely! With the right style and grooming, you can easily have a beard and look professional. The key is to find a style that works for your face shape and then maintain it with regular trimming and styling.
How Can I Make My Beard More Professional?
Beard care is essential to making your beard look professional.
Start by regularly washing and conditioning your beard with a good quality product, then use a comb or brush to keep it tangle-free.
Finally, trim the sides of your beard to achieve a neat, symmetrical shape, and use scissors or an electric trimmer to maintain the length.
Professional Beard Length?
When it comes to professional beard length, less is generally more. Most professionals prefer shorter beards that are kept neat and trimmed.
A good rule of thumb is to keep your beard no longer than an inch, depending on the size of your face.
How Long Of A Beard Is Professional?
The length of your beard should depend on the size of your face and how you want to style it. Generally, shorter beards are more professional than longer ones. For a clean look, keeping your beard between 0.5 and 1 inch in length is best.
Khamis Maiouf is a professional barber who graduated from Hinckley College in England with a degree in hairdressing. He has also won several barbering contests and successfully operated a barbershop for the last two decades. As a skilled hair stylist for 20 years, his goal is to teach others how to achieve a beautiful appearance through their hairstyles.