Rappers with Braids: The Bold Icons Defining Hip-Hop Style
When it comes to style, these rappers are truly tress-passing boundaries!
Rappers with Braids have long been making waves in the hip-hop scene, showcasing their creativity and individuality through their distinctive hairstyles.
Braids are more than just a fashion choice – they're an EMBLEM of cultural identity and artistic expression.
The braided look has been sported by some of the most iconic and influential figures in the rap world, making a statement that goes beyond music.
These trailblazers have not only helped shape the sound of the genre but have also left an indelible mark on the fashion landscape.
In this article, I'll delve into the world of Rappers with Braids, highlighting some of the most memorable and inspiring braided looks that have graced the rap scene.
So, get ready to untangle the story behind these braided icons and their trendsetting styles.
Why Rappers Love Braids: Unraveling the Connection Between Hip-Hop and Iconic Hairstyles
Rappers have long embraced braids as a go-to hairstyle, and there are several compelling reasons behind this trend.
From cultural significance to personal expression, the bond between hip-hop artists and braids is both deep-rooted and ever-evolving.
Let's explore some key factors that explain why rappers love braids and how this iconic hairstyle has become an integral part of their identity.
1. Cultural Roots: Tapping into African Heritage
One of the primary reasons rappers love braids is their cultural significance.
Braids are an ancient African hairstyle, dating back thousands of years. For many rappers, wearing braids is a way to connect with their African heritage and pay homage to their roots.
This cultural link is essential in the hip-hop community, where celebrating one's origins is a vital aspect of self-expression.
2. Creative Expression: Crafting a Signature Style
Rappers are known for their distinctive styles, and braids are an excellent way to stand out in the crowd.
With countless variations available, from cornrows to box braids, rappers can craft a unique look that reflects their personality and artistic vision.
Braids provide a versatile canvas for creative expression, allowing artists to experiment with intricate patterns, colors, and designs that set them apart from their peers.
3. Low Maintenance: Striking a Balance Between Style and Practicality
Another reason why rappers love braids is their low-maintenance nature.
As artists who often spend long hours in the studio or on the road, having a hairstyle that requires minimal upkeep is a significant advantage.
Braids can last for several weeks without needing to be redone, making them an ideal choice for busy musicians who want to maintain a sharp appearance with minimal effort.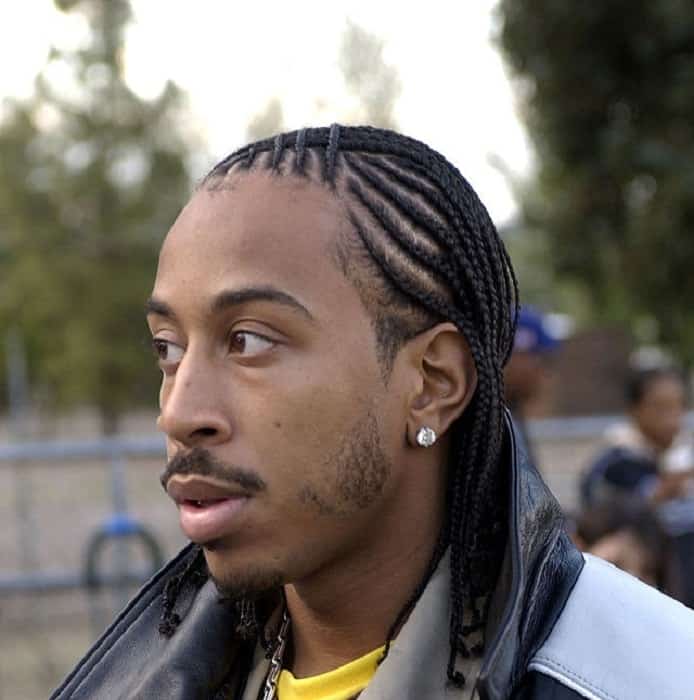 4. Comfort and Functionality: Keeping Hair in Check On and Off the Stage
Performing on stage can be an intense experience, and rappers need hairstyles that can withstand the rigors of live shows.
Braids are a practical choice because they keep hair secure and in place, preventing it from becoming a distraction during performances.
Additionally, braids can help protect natural hair from damage caused by frequent styling and exposure to harsh environmental factors.
5. Symbol of Rebellion: Challenging Mainstream Beauty Standards
Braids have long been associated with counterculture movements and rebellion against conventional beauty standards.
For rappers, embracing braids as a hairstyle is a way to challenge societal norms and make a statement about their individuality.
By choosing to wear braids, these artists are asserting their independence and refusing to conform to mainstream expectations.
Thus, the love affair between rappers and braids is multifaceted and deeply ingrained in hip-hop culture.
From cultural roots and creative expression to low maintenance and functionality, braids have become an iconic hairstyle that embodies the spirit of rap music.
This enduring connection highlights the power of braids as a symbol of identity, heritage, and artistic expression in the ever-evolving world of hip-hop.
10 Best Rapper Braids: A Countdown of Iconic Hip-Hop Hairstyles
Braids have long been a staple hairstyle in the world of hip-hop, with many rappers sporting these iconic looks throughout the years.
In this countdown, we'll explore the 10 best Rappers with Braids who have left a lasting impression on both the music scene and the world of fashion.
Snoop Dogg: The Undisputed King of Rappers with Braids
There's no denying that Snoop Dogg is a trailblazer among Rappers with Braids.
His signature ultra-long cornrows have become synonymous with his laid-back persona and smooth rap style, making him an unforgettable icon in both music and fashion.
Travis Scott: The Modern Maverick Among Rappers with Braids
Travis Scott, one of the most innovative Rappers with Braids, has taken the world by storm with his unique sound and equally distinctive hairstyle.
His braids, often styled in various ways, perfectly embody his creative spirit and rebellious nature.
Ol'Dirty Bastard: The Eccentric Genius of Rappers with Braids
As one of the founding members of the Wu-Tang Clan, Ol'Dirty Bastard was a pioneer among Rappers with Braids.
His wild, untamed braids reflected his eccentric personality and groundbreaking contributions to the hip-hop scene.
Bow Wow: The Charming Teen Sensation of Rappers with Braids
Bow Wow captured hearts in the early 2000s as one of the youngest Rappers with Braids.
His neatly styled cornrows and charismatic stage presence made him a teen sensation and a trendsetter in the world of braided hairstyles.
Xzibit: The Pioneering Host Among Rappers with Braids
Xzibit, best known for hosting MTV's "Pimp My Ride," is another standout among Rappers with Braids.
His iconic cornrows and larger-than-life personality helped solidify his status as a trendsetting rapper and entertainer.
ASAP Rocky: The Fashion-Forward Visionary of Rappers with Braids
ASAP Rocky, one of the most fashion-conscious Rappers with Braids, has made a name for himself with his distinct braided hairstyles.
From traditional cornrows to elaborate designs, his braids exemplify his creative flair and cutting-edge style.
Lil Yachty: The Colorful Trendsetter of Rappers with Braids
Lil Yachty, known for his vibrant red braids, is a true original among Rappers with Braids.
His colorful hairstyle perfectly complements his quirky, upbeat music and sets him apart from the crowd.
Ludacris: The Versatile Showman of Rappers with Braids
Ludacris, a multi-talented artist and actor, has sported various braided hairstyles throughout his career.
His ever-changing looks make him one of the most versatile Rappers with Braids, showcasing his adaptability and flair for style.
Coolio: The Memorable Wildcard of Rappers with Braids
Coolio, best known for his hit "Gangsta's Paradise," is one of the most memorable Rappers with Braids.
His wild, gravity-defying braids became a defining aspect of his image, making him an unforgettable figure in 90s hip-hop.
Meek Mill: The Gritty Storyteller Among Rappers with Braids
Meek Mill, a prominent figure in contemporary hip-hop, is another notable artist among Rappers with Braids.
His signature braided look perfectly complements his gritty storytelling and authentic persona.
Conclusion
Rappers with Braids have made a lasting impact on both the hip-hop scene and the world of fashion.
As I have explored, their braided styles represent creativity, cultural identity, and artistic expression.
By appreciating these trailblazers, I celebrate their influence and the POWERFUL statements they've made through their distinctive hairstyles.
FAQs
Q1. Is the trend of wearing braids common among rappers?
Yes, the trend of wearing braids has been very common among rappers for decades. Rappers with braids have been influential in popularizing this hairstyle. This trend has continued to grow, and many rappers still consider braids to be an essential part of their style. With a variety of options in braid styles to choose from, one can always find a style that suits their personality.
Q2. Can I style my hair in braids like Snoop Dogg?
Snoop Dogg is known for his iconic braids, and his style has inspired many people. Styling hair in braids like Snoop Dogg's can be achieved with the right tools, products, and a little bit of practice. Depending on the length of one's hair, the style can be applied in different ways. However, it's essential to take hair type into consideration when styling braids. Protective styling can be beneficial to hair growth, and braids offer an excellent option for achieving that.
Q3. What is the maximum duration for wearing braids?
The maximum duration for wearing braids varies from person to person. It depends on how fast the hair grows and scalp sensitivity. Some individuals wear braids for months, while others only keep them for a few weeks. Prolonged wearing of braids can lead to hair damage or breakage, especially if they're not well-maintained. To prevent this, it is essential to remove braids periodically and allow the hair to rest before installing a new set.
Q4. Do braids promote or hinder hair growth?
Braids have been known to promote hair growth, as they are a form of protective styling. Protective styles like braids allow hair to rest and can protect it from harsh environmental factors like heat and humidity. However, if braids are too tight or done improperly, this protective style could backfire and cause hair loss or damage. It is essential to handle hair gently and avoid over-tightening the braids.
Q5. Which rapper is most known for sporting braids?
Allen Iverson is considered to be one of the most well-known rappers to sport braids. He was known for his signature braided hairstyle that became his signature look. However, many other rappers have also become known for their braids, including Snoop Dogg, Lil Wayne, Travis Scott, and Chief Keef, to mention a few. Rappers with braids have contributed to making them a popular and trendy hairstyle that many people choose to sport today.
References:
Braids (also referred to as plaits) are a complex hairstyle formed by interlacing three or more strands of hair. source
its cornrows …a traditional style of hair grooming of African origin where the hair is tightly braided very close to the scalp, using an underhand, upward motion to produce a continuous, raised row. source
Khamis Maiouf is a professional barber who graduated from Hinckley College in England with a degree in hairdressing. He has also won several barbering contests and successfully operated a barbershop for the last two decades. As a skilled hair stylist for 20 years, his goal is to teach others how to achieve a beautiful appearance through their hairstyles.