Erling Haalands Hair Game: 9 Standout styles
Erling Haaland is known for his impressive soccer skills, but did you know that he also has some seriously standout hairstyles?
From short, buzz cuts to bold mohawks, Haaland has experimented with a variety of haircuts over the years.
In this article, we'll take a look at 9 of his most memorable and stylish haircuts, each one as impressive as his performance on the field.
So whether you're looking for hair inspiration or just want to see some of Haaland's most iconic looks, read on!
1. Erling Haaland Middle Part Haircut
Erling Haaland's recent switch to a middle part haircut has certainly caught the attention of fans and fashion aficionados alike.
Departing from his iconic buzzed look, the Norwegian striker now sports a sleeker, longer hairstyle that falls symmetrically on either side of a defined middle parting.
The style, reminiscent of the '90s, has made a comeback in recent years, and Haaland wearing it is a testament to its widespread appeal.
This new look not only adds a fresh twist to his off-pitch persona but also echoes the ever-evolving nature of footballer fashion trends.
Whether on the field or off, Haaland continues to make statements and his middle part haircut is no exception.
2. Elegant Earling Haaland Long Hair
His lengthy hair sets him apart from the other players. Long hair shows Haaland's willingness to take chances and stand out. His hair is constantly well-groomed and styled, and he regularly changes looks.
He has slick back buns, man buns, and a mohawk.
Haaland has excellent hair. He can confidently carry off any outfit, and his long hair adds elegance. He's a great example of how to wear long hair effortlessly.
Haaland's hair game is rad. Long locks give beauty to his image and set him apart.
His ability to wear any style with confidence and comfort is admirable.
3. Swept Back Hairstyle
The Swept Back hairstyle worn by Erling Haaland is the stuff of soccer folklore. This hairstyle, which has been fashionable in Norway and European leagues for some time, is slowly making its way over the Atlantic to the United States.
Swept back on top, this cut has short sides and back.
The fringe in this cut is so long that it covers the eyes. It's classy and easy to care for. The way Haaland wears his hair is a visual representation of the success he has had in football.
He favors this face when he rallies the troops to victory—the likes of Lionel Messi and Cristiano Ronaldo like this look.
4. Fashionable Erling Haaland Shaved Sides
That's the hairstyle Erling Haaland sported. His shaven sides from previous fights make the most sense for him. Haaland is self-aware enough to know that a buzzcut will make him stand out.
The shaved look is on-trend and easy to maintain.
People with hectic schedules who can't find the time to get regular haircuts would appreciate this.
Easy to achieve and sure to attract notice, shaved sides are a trendy design choice. The short sides and back of Erling Haaland's hairstyle are daring and fashionable.
Try this style if you want to get attention.
5. Daring Erling Haaland Mohawk Hairstyle
The mohawk worn by Erling Haaland is both daring and arresting. You'll be left with a mohawk-like strip of hair in the center when you shave one side of your head.
Erling Haaland is instantly recognizable because of his punk style.
Erling Haaland is making a statement with his mohawk. It's a sign that he's not afraid to be different and try new things. It fits his fearless, daring play style on the field.
The mohawk haircut that his legion of fans has well received Erling Haaland sports. With his daring mohawk, he's not afraid to stand out and do new things.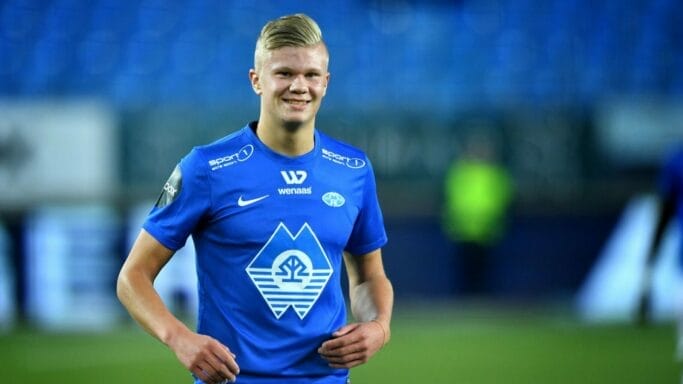 6. Practical Erling Haaland Ponytail
His trademark is a ponytail, which keeps his hair out of his face during games.
The ponytail is a traditional, attractive appearance. It may be worn high and low. Haaland sports a low ponytail with a black hair tie. His ponytail hangs just below his shoulders and is neatened with the product.
Haaland's ponytail keeps his hair off his face and relaxed. Also, it looks beautiful and can be dressed in a hat or headband.
The ponytail's utility and appeal make it ideal for footballers trying to keep calm and fashionable.
7. Elegant Erling Haaland Bun
Erling Haaland's signature hairstyle, the bun, is a tight, high bun at the back of the head.
This haircut frees him from worrying about his hair falling into his eyes or over his forehead, allowing him to give his full attention to the game. Its timeless design makes it appropriate for any event.
Haaland constantly makes sure to have her hair well combed and bunned. His knot looks better when his hair is black or dark brown.
Haaland gets this look by applying a heavy-duty hold gel or pomade on his hair.
In addition to being aesthetically pleasing, Erling Haaland Bun is practical. It's perfect for soccer players who care about how they look on the field.
8. Classic Erling Haaland Comb Over
Haaland's comb-over is a classic look that will never go out of style.
The hair is slicked back to the sides, and in the front, it is shaped into bangs that are kept short and clean. The comb-over that Haaland sports give him an air of sophistication and coolness.
A comb-over like Haaland's is a modern classic. Even a modern player can pull off this classic style. Simple to care for and a great look for any man.
If the man has the right hair texture and length, he could pull off this style. A comb-over, like Haaland's, is a classic look with a modern twist.
Whether or not you play football, this classic style is ideal for any man who wants to make a statement.
9. Erling Haaland's New Hairstyle
Haaland has opted for a modern and stylish short undercut. The sides and back of the head are neatly shaved, while the top is lengthy.
To finish, the top is given a rough, angular look with straight razors and combs. The dark blond hair color is an excellent choice for this look.
Frequently Asked Questions
What hairstyle Does Erling Haaland Have?
Long braids This is Erling Haaland's new hairdo. The photos of the scorer showed him with two long braids instead of his typical hairstyle, a pulled-back ponytail.
Erling Haaland Hair color?
Erling Haaland has hair that is a medium-dark brown color.
Erling Haaland Hairstyle Name?
The haircut worn by Erling Haaland is referred to as a "faux hawk."
References
Erling Braut Haaland (né Håland; Urban East Norwegian: [ˈhòːlɑn];[5] born 21 July 2000) is a Norwegian professional footballer who plays as a striker for Premier League club Manchester City and the Norway national team. source
Erling Haaland is a very skilled and funny Norwegian footballer who was born in England. source
Khamis Maiouf is a professional barber who graduated from Hinckley College in England with a degree in hairdressing. He has also won several barbering contests and successfully operated a barbershop for the last two decades. As a skilled hair stylist for 20 years, his goal is to teach others how to achieve a beautiful appearance through their hairstyles.