16 Best Justin Bieber Haircuts For Men To Pick From
Who in the world hasn't heard of Justin Bieber, the international pop music phenomenon?
The incredibly talented Canadian singer and songwriter has been capturing the attention of millions and consistently making headlines since his early teenage years.
He is not only known for his mesmerizing tunes and catchy lyrics but also for his constantly EVOLVING, trend-setting hairstyles.
In this comprehensive article, I will embark on an exhilarating journey down memory lane to thoroughly examine and appreciate the myriad of ICONIC Justin Bieber haircuts.
Additionally, I will delve into an expertly curated list of the top Justin Bieber haircuts that have defined a generation that is guaranteed to turn heads and make a bold fashion statement.
Justin Bieber's Hair Evolution
2009 – The Iconic Swoop: Justin rose to fame with his signature side-swept hair, which became a popular style among teens at the time.
2011 – Short and Spiky: Justin changed his hairstyle to a shorter, SPIKIER look, which was well-received by fans and the media.
2012 – The Quiff: In 2012, Justin adopted a more mature hairstyle with a quiff, a style that features a raised section of hair at the front of the head.
2014 – Slicked Back: Justin opted for a more classic look with a slicked-back hairstyle that gave him a refined appearance.
2015 – Platinum Blonde: The singer made a bold move by dyeing his hair platinum blonde, which became a memorable look in his hair evolution.
2016 – Dreadlocks: In 2016, Justin sported dreadlocks for a brief period, sparking mixed reactions from fans and the media.
2017 – Buzz Cut: Justin decided to keep things simple by shaving his head and sporting a buzz cut for much of 2017.
2018 – Long and Messy: In 2018, Justin grew out his hair, opting for a long and messy look that gave him a carefree appearance.
2019 – Short and Natural: Justin returned to more natural hair color and sported a shorter, more polished hairstyle in 2019.
2020 – Mustache and Longer Hair: Justin embraced a new look with a prominent mustache and long hair, which he often wore in a bun or ponytail.
2021 – Short and Wavy: In 2021, Justin opted for a shorter, wavy hairstyle, giving him a more mature and sophisticated appearance.
Throughout the years, Justin Bieber's hair has gone through a number of transformations, each reflecting a different stage in his life and career.
His hair evolution is a testament to his willingness to experiment with various styles and continually reinvent himself.
16 Justin Bieber's Haircut To Experiment With
The Classic Bieber Swoop
Classic Bieber Swoop is arguably the most iconic Justin Bieber haircut. This hairstyle features long, side-swept bangs that perfectly frame his face.
It was a signature look during his early career, making him easily recognizable to fans.
I remember how this haircut became a trendsetter, inspiring many teenagers to adopt the style in the late 2000s.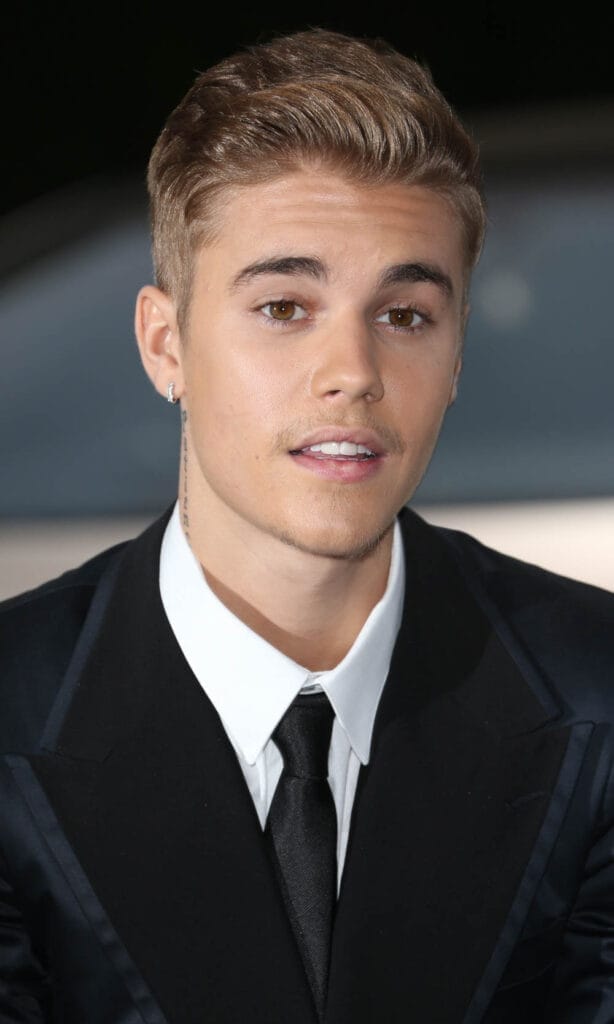 Spiky Faux Hawk
Justin Bieber's Spiky Faux Hawk is a versatile haircut that adds an edgy touch to his appearance.
This style incorporates short sides and a longer top, with the hair spiked up in the center.
It's an ideal choice for gentlemen looking to make a bold statement with their hair while still maintaining a sense of playfulness.
The Pompadour
Pompadour is another Justin Bieber haircut that showcases his ability to evolve with changing trends.
This hairstyle features voluminous hair on top, slicked back and away from the face, while the sides remain shorter.
It is a classic look that can be dressed up or down, depending on the occasion.
Short and Messy
In the Short and Messy Justin Bieber haircut, his hair is cropped short with a natural, tousled appearance.
It is low-maintenance and easy to manage, making it a practical option for men who prefer a more laid-back look.
I appreciate how this haircut allows for a more casual, everyday appearance without sacrificing style.
Platinum Blonde Buzz Cut
Platinum Blonde Buzz Cut is a bold departure from Justin Bieber's earlier hairstyles. Featuring a close-cropped, almost shaved head with a striking platinum blonde color.
It's a daring choice that demonstrates his willingness to experiment with his style and challenge expectations.
Long and Wavy
Justin Bieber's Long and Wavy haircut is a more relaxed, free-flowing style.
In this look, his hair is allowed to grow out, creating natural waves that cascade past his shoulders.
This hairstyle exudes a laid-back vibe, perfect for men who appreciate a more carefree approach to personal style.
The Quiff
The Quiff is a stylish Justin Bieber haircut that adds height and volume to his hair.
With short sides and a longer top, the hair is styled upwards and swept back, creating a modern and polished appearance.
This versatile look can be easily adapted to suit different face shapes and personal preferences.
Dreadlocks
Dreadlocks are another unique Justin Bieber haircut that showcases his willingness to push boundaries with his style.
This look features tightly knotted, rope-like STRANDS of hair that fall down his back.
Although controversial, the hairstyle demonstrates Bieber's ongoing interest in experimenting with different textures and techniques.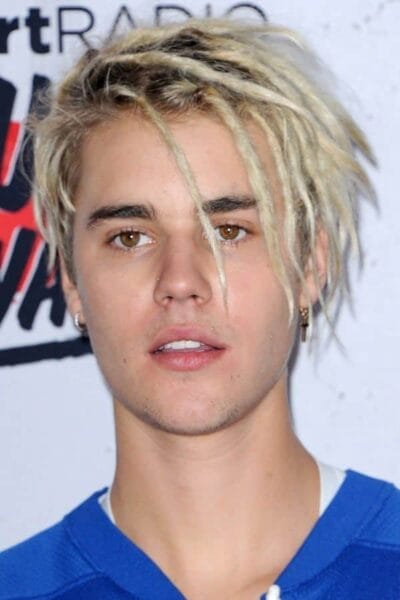 Undercut with Side Part
Undercut with Side Part is a trendy Justin Bieber haircut that BLENDS contemporary style with a touch of classic sophistication.
This hairstyle features closely SHAVED sides and a defined side part, with longer hair on top that can be slicked back or styled in various ways.
It's a VERSATILE look that works well for formal events or casual outings.
Slicked Back
Justin Bieber's Slicked Back haircut is a sleek and sophisticated style that exudes confidence.
In this look, his hair is combed back and held in place with a styling product, creating a smooth, polished appearance.
Perfect for men seeking a refined and elegant look that pairs well with formal attire.
Shaggy Mop Top
Shaggy Mop Top is a more casual Justin Bieber haircut that embraces a relaxed, tousled appearance.
In this style, his hair is grown out and allowed to fall naturally around his face, creating a laid-back, effortless vibe. It's an ideal choice for guys who prefer a more low-key, easygoing aesthetic.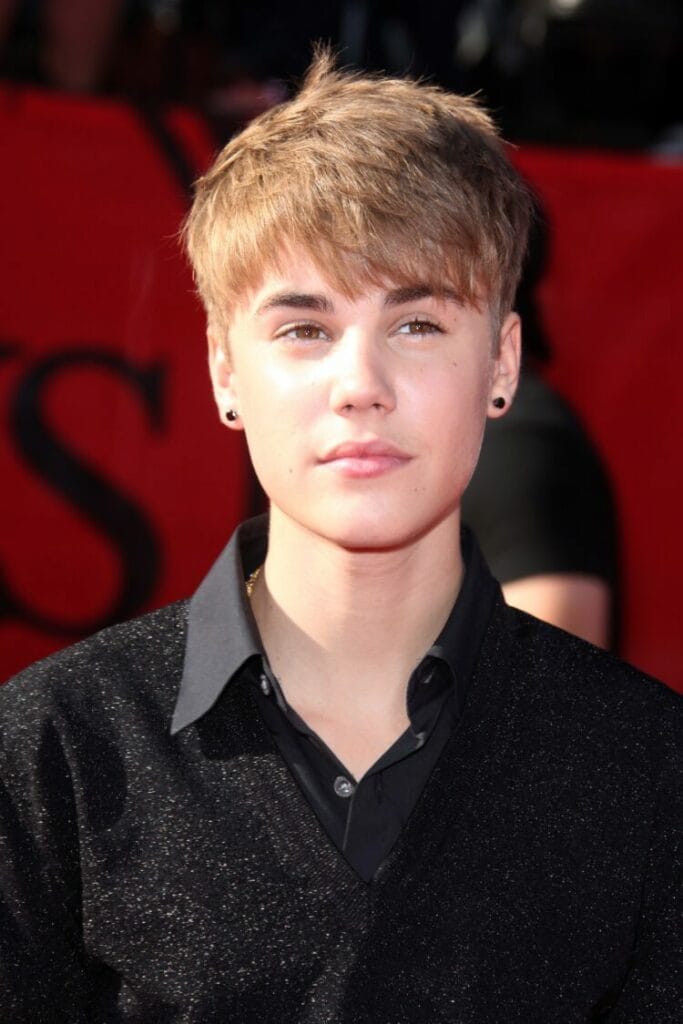 Bleached Bowl Cut
Bleached Bowl Cut is a distinctive Justin Bieber haircut that combines a classic shape with a striking color.
This style features a rounded, even cut that frames the face, paired with a bold platinum blonde hue.
It's a playful and daring choice that showcases Bieber's adventurous approach to personal style.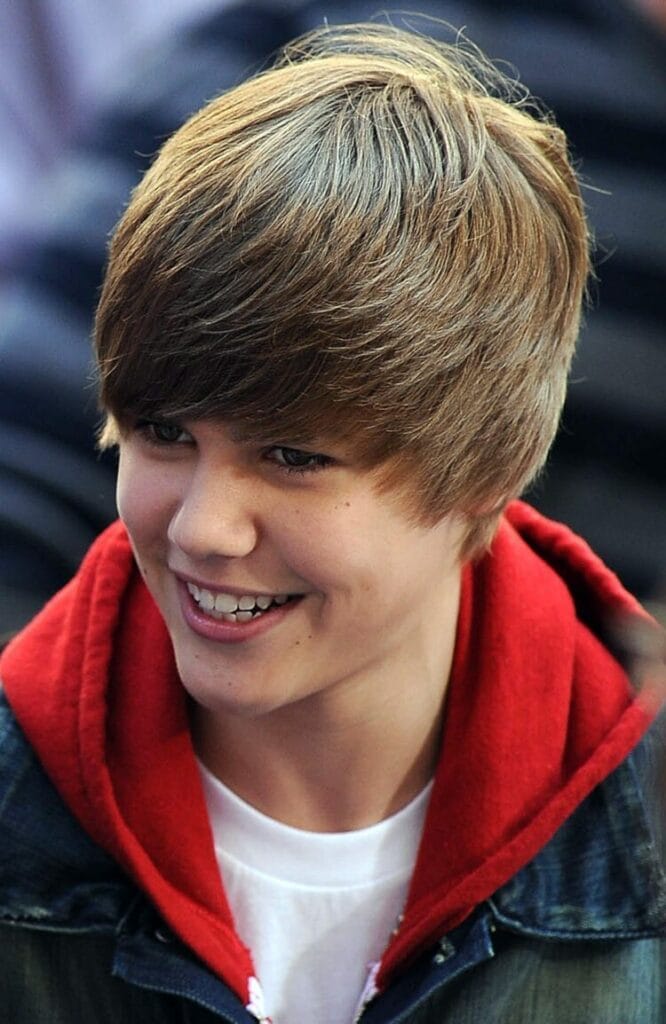 Man Bun
Justin Bieber's Man Bun is a versatile haircut that can be dressed up or down, depending on the occasion.
For this look, his hair is grown out and gathered at the top or back of his head, creating a neat and tidy bun.
I find this style particularly appealing because it allows for a range of styling options, from casual to formal.
Tousled Waves
Tousled Waves haircut is a relaxed and carefree Justin Bieber hairstyle that embraces a natural, textured appearance.
His hair is grown out and gently styled to create soft, flowing waves that frame his face in this look.
It's a perfect option for guys seeking a laid-back look that still maintains a sense of style and personality.
Textured Crew Cut
Justin Bieber's Textured Crew Cut is a modern, low-maintenance haircut that highlights his natural hair texture.
Featuring a close-cropped cut with slightly longer hair on top, which is styled to emphasize its natural movement and wave.
An excellent choice for men who prefer a clean, simple appearance that still has a touch of personality.
Two-Toned Fringe
Two-Toned FRINGE is a bold and unique Justin Bieber haircut that combines contrasting colors and TEXTURES
This hairstyle features a longer, side-swept fringe with two distinct shades, typically a darker base color and a lighter, brighter hue on the ends.
It's a daring look that demonstrates Bieber's willingness to push the envelope with his personal style.
Conclusion
Justin Bieber's haircuts have evolved significantly throughout his career, reflecting his growth as an artist and his ongoing experimentation with style.
From Bieber's Swoop to Blonde Buzz Cut, there's no denying that his HAIRSTYLES have made an impact on pop culture and inspired countless fans to try new looks.
As a fan, I'm always eager to see what hairstyle he'll debut next, as it's a testament to his ever-changing style and personal evolution.
FAQs
What is Justin Bieber's haircut?
The Justin Bieber haircut refers to the iconic style that the pop star sported during his rise to fame.
Known for its swooping, side-swept fringe, the haircut became a significant part of his image in the late 2000s and early 2010s.
This hairstyle quickly gained popularity among his fans, with many young people trying to emulate the look.
As a fan, I remember how the Justin Bieber haircut was the talk of the town back then, and its influence on pop culture cannot be overstated.
When was the Justin Bieber haircut popular?
Justin Bieber's haircut gained widespread popularity around 2009-2011, during the early years of his career.
It was around this time that Bieber's debut album, "My World," was released, and his signature hairstyle became a symbol of his youthful image.
The style remained popular for a couple of years before Justin began to experiment with different haircuts and styles, reflecting his evolving music and personal growth.
Did Justin Bieber get a buzz cut?
Yes, Justin Bieber did sport a buzz cut at one point in his career. In fact, it marked a significant departure from his iconic hairstyle.
The buzz cut made its debut in 2018 when Bieber decided to change his look and adopt a more mature, minimalist style.
This haircut was another example of how the pop star continually evolves and reinvents himself, not just through his music but also through his appearance.
What is the name of Justin Bieber's most famous haircut?
Justin Bieber's most famous haircut is often referred to as the "Bieber swoop" or the "Bieber haircut."
This signature style features a long, side-swept fringe that covers one side of the forehead, with the hair being longer on top and shorter on the sides.
The Bieber swoop was instrumental in shaping his early image as a teenage heartthrob, and it continues to be associated with his early career.
How can I style my hair like Justin Bieber's iconic hairstyle?
To achieve the iconic Justin Bieber haircut, you'll need to start by growing your hair out, especially on the top, to create the signature side-swept fringe.
Once you have the desired length, visit a professional hairstylist to get the right cut, making sure to mention that you want the Bieber swoop.
After getting the cut, you can use a lightweight styling product like a mousse or pomade to create texture and hold the fringe in place.
Don't forget to blow-dry your hair using a round brush to create volume and the perfect side-swept look.
As someone who has tried this style, I can attest to the importance of using the right products and techniques to achieve the desired effect.
References:
Justin Bieber's hair through the years has always been iconic. source
Justin Drew Bieber (/biːbər/ BEE-bər; born March 1, 1994)[1][2] is a Canadian singer. source
Khamis Maiouf is a professional barber who graduated from Hinckley College in England with a degree in hairdressing. He has also won several barbering contests and successfully operated a barbershop for the last two decades. As a skilled hair stylist for 20 years, his goal is to teach others how to achieve a beautiful appearance through their hairstyles.