9 Best Taehyung Haircuts to Try This Year
What is the name of Taehyung Haircut?
Kim Taehyung is well-known for both his beautiful voice and cool Taehyung haircut. All the BTS members, including Rm, Jin, Suga, J-Hope, Jimin, Taehyung, and Jungkook, dye their hair sometimes, but not as often as Taehyung.
Have you ever thought about why he dyes his hair so often? Find out by reading on! BTS is a group that has broken records and won many awards. They are also known as fashion icons. They have worn different hairstyles and colors, but some, like Suga's braids and RM's purple hair widely famous now. In this new Taehyung hairstyle tutorial you'll learn all about this.
• Kim Taehyung goes by the stage name V, which he chose for himself. Jimin and Kim Taehyung were both born in 1995, making them the same age.
• In 2018, the "Best Poll" chose him as the most handsome man in the world.
What are Some Good Taehyung Haircut Names?
1) The blue hair of Taehyung in 2019
He dyed his hair blue during the "Boy with Love" era. Fans think this was one of the best colors of hair he ever had. He had never dyed his hair blue before, but he rocked it.
The color blue greatly suited him and gave him a perfect punk look. he looks best when he's wearing blue. Do you think so?
2) What is a Shadow Perm? His black hair in 2019
Most Army (BTS fans) likes to see the members with their natural hair color, which is black. He also looks good in other colors. After trying almost every color on his hair, he calmed down in 2019 and went back to black. Do you like him with black hair or with different colors?
3) In 2016 and 2018, his hair was red.
During the "Fire" era, Kim Taehyung dyed his hair in 2016 and then again in 2018. His red hair is also very well-known. During the "Fire" era, he dyed his hair a fiery chili red to match the song. It looked great on him. In 2018, he dyed his hair red in the winter to look like he was ready for Christmas.
4) Dynamite Hairstyle with Golden Brown Hair
When "Dynamite" was popular, Kim Taehyung dyed his hair a deep golden brown. His hairstyle was a mullet, which greatly surprised and excited the Army. It was old-fashioned. Fans were crazy about him. After Rm's hair, his was the most shocking change that almost everyone was shocked by. Were you also surprised?
5) His grey hair
It is said that after the "DNA" era, many people became fans, and it is also thought that Kim Taehyung attracted them.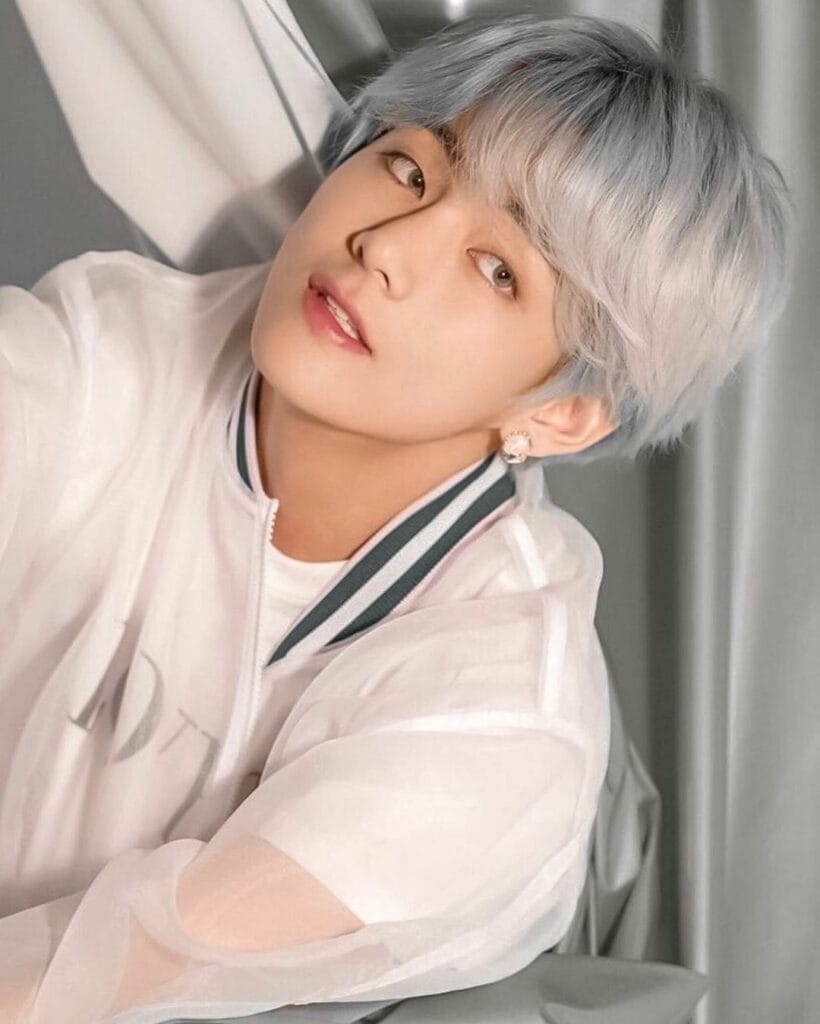 It was because he looked so funny. He dyed his hair grey and gave his bangs a sea-green color. Gray hair looked great on him and was one of the best colors he had. You can learn more about Kim Taehyung by watching the video. BTS Army loves Taehyung because of how different he is.
How do you get your hair like BTS V? Great hairstyles from BTS:
1) V's mullet makeover
During BTS' virtual Daesang winning speech at the 2020 Soribada Best K-Music Awards, the Army couldn't get enough of Taehyung's new hairstyle or the group's greetings for the new ARMY members. ARMY also said he was like a Disney prince, specifically the loved Flynn Rider from Tangled. Fans also loved the way Taehyung looked at them with his forehead out. They couldn't stop drooling over the Christmas Tree singer.
2) V Hairstyle Bright Blue hair
For Boy with Luv, Taehyung dyed his hair an unusual shade of blue called "Cobalt Blue." He looked so great that people started calling him "CG V."
3) A Braid Like Suga on Taehyung
When Suga wore braids, it was one of his best looks. The Army couldn't believe that he could pull off this look except the hero Taehyung. Suga's hairstyle, including his mint hair, was talked about in the news.
4) Purple Hair of Taehyung's in 'Butter.'
In 2015, when the group was known as "Dope," V's hair was purple! But V's hair was purple again on their second English single, Butter, which came out on May 21, 2021. As soon as the concept photos of Butter and the MV came out, his hairstyle became very popular.
5) V's Blonde Locks
Taehyung's hair turned blonde for the first time. Taehyung looks excellent with all of his hairstyles, but, his doe eyes, pretty face, and long blonde hair made this hairstyle look like it was made for him.
6) Taehyung Pink Side Part Hair
V's pink hair made him look like a Disney character, and fans loved how different the "World Wide Handsome" star looked.
7) V's Gray-Purple "Not Today" look
His gray-purple hairstyle makes the "Not Today" vibe even more robust, and fans liked how the purple color looked on him. It's one of the BTS looks that stand out the most.
8) V-"Dynamite" Hope's black undercut style
In the movie Dynamite, Taehyung showed some very shocking images. With a black fade haircut that showed off his forehead and a 1970s-style Gucci suit, V-fans Hope went crazy over his unexpected look.
9) V's fluffy hair in 'Butter' MV
Fans are thrilled with V new hairstyle 2022 which was full and fluffy.
RM says that it looks like the work of the American painter Bob Ross. On the other hand, Yoon-gi said that the hairstyle reminded him of Dustin from the TV show Stranger Things. Many people on Twitter also said that this hairstyle looked like Priyanka Chopra's at the Met Gala. His pictures of wet hair are great! The singer of "Stay Alive" has worn this look a few times, and each time he does, he wins the crowd's hearts.
Khamis Maiouf is a professional barber who graduated from Hinckley College in England with a degree in hairdressing. He has also won several barbering contests and successfully operated a barbershop for the last two decades. As a skilled hair stylist for 20 years, his goal is to teach others how to achieve a beautiful appearance through their hairstyles.