Discover the Top 55 Hairstyles for Teenage Guys
Are you a teenage guy looking to switch up your hairstyle?
With so many options, deciding on the perfect look can be challenging. That's why I have compiled a list of 53 popular hairstyles for teenage guys that are sure to turn heads and boost your confidence.
From classic undercuts to trendy man buns, there's something for everyone on this list. So take a look and find the perfect hairstyle for you!
1. The Classic Teenage Undercut
Every man loves an undercut, so you will see almost every guy complementing his hairstyle with an undercut.
If you want that classic look that will not compromise your cool look while showing off your facial features well, an undercut is a suitable haircut .
Just have your hair's sides and back buzzed and the top longer. Then, brush the hair at the top covering the buzzed sides and the back.
2. The Slicked-Back Teenage Undercut
To add style to your undercut, you need some hair slicked back. Brush some of your hair back and some on the sides to cover some buzzed sides. This is a unique haircut that will leave heads turning.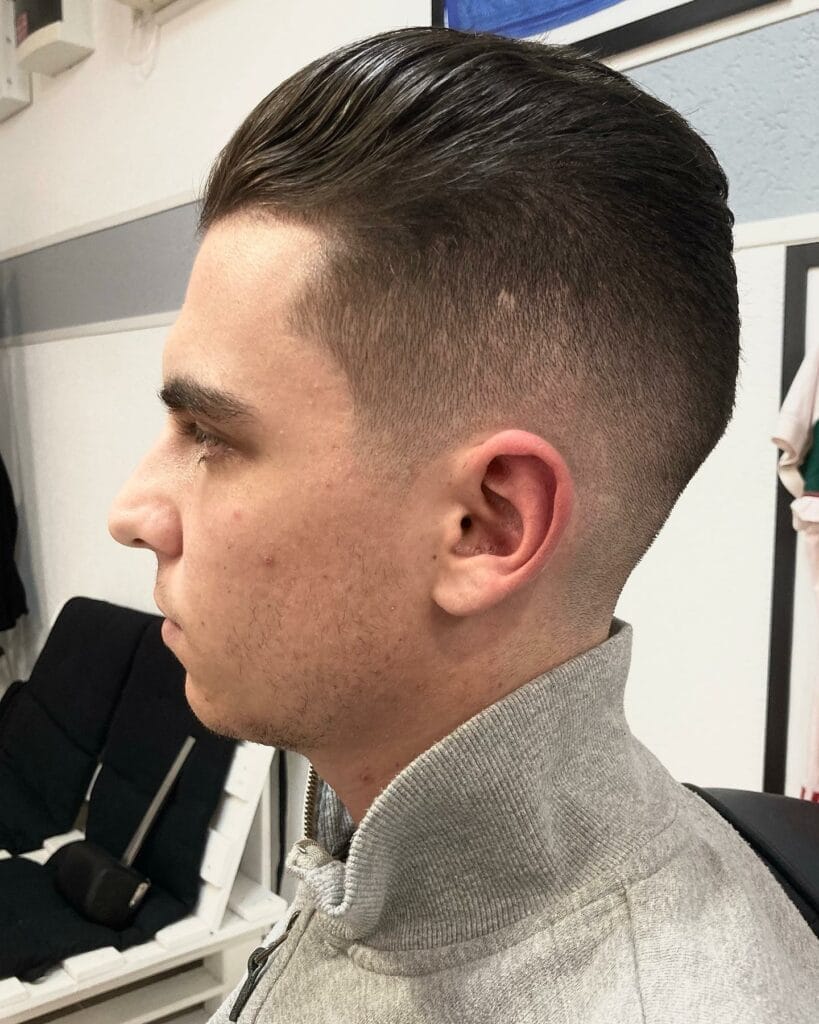 3. The Side Part
You can create a side part whether you have long or short hair.
For long hair, all you need is to separate the hair on the side such that you come to some hair on one side and others in the opposite direction. shorter hair is cool hairstyles with side part , your barber will cut a line at the side to create a side part.
This is a common hairstyle you will see with many teenage guys. It's easy to style and maintain.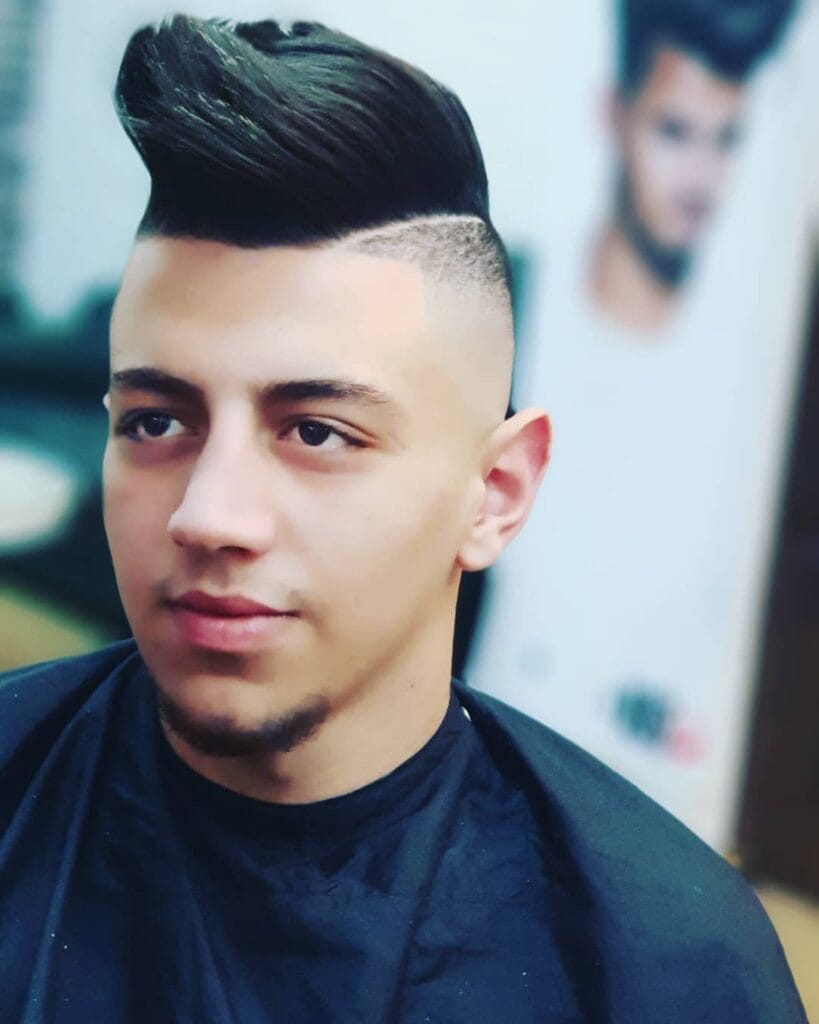 4. The Comb Over
With the comb-over style, the hair at the top is long, while the sides and the back are short.
You comb the hair on the top round but take the direction of the hair.
This will be good for wavy hair, or you can apply a product. This will give you an attractive look and be easy to achieve and maintain.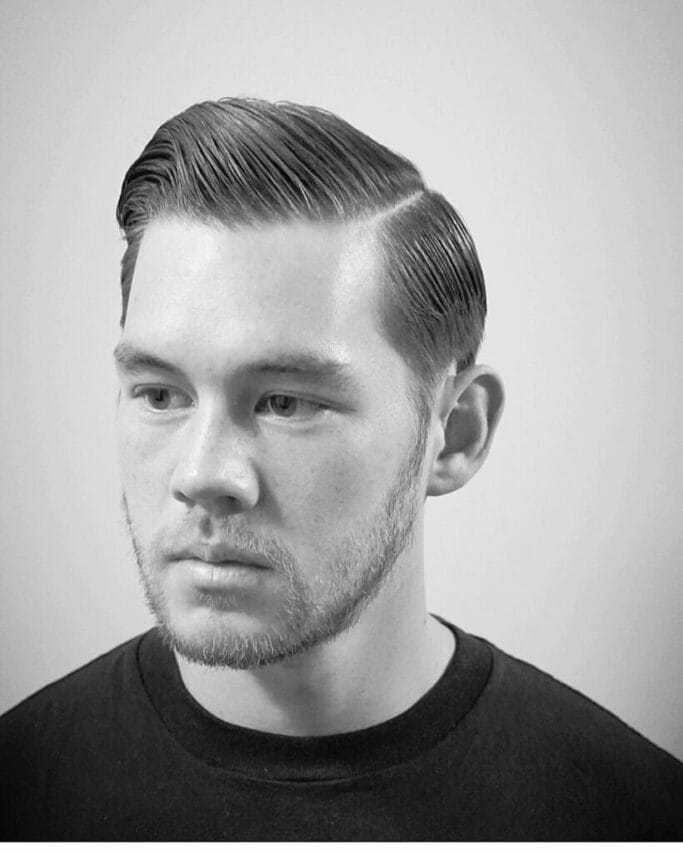 5. The Quiff Teenage
As a teenage boy, a quiff will make you unique. The good thing with a quiff is that you can style it for an official look with short hair, and it's easy to style.
It usually entails short hair at the sides and back and long hair at the top. Brush the hair at the top up and back to form a quiff.
7. The Spiky Hair Teenage
As a teenager, you can also style your spiky hair.
Luckily some people have natural spiked hair, but if yours straight, wavy, or curly hair, you can use a product to create soft spikes for a unique look.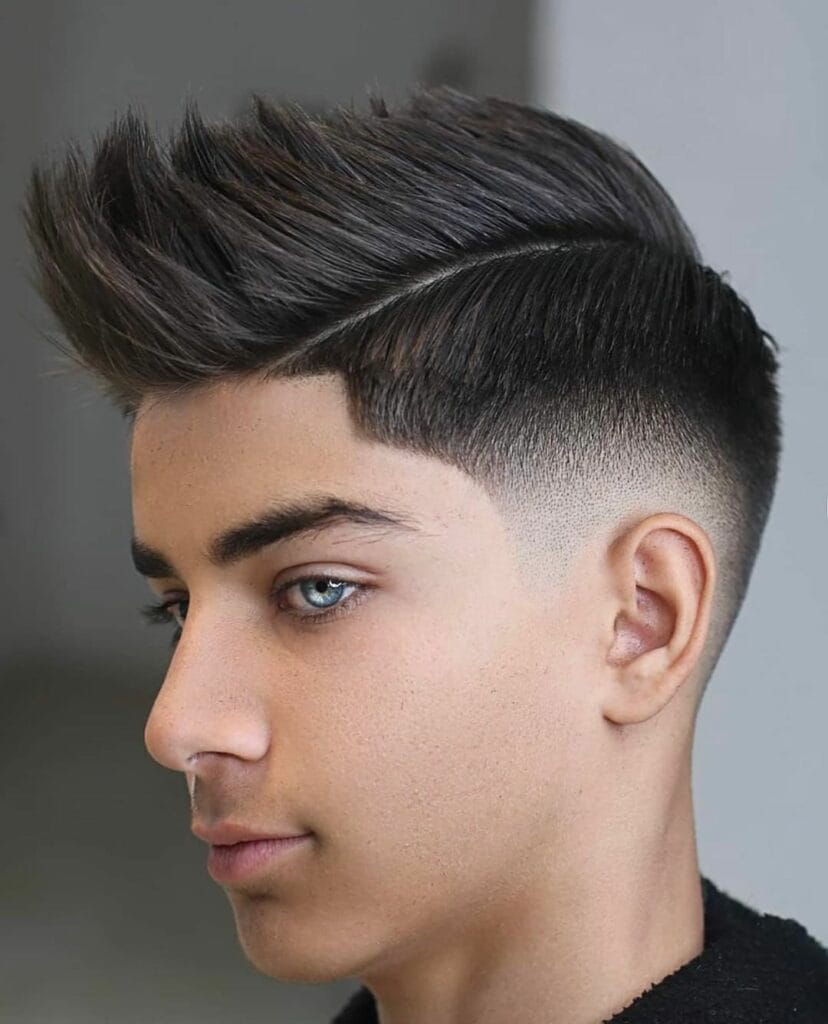 8. The Messy Hairstyle
The messy hairstyle will be good for you if your hair has volume. You can create any messy look on your hair.
The idea is not to make the hair tidy or neat. This will give any teenage boy a confident look.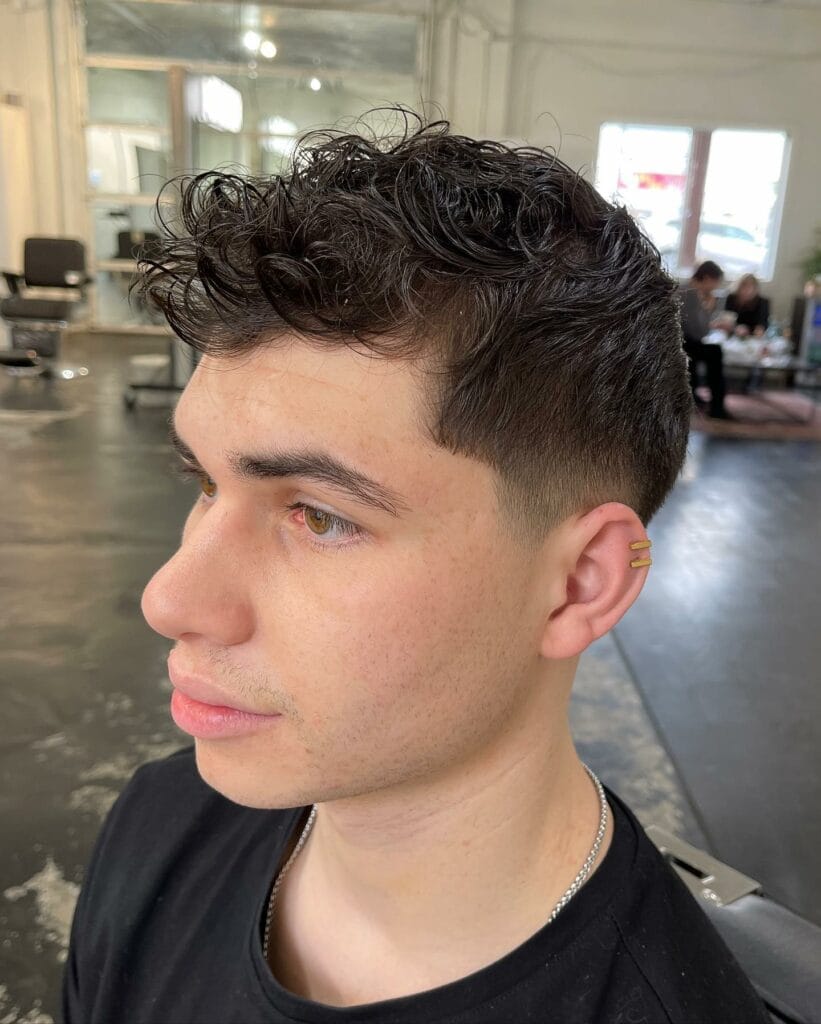 9. The Textured Crop
This hairstyle is good for long hair. You should have long hair enough to create a crop. In this case, you will need a hair product to improve your natural texture .
The sides and the back hair is cut short. It's one of the simple hairstyles for teenagers that brings a relaxed look.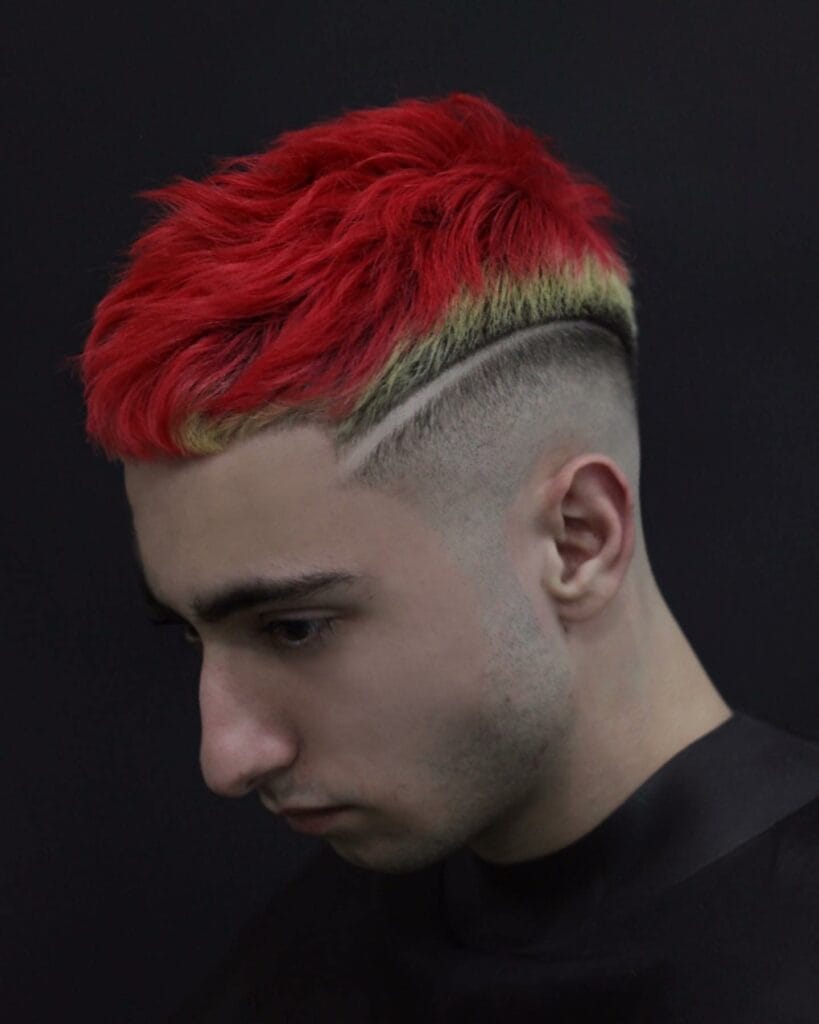 10. The Crew Cut Teenage
This is a unique hairstyle you can style within a short period. All you need is to have hair buzzed uniformly across the whole head.
Then, you can brush the hair at the top forward.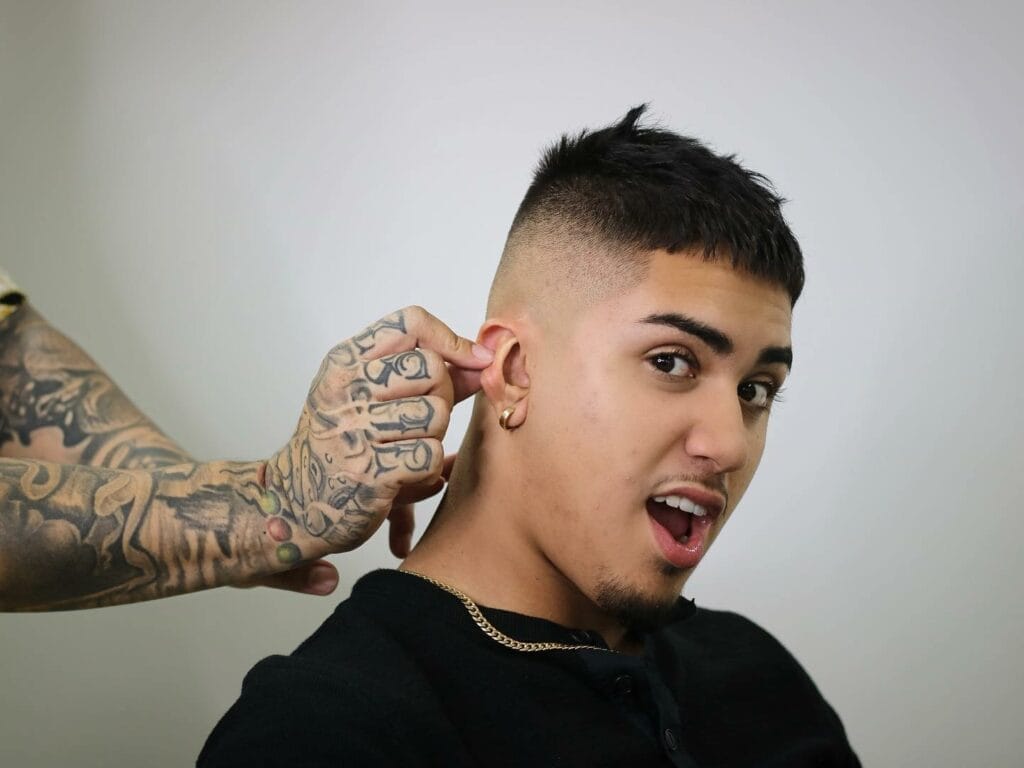 11. The Side Swept Fringe
Side swept fringe is a style that can be challenging to maintain if your hair is long, but you can make it.
The hair at the top is long, while the rest is buzzed. Brush the long hair towards one side. This unique haircut will make you walk with your head high.
12. The Long Comb Over
This hairstyle is done the same way as the comb over, except that the hair at the top should be longer than the normal comb.
Here, you can use a styling product if your hair is not naturally wavy or curly to help it stay put.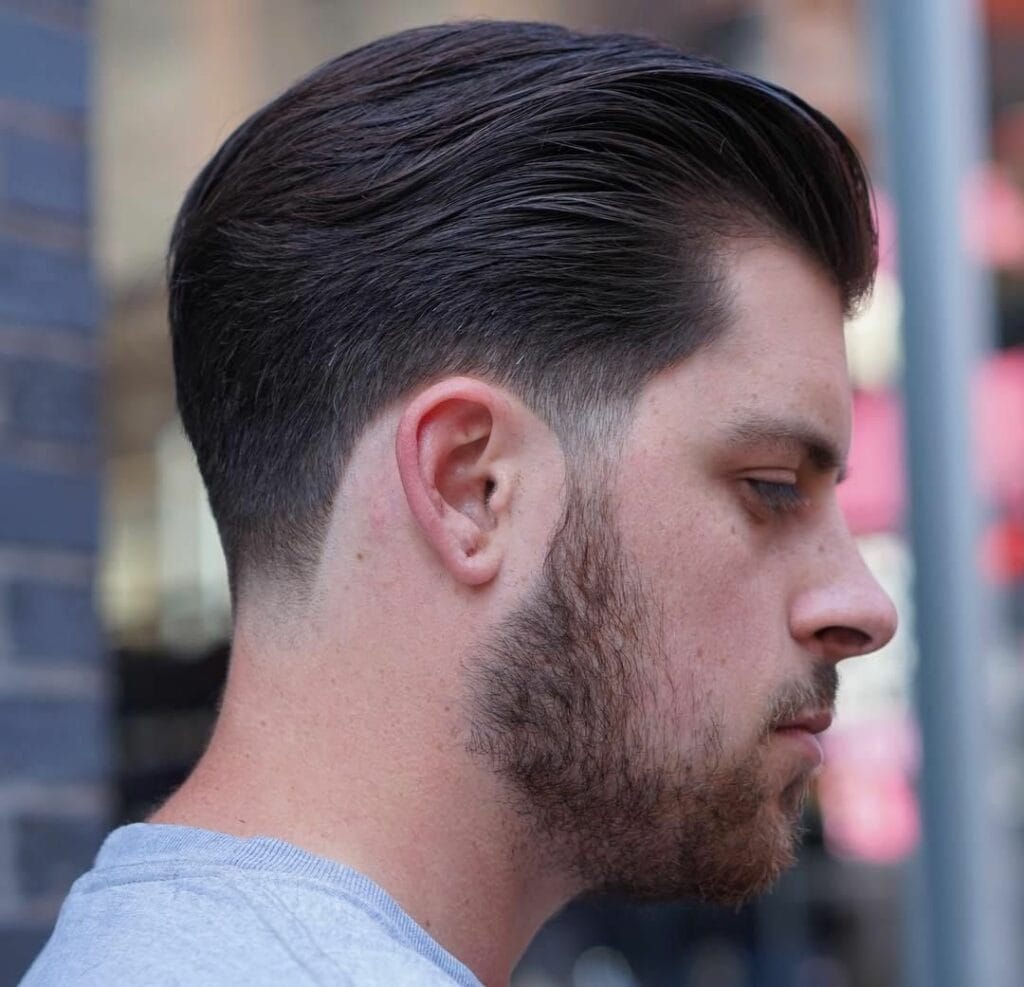 13. The Long Slick Back
Have hair at the top with good length and short at the sides and back. Comb your hair back. This is a good hairstyle for a teenage boy who doesn't want to look dramatic but still has a stylish haircut.
14. The Side Swept Quiff
A side-swept quiff is achieved with much longer hair at the top. Comb the long hair to form a quiff.
The hair at the front should be brushed up, while the rest should be brushed back.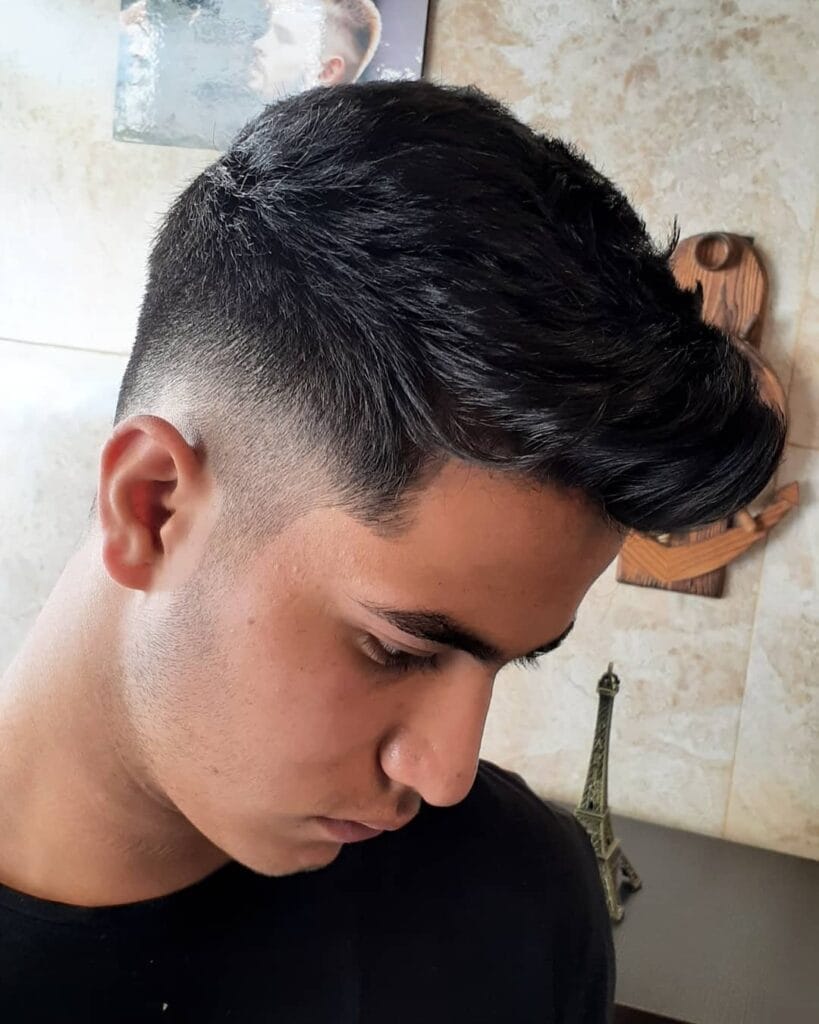 15. The Messy Quiff
The hair should look unkempt with a messy quiff, and it's good for you if it is thick. It's achieved by applying blowout techniques to your hair and brushing it forward. The hair should look messy. This will give you a unique look from other quiffs.
16. The Textured Crop With A Fringe
All you need is to give your crop some texture. Use a texturing product and push some of the hair forward to lie on your forehead while the rest is tied into a crop.
17. The Buzz Cut Teenage
With a buzz cut, the hair at the sides and back are trimmed, while the hair at the top is longer than the sides and the back hair. This is a fantastic haircut for teenagers.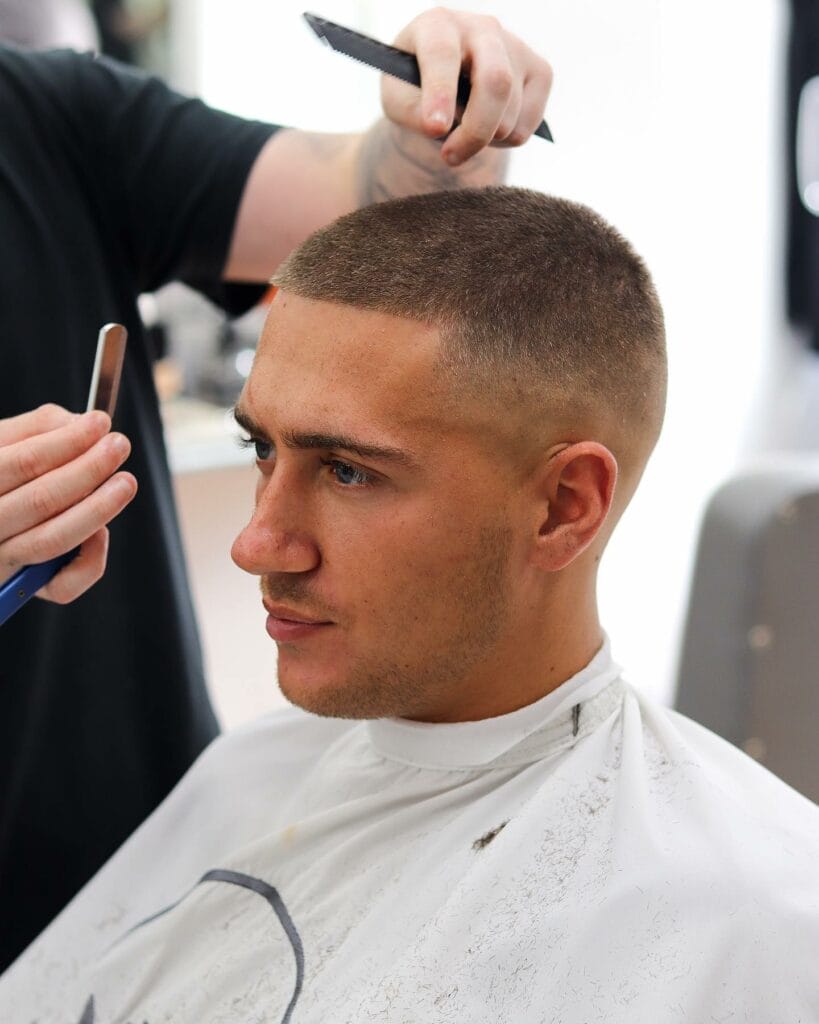 18. The French Crop
A French crop cut is where the hair is cropped at the back and the sides to achieve a subtle sharp look. Leave the hair at the top long and create a blunt fringe. This is a perfect hairstyle for bold teenagers.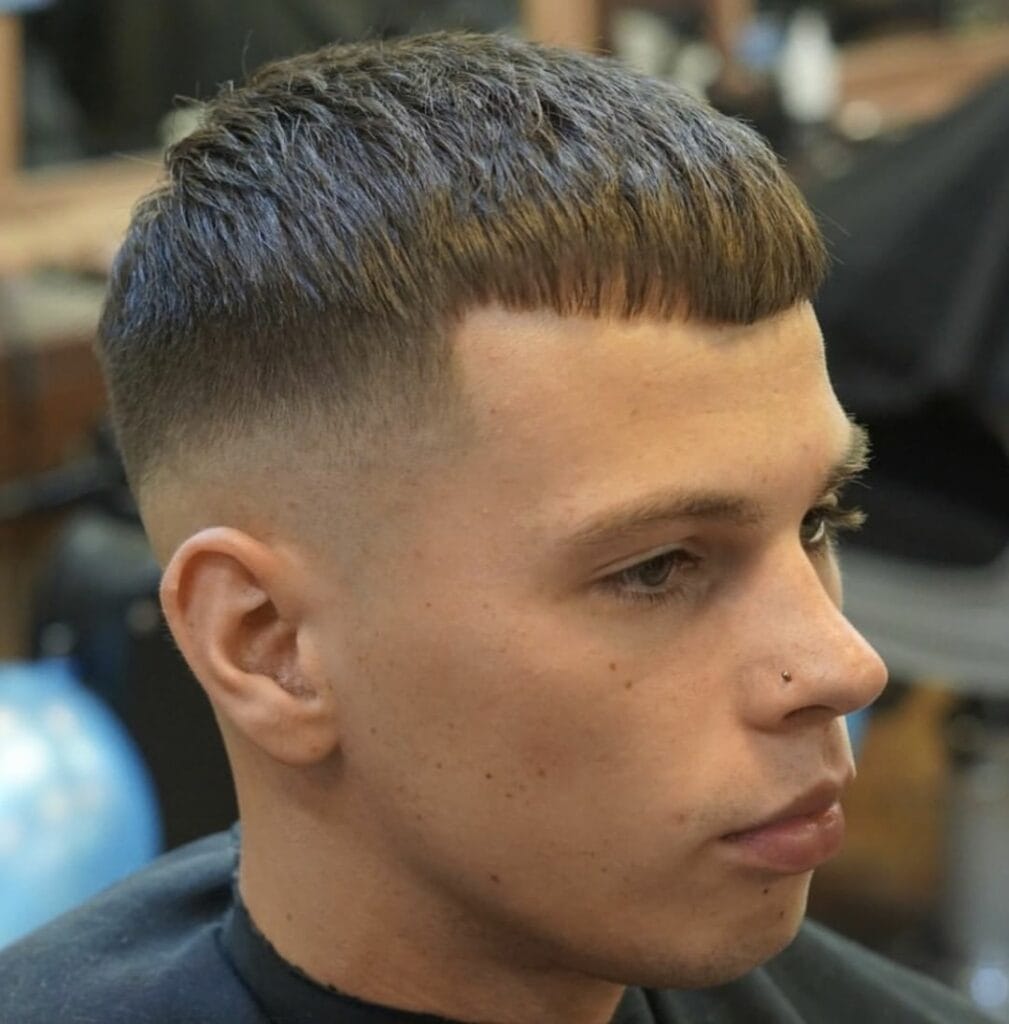 19. The Textured French Crop
If you already have a French crop cut but want your hair to look neater, you should apply hair products for textured hair.
20. The Buzz Cut With A Design
As a teenager looking for a unique look, all you need is to add some modern styles to your Buzz cut; you can add a side part, a hard part, or any other design.
21. The Side-Swept Crew Cut
Do you already have a crew cut? Good. Divide the hair into two and brush one part towards one side. And there you have your unique cool look.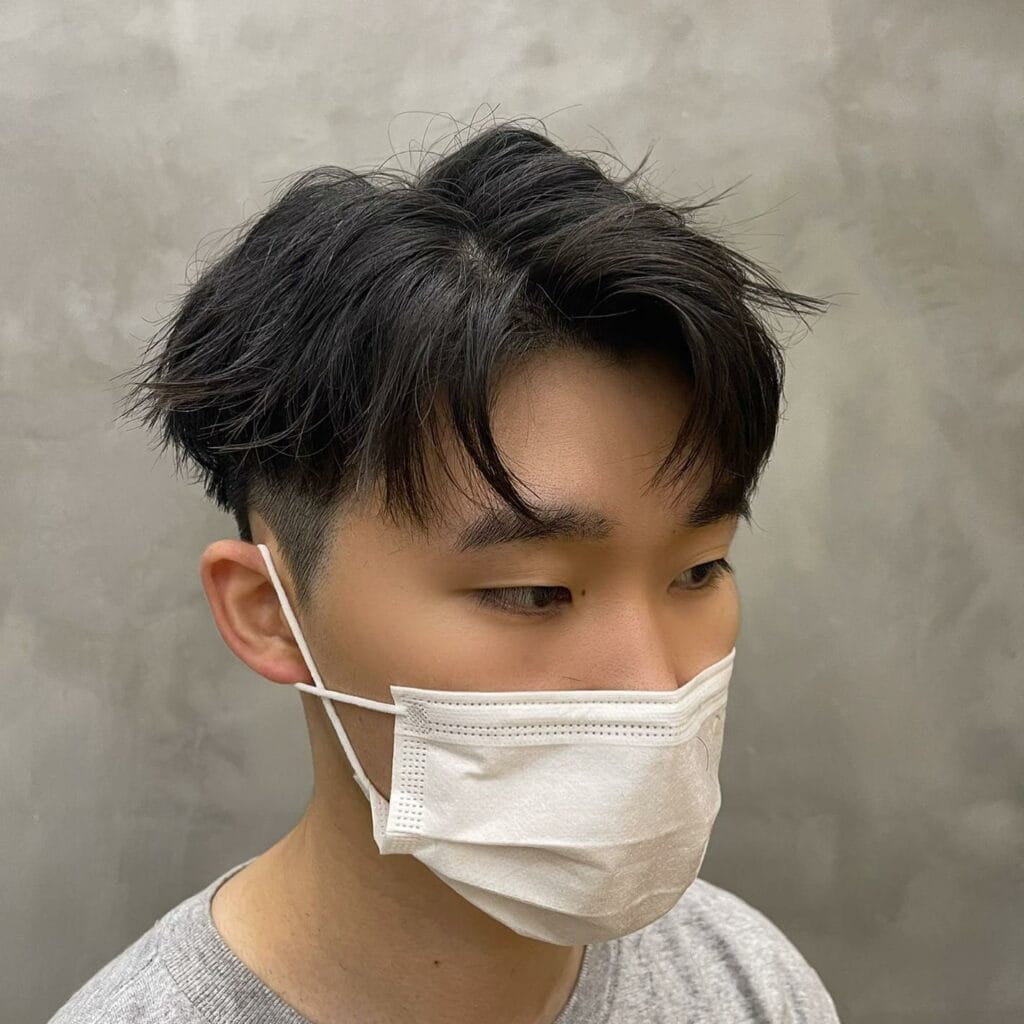 22. The Tapered Haircut
This is another haircut where the hair on the sides is trimmed short while the top hair is longer. Again, you can combine the style with modern designs to create a unique look.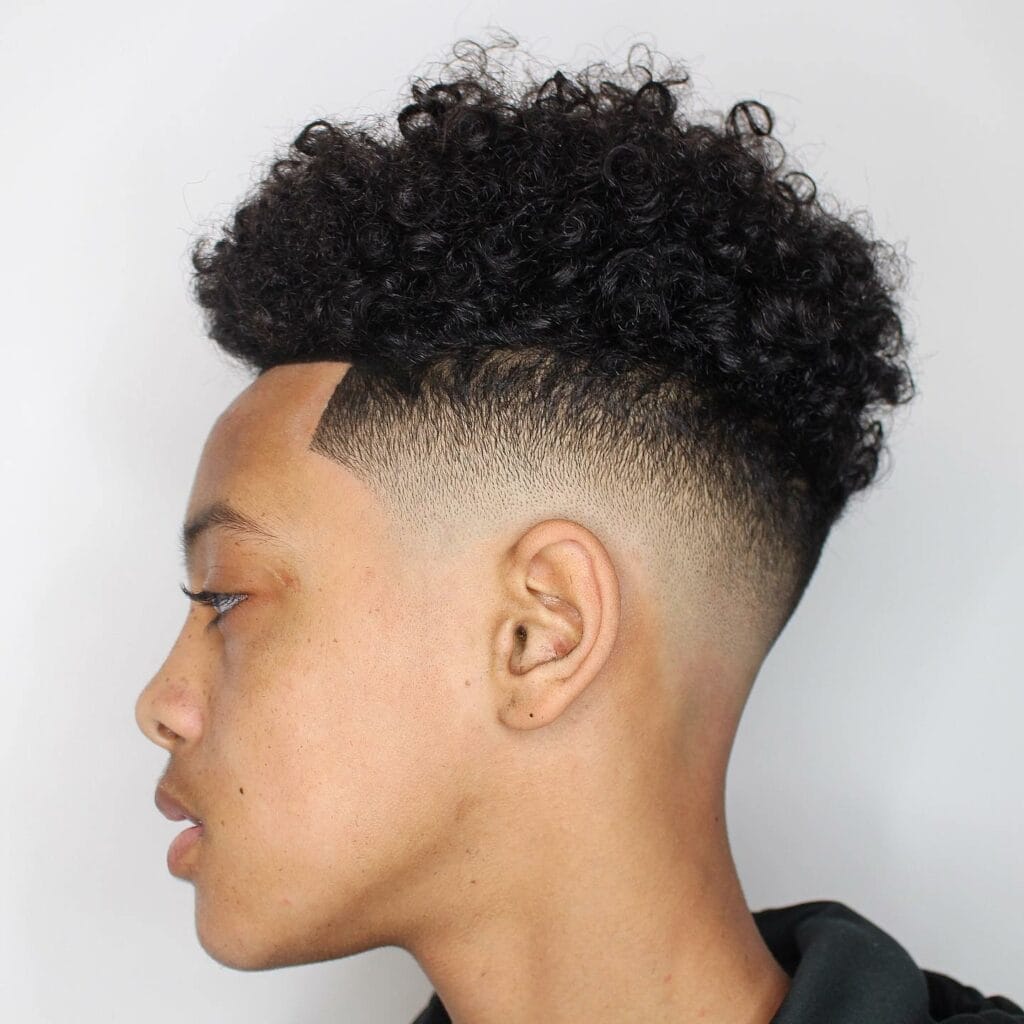 23. The Undercut
The undercut is achieved by shaving the hair on the sides and back short and the hair at the top long. You complete the look by brushing the long hair over the short hair.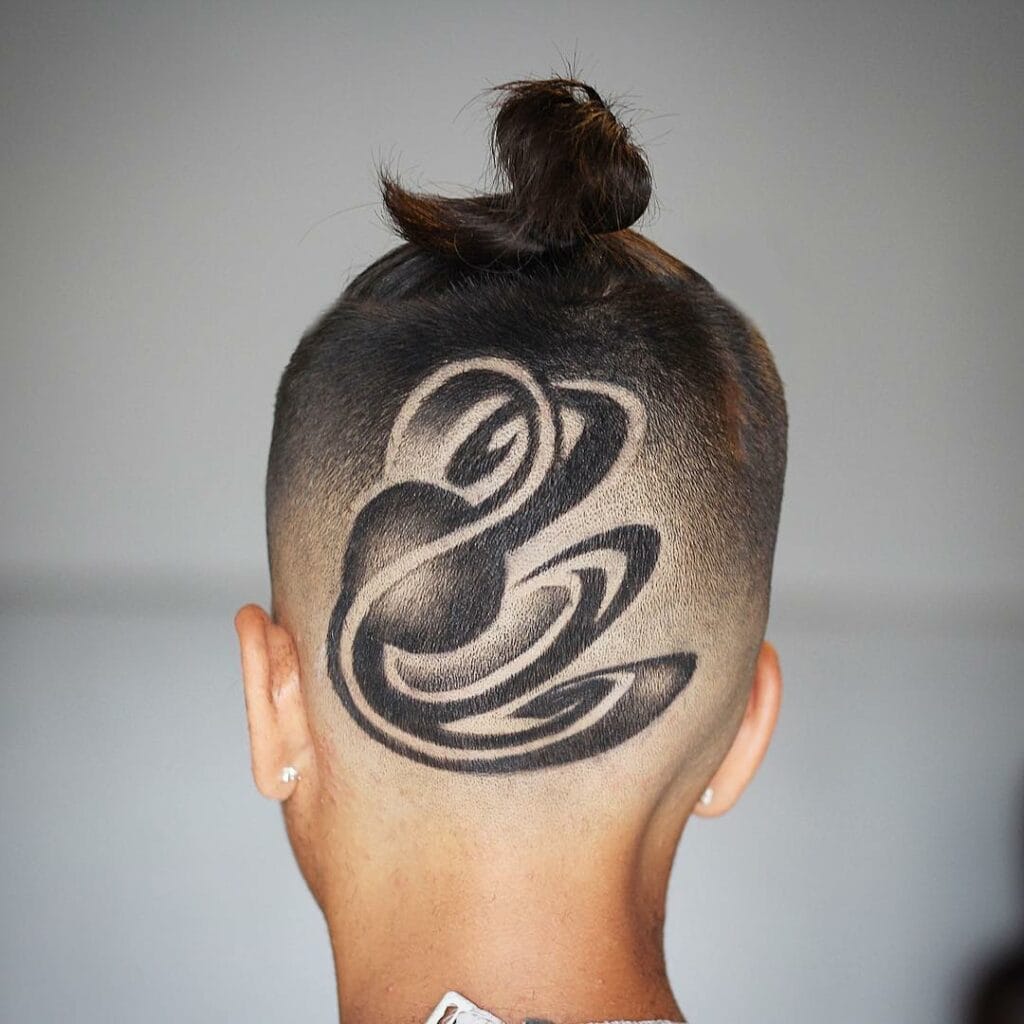 24. The Teenage Afro
You can comb your medium hair into an afro hair. Simply take your comb and comb your it; you are good to go. This will give you a unique look from other styles like a burn.
25. The Teenage Braids
You can also braid your hair for an even a bolder look. You may have the sides tapered or braid the whole head. Braiding your hair gives you a long break from styling and combing, saving you much time.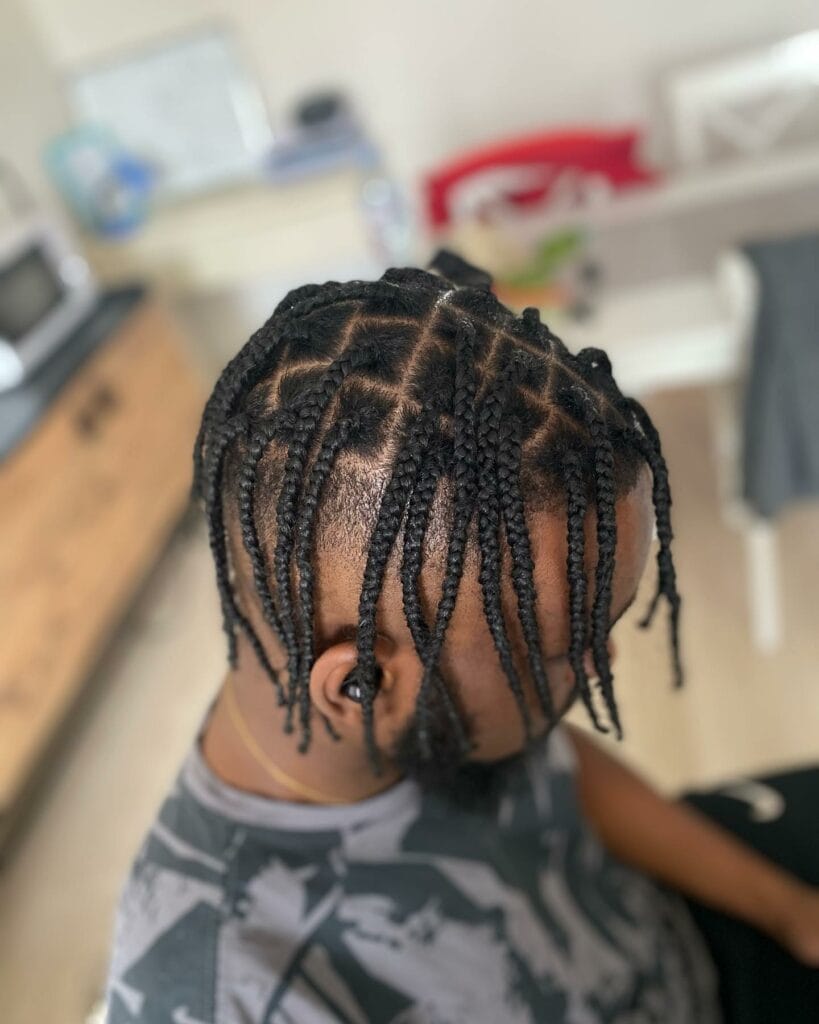 26. The Teenage Cornrows
With cornrows, you braid the hair where the lines look neatly braided. You can adopt this hairstyle if you don't want to cut your hair for a fantastic, confident look.
In addition, this style doesn't need frequent styling. Once you do your cornrows, you can forget styling for some weeks.
27. The Teenage Dreadlocks
Having dreadlocks as a teenage also makes you respected amongst your teens. You can decide to keep your dreadlocks short or long and style them the best way you know how.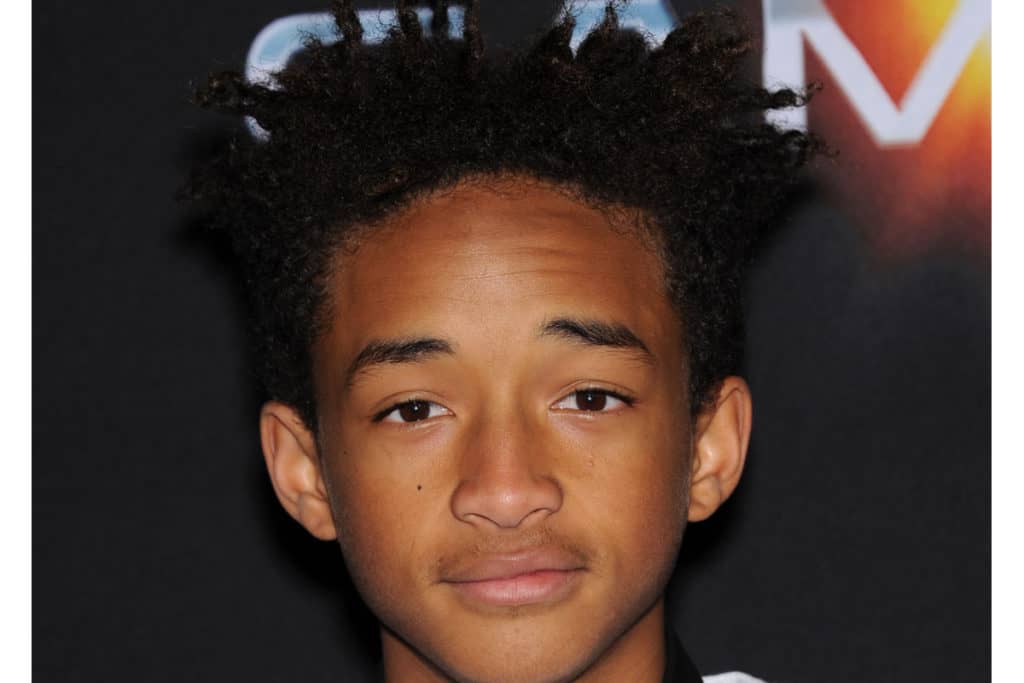 28. Curly Hair
Having curly hair looks stylish. If your hair is not curly, but you would love this amazing look, you can achieve that by applying hair products meant for that.
curly hair is common in afro hairstyles which is naturally has this stunning curls.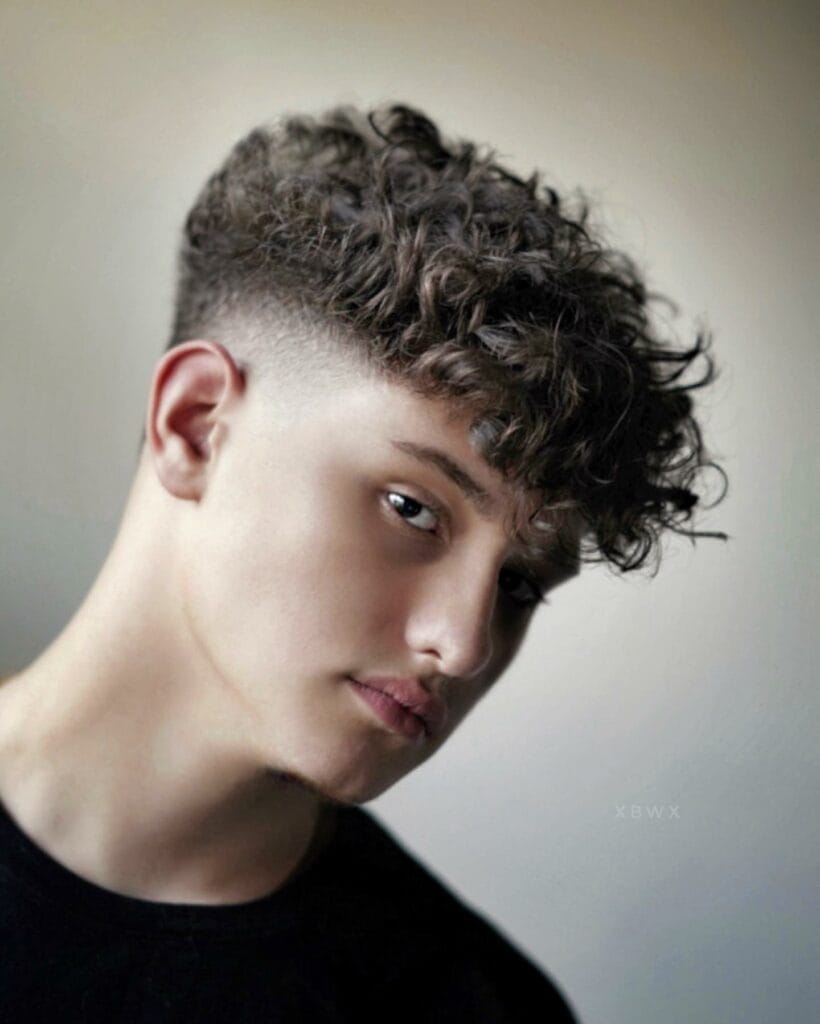 29. Pompadour
A pompadour is normally good if you have voluptuous hair.
But if your hair doesn't have the thickness required, you can achieve that by applying some hair product. Trim or shave the air on the sides and leave long hair at the top.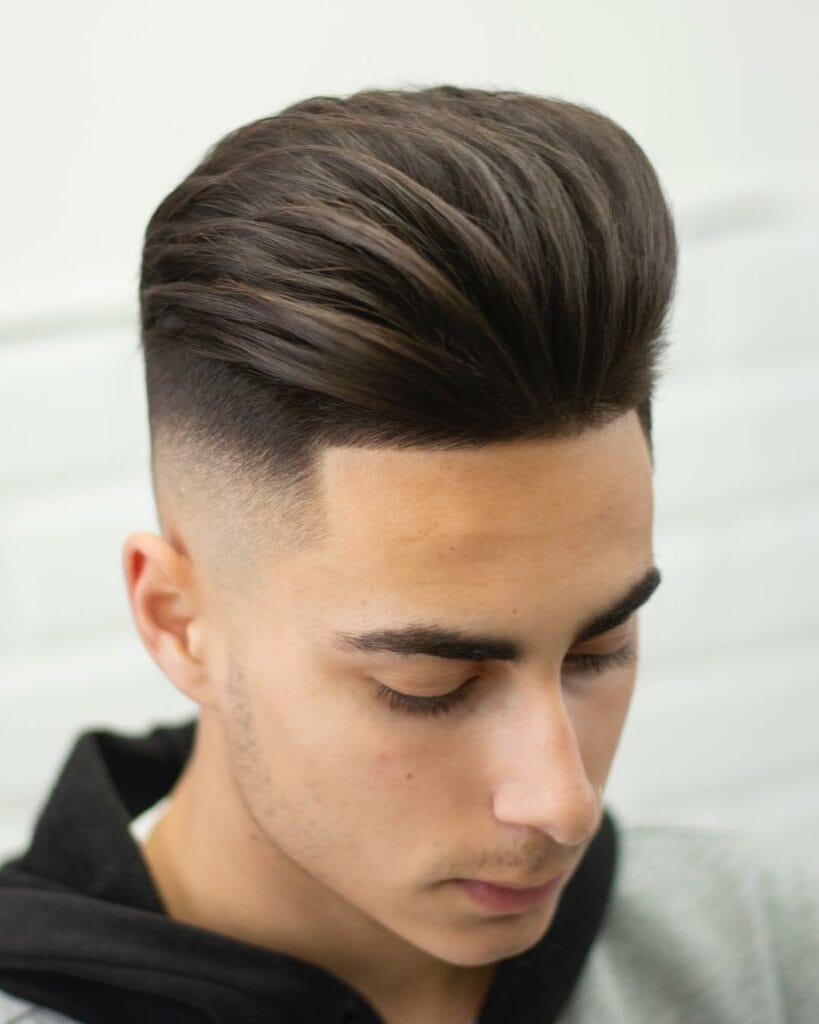 30. Textured Hair
With textured hair, you can achieve the style you want. Buy some texturing products and apply them to your hair. It helps your hair to remain in one position for a neat look.
31. Fringe Haircut
If you want a messy fringe cut, just shave or cut the sides and the back short and leave long hair at the top. to achieve the messy fringe use a hair dryer then some hair wax.
Brush the long hair forward so that they fall on your forehead. The length of the hair is up to you.
32. Wavy Hair
Wavy hair looks sexy on men. Being a teenager, you will make your age mates turn their heads for this fantastic look.
If your hair is not naturally wavy, use hair products to wave them and style them the way you want. This can be done to long or short hair.
33. Straight Hair
For those with straight hair, you can wear different modern styles with them, from a ponytail to a con to brush over, a slick back, and many more.
guys with straight hair are pleased because they can pick any style and look incredible on them. Do you have Straight hair? have a look at the picture below for inspiration!
34. Taper Fade
The taper fade is where the tapered sides fade as you reach the natural hairline. This is one of the modern haircuts for many men, so being a teenager, this haircut will look good on you and will be a good transformation style.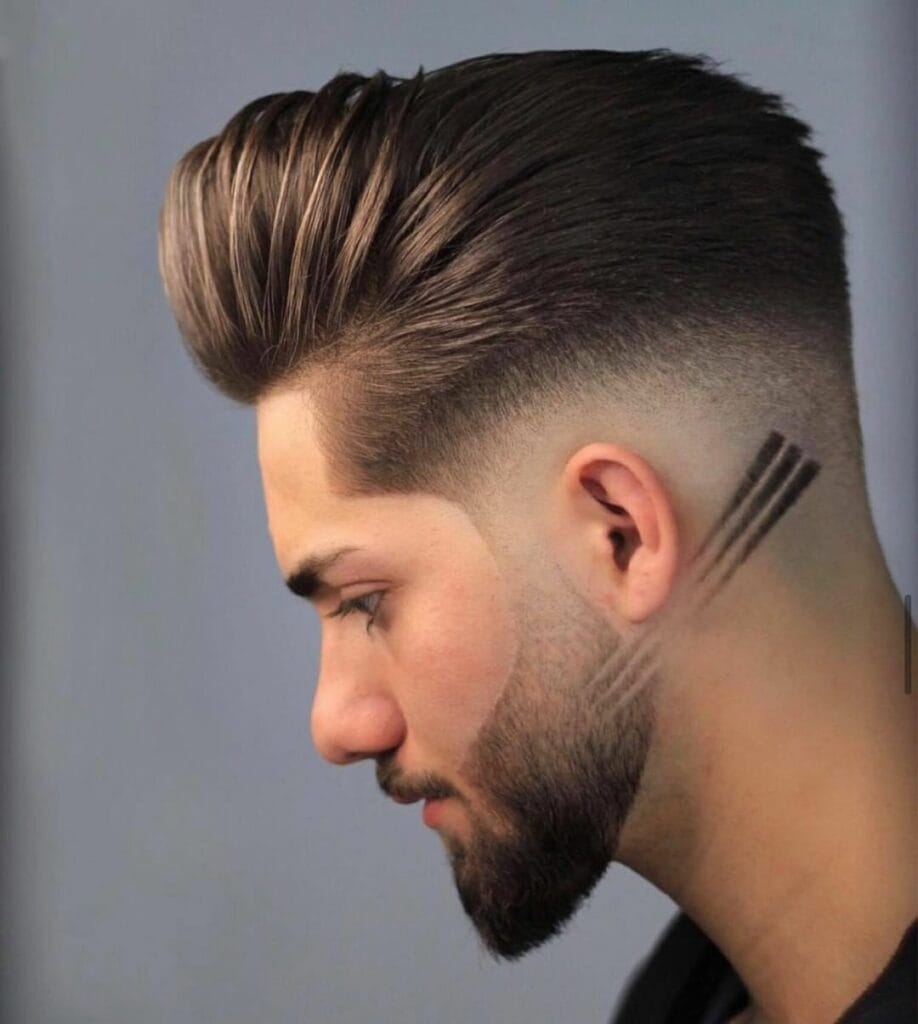 35. Skin Fade
The short hair on the sides and the back are cut close to the skin. It's a statement haircut that will impress you.
36. Low Fade
To achieve this style, leave the hair at the top long. The hair on the sides and the back should be cut short with a smooth fade as you go down to the hairline.
37. Temp Fade
With this hairstyle, the hair at the top is much shorter than in other hairstyles.
However, it's almost the same length with the tapered sides. This is unique hair for teenagers who want to look stylish and cool.
43. Sharp Lines
This is where the hairstyle is complimented with a sharp line on the side that can be clearly seen.
44. Classic Hairstyles
There are many classic hairstyles for teenagers. Some of them are; slicked back, a pompadour, Mohawk, crop top, quiff, etc. these hairstyles will make you look different from the rest.
45. Butch Fade
The top, sides, and back hair are almost the same length. The top hair is slightly longer than the sides and the back.
If you want to look masculine and have some sense of power regardless of your young age, this is the hairstyle for you.
46. Scissors Cut
This haircut is done to achieve a more natural look and to make the hair grow more naturally.
Here, you cut your hair evenly with no tapers, fades, or any other shaving. This is the best haircut for you if you don't like a dramatic look and want to just look cool.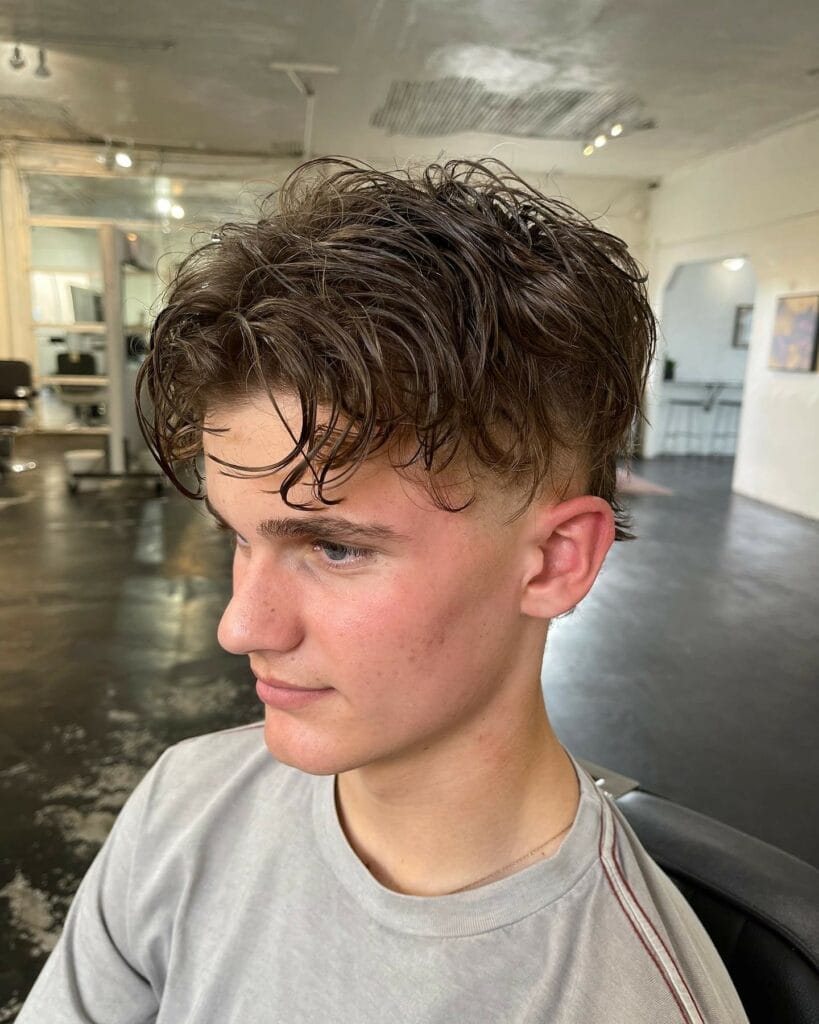 47. Elephant Trunk
If you are a bold person who is OK with looking different in a different way, this hairstyle is for you.
With the help of clippers and scissors, you should cut the hair on the sides and leave good length on the top and heavy fringe to form an elephant-like structure. This hairstyle also requires much time to style and maintenance.
48. Brush Up
This hairstyle is where you comb the long top hair up. You can have tapered or buzzed sides or full hair. It's a hairstyle that will make you admirable.
49. Blowout Style
A blowout hairstyle involves washing your hair and blowing dry it using a blow drier.
After that, you apply hair products to make the hair neater. After applying a blowout technique to your hair, you can style it differently.
50. Mullet Teenage
A mullet hairstyle features length at the back. The hair at the back is longer than any other part of the head.
Just make the hair short at the top and the sides and leave longer hair at the back. This unique hairstyle will impress everyone who will set their eyes on you.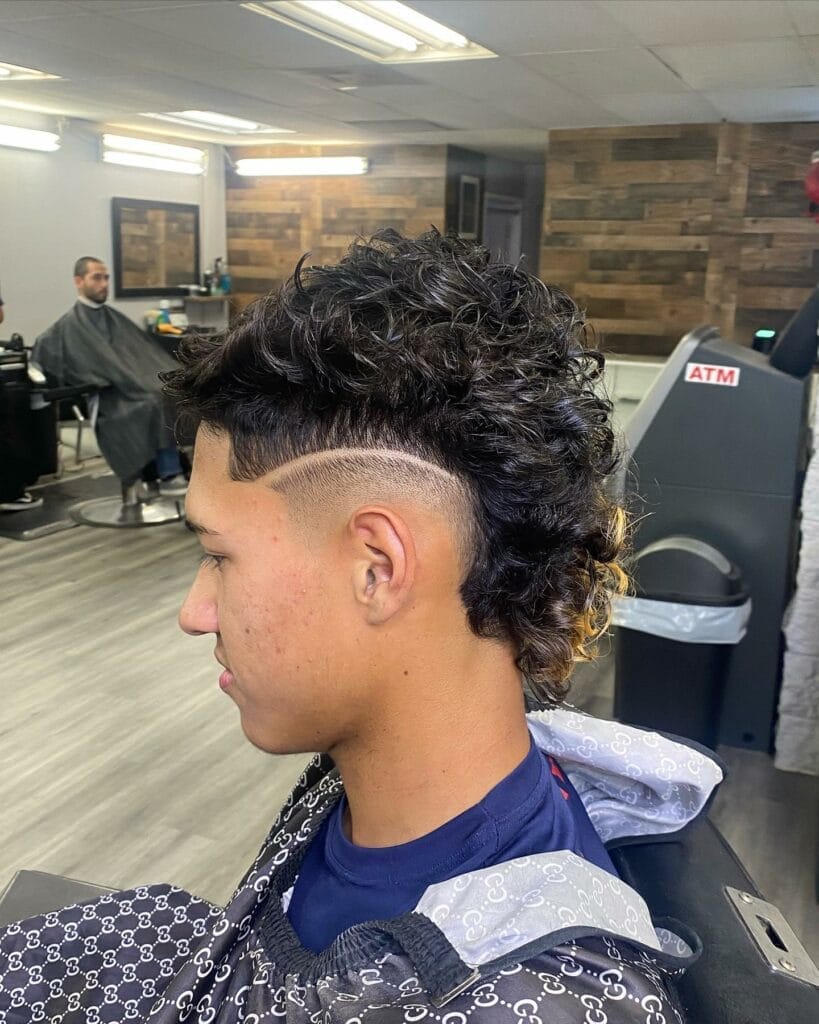 51. Caesar Cut
It's a classic haircut featuring bangs. The hair is short on the sides, back, and top, with a 0.5-2 inches length.
When you go for this haircut, you should go for an experienced barber who will cut your hair according to your head shape and face. Give your barber the freedom to choose what is suitable for you.
52. Knot Man Bun
Take an elastic hairband or tie if your hair is long and you want a knot man bun.
Collect all your hair at the point you want to tie it. This is a confident hairstyle for a teenage who wants a cool look.
53. Medium Haircuts for Teenage Guy
If you love medium length hair, there are unlimited hairstyles for you.
You can try an undercut, side short bangs, tousled hair, a sharp side, a pompadour, classic taper with straight fringe, etc. these hairstyles will make you look like the gentleman you are despite your young age.
In addition, these hairstyles are simple to maintain, so even a school-going teenager like you will find them easy to handle.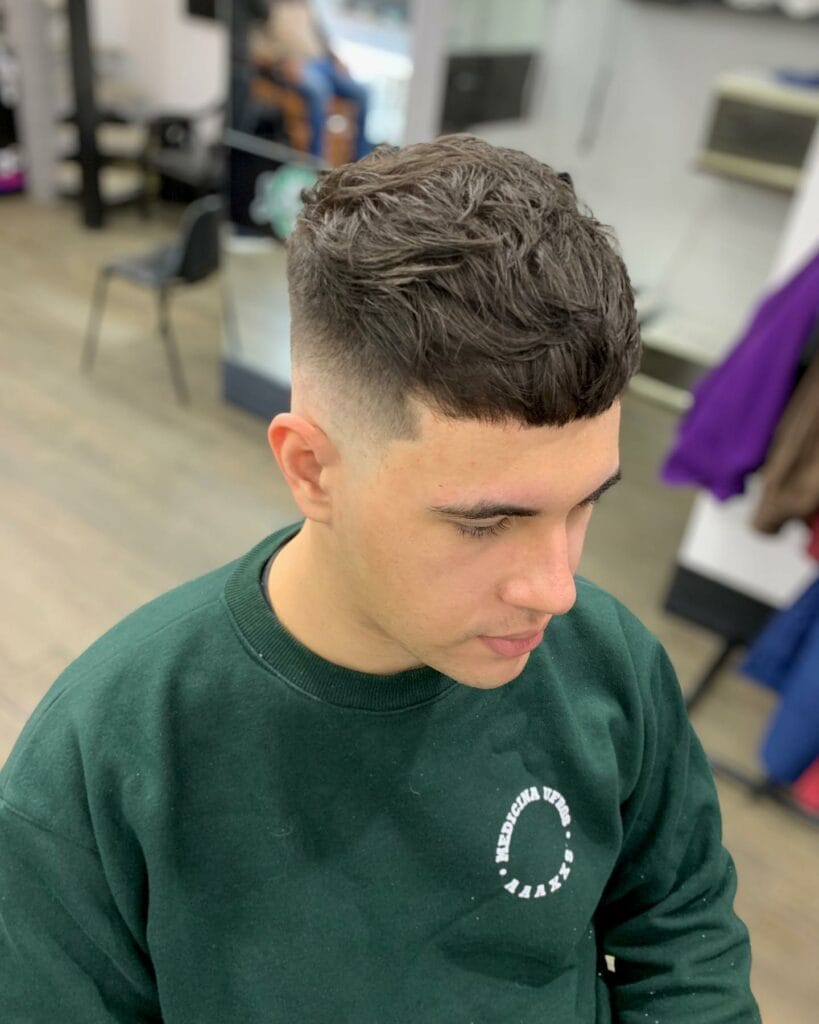 Military Style with Hair Design
A military-style haircut with a hair design can be a stylish and practical choice for a teenage guy.
A military haircut is a very short haircut that is often worn by military personnel and is characterized by a closely trimmed back and sides, with the hair on top left slightly longer.
A hair design can be added to the haircut by shaving a pattern or design into the hair.
t's also a good idea for the teenage guy to communicate with their barber about the specific look that they want to achieve and to make sure that the design is symmetrical and looks good on both sides of the head.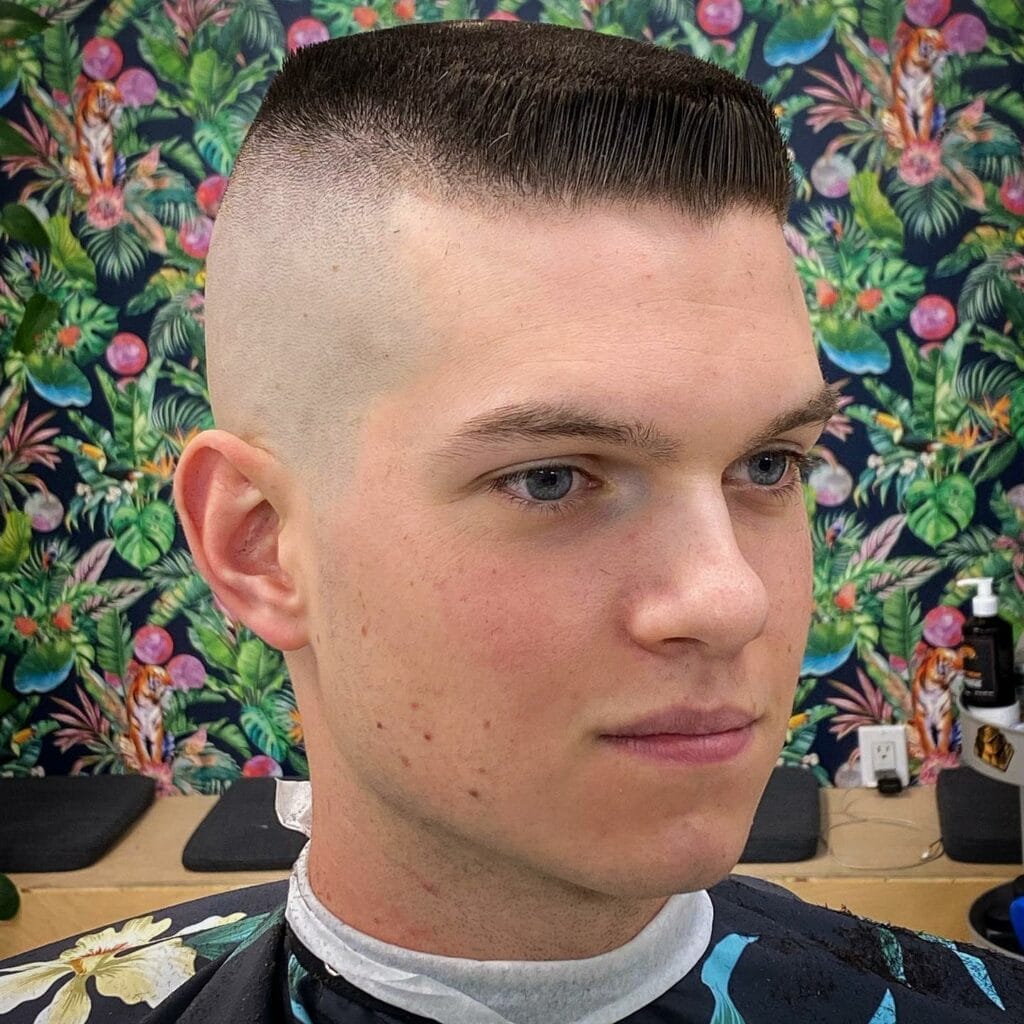 Blonde Layered Hairstyle with Tapered Neckline
A blonde layered hairstyle with a tapered neckline can be a stylish and modern choice for a teenage guy.
A layered hairstyle involves cutting the hair into layers of different lengths, which can add texture, movement, and volume to the hair.
A tapered neckline refers to a gradual transition from shorter hair at the back and sides of the head to longer hair on top.
This can create a polished, clean-cut look. To style a blonde layered hairstyle with a tapered neckline, the teenage guy can use a product such as pomade, wax, or gel to add texture and hold to the hair.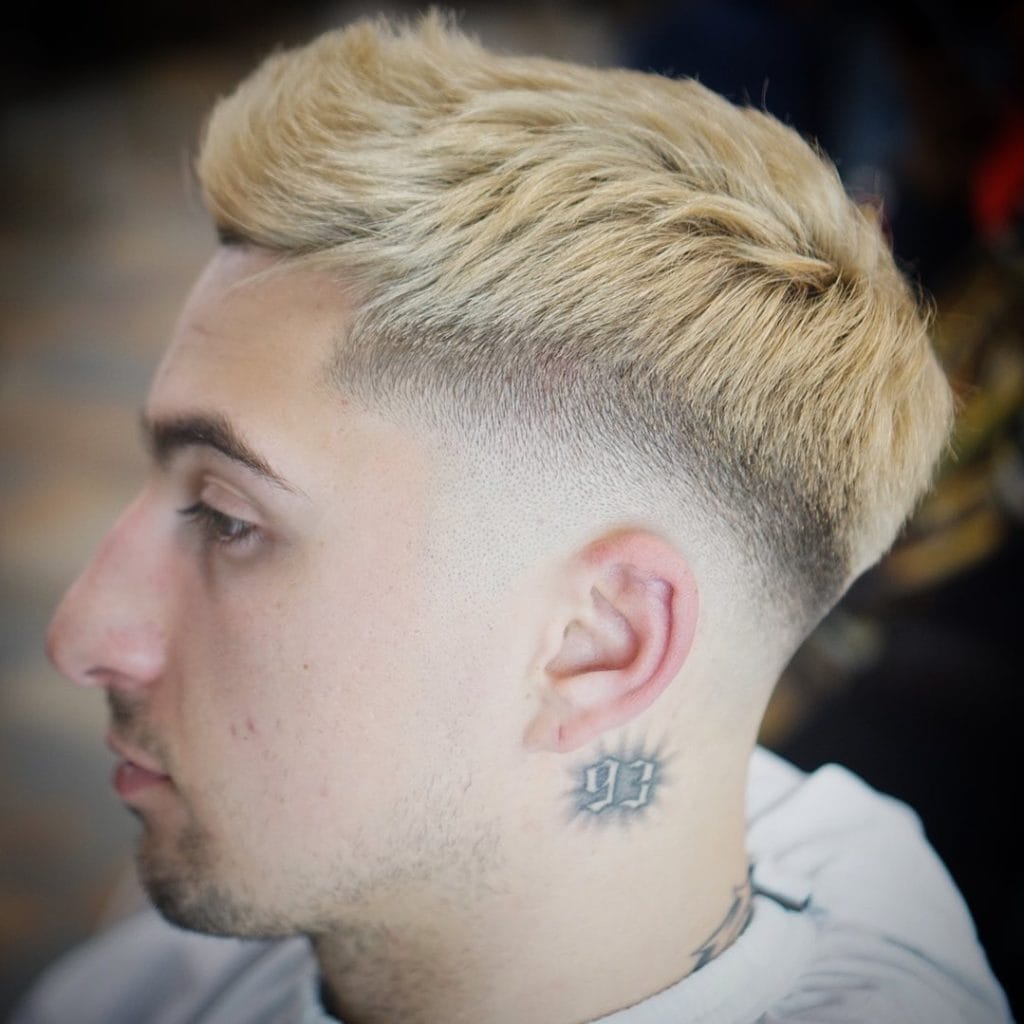 Layered Mop Top
A layered mop top hairstyle can be a stylish and popular haircuts for boys.
A mop top hairstyle is characterized by a thick, full head of hair with layers that are cut in a way that creates a natural, messy texture.
To style a this cool haircut, the teenage guy can use a product such as mousse, wax, or pomade to add texture and hold to the hair especally of you have medium hair length.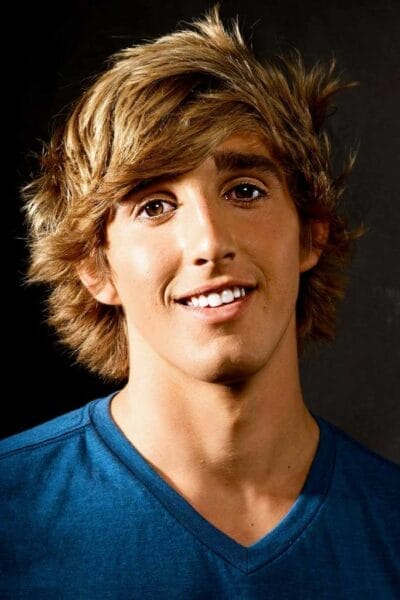 Blonde Faux Hawk
A blonde faux hawk hairstyle can be a stylish and edgy choice for a young guy.
A faux hawk, also known as a "fohawk," is a hairstyle that involves shaving the sides of the head and leaving a strip of longer hair in the center of the head. The longer hair is then styled into a "Mohawk" shape, creating a bold and dramatic look.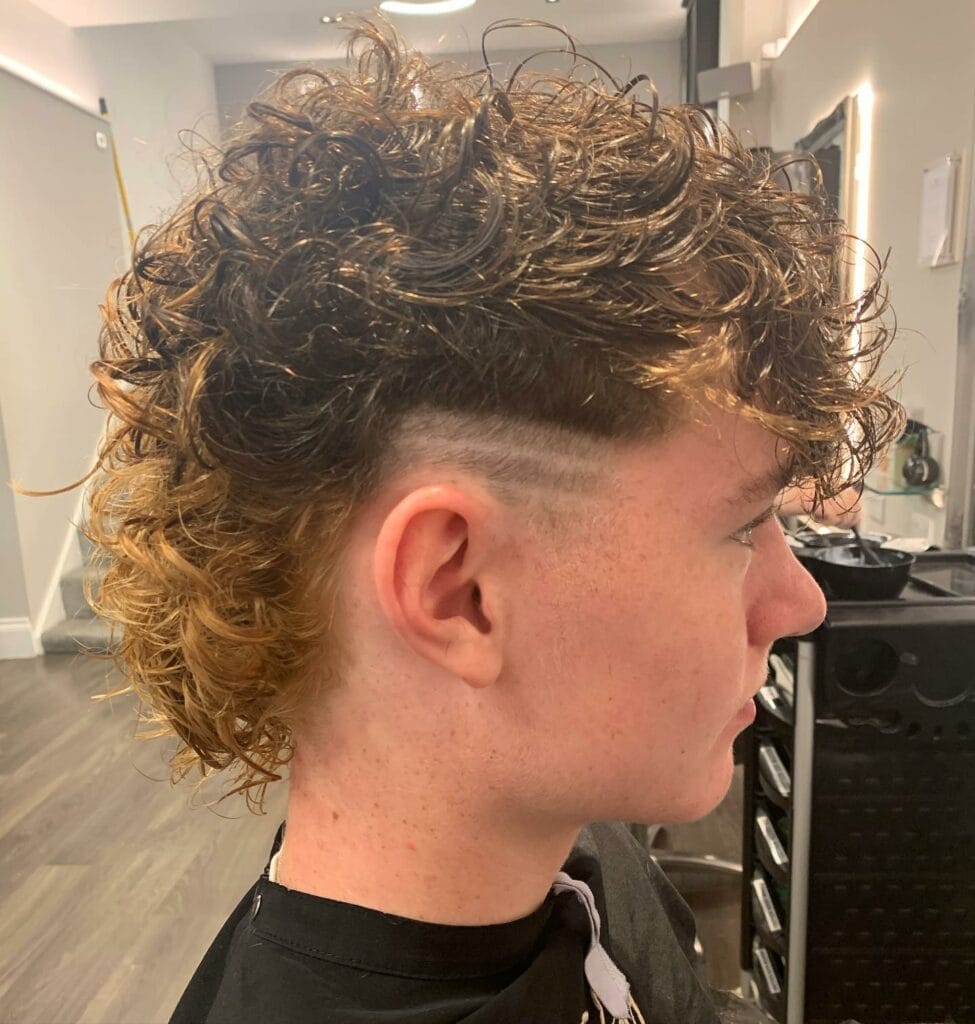 FAQs
What is a good haircut for a 14-year-old boy?
There are many haircuts that can look good on a 14-year-old boy. Some popular options are classic short haircuts, a longer style with layers, or a medium-length cut with a side part. Ultimately, the best haircut for a 14-year-old boy will depend on his personal style and the shape of his face. It may be helpful for you to look at the pictures of haircuts above or to bring a photo of a haircut that you like to the barber or stylist. It's also a good idea for you to communicate with your barber or stylist about the specific look that you want to achieve.
What haircuts are in style for a teenager?
Some popular haircuts for teenage boys in recent years have included shorter styles such as the buzz cut, crew cut, and side part, as well as longer styles with layers or textured finishes. Other options for teenage boys might include the French crop, comb over, and wavy quiff. It's important for a teenager to choose a haircut that suits their face shape, hair type, and personal style, and to keep in mind that it's okay to be a little bit trendier or experimental with their haircut as a teenager.
References
A teenager, or teen, is someone who is 13 to 19 years old. They can also be called "adolescents". The laws on what teenagers may do varies between countries. source
A 13-19 year old male who, according to society, is good for nothing more than smoking marijuana, playing video games, getting girls pregnant, and causing all of societies problems, even the ones they have nothing to do with. source
Khamis Maiouf is a professional barber who graduated from Hinckley College in England with a degree in hairdressing. He has also won several barbering contests and successfully operated a barbershop for the last two decades. As a skilled hair stylist for 20 years, his goal is to teach others how to achieve a beautiful appearance through their hairstyles.