Hairstyles for teenage guys have gone beyond the shaggy hair and bleached porcupine spikes. Boys' hair has taken a huge stride ahead, mainly due to the emergence of new designs that are quickly becoming popular.
Whether you are a risk-taker or a reserved, here are 40 unique hairstyles for teenage guys.
1. Trendy Temple Fade and Side Brush Up for Guys
Hairstyles for teenage guys can be simple and trendy at the same time. The top is a simple side brush-up, which isn't over the top. The sides are split, but the sides are tapered with the temple fading.
This hairdo is famous, but it's so subtle that it doesn't overtly proclaim itself.
2. Crew Cut Hairstyles for Teenage Guys
The crew cut is one of the most popular hairstyles for teenage guys since it's ageless and traditional. While it's designed for sporty and energetic boys, this shortcut may be worn by any young man.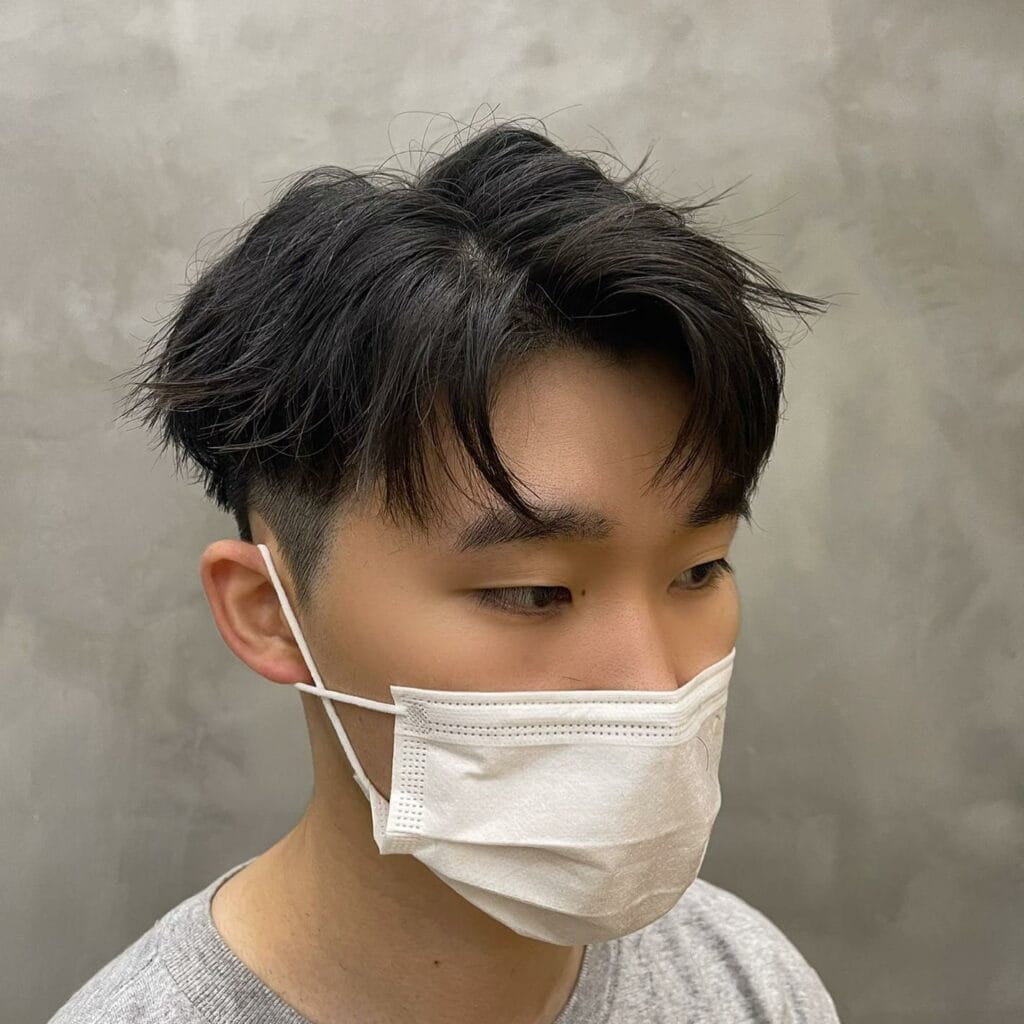 A more defined face may be achieved with a crew cut as well. It's practically hard to find a barber or hairdresser who doesn't know how to cut a crew cut since it's such an everyday hairstyle. Clippers with a more extended setting (#4 to #6) are used to buzz the top of the skull. Most extended hair should be on top. After that, the hair becomes shorter and shorter until it reaches the head's back.
Shorter clipper settings (#2 to #4) are used on the sides and rear. Down to the neck, there should be a steady decrease in volume.
3. Curly Fringe and Fade Hairstyles for Teenage Guys
The most pleasing aspect of the high fade and curly fringe is that the line-ups are carved and tapered simultaneously, making it one of the favorite hairstyles for teenage guys.
The top of the hair is curled and given more volume with a beautiful blonde color. It's necessary to get your fine hair permed to achieve this look.
4. High Fade with French Crop
Like the Caesar cut, the French crop is a low-maintenance cut that looks fantastic even without styling. It's similar to the Caesar, but the front of the hair may be feathered for a more edgy look.
Shorter, softer hairstyles are ideal for males who desire their hair to seem more natural. Get it by having your barber trim the back and sides using scissors. It's possible to request a skin fade, in which case the hair will fade away into the skin. Ask your barber to point cut your hair on top of your head for a choppy appearance. Ask your barber to trim the hair on top blunt for a more polished appearance.
5. Caesar Cut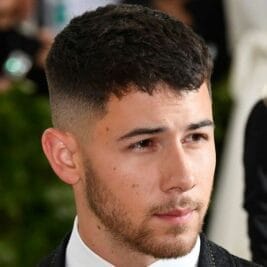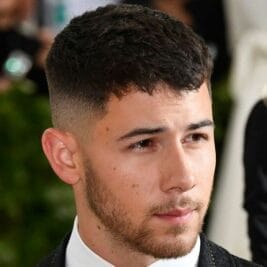 Those who want short hair will be delighted by the Caesar cut. It's been around since the time of Julius Caesar, who is supposed to have utilized the style to cover his early baldness. Hairstylists all across the globe know how to cut the Caesar cut, which is why it is so popular. It's called a Caesar cut because it has a uniform length of hair all over the head, ranging from half an inch to three inches long. For a shorter cut, you can use clippers, but you'll need to use scissors for a longer one.
6. Mop Top
If executed correctly, Liam Payne's mop-top appearance may work for professional and informal settings. It is essential to keep the volume by reducing the sides somewhat and cutting the top to keep the volume.
7. Quiff Hairstyles for Teenage Guys
The quiff has lately gained popularity as one of the stylish hairstyles for teenage guys. Despite its more obvious nature, the quiff may be styled in various ways to suit your preferences.
Try the short quiff for a more discreet aesthetic, while the long quiff or the messy quiff would be more noticeable. The best way to acquire a perfect quiff is to go to a professional hairstylist. Longer hair on top is worn with shorter hair on the back and sides. The top layer of hair is brushed back and groomed.
8. Curled Top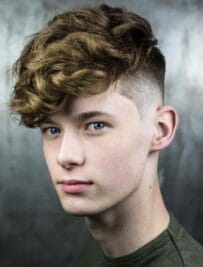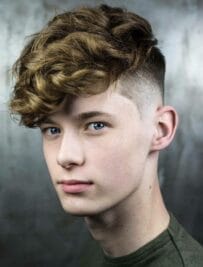 Bradley Cooper's curled top hairstyles for teenage guys are suitable for thin or curly hair. Hair that is curly and thin tends to produce more fluff, which may be advantageous if it is well managed. The temples have been hacked off, making the sides more tapered. If you want to look like Bradley Cooper, you'll need this hairdo.
9. Pompadour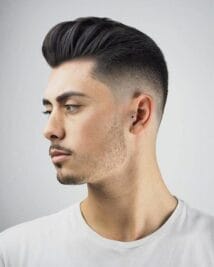 The messy pompadour has a distinct personality and is instantly recognizable. The messy pompadour is a one-of-a-kind look that you won't find anywhere else, but it will need a lot of time and effort to achieve. As a result, it's one of the hairstyles for teenage guys who are conscious of their style and grooming habits. You'll need to know how your hair grows to get a messy pompadour. You may find out by pushing your hair to either side and seeing which side offers your hair the greatest volume.
You want to be on that side. You may blow dry it to the right or left for straight hair, whatever direction you like. Then, change the orientation of the hairstyle.) Hair should be somewhat moist when towel-dried. Blow-dry your hair in the direction of its growth, then To create the pompadour, use some hair product (gel, wax, or paste) and style your hair in the other way, poofing the hair up back to shape it. Creating a pompadour is easy with our how-to tutorial.
10. Front Tousle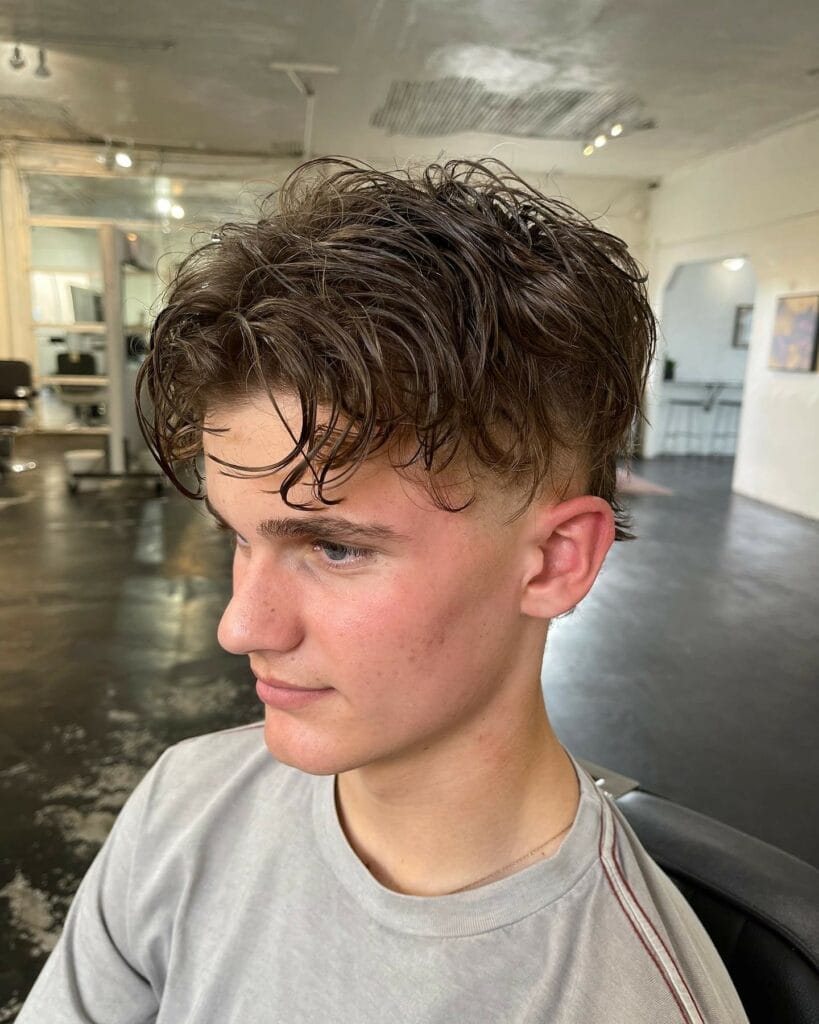 People with naturally wavy hair can pull off this look. Using a traditional comb, the remaining hair is styled simply and neatly. The front of the hair is treated with pomade or hair wax to ensure that the tousle is appropriately defined. This style has a lot of volume on the forehead. Therefore it has to be fashioned when the hair is still wet.
11. Straight Hair and Combover Hairstyle for Teenage Guys
It is necessary to use a pomade with a firm or medium hold for this traditional combover look. The back of the hair is brushed in a diagonal direction to provide movement to the style. If the event is formal, a matte or medium sheen finish might be applied to complete the appearance. The product should only be used to dry hair, and a side part is preferred.
12. Stranded Forehead with Casual Top
Side sweep strands are hot hairstyles for teenage guys trend right now, so why not include them in your look? This style is excellent for casual and formal events because of its tapered fading sides and clean, shaved temples.
13. French Crop and Curly Hair
This is one of the popular hairstyles for teenage guys that will never go out of style.
Having blond perms with light and dark tones gives the top curls energy and shine. The sides are tapered and faded to draw emphasis to the top of the haircut.
14. Faded Pushed Back Quiff
A short to medium pushback with a small widow's peak is among the fantastic hairstyles for teenage guys. In addition to making everything seem tidy, the taper on the sides adds an added dose of panache.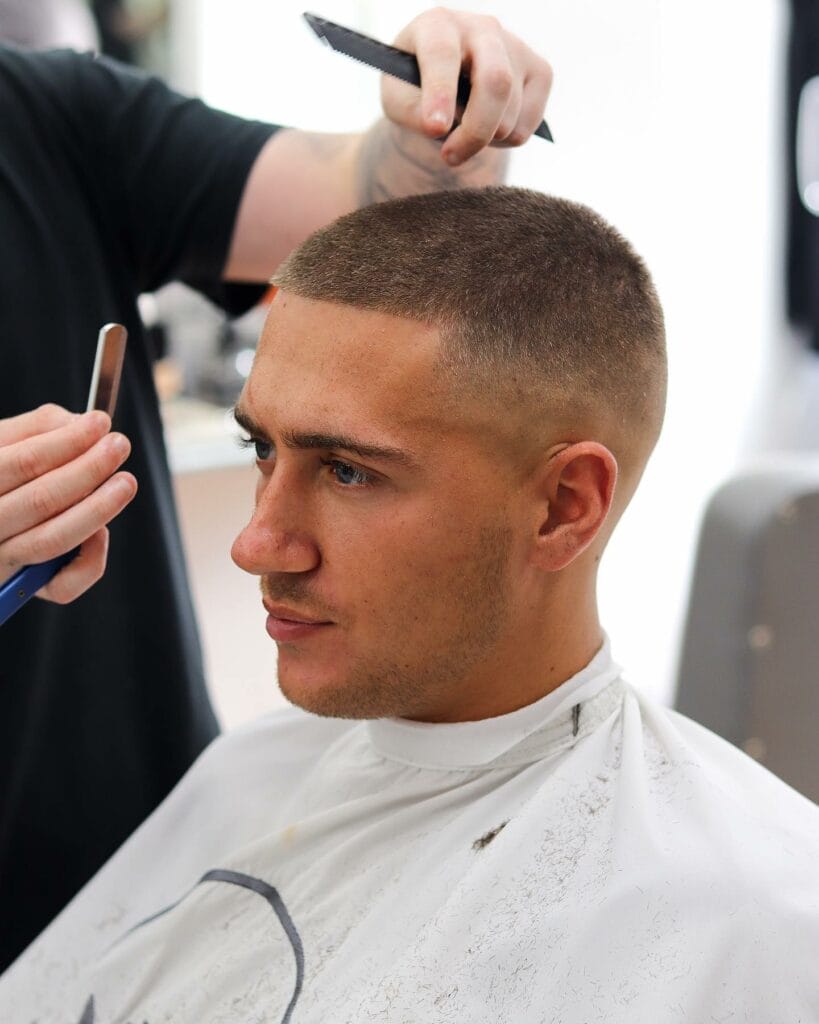 Finally, the chin beard provides a nice counterpoint to the crisp lines.
15. Fine Taper with Waved Top
This is all about the typical thick top with a semi-curly finish. Everything else supports the fading appearance, with the temple faded into the beard for that neat touch.
16. Medium Top and Tapered Undercut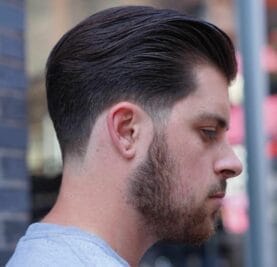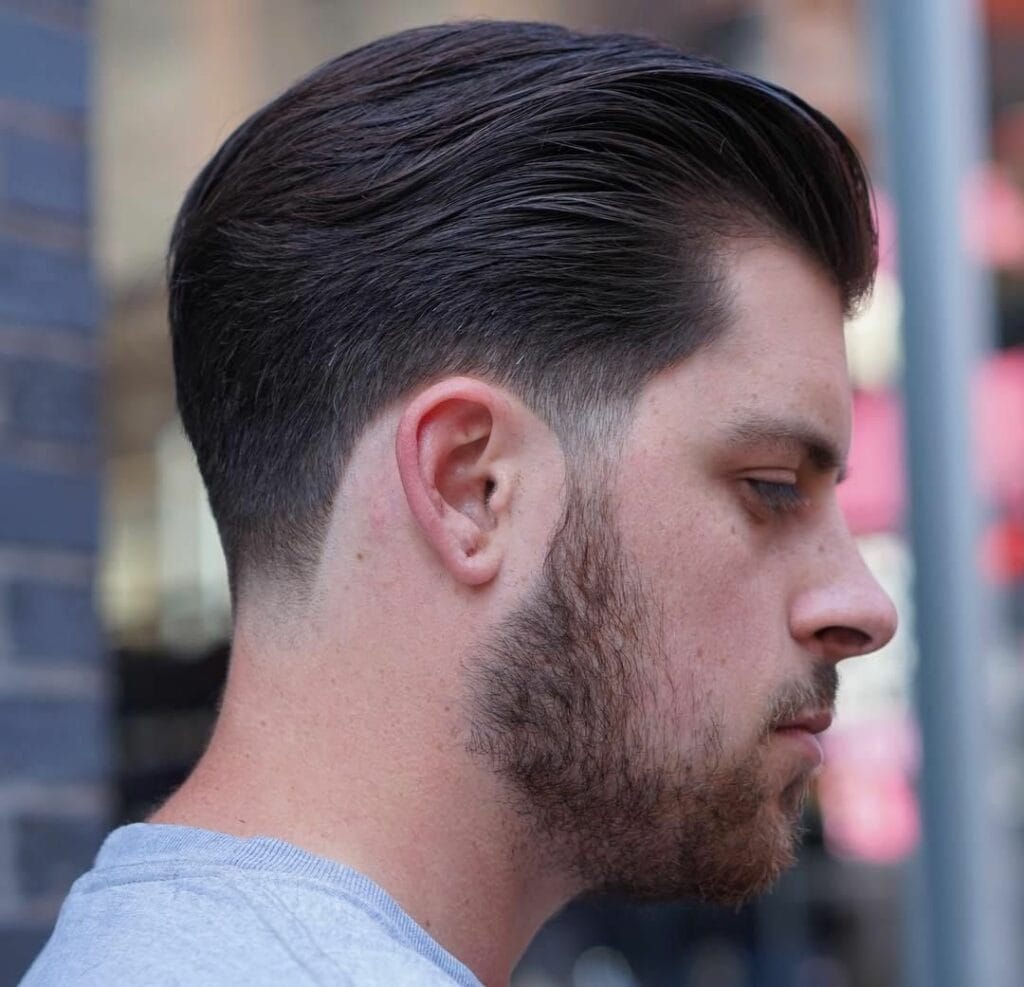 A side sweep with medium-length hair is one of the desirable hairstyles for teenage guys. This look makes the whole hair stand out with a modest undercut and tapered sides. Furthermore, the dangling fringes on the forehead add to the pleasure.
17. Bangs
Bangs are suitable for males with broad foreheads or lengthy faces since it covers the forehead and ears.
The look is likely to be condensed by this kind of haircut. Guys with round faces can also rock wearing the haircut. Hair should be trimmed to a length just above the eyebrows and to a length that covers each ear on both sides. However, the back may be a bit longer. You may use a high-quality wax or gel to style your hair if you want.
18. Blonde Layered Hairstyles for Teenage Guys
Even if the tossing top and sides are common, the nicest aspect is the extended stranded dye and lustrous finish. We don't see people with hair this harsh and thin with such a dry and thick texture. Tapering on the sides and rear ensures that volume is maintained without a fuss.
19. Brush-Up Hairstyles for Teenage Guys
If you're looking to stand out in a crowd, the brush-up hairdo is for you!
It's a messy-looking style that portrays a sense of carefreeness, like the quiff. It's a high-contrast, high-volume cut with short sides and long hair. The bush-up hairstyles for teenage guys are for classy men who want to look their best and might benefit significantly from a brush-up.
20. Cowlick and Angular Fringe
When it comes to hairstyles for teenage guys, it's all about showcasing a longer top with shorter sides so that more may be styled on top.
Longer strands and a semi-curled texture with thin hair work wonders when worn with a bob with tapered sides.
21. Pompadour that is Brushed Up
This may be a mature cut for teens with a thin-haired pompadour and fading sides. That tidy addition to a clean design, the temple fade, is something you don't see very often nowadays. The lustrous dye brush-up on top does the trick.
22. Faux Hawk
The sides are high and faded with a modest undercut, and there are no nooks or crannies in the hairstyles for teenage guys. The top is dyed to have a thicker effect, making the brush-up seem more dynamic and effervescent. The dye job was done meticulously, as seen by the dark undertones.
23. Surfer Style Hairstyles for Teenage Guys
The hairstyles for teenage guys were inspired by the seashore and are ideal for the warmer months.
It's short enough that it's low maintenance, but there's enough hair to style. It may be sloppy, spiked, or swept back into a short quiff––the options are almost limitless. It's a straightforward look for laid-back young men. There should be a lot of hair on the top of the head. Anything between one and three inches should do. To create a surfer-inspired hairdo, blow-dry wet hair and add a styling product from root to tip. There should be an inch between the back and the sides. You may have it shortened or lengthened to suit your needs if you wish.
24. Textured Brush Up
This style works best if you have a lot of hair to let the additional texture do its job. The hard-line adds to the comedy of the situation.
25. Brush Back and Taper Fade
This instantly pulls us back to the swagger of the Fifties, thanks to tapered hair and a brushed-back style. One of the most fantastic fast-styling hairstyles for teenage guys of the modern era has a significant taper fade.
With a standard comb, you'll be ready to go in no time flat.
26. Undercut with Thick Spikes
Nobody can deny that undercuts are fantastic hairstyles for teenage guys. As seen from the front, an undercut is occurring, but the fade is completed with a little drop below the neckline.
27. Slicked Back Hairstyles for Teenage Guys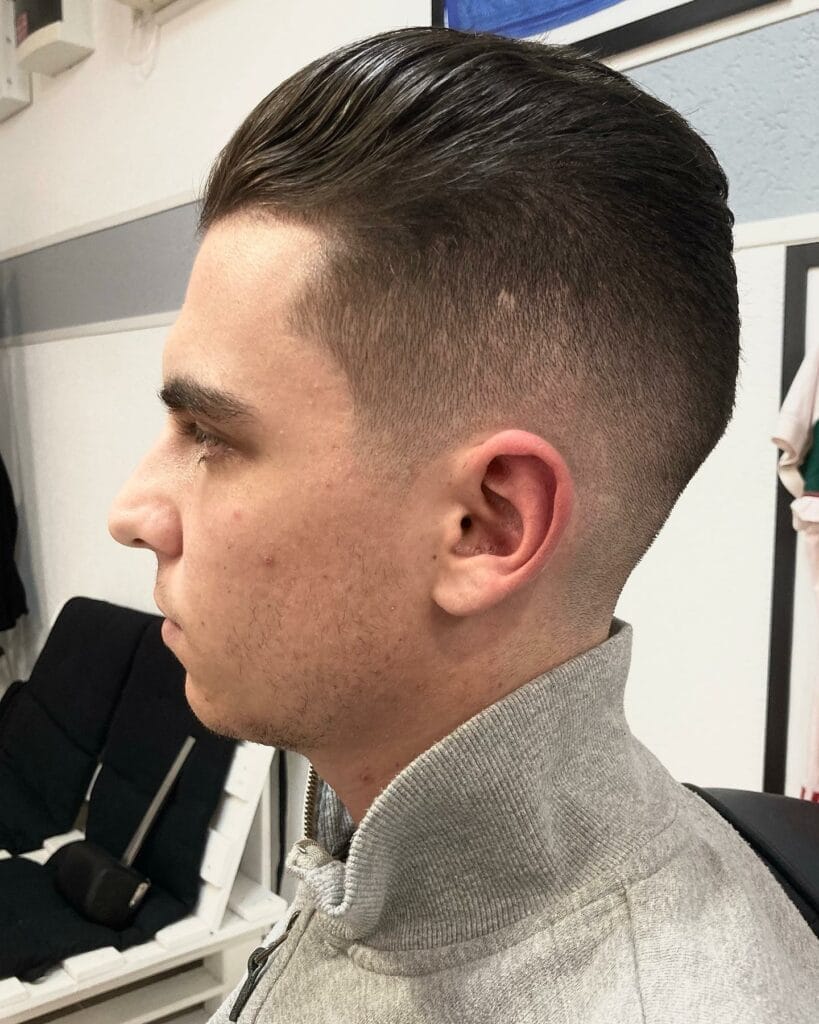 Men of any age can wear slicked-back hairstyles for teenage guys. It's all about the drop taper fade with an angular lineup in this one. The faded temples are an additional finessing detail to get a more refined image.
28. Clean Temple with Side Brush
Everyone loves a clean hairdo, and this one is even more so. However, the taper and fade on the sides keep things relaxed and casual on the top. For cleanliness, the temple will be toned down a little.
29. French Crop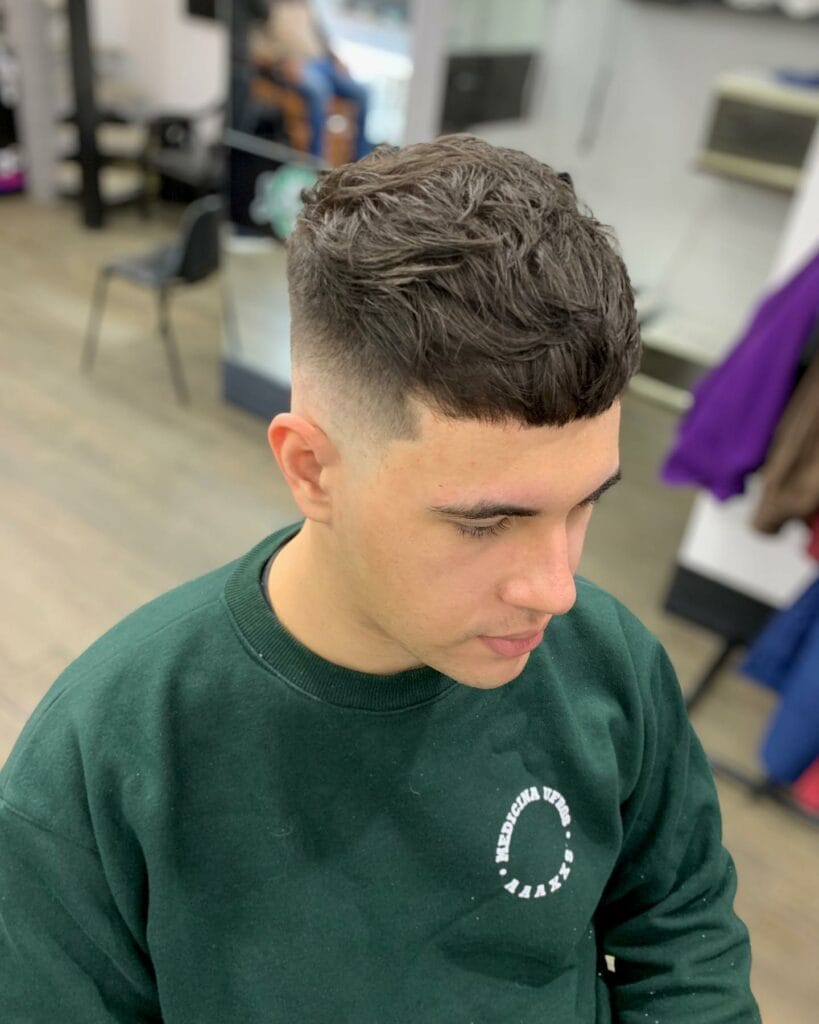 A nice French crop may be achieved by letting long, thick blonde hair that has grown in one direction fall naturally. Top volume is restored while low fading sides significantly diminish bottom importance.
30. Short and Thin Curls
This style is perfect for a day at the university or college. The secret to this one's sleekness is in the taper and fade on the side. The strands are thicker and curlier at the top, giving it a more voluminous appearance.
31. Man Bun
If you have long hair, a man bun is a great option. The hairstyles for teenage guys are pulled back into a bun, which may be left sloppy or kept neat, depending on your personal choice and the occasion. You can style and maintain it in a matter of minutes. You may wear your hair long or in a bun, which gives you more options for hairstyles. To get the most out of your hairstyles for teenage guys, you may experiment with one of the numerous variants of the traditional bun design.
Make a bun out of all your hair. Tuck the hair into a ponytail, but make a second run at twisting and securing it with the band. You'll have a neat bun if you stop halfway up the hair's length.
32. Classic Hairstyles for Teenage Guys
A thick beard will look best with these hairstyles for teenage guys. The classic hairstyles for teenage guys may be worn in various settings. Hair may be slicked back and smoothed down for formal events. It may be worn haphazardly with little style for more informal occasions.
This style necessitates using only products with a medium or light grip. With the product in place, comb the hair.
33. Undercut Hairstyles for Teenage Guys
While the top is left long, the sides and rear of the head are buzzed short. Slicking the hair back is the most common technique to style this haircut, but there are various additional options. A daily shave is required to keep this hairstyle looking fresh. Strong jawlines and lengthy features are best suited for this style. Those who desire to preserve a nice image throughout their adolescent years will find this to be great.
34. Modern Cowlick
It might be difficult to coarse style hair. Using a contemporary cowlick, you may tame your thick hair and create a great haircut. The front of this haircut is longer than the rest, making it a slick, short style. Using this technique, you may get a damp appearance to short hair with numerous distinct ends around the scalp and a subtle undercut. Try this cut if you have short, coarse hair. When hair is still damp after being towel-dried, use a product to add extra texture.
Use a dab of matte and medium hold paste to create a cowlick-like fringe. An undercut on either side is required.
35. Long and Loose Combed Back
The loose and long combed back hairstyles for teenage guys are perfect for anybody who likes the tousle's a casual look. Boys with fine, lustrous, thick, straight hair are most suited for this style. Blow-dry and comb back moussed hair for this look.
The goal is to seem natural and unstyled, so matte and medium-hold products are required. To boost volume, use dry shampoo on the hair's roots. Using the comb tail is the best way to get a neat finish. As the last step, the hair is combed through with fingers. Style until you discover the style that works best for you.
36. Spiky Hairstyle
Having spiky hairdos are popular hairstyles for teenage guys. The result is a soft, but spiky style that looks fantastic.
Since gel tends to make hair seem brittle, mousse is typically the best choice for this look. Just a little brush through with style mousse each morning is all it takes to keep it looking good. Sculpting isn't necessary since the design is based on a wind-blown appearance. Short brows, powerful jawlines, and prominent cheekbones are the most remarkable features of this cut.
A spiky haircut is exactly what it sounds like––spiking your hair. To get the desired impression, hair should be kept short.
37. Curly and Textured Undercut
Finding a style that looks well on you might be a challenge if you have curly hair. If so, have a look at the hairstyles for teenage guys. With an undercut, your hair retains its curls' structure, allowing you to express yourself via your hair.
The curls in this hairstyle are shaped to fit the form of the ace, so they don't seem like a tangled mess. Instead of your usual wild curls, give this sleek style a go. A clean and short undercut on the sides is the easiest way to get this look. If you want your crowning glory to last all day, use a curl cream with a good hold. When applying the product, hair should be somewhat moist. Scrunching adds a final touch to the aesthetic.
38. Wavy Shag Hairstyles for Teenage Guys
In contrast to the straight shag, wavy shag is more suited to teenage guys' hairstyles who prefer a less formal look. Aside from straight-haired men, this product is ideal for thick-haired men. Styling gel or mousse may be necessary, but the hair may be left to fend for itself in most cases. Thick, curly hair, a round face with prominent cheekbones, and a high forehead are all ideal features for this style. The straight shag is a close cousin of this style.
Instead of scissors or a clipper, the hair is frequently cut using a razor. The wavy shag, on the other hand, has lengthy layers covering the whole head.
39. The High and Tight
Short military-style hairstyles for teenage guys are pleasing—the high and tight, however, are the same as a butch cut. Butch cuts are short all over, while high and tight cuts are longer at the top but shorter at the sides and rear.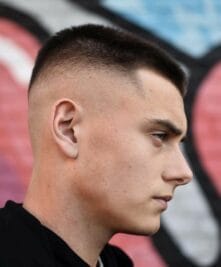 An African American boy's go-to haircut, this one is great for teenage guys who want a bold, standout hairdo. A #1 clipper attachment is typically used to cut the sides and back in a high and tight cut. (Only very seldom are they entirely shaven.) In other cases, scissors are used to make it long enough for styling. A clipper with a #6, $7, or #8 attachment is most often used to cut it.
40. Messy Fringe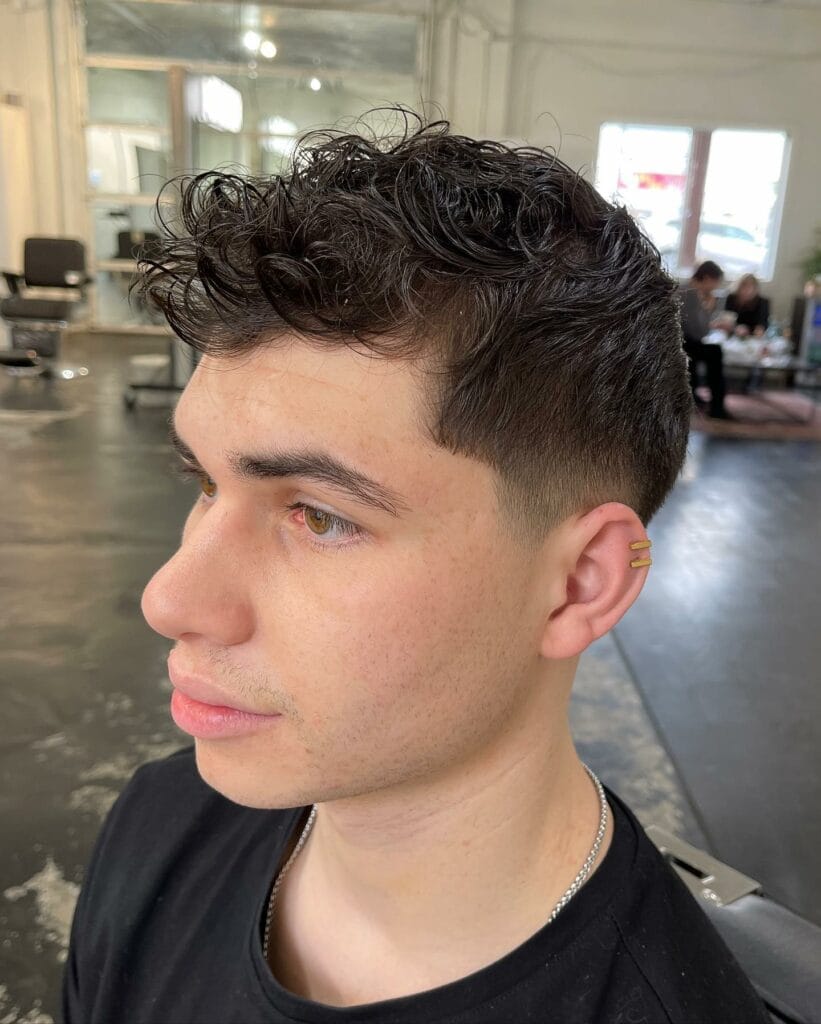 The messy fringe is a more freewheeling alternative to the straight fringe. Using a long and unkempt fringe, a prominent effect may be achieved. All facial shapes, hair colors, and hair textures will look great with this style. Side and back hairstyles may be tailored to your preferences. This is an attractive option if you're looking for a casual haircut for your teenage son.Defining the bangs with wax is the best way to achieve it. To complete the look, tousle the hair around the crown.
Conclusion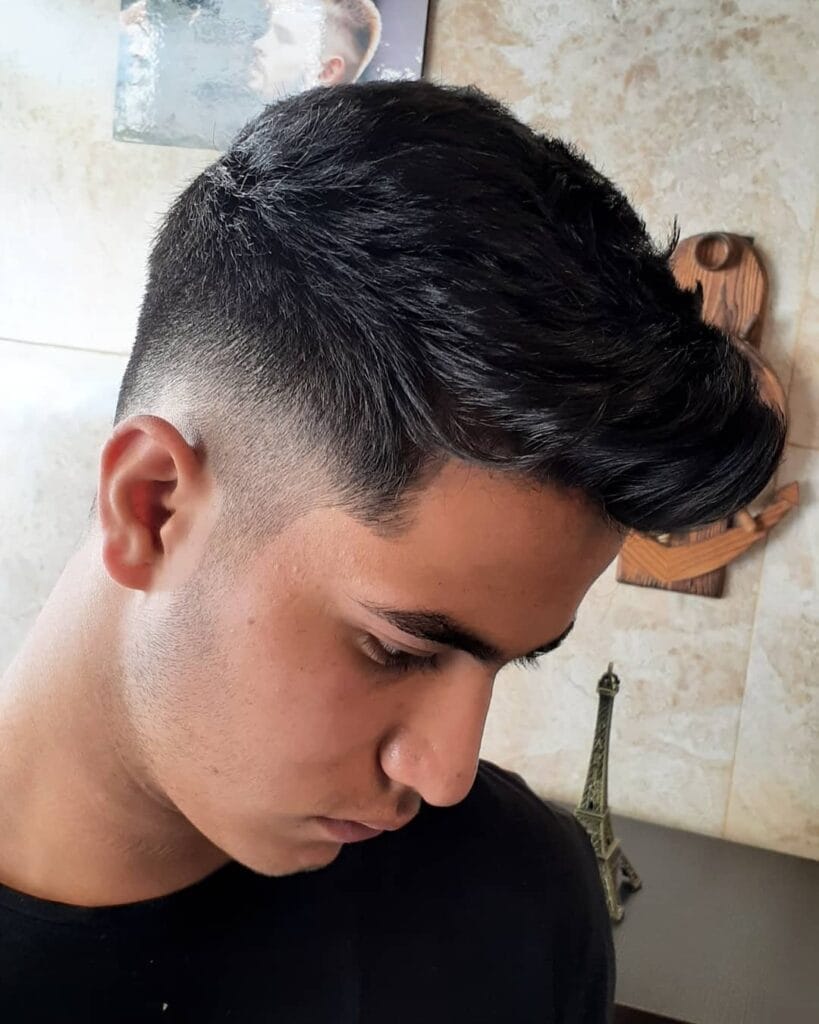 It does not matter whether you are going old school or part of the new school individuals. For young males, the variety of hairstyles available might be confusing. In light of this, the undiluted copy of 40 hairstyles for teenage boys will give you all the help you need. For more informative content like these, go through more the other articles on this website.