Boys Long Haircuts: Cool, Dashing Styles for a Bold Look!
Are you "mane-taining" interest in boys long haircuts? Well, you've come to the right place!
Finding the perfect balance of style and comfort for your young one's lengthy locks can be quite the ADVENTURE.
This article showcases an incredible variety of boys' long haircuts that cater to your child's individuality and spirit.
Bold, Dashing, and Timeless – get ready to dive into a world of fashionable, versatile hairstyles that will leave your boy feeling confident and effortlessly cool!
20 Unique and Eye-Catching Boys Long Haircuts to Try in 2023
1. The Big Afro Boys Long Haircut
As a fan of bold, eye-catching hairstyles, I can't help but admire the Big Afro as one of the most iconic boys long haircuts.
This voluminous and unique style is perfect for showcasing natural hair texture and making a statement.
Encourage your child to embrace their curls and stand out from the crowd with this incredible 'do.
2. The Blonde Boys Long Hair
There's something undeniably captivating about long blonde hair on boys. This classic, yet striking hairstyle can be versatile and low-maintenance.
I often recommend this look for boys who want a timeless style that's effortlessly cool.
Plus, long blonde hair can be easily styled in a variety of ways, from ponytails to braids.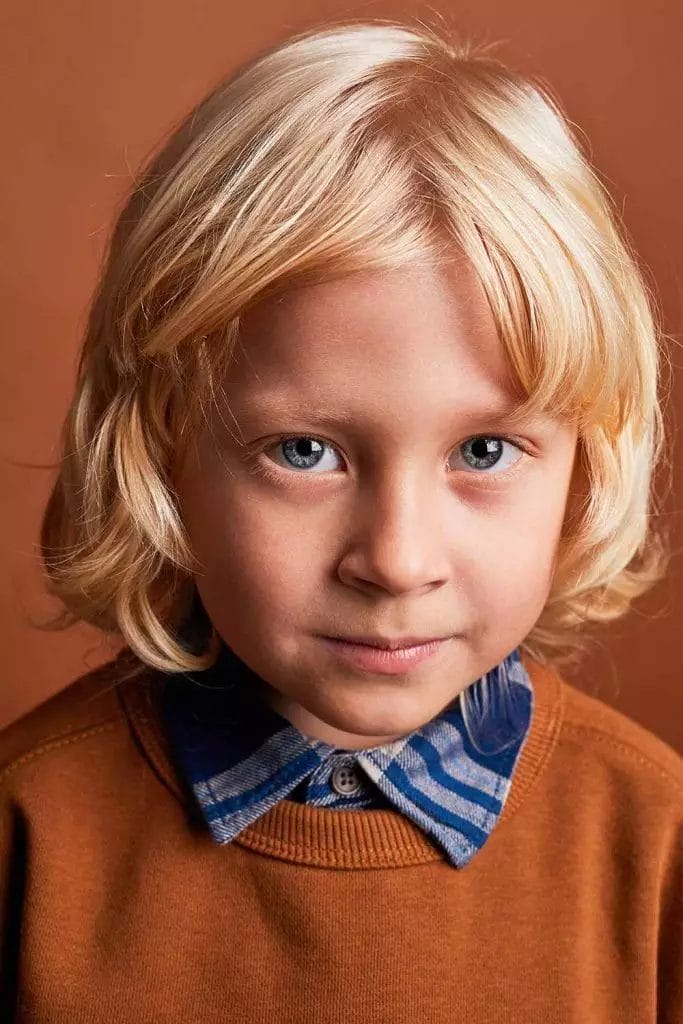 3. The Cornrows Style Boys Long Haircut
Cornrows are a classic and intricate hairstyle that never goes out of style.
This boys long haircut offers a unique, sophisticated look while keeping hair neat and manageable.
I admire the artistry and skill required to create cornrows, and I believe this style is a fantastic way to celebrate cultural heritage.
4. The Copper Curly Hair for Boys
Copper curly hair is a radiant and unique option for boys with long hair.
This warm, metallic hue pairs perfectly with bouncy curls, creating a head-turning hairstyle that's both stylish and playful. As someone who appreciates daring color choices,
I believe this look is perfect for young boys who want to make a statement with their hair.
5. The Corkscrew Curl
If your child has naturally curly hair, the Corkscrew Curl is a fun and fashionable option for boys with long haircuts.
This style features tightly coiled curls that bounce with every step.
I've always found this look to be adorable and full of personality, making it a perfect choice for young boys with a flair for the dramatic.
6. The White Boy's Long Haircut
The White Boy's Haircut is a fresh and modern take on boys long haircuts.
This popular style features long layers on top and a tapered, slightly shorter back and sides. The result is an edgy and youthful look that can be easily maintained.
I personally love how this haircut suits a wide range of hair textures and face shapes.
7. The Curly Bob Hair
The Curly Bob is an adorable and versatile option for boys with long, curly hair.
This style features bouncy curls that fall just above the shoulders, framing the face in a playful way.
I find this boys long haircut to be youthful and charming, making it perfect for children who want to showcase their natural curls.
8. The Surfer Hair
Nothing says laid-back and cool quite like Surfer Hair.
This effortless boys long haircut features sun-kissed, tousled locks that perfectly capture the carefree spirit of the beach.
I've always loved how this style looks on young boys, giving them a relaxed and trendy appearance.
9. The Blue Streaks
If you're searching for a vibrant and playful touch for your child's long hair, look no further than Blue Streaks.
This bold addition to boys long haircuts allows young boys to express their creativity and individuality.
I've always admired how these eye-catching streaks can transform a simple hairstyle into something truly extraordinary.
10. The Dreadlocks Hair
Dreadlocks are a timeless and unique hairstyle that can be adapted for boys long haircuts.
This intricate and culturally significant style requires dedication and patience but can result in a truly stunning look.
I find dreadlocks to be both expressive and fashionable, making them a great option for boys seeking a distinctive hairstyle.
11. The Long Hair With Highlight
Long hair with highlights is a trendy and versatile option for boys long haircuts.
This style adds dimension and depth to long locks, creating a striking visual effect.
I love recommending this look to young boys who want to add a subtle touch of color to their hair without committing to a full dye job.
12. The High Man Bun
The High Man Bun is a stylish and practical option for boys long haircuts.
This updo keeps hair neatly tucked away while showcasing a cool, modern aesthetic.
I appreciate how this look can be easily dressed up or down, making it a versatile choice for boys with various personal styles.
13. The Messy Balayage
Messy Balayage is a fresh and contemporary take on boys long haircuts, featuring natural-looking highlights that add depth and texture.
I find this technique to be particularly flattering on young boys, as it creates a sun-kissed, lived-in look that's both effortless and chic.
14. The Long Wavy Hair
Long wavy hair is an enchanting option for boys long haircuts.
This versatile style works well with various hair textures and can be easily adapted for different occasions.
I've always admired the effortless charm of long wavy locks, making it a go-to recommendation for boys seeking a low-maintenance yet fashionable look.
15. The Hipster Boy Haircut
The Hipster Boy Haircut is an edgy and modern choice for boys long haircuts.
This look typically features long layers on top, paired with a shorter undercut or fade on the sides.
I find this style to be both youthful and daring, perfect for young boys who want to stand out from the crowd.
16. The Side Swept for Thin Hair
If your child has thin hair, the Side Swept style is a flattering and stylish option for boys long haircuts.
This look adds volume and movement to the hair, creating the illusion of fullness.
I often suggest this hairstyle to parents of boys with fine hair, as it can help boost their confidence and enhance their overall appearance.

17. The Top Knot Hairstyle
One of my favorite boys long haircuts is the Top Knot Hairstyle.
This trendy and functional style keeps hair out of the face while still showcasing your child's beautiful locks.
I find the Top Knot to be a versatile and fashionable choice that works well for various occasions, from school days to special events.
18. The Messy Asian Boy Hairstyle
For a youthful and playful look, the Messy Asian Boy Hairstyle is a fantastic option for boys long haircuts.
This style features choppy layers and a slightly tousled appearance that's both effortless and chic.
I've always admired how this haircut can bring out a boy's natural charm and personality.
19. The Very Long Straight Hair
Very long straight hair is a sleek and captivating choice for boys long haircuts.
This classic style showcases the hair's natural shine and can be easily maintained with regular trims.
I find this look to be both timeless and elegant, perfect for boys who want a simple yet striking hairstyle.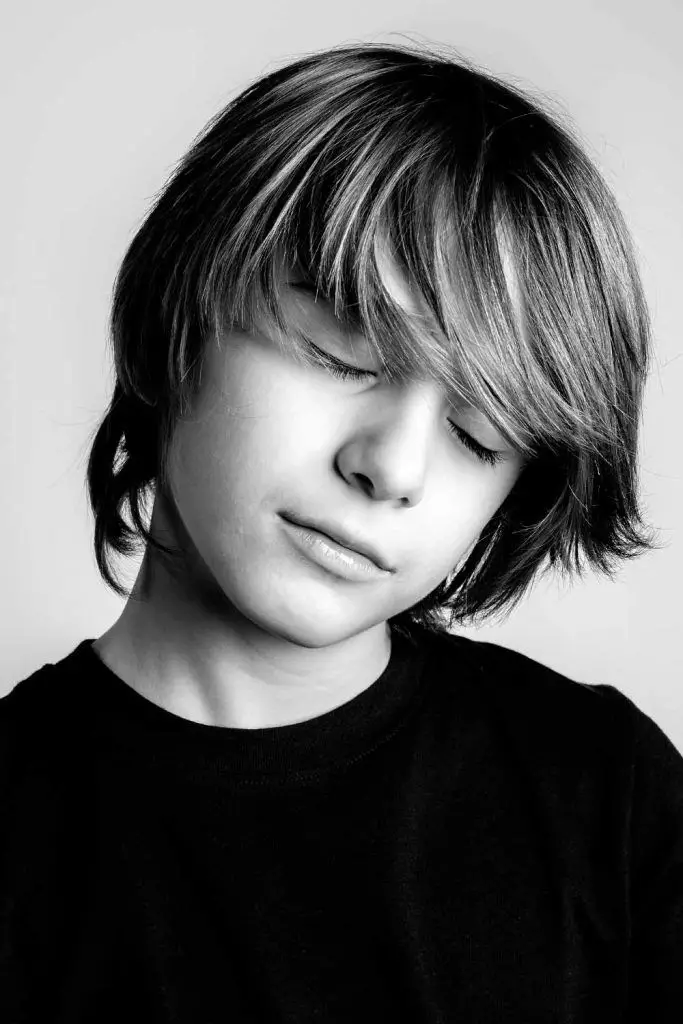 20. The Shag Cut for Boys
The Shag Cut is an iconic and versatile option for boys long haircuts.
Featuring long layers and a slightly messy appearance, this style can be adapted to suit various hair textures and face shapes.
I personally love the carefree vibe of the Shag Cut, making it a great choice for young boys with a laid-back, adventurous spirit.
Conclusion
showcase your child's unique style and personality.
I've been delighted to share the top trends and creative ideas to help you find the perfect long hairstyle.
Remember, it's all about embracing their INDIVIDUALITY and letting their true selves shine through. Stay fashionable, and enjoy the hair journey!
FAQs
Q1. How frequently should a boy with long hair get a haircut?
To maintain a healthy and stylish appearance, boys with long hair should receive a haircut every 8-12 weeks. Regular trims help prevent split ends and keep their locks looking fresh. Opting for Boys Long Haircuts requires a bit more maintenance, but with proper care, your child can rock those gorgeous, flowing tresses with confidence and charm.
Q2. What constitutes long hair in boys?
Long hair in boys generally extends beyond the nape of the neck, often reaching the shoulders or beyond. Boys Long Haircuts vary in style, but they typically showcase the hair's length and texture. With a wide range of looks available, from shaggy layers to sleek manes, long hair can be a versatile and fashionable choice for boys who love to express their individuality.
Q3. Is it advisable to add layers to boys' long hair?
Absolutely! Adding layers to Boys Long Haircuts can create dimension, texture, and movement while framing the face attractively. Layers can also help manage thick or unruly hair, making it easier to style and maintain. Consulting with a skilled hairstylist will ensure the layers complement your child's face shape and hair type, resulting in a trendy and versatile look they'll love.
Q4. What is the process for trimming a boy's long hair?
Trimming a boy's long hair involves a few key steps to maintain the desired length and style. First, wash and detangle the hair, then section it into manageable parts. For Boys Long Haircuts, use sharp scissors to trim the hair evenly, following the existing shape and layers. Regular trims every 8-12 weeks will keep the hair healthy and the style looking fresh and fashionable.
Q5. Do long hairstyles suit boys well?
Long hairstyles can suit boys very well, especially if they maintain it properly. Boys long haircuts can provide a unique and stylish look that adds personality to their appearance. Long hair also offers more versatility to experiment with various hairstyles that complement their features. With the right hair care routine, long hairstyles can be healthy and attractive for boys. It reinforces the individuality of a person and helps create a distinct look.
References:
Long hair is a hairstyle where the head hair is allowed to grow to a considerable length. source
long hair
true beauty of a female…
Something happens when a cute long haired women walks into a room. source
Khamis Maiouf is a professional barber who graduated from Hinckley College in England with a degree in hairdressing. He has also won several barbering contests and successfully operated a barbershop for the last two decades. As a skilled hair stylist for 20 years, his goal is to teach others how to achieve a beautiful appearance through their hairstyles.