Kids Haircut Wonderland: Fun, Stylish & Hassle-Free Cuts!
Are you ready for a "shear" delight? Embarking on the journey to find the perfect kids haircut for your little gentleman can be both fun and inspiring.
It's time to bid adieu to those unruly locks and embrace a new, dapper look that suits your young one's unique personality.
This article is here to guide you through an amazing collection of kids haircuts that are as charming as they are functional.
Stylish, Practical, and Playful – get ready to explore a world of fabulous hairstyles that will keep your boy looking sharp and feeling CONFIDENT!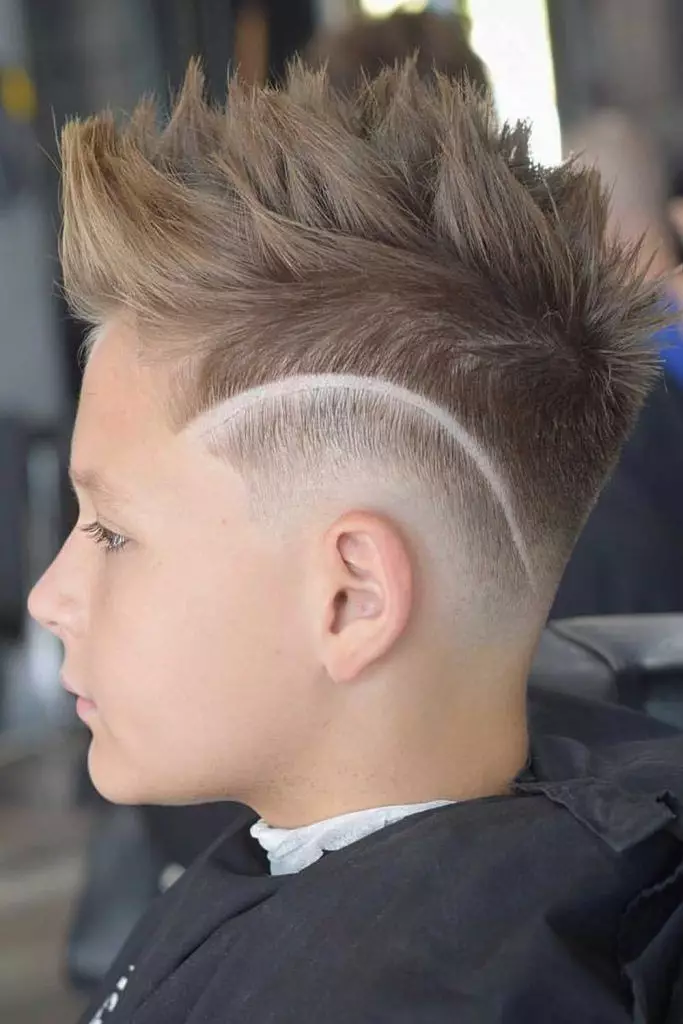 20 Trent and Stylish Kids Haircut
1. Comb Over with Fringe Kids Haircut
When it comes to a stylish and versatile kids haircut, the comb over with fringe is an excellent choice.
I've always found this haircut to be a favorite among parents and kids alike.
With the perfect blend of class and playfulness, it's easy to see why this hairstyle has stood the test of time.
2. Adorable Mop Top Kids Haircut
The mop top haircut is a cute and easy-to-maintain option for boys of all ages.
I can't help but smile when I see a little one sporting this hairstyle.
The layers and fringe add a sense of fun to any kid's haircut, while the overall look remains charming and age-appropriate.
3. Mohawk Kids Haircut
Want to give your child a haircut that truly stands out? Look no further than the timeless mohawk.
This edgy yet fun kids haircut is perfect for kids who want to make a statement.
I've always admired parents who let their children express themselves through daring hairstyles like this.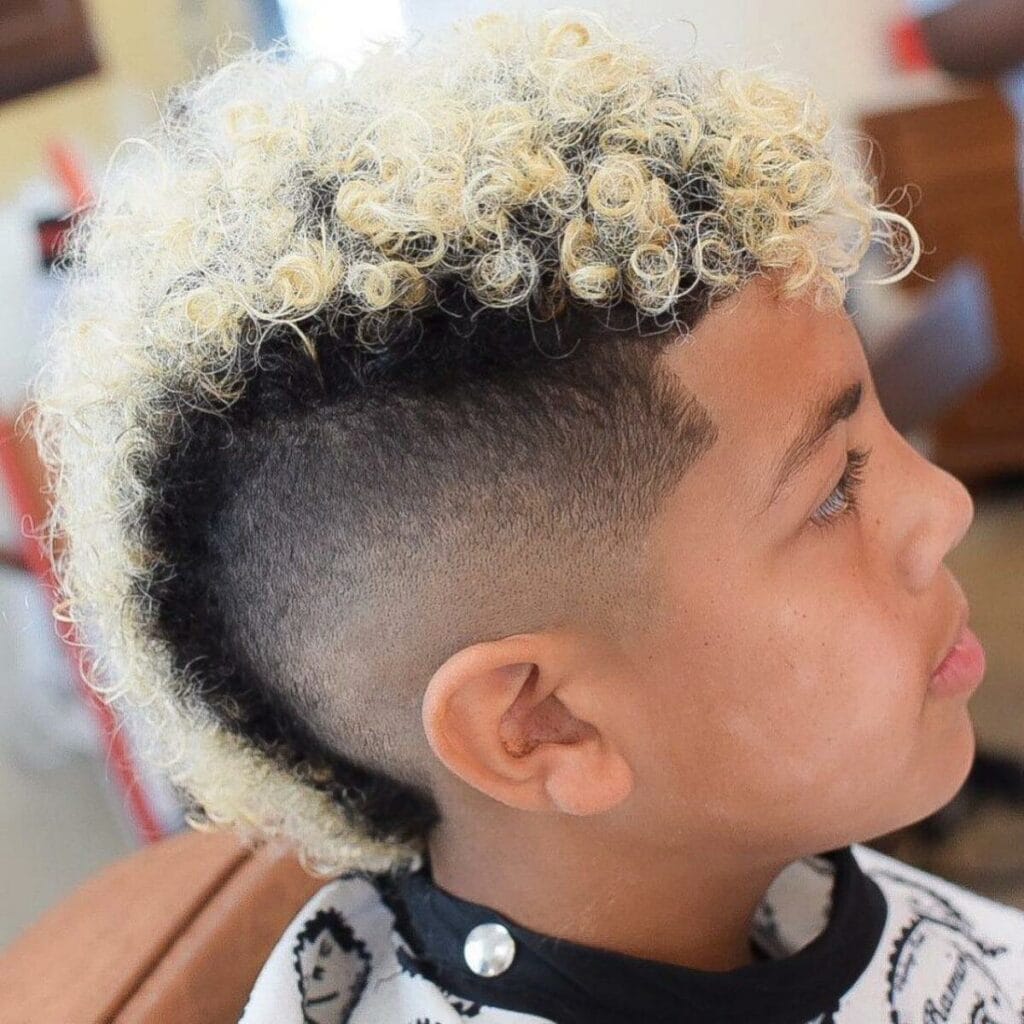 4. Sharp Side Part with Taper
The sharp side part with the taper is a refined and elegant kids' haircut that never goes out of style.
I've noticed that this polished look is perfect for special occasions or family photos.
The clean lines and expertly tapered sides make for a truly dapper appearance.
5. Youthful Blonde Spiky Highlights
For a vibrant and unique kids haircut, consider adding blonde spiky highlights.
These playful pops of color can elevate any hairstyle, giving it a fresh and youthful vibe.
I always appreciate seeing kids with this fun and expressive look, as it showcases their individuality.
6. Textured French Crop with a Twist
A textured French crop with a twist offers a contemporary take on a classic kids haircut.
I love how this hairstyle combines the sophistication of a traditional French crop with a modern, textured finish.
It's a great choice for parents who want their children to look fashionable and on-trend.
7. The Brush Up Kids Haircut
The brush up kids haircut is perfect for kids who want a sleek and stylish look for their child.
This hairstyle boasts a well-groomed appearance while still maintaining a youthful edge.
I've always found the brush up to be a fantastic option for boys who want to look their BEST.
8. Wavy Brush Up Top with Low Fade
For a kids haircut that's both fashionable and low-maintenance, consider the wavy brush up top with a low fade.
This trendy hairstyle strikes the perfect balance between style and practicality.
I've seen many boys sporting this look, and it never fails to impress.
9. Brushed Up Fringe for Boys
The brushed up fringe is a flattering and versatile kids haircut that looks great on boys of all ages.
I love how this style adds a touch of sophistication while still remaining playful and age-appropriate.
It's an ideal choice for parents who want their children to look stylish without sacrificing comfort.
10. Side Swept Mini Pompadour
The side-swept mini pompadour is a dashing kids haircut that adds a touch of vintage charm.
This hairstyle is both eye-catching and elegant, making it a perfect choice for parents who want their children to stand out in a crowd.
I can't help but admire the timeless and classy kids haircut.
11. Simple and Stylish Hairlines Kids Haircut
A simple and stylish hairline kids haircut is perfect for boys who want a low-maintenance yet fashionable look.
I've always appreciated the clean lines and easy-to-care-for nature of this haircut, which makes it an ideal choice for busy families and active kids.
12. Short Tousled Top with Taper Fade
For a contemporary and chic kids haircut, consider the short tousled top with taper fade.
This hairstyle offers a fresh and edgy look that's easy to style and maintain.
I've found that many boys enjoy the cool, laid-back vibe of this haircut, making it a popular choice.
13. Classic French Crop
The French crop is a timeless kids haircut that continues to be a favorite among boys and parents alike.
This versatile hairstyle offers a clean, sharp appearance that can easily be dressed up or down.
I love how the French crop suits a variety of hair types and face shapes.
14. Crop Top and Straight Fringe Combo
For a kids haircut that's both distinctive and stylish, consider the crop top and straight fringe combo.
This eye-catching hairstyle blends two popular trends, resulting in a look that's sure to turn heads.
I've always admired the creativity and individuality of this haircut.
15. Spiky and Daring
The Edgar is a bold and daring kids haircut that's perfect for boys who want to stand out from the crowd.
With its spiky texture and edgy appearance, this hairstyle is a favorite among trendsetters.
I've noticed that Edgar adds a touch of excitement and adventure to any child's look.
16. Kid's French Crop Undercut
A French crop undercut is a fashion-forward kids haircut that combines two beloved styles.
I've always been a fan of this sleek and modern hairstyle, which offers a striking contrast between the longer top and shorter sides.
This look is perfect for parents and children who want to stay on-trend.
17. Messy Top with Point Cut Fringe
For a playful and effortless kids haircut, consider the messy top with point cut fringe.
This hairstyle is perfect for boys who prefer a more casual and laid-back look.
I've found that the natural texture and movement of this haircut make it a favorite among children and parents alike.
18. The Edgar Kids Haircut
Another variation of the Edgar kids haircut, the layered and effortless style offers a relaxed and carefree appearance.
I love how this hairstyle showcases natural texture and movement, making it an excellent choice for boys who want a low-maintenance yet stylish look.
19. Long, Messy, and Textured Kids Haircut
A long, messy, and textured kids haircut is perfect for adventurous spirits who want to embrace their natural hair.
I've always admired the free-spirited vibe of this hairstyle, which adds an element of fun and personality to any kid's look.
20. Short, Rolled, and Tidy Kids Haircut
Last but not least, the short, rolled, and tidy kids haircut is an immaculate choice for busy boys and their parents.
This hairstyle offers a polished and well-groomed appearance that's easy to maintain.
I've always appreciated the simplicity and practicality of this look, which makes it a popular choice among families on the go.
Conclusion
Choosing the right Kids Haircut can enhance your child's appearance and self-confidence.
I've been thrilled to share the best styles and creative inspiration to help you find the perfect cut.
Remember, it's all about fostering their individuality and allowing their unique personalities to shine. Stay stylish, and ENJOY the hair journey together!
FAQs
Q1. Should a kid's hair be cut when it's wet or dry?
It's recommended that kids' hair be cut when it's dry, as it's easier to see the hair's natural texture and shape. However, some stylists prefer cutting it wet. In either case, it's important to communicate with the child to ensure their comfort and satisfaction.
Q2. What causes some kids to dislike haircuts?
Some kids may dislike haircuts due to past negative experiences or fear of change. As parents, we can introduce them to the concept of grooming early on and create a relaxing atmosphere during each session with music, humor, or storytelling.
Q3. How frequently should kids get haircuts?
The frequency of haircuts depends on the child's hair type, texture, and length, as well as personal preference. For instance, curly or wavy hair may require more frequent trims than straight hair. In general, aim for a trim every 6-12 weeks.
Q4. What strategies can make haircuts enjoyable for kids?
To make haircuts enjoyable for kids, stylists can use kid-friendly tools like scissors with fun patterns, and ask the child about their interests. Parents can also bring in their child's favorite toys or snacks to help distract them during the session.
Q5. How can you trim the hair of a frightened kid?
To trim the hair of a frightened kid, talk to them calmly and patiently to understand their fears. Start with small snips and praise them often to build up their confidence. You can also let them take breaks, use special capes or aprons, or play with water bottles to help them relax.
Khamis Maiouf is a professional barber who graduated from Hinckley College in England with a degree in hairdressing. He has also won several barbering contests and successfully operated a barbershop for the last two decades. As a skilled hair stylist for 20 years, his goal is to teach others how to achieve a beautiful appearance through their hairstyles.