Men's Haircuts for Oval Faces: Discover the Perfect Style for You
Are you oval the moon about your face shape? Let's dive into the world of Men's Haircuts for Oval Faces.
Having an oval face is often considered a 'cut' above the rest in the hairstyling domain. Why? Because it's incredibly versatile! I've taken a deep dive into countless haircuts and realized that an oval face acts like a chameleon, adapting beautifully to various hairstyles.
From SUAVE fades to luscious locks, men with this face shape have the privilege to experiment and redefine what style means to them.
As I journey through some of the best haircuts tailored for this unique shape, you'll discover the art of accentuating your best features while making a statement.
So, let's get snipping and find the style that makes you, and your oval face, shine!
Identifying Your Face Shape
1. How to determine your face shape?
Discovering your face shape is like unlocking a style secret! Start by pulling your hair back and examining your face in the mirror.
Look at the width of your forehead, cheekbones, and jawline, and the length from forehead to chin.
Compare these dimensions: the most prominent features will guide you toward your face shape.
A soft measuring tape can also be handy to get precise measurements, ensuring you're on the right track to personalized style!
2. Key features of an oval face shape
The oval face shape is a harmonious blend of soft curves and balanced proportions.
It typically has a slightly wider forehead, with cheekbones as the widest part. The face gracefully tapers towards both the forehead and the slightly rounded jaw.
An added advantage? The length is usually about one and a half times the width, giving it that classic, elongated look.
It's this versatility that makes the oval face a favorite among style aficionados!
3. Common misconceptions about face shapes
Face shapes can sometimes be puzzling, leading to a maze of misconceptions.
One major myth? That every face neatly fits into a specific category. In reality, our faces can be a blend of different shapes.
Another misconception is that certain face shapes are more 'desirable' than others.
But every face shape has its unique charm and countless hairstyles to flaunt.
Instead of boxing yourself in, embrace the nuances of your unique shape and play to its strengths!
Why Oval Faces Have an Advantage?
Versatility in Hairstyles: Oval faces have a balanced proportion that allows them to suit a vast array of hairstyles. Whether you're aiming for short, long, straight, or curly hair, an oval face acts as a complementary backdrop, ensuring the look remains flattering.
Symmetry and Balance: The inherent symmetry in oval face shapes often means features are evenly distributed. This balance is aesthetically pleasing and is often sought after in the beauty and fashion industry.
Less Restrictive in Accessorizing: Eyeglasses, hats, earrings – you name it! The even proportions of an oval face mean fewer limitations when choosing accessories. Each piece tends to enhance without overshadowing.
Neutral Canvas for Makeup: Makeup enthusiasts rejoice! An oval face allows for a balanced play of highlights, shadows, and colors, making it easier to achieve various makeup looks without overemphasizing or diminishing facial features.
Universally Admired: Throughout history and across cultures, the oval face has been celebrated as an ideal. Its adaptability and natural balance make it a coveted shape in beauty realms.
Classic Haircuts for Oval Faces
1. Pompadour
The Pompadour, with its voluminous top and sleek sides, is a perfect match for the balanced structure of oval faces.
I've always been intrigued by its rich history, dating back to the 18th century, yet it's still incredibly relevant today.
The high-rise structure of this style accentuates the forehead and gives a refined touch to Men's Haircuts for Oval Faces.
Each time I see someone rock the Pompadour, it feels like a blend of old-school charm meeting modern-day sophistication. A true classic!
2. Quiff
Ah, the Quiff! It's like the rebel sibling of the Pompadour. What makes it so captivating for me is the playful texture combined with a sense of controlled chaos.
For those with oval faces, the Quiff provides a bold statement, drawing attention to the hair while perfectly complementing the balanced face shape.
It's the kind of style that says, "I'm here, and I'm unapologetically fabulous." Definitely one of my top picks for Men's Haircuts for Oval Faces!
3. Side part
The Side Part is the embodiment of timeless elegance. It's been my observation that this style has a unique way of bringing a touch of class to any occasion.
The distinct line draws the eye, adding a layer of depth and structure. For those sporting oval faces, the side part provides a refined contrast, enhancing the natural balance of their features.
If ever there was a haircut that whispered sophistication for Men's Haircuts for Oval Faces, the Side Part is it.
4. Crew cut
The Crew Cut and oval faces go hand in hand, like an age-old partnership that never goes out of fashion.
What I adore about this haircut is its simplicity and efficiency. It brings attention to the face's natural symmetry, ensuring the features shine through without distraction.
For those on the go or seeking a minimalist yet stylish option for Men's Haircuts for Oval Faces, the Crew Cut stands out as a trusted companion.
5. Ivy League
When sophistication calls, the Ivy League haircut answers. This polished, slightly longer version of the crew cut exudes class and intelligence.
As a fan of Men's Haircuts for Oval Faces, I find the Ivy League brings forth a sense of refinement that's unparalleled.
Its neat, tidy look, combined with the gentle texture on top, resonates with the cultured and the urbane.
Every time I've styled it, I've felt ready to conquer boardrooms and casual outings alike, such is its versatile allure.
Trendy Haircuts for Oval Faces
1. Fade haircuts
Fade haircuts have stormed the world of Men's Haircuts for Oval Faces, and I can certainly see why! Whether it's the sharp precision of a High Fade, the balanced transition of a Mid Fade, or the subtle definition of a Low Fade, each adds a distinct character to an oval face.
When I've tried these styles, they've not only enhanced the contours of my face but also injected a modern edge to my overall appearance.
Fades work like magic, accentuating the symmetry of the oval shape and giving it a contemporary twist.
– High fade
There's something strikingly edgy about the High Fade, especially when considered in the realm of Men's Haircuts for Oval Faces.
This style accentuates the upper region, creating a bold contrast that never fails to turn heads. Whenever I've rocked this cut, I've felt a sense of modern audacity, celebrating the top's volume while showcasing the sculpted sides.
For those oval-faced gents craving a daring departure from the usual, the High Fade stands tall, merging the best of classic and contemporary.
– Mid fade
The Mid Fade is a harmony song in the world of Men's Haircuts for Oval Faces. With its seamless transition from the dense top to the faded sides, it's like the perfect crescendo in a symphony.
I've always admired how it offers the edginess of a fade while maintaining a certain balance.
When I've sported the Mid Fade, it's felt like the golden mean – not too aggressive, not too subtle, but just right. It's for the man who desires equilibrium in style and substance.
– Low fade
Treading the line between distinction and subtlety, the Low Fade has found its niche in Men's Haircuts for Oval Faces.
This style offers a gentle fade, starting just above the ear and blending seamlessly into the neckline.
Every time I've chosen this haircut, it's felt like a whispered statement – making its presence felt without overpowering.
For those who appreciate the nuanced art of understatement while showcasing their oval face's balanced proportions, the Low Fade offers a serene yet stylish canvas.
2. Undercut
The Undercut has revolutionized Men's Haircuts for Oval Faces, offering a bold contrast between the top and the sides.
Every time I've donned this haircut, I've felt a surge of modern charisma. The juxtaposition of lengths makes the oval face pop, drawing attention to its balanced proportions.
If you're looking to make a statement while celebrating your oval face, the Undercut beckons with its audacious charm.
3. Faux hawk
The Faux Hawk is a rebellious twist on Men's Haircuts for Oval Faces. I've found it to be the perfect middle-ground between wild and refined.
The raised center gives an adventurous vibe, while the tapered sides keep it grounded.
Whenever I've sported this, I've been showered with compliments, praising its daring yet sophisticated appearance.
The Faux Hawk, in essence, is for the oval-faced man looking to walk on the wild side, without fully letting go of his refined roots.
4. Messy fringe
Dive into a laid-back vibe with the Messy Fringe, a relaxed entrant in the world of Men's Haircuts for Oval Faces.
Whenever I've let my hair down in this style, it's brought out a carefree, youthful side of me.
The tousled strands falling freely over the forehead add a bohemian touch, highlighting the face's elongated elegance.
For those days when you want to channel a relaxed and breezy look, the Messy Fringe is your go-to.
5. Textured crop
The Textured Crop is a refreshing innovation in Men's Haircuts for Oval Faces. With its choppy layers and dynamic structure, it adds depth and volume.
Every time I've opted for this style, it's been a delightful mix of sophistication and playfulness.
The textured top creates a focal point, drawing attention to the harmonious features of an oval face.
For those seeking a modern twist to their mane, the Textured Crop is a stylish companion.
Long Haircuts for Oval Faces
1. Man bun
When it comes to modern versatility in Men's Haircuts for Oval Faces, the Man Bun stands out as a contemporary favorite.
This style allows for a delightful play between casual and polished. Every time I've tied up my locks into a Man Bun, I've felt a unique blend of free spirit and sophistication.
For men with an oval face who want to express both laid-back and formal vibes, the Man Bun offers the flexibility of both worlds.
2. Shoulder-length layers
The charm of Shoulder-length Layers in the world of Men's Haircuts for Oval Faces cannot be understated.
These cascading layers effortlessly frame and accentuate the balanced proportions of an oval face.
When I've let my hair flow in these waves, I've been transported to a realm where classic rock meets modern chic.
It's the ultimate ode to those desiring a hairstyle that's as fluid as their spirit.
3. Slicked-back look
There's an undeniable allure to the Slicked-back Look, especially when discussing Men's Haircuts for Oval Faces.
Its clean lines and retro charm evoke memories of Hollywood's Golden Age.
Every time I've opted for this style, it has been a ticket to instant class and refinement.
It's for those wanting to channel their inner James Dean, ensuring their oval face remains the star of the show.
4. Natural curls and waves
In the diverse realm of Men's Haircuts for Oval Faces, Natural Curls and Waves hold a special place.
They dance with character, embracing the oval's symmetry. When I've let my natural curls and waves play out, it feels like celebrating authenticity, allowing my hair's natural rhythm to sync with my face's balance.
For the oval-faced man wishing to keep things organic and genuine, this style speaks volumes.
5. Long, textured fringe
For men looking to add a touch of theatrical flair to Men's Haircuts for Oval Faces, the Long, Textured Fringe beckons.
This style, with its dramatic sweep and intricate layers, creates an engaging focal point. Every time I've experimented with this look, it's felt like wearing my personality on my forehead – bold, distinctive, and unapologetically me.
It's a bold statement for the modern man wishing to stand out in a crowd.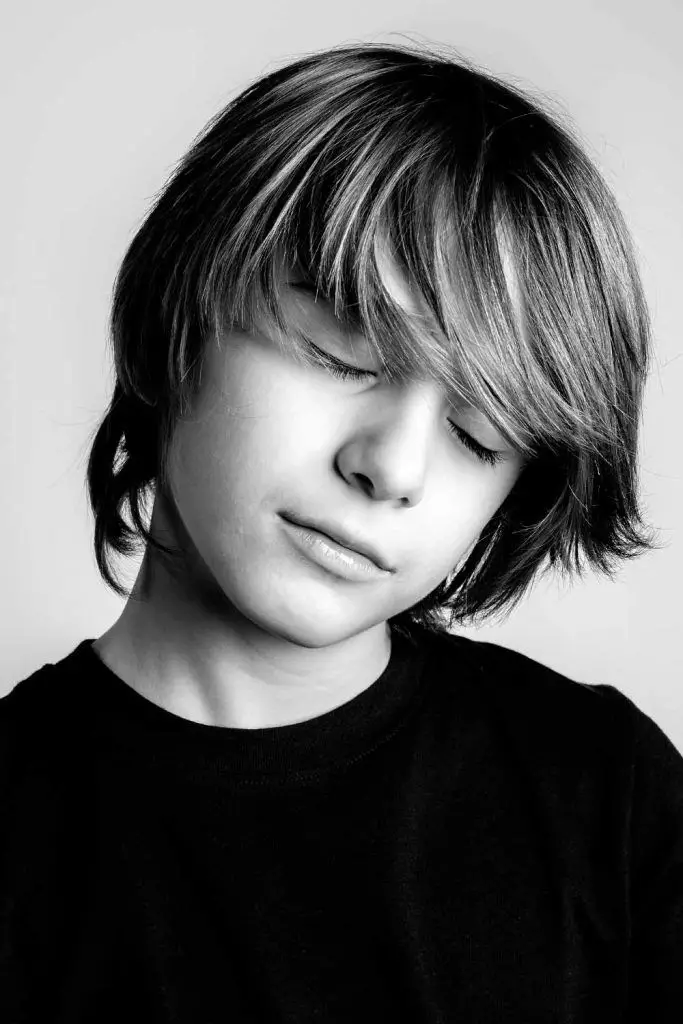 Haircuts to Avoid for Oval Faces
Men's Haircuts for Oval Faces can either accentuate the balance and symmetry of this versatile shape or overshadow it.
While oval faces are adaptable to a plethora of styles, there are a few that might not highlight their best features.
Here's a list of some haircuts that those with oval faces might want to approach with caution: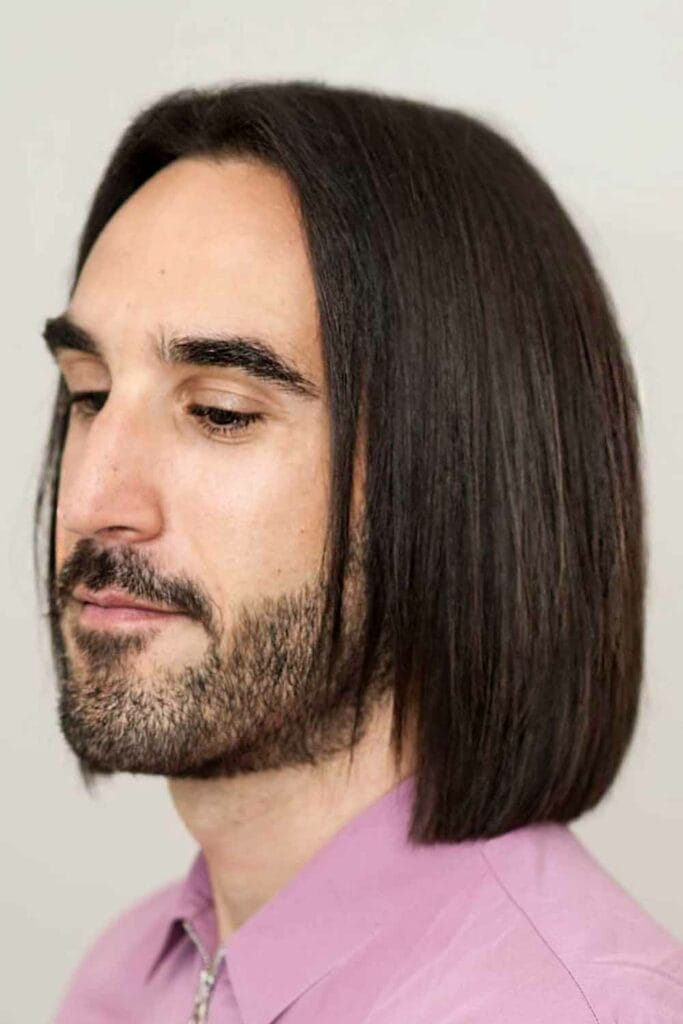 Heavy Fringes: Excessively thick or blunt fringes can mask the top half of the face, diminishing the natural symmetry that makes oval faces stand out.
Too Much Side Volume: Haircuts that add extreme volume on the sides can widen the face unnecessarily, disrupting the natural balance of an oval shape.
Sharp Angular Cuts: While angles can be intriguing, overly geometric or sharp cuts can contrast starkly with the gentle curves of an oval face, making it appear more rigid.
Forward-Focused Styles: Haircuts that push a lot of hair forward, especially onto the forehead, can shorten the appearance of the face, taking away from the elongated elegance typical of oval shapes.
How to Choose the Right Haircut for Your Lifestyle?
Choosing the right Men's Haircuts for Oval Faces isn't just about aesthetics; it's also about aligning your hairstyle with your day-to-day life. Let's dive into the steps:
Assess Your Daily Routine: Begin by examining your daily activities. If you're in a corporate setting, sleek, professional styles might be more apt. However, if you're into arts or sports, a more laid-back or maintenance-free style could be ideal.
Consider Maintenance: Some Men's Haircuts for Oval Faces demand regular upkeep. Be honest about how much time you're willing to dedicate to styling.
Factor in Exercise: If you're an active individual, opt for haircuts that won't cause discomfort or require frequent restyling post-workouts.
Think of Your Wardrobe: Your hair should complement your clothing style. If you dress more classically, a timeless haircut might work best. Conversely, trendier outfits might pair well with contemporary cuts.
Consult a Stylist: Armed with insights about your lifestyle, consult with a professional. They can provide tailored recommendations for Men's Haircuts for Oval Faces that seamlessly blend with your routine.
Conclusion
Navigating the world of Men's Haircuts for Oval Faces has been a sheer DELIGHT. With such versatility at their fingertips, men with this face shape truly have a playground of styles to explore.
I've come to appreciate the unique canvas an oval face provides, allowing for both classic and avant-garde looks.
As you venture out to redefine or simply refresh your style, remember that the right haircut isn't just about aesthetics—it's a reflection of your personality.
I hope this guide serves as a beacon, helping you find that perfect style to highlight the best version of yourself.
Frequently Asked Questions
What haircut suits an oval face?
Oval faces are versatile and can pull off a variety of haircuts.
Some popular options include the pompadour, quiff, side part, crew cut, Ivy League, fade haircuts, undercut, faux hawk, messy fringe, TEXTURED CROP, and long hairstyles such as the man bun, shoulder-length layers, slicked-back look, and natural curls and waves.
Is long hair good for oval-face-shaped men?
Yes, long hair can look good on men with oval face shapes.
The key is to choose a long hairstyle that adds volume and movement to the hair, rather than making the face appear longer.
Some suitable long hairstyles for oval faces include the man bun, shoulder-length layers, slicked-back look, and natural curls and waves.
What haircuts to avoid for oval faces?
Men with oval faces should avoid hairstyles that make the face appear longer or disrupt the balanced proportions.
These include center-part styles, extremely long and flat styles, and full and heavy bangs.
Instead, opt for hairstyles that add height and volume or maintain the face's natural balance and symmetry.
What neckline is best for an oval face?
For men with oval faces, a tapered or rounded neckline works best, as it maintains the face's balanced proportions and complements the overall look.
Square or block necklines may not be as flattering for oval face shapes, as they can add unnecessary width to the sides and back of the head.
Is a mullet good for oval-faced men?
A mullet can work for men with oval faces, as long as it's well-balanced and modernized.
The key is to avoid overly exaggerated or outdated versions of the MULLET.
Instead, opt for a contemporary take on the style, with shorter sides, a gradual transition between the lengths, and textured layers on top.
This updated version of the mullet can add movement and interest to the hair while complementing the oval face shape.
Khamis Maiouf is a professional barber who graduated from Hinckley College in England with a degree in hairdressing. He has also won several barbering contests and successfully operated a barbershop for the last two decades. As a skilled hair stylist for 20 years, his goal is to teach others how to achieve a beautiful appearance through their hairstyles.