29 Bradley Cooper Hairstyles That Will Have You Swooning
When it comes to Hollywood's leading men, Bradley Cooper hairstyles are undoubtedly a topic of conversation. Known for his acting skills and striking good looks, Cooper has established himself as one of the industry's most talented guys.
Bradley's hairstyles have also played a crucial role in his on-screen persona, adding another layer of intrigue and appeal. He is undoubtedly a trendsetter, with many fans looking to him for hairstyle inspiration.
If you're an enthusiastic fan hoping to replicate this look of Bradley, the picture gallery and descriptions below showcase 29 of his most famous hairstyles.
With these options, you're sure to find a style that suits your taste and helps you achieve that charming Bradley Cooper look.
Wind Swept Hairstyle
Although Bradley Cooper is known to rock longer hairstyles, the length is concentrated on the top of his head in this particular look.
The sides are kept short, drawing attention to the wind swept short waves that stand tall and lightly tousled.
This hairstyle is ideal for those with thick hair and guys that want to spend less on grooming, as it is a low-maintenance and easy-to-groom hairstyle. This a hairdo that will make everyone break their necks looking at your stylish and amazing hairstyle
Side Parted Hairstyle
You'll exude sophistication by parting the hair in the center and allowing it to fall naturally with a lock across the forehead. Keep some length on top to add volume, but ensure the sides are cut short.
While a simple middle part can create a polished look, achieving extra height and volume requires cutting the sides shorter and stretching out the top.
With a neat side parted professional style, you'll be sure to make a lasting impression in any setting.
Mullet Inspired
Bradley Cooper has sported a mullet inspired short style, featuring longer hair at the back and shorter hair on the top and sides, providing multiple styling possibilities.
You'll wonder about his magic of incorporating a swept-back look with a slight center part and curled-up ends for a playful touch.
Although it's a bold hairstyle choice, it highlights Bradley's willingness to take risks with his hair. The mullet hairstyle can be a fun and edgy option for those with the right attitude and confidence.
Bradley Cooper Bangs
To achieve Bradley Cooper's slicked-back hairstyle, you need to have natural flow and texture in your hair, which gives it a deliberate appearance. Ideally, you should have thick hair that moves gently.
Whether your hair is straight or curly, this style can help you achieve a carefree, wash-and-go look showcasing your hair's natural texture.
Bradley Cooper with Spikes
If you want to wear your hair short but still look edgy, clip the sides, leaving enough hair at the top so you can style it into spikes.
Achieving a spiky hairstyle doesn't require natural texture. You can create this trendy look by using a small amount of styling product and working it through your hair.
It's important to remember that a stylish hairdo can boost your confidence and make you feel more desirable.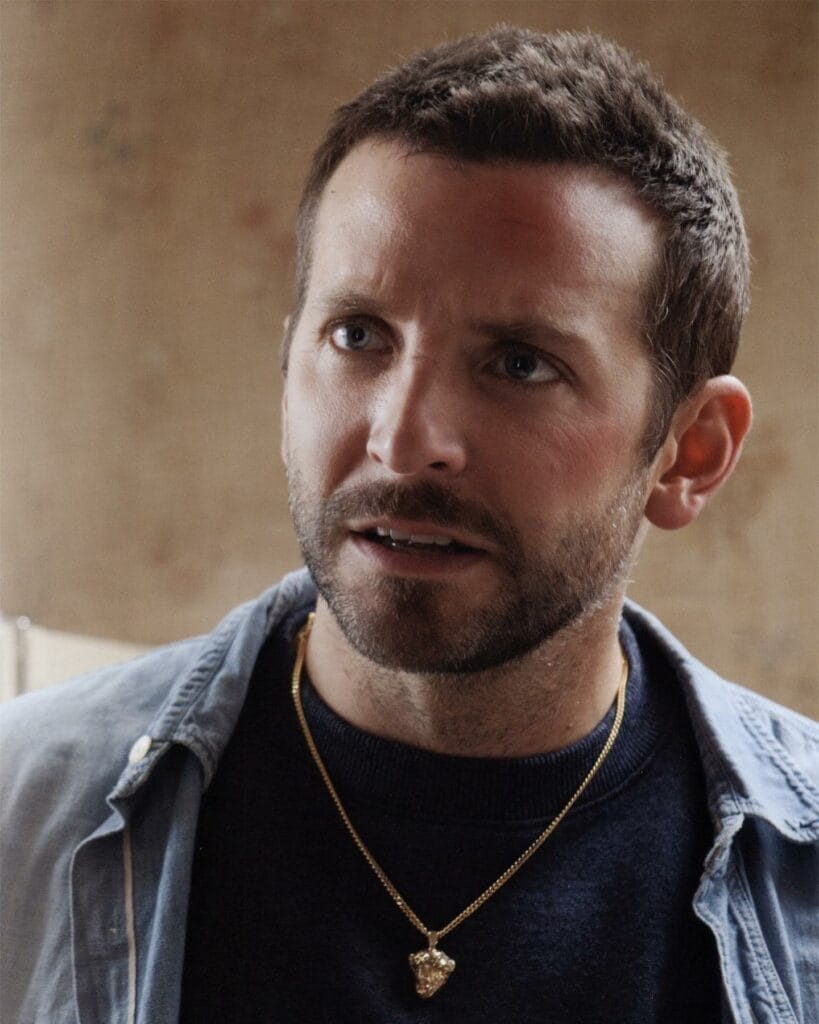 Layered Nape Length Locks
Here, Bradley's hair is naturally long and down to his neck. Bradley Cooper embraces his natural hair in this neck-length look with minimal styling.
His beautiful hair boasts a pleasing color and texture, making it easy for him to achieve a low-maintenance yet stylish look. With a soft center part and gentle finger-combing to the sides in slight layers, Cooper's natural locks are left to shine.
Ivy League
Bradley puts a modern spin on the classic Ivy League graduate look, as with one of his previous hairstyles.
To achieve this style, the top is shaved while the sides are faded, and the hair is combed forward. It is an excellent option for both thick and thin hair types.
Bradley Cooper Slick Back
Bradley Cooper sported a medium to long length slick back hairstyle with sophistication, making him one of the Hollywood leading men.
This classic hairstyle is simple yet versatile and works well for men with short or medium hair, and can be easily replicated with hair gel and a brush.
Cooper's version features layers on top with lots of texture, adding depth and dimension to the hairstyle.
To achieve this look, apply hair gel to damp hair and use a comb or brush to smooth the hair back. You can add a dash of mousse or hairspray to hold the look in place but use hair products sparingly to avoid a crunchy or sticky finish.
Avoid making the hairstyle too flat to the scalp, as this can make it look greasy and unflattering.
Shaggy Layers
Bradley Cooper effortlessly rocks a sleek appearance, proving that being bald doesn't limit your hairstyle options.
His signature slick back haircut calls for medium-length hair to be brushed back in a layered, shaggy fashion.
With this hairstyle, you can express your personality through your hair and boost your self-confidence.
Plus, it's a low-maintenance look that can be achieved with minimal effort, making it an excellent choice for busy individuals who still want to look sharp and put together.
Messy Bangs
Reminiscing over the most beautiful hairstyles, one that stands out is the messy bangs sported by superstar Bradley Cooper. This look features voluminous bangs styled to have a slightly messy finish.
If you have naturally textured hair that's hard to tame, then messy bangs could be just what you need to add some polish to your locks.
This style lets you leave a few strands hanging over your forehead, creating a rugged yet stylish aesthetic. And since it's a low-maintenance look, you don't have to worry about spending hours styling your hair every morning.
Medium Tapered
This haircut is particularly stunning due to the curved shape in the middle of the fade. Despite the short length of the strands, the intricate pattern remains visible, making Bradley's look all the more attractive.
Styling these short strands is a breeze, as they only need a touch of messiness to become fashionable.
Gelled Side Sweep
While grooming products like hair gel are essential for maintaining healthy hair, they can also be used to create more elaborate hairstyles like this one.
With the right application, you can make your hair look shiny and effortlessly swept to one side, showcasing its unique features.
Long Crew Cut
Bradley Cooper has been spotted sporting a long crew cut that's perfect for the current carpet looks of the season. This classic hairstyle is given a modern twist by adding extra length and tapering the sides, resulting in a trendy and refined look.
One of the distinctive features of Bradley's long crew cut is the layered and slightly messy bangs that add texture and dimension to the hairstyle.
The sides are faded to create a polished and sophisticated look, while the longer length on top allows for some versatility in styling.
Bang with Texture
Bradley Cooper is known for effortlessly pulling off some of the most charming hairstyles in Hollywood, and his bangs with texture are no exception.
With soft bangs on the crown and tapered sides, this style adds a touch of ruggedness to his overall appearance.
To achieve this look, Cooper finger combs his hair to create a slightly shaggy texture that adds volume and dimension to his bangs. The key is to keep the hair on the crown longer than the sides to create a seamless transition from top to bottom.
Dark and Smooth
Your hair is sure to catch people's attention wherever you go, with its beautiful black shine and smooth surface.
The short length is perfect and requires minimal effort to style. You simply run your fingers through it and smooth it behind your ears for a polished look.
Rugged Gentleman
This rugged look is what has endeared Cooper to his fans all around the world. With his hair cut short and left tousled, he exudes a rough exterior that perfectly captures his persona.
What's great about this style is that Bradley only has to cut his hair short to achieve the desired texture, making it low-maintenance and effortless.
It's perfect for guys who want to save time styling their hair but still want to look sharp and stylish.
Rough and Ready Look
This A-lister can try out any look he wants, including different hairstyles, and he does so often.
So, if you're looking for something more daring than a minimalist look, consider opting for edgier hairstyles like this one.
Middle Part
When he is not working on a set, the actor likes to wear his hair in a short, tight cut with a center part and some side bangs.
This effortless style can be pulled off by anyone with the right facial features, making it a hairstyle worth considering.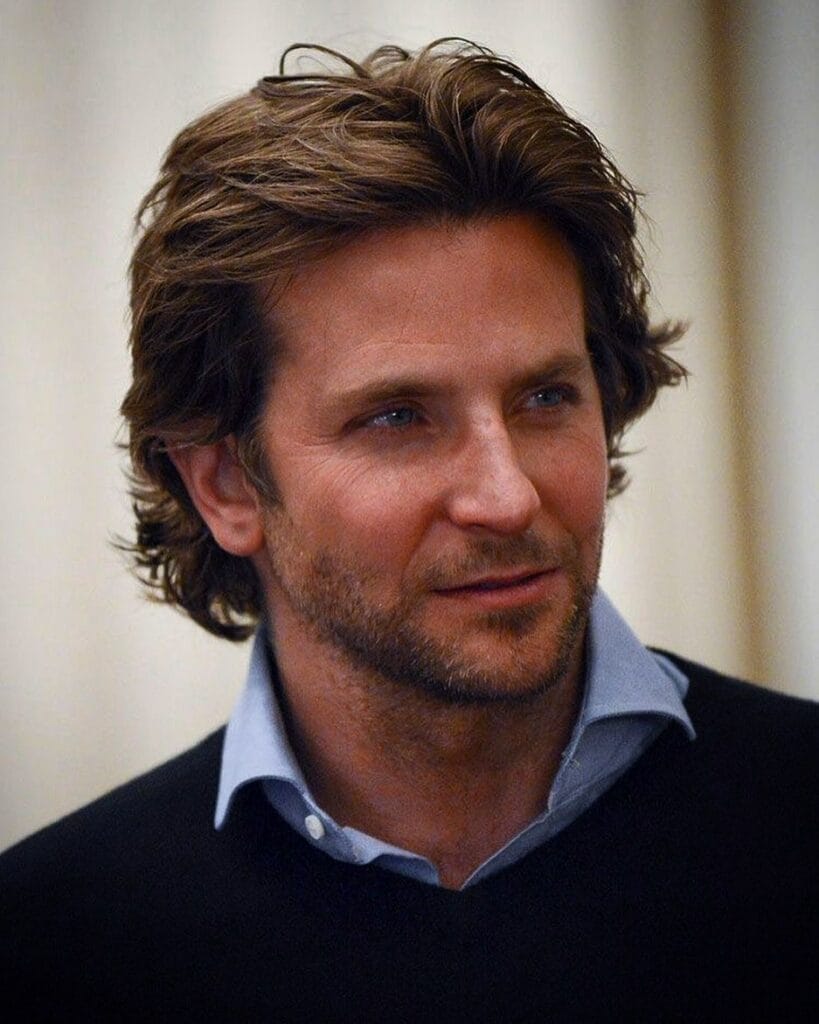 Top Knot
Big stars like Bradley Cooper couldn't resist following the most popular fashion trend.
His half-up, half-down top knot makes him look cute as he plays with his little kid on the seaside.
This cut is an excellent opportunity to show off your style and personality.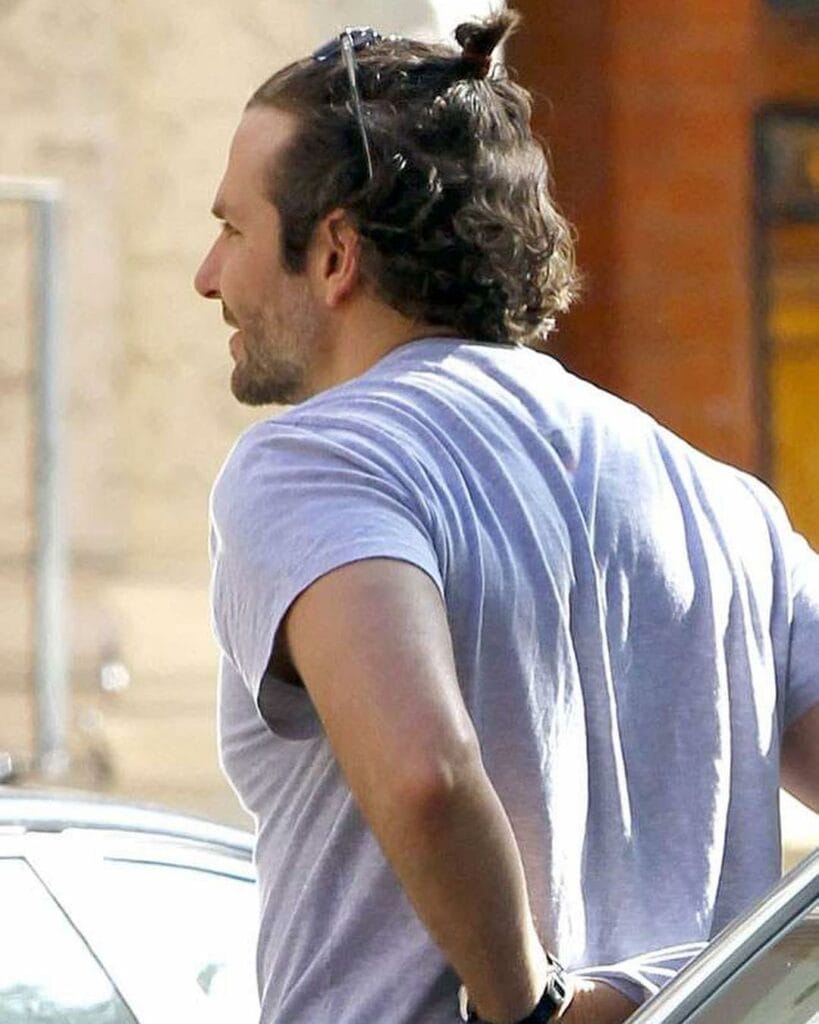 Medium Bradley Cooper Hairstyles
Medium-length haircuts are easy to take care of and usually don't need to be cut as often as shorter or longer styles. However, before getting a haircut like this, it makes sense to ask your stylist if it's alright.
Buzz Cut Hairstyle
As was previously established, Bradley is a huge supporter of buzz cuts for his hair.
Thus, this haircut can draw your attention to the angular features of the face, giving you a more robust and manly overall impression.
Shaggy Side Part
A gorgeous man may be transformed into a walking piece of art by putting on well-tailored clothing with a messy side part and shaggy hair on top of his head.
Because of the apparent difference between the two extremes, you can try different looks to see what works best for you.
Blonde Spikes
This hairstyle is a perfect fit for those with natural waves or curls, as it can easily be styled into spiky shapes with the use of hair cream or gel.
Bradley Cooper has worn this style in the past, and it's a great option if you're looking for a classic and timeless look.
Sexy Hairstyle With a Beard
Bradley's hairstyle is not just a regular taper; the side parts extend to the ear canal, giving his hair a full and refined appearance.
If you want full hair like Bradley Cooper's, consider a custom-tailored taper that suits your hair and face shape.
High and Tight Bradley Cooper
This hairstyle is a versatile and classic choice that can create multiple looks. It's a popular choice for men because it suits formal and casual occasions. However, pairing the hairstyle with the appropriate outfit for the event is important.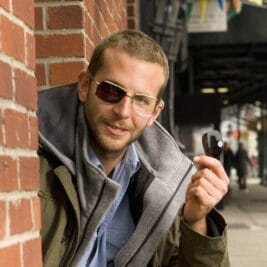 Wet Look
Bradley Cooper has been known to favor the "wet look" hairstyle, characterized by a slick and shiny appearance. To achieve this style, a generous amount of hair gel can be applied to the hair and smoothed out using a comb to distribute it evenly.
This will create the desired slick appearance that Cooper is known to rock.
Short Comb Over
The short comb-over is a foolproof hairstyle that is easy to maintain and looks great on the scalps of most men and women.
This hairstyle uses a comb to slick back the hair on the sides and top of the head, creating a neat and polished appearance.
Flow Haircut
If you want to show off your hair's natural beauty, a cut that works with your hair's natural texture is the way to go. This cut is typically medium to long and is suited for those with curly or uneven hair textures.
By working with your hair's natural texture, you'll end up with a more relaxed and natural-looking style.
This is achieved by allowing the hair to fall naturally, with the curls or waves adding depth and dimension to the style.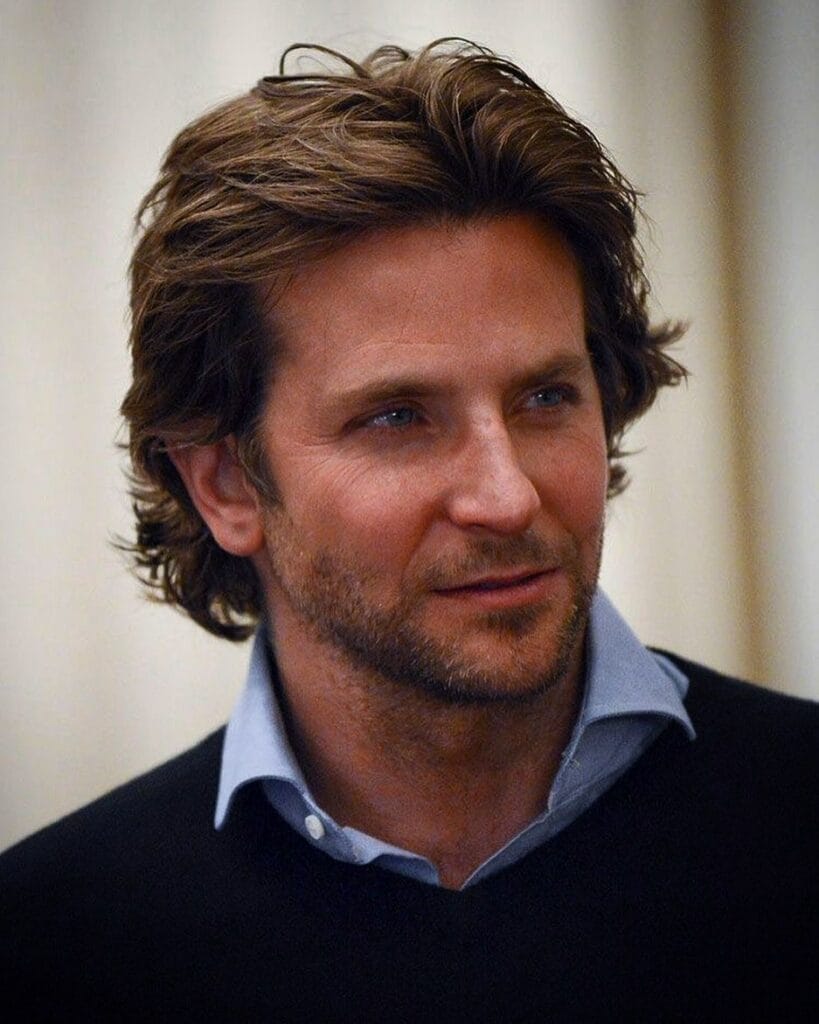 Bradley Cooper Haircut Tutorial (Add Video)
Conclusion
Bradley Cooper's hairstyles have always been a talking point on Cooper red carpet, and it's no surprise why.
From his signature windswept to the shocking red carpet moments where he has rocked a new cut or color, Cooper's hair has always reflected his versatile style.
Whether sporting a slicked-back look or middle or side parting, his hairstyles are always easy to replicate at home with just a little product, such as mousse or hairspray.
And as the years go by, Cooper's hairstyles only seem to be getting better as he continues experimenting with new cuts and styles.
FAQs
What Is Bradley Cooper's Favorite Hairstyle Called?
Swept Back Hairstyle. It involves brushing your hair backward, starting from the ends rather than the roots, and then applying styling products to achieve the desired look.
Khamis Maiouf is a professional barber who graduated from Hinckley College in England with a degree in hairdressing. He has also won several barbering contests and successfully operated a barbershop for the last two decades. As a skilled hair stylist for 20 years, his goal is to teach others how to achieve a beautiful appearance through their hairstyles.