39 Classy Balding Men Haircuts [Overcome Baldness]
Balding is a reality all men must deal with at some stage in life. When it sets in, balding takes away the pride and confidence in most guys. However, several hairstyles are NOW in place to help you overcome baldness.
They offer you another chance to rock with a sexy teenage appearance.
We have sampled the best hairstyles you must choose to conceal balding, the unwelcome visitor.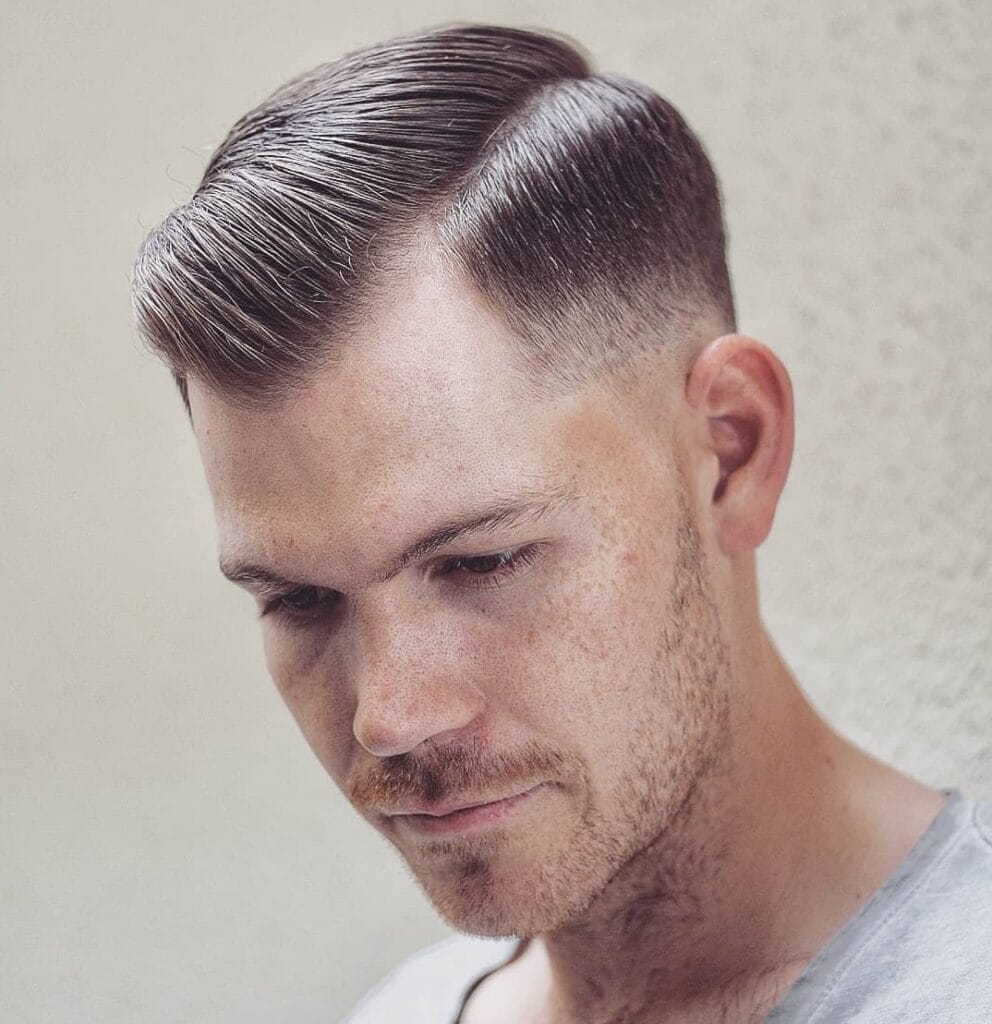 Clean Shave for Balding Men
A clean shave is the best way to answer your critics that you are content with your appearance.
It also disguises your hair loss and heightens your confidence. And saves you time standing in front of the mirror styling your hair. You also don't have to buy expensive products to keep your hair.
Do I mention that guys shaving clean attract most ladies? Now you know!
Sexy Razor Shave
Is your hair scattered in patches? Consider going for a razor shave for a clean and distinguished look.
A Razor shave is your best bet if you have little time to style your hair. Research shows that bald guys who make a full shave boost their confidence.
Plus, you visit your stylist occasionally. This saves you a lot of cash.
Timeless Ivy League
Ivy league will remain in fashion for years to come. It never grows old and doesn't need attention to your hairline. The ivy league hairstyle best suits guys experiencing balding on the crown.
I particularly like it because my hair doesn't have to be thick or long to clad.
What's more, it's super cool in any outfit, saving you the pain of wondering what to wear.
Try it if you still have some volume of hair remaining on your mane, and the results will shock you.
Sleek Short Crew Cut
You don't have to worry about your personality with a crew cut. It fits all.
The only secret is that your top needs to grow longer to cover your receding hairline. It's super great to the extent that no one will note your balding.
Quiff Taper Fade for Balding Men
The quiff does wonders with longer hair length at the top. It leaves your face looking younger so that people will not notice your thinning hair.
Short Hair Skin Fade
Keep your hair short the moment it starts thinning.
And you will be assured of a sexy and stunning appearance. Even so, short hair skin fade works best if you are at the start of balding.
People may not notice your receding hairline because their attention will definitely be on the shaved sides.
Regulation Cut for Balding Men
For a perfect regulation cut, your hair is shaved short at the sides while keeping the top tight in a comb-over style. Your hairline is included as part of your hair feature.
Short Afro for Balding Men
Afro is an elegant hairstyle that symbolizes blackness. Wear it with pride and no apologies.
A short afro makes it difficult for one to note your hair loss. Plus, maintaining and keeping it nourished doesn't require gold and silver. You only need a little effort, and the benefits of volume and texture are your courtesy of the afro style.
High skin fade for Reducing Hair
The high skin fade is the most dramatic way to disguise your receding hair.
It makes your hair look fuller and thicker at the top, creating a gorgeous appearance.
A high fade brings your confidence back to life while leaving you with the independence to experiment with your hair.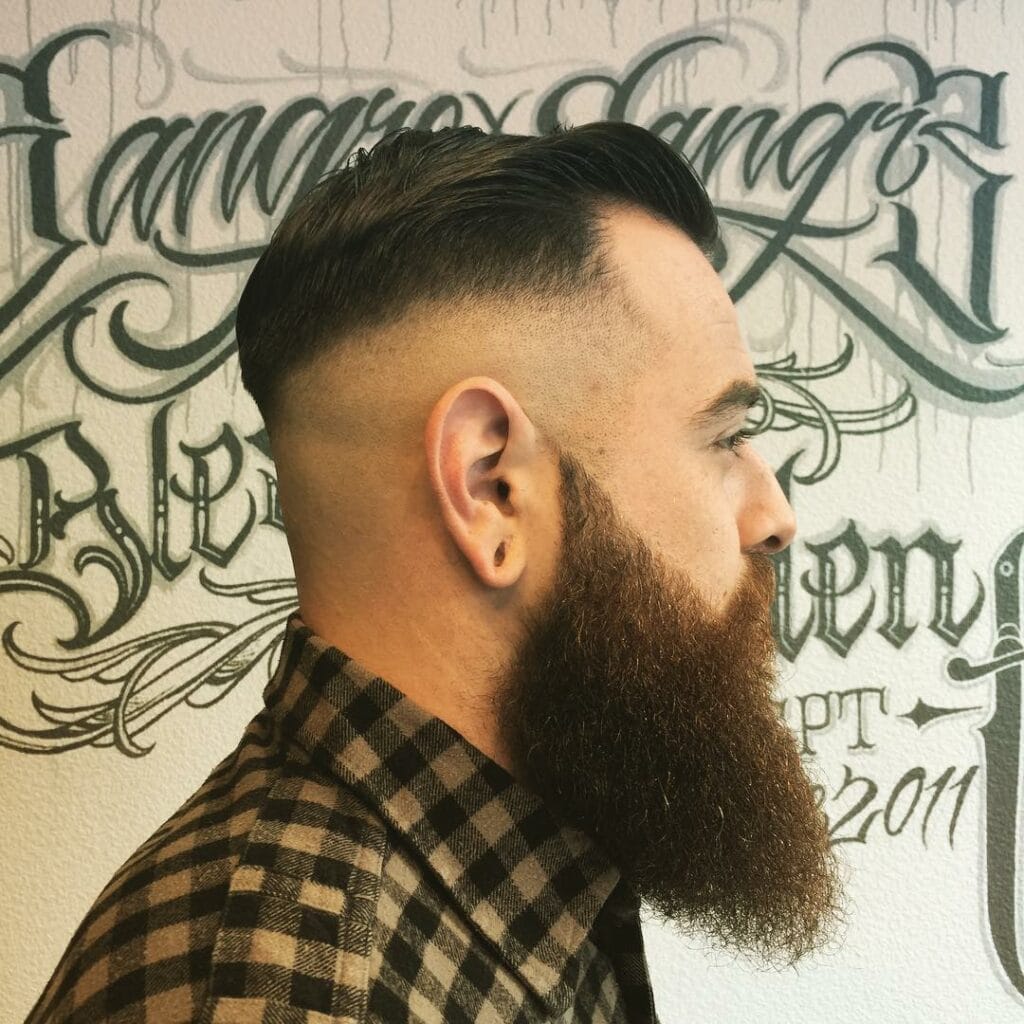 Combed Forward Hair
Brushing hair forward offers the best alternative to disguise a balding crown.
The hairstyle is incredibly cool when kept short, allowing it to have a natural volume. Regardless of how hawk-eyed one is, it's hard to notice your patchiness and thinning.
Combine it with other cuts, such as a taper, to give it a decent finish.
Spiky Hair for Balding Men
Spiky hair offers both volume and texture. The advancement of this hairstyle leaves your hair looking messy and natural-like to give you a classy and modern appearance.
Cladding this hairstyle is excellent with short hair since styling becomes easier to achieve the desired look.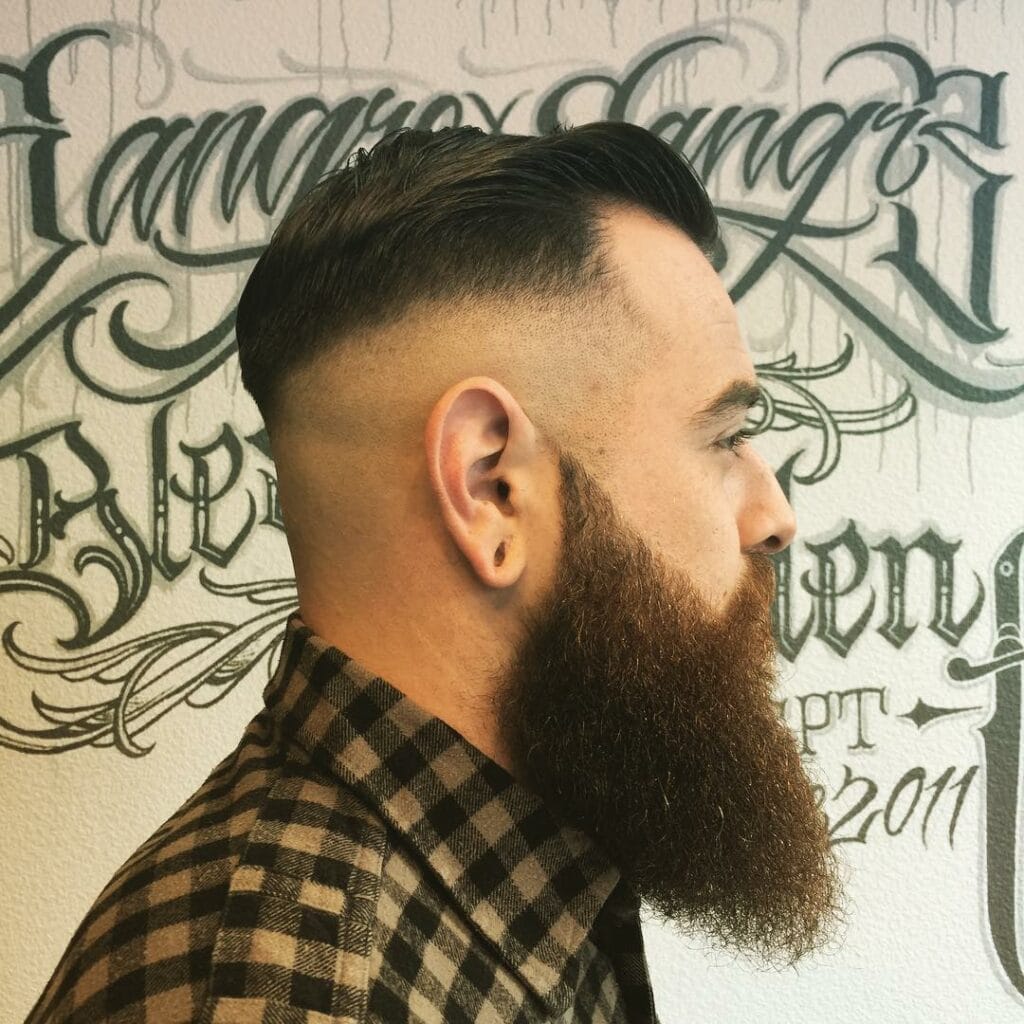 Crew Cut
Men, old and young alike, look trendy in a crew cut.
This mouthwatering style leaves you looking sexier than before. It's a sure bet when it comes to hiding any bare spots on your mane. You need to spike it up and maintain it a bit longer, and the results will be phenomenal.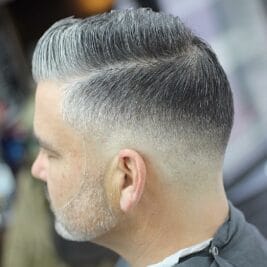 Short Quiff for Balding Men
A short quiff is suitable for several textures and lengths. Brushing your hair backward and upward results in a quiff providing volume at the crown.
Let none cheat you that a quiff isn't good for balding men. All you need is a short quiff to offer a little volume. This will draw people's attention to the front, detracting them from noticing your thinning top.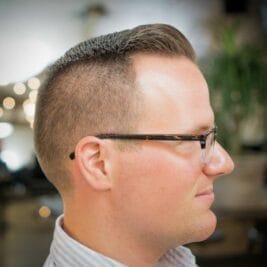 Top Faded Undercut
How else will you disguise your receding patches at the crown except with the help of a top faded undercut? This hairstyle involves combing your hair at the top backward.
The thinning patches are covered in the process, giving you a classy look.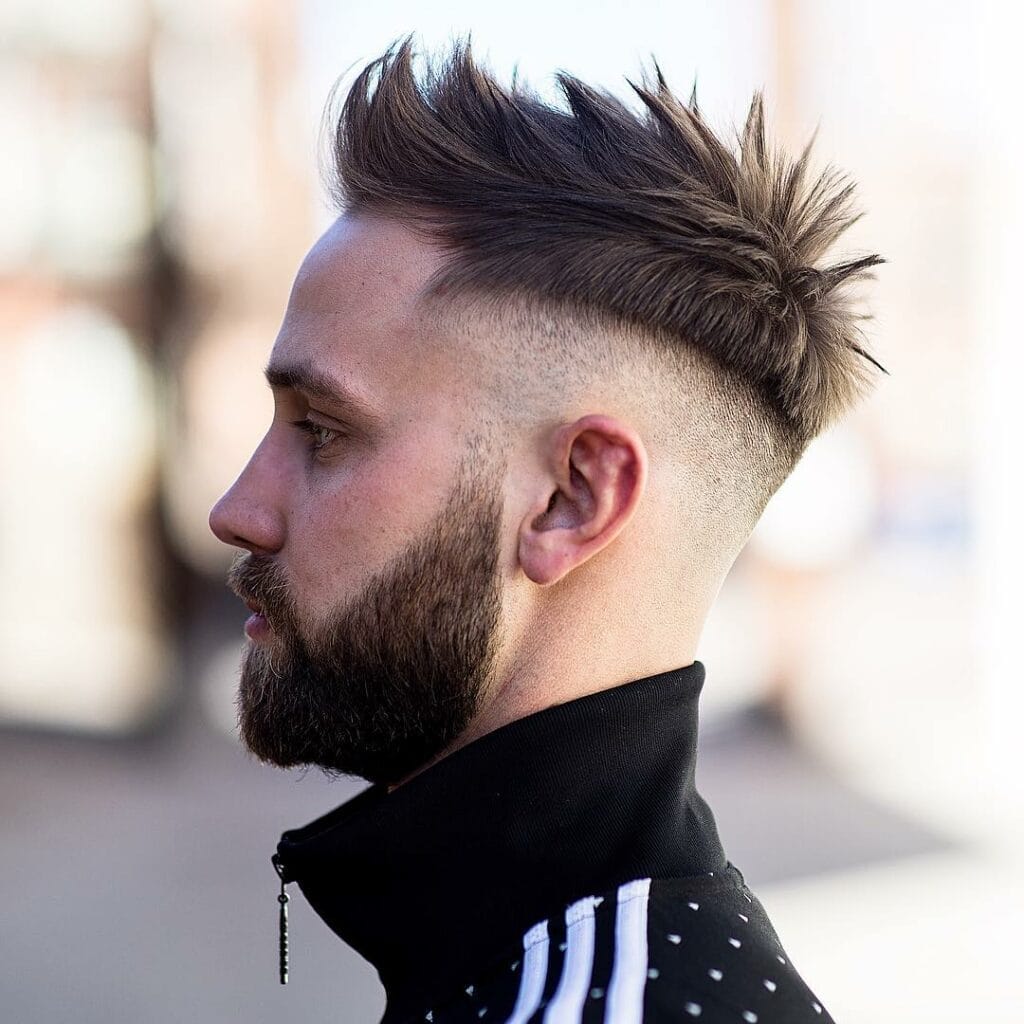 Mini Pompadour for Balding Men
Is your hair yet to achieve full pompadour? Worry not. This medium-length hair on top will shoot your look beyond the sky.
Pushing the hair up and back makes it look thicker, detracting your thinning spots at the front.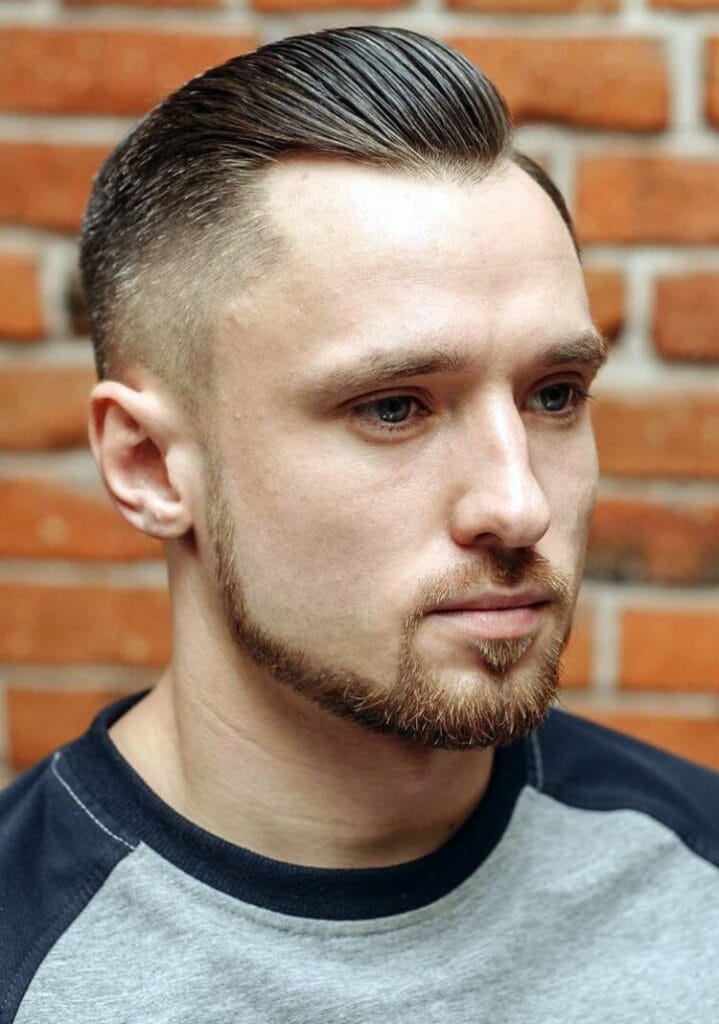 Polished Shaved head
As much as this hairstyle is not for everyone, you can rock with it. After all, your personality is different. Add a little polish to your clean-shaven head for a great appearance.
Tousled Taper for Balding Men
Go for a little tousling and layering to distract people from noticing your thinning at the top. Apply a styling gel with a medium hold to obtain a sleek look.
Basic Crew Haircut
The basic crew cut is popular with the balding community.
Apart from being the easiest way to style your hair, it is great because it maintains your hair short, giving you an exquisite look.
Terry Bradshaw for Balding Men
Who said copying celebrities is a bad idea? Look at how sitcom celebrities rock in Terry Bradshaw's hairstyle, for example. Clad in it and let your bald spot do the talk. After all, you have no apologies for anyone.
Height on Top Haircut
Wearing this hairstyle involves styling your hair forward from the back. And your stylist brushes your hairline and styles it up and back.
In due course, the height created at the top shields thinning patches. Consider accompanying it with a medium fade to draw people's attention.
Long Top, Hard Part
Experiment with your long hair because it's one of your treasured assets. For example, keeping your hair long at the top and parting it to one side will give you a pretty look. The secret is that parting it deep enables you to cover the thinning patches.
Prince William for Balding Men
Prince William was not the brain behind this hairstyle.
But wearing it more often popularized it. The style leaves a little length at the top, which obviously is balding, while keeping the full sides short.
Ultra Short Undercut
Your barber shaves your hair at the sides and back almost to zero while maintaining the top a bit longer. In the end, great geometric lines appear, distracting people from realizing your balding area at the top.
Short Faux Hawk for Balding Men
Your barber maintains the top short but long enough to allow for a faux hawk. This hides your balding areas at the crown or in the middle.
Imagine that look when your stylist leaves reasonable junk of hair at the front while keeping the crown shorter! And fades it down at the sides. It's fabulous.
Short Sides Medium Top
Is your crown receding?
Ask your stylist to leave your hair at the top a little longer while keeping the sides and back shorter. The idea is to let your top remain with reasonable hair for styling.
Mid Fade Taper Hairstyle
A mid-fade haircut diverts the attention from your balding or thinning patches. You only require an experienced stylist to give you a dazzling look.
Polished Combover Razor Fade
Turn your patchy area into an admirable point to behold. You only need to use a deep part on the patchy area to create an arresting look. For example, consider a tight fade on the sides, and the result will be flattering.
Textured French Crop
Why leave balding to take your pride away?
This boyish hairstyle will bring back the assurance that you're still young and rocking. Do you have silky, straight locks or textured hair? This hairstyle must be on your try list.
Short with High Fade
Rock with high fade, and your balding challenge will be a thing of the past.
Ask your stylist to leave longer hair at the top and reduce the volume on the sides for an eye-catching look. Because the fade starts at the top, it'll be hard for someone to note your receding hairline.
Balding Mohawk Hairstyle
Ask your barber to shave the sides clean to shift the attention to the fuller top. When done the right way, it turns out professional and excellent.
If you have a beard, never be shy to compliment this hairstyle, and you will look classy.
The Caesar Haircut
Talk of men's haircuts, and the Caesar cut is one of them. Ask your barber to cut the top, sides, and back uniform with the short fringe as the defining feature. The fringe will draw attention away from your thinning hair to your facial appearance.
Unlike most hairstyles, Caesar cut doesn't discriminate against age and is adaptive to any texture and length.
A touch of light pomade and brushing it forward will cover the receding hairline to give you a glamorous look.
Ultra-Curly for Balding Men
Curls are best for guys with oval and squared faces. Accompanied with a styling product ultra-curly will make you stand out from the crowd.
Short Afro for Balding Hair
You don't have to bear the ridicule associated with balding when a short afro can give you a hunky appearance.
A short afro makes your thinning hairline less noticeable and stars your look.
Cladding in a short afro is easy, and your hair remains nourished for a long time as opposed to longer locks. You don't need expensive hairstyles when you can get volume and texture with a short afro.
High Skin Fade
The high skin fade is touted among the best hairstyle for helping balding guys to regain their confidence.
Your stylist ensures considerable hair length at the top while the sides and the back reduce significantly. This will contrast the hair at the top giving you a charming appearance.
Brushed Forward Hair
Brushing the hair forward makes your hair at the crown appear fuller to disguise patchiness and thinning.
This is a simple way to style the hair, and looks best when kept short to naturally show volume.
For a modern finish, pair the look with a faded hairstyle like a taper if you want a stylish finish.
Grown Out for Balding Men
Use high-quality gels in case you want to grow out your thin hair.
Go for quality shampoo and other products with better ingredients to avoid losing your hair. Low-quality gels cause devastating effects such as skin ailments and destroying your follicle.
Extra Neat Short Fade for Balding Men
Ensure your hair isn't shaggy because such will heighten your balding. Plus, adding a side part will go all the way to distract people from noticing your baling hair.
Dapper Quiff for Balding Men
Your barber maintains your hair at the top longer and combs it over to fall on the receding hairline.
When accompanied by tapering, nobody will realize you are bald.
Short and Messy
Applying some pomade to your short and messy hair creates a natural texture making it look fantastic. Let people envy your look by making your hair short and messy with hair wax.
Joke around with texture and the deep side part to hide all the patchy areas.
Wrap-Up
While balding is inevitable, you shouldn't let it take away your joy. Mitigate its effects by rocking in one of the above-discussed haircuts. In general, balding men's haircuts apply to almost all hair types and body shapes. So, nothing stops you from going for any of these haircuts today.
FAQs
How Can I Cover the Top of my Balding?
There are unlimited ways to cover your top, including styling your hair differently. Plus, check out how your hair is cut and dried. These crucial steps determine whether or not your bald spots will appear.
Regrowing your hair and applying gels such as finasteride help slow down balding.
Which Style Best Suits My Balding Front Hair?
The crew cut is touted among the best hairstyles that conceal receding hairline and balding. It reduces by a significant magnitude the contrast between the sides of your head and temples. This gives you an image of a hairline that's more even.
Should I Get a Buzz Cut if I'm Balding?
Having long hair makes it difficult to hide your receding hairline. I recommend shorter hair because it conceals your loss of hair. Plus, a buzz cut does well in covering receding hairline.
Khamis Maiouf is a professional barber who graduated from Hinckley College in England with a degree in hairdressing. He has also won several barbering contests and successfully operated a barbershop for the last two decades. As a skilled hair stylist for 20 years, his goal is to teach others how to achieve a beautiful appearance through their hairstyles.