Have you heard of "Men Blue Hairstyles"? If not yet, then you are way behind in styling, but that won't stay the same as I am going to help you transform your old fashion thoughts into some new, crazy and sexy styling sense. Now have you ever wondered, Why do men always color their hair in only that conventional black, brown, and burgundy? Why not try something different and funky?
That would make you look more unique and different. And an attractive man like you should try not to fit in the crowd of common ideas. Men with blue hairstyles are now a popupar trend, and are on hotlist. Men with funky hairstyles are way more cooler than old, boring hairstyles and hair dyes. If you agree with me, and want to know more about "Men blue hairstyles" then keep on reading…
Why Become Men With Blue Hairstyles?
The very first question that may cross your mind will be why choose blue as a hair dye? The answer is very simple, as guys, we often limit our choices to those black-brown, and their sister-shades. But don't you think we should think outside the box? Every human being is unique in their own way, and that is the most attractive thing about us, as humans. If we stop using our own minds, and only follow what other people are doing then we all will start to look the same, And that's the very trait of animals.
Now, if you have decided to go a little funky this year, then I will be sharing some great facts that you really need to keep in mind before going for men blue hairstyles. But before that, let me ask you "have you ever seen any celebrity with blue hair dye?" If not, you need to do some research, or let me just help you! One click and you can see Jung Kook, famous member of BTS slaying Men blue hairstyles.
People Also Ask, "Blue Has So Many Shades, Where Can We Find Them?"
If you are one of these people, who get really confuse while choosing a shade then you must be going crazy right now. I know it is a tricky decision, and you really need to be on point while choosing. But don't boil your blood, and chill a little while I help you!
There are various shades of funky blue hairstyles, and to your surprise they can be classified broadly into three categories. And, now you don't even have to search for them on different websites.
3 Main Shades Of Blue Hair Dye
Dark Blue shade Family
Navy Blue
pace Blue
Denim Blue
Prussian Blue
Egyptian Blue.
Medium Blue shade Family
Olympic Blue
Sapphire Blue
Light Blue shade Family
Baby Blue
Sky Blue
Carolina Blue
Now you have the whole idea of blue shades. You can now choose your blue shade, and be one of the men blue hairstyles. Told you, I'll make it easy for you.
Should You Mix Blue With Other Hair Dyes For More Catchy Look?
While going to choose Men blue hairstyles, you can always be creative. I know blue is a funky choice, but with some shades you can either enhance the funkiness or change it to something graceful. Want to know how? Color combinations always work! To make your hairstyle more wacky and funky, you can mix other colors with blue, in various proportions and quantities, and the results will blow your mind. Here are the 7 most trendy choices for funky men blue hairstyles.
Blue with black(dark, medium, or light)
Blue with a silver(whitish silver, dark silver, steel shiny silver)
Blue with brown(wood, chocolate, light tone)
Blue with red(dark, medium, light,)
Blue with grey(silver grey, dark grey)
Blue with white(pearl white, silver-white, milk-white, yellowish-white)
Blue with neon (yellow neon, green neon)
You can mix these colors duo, trio, or in multiple proportions, on upper hair, side hairs or frontal, and can have your own men blue-dominated hairstyle.
Don't Compromise On The Quality Of Men Blue Hairstyles
As I have talked enough about how men blue hairstyles is a unique choice when it comes to hair dyes, and because of this reason you need to be very careful while purchasing any product.
Because if you bought a bad/low quality product, it may damage your hair or may not give your hair the color, that was promised. When it comes to styling and looking good, I would say never compromise with the quality of the product no matter what. Because it is not only about styling, but it is about healthy styling. Before buying your blue color or dye you must know these basic,but crucial points.
7 Points To Keep In Mind Before Going For Men Funky Hairstyles
Always consider what chemical is used, and in what quantity.
The Brand you're using. Do spend some more penny, and go for a good brand.
Prefer organic or less synthetic colors over highly chemicalized dyes and colors.
Shade must be original, sometimes shown shade, and original shade are different.
You must know how to apply dye and colors on hair if you're doing it by yourself.
Colors and dyes also come with some side effects, so don't use it excessively.
Make sure you're not going to be allergic to the newly bought color, if yes then immediately rinse it off, and consult the doctor.
Men Blue Hairstyles That AreTrendy Now
The thing you need to understand is that only blue color cannot give you stylish, wacky, and cool look. But to look different and unique you need a good and stylish haircut with proper styling. So Here are some haircuts you can opt for.
Disconnected undercut dark blue that is best for long face cuts.
Slightly side cut middle long, Blue-brown corporate look
full long blue hair with a sharp jawline face.
Full Neon blue hair with purple shade, the rockstar look
Side bald cut in an aqua blue ponytail, two-tone black-blue hair.
Men Blue Hairstyles And Beard Combination
When it comes to MANHOOD, a beard is something that is inevitable and natural. But the question is what beard style can possibly go with styling ideas of men blue hairstyles? Let's find out!
6 Beard Styles That Will Compliment Your Funky Men Blue Hairstyles
Long Blue hair with a long and bushy brown beard.
Half bald cut Silver blue hair with jawline black beard.
Short cuts highlighted blue hair with French cut beard.
Straight greyish blue hair with a long ducktail beard.
Uppercut sky blue hair with 2 days grown brown beard look.
All back hair, frontal blue with a rugged black beard.
Apart from this, you can make your own combinations, your own set of styles, and can have a rugged bearded look.
5 Golden Wardrobe Rules For Men Blue Hairstyles
Have clothes that are matching with men blue hairstyles, and it's all shades.
When you change the shade of your hair then also change or adjust the shade of your cloth.
Black, white and silver are the best friends of color blue so Often use them as these colors will compensate for your most combination problems.
Your accessories like bracelets, watches, rings are subtle things but if matched with your blue hairstyle then it can create extra aura and charisma for your personality.
Last but not the least, your shoes. Yes, shoes are the first thing that is being noticed by many people so if your whole personality is matching with your funky blue hair then why leave the shoes alone?
7 Organic Men Blue Hairstyles Dyes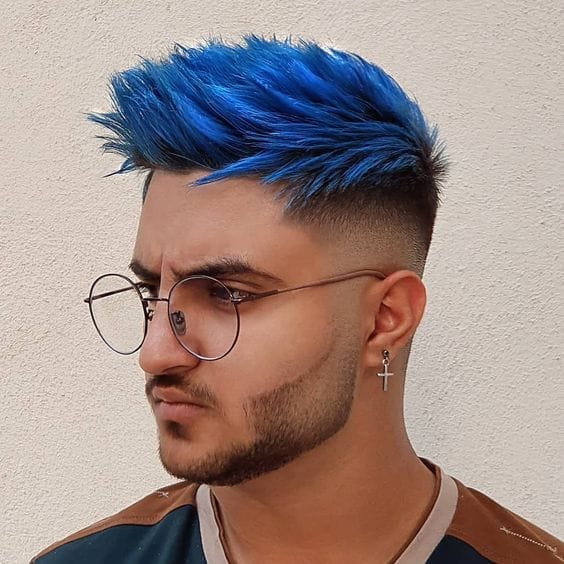 We all know that hair dye and colors are full of chemicals and sometimes with toxins too so what to do? Mother nature has always been a solution to our problems. We can still have a blue hairstyle without ruining our hair. Here are some plants and flowers through which we can extract natural blue color for our hair.
Indigo
Dogwood back
Hyacinth flower
Japanese indigo
Oregon Grape
Purple iris
Cornflower(also known as a blue bottle)
If you can't get these herbs, plants, and flowers then there are organic products that are still way better than highly synthesized colors. You can use those colors too.
Things You Should Know While Going For Men Blue Hairstyles
First and foremost choose wisely the shade of blue color.
the proportion of applying the color on your hair to make it funky, trendy, and cool.
Make the best combination of blue with other colors and even with blue in another shade and tone.
Adopt hairstyle according to your face cut and Apply the shade of blue color according to your skin tone.
Apply color on your hair from time to time and Other nourishers so that your hair could remain healthy and shiny.
Last but least, your choice is what matters the most. Don't be afraid to be unconventional. If you think the Blue hairstyle is something a man can wear, then wear it happily.
5 Best Men Blue Hairstyles Products You Can Use
Arctic Fox hair dye
Manic-panic hair color
Sparks long-lasting hair dye
Jerome Russel punky hair dye
Adore semi-permanent hair color
Conclusion
In a nutshell, mens blue hairstyles are becoming so trendy. They are a rare shade to see on a men's head, and you should try it if you are eccentric like me, when it comes to styling. Now men are not confined only with some so-called hair colors, they too have many choices no matter how unconventional they seem to be. Be Unique with your hair color and be the next funky, trendy, stylish but still manly and be that Man in Blue hair.