There are numerous greaser haircuts trademarked by famous footballers. Below are some of the stars and their favourite hairstyles just for you. You can check out some of our articles on specific styles and how you can get them at the comfort of your home; Robert Lewandowski new haircut, and How to get the Best Harry Kane Haircut from the FIFA World Cup? etc.
1.  David Beckham's Greaser Haircut (Slicked Back Hair Plus Short cut)
The fashion guru David Beckham who is fondly called Becks by his fans, has over the years transitioned from his illustrious football career into a famed businessman. The British-born ex-England international has paved the way for himself in the business world by acquiring the US based football team, Inter Miami.
Aside from his great footballing skills and wonderful free-kick techniques, his looks and fashion sense announced him to the world as the Golden Boy of football. With the media and paparazzi all over him; he always made the headlines. He attained fame at a very young age plying his trade at Manchester United, grabbing huge ambassadorial deals and appearing on the front cover of magazines.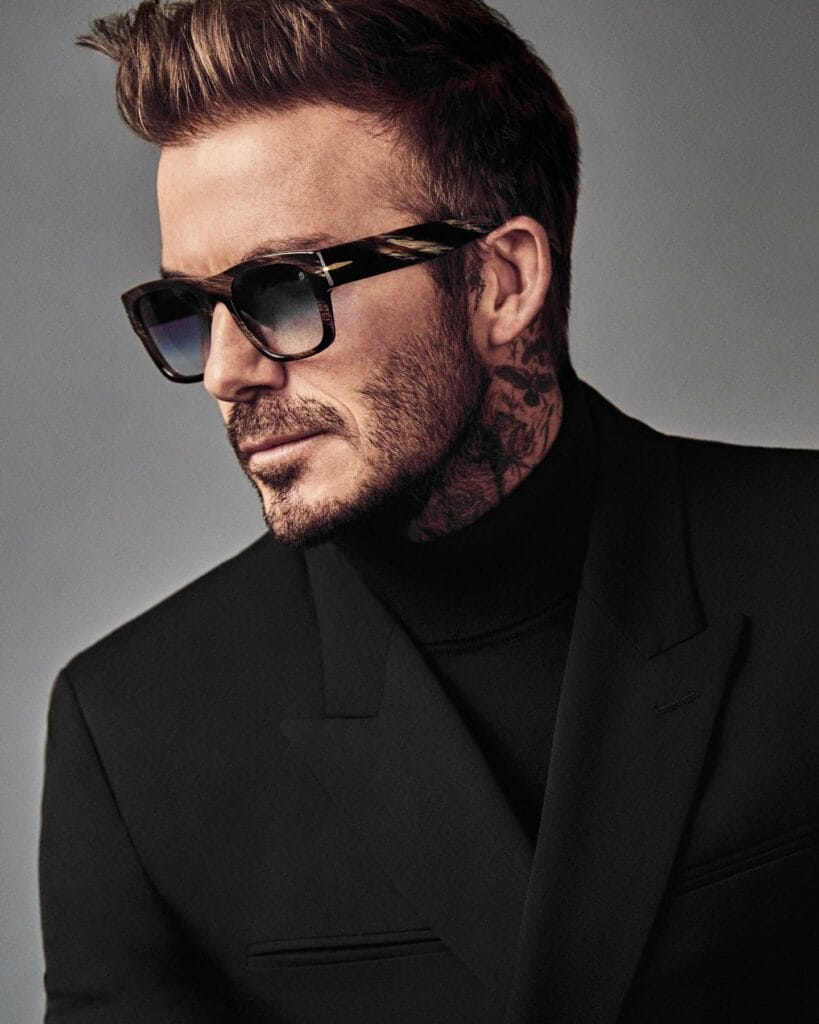 You could say David Beckham had it all, but his fashion sense was unmatched. Becks has adorned numerous hairstyles throughout his career, but he has always loved the greaser haircut, one of which is the slicked back style. You can consider this modern greaser haircut if you want a mature look. The slick back style is one of the foremost business hairstyles in the 21st century, which is why many celebs and young business gurus adorn it.
In this style, the thick hair is swept backwards with short cut on either side. This style does not require a heavy beard, though a light beard can also be perfect. You can check out other articles on how to cut slicked back style.
2. Cristiano Ronaldo's Greaser Haircut (Comb Over Fade with Hard Part)
You must have seen Cristiano Ronaldo 'CR7' on various greaser haircuts throughout his illustrious career. Arguably the best footballer of not just his generation but all time, whatever he does makes headlines. His path to fame is very similar to that of Becks, but even better.
He also started off at Old Trafford after a short spell at Sporting Lisbon, where he went on to become the best player in the world. At Manchester United, he established his CR7 brand which he has turned into a big business brand. Just like Becks, his looks and fashion sense always stood out. His fan base is by far the biggest in any sport, rivalling top musicians for social media followers.
So, you adorning the greaser haircut 'Hard Part Comb Over' with both sides faded, gives you a perfect look. Especially when you combine it with a clean shave, which brings out your full facial structure.
3. Lionel Messi's Greaser Haircut (Textured Messy Hair with Tapered Sides)
The Argentine Magician, Lionel Messi, is only rivalled by CR7 in terms of sporting achievement/awards. He is a very simple person and not a fashion guru like Becks or CR7. You can always go for this simple look like the classy messy styled greaser haircut, with a taper on both sides. Though with this style, you can easily style the hair to form another greaser haircut like the quiff or comb over. You can accompany this look with a clean shave to bring out your full facial structure.
4. Sergio Ramos's Greaser Haircut (High Fade with Swept Fringe Sides)
The high fade side swept fringe is a killer look when accompanied with medium full beards. Sergio Ramos, an iconic defender for Spain, loves it and has made it one of his favourite haircuts.
You can try this simple greaser haircut which is similar to the messy style, but it brushes to the sides rather than backward. It is partnered with a high fade taper and a short cut at the top.
5. James Rodriguez's Greaser Haircut (Short Spiky Hair with Undercut)
The Colombian born footballer James Rodriguez shot into limelight at the 2014 World Cup, where he put up one of the best performances of the tournament. He attracted interests from the Los Blancos, who scooped him away from other European big wigs playing alongside CR7 and Di Maria.
Aside, his great achievements in the sporting world, we can also credit him for pushing the short spiky hair with undercut styled greaser haircut. This greaser haircut will be great on you if you are fair and average height. You can recommend it to your friends that fits the description. And the short spiky hair is perfect when you accompany it with a clean shave.
6. Olivier Giroud's Greaser Haircut (Pompadour Comb Over and High Taper Fade with Part)
Olivier Giroud is one of the sexiest footballers, not only for his height and cut face, but his outstanding choice of hair contributes a great deal. He is famed for the greaser haircut pompadour comb over plus high taper fade with a thin left part, which will be good for you, if you are tall and have a pointed nose. Currently playing for AC Milan, the world cup winner is enjoying life in Italy. Where he has become a fan favourite already, scoring on his debut for the Serie A giants.
It won't take long before the pompadour comb over becomes sought after among his fans. Though, you might not be his fan, but you could also look as stunning has him in this greaser haircut. keep this style flying, you will need a clay or matte wax to apply on it. You can carry a clean shave or very low full beard
7. Granit Xhaka's Greaser Haircut (Undercut and Modern Comb Over)
The Swiss maestro, famed for his powerful personality, though not really a fan favourite. The Arsenal midfielder is very popular among Swiss supporters for his energetic input for his national team, and he has since rose to prominence since moving to the London based club The Gunners. Often a controversial figure that makes the headline for the wrong reasons, cases like fallout with manager or sometimes on field disciplinary actions.
He was stripped of captaincy at Arsenal for a similar offence, but this time with the fans.Amidst all of these negative attentions, his hairstyle went with him everywhere he went. You can always see him in a greaser haircut with an undercut, a cut that fits perfect for those with bold and daring personalities. You can make this style your favourite greaser haircut because of its modern look. This hairstyle is the modern comb over which is slightly tilted sideways.
8. Marco Reus's Greaser Haircut (Angular Comb Over with Classic Tapered Sides)
The greaser haircut is very popular among footballers and one of such players is Marco Reus. His preferred style of the greaser haircut is the angular comb over plus classic tapered on both sides. He has been very consistent with this style throughout his career for Dortmund, keeping it simple and nice. This greaser haircut could also be a perfect match for your personality, if you are someone who does not like maintaining a particular style.
The comb over is medium high and the ends are angularly stroked backwards, while the sides are classic tapered.
9. Yannick Carrasco's Modern Greaser Haircut (Pompadour Fade)
The greaser haircut pompadour was named after a mistress of King Louis XV of France, Madame de Pompadour in the 18th century. So many first-class celebs have adorned this greaser hairstyle whether male or female, due to its classy looks. You are sure to look classy with this greaser haircut style.
Among the celebs to have worn this hairstyle is Yannick Carrasco, though not an all-time famous footballer but has extended his tentacles to the Chinese Super League. He came into the limelight while playing for Atletico Madrid, and was an integral part of the team that went to the Champions League final. Though they lost to eventual champions Real Madrid, Carrasco made his mark by scoring a goal in the final. Soon after, he started attracting interest from Europe's elite clubs and generating media attention.
But all of that did not workout for the Belgium international, he was later shipped to China where he was loved by the fans. The trademark Pompadour Fade was famed among his fans, which is one of the reason it will be perfect for you also. The Pompadour fade is a unique style that combines the fade and pompadour hairstyle together.
You can either make it low, medium or high depending on your preference, but the one in focus is the high pompadour fade. In this style, your hair is brushed upwards with the ends flicked backwards, giving it a sexy look. On both sides, a bald fade cut is accompanied with a low full beard.
10. Panagiotis Kone's Greaser Hairstyle (Long Slicked Back with Undercut)
The long-slicked back undercut hairstyle is a fancy greaser haircut adorned by Panagiotis Kone, who is not as popular as the above listed footballing figures. Since his retirement, he has gone into football administration for AEK Athens football club as director of football.
But, you need to really consider getting his greaser haircut for yourself. Because no one rocked the long slick undercut better than him during his playing days. It is well combed to the back with an undercut on both sides, which will surely give you a glee look, especially with a small goatee beard or clean shave.
Conclusion
The greaser haircut is a classic cut, which has been mixed with modern day styles to form unique hairstyles. The elite footballers with an awesome fashion sense fancy it, due to its wide range of styles. As a businessman, a celeb or middle class citizen, you can rock any of the greaser haircuts to give you the perfect look.