Top 10 Famous Footballers Greaser Haircuts Now
Rev your engines and get ready for a blast from the past! Greaser haircuts are making a comeback and bringing their rebellious and fearless attitude with them.
Inspired by the 1950s, these haircuts embody the essence of COOL with their sleek and stylish look.
From James Dean to Elvis Presley, greaser haircuts have been a staple of popular culture for decades and continue to captivate and inspire. So, let's revamp your style with a touch of vintage charm and rock the classic greaser look with confidence.
There are numerous greaser haircuts trademarked by famous footballers.
Below are some of the stars and their favorite hairstyles just for you.
1. David Beckham's Greaser Haircut (Slicked Back Hair Plus Short cut)
The fashion guru David Beckham who is fondly called Becks by his fans has over the years transitioned from his illustrious football career into a famed businessman.
The British-born ex-England international has paved the way for himself in the business world by acquiring the US-based football team, Inter Miami.
Aside from his great footballing skills and wonderful free-kick techniques, his looks and fashion sense announced him to the world as the Golden Boy of football.
With the media and paparazzi all over him; he always made the headlines. He attained fame at a very young age by plying his trade at Manchester United, grabbing huge ambassadorial deals, and appearing on the front cover of magazines.
You could say David Beckham had it all, but his fashion sense was unmatched. Becks has adorned numerous hairstyles throughout his career, but he has always loved the greaser haircut, one of which is the slicked-back style.
You can consider this modern greaser haircut if you want a mature look.
The slick back style is one of the foremost business hairstyles in the 21st century, which is why many celebs and young business gurus adorn it.
In this style, the thick hair is swept backward with a short cut on either side. This style does not require a heavy beard, though a light beard can also be perfect. You can check out other articles on how to cut slicked back style.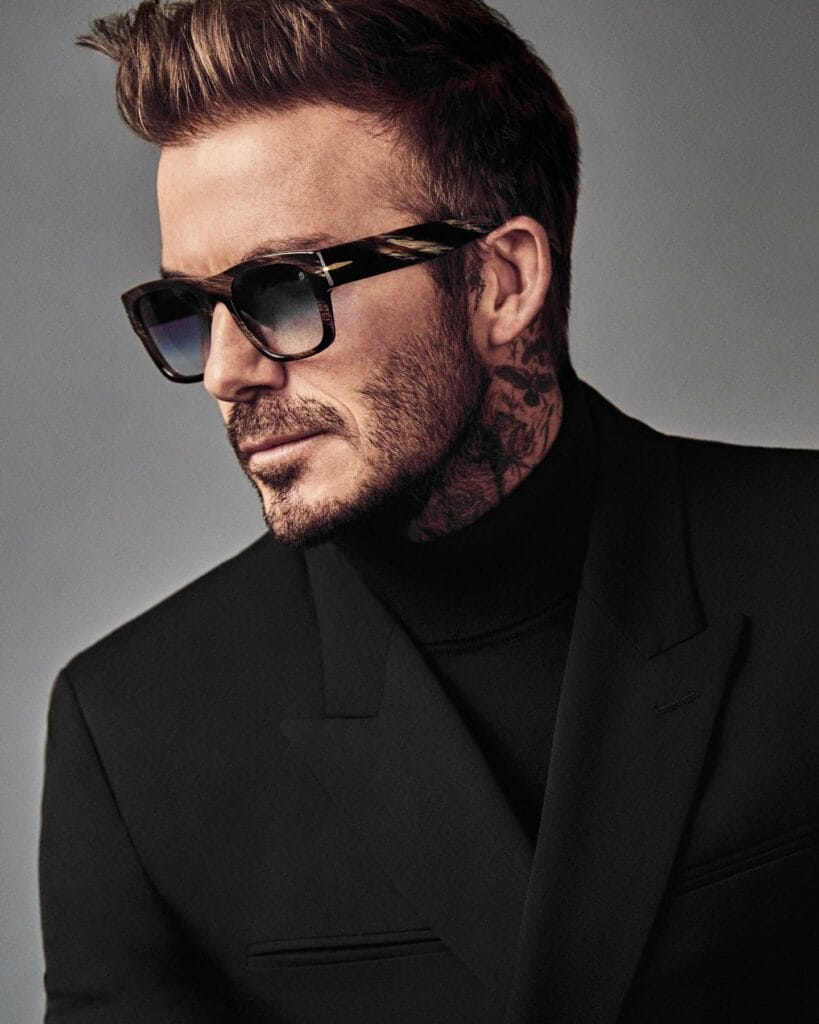 2. Cristiano Ronaldo's Greaser Haircut (Comb Over Fade with Hard Part)
You must have seen Cristiano Ronaldo 'CR7' on various greaser haircuts throughout his illustrious career.
Arguably the best footballer of not just his generation but all time, whatever he does makes headlines. His path to fame is very similar to that of Becks but even better.
He also started off at Old Trafford after a short spell at Sporting Lisbon, where he went on to become the best player in the world.
At Manchester United, he established his CR7 brand which he has turned into a big business brand. Just like Becks, his looks and fashion sense always stood out.
His fan base is by far the biggest in any sport, rivalling top musicians for social media followers.
So, you adorning the greaser haircut 'Hard Part Comb Over' with both sides faded, gives you a perfect look. Especially when you combine it with a clean shave, which brings out your full facial structure.
3. Lionel Messi's Greaser Haircut (Textured Messy Hair with Tapered Sides)
The Argentine Magician, Lionel Messi, is only rivaled by CR7 in terms of sporting achievement/awards.
He is a very simple person and not a fashion guru like Becks or CR7. You can always go for this simple look like the classy messy styled greaser haircut, with a taper on both sides.
Though with this style, you can easily style the hair to form another greaser haircut like the quiff or comb over. You can accompany this look with a clean shave to bring out your full facial structure.
4. Sergio Ramos's Greaser Haircut (High Fade with Swept Fringe Sides)
The high fade side swept fringe is a killer look when accompanied with medium full beards. Sergio Ramos, an iconic defender for Spain, LOVES it and has made it one of his favorite haircuts.
You can try this simple greaser haircut which is similar to the messy style, but it brushes to the sides rather than backward. It is partnered with a high fade taper and a short cut at the top.
5. James Rodriguez's Greaser Haircut (Short Spiky Hair with Undercut)
The Colombian born footballer James Rodriguez shot into limelight at the 2014 World Cup, where he put up one of the best performances of the tournament.
He attracted interest from the Los Blancos, who scooped him away from other European big wigs playing alongside CR7 and Di Maria.
Aside, his great achievements in the sporting world, we can also credit him for pushing the short spiky hair with undercut styled greaser haircut.
This greaser haircut will be great on you if you are fair and average height. You can recommend it to your friends that fit the description. And the short spiky hair is perfect when you accompany it with a clean shave.
6. Olivier Giroud's Greaser Haircut (Pompadour Comb Over and High Taper Fade with Part)
Olivier Giroud is one of the sexiest footballers, not only for his height and cut face, but his outstanding choice of hair contributes a great deal.
He is famed for the greaser haircut pompadour comb over plus high taper fade with a thin left part, which will be good for you, if you are tall and have a pointed nose. Currently playing for AC Milan, the world cup winner is enjoying life in Italy.
Where he has become a fan favorite already, scoring on his debut for the Serie A giants.
It won't take long before the pompadour comb over becomes sought after among his fans. keep this style flying, you will need clay or matte wax to apply on it.
You can carry a clean shave or very low full beard
7. Granit Xhaka's Greaser Haircut
Step aside from traditional hairstyles, Granit Xhaka is bringing a new level of cool to the football field with his iconic greaser haircut.
The Swiss midfielder is known for his stylish on and off the field presence, but it's his sleek and smooth greaser look that has been turning heads.
So, get ready to unleash your inner rebel and emulate the stylish footballer with a timeless greaser haircut
You can always see him in a greaser haircut with an undercut, a cut that fits perfect for those with bold and daring personalities. You can make this style your favourite greaser haircut because of its modern look.
8. Marco Reus's Greaser Haircut (Angular Comb Over with Classic Tapered Sides)
He has been very consistent with this style throughout his career for Dortmund, keeping it simple and nice.
This greaser haircut could also be a perfect match for your personality, if you are someone who does not like maintaining a particular style.
The comb over is medium high and the ends are angularly stroked backwards, while the sides are classic tapered.
9. Yannick Carrasco's Modern Greaser Haircut (Pompadour Fade)
Get ready to turn heads with the hottest haircut on the football field, Yannick Carrasco's modern greaser look.
The Belgian footballer is known for his fearless style, both on and off the field, and his signature haircut is no exception. Carrasco has put a modern twist on the classic greaser style of the 1950s, making it his own with a sleek and stylish finish.
So, if you're looking for a haircut that exudes confidence and style, look no further than Carrasco's modern greaser cut."
10. Panagiotis Kone's Greaser Hairstyle (Long Slicked Back with Undercut)
The long-slicked back undercut hairstyle is a fancy greaser haircut adorned by Panagiotis Kone, who is not as popular as the above listed footballing figures.
Since his retirement, he has gone into football administration for AEK Athens football club as director of football.
But, you need to really consider getting his greaser haircut for yourself. Because no one rocked the long slick undercut better than him during his playing days.
It is well combed to the back with an undercut on both sides, which will surely give you a glee look, especially with a small goatee beard or clean shave.
How do you cut a greaser haircut?
To cut a greaser haircut, follow these steps:
Start with clean, dry hair: Before you start cutting, make sure your hair is clean and dry. This will make it easier to style and give you a better idea of how your hair will look after it's cut.
Choose the right tools: You'll need a comb, scissors, and some hair gel or pomade. You may also want to use a clipper or trimmer to blend the hair in the back.
Cut the top: Start by combing the hair on top of your head backwards and trimming the ends so that they are level. This will create the slicked-back look that is characteristic of the greaser haircut.
Shape the sides: Cut the sides of your hair so that they are slightly shorter than the top. You can do this with scissors or a clipper, depending on the length of your hair.
Blend the back: Cut the hair in the back so that it blends into the sides. If you're using a clipper, start with the longest guard and gradually decrease the length until you have a clean blend. If you're using scissors, make sure to use blending techniques to create a smooth transition.
Style the hair: After you've cut your hair, use some hair gel or pomade to style it. Comb it back and use your fingers to shape the hair into a ducktail in the back.
Conclusion
The greaser haircut is a classic cut, which has been mixed with modern-day styles to form unique hairstyles. The elite footballers with an awesome fashion sense fancy it, due to its wide range of styles. As a businessman, a celeb or a middle-class citizen, you can rock any of the greaser haircuts to give you the perfect look.
FAQs
What is greaser hair called?
The greaser hairstyle was characterized by slicked-back hair, often styled with a comb or pomade, and was often combed back into a ducktail shape at the nape of the neck. The hair was often styled to be greasy and shiny, hence the name "greaser". The greaser hairstyle is still popular today, especially among those who enjoy vintage and retro looks.
How do I get the greaser look?
Hair: The most important part of the greaser look is the hair. Start by washing your hair and making sure it is completely dry. Apply some hair gel or pomade to your hair, and use a comb to slick it back. If you want, you can shape your hair into a ducktail at the nape of your neck.
Khamis Maiouf is a professional barber who graduated from Hinckley College in England with a degree in hairdressing. He has also won several barbering contests and successfully operated a barbershop for the last two decades. As a skilled hair stylist for 20 years, his goal is to teach others how to achieve a beautiful appearance through their hairstyles.