Sergio Ramos Garcia is a well-known name around the globe. Ramos is a professional footballer, and he plays for the National team of Spain and Real Madrid-, a professional Spanish football club based in Madrid. Interestingly, Sergio is the captain of both the teams he plays in.
Sergio is famous for his amazing defending skills in football. Apart from football, he often holds the praise of his fans for his amazing hairstyles, and many people around the globe copy his styles. This article contains iconic Sergio Ramos hairstyles that you can rock and look outstanding. We will also discuss how you can get these hairstyles.
1. The Side Squared Haircut
You can get this Sergio Ramos hairstyle by trimming the the sides completely; hairs are dense on the top. but at the back and top are not entirely buzzed. In a side squared haircut, you can style your top hair in different ways. The most wonderful thing about this Sergio Ramos haircut is that it's very easy to maintain. You can experiment with this hairdo, and it might become your favorite in the future.
2. The Basic Boyish
This Sergio Ramos haircut is called "The Basic Boyish" because of the look this hairstyle gives to a person. The person will look boyish when rocking this style. You don't need to lose hair to get this look. You just need to get your sides trimmed a bit, and the hairs at the top should be longer than an inch.
3. The Side Buzzed and Side-Slide Hairstyle
This Sergio Ramos haircut is very similar to the side square, with the only difference being that the side-cut is not square. To get this look, you need to get your side hair cut short by two millimeters. The rest of the hair should be trimmed to about 3 inches in length.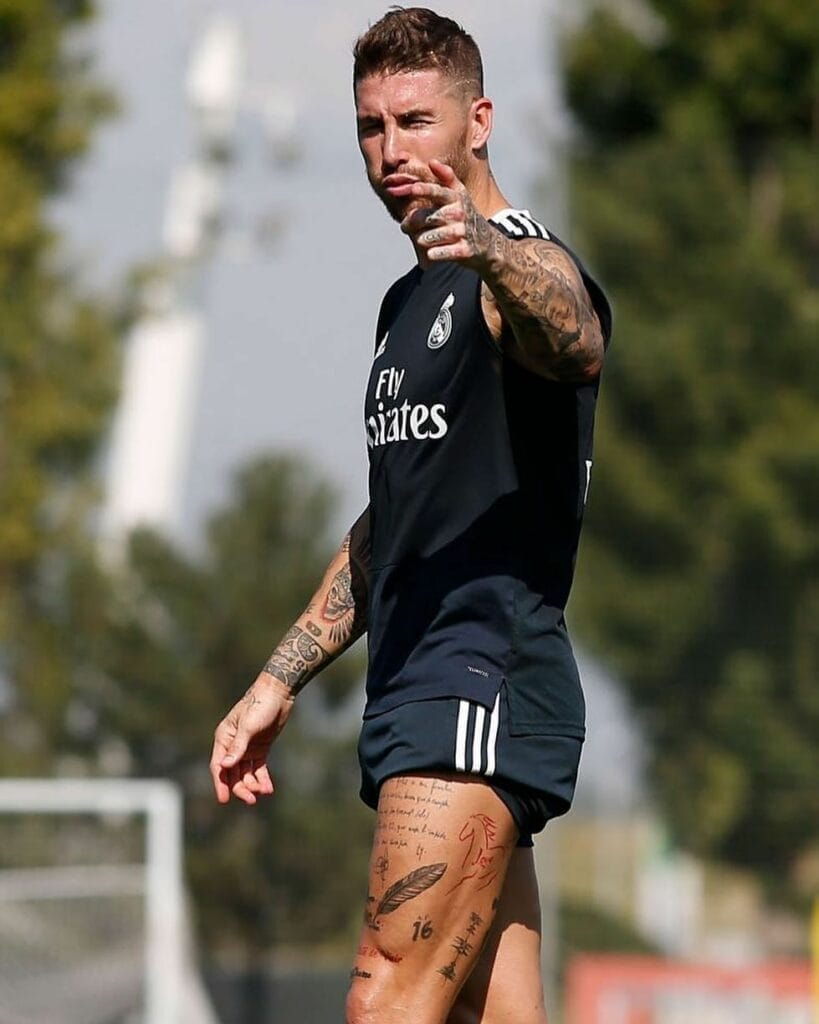 You need to sweep your hair sideways to rock this style, try to use some hairspray to ensure that the hairs don't fall back to their original position.
4. Varied Pompadour
Varied Pompadour is a type of pompadour style. In this hairstyle, shorten your hair from the sides. Leave three inches of hair on top of your head. Sweep your top hair in any direction you like, then apply hairspray to keep it in place.
Use a comb to slide the strands backward to form a perfect curve. This style is idle for people with dense hair. It would be best if you had a well-groomed beard to rock this hairstyle.
5. Layered Hairstyle in Medium Length Hair
In this Ramos hairstyle, trim your hair uniformly. A hair length of three or four inches is idle for this style. You should try to keep your hair in a natural color for this hairstyle and slide the hair sideways and backward. To make this hairstyle, you need to make sure your hairs are dry. The next step is combing your hair in a forward direction and forming a ponytail at the top using your fingers.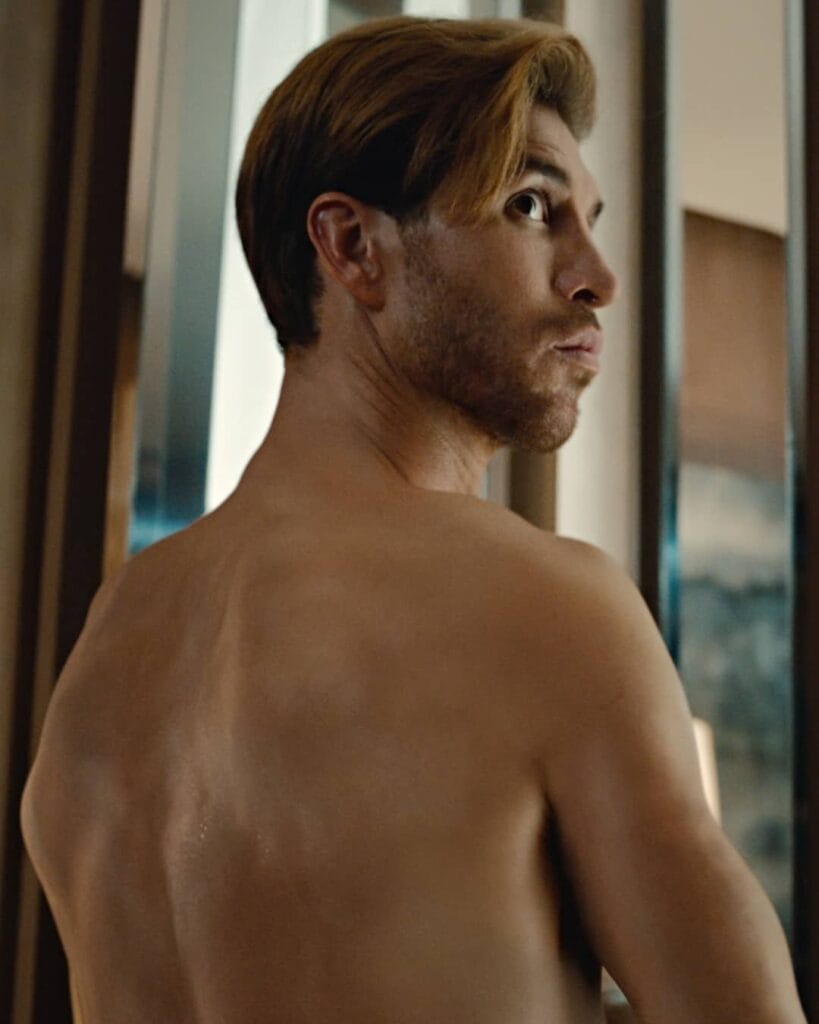 The next step is cutting the hair to the point where the below hair length is three inches. Then comb your hair in several parts and trim your front section further and sweep the rest of the section sideways.
Also Read: 5 Best Lionel Messi Haircuts Anyone Can Try in 2021
6. Sergio's Layered and Long Hairstyle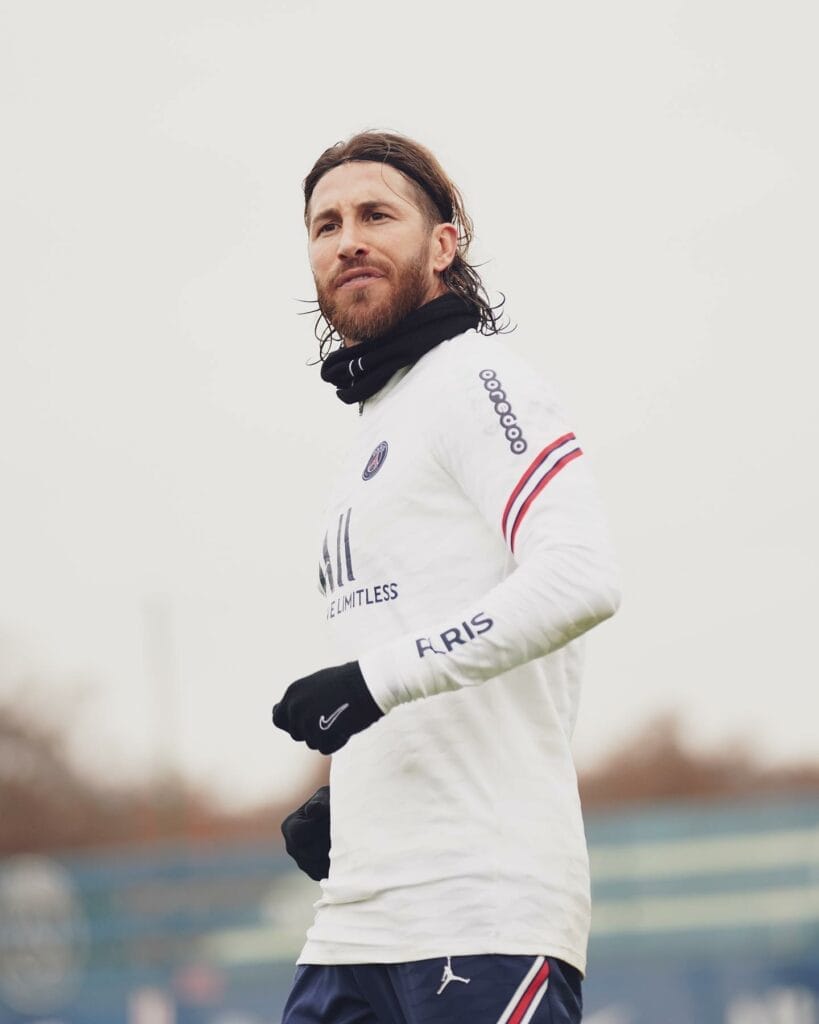 You need to have hair up to shoulder-length for this hairstyle. Then cut the front hair short and do the side part with a toothed comb. You have to layer your hair and sweep most of the hair backward. The process of this haircut is very much like a medium—layered hairstyle. Sergio Ramos rocked this hairstyle for a long time when he had long hair.
7. Business Cut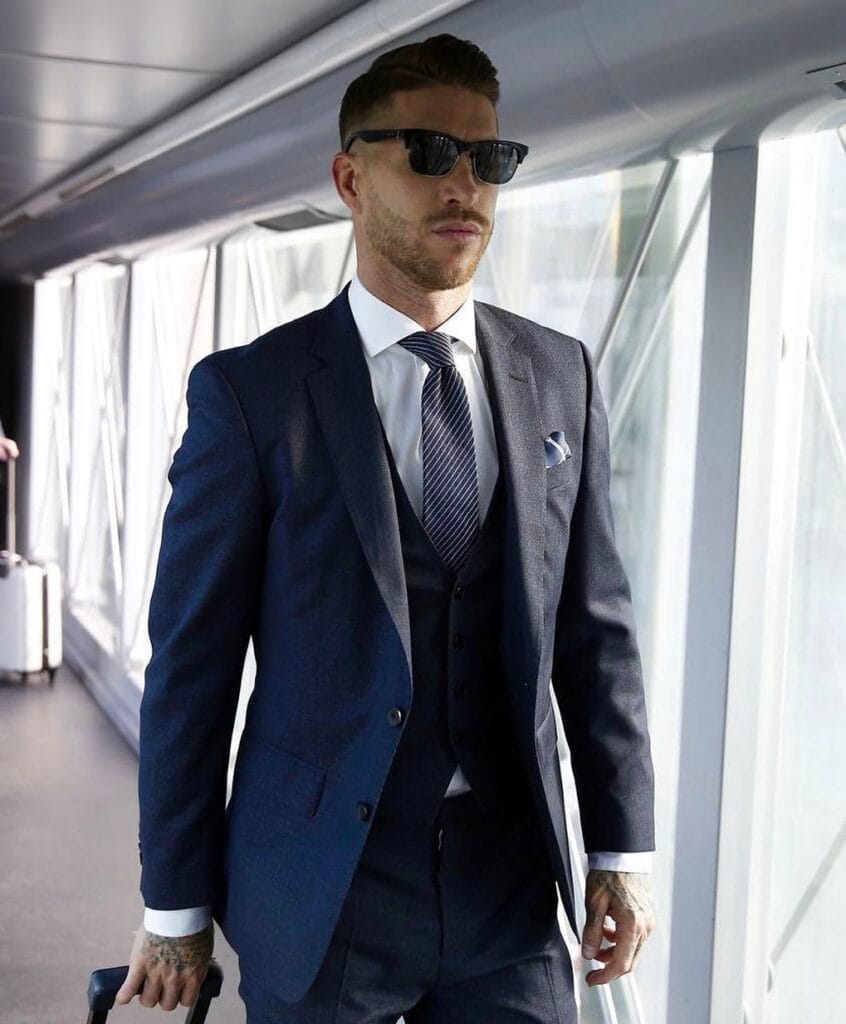 The business cut is a formal hairstyle by Sergio Ramos. In this hairstyle, the mane should follow the head shape. The bulk of the hair should be on the top side of your head. Sweep the top hair sideways, and the side hairs should be buzzed with sideburns.
You should also give a flick at the front with a brush to give your hairstyle a nice neat look. Another way to style this haircut is to completely slick back the hair to provide a pleasant look. You can try this hairstyle at formal functions and parties.
8. The Platinum Blonde Quiff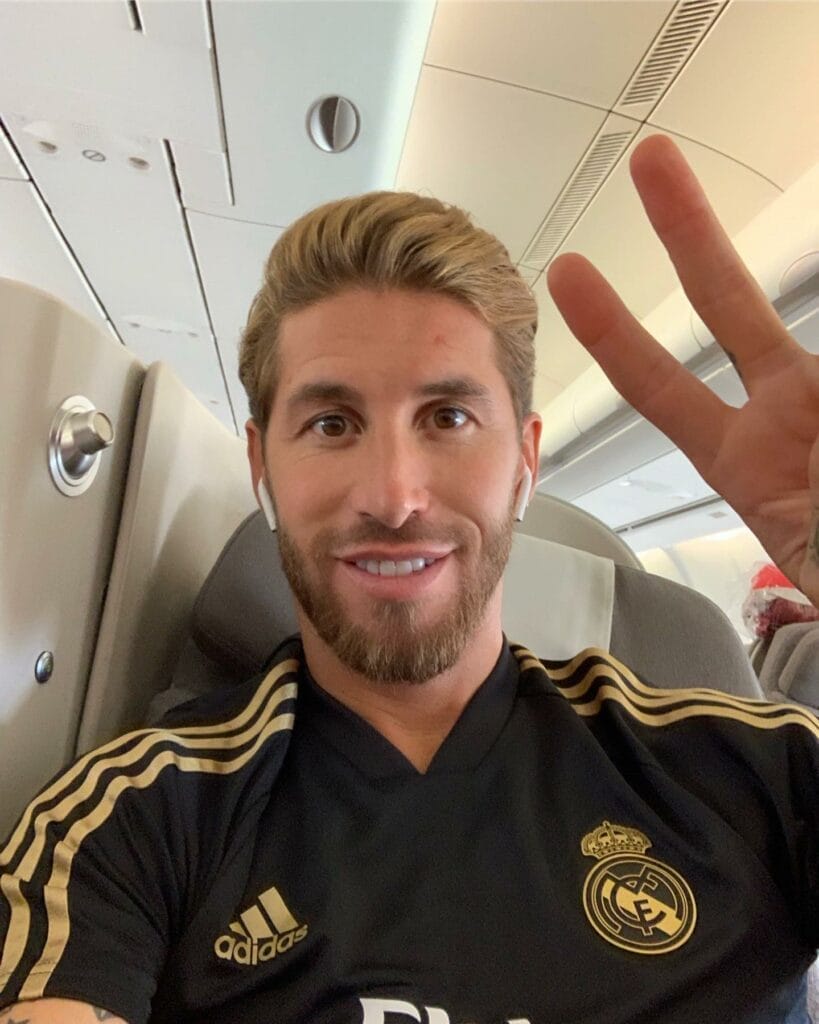 Sergio Ramos is a person who likes to experiment with his hair. He has naturally black hair, so he got his hair colored platinum blonde. You need to have dense hair at the top to make a decent quiff. To make this hairstyle, start with shampooing your hair. The next step is to apply some excellent hairstyling products and blow-drying your hair.
Move your fingers upward and backward. The best method for making a great quiff is to section the hairs from the forehead and return them to the front. You should also blow-dry the part entirely because a good quiff requires dry hair. The next step is sweeping this section backward. You should sweep the hairs from the front towards your forehead to have a nice finish on the front side of your head. After completing these steps, you will have a great quiff, and you can combine it with a platinum blonde hair color.
9. The Wind Pompadour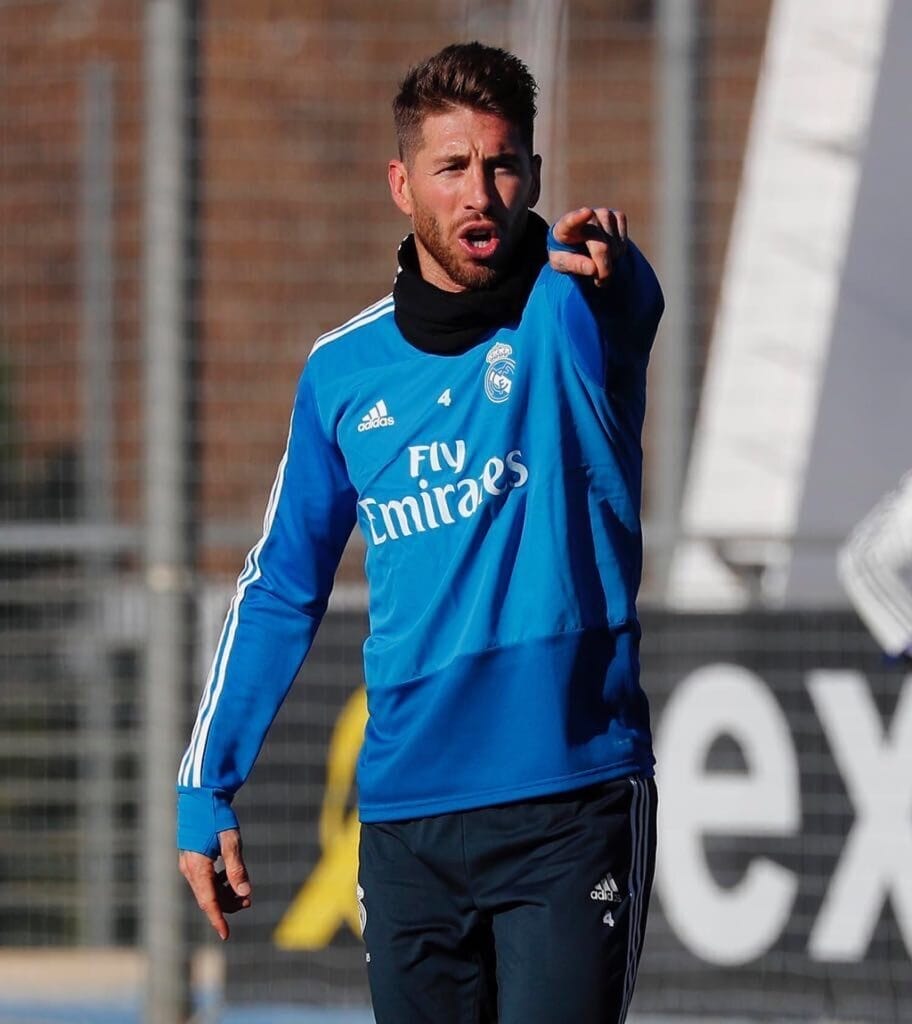 This hairstyle of Sergio Ramos is very much like a normal pompadour. The difference between this hairstyle and a traditional pompadour is that the edges of a few hairs are loose, allowing them to be whisked away by the wind.
You can make the edges using a fine comb. The first step to making this hairstyle is washing the hair and drying it using a towel until it is damp. The next step is applying an excellent hairstyling product and creating a pompadour on the front of your head. To make the windswept dry your hair more and comb the pompadour upwards.
10. The Quiff with a SideCut
The sidecut is an evergreen hairstyle. Sergio Ramos likewise wore his hair in a quiff at the front, with most of the volume left on the top of his head and the rest of the hair is slid sideways. You can style this haircut in different ways. You can style your quiff even more by coloring your hair. The natural look of your hair is advisable for this hairstyle, but you can also bleach your hair a bit.
The size of your quiff depends on you. You can make the quiff larger than Ramos's quiff or smaller than his. Consider your head shape to determine the idle size of the quiff for you.
11. Sergio's Blond Dyed Quiff
This hairstyle is like a platinum blonde quiff. The only difference between these hairstyles is hair color. Platinum blonde is more white, while the color of this hairstyle is darker. The styling process of both hairstyles is the same. You can make this hairstyle more appealing by dying only a few strands of your hair. It would help if you always chose good hairdressers. This hairstyle can look much more attractive if the haircut is perfect.
12. One Side Swept Sideways with Short Hair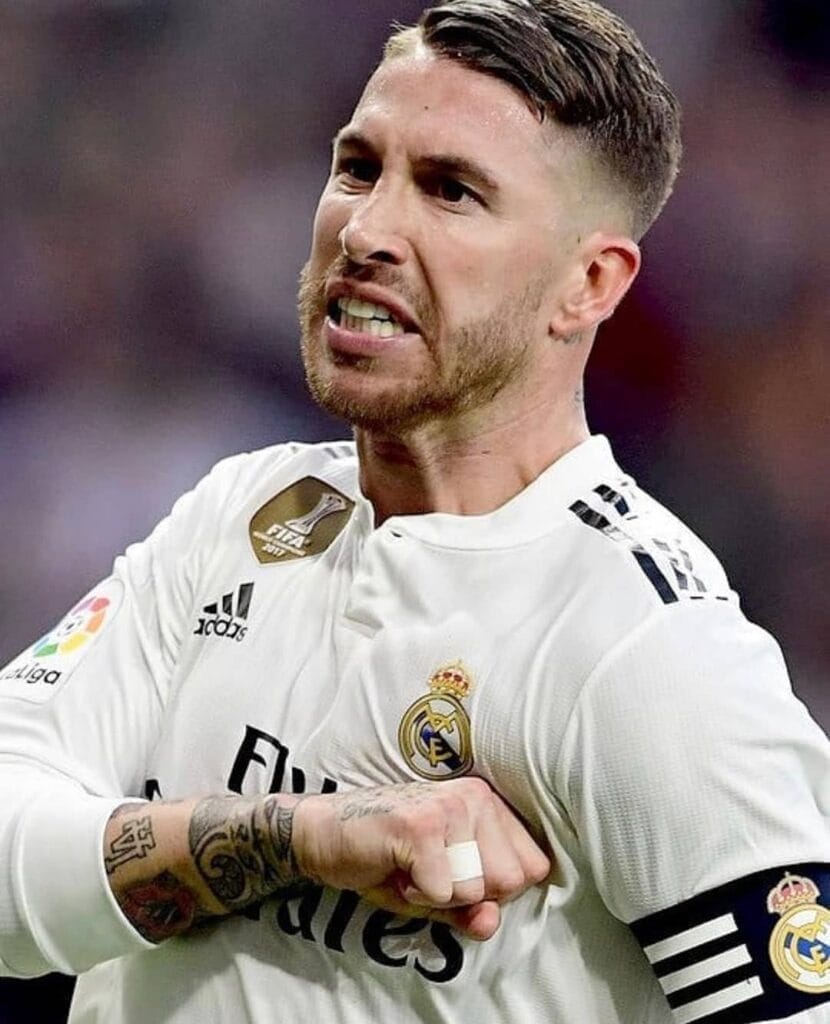 In this hairstyle, the haircut should be uniform. Get a uniform haircut, and then apply some nice hairstyling products. Use a fine-toothed comb to part the hair into two different sections. The left section is slid sideways while the rest of the sections are layered. In this hairstyle, using an excellent hairstyling product is necessary to get a sharp look. This style doesn't look messy, and you can use it for any occasion.
13. The Tapered Quiff
Sergio Ramos has rocked many hairstyles in his career, among which tapered quiff is one of the best hairstyles. This haircut is straightforward; you just need a good hairdresser to trim the sides and highlight the edges. Leave one-inch-long hair at the center. Brushback the hair at the center to any side, and your hairstyle will be ready.
14. The Undercut Ramos
This hairstyle is great for the summer. For this hairstyle, you just need to trim your sides neatly and leave about two inches of long hair on the top. The sides completely fade, and the contrast to the top gives this hairstyle a sleek look.
15. The Ramos Caesar Cut
This haircut looks very catholic, the edges of this hairstyle are neat, and the hair is side—parted. You can look very innocent after getting this hairstyle. Keep your hair short and simple for this hairstyle. Slide your top hair to one side and use a hair styling product.
Conclusion
There is a Sergio Ramos haircut for everyone, either you have short or long hair. Sergio Ramos hairstyles is an inspiration for all guys when it comes to choosing a hairstyle that matches your hair and needs.
Some heads will look great with a quiff, while others will not. Additionally, beards play an important role in getting a good look for any certain haircut. Consider all of these aspects while attempting any of the above hairstyles, and you will not be embarrassed. If you wear a Sergio Ramos haircut, it is very likely that others will notice.