European Men's Hairstyles: A Love Affair with Timeless Charm
A Picture-Perfect Panorama of European Men's Hairstyles
Ah, European men's hairstyles! They have a certain je ne sais quoi, don't they? The Old Continent has always been a melting pot of diverse cultures, and when it comes to men's hair trends, Europe is no exception.
With a blend of timeless classics and cutting-edge innovations, European men's hairstyles have become the epitome of sophistication and style.
Let's take a whirlwind tour through the fascinating world of these ICONIC looks, shall we?
Classic European Hairstyles
The Passionate French Crop
Oh, the French Crop
This symbol of LOVE and revolution has been adorning the heads of charming guys for centuries. With its short, textured top and cropped fringe, the French Crop exudes an air of romance.
To style it, simply apply a small amount of pomade or wax to damp hair and gently tousle for that irresistible touch of passion.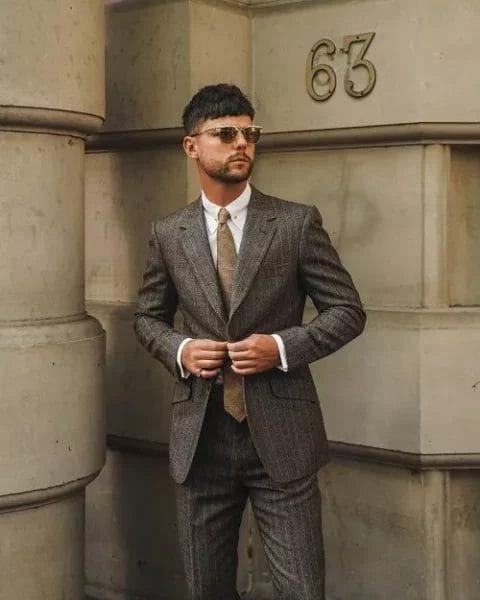 The Enchanting Pompadour
Gracefully standing tall, the Pompadour is a regal hairstyle fit for the elegant gentleman.
Named after Madame de Pompadour, this style features voluminous hair swept back from the forehead.
Achieving the perfect Pompadour requires patience and finesse.
Start by applying a strong hold product to damp hair and comb it back, using a hairdryer to create lift and volume.
Finish with a touch of hairspray to secure the enchanting look.
The Alluring Quiff
Seductive and charming, the Quiff has captured the hearts of many throughout the years.
This timeless hairstyle combines elements of the Pompadour and the French Crop, creating a captivating look.
To perfect the Quiff, apply a styling product to damp hair and blow-dry while lifting the front section.
Finally, use a comb or your fingers to shape the Quiff to your desired height and allure.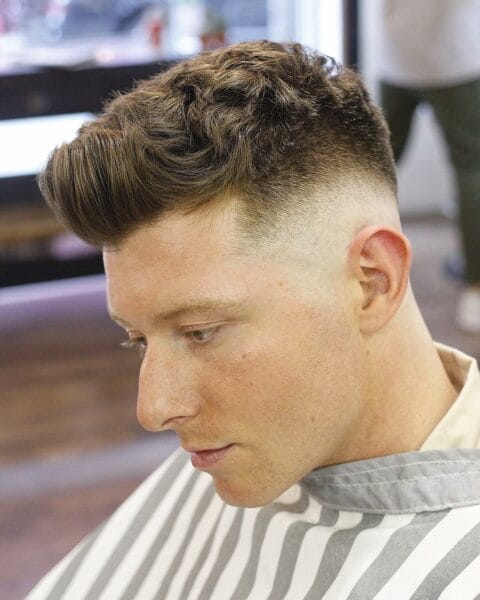 Hairstyles of the British Isles
The Irresistible Mod Cut
Embracing rebellion and individuality, the Mod Cut became a symbol of British youth in the 1960s.
With its short back and sides and longer, textured top, this dashing hairstyle is still adored today.
To achieve the Mod Cut, ask your stylist to create a tapered cut with plenty of texture on top.
Style it with a matte product to add movement and a touch of irresistible charm.
The Nostalgic Shaggy Mop Top
Whispers of the past surround the Shaggy Mop Top, a hairstyle that transports us to the golden era of the 1960s.
Inspired by iconic musicians, this style features long, shaggy layers framing the face.
To style the Shaggy Mop Top, work a lightweight product through damp hair and tousle for a heartwarming, nostalgic look.
The Sophisticated Slicked-Back Undercut
A vision of class and elegance, the Slicked-Back Undercut exudes refinement.
This hairstyle features short sides and a longer top, slicked back for a polished appearance.
To master the Slicked-Back Undercut, apply a high-shine pomade or gel to damp hair and comb it back, using a hairdryer to set the style in place.
Finish with hairspray for a sophisticated, long-lasting look.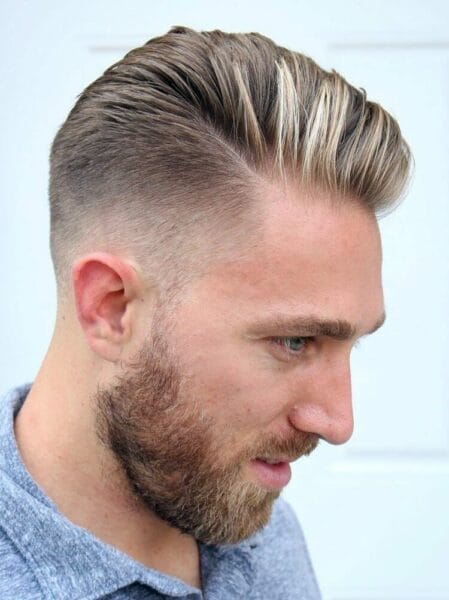 Hairstyles of the Mediterranean
The Seductive Italian Stallion
With its origins in the passionate embrace of Italian culture, the Italian Stallion is a hairstyle that speaks of love and desire.
This style features a textured top with short sides, perfect for creating an alluring presence.
To style the Italian Stallion, apply a small amount of styling product to damp hair and work it through the top, adding texture and volume for a seductive charm.
The Captivating Spanish Fringe
Evoking warm, sun-kissed days, the Spanish Fringe is a mesmerizing hairstyle that has been embraced by men across the Mediterranean.
This enchanting style features a long, sweeping fringe that falls gently across the forehead.
To craft the Spanish Fringe, apply a lightweight styling product to damp hair, and then blow-dry while directing the fringe across your forehead.
Finish by gently tousling the hair for a captivating, sun-kissed look.
The Enthralling Greek Flow
Inspired by ancient myths and legends, the Greek Flow is a heroic hairstyle that exudes strength and beauty.
With its long, flowing locks, this style is reminiscent of the noble warriors of ancient Greece.
To achieve the Greek Flow, allow your hair to grow to a medium or long length, and maintain its health with regular trims and conditioning treatments.
Style it by applying a small amount of leave-in conditioner or serum to damp hair, and let it air dry to create a soft, natural wave that will leave you feeling like a true hero.
Hairstyles of Northern Europe
The Bewitching Scandinavian Slick
Embodying the mystique of the North, the Scandinavian Slick is a magnetic hairstyle that has captured the hearts of many.
This style features a slicked-back, medium-length top with short, tapered sides.
To perfect the Scandinavian Slick, apply a strong-hold pomade or gel to damp hair and comb it back, using a hairdryer to set the style in place.
Finish with a touch of hairspray for a bewitching, long-lasting look.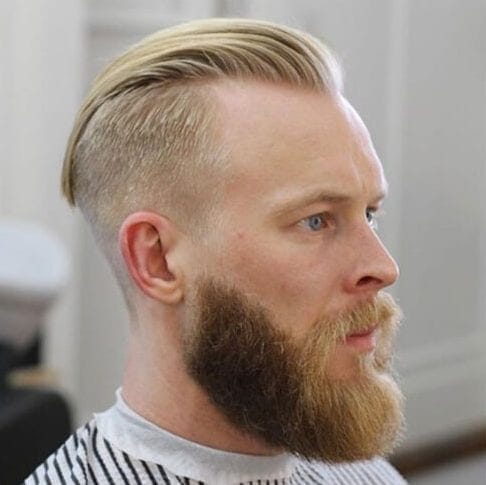 The Bold German Buzz Cut
A testament to strength and determination, the German Buzz Cut is a powerful hairstyle that showcases the resilience of its wearers.
This style features a short, even length all over, perfect for men who desire a low-maintenance yet striking look.
To style the German Buzz Cut, simply keep your hair trimmed to a uniform length and use a small amount of styling product to add a touch of shine and polish.
The Intriguing Dutch Textured Top
A reflection of innovation and creativity, the Dutch Textured Top is a fascinating hairstyle that has been embraced by stylish men across Europe.
This style features a short, textured top with tapered sides, perfect for guys who want to make a bold statement.
To craft the Dutch Textured Top, apply a matte styling product to damp hair and work it through the top, creating texture and movement for an intriguing, captivating look.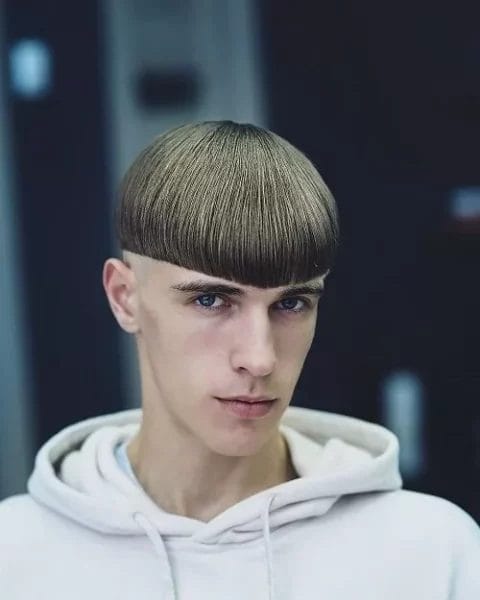 The Enrapturing Euro Fade Mullet
A stunning fusion of modernity and nostalgia, the Euro Fade Mullet is a hairstyle that captures the essence of European elegance and charm.
This captivating style combines the clean lines and sophistication of a fade with the enchanting, rebellious spirit of the classic mullet.
To achieve the enrapturing Euro Fade Mullet, ask your stylist to create a high or mid fade on the sides and back of your head while maintaining the mullet's signature length in the back.
For a touch of modern allure, incorporate texture and movement into the top section of the hair.
To style the Euro Fade Mullet, apply a small amount of styling product to damp hair and work it through the top section, creating a tousled, windswept look that exudes freedom and romance.
Gently comb the longer back section for a smooth, enchanting appearance that will surely turn heads.
Embrace the emotional journey that the Euro Fade Mullet offers, as it transports you through time and across the vibrant landscape of European culture.
This mesmerizing hairstyle is the perfect way to express your unique spirit and passion, leaving an unforgettable impression on all who behold its enchanting Beauty.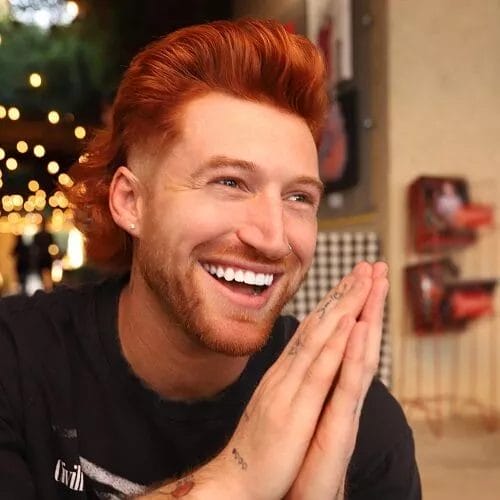 Conclusion
As our journey through the soul-stirring beauty of European men's hairstyles comes to an end, we hope that you have found inspiration in the timeless charm and elegance of these styles.
With each captivating hairstyle, you can express your inner emotions and make a lasting impression on the fellows around you.
Embrace the love affair with European men's hairstyles, and find the perfect style to reflect your unique spirit and passion.
FAQs
What is a European hairstyle?
A European hairstyle is a captivating and enchanting hairdo originating from or inspired by the diverse cultures and rich history of Europe.
These hairstyles are deeply connected with the emotions and identities of European men, showcasing their passion, elegance, and timeless charm.
What is the most common hair type in Europe?
Europe is a melting pot of various cultures and ethnicities, which makes it difficult to pinpoint a single most common hair type.
However, many Europeans tend to have fine to medium hair with a wavy or straight texture, reflecting the diverse beauty of the continent.
Do Europeans have straight or curly hair?
Europeans can have a wide range of hair types, from straight to curly and everything in between.
The beauty of European hairstyles lies in their ability to embrace and enhance the natural hair textures of their wearers, creating an emotional connection with their unique and mesmerizing styles.
Why did European men have long hair?
Historically, long hair for European men was often a symbol of power, nobility, and social status.
In some cultures, it was believed that long hair held a connection to the divine, granting strength and wisdom to gentlemen who wore it.
Long hair also played a role in creating enchanting and seductive hairstyles that still captivate hearts today.
Did Europeans dread their hair?
While dreadlocks are not traditionally associated with European cultures, it is important to acknowledge the beauty of cultural exchange and the sharing of hairstyles across the world.
Some Europeans may have embraced dreadlocks as a way to express their individuality and creativity, showcasing the power of hair to bridge cultural gaps and create emotional connections.
What is European Remy hair?
European Remy hair refers to high-quality human hair extensions that are ethically sourced from Europe.
Remy hair is known for its soft, natural feel and the preservation of the hair's cuticles, which are aligned in the same direction. This exquisite hair type allows for seamless blending with your own hair, enhancing your emotional connection to your captivating European hairstyle.
Khamis Maiouf is a professional barber who graduated from Hinckley College in England with a degree in hairdressing. He has also won several barbering contests and successfully operated a barbershop for the last two decades. As a skilled hair stylist for 20 years, his goal is to teach others how to achieve a beautiful appearance through their hairstyles.