25 Dashing Business Hairstyles For Men
In today's competitive corporate world, first impressions are crucial.
Your hairstyle is an essential element of your personal brand and can make a significant impact on how you are perceived in the PROFESSIONAL sphere.
I have curated a list of sophisticated business hairstyles for men that can elevate your professional look and help you make a lasting impression.
What Are Business Hairstyles For Men?
Business hairstyles for men refer to the various professional and conservative haircuts that are suitable for a corporate or formal work environment.
These hairstyles aim to convey a sense of professionalism, sophistication, and COMPETENCE, as well as adhere to company dress codes and expectations.
Business hairstyles for men are typically characterized by being neat, well-groomed, and easy to maintain.
Here are some popular BUSINESS HAIRSTYLES for men, along with their features and styling tips:
Professional And Business Hairstyles For Men
Slicked-Back Business Hairstyle
Offering a POLISHED and professional look, the slicked-back business hairstyle is a popular choice for men in the workplace.
By using a bit of styling product, one can achieve a smooth and sleek appearance with this style. Business hairstyles for men like this one are both versatile and easy to maintain.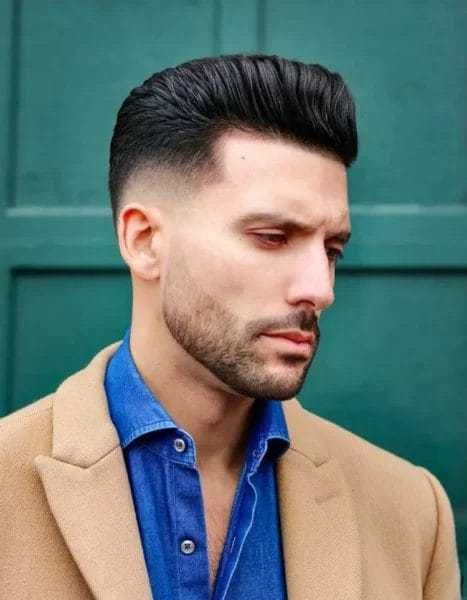 Classic Pompadour
A timeless option, the classic pompadour features voluminous hair on top with shorter sides.
This hairstyle adds height and flair, making it an excellent choice for men looking to make a statement while maintaining professionalism.
Side-Parted Comb Over
A versatile and universally flattering option, the side-parted comb over is perfect for men seeking a simple yet stylish business hairstyle.
By parting the hair on one side and combing it over, a clean and sophisticated appearance is achieved.
Textured Quiff
A popular business hairstyle, the textured quiff combines volume and texture for a modern look.
By using a styling product, men can create a defined and structured quiff that is both fashionable and professional.
Crew Cut
Ideal for men who prefer low-maintenance styles, the crew cut is a short and clean-cut option.
This timeless hairstyle offers a neat appearance and is well-suited for various professional settings.
Ivy League
A sophisticated and classic choice, the Ivy League hairstyle features a short and tidy cut with a side part.
This style is suitable for men seeking a polished look that exudes confidence in the workplace.
Modern Caesar
A contemporary take on the classic Caesar cut, the modern Caesar hairstyle offers a stylish and professional look. With a slightly longer top and shorter sides, this style is a great option for business hairstyles for men.
Taper Fade
A popular choice among professional men, the taper fade features gradually shorter hair from the top to the sides and back. This versatile hairstyle can be customized to suit various preferences and can be easily adapted to different workplace environments.
Low Maintenance Buzz Cut
A popular choice among business hairstyles for men, the buzz cut offers a clean and professional appearance with minimal upkeep.
Its short length requires little to no styling, allowing for quick morning routines and ensuring a well-groomed look throughout the day.
Side Parted Undercut
Combining modern edge with a classic touch, the undercut with side part provides a striking yet professional style.
With shaved sides and a longer top, this hairstyle can be easily maintained by simply parting the hair to one side and applying a small amount of styling product.
Brushed Up Business Hairstyle
For men seeking a polished look, the brushed up hairstyle presents an excellent option. Hair is kept slightly longer on top, and a small amount of styling product is applied to create a refined, upward-swept appearance.
It pairs well with formal attire and exudes confidence.
Short Waves
Men with naturally wavy hair can opt for short waves as a business hairstyle. By keeping the hair length short and using a light styling product, the waves are tamed and given a professional look that is both low-maintenance and stylish.
Faux Hawk
A contemporary twist on the traditional Mohawk, the faux hawk is a versatile and stylish choice for men in the business world.
With shorter sides and a longer strip of hair running down the center, this hairstyle can be styled to appear subtle and professional or bold and daring, depending on the occasion.
Angular Fringe Business Hairstyle
Angular fringe hairstyle is characterized by its sharp, angled cut, typically featuring a longer FRINGE that falls over one eye.
This edgy yet professional business hairstyle for men adds an element of interest without compromising a polished appearance.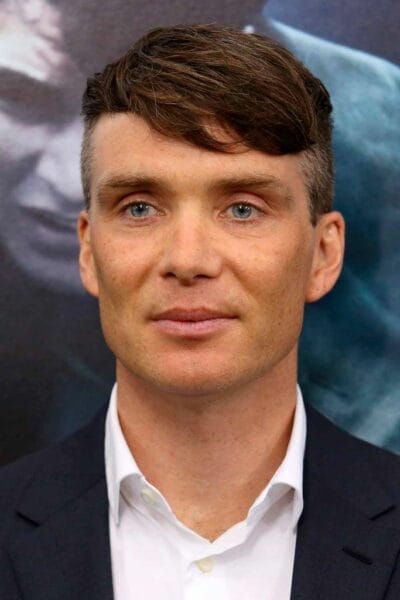 Spiky Hair
For gentlemen who prefer a more textured look, spiky hair serves as a stylish business hairstyle option.
By applying a small amount of strong-hold STYLING PRODUCT to the fingertips and working it through the hair, a structured and professional spiky style can be achieved.
Short Curls
Men with naturally curly hair can embrace their texture by opting for short curls as a business hairstyle. By keeping the curls short and well-groomed, this style maintains a professional image while showcasing the wearer's natural hair texture.
Executive Contour
Classic and refined, this business hairstyle for men highlights neatly tapered sides and a subtle side part.
With its professional appearance and ease of maintenance, the Executive Contour remains a favorite choice for men seeking a stylish yet sophisticated look.
Disconnected Pompadour
Boasting a high-volume top and short sides, the Disconnected Pompadour provides an attractive, FASHIONABLE option for men.
The striking contrast between lengths imparts a sense of flair while remaining suitable for professional settings.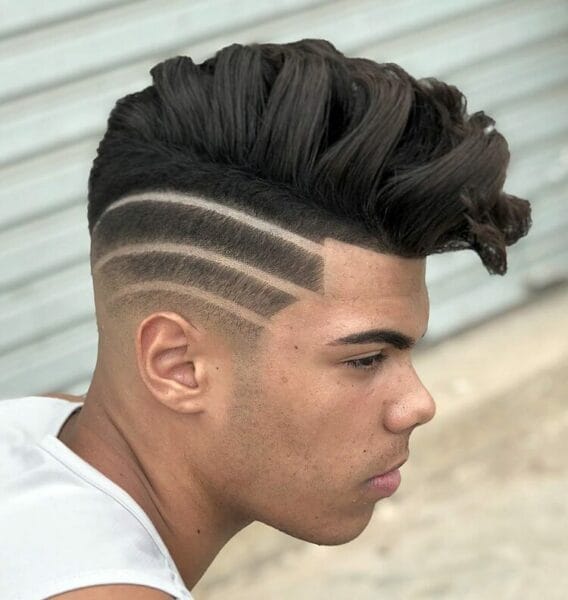 Two-Block Cut
Originating in Asia, the versatile Two-Block Cut has gained popularity among business hairstyles for men.
The combination of shaved or tapered sides and a longer top allows for various styling options, accommodating different face shapes and preferences.
Short Comb Over
The Short Comb Over is perfect for gentlemen who value a low-maintenance, confident look. By combining shorter sides and a neatly combed top, this business hairstyle delivers a polished and professional demeanor.
Bro Flow
Catering to men with longer hair, the Bro Flow is characterized by its natural, wavy texture. Offering a relaxed yet professional vibe, this business hairstyle can be adapted to suit a range of workplace environments.
Gentleman's Cut
As a quintessential classic, the Gentleman's Cut exudes sophistication in the realm of business hairstyles for men.
Its distinguishing features include a well-groomed side part and tapered sides, which together convey an air of elegance and professionalism.
High and Tight
For men who appreciate a clean-cut aesthetic, the High and Tight is an impeccable choice.
This sharp business hairstyle showcases closely cropped sides and a slightly longer top, resulting in a structured and tidy appearance.
Tousled Curls
Men with curly hair will find the Tousled Curls to be a fashionable option for business hairstyles.
The natural texture allows for various styling possibilities, enabling the creation of both professional and trendy looks.
Swept Back
Known for its adaptability, the Swept Back style is a versatile option among business hairstyles for men.
Suitable for different hair lengths and textures, this look is achieved by brushing the hair back and using a light-hold product to ensure a polished, sophisticated outcome.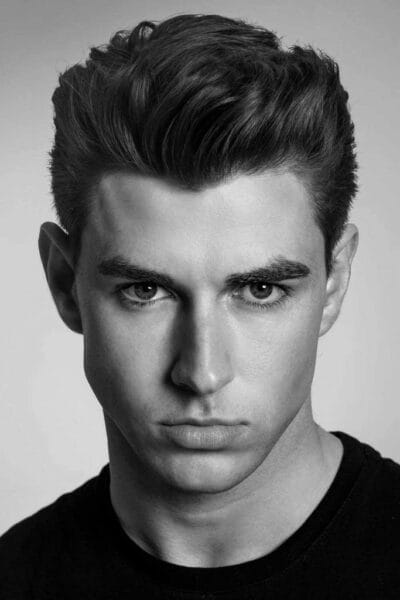 Conclusion
Business hairstyles for men are an essential aspect of making a strong and lasting impression in the professional world.
These hairstyles reflect one's PERSONALITY and showcase their commitment to maintaining a polished and sophisticated appearance.
From timeless classics such as the pompadour and side-part to modern adaptations like the textured quiff and the low fade, there is an array of options available to suit every man's taste and hair type.
FAQs
What are some popular business hairstyles for men?
Some popular business hairstyles for men include the classic taper, side part, crew cut, Ivy League, and slicked-back styles. These hairstyles convey professionalism and sophistication, which are perfect for the WORKPLACE.
How often should I get my business hairstyle trimmed?
Regular trims are important for maintaining a polished appearance. Depending on your hair's growth rate and desired style, aim to schedule a trim every 4-6 weeks.
This will keep your HAIRCUT looking fresh and professional.
What hair products should I use to style my business hairstyle?
Use hair products that provide a natural finish and hold, such as pomades, hair gels, or styling creams.
Choose products that are water-based to avoid greasiness and to maintain a clean appearance throughout the day.
How can I maintain my business hairstyle during the workday?
To maintain your business hairstyle throughout the day, use a high-quality hair product that offers all-day hold.
It's also helpful to keep a comb or brush at your workplace to touch up your style as needed. Avoid running your hands through your hair, as this can make your style appear unkempt.
Can I have a beard with a business hairstyle?
Yes, you can have a beard with a business hairstyle. Just ensure that your beard is well-groomed and neatly trimmed to maintain a professional appearance.
If you're unsure of how to style your beard, consult with a barber or hairstylist for guidance.
References:
This is a non-exhaustive list of hairstyles, excluding facial hairstyles. source
Khamis Maiouf is a professional barber who graduated from Hinckley College in England with a degree in hairdressing. He has also won several barbering contests and successfully operated a barbershop for the last two decades. As a skilled hair stylist for 20 years, his goal is to teach others how to achieve a beautiful appearance through their hairstyles.