When it comes to famous looks, a faux hawk mullet seems to be a distinctive men's hairdo that has been a fashion trend these days. The mullet haircut has short side part and front with long hair and from the behind, giving it a sharp and stylish look. Mullets first gained popularity in the 1980s during the punk and gothic rock eras, before becoming a trendy men's hairstyle in the 1990s.
Whether you want a classic or current look, there are a variety of stylish mullet styles to attempt. Some men prefer a mullet fade with hairstyles for a tidy and basic look, While others favor a long mullet like an uppercut for a fashionable appeal.
Since there are many different styles of mullets and faux hawks, picking the right one can be challenging. To give you some inspiration, we've compiled a list of the top mullet haircuts. Whether short or longer, wavy, straight, and naturally curly, explore these fantastic Faux hawk mullet haircuts to find a modern variant you'll adore. Let's get into its types.
Modern Styles Faux Hawk Mullet
The trendy faux hawk mullet seems to be a fantastic hairstyle for men who want to put a new twist on a classic look, making it ideal for those who want to try something new with their hair.
A current faux hawk mullet hairstyle is artistically interesting so there is a transitioning from front to back. It's understated and appealing. For males who wish to try out this hairdo, The current cut is recommended. The new age fashion will always be on point while being over the top, from shorter to long, messy to clean.
Faded Faux Hawk Mullet
The fading faux hawk mullet is now one of the most fashionable haircut types due to its versatility and creative design, which highlights the styling on top. The taper fade brings a level of versatility and customization that pulls this classic cut into the present day because there are various styles of fade to pick from.
To determine how sharp you would like the cut to appear, choose from a steep, medium, or low fade on the sides. With mullet faux hawk cut hairstyle's shorter side part gives variety and personality into front and back. To add a distinct and stylish touch to your haircut, asking for something like skin, burst as well as trimmed fade when talking with your barber.
The burst fade creates an arch around the skull, however the drop fade provides a stylish touch by curling around the ears then dropping down towards the neckline for a bold cut. With so many different mullet faux hawk cuts to select from, you'll would like to experiment with a few different looks until you find one that you like.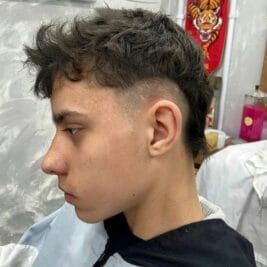 Faux Hawk Mullet- Shortly Trimmed
It's simple to style, sustain, and keep the shorter curly mullet Faux hawk. Mullets are still fashionable and manly, and they wouldn't have to be overly long to look good. Mixing short hair with a mullet adds a casual touch to your look, whether you want a Caesar cut, a fohawk, or a business-friendly variant.
Sloppy wild types are more polished and professional than short mullet hairstyles with the fades or shaved sides and back. When you combine the French crop with the mullet, you can achieve a fantastically elegant style.
Mohawk Mullet Fade
The Mohawk high fade mullet is a terrific hairstyle that fits right in, thanks to the similarities between the two styles. The Mohawk mullet fades is preferred by most men because it emphasises their long hair and in the centre of their head. Instead of shaved sides, Opt for a fade haircut for a less bold effect. The final appearance is still sharp and different, but it's a lot more common.
Curly Hair Faux Hawk Mullet
Curly-haired males who want to show off his natural hair structure could try the curly hairstyle mullet. The curly hair of any Faux hawk mullet wonderfully compliments the back's length change. Curls provide the hair in the front of your face texture and stiffness without stripping away from the hairstyle in the rear. Trying to grow your hair out here in the back helps you to show off your curls, when most haircuts try to hide them.
Straight Hair Faux Hawk Mullet
The short spiked hair mullet is the most popular Faux hawk mullet hairstyle because it is easy to achieve and maintain. Mix straight mullet with the fade, cut, or shaved sides for the ultimate aesthetic. Depending on if you do have longer or shorter straight hair on top, You can wear your mullet haggard, brushed back, or feathered. Simply concentrate on sculpting the front of your hair with minimal effort, using a strong hair wax to add volume and lift.
Dyed Faux Hawk Mullet
Bleach is a brilliant colour by itself, but when combined with the faux hawk mullet, it creates a dramatic and colourful cut. Because it reminds people both Paul McCartney & Ziggy Stardust, this rendition is ideal for males who enjoy a mod/rock mood. Because colour dehydrates your hair, it's important to utilise moisturising hair treatments.
Faux Hawk Mullet With Kids
The faux hawk mullet with children can be adorable and cute, with just enough individuality to match your energetic and untamed little boy's personality. Your son's mullet will be fashioned and cut in the same way as his brother's, featuring tapered undercut and lengthier hair on top and back.
Allow your kid to have a stunning mullet haircut by adding volume, flow, and structure to his hair with a light hair product. To get the most of your kid's wonderful natural hair, relax the cut as needed.