Have you seen Drake beard style?
What it means to follow a personality, only a true fan can realize. Ask him, he or she will give you a hundred reasons. Whether it is Johnny Depp from Pirates of the Caribbean or Kratos from the gaming world, inspiration is the word that acts mostly.
Nowadays, a trend of following singers, film stars, gaming characters and anime cosplaying is going on. It's not bad at all. Rather if you like it and want to be just like them, you are an artist. You are the artist to form the art of personality development.
Let us, help you in this noble job. Drake, a popular rap singer, make everybody feels his lines from the bottom of the heart. He teaches many fans how to be confident and positive with his words and lyrics. Certainly, such an inspirational character will be worshipped by many.
Do you want to have Drake Beard Style for yourself? Then welcome to our website. Here you'll have everything, starting from the Drake Beard Guide to maintain it. Wait for the end, an additional bonus is waiting for you.

Who is Drake?
Drake is a famous Rap artist from Canada. Music can touch our heart as well as the musicians. I know somebodies who admire some musicians like God. If Drake has occupied such a place in your heart, it certain that you want to be like him.
Copying someone's personality is quite tough. But you can be like him by acquiring the looks like him. The only thing you can copy from him is the beard.

Now, you may ask us a question that Drake has several beard styles. Then which one to copy? Which one will be suitable according to our look? That's the twist here. Though Drake has several beard styles, he has a unique one. That's his signature look. Here it is.

Is Drake Beard Perfect for You?

Do you know Drake beard can be done on anybody? Yes because its texture is simple. And as it is not too much thick, it won't cause any problems for you. Within few days, you can have Drake Beard Style. But before going into the discussion of the 5 steps, let's see are unique characteristics of Drake Beard.

⦁ Drake's beard is black.
⦁ It's hardly 0.5 inches long beard.
⦁ The meeting point of the mustache and beard has amazing finishing.
⦁ Near the ear, it gets a smooth fine hair-like turn.
⦁ The beard is not so dense.

Why You Must Try Drake Beard?

However, after doing some research, we can easily conclude that Drake Beard is the easiest beard style to do. I'll recommend you to try it at least once because-
⦁ You don't have to grow your beard for several weeks. Within 10 days, you can have results.
⦁ If you have a long beard, by taking a small step, you can have Drake Beard.
⦁ The great fact about Drake Beard is, you'll look gorgeous when you'll smile.
So, get ready folks to know the 5 easy steps to achieve Drake Beard Style.
How to Get Drake Beard Style?
Follow these easy simple steps to get Drake beard style!
Step-1: Give Your Beard a Growing Time
At this point, one of your doubts will be cleared. Let's start from the bottom. Suppose, you have shaved your beard in just a few days and you have a clean face. So, let your beard grow for few days. If you continue a healthy diet like beef, carrot, lettuce, eggs, nuts and others, it will grow within 10 days.
Though beard growth depends on man to man. But you can catalyze it faster for your shake. Make it at least 0.5 inches.
Those who have a curly beard must have a problem with this. Don't worry, just make sure, your beard is covering the lower portion of your chin with proper hairs.
Now, if you already have a long beard such as Dan Bilzerian beard, you have to cut it. Though if you want to have a mixed beard style, you can let it be. Take the trimmer and set it to number 1. Then run all over your beard. Just make sure, you have a well-grown beard for these actions. Thus the first step is done.
Step-2: Work on The Edges
Let's start our grooming program. You should start from the edges. First, allow some shaving gels to the edges of your neckline.
Take a razor and give a sharp look there. Make sure you run it from your left lower jaw to your right lower jaw.
Next, apply the shaving gel from near your ears, both sides. Run the razor sharply and carefully. It's a very sensitive area.
Take the razor blade to the upper portion of your ear. Make sure this part is smoothly ended with your hair.
You can use a trimmer here to mix the hairs properly. Blending is needed to have a perfect look. If you are not helping yourself out, ask anyone to do it for you.
Step-3: Work on The Moustache Line
It's the final work to have an excellent style like Drake. Keep your trimmer and razor ready. Make sure, you are in front of a mirror with proper lights on your face.
For the sake of convenience, make a light wave line up to the end of your moustache. Draw the line between both of your sideburns. Whether these lines are exact or not, check them thoroughly by looking at the mirror.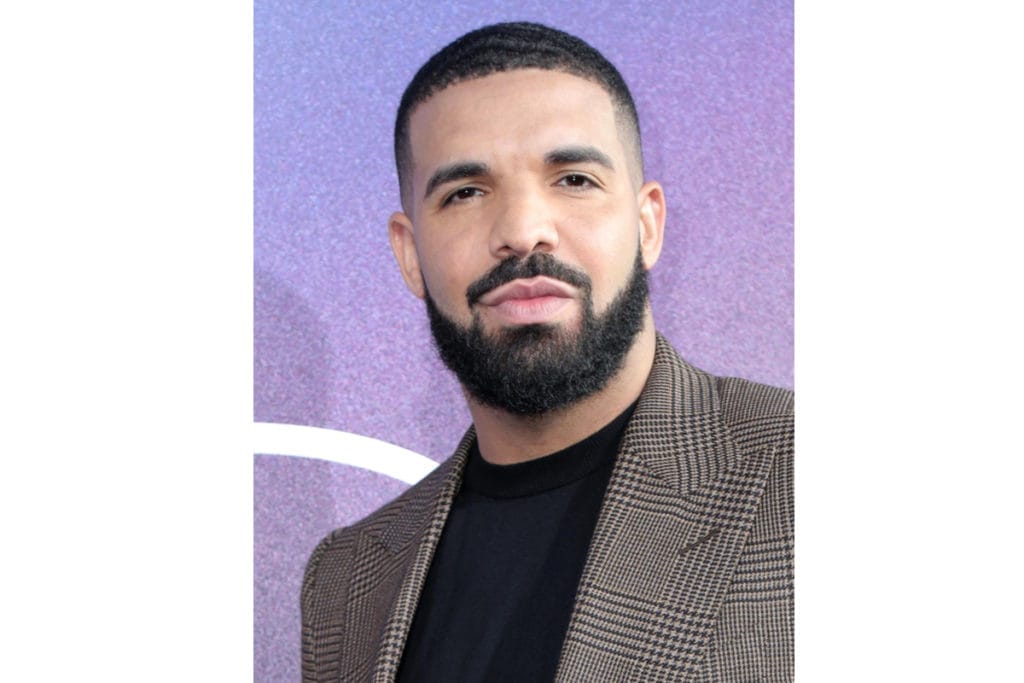 Now let the trimmer do the rest of the work. Cut the extra hairs out of the line. If something remains, allow your razor to wipe those out.
While doing the above step, let your joint section of moustache and beard be left. We'll discuss it later. Before that, we need to take care of your moustache.
Take a scissor and give your moustache a shape. You can try any moustache but giving it a box shape will be perfect to have a Drake-like structure. Make sure, the direction of the moustache hair is downward.
Step-4: Finishing Line
When you are working on the moustache and the beard finishing line, you need to be careful. As you can see in the picture, it meets with a tough but smooth finishing. Just keep your scissor and give all your hair a similar height.
Then take your razor or trimmer and give a 'V' shape inclined near the lips. To get the same beard style as Drake, you can remove some facial hairs below your lower lips. The line has to be straight so always cheek line.
Now, if anything remains unchanged or rough, just make it perfect by yourself. As everything ends, now wash it with beard shampoo. Then don't forget to apply beard conditioner to make it glossy.
Step-5: Add Black Dye
The specialty of Drake Beard is, it's black. You need to add a proper amount of black dye all over your beard. Wash it with water before and after the treatment. However, modifications can be done on basis of the personal needs.

Now I guess, you almost have a Drake Beard Style. Here is a suggestion for you. I'll suggest you copy the exact Drake Beard Style, not only the beard even the hairstyle too. Why? As a fan, it would be better for you to copy the same look as him.
What I promised you at the starting, that I'll give you one bonus. It's here. In this bonus, I'll give you some examples in which you can look like Drake.
What are The Best Drake Beard Style?
Only Sideburns
Shave the whole beard, keep the sideburns only. Make sure, you allow your head hair to grow drastically.

Short Beard and Short Hair
– It's a classic style. It will suit anyone. The beard style will be the same as mentioned but the density will be very low. Again the head must have little dense hair but not too long.
Thick Long Beard
– It's very simple, just allow your beard to grow some inches. Here, you need to grow your hair as much thick as your beard. Now, you can do the same style as Drake. Shave the sides of the head too little.
These are some styles which will suit you for sure. Now, in the end, I am again saying, you can do whatever you want to do. Your modified style with Drake beard will be good and appreciable. However, Drake style has a signature style with the above-mentioned facts. Rest is upon you.
If you are interested in long beard styles, check the Lumberjack Beard Style or the Duck tail beard styles
Conclusion
I hope you'll like my guide on Drake Beard Style. Whether you want to impress a girl or want to impress your friends, your personality, your style, your smile will be the last answer. Having a dashing beard style will just push it a little forward.
Don't forget to maintain your beard with beard oil, beard shampoo and beard conditioner. Allow combing sometimes too. 5 weeks, 5 steps and 5 minutes of maintenance can give you the same vibe as Drake.