How to Grow Dan Bilzerian Beard within Only 10 Days?
Being a man, I can understand your need. It will be better to express the phrase as 'Desire'. Having a dashing look with a beard is every man's dream. Do you follow the same dream? Do you want to be popular among girls? Among your friends' circle? Then you are in the right place. Beard is becoming a hype day by day. The more attractive your beard, like Jon Hamm, the more you'll be popular. The manliness reflects through this particular grooming. Dan Bilzerian Beard Style is asked by many.
In this article, you'll know how to get Dan Bilzerian Beard Style within just 10 Days. Wait! Don't you know who is Dan Bilzerian? Then have a look at the picture given below. Isn't he awesome? Certainly! Before going to the discussion about how you'll get an awesome look like him, let's first know who he is.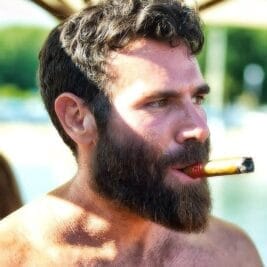 Who is Dan Bilzerian?
Dan Bilzerian is a famous name in the world of social media. As the era keep forwarding through 5 inches (12.7 cm) device, the more we get attracted to it.
During daily swaps, a lot of things are come across by us.
As Dan is a social media influencer, he has a good fan following. It keeps him encourage to give new Content, new information, new vlogs, and others. Other than a social media influencer, this American guy is a master of poker games.
However, he is quite famous for his looks. More particularly, for his manly beard. It took several months to maintain a beard like this or the Ducktail beard. But do you know, you can make it within 10 days? Okay! No more beating the bushes, let's jump to the topic.
What's The Difference Between His and Others' Beards? Probably, this confusion was killing you from inside. What's the difference? It looks quite similar to other beards. What's make it his signature beard that everyone calls "Dan Bilzerian Beard Style"?
Have a close look. You can find out his beard is chopped, maintaining a line. The edges are clearly expressing the manly look. His beard is 1 to 1.5 inches (3.81 cm) long. This dark dense beard is an iconic style. 'Class' will be the perfect word to express it.
"Can I Grow a Beard like Dan Bilzerian?"
Did someone tell you that face shape depends? Did someone tell you that you have to give up on your dream about Dan Bilzerian Style because you don't have a perfect face cutting? Then don't worry, no matter, what face shape you have, you can have this beard style.
I won't say, they are fully wrong about the face shape. They are partially correct. However, everything has a solution. At the end of the discussion, people with any face shape can have this style."How it will look on me when Dan Bilzerian Beard Style will be applied to me?"
This question must be bothering you. Let's answer it first. As there is a moustache on the face, and a beard is being cut on the edges, it will give you a Classic Aura. And the manly behaviour will make adrenaline rush on girls. So, how to grow a beard like Dan Bilzerian?
How Can You Grow Dan Bilzerian Beard within 10 Days?
Now, you'll understand what's the difference between other beard styles and his. Not every beard style has the same pattern, Differences in the core are confirmed. Roughness, silky nature, length, width, thickness, everything matters.
To get an awesome beard like Dan, you need to follow a healthy diet too. Irregular activities can hamper your health and beard too. Everyone will tell you how to get a beard but no one will tell you how to maintain it for a long time.
I'll tell you how to maintain your beard for so long. Just follow my words, you'll get what your desire.
1st Step: Eat Healthy and Provide Nutritions to Your Beard
A few years back, when an interviewer asked Dan about the secrets of his dashing beard, he gave the best solution. Nutrition. Nutrition is very important for growing healthy even it is hair. He revealed his diet chart for beard particularly.
After verifying the nutrition list, I can assure you, it's perfect. Try it. Let's know the names of the foods he used to eat. The foods and fruits, enriched with vitamin C and vitamin E are mostly effective.
There is a pigment in our hair, called melanin, which is responsible for the black, dark shiny look. You need to keep it up until the day, you decide to cut your beard. Vitamin B, Vitamin B5, Vitamin B12, and Vitamin B6 are crucial too.
Lemon, carrot, lettuce, pumpkin, and various keto diets are perfect for having these nutrition elements in your body. Biotin is an important ingredient too. Egg yolks, legumes, and nuts are the best sources of biotin. Now, what's to avoid?
Say goodbye to your favourite burgers, fast foods, and foods with too much fat. Cholesterol uptake can cause hair fall sometimes (depending on the cell per person). Avoid all the junkies, and follow a good nutrition diet list.
How many days do you need to continue it? I can understand, following this kind of diet is quite impossible in some cases. What for them? From the next time, you have a clean shave, try following this diet chart until your beard grows 1.5 inches (3.81 cm). If you allow your hair to generate keratin from the beginning, it will take very little time to generate a dense irregular beard.
2nd Step: Start The Treatments for Beard
Hammering the iron when you have time is best. So while your beard is about to grow, you need to start caring about it. How you'll take care of it? Forget about the beard shampoo you use. Take only three things- beard oil, a brush, and a comb.
How to treat your hair? As soon as your beard becomes 1 inch (2.54 centimetres) long, you need to start the treatment. And from here, your 10 days countdown will be started too.
Allow beard oil every day on your beard as well as on moustache. It will provide nutrition to it from the outside. Don't forget about that moustache. Remember, the more you treat your hair with oil, the faster it grows.
You can try exfoliation too. Take any tutorial available on the internet. It will remove the dead cells from your mouth. It will accelerate growing healthy hair faster.
Now, it's time for you to use a brush and comb. Depending on the density of the beard, you need to choose your weapon. Though the nutrition part is enough for building a thick beard. However, hair type is generally inherited.
If the hair density is high, allow brush otherwise use a comb. No matter what kind of comb, you are using. Just start combing it from the end of the chin to downwards. Again, start from Adam's apple (end of the ear) and move your comb in the angular direction.
This continuous exercise will let your beard grow in a particular manner. Wash it every day with water while taking bath. After washing the beard, allow combing, as it is the time to give the shape.
You can apply beard shampoo as well but once a week. And after washing the beard with shampoo, don't forget to rinse it with conditioner. The Moisturizer that was taking out, will be regained by conditioner.
You need to keep this treatment for 10 days continuously even after having a cut (which will be our next discussion). Why? If you give stability to your hair base, nothing even tornado can't disturb your beard.
3rd Step: Shave or Trim to Get the Exact Style
Let me mention first, this program needs to start from the 5th day. Within the rest of the days, you'll get a perfect shape. In this discussion, you'll know how to cut or trim your beard to make it exactly like Dan Bilzerian.
First of all, don't rush! I am suggesting you take 9-10 days because a blind rush can hamper your look. Here, I am giving a chart to follow.
⦁ Day-5: Give a shape to your beard. I mean, cut the popped-up hair from the margin of your 1.5 inches (3.81 cm) thick beard.
⦁ Day-6: Take Care of the ends where your moustache is meeting your beard. You need to give a smooth finish.
⦁ Day-7: take your trimmer and shave it from the bottom of your ear to a little above the meeting point of moustache and beard. Don't forget to use a beard trimmer for this.
⦁ Day-8: have a close look at both sides where you cut the previous day. Check whether the line is smooth or needs a little work. Use a scissor to eliminate those extras.
⦁ Day-9: allow dye on it. Though it is optional. You can apply any colour that suits you. Make sure, your hair, moustache, and beard maintain the same colour.
⦁ Day-10 check whether all the instructions, given from starting, are being done or not. If something knocks you to allow, then go for it.
BOOM! You have the Dan Bilzerian Beard look now. Now, the question is how can you maintain your Dan Bilzerian Beard Style for long.
How to Maintain Dan Beard for Long?
As your Day 10 is over, now you can celebrate your look. However, after the 10th day, your job isn't done yet. You need to take some steps to continue the glory. As soon as you grow the beard, you can move out from that boring diet chart mentioned above. However, don't eat junk foods too much especially oily foods.
It prevents the repair of hair cells. Allow water rinsing every day. As bathing, brushing your teeth, are within your routine, rinsing your beard must be on the list too.
Allow beard oil regularly. Allow shampoo once a week and conditioning must be done accordingly. Last but not the least, never stop combing your beard. You can use synthetic products, from markets too. But why? When you have the best natural solutions in your hand?
Conclusion
Your looks will be the first impression. Why comprising with it when you have the chance to be the best? Dan Bilzerian is famous for his manly looks. Yes, indeed, you can't have the same look as him, but at least you can have his aura. If you acquire his mesmerizing aura in you, you can win everyone's attention without saying a word. I hope, the guide will help you to achieve your dreams. Good Luck!
Khamis Maiouf is a professional barber who graduated from Hinckley College in England with a degree in hairdressing. He has also won several barbering contests and successfully operated a barbershop for the last two decades. As a skilled hair stylist for 20 years, his goal is to teach others how to achieve a beautiful appearance through their hairstyles.