Jax Teller Haircut: Unleash Your Inner Outlaw Charm
Ready to rev up your hairstyle game? The Jax Teller Haircut is a perfect choice for men seeking a bold, charismatic, and intriguing look inspired by the Sons of Anarchy protagonist.
This modern outlaw hairstyle is sure to turn heads and make a statement, capturing the essence of Jax's rebellious spirit.
Let's ride into the world of Jax Teller haircuts and discover how to rock this EDGY style with confidence!
Who is Jax Teller?
As a celebrity hairstylist, I've come across numerous inspiring looks from various TV shows and movies.
One of the most iconic characters in recent television history is Jax Teller, portrayed by Charlie Hunnam in the hit series Sons of Anarchy.
Jax Teller is the vice president-turned-president of the motorcycle club SAMCRO, known for his captivating presence and memorable hairstyles.
In this blog post, I will share some of the best Jax Teller hairstyles, focusing on long hairstyles that can inspire your next look.
Jax Teller Haircut for Long Hairstyles
1. Classic Jax Teller Long Haircut
The classic Jax Teller long hair is characterized by its shoulder-length, wavy blonde locks.
This hairstyle exudes a carefree, rebellious attitude that perfectly matches Jax's character.
As a hairstylist, I've had clients request this iconic look, and I always make sure to emphasize their natural hair texture to achieve the desired effect.
2. Slicked-Back Jax Teller Haircut
Another popular Jax Teller hairstyle is the slicked-back look, perfect for guys who want to maintain their long hair while keeping it tidy and stylish.
This style is achieved by using a strong-hold hair product to comb the hair back, creating a sleek and sophisticated appearance.
I've often recommended this look to clients who want a more polished long hairstyle.
3. Half-Up, Half-Down Jax Teller Haircut
The half-up, half-down Jax Teller hairstyle is a versatile option for men with long hair, offering a balance between casual and refined.
This style involves pulling back the top section of the hair and securing it with a hair tie, while the rest remains loose and flowing.
As a hairstylist, I appreciate the effortless elegance of this look and have enjoyed helping clients recreate it.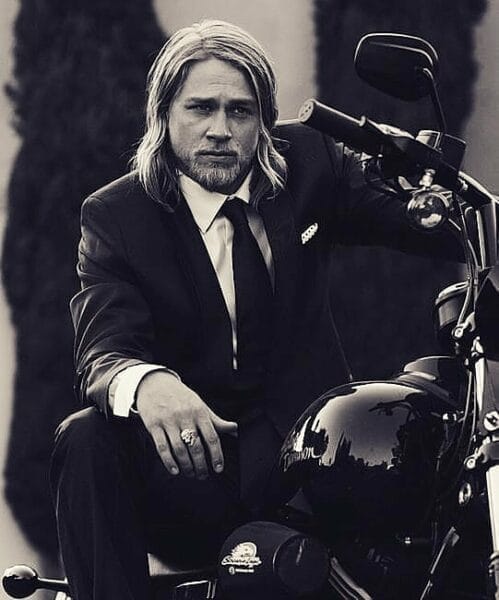 4. Jax Teller Hairstyle with Beard
For men who want to channel Jax Teller's rugged charm, the hairstyle with a beard is an excellent choice.
This look pairs long, wavy hair with a well-groomed beard, creating a masculine and bold appearance.
As a hairstylist, I've often worked with clients to achieve the perfect balance between their hair and facial hair for this striking style.
Continuing my exploration of Jax Teller's iconic hairstyles, I will now share some options for men with shorter hair, as well as a trendy haircut inspired by the character.
As a celebrity hairstylist, I'm always on the lookout for versatile and eye-catching looks that can suit different hair lengths and preferences.
Jax Teller Haircut for Short Hair
5. Short and Messy Jax Teller Haircut
The short and messy Jax Teller haircut is perfect for guys who prefer shorter hair but still want to capture the character's rebellious spirit.
This style features a textured, tousled look that requires minimal styling, making it a low-maintenance option.
As a hairstylist, I've enjoyed working with clients to achieve this effortlessly cool style.
6. Jax Teller-Inspired Fade Haircut
For a more contemporary twist on Jax Teller's style, the fade haircut is an excellent choice.
This haircut combines shorter sides with longer hair on top, allowing for various styling options.
As a celebrity hairstylist, I've helped clients achieve this versatile look by adding texture and movement to the long hair for a modern, edgy appearance.
Jax Teller Trendy Haircut
7. Jax Teller-Inspired Undercut
The Jax Teller-inspired undercut is a trendy haircut that captures the essence of the character while adding a touch of modern flair.
This style features short, buzzed sides and a longer top, creating a striking contrast.
I've had the pleasure of working with clients to achieve this bold look, often incorporating styling products to add volume and texture to longer hair.
Conclusion
Delving into the world of Jax Teller Haircuts has been a riveting and educational experience.
I hope you're inspired to channel your inner rebel and try out these striking hairstyles.
As the LEGACY of Jax Teller endures, his signature haircuts will continue to captivate fans and serve as a symbol of fearless style.
FAQs
Q1. What is the time frame for growing hair like Jax Teller's?
The time frame for growing hair like Jax Teller's varies depending on your current hair length and texture. On average, it can take around six to twelve months to grow out hair to the ideal length. You may also need to change your hair care routine and adopt a healthier lifestyle to achieve the best results. Patience is key when growing your hair like Jax Teller's, so keep up with regular trims and maintenance to ensure the health of your locks.
Q2. How can I achieve the Jax Teller hairstyle?
To achieve the Jax Teller hairstyle, you'll need to start with the right haircut. Ask your hairstylist for a cut that features shorter sides and longer hair on top. Use a styling product like pomade or wax to create texture and volume, and then use a comb or your fingers to style your hair in a messy, natural way. Finish with hairspray to hold your look in place. With the right cut, product, and styling technique, you can rock a Jax Teller-inspired hairstyle.
Q3. What made Jax Teller decide on a shorter hair length?
In the later seasons of Sons of Anarchy, Jax Teller adopted a shorter hair length to better suit his new role as a husband and father. In the show, his hairstyle became more practical and functional to accommodate his changing priorities. The shorter hair length also reflected Jax's growing sense of maturity and responsibility, as he moved away from his rebellious past and embraced a new chapter in his life.
Q4. In which season(s) does Jax Teller get a haircut?
Jax Teller's haircut in the series went through a few changes over the course of the show. In season 1, Jax sports long, flowing locks, but in later seasons, his hair gets trimmed to a shorter length. Season 7 is particularly notable for Jax's haircut, as he opts for a clean buzz cut towards the end of the series. The varying haircuts mirror Jax's character development, highlighting the changes he goes through over the years.
Q5. What hair product does Jax Teller typically use?
Jax Teller is known to use a few different hair products over the course of the show. At times, he uses hair gel or pomade to create volume and hold, while at other times, he opts for a more natural, tousled look using sea salt spray or texture powder. His exact hair product choice may vary depending on the scene or season, but overall, he sticks to products that create a natural, effortless look that perfectly complements his rugged style.
Khamis Maiouf is a professional barber who graduated from Hinckley College in England with a degree in hairdressing. He has also won several barbering contests and successfully operated a barbershop for the last two decades. As a skilled hair stylist for 20 years, his goal is to teach others how to achieve a beautiful appearance through their hairstyles.