14 Ideal Ivy League Haircuts for a Perfect Look
The ivy league haircuts involve a classic crew cut that balances smartness with slickness by leaving enough hair on the top of the head to be parted. It remains popular thanks to its preppy and cool aesthetic that can be worn anywhere from the office to the bar.
The ivy league haircut is ideal for men with solid cheekbones or a prominent jawline. Although versatile, the cost of maintenance for this hairstyle is quite low, making it suitable for any person seeking a cost-effective yet alluring look.
Plus, this cut will keep your hair short and tidy if you have a stubborn cowlick. Whether you're after inspiration or just looking for a fresh cut that'll never disappoint you, the best ivy League haircuts will offer you a fantastic option.
14 Hairstyles to Inspire Your Next Cut
Whether you're looking for a style that exudes intelligence and refinement or a relaxed and laid-back vibe, you'll find the best ivy league adaptations that suit your desired look here. Keep reading!
Classic Ivy League Haircuts
The classic ivy league haircut is a timeless and sophisticated hairstyle that originated from the Ivy League schools in America.
The style, also known as the Princeton cut or Harvard clip, features neatly tapered sides and a top that is just long enough to style into a side part. This dapper cut exudes an air of professionalism and refinement that is perfect for the office and special occasions.
Regardless of your hair type, you'll customize it to suit your preferences. One trendy variation of this classic style is to add a smooth gradient design to the sides while maintaining a crew cut on top.
This subtle yet stylish twist on the traditional ivy league haircut can elevate your look and make you stand out from the crowd.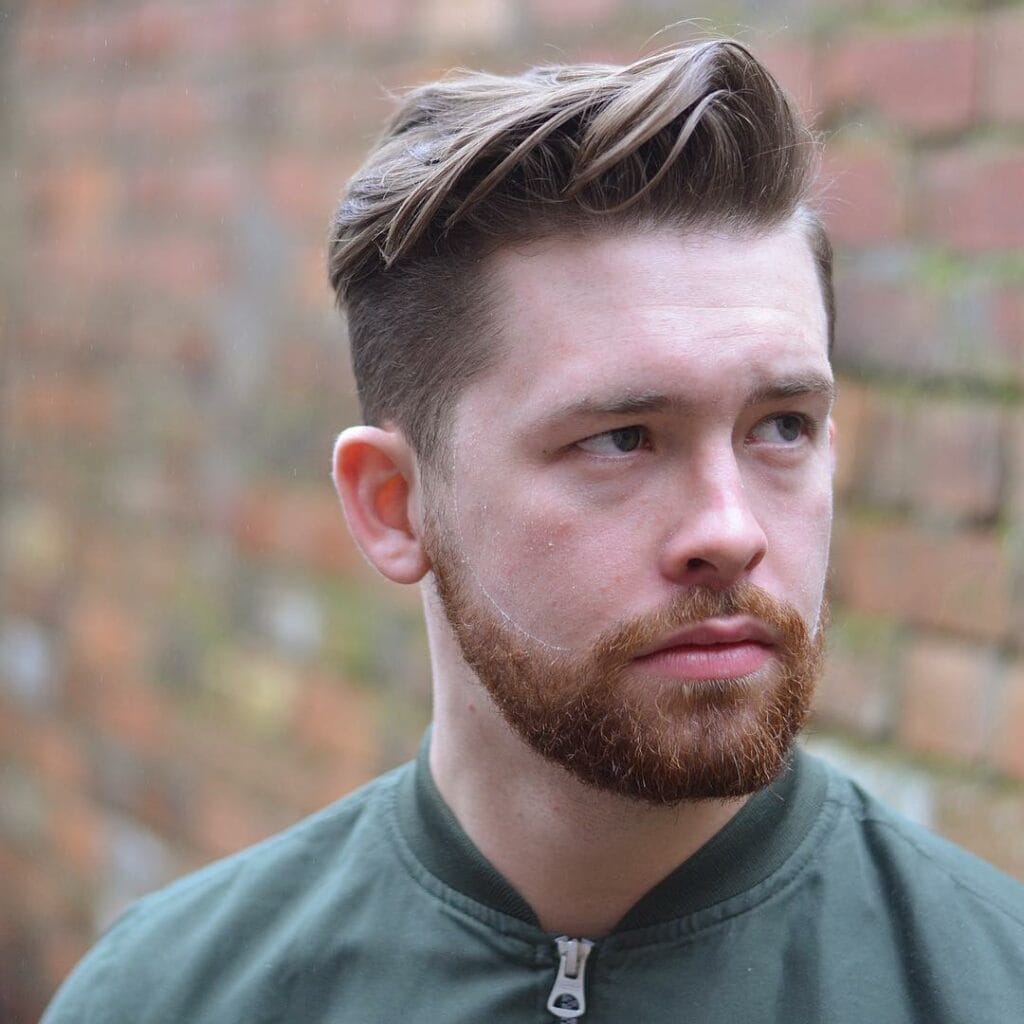 Medium Length Ivy League Hairdo
The medium ivy league haircut is perfect for those looking for a stylish and flattering hairstyle. It's a versatile cut that suits any occasion and can be styled in different ways to create a personalized look.
For those who desire a medium Ivy League haircut, request an inch of hair to be left on top by your barber.
This length will provide ample space to style your hair to one side after washing, making it easy to maintain, especially for people who are constantly on the move.
The modern Ivy League haircut offers the perfect balance between a short and long style, providing a mid-length look that complements any ambiance.
Whether you're going to a formal event or just hanging out with friends, this haircut will make you look stylish and put-together.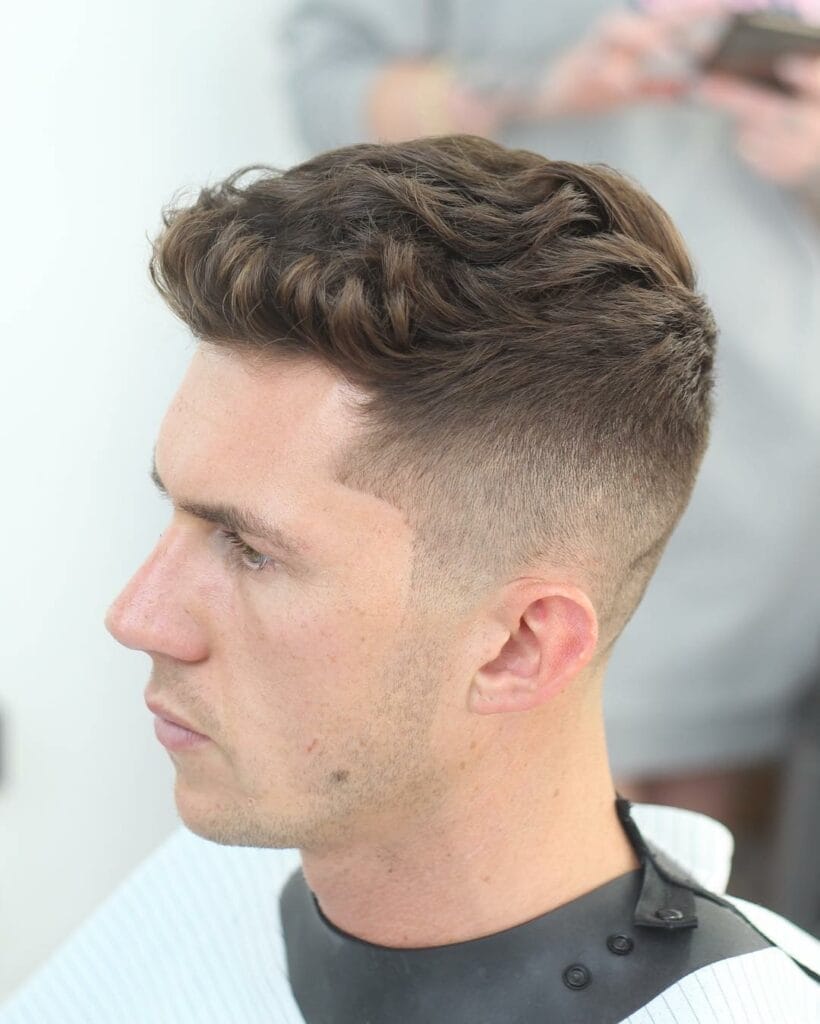 Curly Ivy League Hairstyle
If you're a man with curly hair, you might be hesitant to try an ivy league haircut, as this classic style is traditionally associated with straight, smooth hair.
However, you shouldn't let your curls hold you back from rocking this stylish and professional cut. In fact, with the right length and cut, an ivy league gives a fantastic look to curly hair.
You only need to select a length that suits your specific curls or waves. A shorter cut can be a suitable option for individuals with light waves.
Meanwhile, a longer cut with an inch or two on top may better highlight full and bouncy curls. The key is to find a length that complements your hair's natural texture and shape.
One of the benefits of an ivy league haircut for men with curly hair is the taper and blending that allows for a gradual transition between lengths. This gradual transition helps to create a seamless, cohesive look that's easy to maintain.
Messy Ivy Hairstyle
When it comes to ivy league haircuts, perfection isn't always necessary. This makes the ivy league haircut an excellent option for those looking for a contemporary twist on the classic style.
The hair on top is left longer, with high volume and a slightly unkempt look. However, the sides are gradually tapered, creating a contrast that highlights the textured top.
The ivy league can be cut in various ways to suit different preferences. For example, having a sharp and carved line up is a crucial detail of this cut. It defines the style, showing that even a messy look can have some structure.
Plus, a classic stubble chin beard can be added to complete the look. This addition ties everything together and adds a touch of rugged masculinity to the style.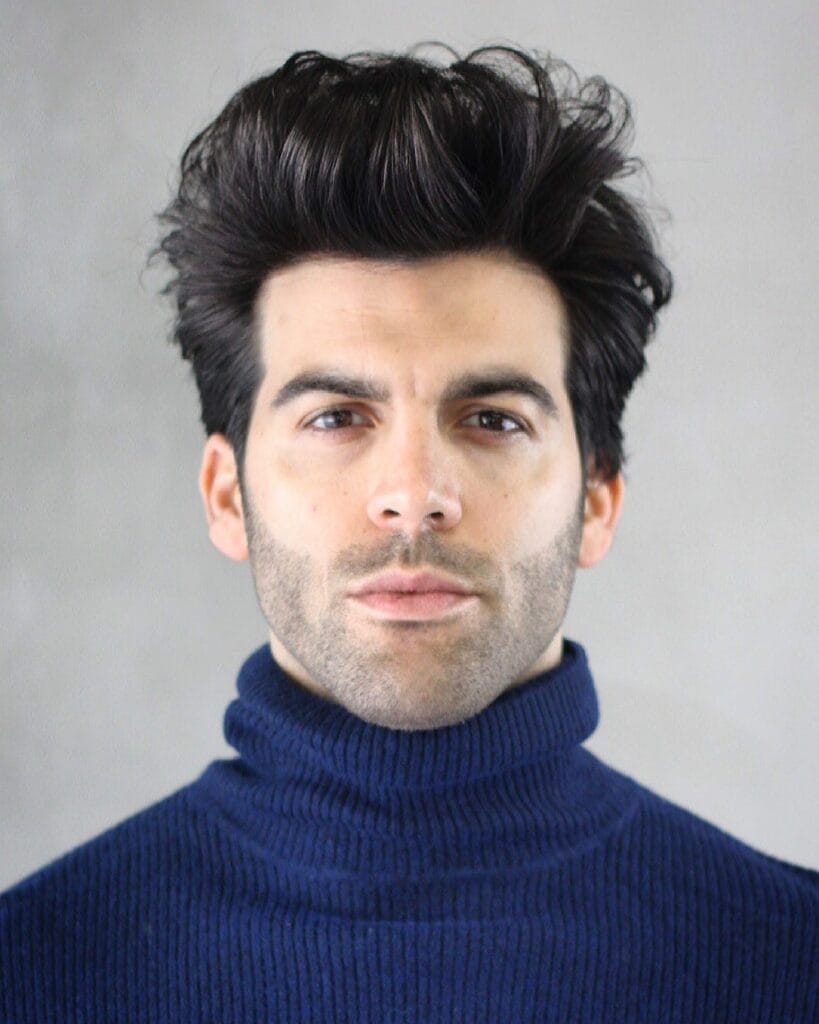 Asian Hairstyle
The ivy league haircut is a versatile style well-suited for traditional Asian hair textures. With its textured and edgy appearance, this cut is a unique take on the classic Ivy League cut.
Incorporating layers and texture gives the traditional ivy league cut a modern and fashionable twist. This combination of classic style and edginess makes the Asian ivy league so popular among men.
The Asian Ivy League haircut is a popular choice for young men who want to look sharp and stylish. This haircut is typically characterized by short sides and a longer top, which can be styled in many different ways.
The most common way to style the Asian Ivy League hairdo is with a side part. However, some men prefer to wear it with a center parting. And if you're looking for a more youthful appearance, you can add some texture using hair products.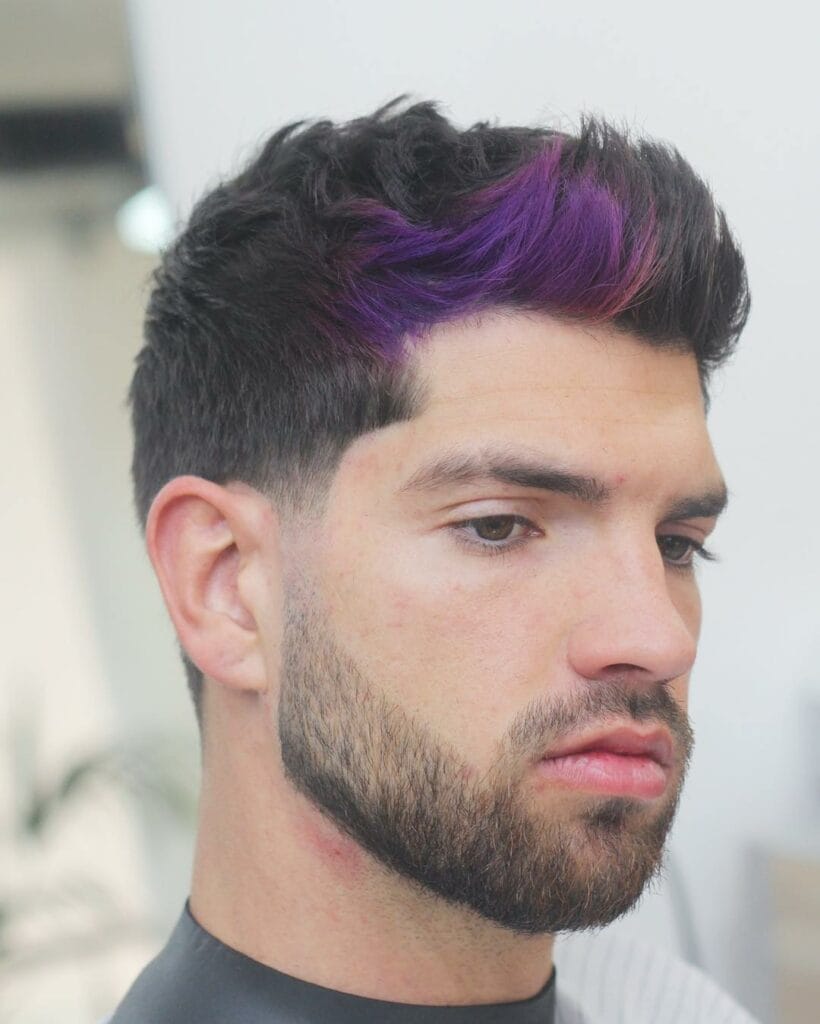 Long Ivy League Cut
The long ivy league haircut is classic, clean, and incredibly flattering for men. It's a versatile style that can be worn in various settings, making it an excellent choice for anyone looking for a low-maintenance haircut.
With its extra length on top, this style has a more fashion-forward and eye-catching appearance than its shorter counterparts.
The extra length provides more flexibility when it comes to styling. You can create a sleek, sophisticated look or go for a more voluminous and quiffed style. The possibilities are endless.
To achieve a long for the ivy league look, ask your barber to leave enough length on top, usually around 2-3 inches. This will allow you to style it in various ways while still maintaining the classic ivy league shape.
Modern Ivy League Hairdo
The ivy league haircut has been around for decades and is still as popular as ever. However, infusing the classic style with a relaxed and effortless feel is essential to give it a modern twist.
Rather than aiming for a tidy look, opt for a medium to long length with a touch of texture. This will give your hair a contemporary edge while still maintaining the timeless Ivy League shape.
Modern ivy league cuts are typically longer than traditional versions of the haircut. While the side and back are still tapered and blended into the length, they're not as closely cut as they used to be.
This creates a more laid-back and casual appearance, perfect for those who want a modern take on the classic style.
Ivy League with Fade
This technique allows you to maintain the classic look of the ivy league while adding a touch of modern style. You can choose from various fade styles, including low, mid, or high fades, depending on your preference.
For a low fade, the hair is tapered gradually and subtly. This works well for a more conservative or professional look.
A mid fade is a bit more dramatic, with the hair tapering halfway up the sides of the head. This can create a more noticeable contrast between the long hair on top and the shorter hair on the sides.
A high fade will cut the hair very short or even down to the skin, creating a more dramatic and edgy look.
Whatever fade style you choose, communicate your preferences clearly with your barber. They can help you balance the hair length on top and the sides so that the cut looks well-proportioned and stylish.
Textured Hairdo
Finding a skilled barber for the ivy league who can create the layers and texture needed for the style is essential if you want to achieve a perfect haircut.
The layers are crucial for creating the signature shape, with shorter strands in the front and longer ones toward the back.
To update the traditional ivy league haircut, ask your barber to create shorter layers all around for a more modern twist. Once the layers are cut, your barber can then add texture to the hair using various techniques and tools.
This will give the style a more relaxed and effortless look, perfect for those who want to maintain a polished appearance without looking too stuffy or formal.
Short Ivy League Hairdo
The short ivy league haircut is a versatile hairstyle perfect for men who want a classic and sophisticated look. This haircut is characterized by its short sides and back, while the top is left slightly longer for styling.
The short ivy league haircut can be styled in several ways, depending on your preference. You can style it with a neat and clean comb-over for a more formal look or add some texture to the top for a more casual look.
Maintaining this hairstyle requires regular haircuts every few weeks to keep the sides and back short. Use argan enriched shampoo and conditioner to keep your hair healthy and hydrated.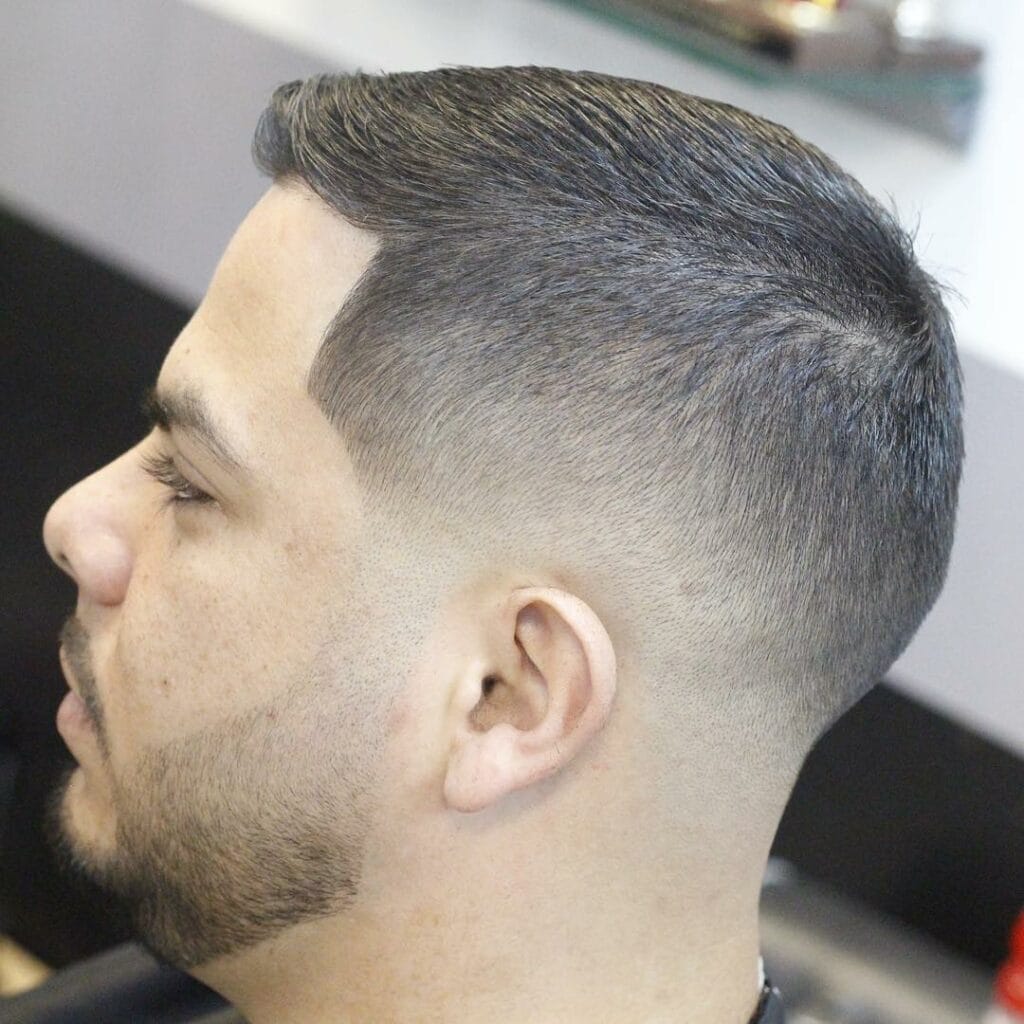 Ivy league hair for Receding Hairline
Step up your grooming game and take on your receding hairline with the power of an Ivy League cut. This classic and sophisticated hairstyle is not only stylish but also serves as a clever camouflage for thinning hair.
The secret to this haircut's success lies in the careful placement of the side part. By starting at the corner of your hairline that's least affected by hair loss, you can create a natural-looking flow that expertly conceals any problem areas.
And for those with greying longer hair, the Ivy League cut also provides an ideal solution. With a bit of volume at the roots and a confident sweep of the front strands to the side, you can rock this look with pride.
Side Part Hairdo
While all mannish ivy league haircuts feature a sweeping side part, some have more defined parts than others.
To make your part stand out, try styling your hair while wet by first combing it backward, then using a fine comb to create a straight part on one side and brushing the hair on either side away. Let your hair dry naturally, or blow-dry it for extra volume.
For a modern twist, consider pairing the ivy league haircut with the Princeton cut, which features a deep separation on top for a defined side part that men love to wear today.
From casual to business attire, there are plenty of stylish options for the side part hairstyles men wear to suit their presentable outfits.
Ivy League Undercut
Looking to spice up your Ivy League haircut? Consider adding an undercut to the mix. The classic ivy league style features short sides and a long top, but an undercut adds an edgy and modern twist to the look.
Sexy and charismatic men wear their ivy league with an undercut to allow them to style their hair in different ways, from slicked-back and professional to messy and casual.
Ivy League cut for Round face
A lot of people with round faces tend to shy away from shorter hairstyles, thinking that they will accentuate the roundness of their faces. However, there are a lot of great short haircuts for round faces! Ivy League haircuts offer one such option that can look fantastic on a round face.
An Ivy League hairstyle is a classic look that is clean and well-groomed. It can be styled in a variety of ways, depending on your personal preferences. The key to making this style work for a round face is to get it slightly longer on the sides than on the back.
To make this classic ivy league cut work for a round face, keep the sides slightly longer than the back. This creates a more elongated look that's both flattering and stylish.
So, if you're looking for a short haircut that suits your round face, the ivy league could be a perfect choice.
Maintenance tips for Ivy League Hairstyles
To maintain an ivy league hairstyle, you should get a good haircut from a reputable stylist who understands your desired look. Communicate your desired style clearly and ask for pictures if necessary.
A healthy hair routine is essential to keep your hair looking great. This includes a balanced diet and avoiding harsh chemicals and over-styling. Regular trims every 6-8 weeks will help keep split ends at bay.
When styling, I recommend choosing the right products for ivy league haircuts is critical. Opt for a high-quality pomade or wax to hold the style in place all day. Apply the product evenly and carefully to avoid a greasy or messy look.
How to Style Ivy League Haircuts
Conclusion
Hopefully, you have enjoyed the post about Ivy League Haircuts. This haircut is a timeless and versatile hairstyle that can suit various personal styles and face shapes.
Whether you prefer a classic or edgy look, this haircut can be adapted to fit your preferences.
An Ivy League hairdo is a great choice for anyone looking for a classic and stylish hairstyle. If you have a round face, you can get the sides cut slightly shorter than the back to help elongate your face.
You can confidently rock the ivy league cuts with the right haircut, hair care routine, and styling products.
The exclusive ivy league gallery discussed thus far will inspire you to check out some styling ideas to bring to your next appointment with your stylist.
FAQ on Ivy League Hairdo
What is an Ivy League hairstyle?
The ivy league haircut is a classic men's hairstyle that originated in the Ivy League universities of the United States. It features a shorter length with tapered sides and a side part, resulting in a neat and polished look.
The style can be customized with a sleek, tidy finish or a more casual and tousled appearance, making it versatile for various occasions.
How do you get Ivy League haircuts?
To get an Ivy League hairdo, you will need to visit a barber or stylist who can give you the classic shortcut with tapered sides and side parting. You may want to ask for some textured layers on top to create a more modern take on the style.
Who can wear an Ivy League style?
Anyone can wear ivy league hairstyles, but it is especially well-suited for those with oval or rectangular faces as it helps to balance out proportions. Men who are looking for a smart and professional hairstyle will often opt for this cut.
References
The Ivy League is an American collegiate athletic conference, comprising eight private research universities in the Northeastern United States. source
The place your parents wanted you to go to, but even YOUR dumbass knew you wouldn't get in. source
Khamis Maiouf is a professional barber who graduated from Hinckley College in England with a degree in hairdressing. He has also won several barbering contests and successfully operated a barbershop for the last two decades. As a skilled hair stylist for 20 years, his goal is to teach others how to achieve a beautiful appearance through their hairstyles.