The Afro Faux hawk haircut is edgy, strong, and regarded as one of the best haircuts for black males. Faux hawk haircuts, also known as a Mohawk, are available in a variety of cuts, styles, and lengths. The Faux hawk fade, unlike the original Mohawk with shaved sides, has tapered sides that make it suitable for everyday use. Some guys prefer to pair their short, medium, or long black hair on top with an afro or dreads.
What Is An Afro Faux Hawk Haircut?
A Afro Faux Hawk Haircut is a black man's hairdo that combines an afro and a Mohawk. A fade or undercut on the sides and afro-textured hair on top are required for the fake hawk. There are many different taper fade haircuts to select from, but the most common are the temp fade, burst fade, and high skin fade.
In recent years, the faux hawk fade has become a popular black hairstyle. Faux hawk designs come in a range of styles so you may personalise your look. Faux hawk dreads are low-maintenance, versatile, and stylish, allowing you to quickly tie up and back your dreadlocks. Afro Faux Hawk Haircut are typically styled to resemble wide Mohawks.
Short Faux hawks are less dramatic and casual, requiring less style product to spike up and maintain hair in place during the day. To obtain the spiky haircut and complete the image, a long Faux hawk requires a very powerful hair product. Finally, with the correct Faux hawk haircut, you'll have a plethora of styling possibilities.
Faux Hawk Afro Fade
The faux hawk fade is a sleek look with fading sides and a long afro. For an edgy and elegant style, match a short fade with an afro Mohawk or faux hawk. Add an edge up, beard, and fade design to your sleek burst fade Mohawk or attractive faux hawk fade for black men.
Short Afro Faux Hawk
The short Faux hawk is a hairstyle that features short top hair and much shorter sides. Men might request fading, undercut, or shaved sides from their barber, and the short Mohawk can hair cut wide or thin. Both styles are on-trend ways to achieve a clean, youthful appearance without the effort of dealing with long hair. Young black men and boys are commonly seen with a short faux hawk. The sides are merged in with the short haircut, giving the impression of a seamless transition.
Blonde Afro Faux Hawk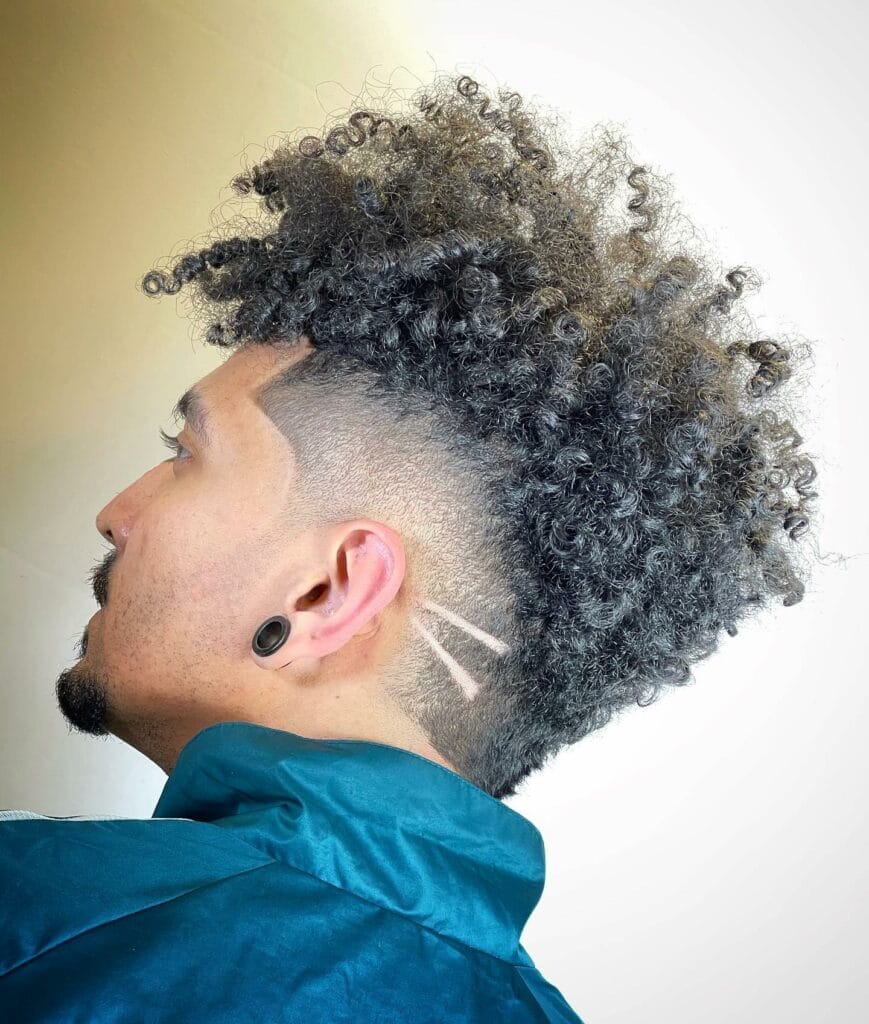 Dreadlock-wearing black males will adore Faux hawk dreads. This dread style comes with shaved or faded sides and is bold, effortless, and handsome. The top dreadlocks are then pulled back and secured. Long dreads are excellent for this haircut, but the dread Mohawk fade looks great on short hair as well. Take your taper faded dreads to the next level with a Faux hawk and natural-looking locks.
Long Faux Hawk Haircut
The long Faux hawk may be a new look for you if you have a massive afro. In any crowd, a long afro faux hawk stands out, and it looks best with short sides and back hair.The long Mohawk haircut's only disadvantage is the difficulty in maintaining the cut and styling the longer hair on top. When choosing an afro hawk, guys who desire easy to get and style men's haircuts should keep this in mind.
Faux Hawk Braids
For most men, Faux hawk braids are adaptable, sophisticated, and appealing. Hair twists and box braids are two examples of braided hairstyles that offer a lot of variety. You may flaunt this modern black haircut with a temp fade on the sides and Faux hawk braids on top.Simply tie up your plaits and you'll be ready to take on the world, from short to lengthy braids.
Blonde Afro Faux Hawk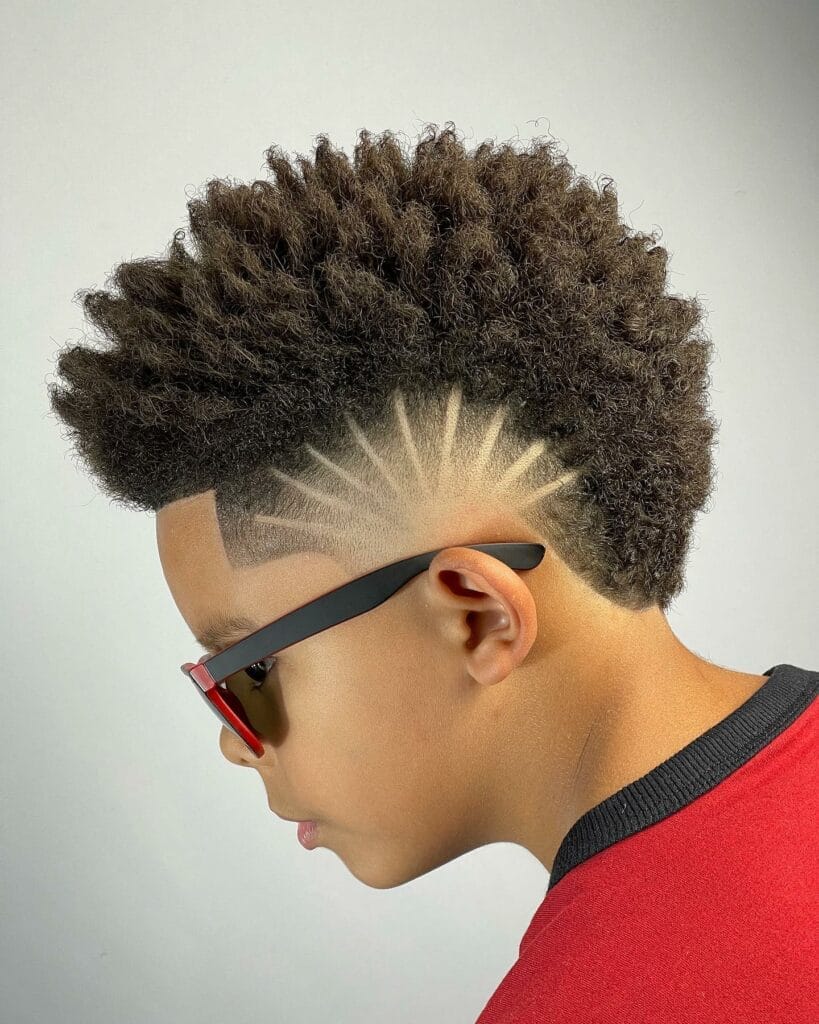 Consider dying your black hair to achieve a blonde Mohawk if you already have a Faux hawk and want to spice it up. Black men with blonde hair are fashionable and distinct, with tinted hair sometimes used to complete a look.
There are numerous hair colour options for black males, including platinum blonde, blonde highlights, and red. Request a burst fade Mohawk and colour your hair on top to get Odell Beckham Jr.'s hairdo. Choose this option if you want to stand out among the other people in the room.
Curly Afro Faux Hawk Haircut
For a unique, textured style, black males with curly hair can try the Faux hawk. A fade haircut on the sides and back is the foundation for the perfect curly Mohawk. Grow your curls out into a thick afro and then brush it out for volume and height. The curly faux hawk, on the other hand, does not usually require a large afro. With a Mohawk fade, full beard, and shaved line part, kinky hair and tight curls look great. This haircut is macho and hot whether you have long, medium-length, or short curly hair.
Faux Hawk With Designs
The most daring hairstyle on the list is probably faux hawks with designs, but that simply adds to the style. In your fade haircut, you'll see lines, forms, patterns, doodles, and subtle transitions. Stripes and waves running through the fade from front to back are examples of these designs.
Conclusion
In this blog you are going to discover different types and options for Afro faux Hawks. These variations of hairstyles help us by educating us about different styles. Afro faux hawk haircut is one of the coolest styles category that we ever discussed. This style comes with its own type of challenges and fun. It has a unique approach in the world of styling. Here we have discussed the most popular styles in list of Afro faux Hawks and hope that you will enjoy our Afro guide.