5 Best Anime Characters with Red Hairstyle
If you're a fan of anime, you know that anime characters with red hairstyle can be fierce and, at the same time, caring. Their hair color is a valuable asset and just as important as the character's personality.
Among the various hues, red hair has always captured the attention of many. That's why we're counting down the 5 trendy Anime characters with Red Hairstyle.
These characters will capture your heart with their captivating looks, unique personalities, and storylines.
Many anime protagonists are grateful to have these redheads by their side, especially when faced with challenging situations.
From heroes to villains, let's explore these iconic red-haired characters that have left a mark on the anime world.
Grab your glass of cold juice, and read on to find captivating information about the most breathtaking anime characters with red hairstyles.
Attributes of Anime Characters with Red Hairstyle
Red-haired anime characters are often associated with a distinct set of characteristics that make them stand out from the rest.
Their fiery hair reflects their hot-headed and passionate nature, which is further accentuated by their aggressive behavior.
Redheads in anime are typically depicted as strong and capable, going beyond the levels of plot armor expected of prominent cast members. These traits make them valuable assets to any protagonist they fight alongside.
Red-haired anime characters are known for their feistiness, enthusiasm, and seductiveness.
These traits have become synonymous with red and are instantly recognizable to anime fans. Whether heroes, villains, or sidekicks, these redheads leave a lasting impression.
5 Trendy Anime Characters with Red Hairstyle: Pros and Cons
Let's delve into the sleekest anime red characters of all time.
1. Sasori (Naruto Shippuden)
Sasori grew up as an orphan and experienced much pain and loneliness. However, he found solace in puppetry, which was taught to him by his grandmother Chiyo.
Sasori created puppets that looked like his parents, but he ultimately realized that they could not give him true love.
This led him to become apathetic and cold toward human life. This mindset, combined with his puppetry skills and membership in the Akatsuki organization, made him a formidable opponent in battle.
Sasori's fiery red hair portrayed him as a ruthless guy with unnatural strength.
2. Karma (Assassination Classroom)
Karma is among a few red hair characters who are clever and mischievous at the same time. Despite his inclination for violence, which resulted in his suspension from school, he is generally laid-back and indifferent to things he finds uninteresting.
While he may appear lazy at first glance, you'll notice a twinkle of mischief in his eyes if you are keen.
Even so, Karma has a caring and empathetic side beneath his rough character. He fiercely protects his classmates, especially Nagisa, who becomes his closest friend.
He will not hesitate to defend them against prejudice and harm, even if it means being impulsive, ruthless, and cruel to their attackers.
Karma's values and compassion for his friends set him apart from his more sadistic tendencies. He is an intriguing character whose complexity stems from his duality – a cunning troublemaker with a heart of gold.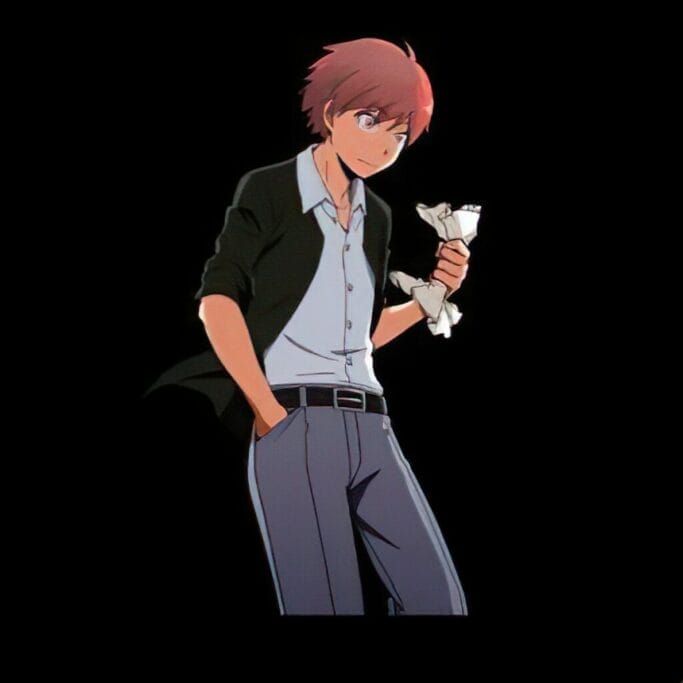 3. Shanks (One Piece)
Shanks is a legendary figure in the One Piece universe, known for his fearsome reputation as a pirate and his position as one of the Four Emperors of the New World.
Despite his aggressive record, he is a laid-back and easygoing individual who enjoys traveling the world and throwing parties with his crew.
He played a pivotal role in the story's development, inspiring Luffy to become a pirate and sacrificing his own arm to save him.
Shanks is a selfless and compassionate individual who will defend his friends and those under his protection at all costs. He possesses immense physical strength, speed, and impressive skills in swordplay and marksmanship.
Overall, Shanks is a complex and fascinating character with enormous strength, top leadership skills, and compassion for those he cares about.
4. Fuegoleon Vermillion (Black Cover)
Fuegoleon is among the most notable male anime characters with red hair, leading the Red Hair Knights with a fiery passion in the anime series Black Clover.
Admired as a symbol of power and inspiration, he has earned the nickname "Emperor of Flames." With his immense strength and unwavering determination, Fuegoleon is undoubtedly one of the most formidable characters in the series.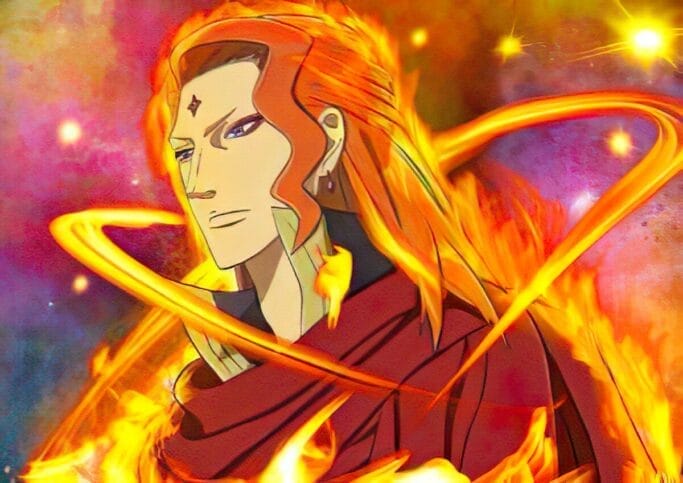 5. Akkun (Tokyo Revengers)
Akkun exudes impressive fighting skills, a well-rounded character, and a leader of his group of delinquents.
He cares deeply for his friends and will protect them at all costs. He showed this by wanting to replace Takuya Yamamoto so he wouldn't get hurt.
Akkun's dedication to his friends was also seen when he was ready to kill Masataka Kiyomizu to save them from slavery.
One of Akkun's standout traits is his remarkable durability. He's given blows that would knock out anyone else but still manages to get up and retaliate.
In one instance, he was hit by staff and managed to stay on his feet. Even earlier in the series, he was hit by several attacks from Kiyomasa but still stood his ground.
Why You Must Wear Like Anime Characters with Red Hairstyle
Pros
The anime characters with bangs not only revitalize your face but also flatter it.
Unlike the blonde or ash hair color, the anime red hair doesn't make the hair look dry.
The anime red hairstyle adds dimension to your hair and makes it vibrant.
Having anime red hair boosts your confidence.
It gives you a fresh look.
You will probably be the center of attention everywhere you go and make heads turn.
Cons
Red is the fastest hair color to fade
It needs high maintenance, unlike natural hair
You will be restricted in terms of the choice of makeup and attire
It is messy since the color will leak on your bath towel and clothes when wet.
It's not fit for a rainy season
Achieve Anime Characters with Red Hairstyle in just 8 Simple Steps:
Have you ever wondered if you can pull off an elegant look just like the anime characters with red hairstyle? The good news is that anyone can achieve an attractive look regardless of skin tone.
The red hair look is associated with a wide range of personality traits, from ethereal and sensual to sassy and mysterious, and it comes in various shades and distinctions. It's worth noting that even if you have light blonde hair, you can still achieve the desired red shade look.
Plus, if you want a more natural look of the anime characters with red hairstyle, go for a strawberry blonde shade. However, if your hair is dark, you may need to use pre-lightening bleach.
The following steps will guide you through achieving the anime red hair look.
Choosing the right red shade that complements your skin tone is essential. For fair skin, auburn hair can work well, while burgundy hair is an excellent choice for dark skin. Copper-colored hair can be a flattering option for medium-skin complexions.
To maintain the vibrancy of your red hair color, it's essential to use a hair care regimen that helps prevent fading. This includes using a color-treated shampoo and conditioner.
Mask your hair frequently for three to five minutes, then rinse it out.
Use a color-depositing conditioner to refresh the color and stop t from fading.
Brush through the hair after directly spraying the dry shampoo onto the roots to freshen the hair.
Use hairspray to protect the dyed hair from intense UV rays.
Use a root cover-up to conceal the new growth until your next hair appointment.
Ensure you go for a touch-up to refresh your Anime Characters with a red Hairstyle look
7 Steps to Retain the Anime Characters with Red Hairstyle without Fading:
It is essential to remember that anime characters with red hairstyle must be well-maintained. Therefore, consider the following methods to retain the look without fading.
Be careful to use the correct conditioner and shampoo, preferably of the same brand, for better results.
Avoid the custom products that contain alcohol, parabens, and sulfates
Include in your weekly regime the use of a hair mask. It helps in damage repair for a shiny outcome.
Ensure the red color holds firmly and long before using a repair mask or proceeding with treatment. It is probably after wrapping the cuticle.
Use only the hairsprays designed for anime characters with red hairstyle since they are free from alcohol.
Seal the cuticle with a cool water rinse for a more extended, shinier look.
Get a professional to take you through the entire process.
Closure
Choosing the right red shade that complements your skin tone is essential. For fair skin, auburn hair can work well, while burgundy hair can be an excellent choice for dark skin.
Copper-colored hair can be a flattering option for medium-skin complexions.
To maintain the vibrancy of your red hair color, use a hair care regimen that helps prevent fading. This includes using a color-treated shampoo and conditioner.
References:
Anime (Japanese: アニメ, IPA: [aꜜɲime] ⓘ) is hand-drawn and computer-generated animation originating from Japan. source
Japanese animation drawn in the same style as manga just animated. Often messed up by America. source
Khamis Maiouf is a professional barber who graduated from Hinckley College in England with a degree in hairdressing. He has also won several barbering contests and successfully operated a barbershop for the last two decades. As a skilled hair stylist for 20 years, his goal is to teach others how to achieve a beautiful appearance through their hairstyles.