Take A Shower And Get The Best Haircut Of Your Life!
A question that regularly arises with respect to haircuts is: Should I take a shower before a haircut?
According to our experience in the men's personal care space, it is a BIG YES!
There are no doubts in our minds that you should take a shower before a haircut due to its great benefits! You must always take some steps that contribute to the betterment of your barbershop experience.
It would help you to achieve a better final haircut. One of the most important measures is taking a shower before you go on the way to your barber!
Taking a Shower before a haircut does not only make you look attractive and hygienic, but it also helps you get that PERFECT haircut. Most barbers want to observe how your hair grows naturally before they start snipping away.
They do this in order to create a style that works with your natural hair growth pattern.
This is not easy for them to discern if your hair is not clean or has any kinds of products such as gel or wax.
When taking a shower, you need to wash your hair thoroughly and ensure there is no dirt, dandruff, or any other residue left behind.
It is best advised to always wash your hair with natural hair shampoo and conditioner before getting your haircut to make it clean and natural. Below are some of the most IMPORTANT reasons for you to shower before having a haircut ;
1. Create Good Working Conditions
It is evident that most people put in their best when working in CLEAN, odor-free conditions. So if you are well-groomed with clean hair, the barber will feel more comfortable around you.
It will create excellent working conditions for him to give you your desired look.
As you can see in the picture above, the barber gets closer to your hair, takes his time, and gives you that stylish look you hoped for.
But this is possible only if you are clean, and your hair is also neat for him to feel comfortable around you.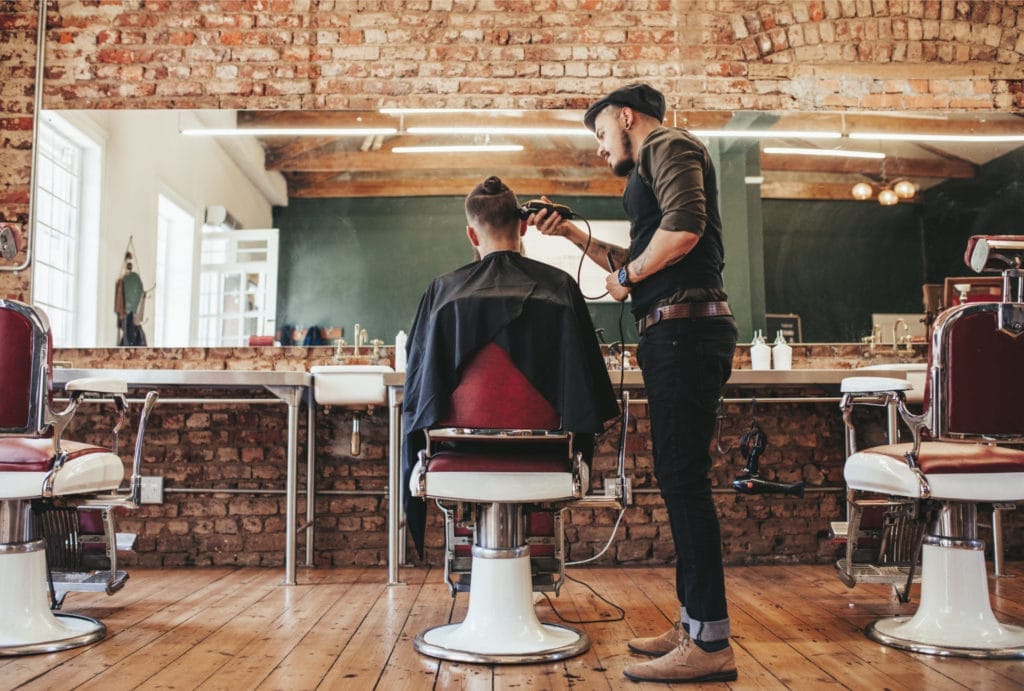 2. Be Hygienic [take a shower before a haircut]
Do you feel comfortable beside someone sweaty?
Definitely not. Imagine going to a barbershop after a gym session or doing some sports activity, all sweaty and smelly.
That is quite a terrible ordeal to put your barber through. Put yourself in the barber's shoes, we are sure it would not be pleasant at all!
As the old saying goes "Do unto others as you would have them do unto you."
Hence, take a shower after a workout to avoid an unpleasant situation and to look fresh and energetic when having a haircut. You can always avoid this type of unpleasant situation by always looking hygienic when having a haircut.
3. Ease of Haircut
[take a shower before haircut]
Do you want to avoid the pain or loss of hair when having a haircut?
Then you should consider showering before having a haircut. Cosmetic products are sometimes known to cause your hair color to spread unevenly, render your hair harder to comb, and cause considerable pain.
Washing your hair before a haircut, it lets the clipper moving smoothly with no pain. The picture above shows the ease with which you can get a haircut, that is, without feeling pain or hair loss.
Is it necessary to wash the hair after having a haircut?
Yes, It is necessary. Just imagine meeting your friend who just came back from having a haircut. And you can spot some hairs on his clothes. That's not cool, right?
So it is necessary for you to take a shower after your haircut.
To always look good no matter the situation. Washing your hair after a haircut will not always change the cut you had. But there are some cases where it could affect your hairstyle.
Will you be able to style it as your barber did?
If you are worried that you wouldn't be able to replicate the same style, then you should probably not wash your hair for a while. But if your haircut isn't that complicated and you feel much better when you wash your hair, then wash your hair after a haircut.
There are other benefits to washing your hair after your haircut as well.
For example, if you don't like the product used on your hair or want to avoid itchy uncomfortable hair particles.
This will help you to be in your best mood and not in an uncomfortable situation. Whatever be the case always;
Take good care of your hair.
Make it look clean.
Make your hair look attractive.
Conclusion
We've learned from our childhood that hygiene is extremely important.
We just need to follow this habit all through adulthood, especially at your barber's, for that trendy hairstyle! Whether it be before or after a haircut, it is in your best interest to get that shower. Some advantages are the smooth haircut sessions, relaxing and comfortable ambiance, friendly interactions with your barber, and a great hairstyle.
We hope to have covered all the salient points regarding showers and haircuts. To get more information concerning all things men's grooming, check out our informative blog. We guarantee that you won't regret it!
Khamis Maiouf is a professional barber who graduated from Hinckley College in England with a degree in hairdressing. He has also won several barbering contests and successfully operated a barbershop for the last two decades. As a skilled hair stylist for 20 years, his goal is to teach others how to achieve a beautiful appearance through their hairstyles.