Take A Shower And Get The Best Haircut Of Your Life!
A question that regularly arises with respect to haircuts is: Should I take a shower before a haircut?
Imagine going to your hairdresser with sweaty and dirty hair for a haircut!
Even if you tell them what you want, your stylist might fail to give you the best haircut because of the dirt and stuff in your hair. That's why it's a good idea to shower before going to the hairdresser.
Taking a Shower before a haircut does not only make you look attractive and hygienic, but it also helps you get that PERFECT haircut.
Usually, hairdressers want to see how your hair grows naturally before cutting it. This way, they can give you a hairstyle matching your hair's natural appearance.
They do this in order to create a style that works with your natural hair growth pattern.
However, if your hair has a lot of hair products, dirt, or other things in it, it can be more challenging for your hairdresser to do their job.
When taking a shower, you need to wash your hair thoroughly and ensure there is no dirt, dandruff, or any other residue left behind.
It's always a good idea to use natural shampoo and conditioner to wash your hair before getting a haircut.
Why You Must Take a Shower Before Visiting Your Barber
1. You Create Good Working Conditions When You Take a Shower
When you visit a stylist, it's essential to be clean. This will make the stylist feel more comfortable around you and create good working conditions for them to give you a look you want.
As you can see in the picture, the stylist gets close to your hair and takes time to give you a stylish look. But they can only do this if your general body hygiene is welcoming.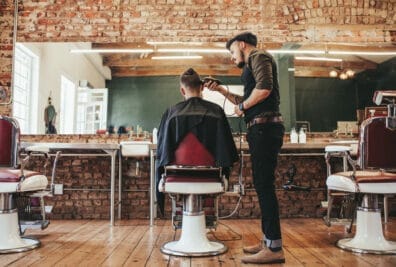 2. It Prevents Pain and Hair Loss
Have you ever tried combing your hair when it still has stuff in it? It's not nice, right? Now imagine how it would feel if someone used clippers on it.
When you don't wash your hair before going to the barber, it becomes challenging to work on it.
The barber might struggle to style your hair and end up pulling it from your scalp. This can make your hair fall out.
That's why it's best to wash your hair before your appointment, regardless of your hair type.
This will make your hair softer and easier to work with. Plus, clean hair makes it easy for the clippers to move smoothly without hurting you.
3. It's More Hygienic
Washing your hair daily is not good because it removes the natural oils from your scalp. But you still need to wash it sometimes.
As you go about your day, your hair collects dust, pollution, and sweat. To get rid of all that dirt from your hair and scalp, you need to wash it properly with shampoo.
Hair appointment guidelines might not include washing and having dry hair before visiting your barber. But if you go to a barber with dirty hair, it's not nice for them.
They might have to deal with dirty hair often, but you shouldn't be one of those clients.
Be nice to your barber and take a shower before your haircut appointment. This will give them clean hair to work with, and they will appreciate it.
Plus, you'll have a better relationship with your barber if you keep your hair clean.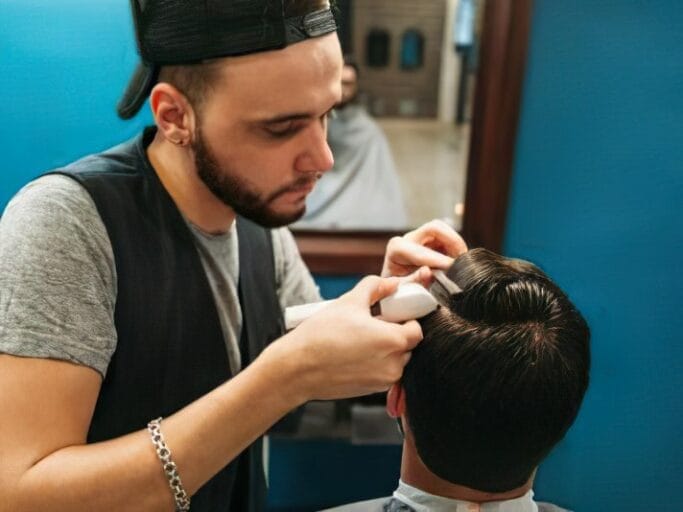 Do This After You Take a Shower
After you shower, it's good to massage your hair. This will help your hair improve blood flow to your hair follicles.
You shouldn't wash your hair every day. Most shampoos have chemicals that can dry out your hair if used too much.
You shouldn't wait too long to shampoo your hair after it gets wet. Your hair is weak and can easily break when it's wet. So, try to shampoo and condition your hair within 15 minutes of getting wet hair to avoid damaging it.
Is it necessary to wash the hair after having a haircut?
Yes, It is necessary to take a shower after your haircut. Just imagine meeting your friend who just came back from having a haircut. And you can spot some hairs on his clothes. That's not cool, right?
To always look good no matter the situation. Washing your hair after a haircut will not always change the cut you had.
But there are some cases where it could affect your hairstyle.
If you are worried that you wouldn't be able to replicate the same style, then you should probably not wash your hair for a while.
But if your haircut isn't that complicated and you feel much better when you wash your hair, then wash your hair after a haircut.
There are other benefits to washing your hair after your haircut as well.
For example, if you don't like the product used on your hair or want to avoid itchy, uncomfortable hair particles, taking a shower is the best option.
This will help you to be in your best mood and not in an uncomfortable situation. Whatever the case, always;
Take good care of your hair.
Make it look clean.
Make your hair look attractive.
The Bottom Line
When going for a haircut, whether you should wash your hair first or not depends on the type of haircut you want.
If you're getting a dry cut, it's best to come with clean hair. Dirt and oils can make your hair heavy and change how it falls.
This type of cut is best for straight hair that needs more shape.
If you're getting a wet cut, you don't need to wash your hair beforehand.
Most stylists prefer to cut wet hair, especially if you want to remove a lot of length, add texture, or have curly hair.
If you're not sure what type of cut you'll get, you can always call and ask your stylist.
Conclusion
It's a good idea to take a shower before going to get a haircut, not just for you but also for your barber.
Clean hair is easier to work with, and it's more pleasant for your barber too. Also, your barber will like you more if you don't have dirty and smelly hair.
If you want to learn more about men's grooming, there's a lot of useful information on our blog that you can check out.
We promise that you will be satisfied!
Khamis Maiouf is a professional barber who graduated from Hinckley College in England with a degree in hairdressing. He has also won several barbering contests and successfully operated a barbershop for the last two decades. As a skilled hair stylist for 20 years, his goal is to teach others how to achieve a beautiful appearance through their hairstyles.