20 Hottest Pencil Mustache Styles to Try Today
Attention all men with a passion for facial hair!
Have you considered trying pencil mustache styles? These chic and refined styles have been gaining popularity among celebrities and everyday men alike.
Whether you're looking to update your look or simply want to try something NEW, pencil mustache styles may be the perfect option for you.
In this guide, I'll explore the various pencil mustache styles and their benefits and provide tips on how to achieve the perfect look.
So, if you're ready to join the pencil mustache styles craze, keep reading!
How To Groom Pencil Mustache Styles
Follow these steps to style a pencil mustache:
Step 1: Select a comb with the desired length for your trimmer.
Step 2: Use your trimmer to even out the length of your mustache hair.
Step 3: Remove the comb attachment to define the pencil-thin shape of your mustache and trim the hair.
Step 4: Check for symmetry while going on, being careful not to trim too much off.
Step 5: Rinse your face with warm water and apply a shave gel to the non-mustache parts to prepare it for shaving.
Step 6: Use light, gentle strokes with a razor blade to give yourself a close shave.
Step 7: Rinse the blades often to avoid the buildup of hair and shaving cream.
Step 8: Use the precision trimmer on the back of the razor to define the shape and achieve clean edges.
Step 9: Rinse your face with cool water, towel off, and apply a hydrating aftershave gel.
Dazzling Pencil Mustache Styles For You!
1. Pencil Mustache Styles + Connected Pencil Beard
Ask your barber to neatly trim and define your jawline, chin, and mustache. This will create a uniform width that frames your face and highlights your features.
The end result will be a beautifully connected pencil mustache to turn heads.
This beard is worn mostly by the youth, but men of middle age can also rock this style.
2. Vintage Thick Pencil Mustache Styles
If you don't like having a beard and want a mustache that looks good for most events, the vintage pencil mustache with thin hairs is a great choice to keep.
3. Pencil Thin Soul Patch Mustache + Pencil Beard
Are you looking for a mustache style that requires minimal effort to style? The soul patch beard is the real deal. It's easy to grow and maintain.
Plus, you can easily combine it with other hairstyles to produce your desired look.
For the soul patch to look well-defined and sharp, it's essential to use a high-quality shaping tool. And within no time, you'll have a stylish cut to turn heads.
4. Shaggy Pencil Mustache
This style of mustache is a bit different. It's thicker in the middle but not too thick.
You have to shape it carefully so that it looks like a pyramid that's stretched out toward the edges.
This style can make you look both attractive and intimidating.
5. Pencil mustache with a chin patch
There's a new cool style that's different from the classic pencil mustache. You make it by adding a small patch of hair under your lower lip, called a slim chin patch.
It's shorter than a soul patch, but it's wider. It makes you look funky and stylish.
6. The Long and Straight
Do you have a flat philtrum (the area between your nose and upper lip) and thin lips? Try a straight and long pencil mustache to enhance your features.
Achieving this look requires that your mustache be shaped to match your lips' length. This will balance the proportions of your face for a flattering look.
7. The Thick Pencil Mustache
This style is almost twice the thickness of the traditional pencil mustache. It features a slightly rounded or chamfered end rather than a sharp point.
Your beard is trimmed to a uniform length and styled into shape with the help of a beard trimmer to give it a defined look.
This is your catch if you are looking for a more polished appearance.
However, you must brace yourself for regular maintenance to ensure you remain to look sharp. Combine this beard with a mustache for an upscale look.
Leave mid-gap if you want a thicker pencil mustache style.
8. Pencil Mustache with Thinner Edges
The rest of the face is clean-shaven, leaving a thin, well-defined line of facial hair along the mouth and jawline to achieve this style.
Use a fine-toothed beard comb or a shaping tool to refine your mustache. For a cool and stylish look, your mustache must be less dense at the edges.
9. Brad Pitt
It's hard to say how many different mustache styles Brad Pitt started, but one of the most popular is the Brad Pitt pencil mustache.
He has light-colored facial hair, so he makes his mustache look thicker. But even though it's thicker, it still looks very fancy and classy.
10. The Thin & Neat Pencil Mustache Styles
You can either grow a full beard and then trim it short to your taste or maintain a defined and narrow beard line achieved by regular touch-ups and trims on your upper lip.
One iconic person that wore this style throughout his life was filmmaker John Waters, who left memorable sneaks on movie lovers.
11. The Twisted Pencil
Although attention-grabbing, the twisted pencil mustache is tough to achieve but worth your time and resource investment.
It involves creating two halves of the mustache on your upper lip. Their tails extend towards the nose with a gap in between.
If you want to rock this style, look for an experienced barber with professional grooming skills.
12. Messy Pencil Mustache
Give your classic pencil mustache a modern twist by incorporating some stubble into the look.
Leaving a bit of stubble along your thin, defined mustache will give your old-fashioned style a contemporary and more relaxed vibe.
How else will you show that you are not uptight but open to trying new things?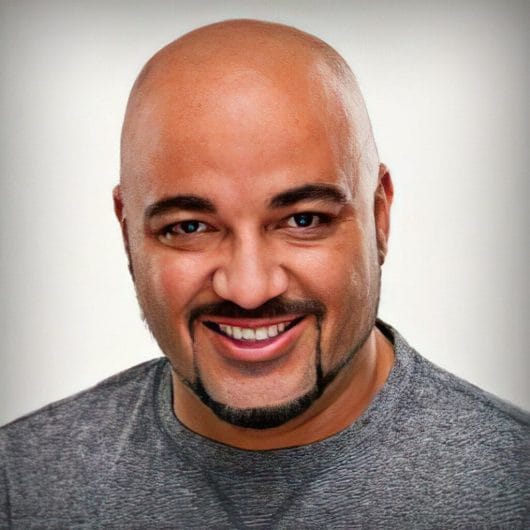 13. The Hairy Pencil Mustache
Consider growing your mustache with a denser pencil, as it can make your face more attractive.
Ask your barber to leave a thicker mustache at the center while maintaining a narrow and defined shape.
The denser mustache in the middle will create a balanced and visually appealing look to up your beard game.
14. Pencil Mustache with a Modern Touch
This beard style will portray you as dynamic and youthful. Simply ensure your upper lip has a thin line of the mustache with no twists or sharp edges.
For this style to work for you best, ensure your hair volume is good to help balance the proportions of your face for a more polished look.
The good thing about it is that it's an alluring mustache and different face shapes suit it perfectly well to give you a personal touch.
15. Dense Pencil Mustache
You'll achieve this stylish cut by letting your mustache grow slightly longer than your upper lip.
Even so, ensure your mustache is full and thick without gaps.
Once your mustache reaches your desired length, keep it well-groomed and uniform for a sleek look.
16. Jagged and Thin
What's needed for this style is to ask your stylist to make a subtle, thin line that extends just beyond the upper lip while the tail ends close to the nose.
To achieve a perfect look, ensure you have an evenly sized mustache.
Plus, make a deliberate bend at the philtrum to form a small gap between the two halves.
This delicate styling refines your overall look to make people turn their heads.
17. Stunning Goatee with a Pencil Mustache
A goatee with a pencil mustache can and will make your look refined.
The goatee is paired with a thin, well-groomed pencil mustache to create a clean and polished appearance.
Although it doesn't need committing a full beard, this combination adds flair to your look.
A guy whose face is either round or oval will particularly find this style great because it adds some definition to their jawline.
You'll need regular trimming to maintain a sleek and elegant appearance.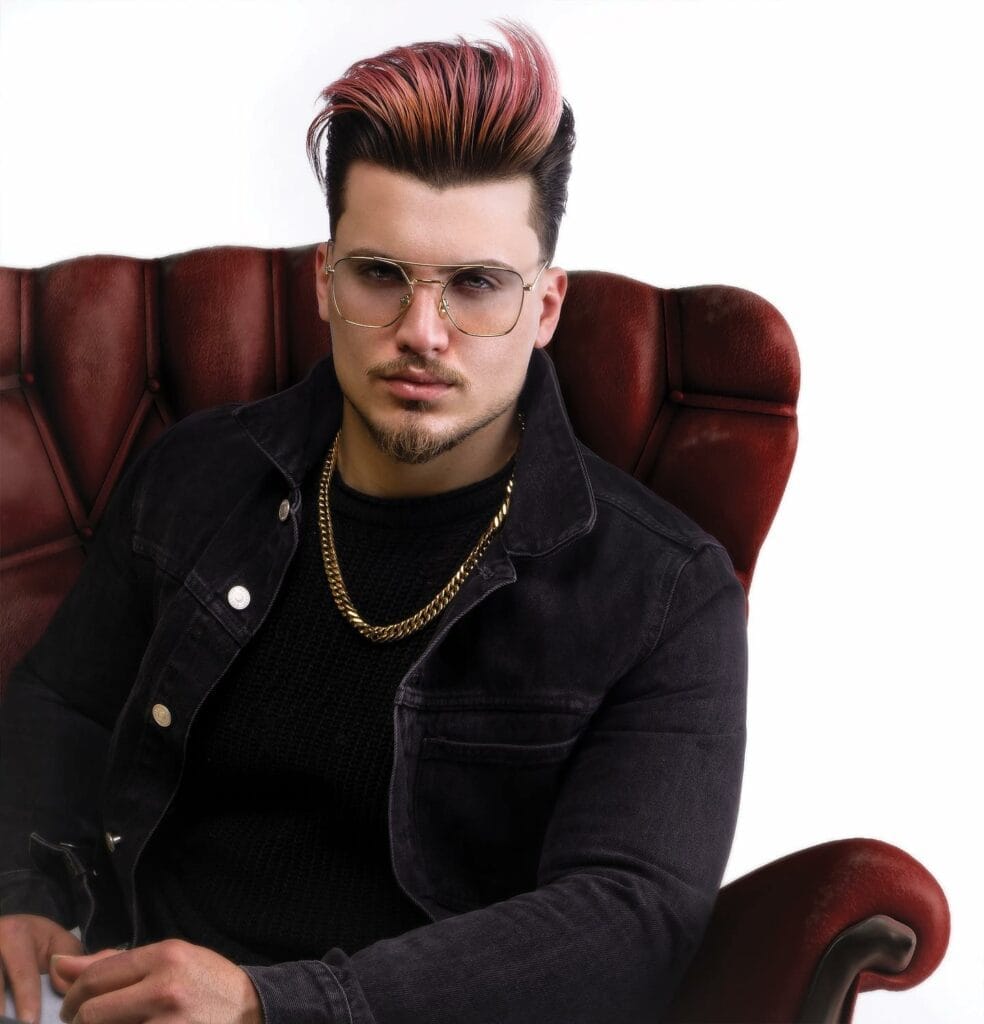 18. Beautiful Pencil Mustache + Half Goatee
Do you want to make a statement with your beard? Why not try half goatee style? You only need to grow a thin and well-groomed mustache and finally add a goatee for a fabulous look.
Trim the rest of your facial hair if you want the prominence of your goatee to get noticed.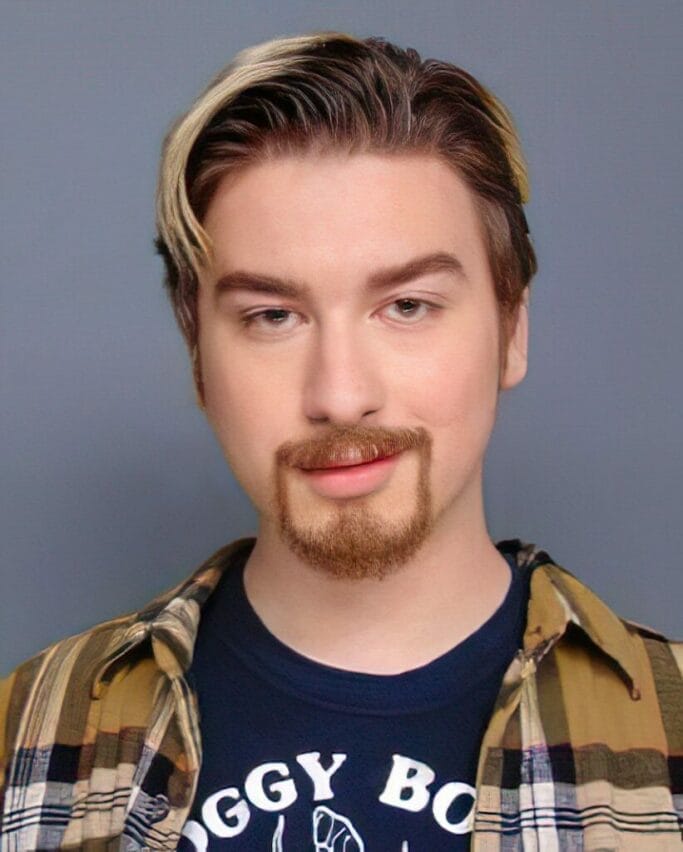 19. Chin Patched Pencil Mustache
This trendy style is for guys looking to mix things up and try a new twist. You can style this look by growing a pencil mustache and adding a slim chin patch under your lower lip.
Ensure your patch is wider but shorter in length compared to a soul patch.
Whether you are looking to switch things up or dressing up for a night out, chin patched pencil mustache is your best catch.
20. Chin Strapped Pencil Mustache
This is more of a laid-back casual beard style. You first groom a thin pencil mustache and a thin chin beard.
And connect them with a chin line emanating from your sideburns. Add a small chin patch to make your look complete.
This beard style is best for guys that want a rebellious, rock, and roll vibe. If you are looking forward to partying and having a good time, this style will suit you best.
Pencil Mustache and Different Face Shapes
Pencil mustache styles may not suit everyone. It depends on the shape of the face and how you style it. Here are some guidelines about different face shapes and how pencil mustaches fit in each one of them:
Diamond-shaped faces generally look good with a thicker and more rounded pencil mustache.
For heart-shaped faces, a smaller pencil mustache can help make your face less round and square up your jawline.
If you have an oval-shaped face, a pencil mustache can give your face a bit more angular definition by making your chin pointier and squaring your jawline.
A pencil mustache can sharpen the features of someone with a round face. Shaping the mustache into sharp chevrons at the corners of the mouth can make your face look narrower.
People with oblong facial shapes are generally advised against sporting a pencil mustache because it will only make their faces look longer and narrower. However, without cutting into the cheeks, a slightly wider mustache might make your face appear wider.
Square faces may not suit a pencil mustache well. This small and angular facial hairstyle may get lost among all the other angular features of your face. However, a thicker and more rounded pencil mustache is the best style for a square face.
If you have a triangle-shaped face, it's best to try a different style because a pencil mustache will only make your face look bigger.
Remember, a pencil mustache can make your jawline look wider. So, you should wear a small and short pencil mustache, or else it will overly exaggerate your facial features.
Conclusion
Pencil mustache styles are timeless and versatile styles that add a touch of sophistication to any look.
The classic thin mustache has been fashionable for several decades. Still, there are recent and bolder styles to suit your taste and the shape of your face.
Even so, not all people can rock the pencil mustache style and achieve the finesse it gives.
If you have the right cheekbones and face shape, try experimenting with various styles to find your unique style. Give the pencil mustache styles a try and see if it suits you!
Whether you're in search of a formal or casual beard style, a pencil beard is a choice that turns heads.
With the right grooming skills and products, you can easily achieve and maintain a polished pencil mustache that showcases your masculinity.
Khamis Maiouf is a professional barber who graduated from Hinckley College in England with a degree in hairdressing. He has also won several barbering contests and successfully operated a barbershop for the last two decades. As a skilled hair stylist for 20 years, his goal is to teach others how to achieve a beautiful appearance through their hairstyles.